We spent 3 months in Prague last summer, leaving for Asia as it was starting to get cold in late September. Coming back a week ago we didn't know what to expect. We've never been in Europe this time of year. Our 6 days in Prague were what Spanky calls a 'Kinder Surprise' (after the Italian egg-shaped chocolate). The first reason is pretty obvious: we were arriving as Prague was preparing for Easter. The second reason is less obvious: we had no idea what we were going to get in terms of weather. And just like a Kinder Surprise we got a little bit of everything; spring-like sunshine, brooding grey skies interrupted by clear patches of blue, sporadic showers that would suddenly give way to warm rays. We even got a stuck in a ten minute snowstorm.
The result of the varied weather were some incredible lighting conditions. It made for interesting photography. I think we actually snapped more interesting photos over 6 days then we did over 3 months last summer. Have a look at some of the photos below.
Below: Painted Easter eggs and Easter decorations around the Old Town Square.
 Below: The sun setting over the buildings of the Jewish quarter.
Below: Scary skies over the Charles Bridge.
 Below: Views on the Charles Bridge. The sky would turn from dark clouds to clear blue skies within minutes.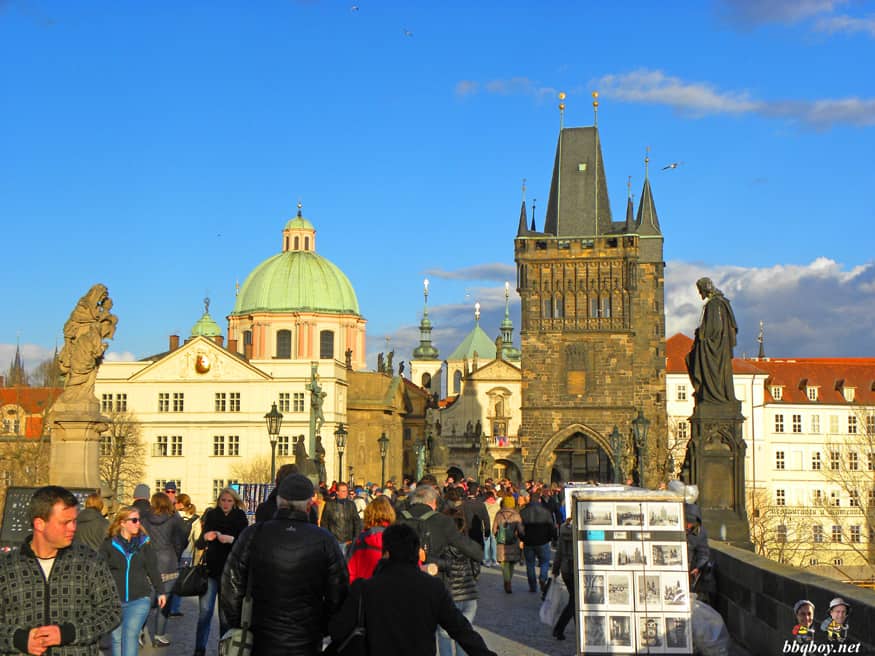 Below: Squares and streets in Old Town Prague.
Below: around the Old Town Square.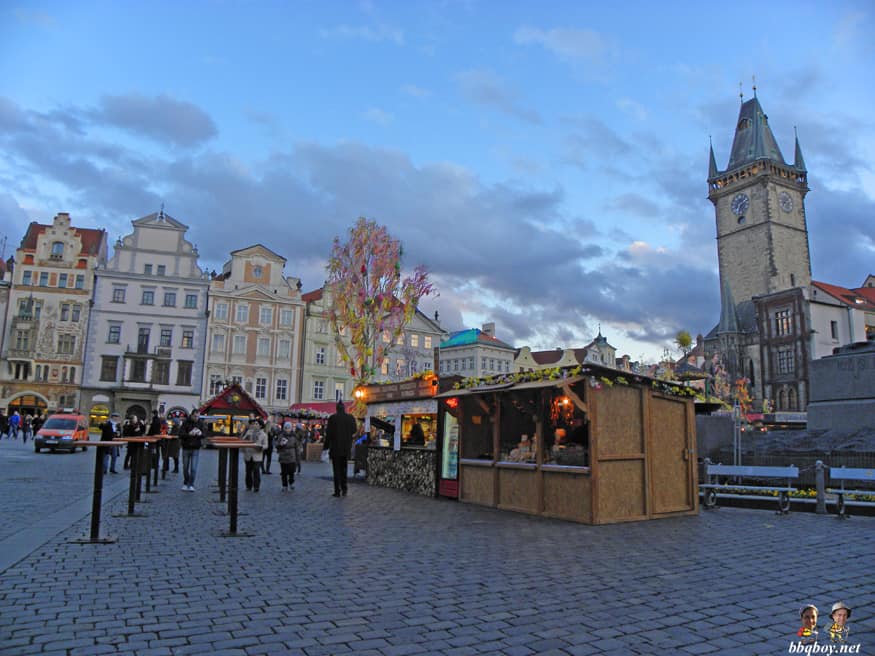 Below: Views on the Vltava river, the light turning from summer-ish to winter-ish conditions on a dime.
Below: Views of Prague's great architecture.


What we missed most while in Southeast Asia was walking (horrible sidewalks, intense heat, street dogs). We made up for it in Prague, walking hours every day. We even did what I call Prague's most scenic walk, crossing one of the bridges to Letna Park and following the paths to Prague castle.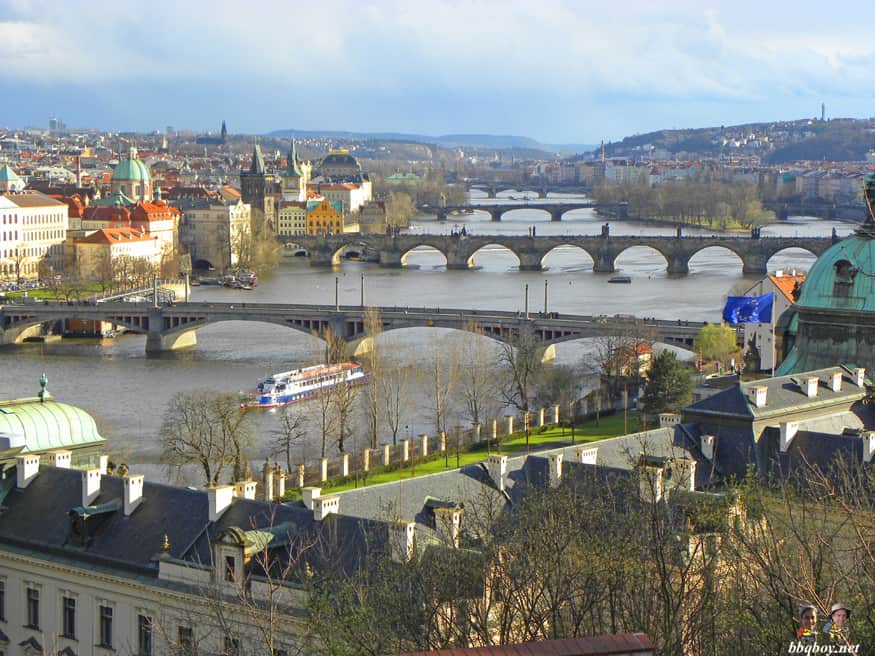 Below: note the lack of tourists at the castle. This square would usually be jam-packed in the summer.


Below: again the weather changed  as winter skies rolled over the city.
Visiting in the summer is great but you don't get the same variability in weather. I think early April actually makes for some of the best photography just because of the lighting. Bring a lot of layers and a raincoat because you never know what you are going to get. Some more photos taken over our 6 days: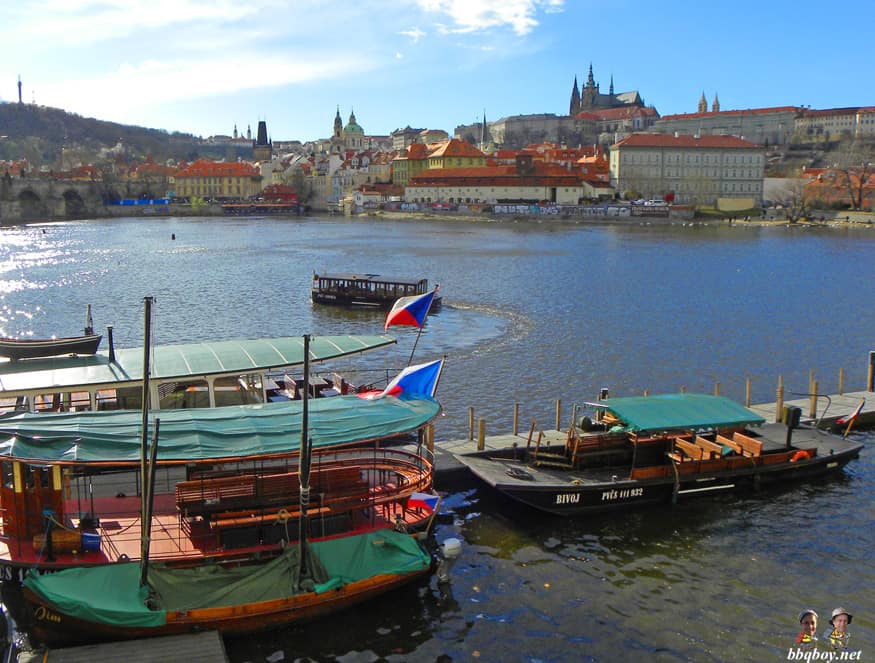 Below: The John Lennon wall which looks quite different then it did last summer (number 37 on this list).
As we left on Friday April 3rd we caught last glimpses of the preparation for Easter. Crowds packed the Old Town Square and even cold temperatures (it was 5C when we left) didn't stop people from drinking beer while eating sausages. Just as last year, we left Prague slightly sad. It definitely won't be the last time we visit the city.
Below: We don't usually take selfies so here's a rare one.
A few tips and recommendations (and as I've stated before: we get no compensation of any kind for these recommendations)
– we stayed in a small studio that we rented with Airbnb. Perfect for a short stay, the location in the old town is fantastic.
– Right next to the above is the James Joyce Irish Pub which was recently named one of the Top Ten Irish Pubs outside Ireland (they serve both Irish and Czech beer. I highly recommend the Kozel Dark). Great atmosphere, very friendly staff. Note: They have the best Indian food in town on their premises.
– Note: one of the downsides of Prague are the corrupt legion of taxi drivers who screw over tourists. If you need a taxi driver to pick you up/drop you off at the airport, contact our friend Martin: martin.palata@gmail.com. He's friendly, full of information and you won't get screwed.
– Most importantly, don't be afraid to visit Prague this time of year. The weather is bearable (mind what I said about wearing different layers) and you won't be faced with the tourist hordes that you'll see at other times of the year. We really enjoyed it.
Prague is a great city to visit in the off-season. Do you have any off-season favorites? Always appreciate tips from other travellers.
Related: 50 Things to Do in Prague.

——————————————————————————————————————————————————————————————-
If you haven't subscribed yet and want to get our posts and newsletters sent to your email, just insert your email address below: