Ilha Grande
Above: Approach to the town of Abraao, Ilha Grande
Ilha Grande is a forested and mountainous island with beautiful beaches. It is relatively undeveloped (no banks) and all the restaurants and hotels are small and locally run. It is the perfect place to relax after Rio and we spent the first few days lying on the beach, drinking caipirinhas and watching spectacular views over the water and mainland beyond.
Besides laying at the beach, a highlight on Ilha Grande is hiking – depending which hike you go on.
Abraao to Lopes Mendes beach: A great hike, up and down with some nice views of the island and the coast from vantage points, you come across some other bays and beaches along the way. It's about a 4hr hike (return). Lots of beautiful scenery. We really loved this hike.

Abraao to Dos Rios. The owner of our hotel had told us about a "spectacular hike" to the "most beautiful beach on Ilha Grande". The next day we hiked along the only road on the island, a 2hr long hike on gravel, to the town of Dos Rios. We arrived at the beach below.
Dos Rios used to house a prison holding some of the most violent of Brazil's criminals. Now it is a mini, almost spooky, ghost town. We had been told by our hotel owner that we could take the boat back to Abraao. We waited at the beach for the boat but none came. We asked a passerby (about the only other person we saw on the beach) about the boat and he kind of looked out at sea, shrugged, and said the boat should come soon. He had that same indifference that every Brazilian we encountered seemed to have. We waited another half hour before deciding to walk back. Walking out of Dos Rios we saw two guards standing around. I asked them about the boat. They looked at each other and started laughing. We walked the 2 hrs back to Abraao. Honestly? It's a hike worth skipping.
Overall, Ilha Grande is a scenic island with some restaurant options. Recommended – it was to be the highlight of our stay in Brazil.
———-
We stayed at Pousada Naturalia. Very well run by a friendly Vietnamese man. Just kind of ignore him when he recommends that hike to Dos Rios.
Getting there: It takes 3 hours to get from Rio to Angra do Reis by bus, then another 1.5 hours by ferry across to Abraao on the island.



Paraty

You can feel the history in this town. I don't italicize lightly; Lissette didn't like the feel of this town. She at one point told me "There are a lot of ghosts here" which was the first time I've ever heard her say anything that I would suspect a crazy person would say. Paraty was founded in 1696 and prospered in the 1700s when gold was discovered. They at that time built all the colonial buildings, churches, and cobblestone streets still standing today. Slaves built a 1200km road to the mines (called the "Gold trail"). I find it funny when browsing websites how little is mentioned about slavery in Paraty. It was obviously a huge part of the town's history. In fact the town basically died in 1888 when slavery was abolished.
Above, at bottom right: Igreja do Rosário, built in 1725 (the slave's church). It is kind of spooky-looking isn't it?
A popular thing to do in Paraty is to take a boat cruise. Its a great way to see the coastline and do some swimming.
I think I liked the town more than Lissette. She still thought it was creepy. Paraty has a small-town atmosphere, colonial architecture, and some nice restaurants. Again, the geographical setting is gorgeous. Just a beautiful area and we recommend a visit to both Ilha Grande and Paraty.
Getting there: Rio – Paraty by bus is approx 4 1/2 hours.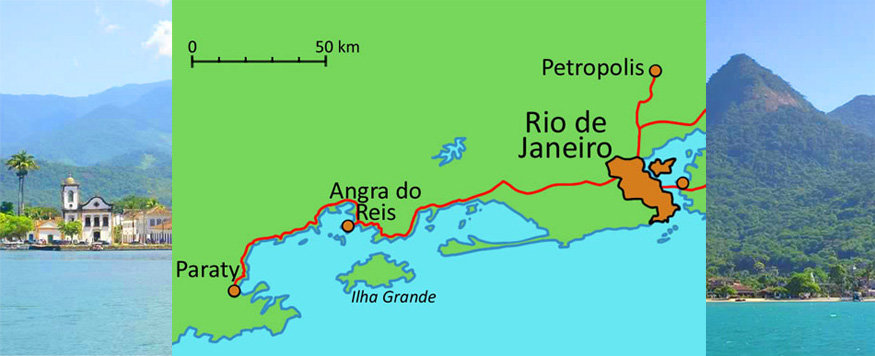 Related: Why I won't be going back to Brazil.
Have you been to Ilha Grande or Paraty? Would love to hear your experiences!