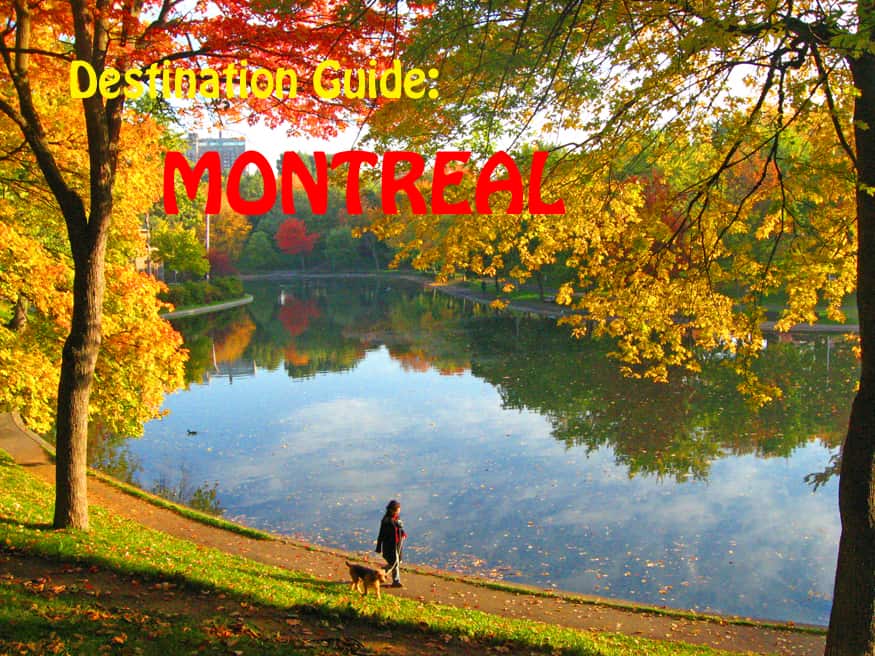 Above: Park Lafontaine.
I'm always blogging about exotic foreign places and it hit me that I've never posted photos or written anything about the city where I've lived the last 25 years. It is easy to take the place that you're living in for granted especially when you associate it with the day-to-day routine of working, buying groceries, etc. But it sometimes hits me as it did recently – Montreal is a great city. It is vibrant (there is always some kind of festival going on in the summer), it has great and affordable dining (fantastic food of every nationality), and is scenic and clean with a lot of green places and some nice viewpoints looking over the city. It is a very safe city by North American standards. Montreal is the nightlife capital of Canada, it is also renown for its beautiful women; I can't think of any place I've been with more head-turning women per capita than Montreal. It is also a cosmopolitan and cultural city full of small boutiques, restaurants, and cafes with a very European character. You can get great coffee, fresh croissants and baguettes around every corner.
I've compiled some of my better pictures and some tips for anyone traveling to Montreal. 
Above: from the Chalet at Mont-Royal Park
Sightseeing in Montreal has to start in Mont Royal Park, the mountain (actually more like a big hill) situated in the heart of the city. The rest of the city is flat so it's a great spot to get orientated; from the chalet at the summit you see the whole of downtown, the river and Ile St. Helene and Ile Notre-Dame (the 2 islands in the St. Lawrence), as well as right across the river to the south shore. From downtown, just walk up Peel street until you hit the park, follow the path to the stairs, then walk all those stairs to the summit where the chalet is. The views are great and it is a good place to watch people as well. Most scenic hike in Montreal: After looking at the views from the summit, walk back to the top of the stairs (but don't go down) and take the path to your left. This path skirts the top of the mountain and has some really nice viewpoints over the downtown area before turning east and giving views over the eastern end of Montreal; the river, the Jacques-Cartier bridge, the Olympic Stadium, Parc Lafontaine and Le Plateau Mont-Royal district. If you continue on that path it will bring you down some stairs to a viewpoint that is very popular with tour buses. At that point, you can either go back along the trail and head back down the stairs to downtown, OR, continue from the viewpoint down to the Plateau Montreal district (covered later). To do this latter option; just after the viewpoint you'll see a dirt walking path on your right. Go down. It zig zags down through the park and will eventually take you down to the monument on Park Avenue. From there you can cross the street and explore the "Plateau".
There's lots to see in Mont-Royal park but I think I've covered the best above (although Beaver Lake, "Lac aux Castors", is also very scenic and should be seen and walked around if you have the time. You can also rent a paddle boat there).
* I've mentioned walking up the mountain from downtown. Another alternative is taking the No. 11 bus from metro Mont-Royal, it'll bring you right up to the summit.
Above: night view of Montreal from Mont-Royal
Old Montreal is the #2 spot to be seen after the mountain. It's touristy, but it is always a nice area to walk around and foreign tourists always seem to enjoy it because of the historic buildings and relaxed ambience. Start at Notre Dame Cathedral. This gorgeous church was built in 1824 and is the single most popular tourist site in Montreal. The square facing the church,  Place D'Armes square, has a fountain and a statue and is surrounded by other historical buildings such as the Aldred building (built in 1931 in art deco style, resembles New York's Empire State building), the New York Life building (built in 1888, the oldest skyscraper in Canada), and the Bank of Montreal head office (constructed in 1847). Other highlights: rue St. Paul (the oldest street in Old Montreal, now housing art galleries, restaurants, and offices), Place Jacques Cartier (a large, pedestrian-only square where you'll see street artists, restaurants, and outdoor terrasses) and Bonsecours Market.
There are some good activities for the kids along the port and it's always nice being by the water, especially in the summer. There are tons of bars and restaurants in Old Montreal, most on the high-priced side. See this post for the best bars with a view. Overall, a great place for the whole family.
Below: Notre Dame Cathedral in Old Montreal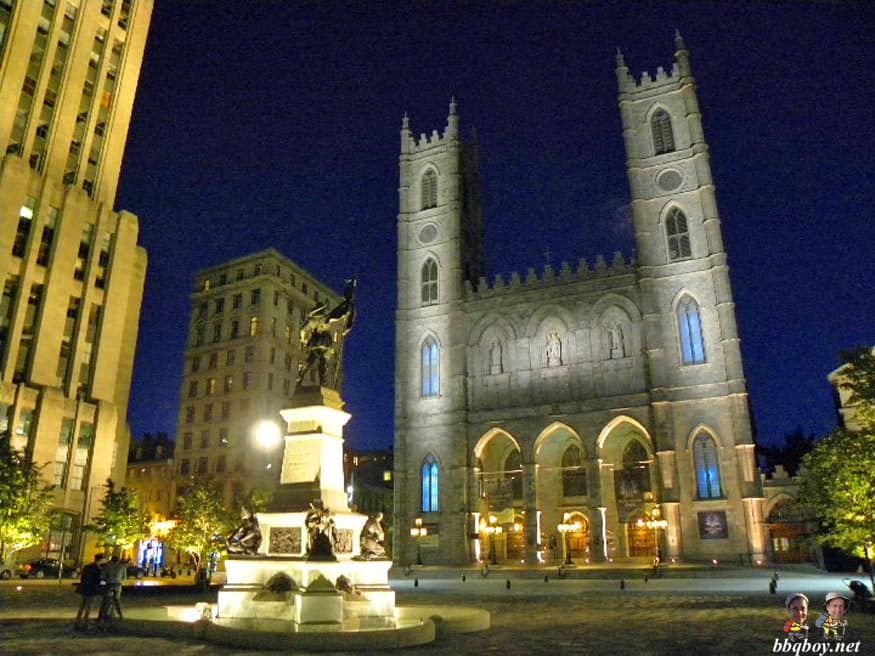 Above: View of the port  from the Pointe-à-Callière Museum
Downtown: That's where you'll find some nice shopping centers and all the usual big retailers that you see in every city. You can walk down Ste. Catherine Street and you'll find all that along with trendy bars and cafés and strip-joints (Montreal is famous for strip joints). There are a couple of streets full of bars and terraces: Crescent Street, Peel street, and St. Denis are the most popular. Crescent is full of terraces, it's really the place to go to hang out for a beer on a hot day and just people watch. There are tons of great drinking spots in Montreal, you don't have to look far. But downtown Montreal is also picturesque and has some impressive sights: highlights include Dorchester Square for views of the Sunlife building and Queen of the World Cathedral, McGill University for its beautiful campus, and the stretch of Ste. Catherine from University street to Place Des Arts. Along the way you'll see some old churches and squares with views of the downtown highrises. Downtown is also famous for the underground city; you can navigate most of downtown and its shopping centers through a network of passages. Great for shoppers, especially in the winter.
Montreal is a fantastic place to ride a bike (recently voted #1 North American city for cycling) and you can now cover most of the most scenic attractions just staying on the bicycle path. There is a  bike path that cuts right across downtown, so even if you're staying at a big downtown hotel you can get on the bike path and head off anywhere. I strongly suggest renting a bike. Montreal has a network of Bixi bikes and you can pick up a bike almost anywhere downtown as long as you have a credit card. The official website of Velo Quebec, the cycling organization (includes maps).
Above: Park Lafontaine
Places I recommend going on the bike (or even by foot): Parc Lafontaine (beautiful park, bike path cuts right through it), The Botanical gardens and Biodome (both next to the Olympic Stadium and both easily accessible by bike path), and Ile Ste-Helene and Ile Notre-Dame (where they hold the Montreal Grand Prix). The two islands are really worth seeing; both have beautiful gardens and streams, Ile Ste-Helene has great views of downtown Montreal from across the river and has quiet bicycle paths, while Ile Notre Dame has the casino, the race track, as well as a man-made beach that is popular in the summer. They are both quiet and peaceful and easily accessible from downtown by bike (via Old Montreal). Also recommended, when coming back from the islands, ride your bike (or walk) across the Jacques Cartier bridge. It gives great views of the city and the river down below. By the time you get back downtown you'll have had your exercise.
Above: Views of the city from the Jacques Cartier Bridge
If you want to keep your bike ride shorter, go from Old Montreal to the Lachine Canal and follow the bike path down the canal until you get to the Atwater market (about 15 minutes max.). It's a really nice place to sit down for a coffee.
Above: Kisque at Metro Mont-Royal
Le Plateau Mont-Royal district (ie. "The Plateau") is really worth seeing. It's 10 minutes by subway from downtown and is the cultural heart of Montreal. It is a very European looking neighborhood with some great restaurants including BYOBs (bring-your-own-wine restaurants) boutique stores, B&Bs, cafes, and pastry shops. Avenue Mont-Royal is fun and trendy, yet not touristy and has some nice restaurants. Avenue Laurier is a bit quieter, more family orientated, and also has a few very nice restaurants and boutique stores. The neighborhood also has some pretty parks (Parc Lafontaine, Parc Laurier). I really recommend staying in this area instead of downtown, it'll be cheaper and more interesting.
A good website for Bed and Breakfasts in Montreal including on the Plateau.
Walking from the Plateau back downtown can be done in about 40 minutes. You can also take the subway at Metro Mont-Royal, that's about 10 min from anywhere downtown. I recommend walking down rue St. Denis, another street full of terraces, restaurants and upscale shops. About mid-way between Avenue Mont-Royal and Sherbrooke is Rue Duluth which has a concentration of BYOB restaurants.
The above will keep anyone busy for about 3 or 4 days, I recommend you get a map, rent a bike and/or take the metro to get around.
Quebec has a bit of a reputation due to the language factor. It can be frustrating, especially for the visitor as all road/highway signs are unilingually in French. But that's just because of our screwed up politics – the average person on the street is quite friendly and will happily help you out in English.
If anyone has questions on Montreal just drop me a message. Enjoy the city!
Related: 
A detailed itinerary on how to spend 3 days in Montreal 
Lots of posts on Montreal museums, bars, restaurants etc HERE.
.
——————————————————————————————————————————————————————————————-
Have I convinced you to come to Montreal? If so check out my favorite affiliated companies. I book all my hotel stays with Booking.com (because you don't have to pay upfront). 
If you're staying longer, book an apartment on Airbnb. You're getting a Bbqboy discount if you sign up using the link below.
——————————————————————————————————————————————————————————————-