We've been to magical Venice before, lining up to see the main attractions and doing all the other tourist stuff – all the stuff you sometimes feel you have to do because you may never see the place again. This time, 8 years later, we decided to just enjoy Venice: ie. walk around, take some photos, look at people and sit on a square having a Spritz.
That's exactly what we did.
If you want a bit of history and a recap of sights in Venice have a look at our previous post. But if you just want to see a whole bunch of photos that show off Venice's beauty just continue on this post…
Below: views from the Ponte degli Scalzi (one of the first sights you'll see coming out of the train station)
.
Below: Church of San Giovanni Evangelista
.
Below: One of so many canals in Venice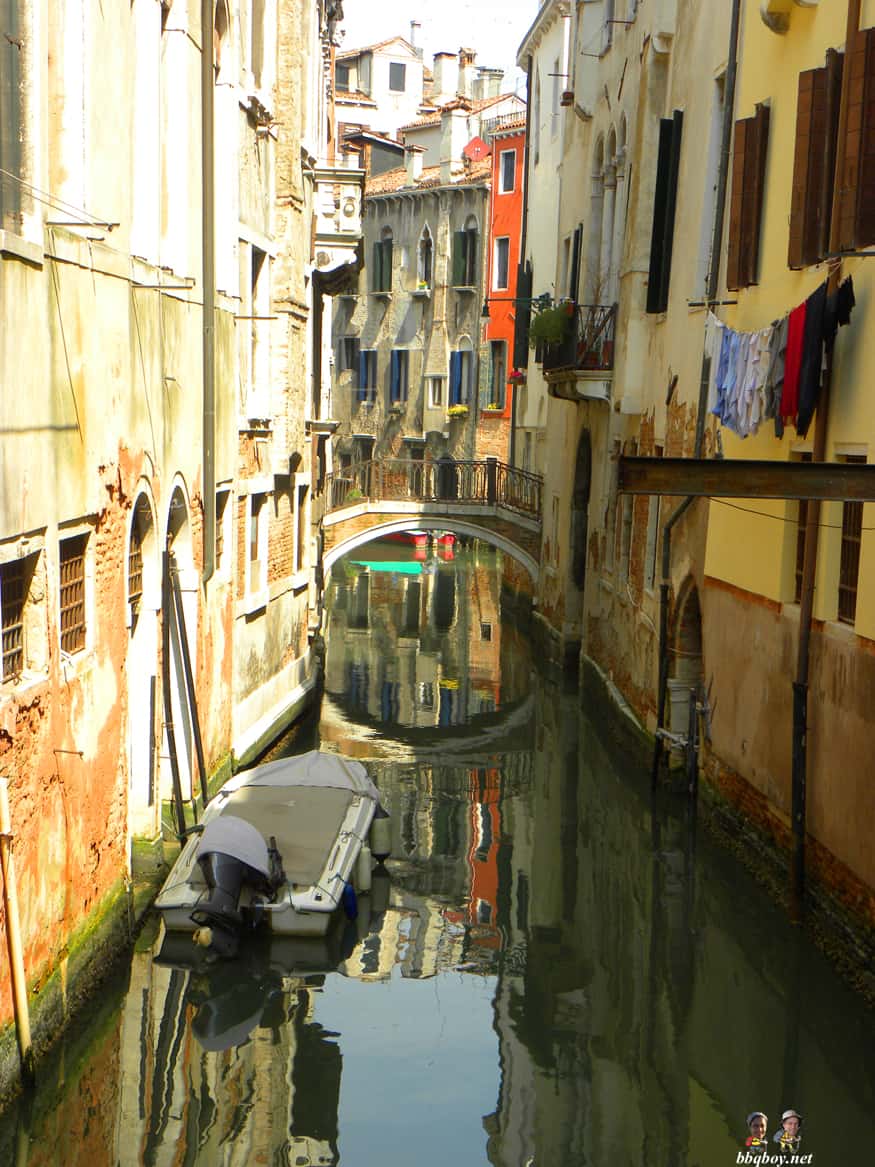 .
Below: Church (Basilica di Santa Maria Gloriosa dei Frari) and steps
.
Below: another church (San Toma) and square.
.
Below: another canal
.
Below: A gondola! Signs that we're getting closer to Piazza San Marco and all the tourists
.
Below: another church and square
.
Below: We turn a corner and suddenly find ourselves in Piazza San Marco!
.
A few photos of St. Marc's Basilica. The interior is, in our opinion, not as impressive as the Doge's Palace. But still a must-see in Venice. The lines however are long….we were happy to not have to line up this time around.

 .
Below: Waiters on Piazza San Marco. Don't make the mistake of sitting here and ordering a coffee – we did that 8 years ago and paid about 50 USD for the pleasure (they charge you for the music).
.
Below: The Doge's Palace. I remember how incredibly impressed we were with the interior.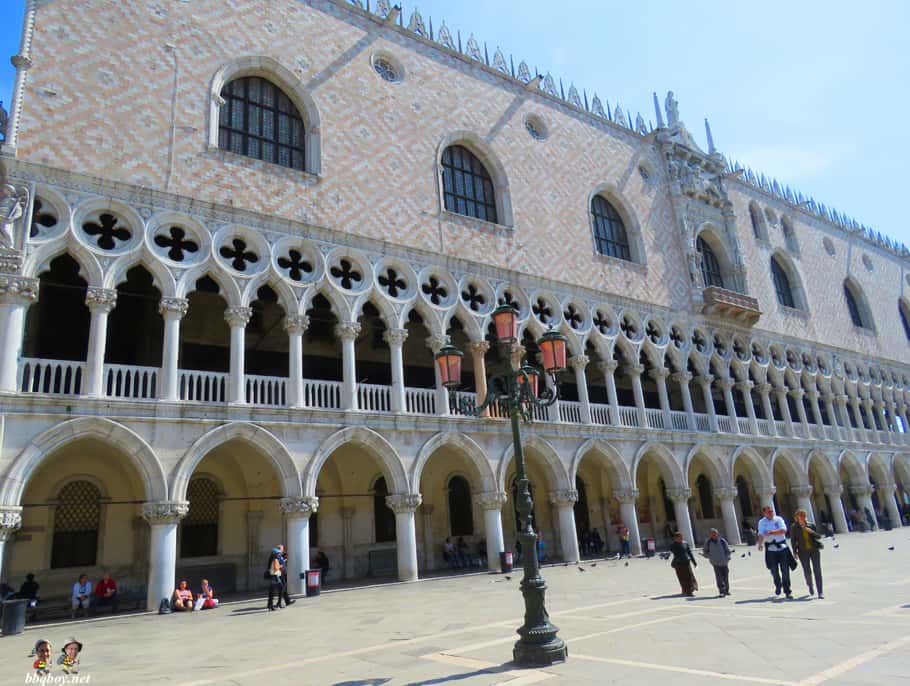 .
Below:  The Bridge of Sighs and gondolas. I had previously written about why proposing on a gondola is not a good idea – well, you can see why.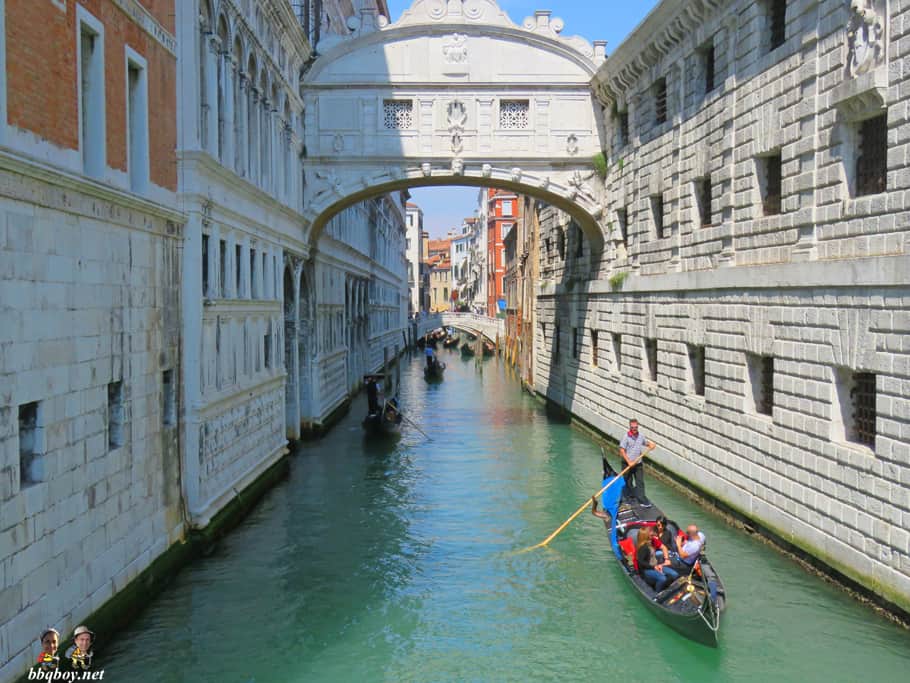 .
Below: The whole purpose of the day – sitting down somewhere and having a Spritz.
.
Below: A last look at Piazza San Marco. I was tempted to go up the Campanile but there was a huge line…no thanks.
 .
Below: More gondolas and gondoliers.
.
Below: Ferry stop near Rialto bridge.
.
Below: Sightings on the way back to the train station
.
Below: A last view of the Grand Canal
.
Below: Girl and soldiers next to the Ponte degli Scalzi. We've seen some heavy-duty security in Italy (especially near train stations).
.
Our day made me question something. Ever feel that having to enter all the tourist sights can detract from the pleasure of visiting a place? On the one hand you can't miss not paying and queuing to enter Mark's Basilica and the Doge's Palace. And the views from the Campanile are great. They're "must-see's" in Venice. On the other hand, dealing with crowds and lines can be really stressful. And having travelled full time now for 2 years (and seeing lots of museums) we often feel "Museum-ed out". We find we often just can't take the crush of people and the long waiting times in line. It was actually a relief not to have to enter the main sites and to just enjoy the city. I wonder if people sometimes feel the same way but feel an obligation or guilt to see certain sights when visiting a destination? I'd be curious what people think.
 Thanks for reading!
.
——————————————————————————————————————————————————————————————-
If you haven't subscribed yet and want to get our posts and newsletters sent to your email, just insert your email address below: