3 days hiking around Imlil (Morocco)

My 3 days in this area (almost) made me forget Marrakesh. That's a good thing. It is among the most spectacular scenery I've seen in my life.
The main town in the area, situated about 60 km south of Marrakesh, is Imlil. It is a pretty little town situated in a valley looking up at Mount Toubkal, the 2nd highest mountain in Africa at 4,167 m (ie 13,671 feet). Toubkal is the highest mountain in Northern Africa as well as the highest peak in the Arab World. It is 36th as far as the highest mountains in the world (for those curious, Kilimanjaro is the highest Africa mountain at 5,895 m high. It is the 4th highest mountain in the world).
Related: My 5 week Morocco Itinerary. And on dealing with liars, scammers and bullshit.
---
---
But while Imlil is a cute tourist town, much more impressive is Aroumd, an even smaller town and the access town to Mount Toubkal. Aroumd is about 40 minutes by "taxi" from Imlil which sounded strange to me being that Aroumd is just a couple of kilometers up the mountain from Imlil. Until I found out that when my hotel host said "taxi" he meant a "mule". A mule apparently is how tourists get their luggage up the mountain to Aroumd.
Not knowing all that, I had luckily arranged for our "Grand Taxi" driver in Marrakesh to drive me to Aroumd (there is a road, but it needs a car with a very strong engine). So after dropping off the other passengers in Imlil he continued up the road for 100 dirhams (the same I would have paid for that mule). What I didn't know was the road ended at the bottom of the town – and that my hotel was situated at the very, very top of the town. 20 minutes later, after navigating a road full of switchbacks (carrying my Samsonite, whose wheels were useless in the gravel), I arrived at Dar Imperial a sweaty mess. But this was the view.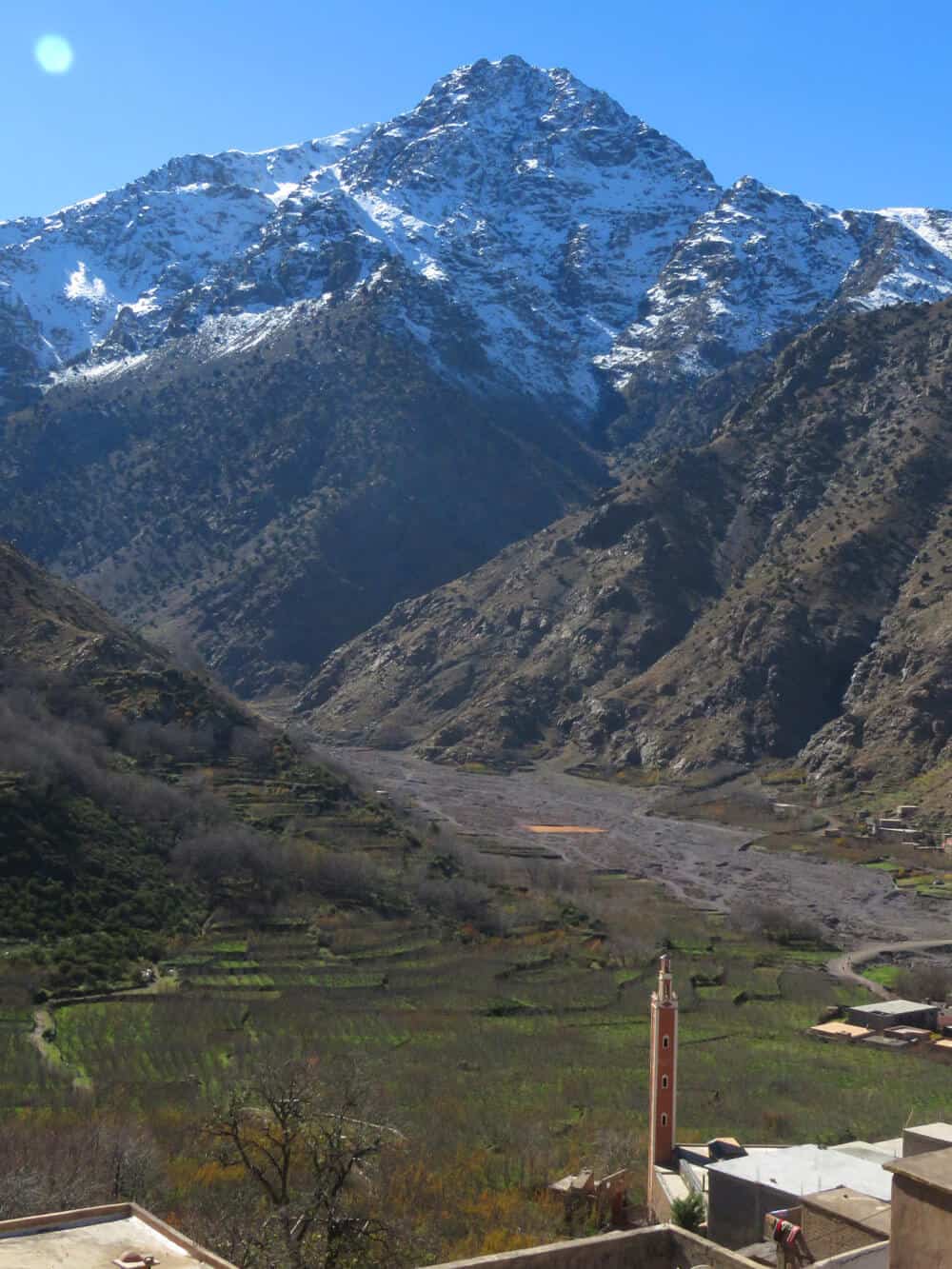 As much as getting to Aroumd is difficult, it is 100% worth it and a better option than Imlil. Imlil is in a valley. You have views but there are trees and buildings. You don't get many great views from town itself. In Aroumd you have views everywhere you look – you're basically on a spit of mountain that looks out towards Mount Toubkal on one side and the valley (and Imlil far below) on the other side.
---
---
Day 1. Walk around Aroumd
I have arrived mid-afternoon in Aroumd and had no plans. But just walking around the dirt and gravel roads around the town I got to see some incredible scenery. On one side, you can walk the road back towards Imlil. About 30 minutes gets you to a big electric pole. Look at some of the views along that stretch.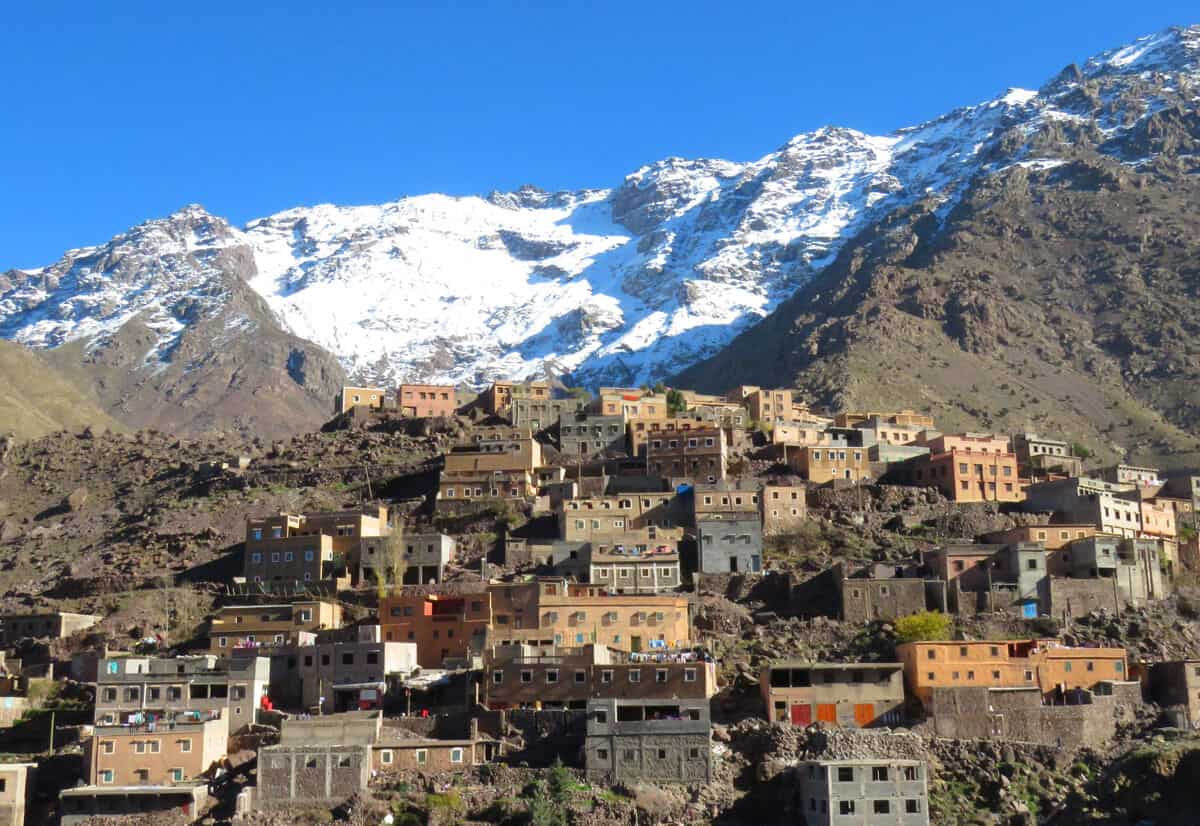 ---
---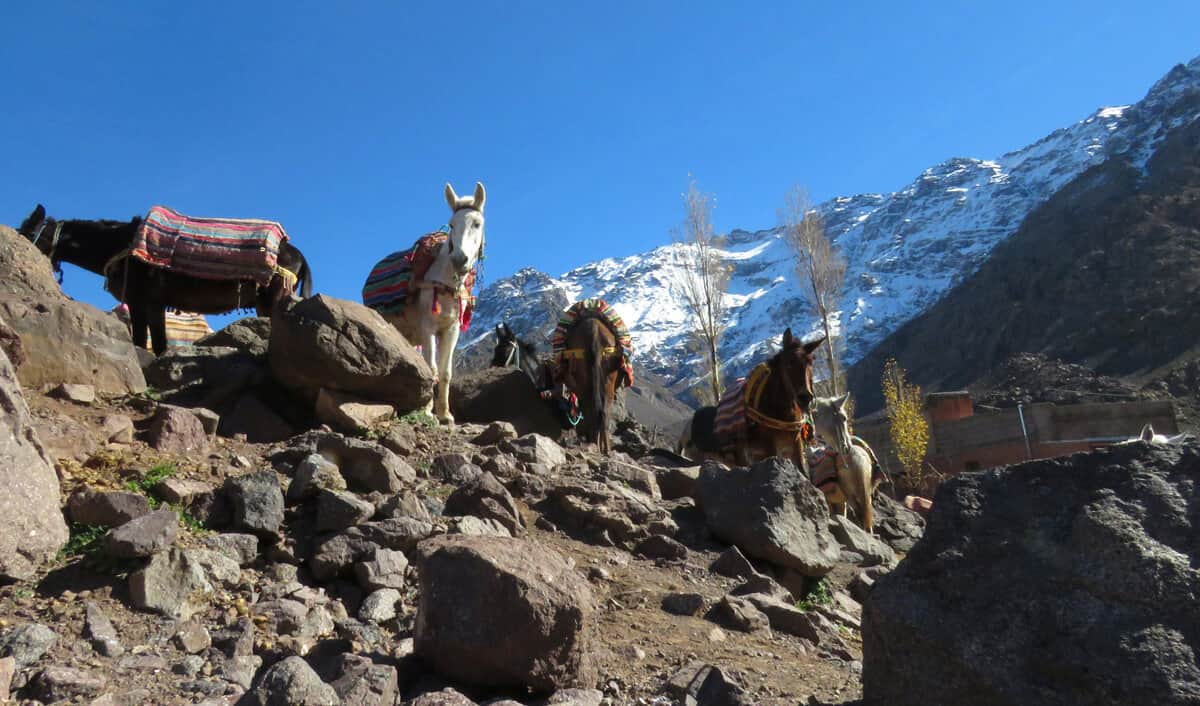 Back in town, I took a walk in the other direction, leading to a waterfall I had seen from the big electric pole.
---
---

Dar Imperial is a very nice hotel with 3 floors of rooms, all with fantastic views (and at 300 Dirhams, about $35 US/night including breakfast and supper, it's a great deal). But I was the only one there that first night. I made the 3rd floor hallway "my office". A few photos.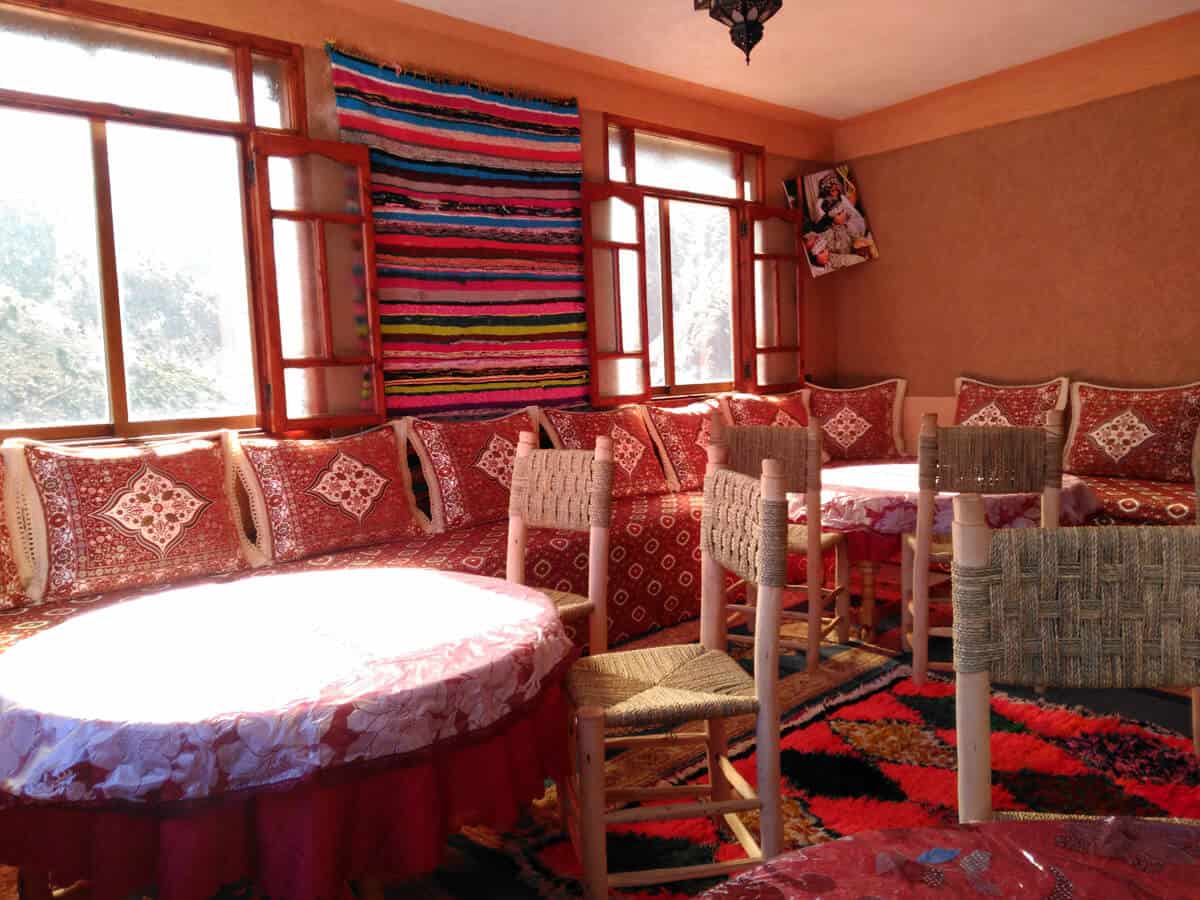 ---
---
Day 2. Hike to the shrine at the base of Mount Toubkal.
I had a hike the next day with Omar. The destination was the shrine at the base of Mount Toubkal.
This is actually quite an easy hike and I would call it more of a walk. It takes 2 hours to get to the shrine. It's a clean, wide mountain path that skirts the valley below. You'll see a river running the length of the valley. You'll meet other people and a lot of mules – some will be doing the same hike you are, some will be coming back from an overnight stay at the summit of the mountain (I'll explain that below). Along the way the views open up until you are surrounded by snow-clad mountains. There, at the base of Mount Toubkal, are a few buildings: a couple of cafés and supply stores (you can buy water, snacks, hats, gloves etc). There is even a refuge where you can spend the night. You'll also see a big white rock (painted) with a flag on it. That's the shrine and many Moroccans come here to pray. The views are great and you're looking straight up at Mount Toubkal. There's a waterfall, which is the source of the river you've been following along the valley.
---
---
You can continue a bit past the shrine. The path gets a lot steeper and rougher. But if you walk up about 20 minutes you'll have even more amazing views on the mountains around you.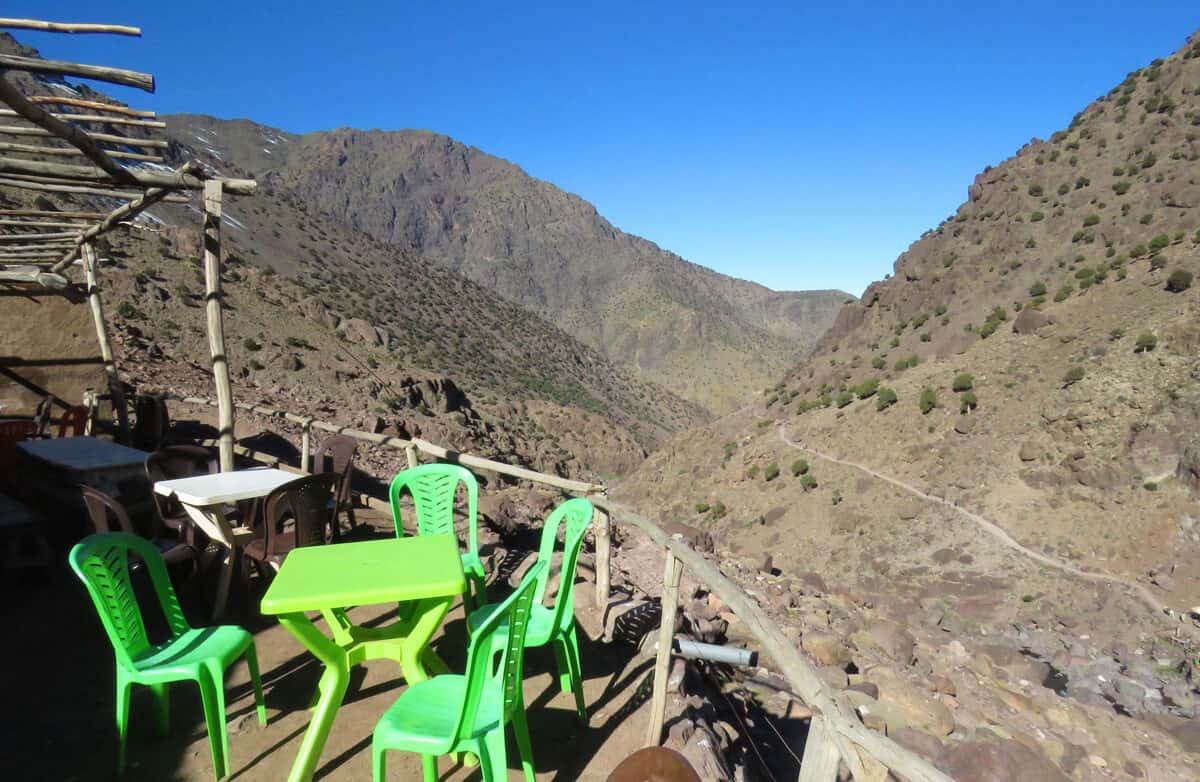 ---
---
We sat at one of the cafés and had some mint tea before going back. If you're in Aroumd/Imlil for 1 day this is the hike you have to do. You'll see Mount Toubkal, the snow covered mountains all around you, and you'll meet the diehard hikers who are either going to or coming back from the summit.
Note: to get to the summit of Mount Toubkal. It's 2 hours to the shrine. From there its 3 to 4 hours to the refuge where you spend the night. Most people wake up at 3 am and climb the 3 hours that it takes to bring you to the summit. You see the sunrise from the summit. After the sunrise people start the descent back down the mountain. You should always have a guide, a good sleeping bag, lots of water, and crampons when climbing in winter. I spoke to a bunch of hikers coming down and they loved their experience. I almost wished I had done it.
Omar and I had started the hike at 10 am and, even with a 30 minute stop for tea, were back at the hotel at 3 pm. Cost 300 dirhams (about $42 Canadian or $33 US). Glorious hike.
---
---
Day 3. Hike to Tizi n'Tamatert.
My guide on this day was Hassan, a young guy with a perpetual smile on his face.
This hike goes behind Aroumd, up that spit of mountain I was describing, and then skirts a mountain plateau to a viewpoint where you look straight down on Imlil. It then continues up a valley to the large radio transmission tower (which you can see it from a distance when in Imlil). Right by the tower is a pass called Tizi n'Tamatert.
The hike is a mix of different scenery: from rocky and flat mountain plateaus to green hills covered with brush, to a valley along a mountain stream where you could swear you were in Switzerland, through a small town where you're likely to see goats, followed by a steep climb through Juniper trees (which look and smell like pine), to a summit with views overlooking two valleys – on one side the green valley looking down towards Imlil, on the other side an incredible arid valley featuring primarily bare rocks in grey and red tones. Tiny little towns are seen in the distance. On both sides are snow clad mountain peaks. The views are phenomenal. A few photos from the hike.
---
---
---
---
---
---
It was a great hike with amazing views. The entire hike took 5.5 hours and was much more strenuous than the previous day's hike.
Below: Coming back, close to Aroumd, we met this couple on a daytrip. That mule was meant to be my taxi down the hill early the next morning – but he never showed up and I had to hike down to Imlil carrying my Samsonite. I've found out that Moroccans are not early risers.
Impressions
My time in Aroumd was more than I ever expected coming to Morocco. It is an absolutely gorgeous area. The hiking was fabulous and it really is some of the most beautiful mountain scenery I've seen anywhere. I don't think the photos above even give it justice.
I was surprised by what a popular spot it is. While many people come here on day trips from Marrakech, there are others who come here independently for a few days of hiking. There are tons of adventure activities and we saw people hiking, mountain biking, riding on mules, even some running down the mountain. And that's not including the serious hikers who come here to do the 2 day hike to the summit of Mount Toubkal.
---
---
Practical Information
A. If going to the area independently.
Getting there. You can take a Grand Taxi from Marrakech which should cost you 35 to 50 dirhams (USD 3.70 – 5:30). It depends on the number of passengers, they try to get a total of 250-300 dirhams for a car. The Grand Taxi stand is south of Djemma El-Fna. Look up "Hotel Narjisse" – the Grand Taxi stand for Imlil is right across the street. Getting to Imlil will take about 1 hr 45 minutes. The first hour will be flat driving, the last 45 minutes will involve a lot of curves in the mountains. Total distance 63 km.
Coming Back. Same as above in reverse. After hiking down from Aroumd (about 30-40 min), we arrived in Imlil at 9:30 on a weekday morning. We were surprised that there was nobody else looking for a Grand Taxi for Marrakesh. We ended up paying 250 dirhams for 3 of us (ie. 80 Dirhams each).
If trying to get to Ouarzazate or Aït Benhaddou. Although you may think that there must be a more direct way than to go back to Marrakech…there isn't. You have to go back to Marrakech to get to either of these towns.
Accommodation. There are many hotels in both Imlil and Aroumd. I recommend Aroumd, I think it's one of the most beautiful places anywhere. And I recommend Dar Imperial where I stayed. Incredible location and very nice hotel (simple, but very nice). They serve breakfast (included in the rate) and you can pay extra for diner which I recommend. I paid a total of 300 dirhams/day (ie. $35 USD) for everything (the room, breakfast, diner). Beware though: getting up to Dar Imperial means either hiking up yourself or getting a mule to help you with your luggage (for which you should pay between 70 – 100 dirhams).
Tours. Dar Imperial set me up with both Omar and Hassan. Both were great guides. If you want to organize a hike in advance, you can write Hassan at [email protected]. I paid 300 dirhams (about $35 USD) for both of my hikes. Each was 5 – 6 hours long and I saw some incredible geography. Very much recommended.
B. Organized Tours
The majority of people come here on organized day tours from Marrakech.
Here are the most popular organized tours people take:
---
---

Either way you visit you'll be blown away by this region. It is spectacular.
Ps. If you find our blog helpful, please consider using our links to book your flights, hotels, tours, and car rentals. Have a look at our Travel Resources page.