3 Must-see Markets in Mexico City.
We love Mexican markets. So we decided to take a Mexico City Market Tour that took us to 3 very interesting and varied markets in CDMX. We sampled mezcal, ate grasshoppers, had cheese & chocolate, explored the city's largest flower market and visited a market decorated with murals painted by disciples of Diego Rivera.
This is a very visual post: lots of photos below covering the highlights. I also list a few other markets at the bottom that you might want to visit.
A short video produced by Vibe Adventures featuring us 🙂
Mercado de San Juan
Mercado de San Juan is a pretty traditional market in one sense: it has fruit and vegetable stalls, meat and fish stalls and little restaurants where you can eat tortas, tacos and pozole.
But Mercado de San Juan also has some less traditional and more exotic offerings. You'll find stalls where you can sample ant larvae (known as "Mexican caviar") as well as worms and grasshoppers. You can do Mezcal tasting at other stalls…or you can taste Oaxaca cheese and chocolate. They also have upscale stalls where you can buy European cheeses and exotic meats such as alligator, iguana and scorpion. You can find a LOT of things at the Mercado de San Juan (which is an easy walk from Bellas Artes).
The San Juan market was the first stop on our Mexico City Market Tour which we did with Vibe Adventures. Our guide was Eduardo, who is fantastic. He loves food and his enthusiasm was contagious.
A few photos below from the Mercado de San Juan: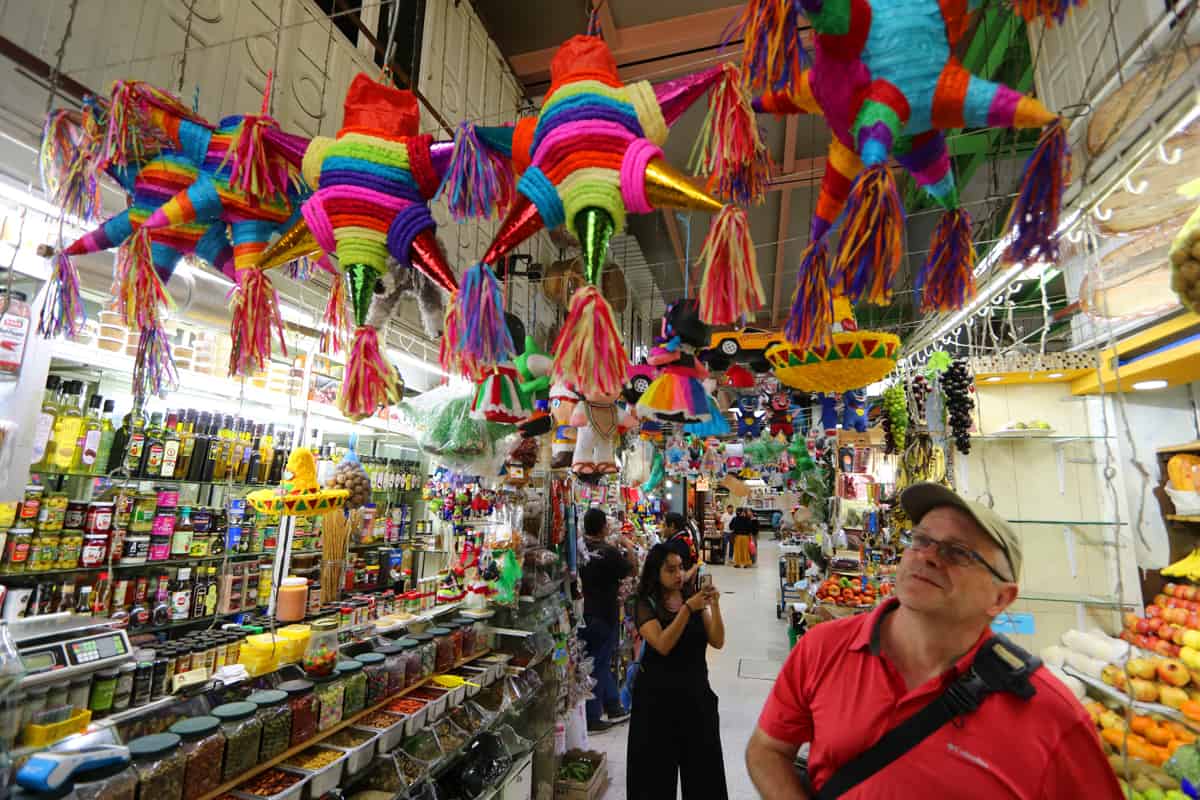 ---
---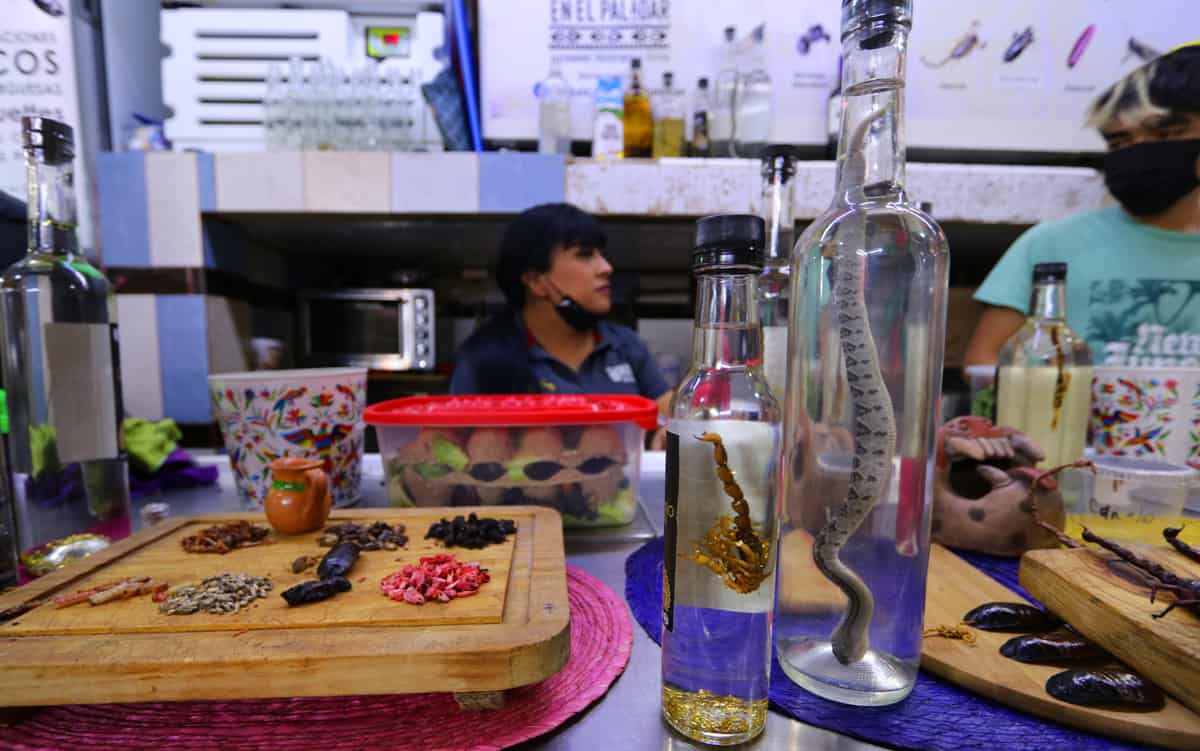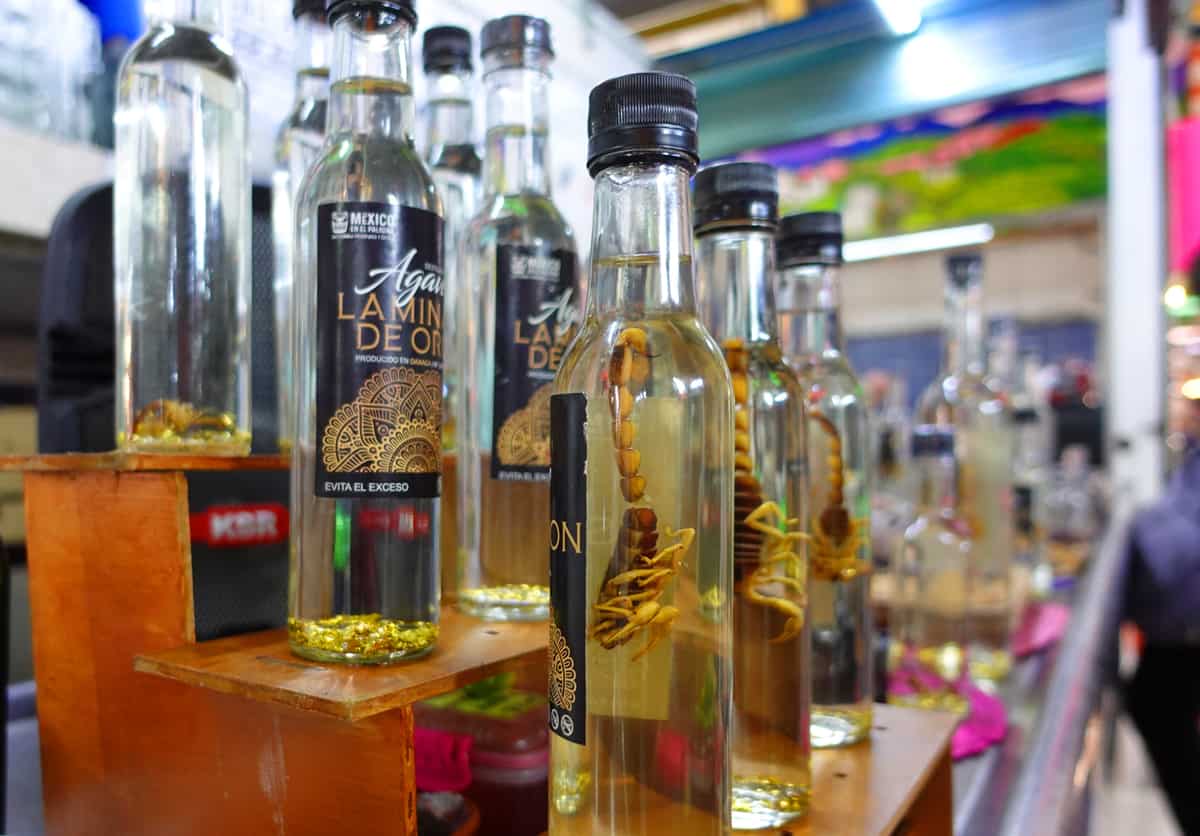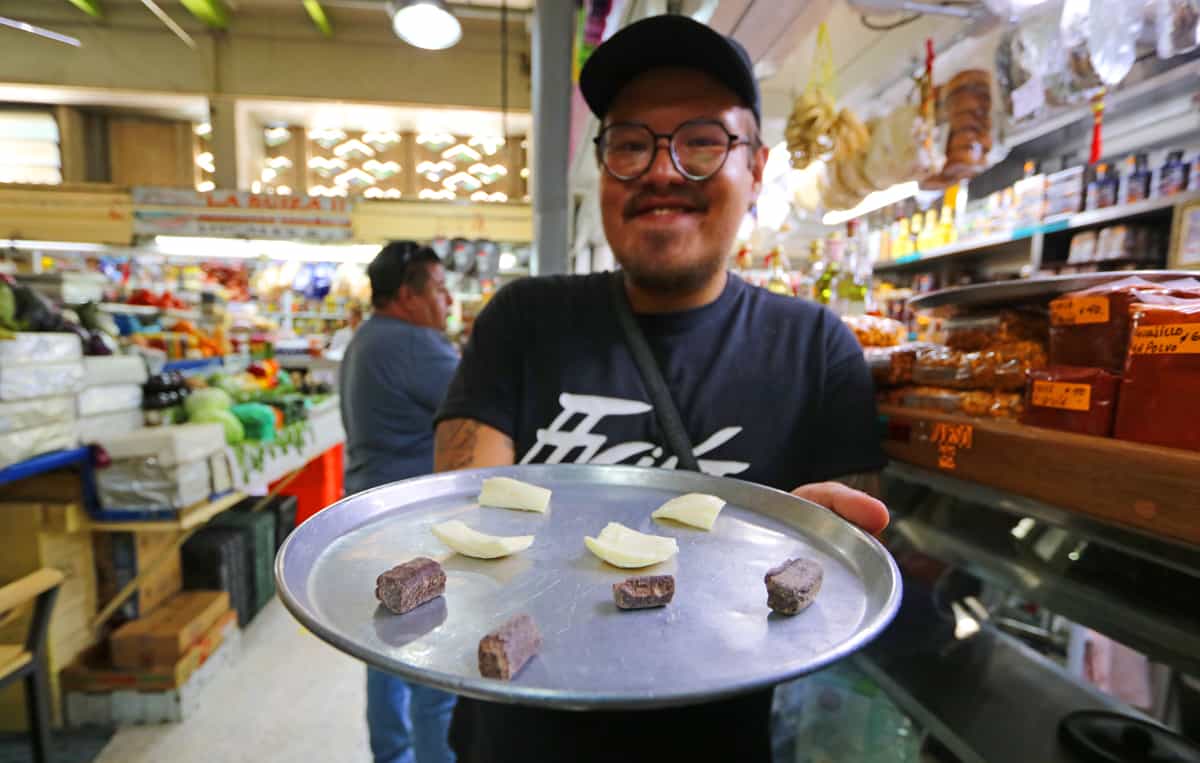 ---
---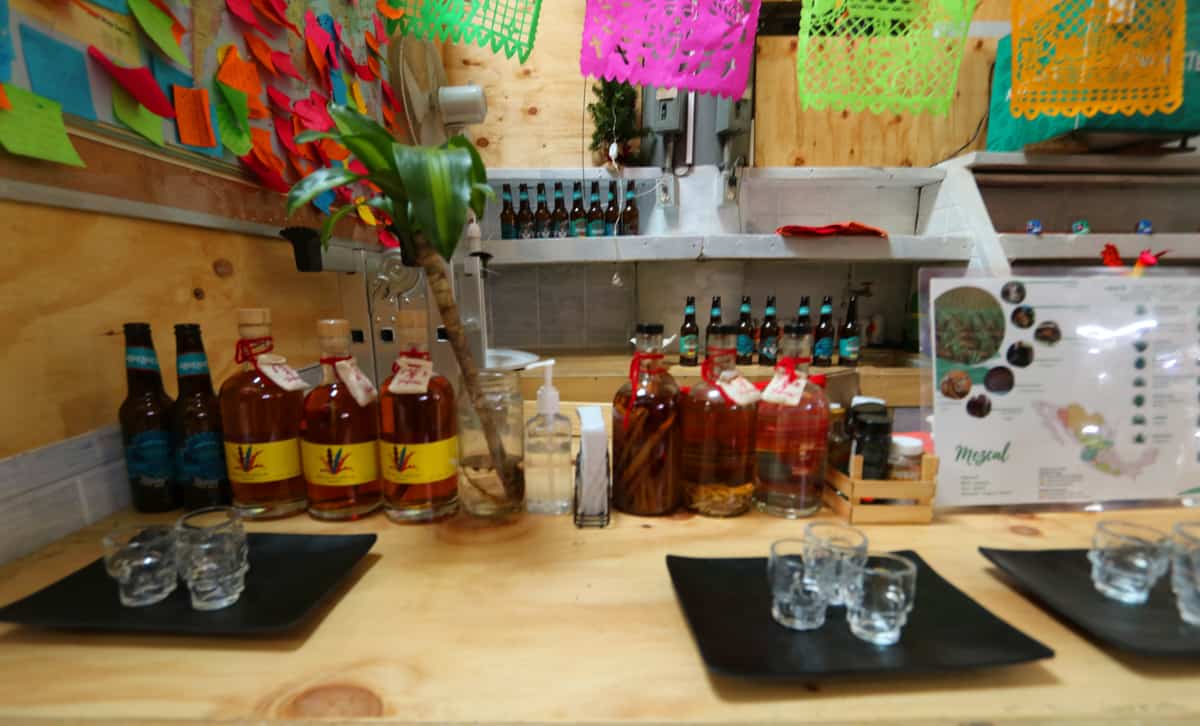 ---
---
Mercado Abelardo L. Rodriguez
From the Mercado de San Juan we walked to the Mercado Abelardo L Rodriguez. It's a 40-minute walk but we chose to do it this way instead of taking public transport. On the way we passed many sights of interests, including a visit to the Casa de los Azulejos on Av Francisco I. Madero. In fact, one of the things we really liked about the tour was how practical and authentic it was: we weren't driven around and didn't take a taxi…we were taken around either walking or taking public transport. Eduardo showed us how to use the CDMX Metro system, how to connect between lines etc…It helped us out a lot over the coming days when taking the metro and bus by ourselves to Coyoacán and Roma Norte.
Mercado Abelardo L. Rodriguez was built in 1934 and was named in honour of the (Abelardo L. Rodríguez). It was the 2nd most important market in the city at the time.
It's a standard Mexican market in terms of what it sells…what makes this market stand out are the murals: about 1,450 square meters (about 15,600 square feet) of wall space is covered by murals painted by disciples of Diego Rivera. 10 of his students painted the murals (6 Mexicans, 3 Americans and 1 Japanese) under Rivera's supervision. The goal was to "bring art closer to the people".
The murals reflect socialist themes which reflected the mood in Mexico at the time and was consistent both Rivera's (and his wife Frida Kahlo's) politics.
Some photos: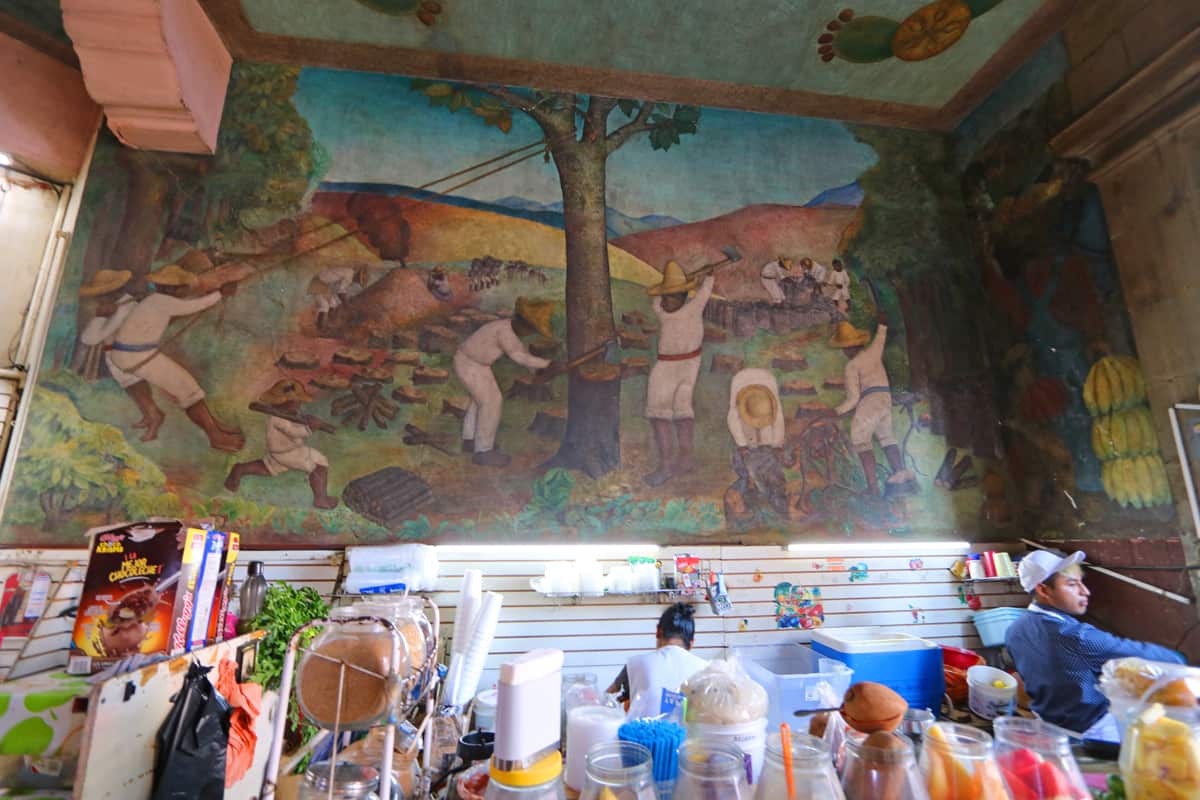 ---
---
---
---

---
---
---
---
Mercado Jamaica
This is a huge market located near the airport. I've read there are close to 1,200 stalls here selling over 5,000 varieties of plants and flowers. The plants/flowers come from every state in Mexico and many of the customers are florists who stock up their inventory here. The market also have all kinds of household and party decorations including huge Piñatas and Catrinas. In addition to all the above, they have a lot of places where you can eat (it's where we finished off with some Huaraches for dinner).
It's a HUGE place (that's open 24 hours) where you can spend several hours walking around and enjoying the colors and smells of flowers.
Some photos: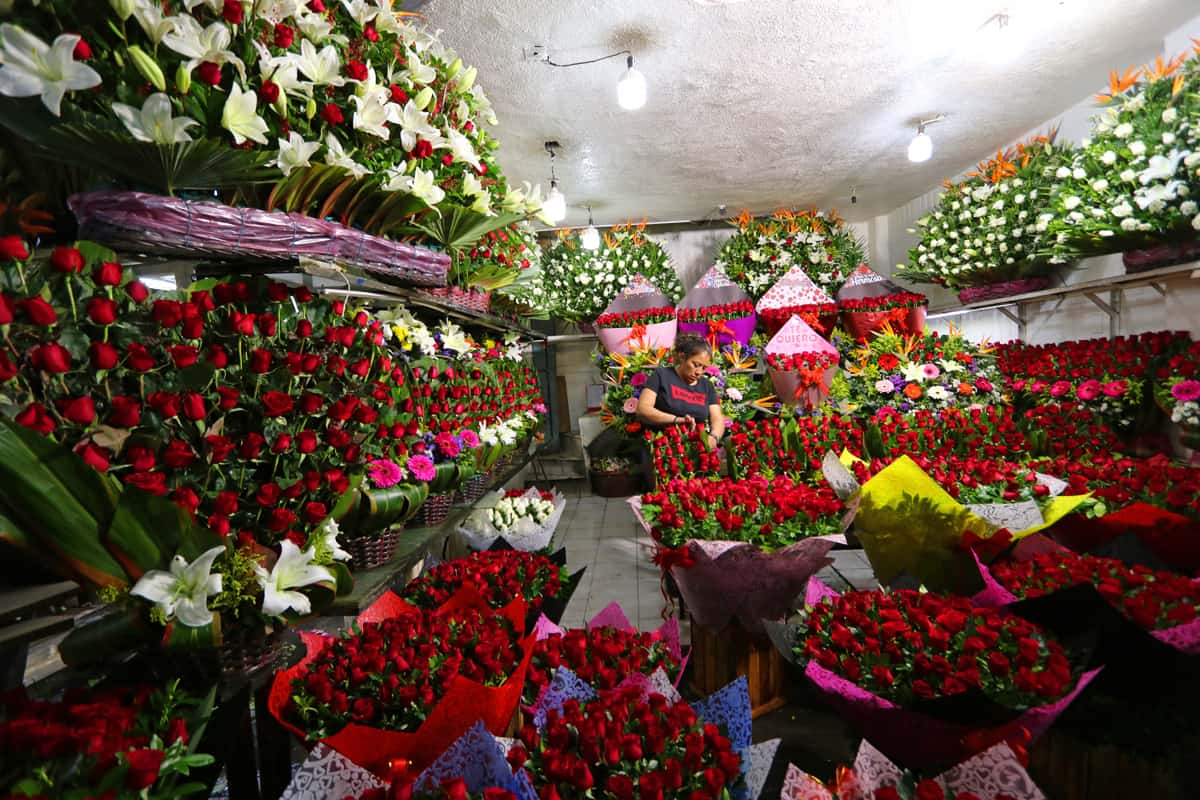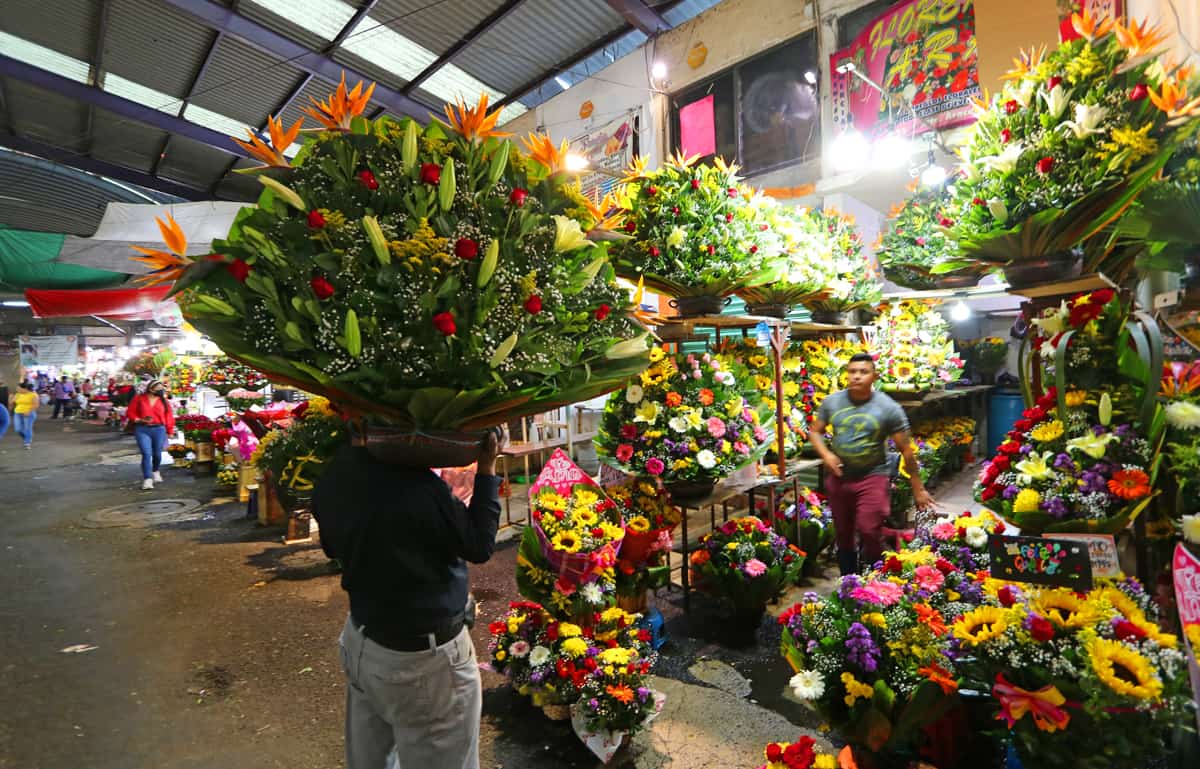 ---
---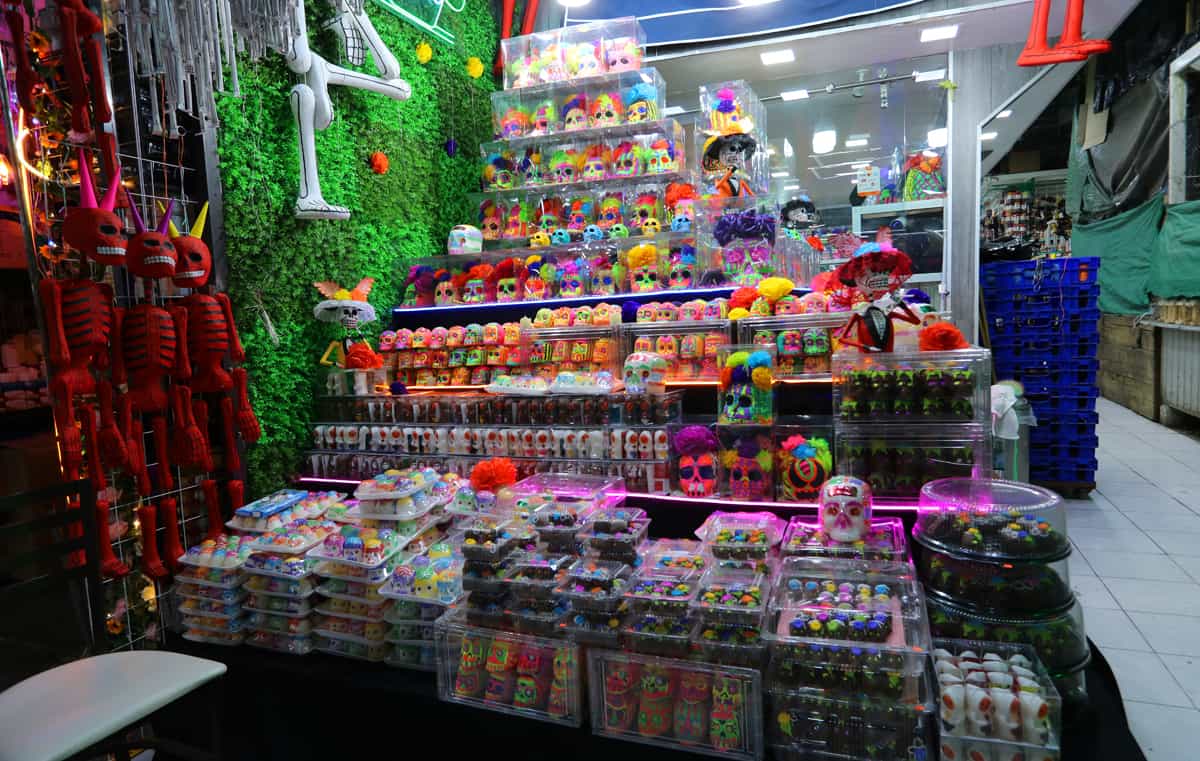 ---
---
The above markets are all special in different ways and should be visited if in CDMX.
If you love markets, there are others in Mexico City:
Mercado La Merced is the largest traditional market in the city, a place where you can find and eat anything.
Mercado Sonora is close to La Merced and is known for its witchcraft and traditional medicine.
Mercado Coyoacan has food, clothes but is also a popular place to go souvenir shopping if in Coyoacan.
Mercado Roma is a relatively new, upscale food market in Roma Norte. You'll find international cuisine (like sushi) and draft beer.
Mercado Medellin is close by, a more traditional market in Roma Sur that specializes in flowers, spices, produce and a large food section where you can have a good inexpensive meal.
Central de Abasto (meaning "Central Supply" is a huge wholesale market where you can buy almost anything cheaply.
Back to the tour: we had a great time with Eduardo and the afternoon/evening was filled with experiences. After the Mercado Jamaica he took the metro with us to Bellas Artes and guided us to the proper exit. Great guy, great tour. More details here on the Mexico City Market Tour.