A Local's Guide to San Francisco
More than 26 million visitors flock to San Francisco, California, each year and for good reason – the city offers an unbeatable combination of culture, delicious food, scenic bay views, and plenty of nearby outdoor escapes.
Tourism is a big business here, to be sure. But it's more than flashy attractions and high-rise buildings. San Francisco offers rich experiences that are authentic, always interesting, and impressively diverse.
With so much to see and do, San Francisco is one of the top US destinations for global and local travelers. As locals know, the city's eclectic personality is one of its main features and why it's such an endearing city to so many people.
Whether visitors are after unique entertainment, mouthwatering meals, or a bit of history or nature, San Francisco has something for everyone. Read on to learn about all of the best places to visit in the city, plus practical info to help you make the most of your trip.
Topics covered in this Guide
A. How to Get to San Francisco
B. How to Get around the Bay Area
C. What to See and Do in San Francisco
D. Where to Eat and Drink in San Francisco
E. Where to Stay in San Francisco
F. Best Day Trips from San Francisco
G. What to Know before you Go
---
---
A. How to Get to San Francisco
These are a few of the most convenient ways to get to San Francisco.
Flying
United Airlines is the most popular carrier for getting to San Francisco International Airport. This is theoption if you're traveling internationally since San Francisco International Airport is a U.S. gateway for a variety of international carriers.
Once off your flight, there are various options for getting into the city. If you're up for public transit, BART connects the airport to downtown San Francisco. Or, an Airport Express shuttle is another option that's affordable and prompt. You can also grab a taxi, Lyft, Uber, or Wingz.
Train
Amtrak is a relaxing and picturesque way to get to San Francisco.
Traveling the coast from Los Angeles to Seattle, the Coast Starlight is one of the most popular Amtrak routes for getting to San Francisco from either the north or the south.
Otherwise, Amtrak San Joaquin departs from Fresno and Bakersfield and the Capitol Corridor serves 18 stops between Silicon Valley and Sacramento. Or, if you're traveling cross-country, the California Zephyr travels daily from Chicago and Denver to San Francisco.
Car
San Francisco is also easily accessible by car, the major routes to get into the city are I-80W (from the east), I-280N (from the south), Highway 1 (from the south), or US 101 (from the north or south).
---
B. How to Get Around the Bay Area
San Francisco has a variety of choices when it comes to intercity transportation. The Muni is the city's main transportation system, which consists of trains, buses, F-line streetcars, and cable cars. The Muni has convenient stops throughout the city and a downloadable app (MuniMobile) that makes fares (and your city-wide adventures) simpler.
BART (Bay Area Rapid Transit) is the train system, which stops at street islands and has underground stations. Although there are quite a few BART stops within San Franciso, BART is more often used to travel between San Francisco and the East Bay if you want to do a day trip while you're in town.
If you're going to be in the city for a few days, you can also grab a Clipper Card from any of the BART station kiosks, which can be used on both Muni and BART transit.
---
---
C. What to See and Do in San Francisco
Considering its reputation, you'd think San Francisco was a metropolis rivalling the likes of New York. It's actually a relatively small city with a populace of less than a million. But what it lacks in that big city feel, it makes up for in a wealth of views, cable cars, a panoramic waterfront, grand Victorians, and, of course, the Golden Gate Bridge.
With all that's available, you may have a hard time deciding what to do. Here are a few favorite options to get you started.
Discover the Golden Gate Bridge
The most iconic symbol of San Francisco. Walk it or rent a bike. It's longer that you'd expect (1.7 miles) but you'll have fantastic views of San Francisco both from the bridge and the viewpoints on the other side.
Fisherman's Wharf and Pier 39
It's probably the most touristy thing to do in San Francisco but it's one of those things you have to do if in San Francisco. Lots of gift stores and restaurants and you get to see those famous sea lions at Pier 39.
Hike up the Coit Tower
A 210 foot tower built in 1933, it's a great spot to come for great views of the city and the bay.
Ride a bike in Golden Gate Park
A huge park with some of the best sights in San Francisco. You'll find the city's Botanical Gardens here, a Japanese Tea Garden, a Conservatory of Flowers, several lakes, and even a Bison Paddock.
Check out Lombard Street
Known as "the most crooked street in the world", it is a pretty street with great views of the bay.
Explore Haight-Ashbury
Haight-Ashbury is a worthy attraction in San Francisco for its historical value. It boasts a "hippie" vibe across a range of vintage shops, casual restaurants, and even the Grateful Dead House where artists like Janis Joplin, Jimi Hendrix, and the Grateful Dead were rumored to have hung out at one point.
Visit Alcatraz Island
One of the most infamous penitentiaries in American history, Alcatraz rests a little under a mile-and-a-half offshore of San Francisco. Although "The Rock" has a long history, Alcatraz became a tourist attraction and part of the Golden Gate National Recreation Area in the 1970s and a designated historic landmark in the mid-1980s.
Tours start at Pier 33, where a ferry takes visitors out to the island. You'll want to book your tickets well in advance since this is one of San Francisco's most popular tourist attractions and they sell out fast, especially in the summer.
---
---
The Walt Disney Family Museum
The Walt Disney Family Museum exhibits a range of historical materials, interactive galleries, and artifacts that honor the iconic filmmaker's legacy. There's a state-of-the-art theater as well as displays for Disney's Oscars and his Presidential Medal of Freedom. At the museum, you can watch movies and cartoons or even check out a scaled model of Disneyland.
Twin Peaks
Twin Peaks, named for its twin summits that are just under 1,000 feet high, offers an amazing view of the community below and the bay beyond. The view from the top is one of the best in the city and well worth the 20-minute walk. It's also one of the best urban hikes in the San Francisco area. Go at sunset to see the city at Golden Hour, when it's at its prettiest.
Chinatown
You can find plenty of Chinatowns throughout the states, but none with the iconic allure of this one. Pass the corner of Grant Avenue and Bush Street and enter a world of exotic shops, architectural wonders, and pocket parks. San Francisco's Chinatown is considered the birthplace of fortune cookies and chop suey and allegedly introduced the U.S. to dim sum.
Palace of Fine Arts
The Palace of Fine Arts is the last structure that survived the 1915 Panama-Pacific Exposition. The Greco-Roman rotunda and columns are awash in swans and history. And if you want a 2-for-1, the Palace of Fine Arts is a descending walk from the equally-picturesque Lyon Street Steps.
---
---
---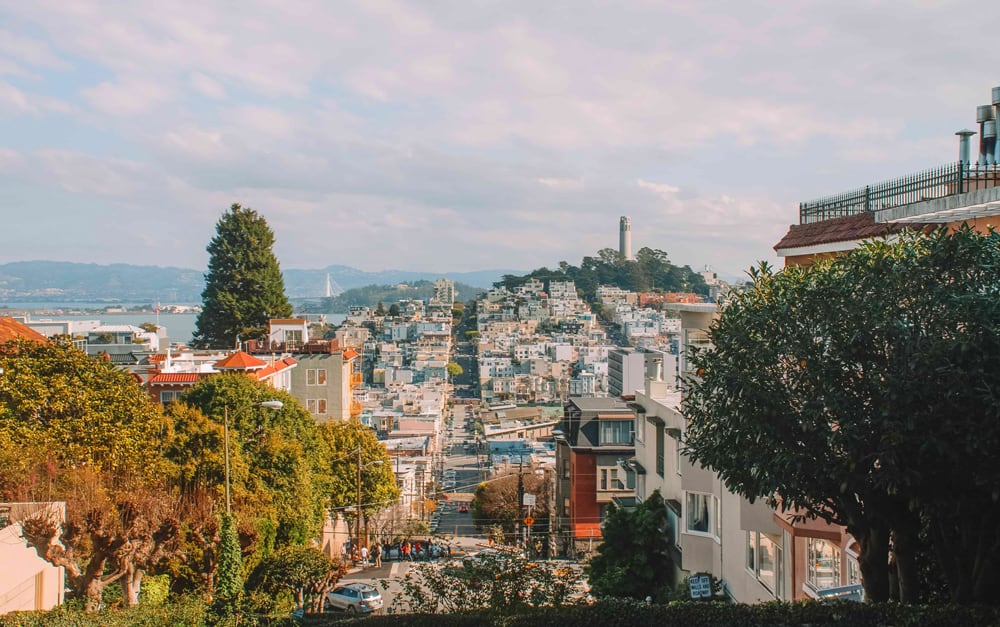 ---
D. Where to Eat & Drink in San Francisco
From Hayes Valley to the Mission and North Beach, San Francisco is a food utopia. In the city, you'll find everything from Mission-style burritos to authentic Italian pizza and vegan specialties.
Here are a few places I'd recommend starting with if you're new to the city.
Zuni not only serves up delicious food but it's also an eco-friendly establishment. They recycle reusable food containers, asking customers to return them after they've finished their meal. Try a gourmet pizza or onion soup with pepper cress for lunch or dinner and afterward sip on a pleasant Armagnac, Cognac, or Brandy.
Golden Boy Pizza is an Italian treasure in the North Beach neighborhood. They're pricey, but their over-sized pizzas are well worth the price. They offer classics like pepperoni as well as specialties such as pesto veggie or garlic and clam.
Monk's leads the way in spirits and Californian cuisine. Go with the kale salad, Korean BBQ Jackfruit sandwich, or Smoked Salmon Nicoise. Leave room for fine beers like a Fonteinen Hommage or open a nice bottle of Hatcher Chardonnay.
The menu at Pancho Villa has a lengthy list of options for the burrito lover—Chile Relleno, steak, and prawns, as well as classics like carne asada and carnitas. And the salsa bar is a San Francisco treat. There are also salads, finger foods, vegetarian tacos, and quesadillas to choose from on the menu.
Over on Geary Boulevard, Hong Kong Lounge is one of San Francisco's most popular restaurants. It's lauded for the best dim sum in the city. There's also excellent sticky rice in lotus leaves and exceptional nou mi ji.
---
---
E. Where to Stay in San Francisco
The most popular neighborhoods to stay in San Francisco for first-time visitors are Union Square, Fisherman's Wharf, and SOMA because they're near so many attractions and offer a variety of public transit options.
Many of the hotels in Union Square, such as the Westin St. Francis, are high-end. However, there are a few budget-friendly choices like the Villa Florence.
In Fisherman's Wharf, I'd recommend staying at the quirky Argonaut Hotel or Hotel Zephyr, which are both right near the water. If you're traveling with kids, Fisherman's Wharf is probably the best neighborhood to stay in for the many kid-friendly activities nearby.
And in SOMA, you can stay at The Clancy with its art deco styling or the more affordable Minna Hotel.
You'll also find quality Airbnbs throughout the city. There are currently over 500 rentals in the Bay Area. Fisherman's Wharf, Twin Peaks, Chinatown, and Alamo Square all have a rental to call a vacation home. Check outAirbnb to pick the perfect house, room, suite, studio, or even a boat.
---
---
F. Best Day Trips from San Francisco
San Francisco and its surrounding areas boast a variety of unique adventures. From exploring the redwoods to rugged beaches, there are a lot of great day trips near the city. Here are three short trips from San Francisco that I'd recommend doing while you're in town.
Muir Woods
A short drive across the Golden Gate Bridge in Marin County, Muir Woods National Monument is one of the best places to see the California redwoods near San Francisco.
Spend a few hours walking along the short and easy trails in the park to experience the magic of a peaceful redwood forest. A few trails to start with include the Bohemian Grove Trail (2 miles), the Ben Johnson Trail (3.4 miles), or the Sun Trail (4.7 miles).
Napa Valley
Napa Valley is California's most famous wine region and where you'll find high-end restaurants, gourmet markets, and the Napa Valley Wine Train. Book a trip on the train for a vintage ride and a good introduction to the wine in this region or hop on one of the many tours that leave from San Francisco if you don't want to drive yourself.
Santa Cruz
Santa Cruz is a fantastic destination for surfing, and due to the varied geography of California, you can also see towering redwoods after a day of lounging on the beach. Explore Santa Cruz's state parks, hit the Boardwalk for some thrills and mouth-watering taffy, or visit UC Santa Cruz's Seymour Marine Discovery Center for a glimpse at what marine life lives in the diverse Monterey Bay.
---
---
G. What to Know Before You Go
We've covered the main sights, where to eat, where to stay, but what else should you know about the city before you go?
You Don't Need a Ride
San Francisco has more than its share of ways to get around. If you're staying inside the city limits, skip the rental and opt for one of the many public transit options listed above instead.
The Weather Can Change Quickly
The city sits among a mass of hills and fog. This means that San Francisco has microclimates and weather can vary from one neighborhood to the next and even by the hour. While the city is fairly temperate year-round, you'll definitely want to bring layers, a beanie, and maybe even some warm gloves if you're prone to cold hands like me.
Make Time to Walk But Be Prepared for the Hills
One of the best ways to get to know San Francisco is to walk everywhere. At around 47 square miles, it's a fairly walkable city that offers plenty of history and cool architecture along its streets. And, in general, going places by foot lets you get your bearings and allows you to take in a lot more than you might from inside a bus or a rental.
Just remember, San Francisco is known for its crazy hills so always bring comfortable shoes and be prepared for a workout.
---
Author's Bio
Mimi McFadden is the founder of The Atlas Heart, a California travel website that helps people explore the best of the Golden State through local insight, road trip itineraries, and bucket list guides.
After living in three different regions of the state, calling California home for 83% of her life, and writing a book on California road trips, she still somehow hasn't gotten tired of her home state. You can also find her on Instagram and Facebook.