Greetings from Antalya, Turkey!
I realized that I haven't done one of these newsletters in a really long time (the last real newsletter dates back to last October). We've had a lot of things happen to us in the last few months, including in our personal lives, so I figured it was time for one of these updates.
For those not familiar with my newsletters, it's where I write behind-the-scenes stuff that doesn't fit into regular posts. Sometimes you'll see stupid photos, uncensored thoughts, or stories of the sometimes weird interactions we have as travellers. Sometimes, as in this newsletter, I'll update readers on what's happening in our personal lives and on our upcoming plans.
Lissette loses her job is "downsized"
What would you do if one day, after working 20 years for the same company, your boss called you and told you that you are out of a job? As of right now?
That happened to Lissette 2 months ago.
It wasn't a huge surprise. The industry she's been working in has been suffering for years and we always figured it was a matter of time.
But it's still a shock when it happens.
What do you do the day after?
In a way it happened at the ideal time because we were just starting our rushed (by our standards) overland trip that would take us from Italy to Turkey. It's allowed us much more time for exploring and taking it easy.
But I'd be lying if I said that it hasn't been hard on her. When I lost my job a few years ago I was excited because I had other plans to work on. I also had this blog which had always been a hobby. The adjustment wasn't hard for me. But it was always different for Lissette. Her job filled up a lot of her time and whatever time she had left over she'd be either at the gym or doing yoga. Now, suddenly unemployed, she's got all this time on her hands. And while we try to go to the gym in the different places we visit it isn't the same as having a gym or yoga center that she's familiar with.
It's also the realization that she's 51 years old and that this will most likely be the last job she'll ever have (her background is in marketing, but the industry she's worked in all her life is very specialized).
It's not a bad thing. There are many positives to her no longer working. She's more relaxed than I've ever seen her. Any negative feelings are not from actually losing the job. It's about disappointment in people. But right now it's all about adjusting to a new reality.
If there are any retirees out there I'd be curious how you adjusted from working 8 – 10 hours a day to suddenly having all the time in the world…
---
---
How it's changing (nor not) the way we travel
Although we're in a comfortable financial situation, Lissette losing her job means we're more careful on how we spend our money. I don't want to be working at Burger King when I'm 80. The main thing we're cutting back on is restaurant outings. We'd rather spend money seeing places than eating out. So we're cooking more. But we still make a point to have at least 1 meal in a traditional (non-touristy) restaurant in every destination.
Above: snacks and wine in Lecce, Italy
We're also more flexible now with the apartments we rent. It used to be that we always needed at least one good working table. We would often rent 2 bedroom apartments while Lissette was working because she always needed her work space. With shorter stays on our route to Turkey we've been more conscious on cost. In Corfu we had a small apartment with bunk beds. In Plovdiv we had the cheapest apartment we've ever come across – a very nice place (but in a semi-basement) that cost us $169 Canadian ($127 US) for 7 nights! So being more flexible we've been keeping an eye on our expenses.
One thing we've confirmed though is that the cheapest way to travel is slowly, ie. staying longer in places. I've previously written about how and why we slow travel. That's been confirmed through the last 3 months travelling "fast"…have a look at our bookings so far this year.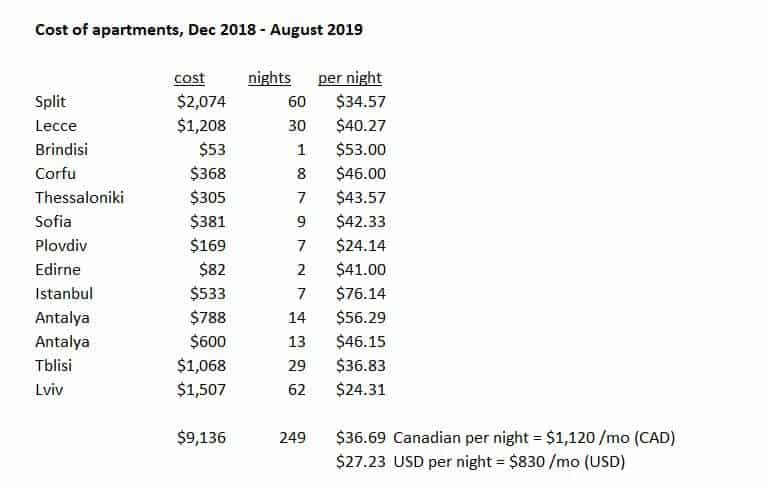 Maybe you're surprised by how cheap some of the apartments below are. Believe me, some of them are really nice. Most have 2 bedrooms. Have a look at this one in Split, this one in Lecce, or this one in Sofia.
But it's more than cost. Just this week Lissette was telling me that she can't handle one week here, another week there…she's looking forward to being somewhere for a month. It's fun seeing different places and moving on. And sometimes we'll do that. But generally we prefer staying somewhere for a longer period.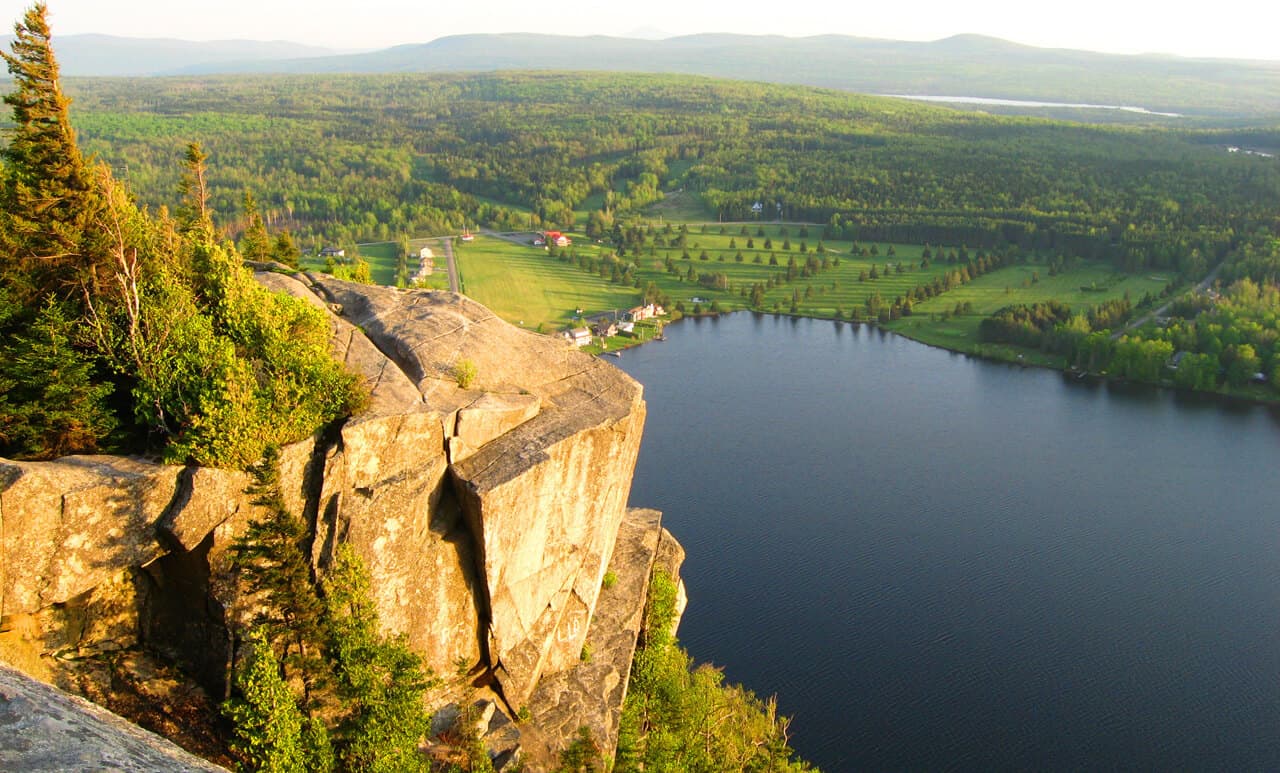 Above: Mt. Pinacle, Quebec. One of our favorite places in Quebec.
---
---
Freelance Writing
Sometimes when something like losing a job happens it gives you a kick in the pants. I'd approached a few newspapers previously about doing articles for them. I never heard back, got a bit discouraged and gave up. After Lissette lost her job I decided to get more aggressive. Writing people, writing them back, pushing a bit…and then Postmedia (owners of the Vancouver Sun, Montreal Gazette, Toronto Sun, Ottawa Citizen and many more Canadian newspapers) got back to me.
They were only interested in domestic destinations. So I wrote an article on Montreal and another on places to see in the province of Quebec. It's been 5 years since we lived there so it was a bit of a stretch…They paid $500 for those 2 articles. I had gone into it with the idea of reaching a larger audience for the blog, I hadn't thought I'd actually get paid.
Yesterday I was told that they wanted two more articles from me…with a possible 3rd. One of them will be a feature article on us and how we've managed to travel the world on the cheap.
When I started the blog it was because I enjoyed writing. I dreamed of getting published. So for me it's a pretty big deal and I hope I can leverage these articles into more freelance articles going forward. Truth is that most bloggers don't make money solely from their blog. But having a blog is like an artist with a portfolio – it gives you a bit of credibility and "a body of work" as people like to say. It can lead to other things.
All to say that it's something new and I'm pretty excited by it.
Blogging & Monetizing
Earlier this year I started monetizing certain aspects of the blog. I've tried not to be spammy about it and have made it a point not to have big flashing ads or pop up boxes (I hate pop up boxes). But after 5 years of blogging I figured it was time to try to offset some of the costs of travelling and blogging (I actually spend more time on the blog than Lissette did working). Now, with Lissette losing her job, I'm glad I went that direction and we've been pleasantly surprised by how many readers have made their travel arrangements through the blog.
So if you enjoy this blog please consider using our affiliate links when booking your next hotel, car rental or tour. It doesn't cost you a cent, we get a small commission, and I don't get crap from Lissette when I'm up late writing my posts.
Speaking of which, Lissette is promising to help me out on the blog. Her marketing experience would help out with SEO, social media, and blog outreach. All the stuff I don't like. I'm also hoping she can contribute a post once in a while. Most readers are female and I think her voice would balance out the blog a bit.
But for now she's still recovering from the job loss. Which means watching a lot of Netflix. Her favorite right now is RuPaul's Drag Race. Because what's better than watching guys dressing up like slutty-looking women and having to lip sync for their lives?
Speaking of Netflix: they have a new series called Street Food. Very interesting and it'll give you inspiration to travel.
---
---
One of those Frank jokes that didn't go over so well
Sometimes jokes don't always go over because of language. That's what I usually tell myself when people don't laugh at my jokes ("oh, they just didn't understand"). In Croatia I've learned anything religious doesn't go over very well.
We were having a dinner party with our Croatian friends when Lissette says, out loud, "Frank, why don't you tell everyone what happened last night?"
I did. But I added a little twist at the end, it was the joke part of the joke. Here is how the whole thing went:
So yesterday I was in the kitchen cooking diner. The door buzzed. I ignored it. It buzzed again. I ignored it. For about 3 minutes the person kept buzzing until I decided to open the door. I opened the door. Standing there was a priest. He said hello, I said hello. He introduced himself as the priest from the local parish. I said "ah". Then he asked me, "can I come in? We can pray together". I didn't want to offend him but I didn't want to pray either. "Sorry, no, we're not practicing" I said. He looked a bit surprised and gave me a card with an image of Jesus on it. "Thank you" I said, "my wife will like this". He stood there in the hallway and I wasn't sure what to do or say…
And that's where I added the joke on the end of my story
…so I told him he better go or that I would have to call the police.
I had 10 Croatians and one dumbfounded American/Canadian staring at me. Not a sound in the room.
I explained that it was a joke and that I didn't really tell the priest that I was going to call the police. That lightened the mood a bit. But nobody told me "Hey Frank, that's a pretty funny joke".
We were told by our friends that it is traditional for a priest to come to your house in Croatia and to offer to pray with the inhabitants.
---
---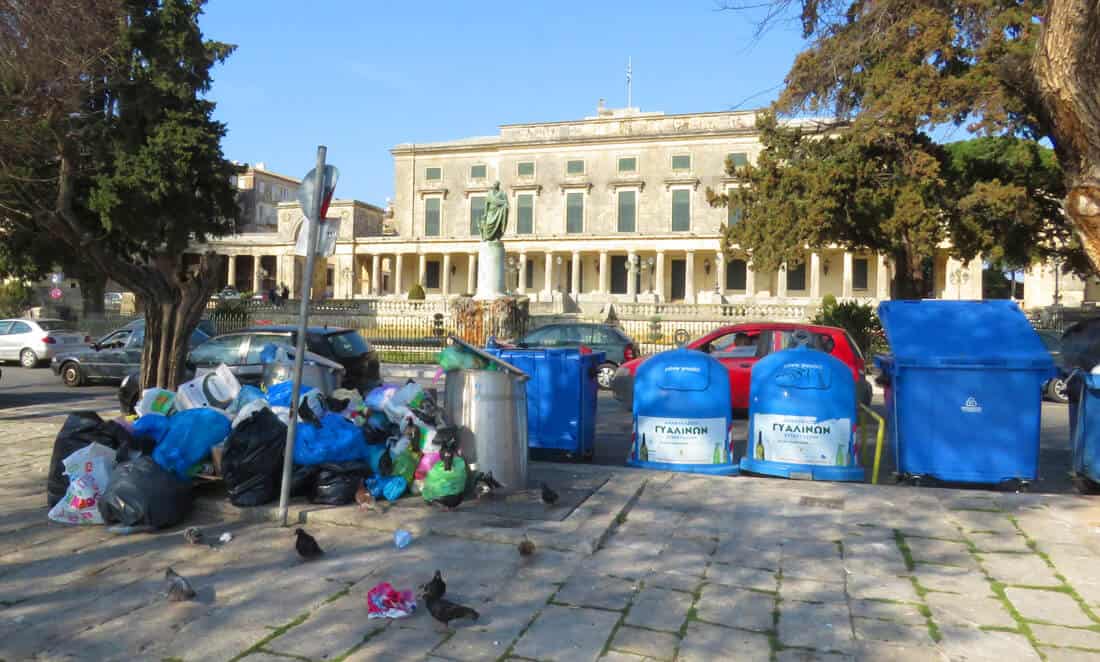 Above: Garbage in Greece
Observations travelling Europe over the last 3 months
We've seen many of the difficulties facing Europe over the last 3 months.
In Italy we were shocked by the number of migrants. They are everywhere and if you take the FSE train between Lecce and some of the small towns south of Puglia you'll think yourself somewhere in Africa. We had heard about the issues with migrants in Italy – but to actually see it with your own eyes you really see the extent of it. It makes you understand why Italians voted for the new anti-immigrant government now in place. I feel bad for the hopelessness of some of these migrants, almost all of whom are young men who left their countries in the hope of getting jobs in Europe. Instead they are panhandling on the streets of Italy. But I feel even worse for the Italians. Their towns and cities are inundated with them. I wouldn't be happy if it was my town. Funny enough, just a few days ago we were watching this documentary on Al Jazeera on exactly this issue. Even migrants are complaining that there are too many migrants in Italy.
Greece. Corfu is a tourist town and is well maintained. We did notice a few things however. 1) We were there a week and during that time we never saw the garbage bins emptied. They overflowed and many locals placed their garbage bags around the bins. Of course the cats and squirrels got into it and spread the garbage around everywhere. 2) Some tourist highlights, like the colossal New Fortress were closed. Both cases were signs of cost cutting in government services. 3) We noticed a lot of closed stores. We got to talking to a local (interesting lady, she had lived in Chicago for many years and had come back to Greece. Now she wants to go back to the US) and she told us that the stores were permanently closed. "There's no economy here", she said, "nobody has money". In Thessaloniki we saw much of the same: heaping bins of garbage and tons of stray dogs. I don't follow economic reports but Greece seems to be suffering heavily.
Bulgaria looks much better off than Greece. The streets of Sofia are clean, the transport modern and although there are some stray dogs the amounts pale in comparison to Greece. And they look a lot less mangy than the ones in Greece. Bulgaria was a pleasant surprise.
We enjoyed travelling through all 3 countries and met lots of friendly, interesting people along the way. But it was interesting seeing with our own eyes some of the issues these countries are facing. And you just wonder how it will all turn out…
Above: Lissette in Edirne, Turkey
Turkey…and upcoming destinations
We're in Turkey right now. There's censorship going on here. Wikipedia for example is blocked. I never realized how much I used Wikipedia before coming to Turkey. On TV there are some strange things being blurred on the screen: Blood, cuts, weapons, the labels on bottles of beer…and cigarettes. The weirdest thing is cigarettes because everyone in Turkey smokes. But turn on a movie and whenever someone is holding a cigarette you just see a blurred image moving around. Ever watch Japanese porn? Anyone who's (accidentally) seen Japanese porn knows that all genitals are always blurred. So when someone is getting their knob polished you don't actually see it but you have a pretty good idea what's going on behind the blurriness. Watching a movie in Turkey is like that. You end up wondering if the guy bringing that blurred thing to his mouth is smoking or sucking dick.
It's been a weird time in Turkey which I'll write about soon.
Coming up: 2 months in Georgia and Armenia. We've never been to the Caucasus so we're really looking forward to it.
Ok, that's our update. Thanks for reading!
Note: You'll find all of our newsletters right HERE. I'm going to try to write them more frequently going forward.