Fort Lauderdale Airport Guide
So much has changed since my first visit to Fort Lauderdale airport. In the 1970s, passengers used to park their cars at the front of the Airport terminal. Boarding planes would mean stepping out onto the tarmac and climbing stairs. Times have evolved and the airport has grown tremendously. Most of that is due to the growth of Fort Lauderdale itself – today it is a world-class destination offering gorgeous beaches, a historic waterfront, and an arts and culture scene. It is also popular for its canals which you can visit by gondola (so popular that the city is nicknamed "the Venice of America").
The airport is now an international airport that serves thousands of people from all countries. From a regional airport, it now services national airlines (such as JetBlue, Spirit, and Southwest) as well as international airlines (such as Air Canada, Emirates, and Westjet).
Fort Lauderdale Hollywood Airport is increasingly used as an alternative to the very busy Miami International Airport, which is only 25 miles south.
This post details everything you need to know about the airport.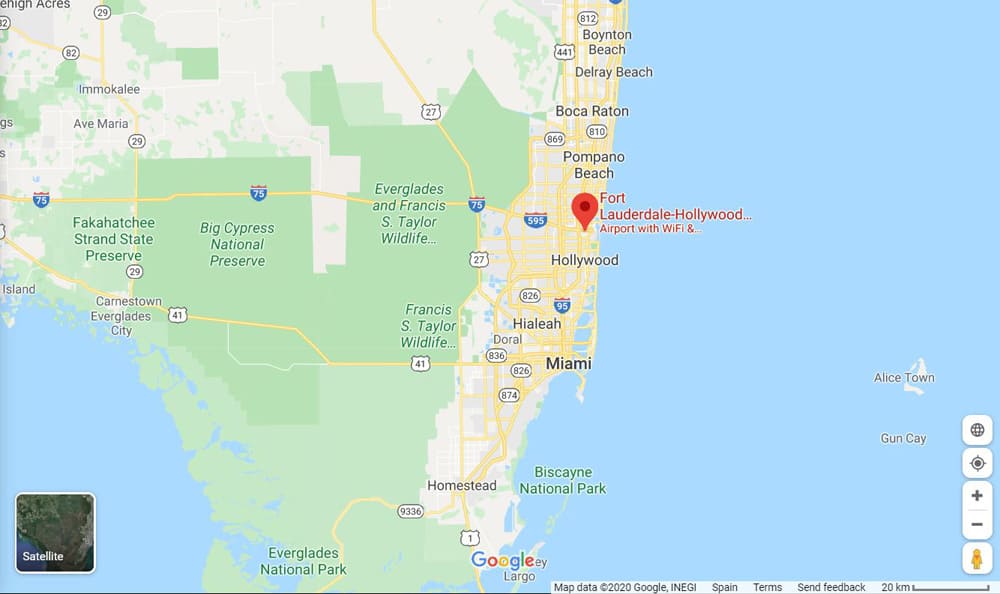 ---
---
Airport Location, Code and Contact Information
Fort Lauderdale International airport is located in Florida, between Hollywood and Fort Lauderdale. It is a a 20 minutes ride to Fort Lauderdale Beach, 20 minutes to Hollywood Beach, and 45 minutes to Miami. The Airport code is FLL. The phone number for the airport is 1-866-435-9355 (available 24 hours a day).

Layout of Fort Lauderdale Airport
This large airport has four terminals and operates almost 30 airlines heading to diverse destinations around the world. Among the busiest domestic routes for this airport include Atlanta, Baltimore and New York City. For international travels, FLL is a renowned stopover for tourists heading to Caribbean and Central American destinations.
There are eight concourses at Fort Lauderdale Hollywood International airport that are categorized into four terminals. In terminal 1 are concourses A, B and C, in terminal 2 is D, terminal 3 has concourse E and F while terminal 4 has two plaza Gs.
Transport between terminals is by shuttle bus. All terminals have lounges and restaurants where you can relax and have a meal.
Fort Lauderdale Parking
This airport has over 12,000 parking spots available that are managed by Parkos Company. There are several parking options that you can go with, whether hourly or daily. The FLL parking lots can be easily accessed at the arrivals level only, which is the ground floor.
With Parkos, you can arrange a parking spot while still at home before the travel date. Their services are top-notch, and that is why numerous clients always aim at parking their vehicles with Parkos. The security of your car is guaranteed by parking at FLL.
Offsite parking is also available. It is only 4 miles from the airport and is accessible by free shuttle services between this Economy lot and the airport. Security at the airport does not allow drivers to park at the terminals as they wait for travellers. However, the airport provides travellers with a cell-phone waiting area.
---
---
Taxis and Public Transportation
You can get to and from FLL many different ways. That will be dependent on how much time you have and where you are headed.
Tri-Rail: It is a commuter train which traverses between three counties. You can take the free shuttle service to the station (just a few miles away) where you can take a train to destinations ranging from West Palm Beach to Miami. See the Tri-Rail system map.
BCT Buses: These are public buses for Broward County Transit and they are reliable and quite cheap if you need to go somewhere in Broward county. At the rental car centre, you can locate bus stop 7 and proceed southwards to Broward central terminal or northbound to Aventura Mall.
Taxis: Every terminal in the airport has a taxi stand.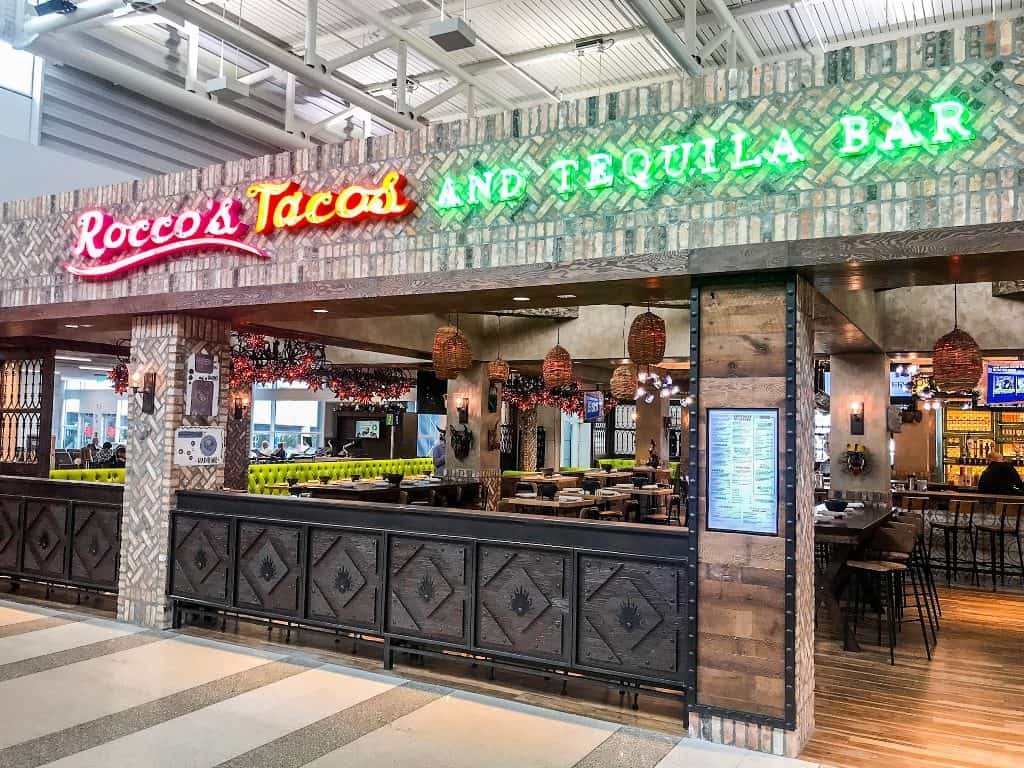 Where to Dine
In case you are hungry while waiting for your flight, you have a lot of options at FLL. There are numerous restaurants where you can sit down and get something to eat or grab a snack and leave. Pronto Mercato can be found at gate C, Aroma market near gate F, Great American Bagel gate D, two Urban Market near gates B and D.
For the sit-down experience some suggestions include Cross Grains Brewhouse which can be found at the departure level on the upper side, Shula Burger found at gate C, Casavana Cuban Restaurant situated in gate H. There are many other options available throughout the airport.
---
---
Layover at the Airport?
If you have a short layover you can leave your luggage at the storage lockers found in all the terminals. It is an easy walk to beaches a few meters away. If you decide to stay in the airport you can find a comfortable place to chill as you listen to the lively music that plays at FLL. If you have an overnight layover, there are nearby hotels (have a look at Booking.com and type in "FLL". You'll have many hotel options around the airport).
Charging Stations and Wi-Fi
Fort Lauderdale Airport is very modern and you'll have no problems accessing unlimited free Wi-Fi. You'll also find internet kiosks. Near the ATM you can access phone chargers at terminal 1 while the internet kiosks can be found at terminals 3, 2 and 1.
Airport Lounges
Fort Lauderdale International airport boasts of two airline lounges. They include the United Club and Delta Sky Club. To get into these lounges, you have to be a member or pay at the door. Delta Sky Club is at terminal 2 and has a password-protected Wi-Fi, coffee, snacks and alcohol. United Club has all these services as well as conference facilities. It is located at terminal 1.
Business Center
A business centre with copy machines and fax can be found at terminal 1 adjacent to the International Arrivals.
---
---