What to See in Guatemala
A mountainous slice of Central America below the Mexican border, Guatemala is loaded with incredible natural, historical and cultural appeal. It is the birthplace and heartland of the ancient Maya, one of the most fascinating civilizations of the Western world. Mayan pyramids, volcanoes, and Baroque churches from Spanish colonialism are what most travellers associate with Guatemala – but you'll also find charming towns, colourful markets, tropical forests, hot springs, as well as many wonderful hiking opportunities. Despite poverty, Guatemalans are extremely friendly and helpful to travellers. This hospitality, combined with the country's cultural legacy, natural beauty (and good value!) makes Guatemala a compelling place for travellers.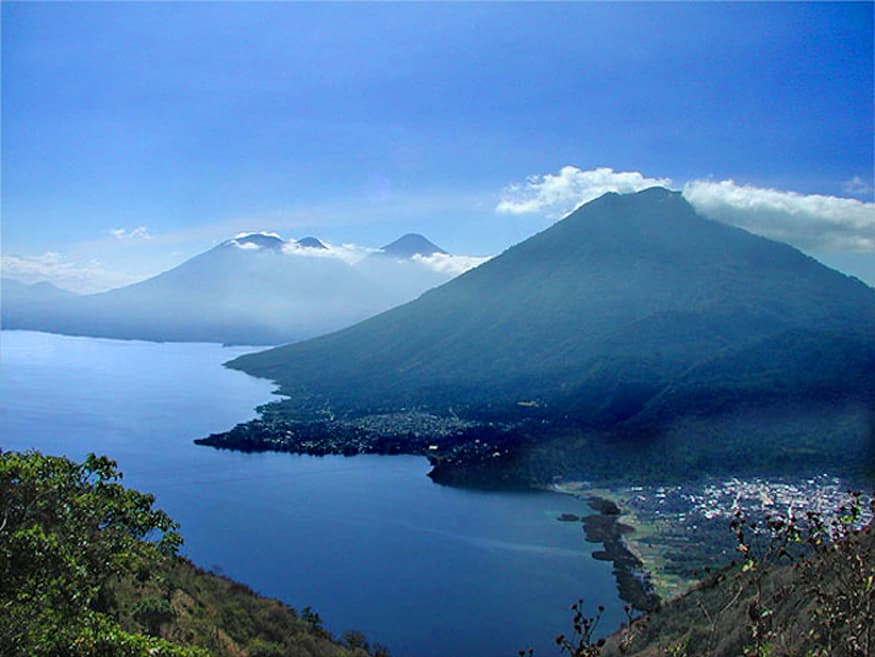 .
Top Places to see
Antigua
Situated in a highland valley, this pretty colonial city is surrounded by 3 volcanoes. Antigua is Guatemala's most popular tourist destination, principally because of its architecture: churches, monasteries, mansions, and cobbled streets are reminders that this was one of the great cities of the Spanish empire. It has a relaxed feel, a good choice of restaurants and a cool bar scene. Antigua has a lot of language schools and is a popular choice for foreigners looking to learn Spanish. Don't miss Antigua's market; a busy, sprawling, and very colourful market where you can buy fruits, vegetables, handmade crafts and trinkets. In fact, the only complaint that can be made about Antigua is that it may be 'too gringorized' with all its cafes and boutiques.
Recommended accommodation: Casa Girasol (beautiful place, great location, good value), Tamarindo Guest House, near Arco Santa Catarina (simple but nice, great value, great location).
---
---
Volcán de Pacaya
Close to both Guatemala City and Antigua, Pacaya National Park is a popular attraction for travellers looking to experience an active volcano (ashes frequently erupt over Antigua). The hike up is relatively easy and affords great views over the city as well as inside the volcano's cone.
Recommended Tour: This tour from Antigua which includes a 2 hour hike to the summit where you have amazing views of other volcanoes
Lake Atitlán
An incredibly beautiful spot, Lake Atitlan is a close 2nd as the most travelled to destination in Nicaragua. Framed on all sides by volcanoes and steep hills, the lake (measuring 18 km by 12 km) changes colour with the time of day; an incredible range of blues, grays, and greens.
On the northern coast of the lake lies the tourist village of Panajachel. It is a good base from which to arrange tours of the lake and volcanoes as well as to enjoy the many restaurants, bars and nightlife in a beautiful lakeside setting. Other possibilities around the lake are San Pedro (budget options and a party vibe) or pretty Santa Cruz and San Marcos (both for those looking for something quieter). High up above the lake, the traditional Maya town of Sololá has one of the country's best (and least-touristy) markets, a complete contrast to the twice-weekly affair at Chichicastenango (see below) with its incredible selection of souvenirs, weavings and handicrafts.
The whole of this area (the Western Highlands – which stretch from the outskirts of Antigua to the Mexican border) is the most beautiful and captivating part of the whole country. A variety of landscapes (volcanoes, mountains, green valleys with gushing streams and waterfalls) and vegetation (from dense forests supporting bananas, coffee and vegetables to pine and oak trees at higher altitudes) contribute to this, along with colourful market towns and colonial churches at every turn. This region is predominantly peopled by the Maya, who have lived here for the past two thousand years. Maya society, languages and traditions are markedly different from mainstream Latin American culture, and exploring their beautiful highland home is a highlight to any trip in Guatemala. North of Lake Atilan is the market town of Chichicastenango and the wildly beautiful peaks and remote, intensely traditional communities of the Ixil in the Cuchumatanes mountains (a region that is excellent for hiking).
Some accommodation recommendations: Casa Paxanax in Santa Cruz (gorgeous 4 star place with incredible views of the lake and volcano. Expensive by Guatemalan standards but if you only have a few days this is the place). HogarAtitlan (a beautiful apartment on the lake in San Pedro. Good value). Hotel Utz Jay (right in the center of Panajachel. Simple, but great views and in a tropical setting. Good value). Lush Atitlan (beautiful and excellent value, great views over the lake and volcanoes. In San Marcos).
---
---
Tikal National Park
Tikal is considered the most impressive of all Maya sites. It is undoubtedly Guatemala's most famous cultural and natural attraction. Towering above the rainforest, it is located 68 km from Flores (below).The ruins are dominated by five enormous temples, steep-sided limestone pyramids that rise to more than 60m above the forest floor. Around them are thousands of other structures, many semi-strangled by giant roots and still hidden beneath mounds of earth. The site itself is in the Parque Nacional Tikal, a protected area of some 576 square kilometers that is on the edge of the much larger Reserva de la Biósfera Maya. The sheer scale of the place is overwhelming, and its atmosphere spellbinding. You can stay here for a week and you won't get bored. Besides the ancient ruins, the forest comes alive at dawn and dusk when toucans, howler monkeys, parakeets, and bats screech, howl, and fly through the air. It is an amazing place.
Accommodation recommendations: Hotel Jaguar Inn Tikal (comfortable bungalows, great location, good value). Hotel Jungle Lodge Tikal (this is the place to be if you don't mind paying more. Beautiful lodge, great location).
Flores
Located on a pretty, tourist-friendly island in the middle of Lake Peten Itza. Some people use it as a base to Tikal, which is an hour away. The town is small but comfortable, with cobbled streets and old houses built around a twin-domed church. Flores is an attraction onto itself, not just a jumping off point for other places. It also has a good selection of hotels, restaurants and tour operators.
Accommodation recommendations: Hotel Isla de Flores
Yaxhá Mayan Ruins
Although smaller than Tikal, the ruins at Yaxhá are totally secluded. You'll feel like you're Indiana Jones coming here! Covering several square kilometers of a limestone ridge overlooking Laguna Yaxhá, Yaxhá means "green-blue water" – a reference to the wonderful turquoise hue of the lake just below. It has forty stelae (standing stone slabs covered in drawings or carved in to shapes) , numerous altars, nine soaring temple pyramids and two ball courts. The dense jungle and lack of crowds only add to the special atmosphere of the place, and the wildlife is prolific (particularly howler monkeys and toucans). Recommended: use Flores (above) as your base.
---
---
Quirigua
Sitting in an isolated pocket of rainforest and surrounded by banana trees, the small archeological site of Quiriguá has some of the finest carvings in the entire Maya world. It has magnificent stelae (including the largest stone monumental sculpture ever erected in the New World), altars and zoomorphs that are covered in well-preserved and superbly intricate glyphs and portraits.
Tour: This 2 day tour from Guatemala City takes you to both Quirigua and to Copan (see below).
Copán (Honduras)
Copán, just across the border in Honduras, is considered one of the 3 most spectacular Mayan sites (along with Tikal and Chichen Itza in Mexico).The Copán site is known for a series of portrait stelae and acropolis, a large complex of overlapping step-pyramids, plazas, and palaces. From AD 426 to 820, it was also the most populated city of the Maya world. Incidentally, the decline of Copán started after losing a major battle with rival city Quiriguá (above) in AD 738.
Recommended: Visit on a day tour from either Antigua or Guatemala city. It's a long day and a bit expensive, but it's worth it.
Semuk Champey
A popular spot among backpackers interested in caving and chilling in green pools of water. Definitely out of the way in the middle of the Guatemalan countryside (near Coban).
Practical Information & Costs
Flights: Most international travelers fly into Guatemala City's La Aurora International Airport (airport code: GUA).
Lodging: Budget travellers can find comfortable rooms with double beds and a private bathroom in the $15-25 range.
Food: You can get a meal in local restaurants (called "comedores") for about $3. In a tourist restaurants expect to pay about $10. The cost of a beer/glass of rum in a restaurant will be between $1.50 – $2.50, while in a store you can buy beer for about $2 (half liter bottle) and rum ranging from $3-8 (depending on quality).
Transportation: the cheapest transport is on old buses called Las Camionetas, they'll cost about $1 USD for a 1-2 hour journey. Shared shuttle buses between cities will cost about $12 (example: Antigua to Lake Atitlan or Guatemala City).
Ps. If you find our blog helpful, please consider using our links to book your flights, hotels, tours, and car rentals. Have a look at our Travel Resources page.
---
---
Related: Why we love Colombia