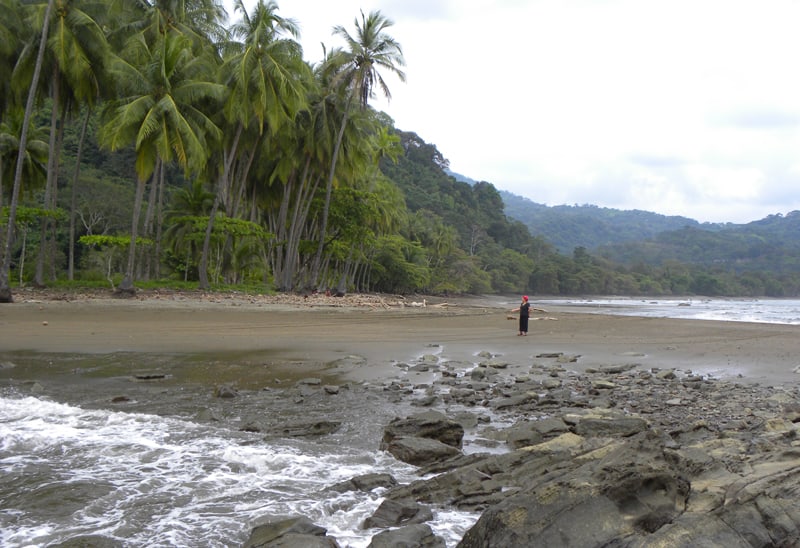 Anyone who's followed our blog over the years knows that Costa Rica ranks high on our "overrated" list. We spent a month there a few years back – in 2011 in fact, so it's been 10 years. So I laughed when one of our readers commented to me on one of our Costa Rica posts: "Costa Rica?! That's so 2004". I laughed because the comment was bang on. Maybe we showed up in Costa Rica 7 years too late…
We had spent 3 weeks in Costa Rica between Orosi, Manuel Antonio, Uvita, Dominical, La Fortuna, and then Santa Teresa. Santa Teresa was in fact was the only place we really enjoyed. Otherwise Costa Rica left us unenthused.
---
---
So why do we think Costa Rica is Overrated?

1) It's Over touristed and Overpriced. I ranted about it on my posts on both Manuel Antonio and La Fortuna. I knew before going to Costa Rica that it's popular. But I never expected the hordes of tourists that we saw (most tourists are American and Canadian, with a sprinkling of Europeans). Or the crazy, out of whack, pricing. Imagine going to some hot springs and paying $120 US for 2 people? (including lunch and drinks). Or paying $90 US (again for 2 people) to visit a small animal sanctuary? Maybe we've been spoiled by the quality and pricing of places we've visited in Mexico and Nicaragua…but pricing in Costa Rica is just crazy considering this is a poor and still developing country.
I don't mind paying a lot for something amazing. In Switzerland we took the train up 2000 m to the North Face of the Eiger. In Cape Town I paraglided over the city. In both cases the experience was worth the money. In Costa Rica we just felt that there was very little value for money. We felt ripped off.
---
---
2) We both felt that this country was run by foreigners and not by Costa Ricans. Hotels and restaurants were almost all foreign owned (save for a few local mom-and-pop restaurants) and I found it amazing how much of the staff were also foreigners. We travel because we like the interaction with locals – we don't want or need to be served at the neighborhood cafe by a Canadian or American. It left us wondering about Costa Rican employment laws.
3) We've been to quite a lot of Latin American countries where we've met a lot of very friendly people. Costa Ricans left us indifferent. Maybe because there are too many tourists? Or is it because their economy is run by foreigners? For those who'll accuse us of bashing the Ticos – I'm not. Unlike in Brazil (where we had a lot of very unfriendly encounters) Ticos were never unfriendly. They were just reserved and formal. We just missed the connection to locals that we've felt in other places.
---
---
4) Logistics – as I've detailed in the last few posts, transportation was always complicated and expensive. I don't say this for many places, but you have to rent a car in Costa Rica. Not only that, do it early because (as I've mentioned in other posts) they go fast.
5) Infrastructure is bad. Jeez. I never thought Costa Rica would have worse infrastructure than Cuba or the Dominican Republic. We walked through popular beach towns where there were no sidewalks. We had to walk on the side of the road next to a dirty gutter. There's money in Costa Rica because you'll see lots of nice resorts and restaurants. But that's private property…nobody seems to want to invest in public infrastructure.
Summing it up, we just weren't impressed by Costa Rica. It's overrated.

What do you think?
PS. What countries are on your "overrated" list?