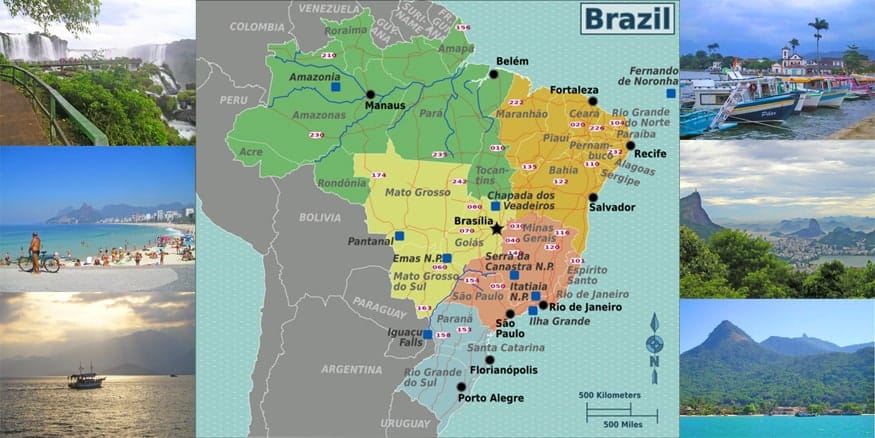 If you've read the last few posts you've probably figured out that I wasn't crazy about Brazil. I'll say it now: Brazil was for me the most disappointing place I've been on vacation. My opinion is based on 2 1/2 weeks of travel within a small portion of Brazil, so take my opinion for what it's worth…but as equally as I can say that I loved Colombia during my 2 visits, I can also say that I really didn't enjoy Brazil.
The biggest reason were the people. Maybe I thought the people would be "Latin", like in Colombia, Cuba, or the Dominican Republic; happy, outgoing, and friendly people. They weren't. I actually felt they were hostile, something I never expected when planning to go there. I've never felt people as unfriendly towards me as I did in Brazil.
---
---
I've thought about it a lot, wondering what it could have been. Is it because I'm Caucasian, and that they confuse me as being an American? (I'm Canadian). Is it because Lissette and I are a mixed raced couple? (I don't think so because Brazilians are pretty mixed anyway). My best theory is that it's political, specifically anti-American sentiment due in part to the whole Visa situation. I know Brazilians are upset about the Visa fees imposed on any Brazilian citizen wanting to visit the USA.We can all look at other countries and disagree with their policies or politics. That's fine. But when I, as an individual, have some Brazilian woman intentionally hitting me with her luggage cart (twice) at the airport, I start taking it personally. I would ask someone a question and they would respond but would do it addressing Lissette (maybe because she's brown?). I can count on one hand the number of people who would respond with a smile or who weren't brusque in their manner. Brazil was the one place where I felt that I could be mugged in broad daylight and where locals and authorities wouldn't even budge to help you.
---
---
We've argued about this; Lissette thinks it's great that Latin people are, in her words, "Proud, they won't bow to the white man. Most Latinos don't stick together and Brazilians do". I respond that I have no problem if they're proud and I don't ask anyone to bow down to me. But if I'm being friendly and people are rude towards me then I have no reason to like them. I'm not American, this "anti-Americanism" is a broader brush against any white traveler.
I left Brazil with memories of the unfriendly people I met along the way: the above mentioned woman intentionally hitting me within 5 minutes of arriving in Rio, the bartender staring at Lissette's cleavage at the $260/night Sol Ipanema (right in front of my face), the useless dumb-asses laughing at us when we asked for information. We don't have any great memories of the people we met along the way in Brazil.
---
---
But I'm not sure it was only this either. We took a boat cruise where almost all the tourists were Brazilian (most tourists we saw were either Brazilians touring their own country or Argentinians). They weren't all that friendly towards each other either.
A few other points about Brazil;
"Hot Brazilian women". I've seen tons of photos of beautiful Brazilian women but they must have all gone indoors when we were there. Colombian women are still the hottest Latin ladies in my books. They even smile at you in Colombia.
Surprisingly, it's the Brazilian men who are very good looking. Lissette suggests that Brazil would be a great place for a single woman. Or gay man. Maybe I'll come back to Brazil if I'm gay in my next life. Yeah: dead, reincarnated, and gay – the only way I'll come back to Brazil.
"Caipirinha" is an amazing drink and I loved it. Wow!
Despite my comments, there was incredible geographical beauty in all the places we went. Brazil is a beautiful country. I loved the combination of mountains/ocean in Rio province and was impressed by Iguazu. My dislike for Brazil has nothing to do with the geography. It is a beautiful country.
Again, this is just my opinion based on 2 1/2 weeks travelling within a small part of Brazil. I'm sorry to be negative and I don't mean to offend any Brazilians reading this. Maybe our experience would be different if we returned tomorrow. But this was our experience and I think its important to tell it as it is.
Have you been to Brazil? What was your experience?