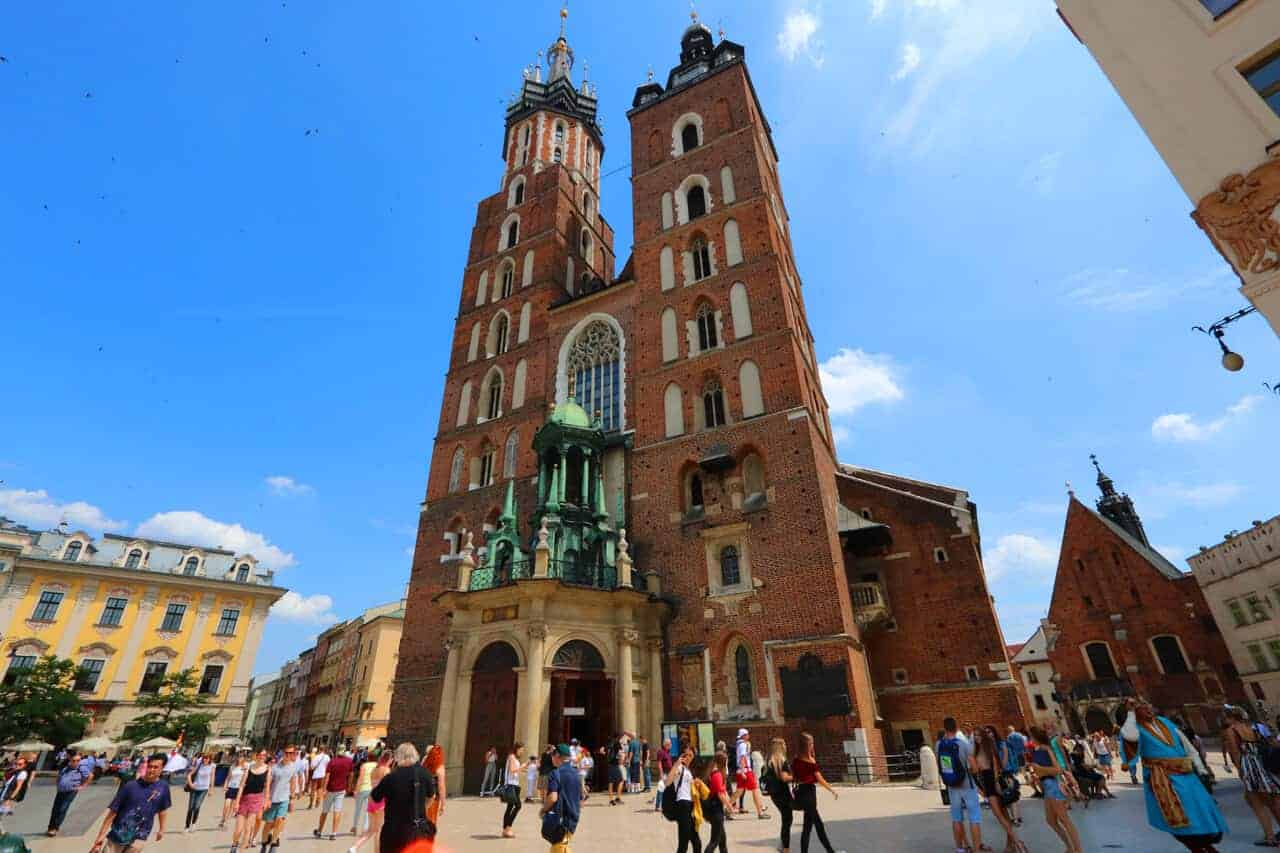 Is Krakow overrated?
Brazil has been at the bottom of the list of all the places Lissette and I have been. But that trip was back in 2007, way before we started travelling full-time in 2014. Since then – except for a bad stay in Lisbon a few years ago – we haven't really had a negative experience. Certainly none that significantly shaped our outlook on a country and its people.
Until Poland.
For Lissette, Poland is now at the bottom of her list of countries (Sorry Brazil, for me you're still ranked at the top of my "crappiest experience" category).
Our bad experiences in both Brazil and Poland had one thing in common – our experiences with the locals.
I'll get to that a little further in this post.
---
---
But first…
Is Krakow overrated?
Krakow is one of Europe's oldest cities and has a fascinating history. It still has remnants of the incredible fortifications that protected the city (the Barbican being the highlight), it has an impressive (but not spectacular) castle, some beautiful churches, a happening Jewish district, some interesting mounds, a river where you can walk and cycle, and some poignant day trips in the nearby vicinity. I have more detail on my Krakow Guide.
Krakow is nice. And if you're like most travellers you'll come here for 3 days to a week and you'll have enough to keep you busy and will enjoy the old town.
Is Krakow interesting, pretty, and historically significant? Yes. Will you feel "blown away" by the city's major points of interest? I doubt it.
Besides the "wow" factor, once you've done the Big 3 in Krakow (the Old Town, Wawel castle, and Kamimierz) you've basically got it all covered. You can eat some sausage, drink vodka, see the Kościuszko Mound and museum. Maybe visit Nowa Huta if you're really looking for something to do. You can go to the farmer's market and eat some cheese and Pierogis. You can go to the Stained Glass Museum and do a workshop (which we did and it ended up being a highlight). These are all fun things to do and you'll learn some history and culture along the way.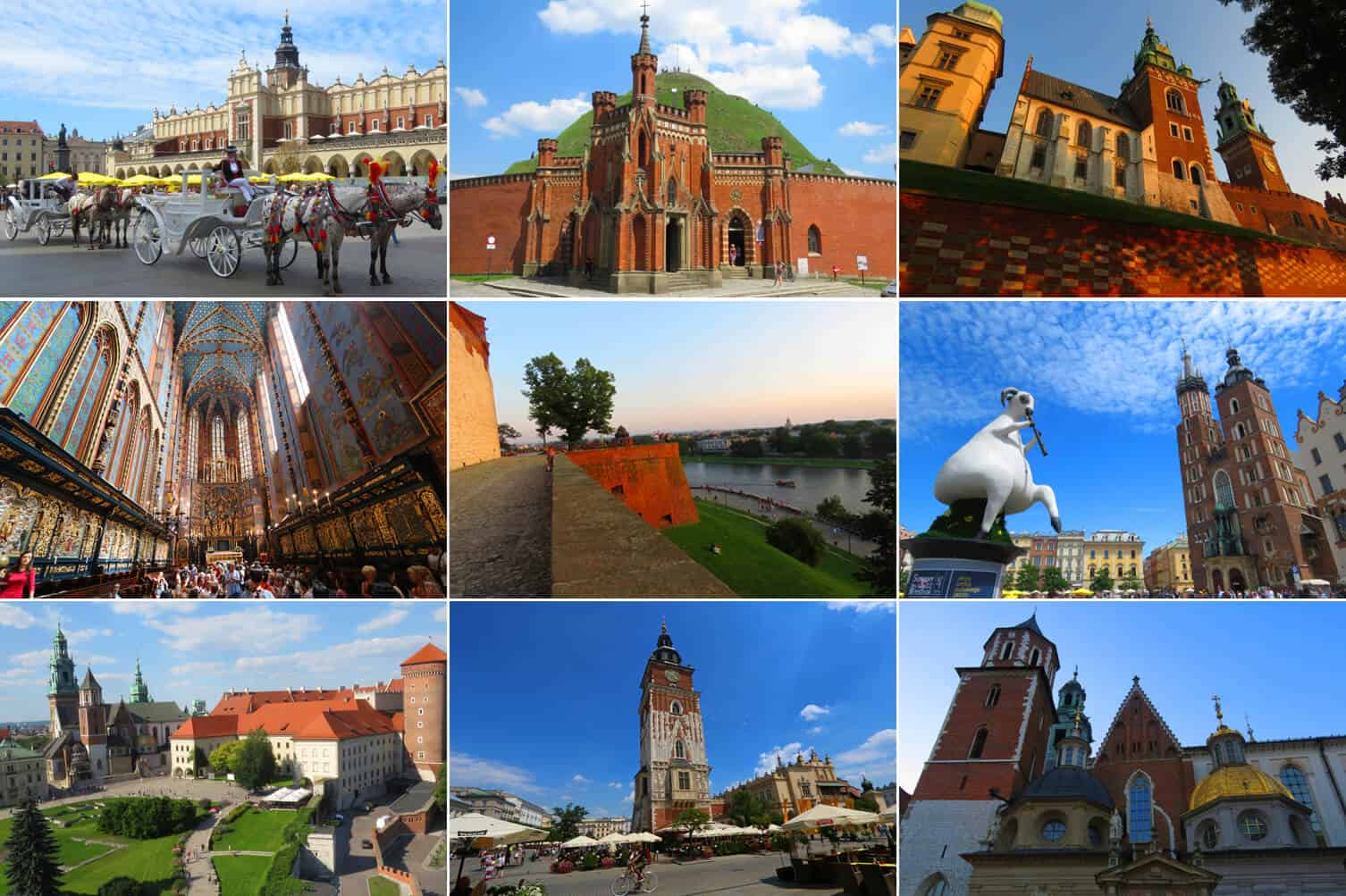 ---
---
As I say, Krakow is a nice. Over our month there we had walks along the river, enjoying the greenery while looking at the castle. It reminded me of the Ottawa canal. Which is fine but…
I don't mean to slam Krakow. It's not Krakow's fault that people compare it to some of Europe's most beautiful cities. And it's not Krakow's fault that it is jam-packed with tourists in summer.
But is Krakow overrated? Definitely. We were there a whole month and I could give you some more reasons why I think it's overrated. But I'll leave it there.
And if you think we're the only ones to think this way I was surprised to find that Nomadic Matt has exactly the same opinion of Krakow.
---
---
Why a month in Poland was enough
We don't need to be in the most beautiful city to appreciate a place. We've been in places (like Belgrade, Skopje, and Sarajevo) where, despite bad infrastructure and poverty, we've felt a connection to the city and its people.
We met a few really nice people in Krakow. Many were vendors at the Farmer's market. One lady made us try out all her cheeses. A girl that we met at a biological-produce stand gave us some free dried fruits to take with us when told her we were leaving Krakow. The young man at the fish store was always happy to practice his English with us and would go overboard being helpful and friendly. And then there was the friendly owner at the gym where we signed up to for the month. He would always help us out with our pronunciation of Polish words.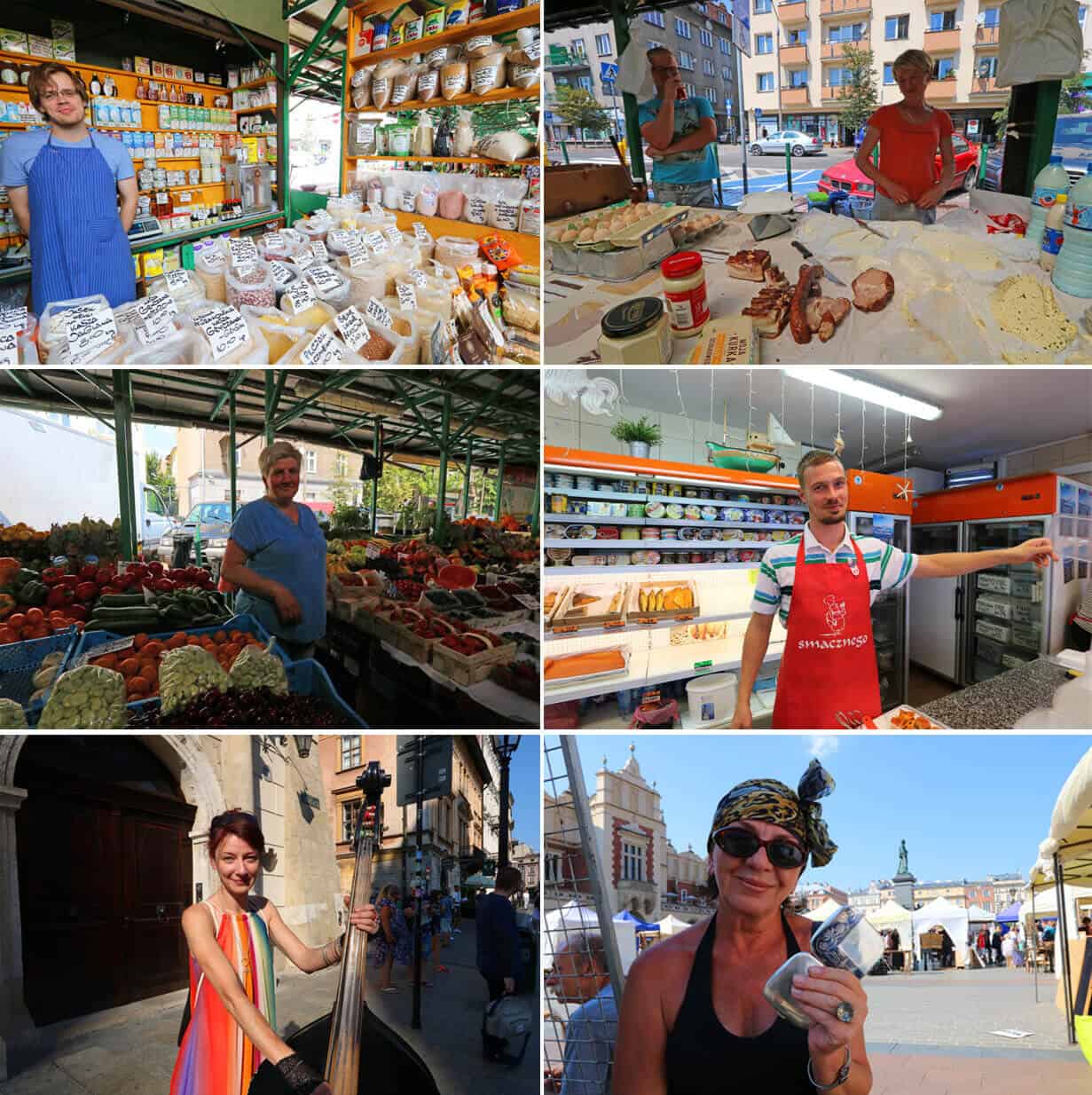 Sometimes just a few pleasant experiences with people can leave you with a warm feeling about a place. Unfortunately every pleasant experience in Krakow was outnumbered by a larger number of unpleasant experiences.
Nowhere over the last 4 years have we encountered people as generally unfriendly as the Poles.
---
---
Not a day would go by without Lissette getting stared at. In some places she gets looked at because she looks different. People wonder what she is. In Krakow they were hard, unfriendly looks. One day we were walking and an old lady was staring at her, giving her the up-and-down with that look on her face that you get when you've just smelled a fart. I noticed and stared right back at her. I just wanted her to know that I didn't appreciate the dirty looks and that she should mind her own business. She wasn't going to back down. We ended up in a 10 second staring contest.
We've done a lot of travelling through Eastern/Central Europe in countries where populist, right wing governments have been elected. But travelling in places like Hungary and the Czech Republic we've never encountered any outward signs of racism. We've gotten used to thinking "well, that's politics. Real people aren't as racist as their politics". Poland proved us wrong. It was the first place we outwardly felt racism.
We met a few expats while in Krakow. An Australian expat working at the local grocery store (married to a Polish man) asked me what I thought of Poland. "Fine" I said, being polite. "I hate it" she told me before going into a rant about the Poles ("unfriendly, closed, of few words, lacking in humor").
A Polish-American wrote me on facebook, describing the Poles as "the most miserable people ever"…"racist" before recounting a few shocking examples. "And our family is Polish!"
---
---
When we think of Krakow, one word comes to mind. Heavy. Everything feels heavy. There doesn't seem to be much joy.
Poland is the most religious country in Europe. During our first week we visited a few of the churches. One of the first we visited was the beautiful Dominican Church in the old town. The church was nearly empty. Going through the church, we walked into the back chapel. Back there, standing and sitting in silence were almost a hundred people, most young in the 20's and 30's. I couldn't figure it out. Lissette did though. "They're waiting their turn to confess".
I've never seen anything like it in my life.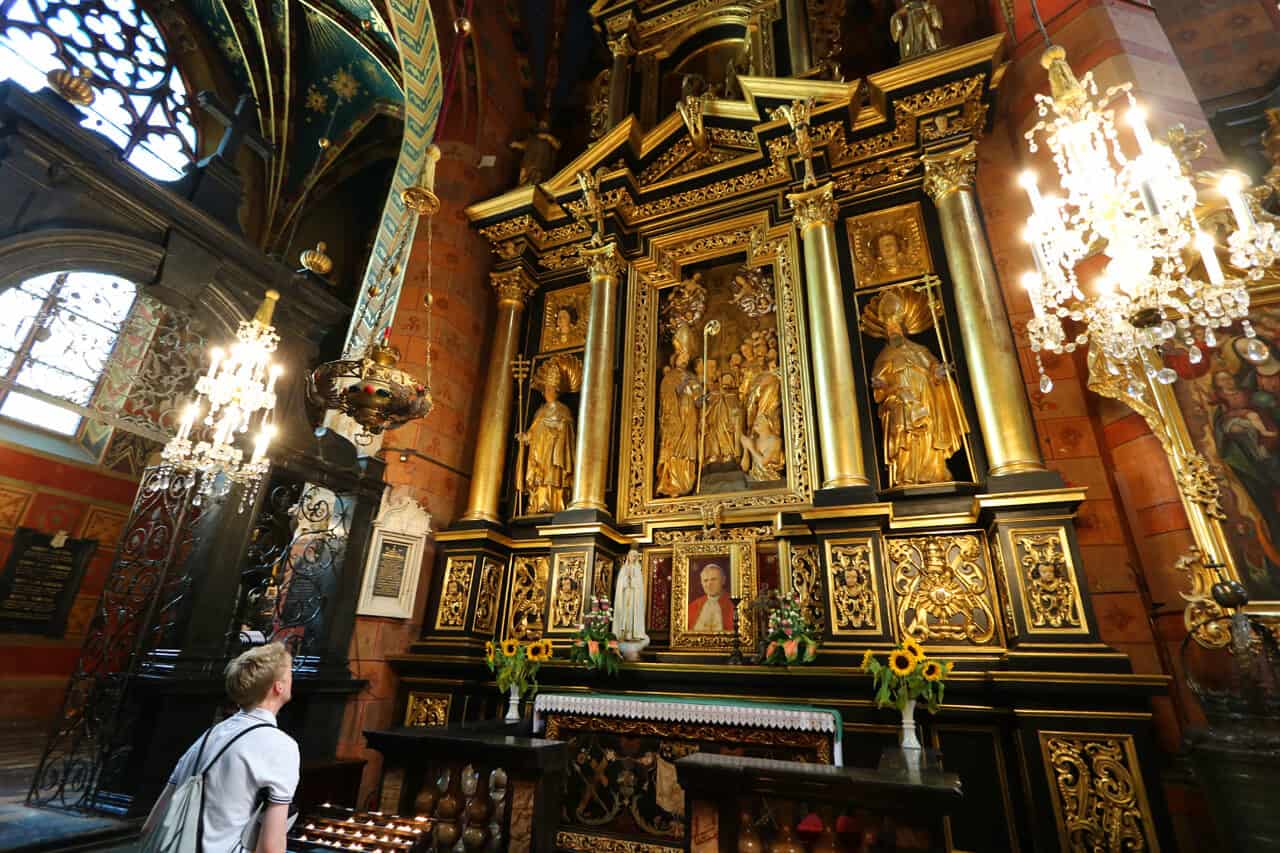 ---
---
I have pretty definite feelings about religion which I wrote about here.
Lissette has always been more forgiving about religion. But even Poland soured her. "I'm sure Jesus is closer to my colour than to theirs" she says. "And where in the bible does it say to hate your fellow man?"
In the case of Poland you'd think history would have made them more sympathetic and open. Everyone know what happened during WWII. In the 1960's – after all that happened during the war – the government launched an anti-semitic campaign that led to a mass exodus of Jews. The present government is trying to rewrite history on all that by the way. You'd think the Poles would have all the anti-semitism out of their system by now. There are very few Jews left living in Poland. But no. We haven't seen as many anti-semitic signs and symbols as we've seen in Krakow.
---
---
Visiting all the churches in Krakow (as I say, there's a lot of nice churches), I kept thinking of Pope John Paul II. He's the only Polish Pope ever. When he was chosen to be Pope he was the first non-Italian Pope in over 400 years. He's revered in Poland. Everyone loved Pope John Paul, even non religious people.
What was Pope John Paul known for? He tried to unite the different people and religions of the world. He travelled to 129 countries trying to achieve that goal. He travelled more than any other Pope.
Whenever I saw his image in church the irony struck me. Here was this great man trying to promote harmony among the different races and religions. Today the Catholic Church that he was a part of tacitly supports the the most radical right wing government in Europe.
---
---
I mentioned off the top that I have never met locals as unfriendly to me as when I was in Brazil in 2007. They had no problems with Lissette though. She fit right in.
Poland was the opposite. She was the outsider and felt it. Sometimes it was intentional (as was the case with the old lady), sometimes it was just gawking because maybe they've never seen a Latina in their lives. But it was never friendly and certainly never welcoming.
Lissette is the one between the two of us that is the most engaging. She'll always talk to locals, ask them questions, make jokes. Meeting people is what she enjoys the most from travelling. Poland is the first place I've seen her shut down and not bother anymore. And that's a shame.
Keep in mind that we were in Krakow for a month, living a 15 minute walk outside the center. We weren't there for a weekend, spending all our time in the friendly confines of the touristy old town.
Summing it up, Poland was the place that we've felt the most uncomfortable as a mixed race couple. Enough that we feel no need to come back.
---
---
I'm going to have a lot of people really angry at me for this post. You might not like it but that was our experience and I'm just being honest.
The one thing I feel bad about is generalizing. As I mention above, we also met some very nice people in Krakow. When we travel different places it is these people we end up remembering. I'm sure there are many more Polish people who are tolerant to other people and cultures. They don't deserve to be lumped into my generalized categorization of Poles in this post. To these people I'm sorry that I've offended you. Please don't stop being open to foreigners.
* On a side note. After our Krakow experience we were nervous about what people would be like going further East. Our next destination was Ukraine. How would people be there?
We ended up in Lviv where people were amazing. Friendly, open and curious. Some of the friendliest people we've met anywhere. On one of our first days an old lady on the street felt the need to talk to Lissette. She had blue, twinkly eyes and a sweet smile and when she talked to Lissette she gave her an affectionate squeeze on the arm.
---
---