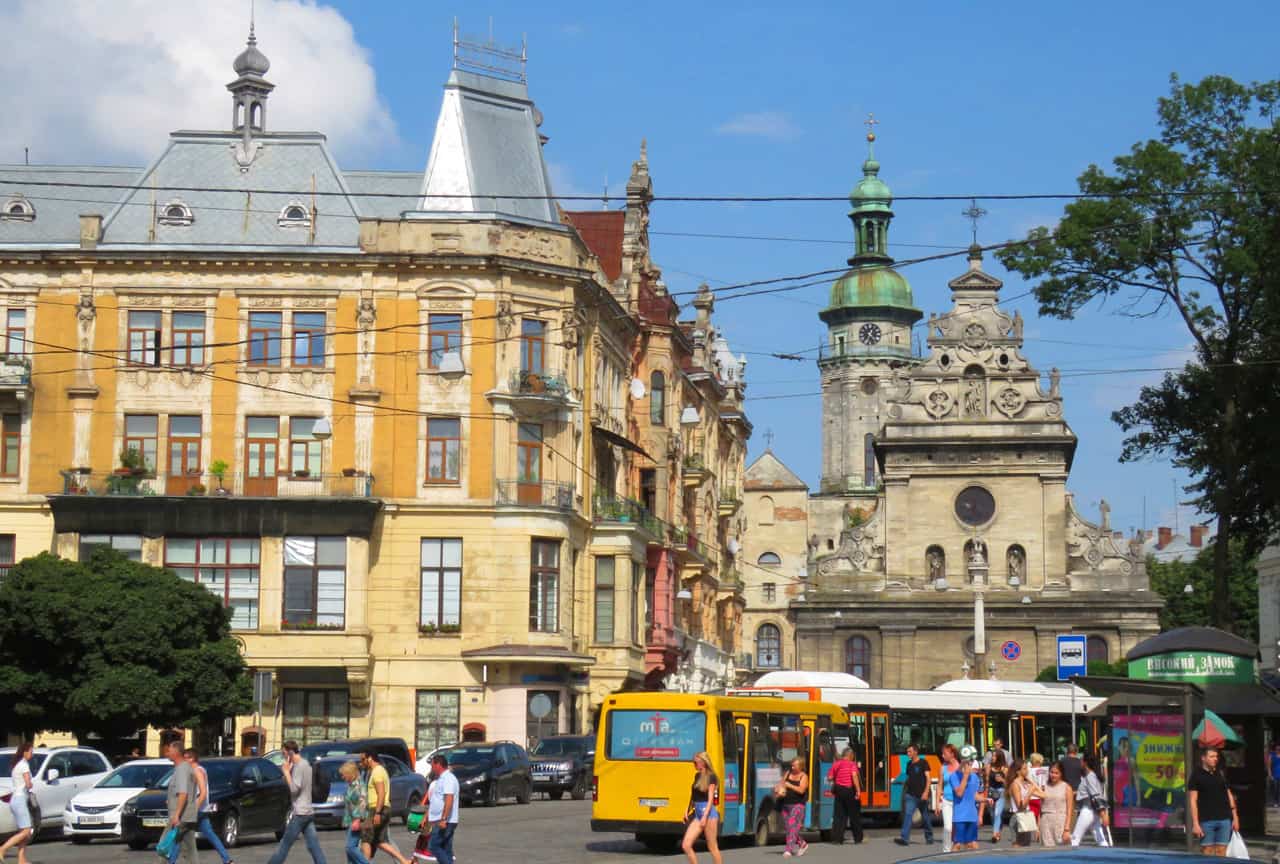 Is Lviv the most underrated city In Europe?

After our month in Krakow we were a bit wary about going further east into Ukraine. What would the people be like? Would they be tolerant and friendly?
I don't think we've met friendlier people than the people in Lviv. Incredible. We've just spent a month in this wonderful city. But there's much more than the people. We love Lviv. We basically love everything about it. Regular readers know how "grouchy" we can be (I don't call it grouchy, I call it having an opinion and being honest about it). But we LOVE Lviv. And that's amazing considering that a year ago neither of us had heard of this city.
So what do we love so much about this city?
The Vibe. From the moment we arrived we felt a whole different vibe in the air. This is a happy, relaxed, vibrant little city. The streets of the old town are bustling, there are tons of cafés, there's a mix of both foreign tourists and locals walking around. It feels cosmopolitan, it feels tolerant…it feels totally un-Krakow-ish….
---
---
The buildings. At one point I told Lissette "this is like a mini-Prague". Colourful buildings, most with decorative sculptures in their façades, with balconies laced by intricate iron railing and held up by crumbling supports. The streets are stone paved – black, uneven stones that kill the feet and wreck the suspensions of cars. But they add tons to the charm factor.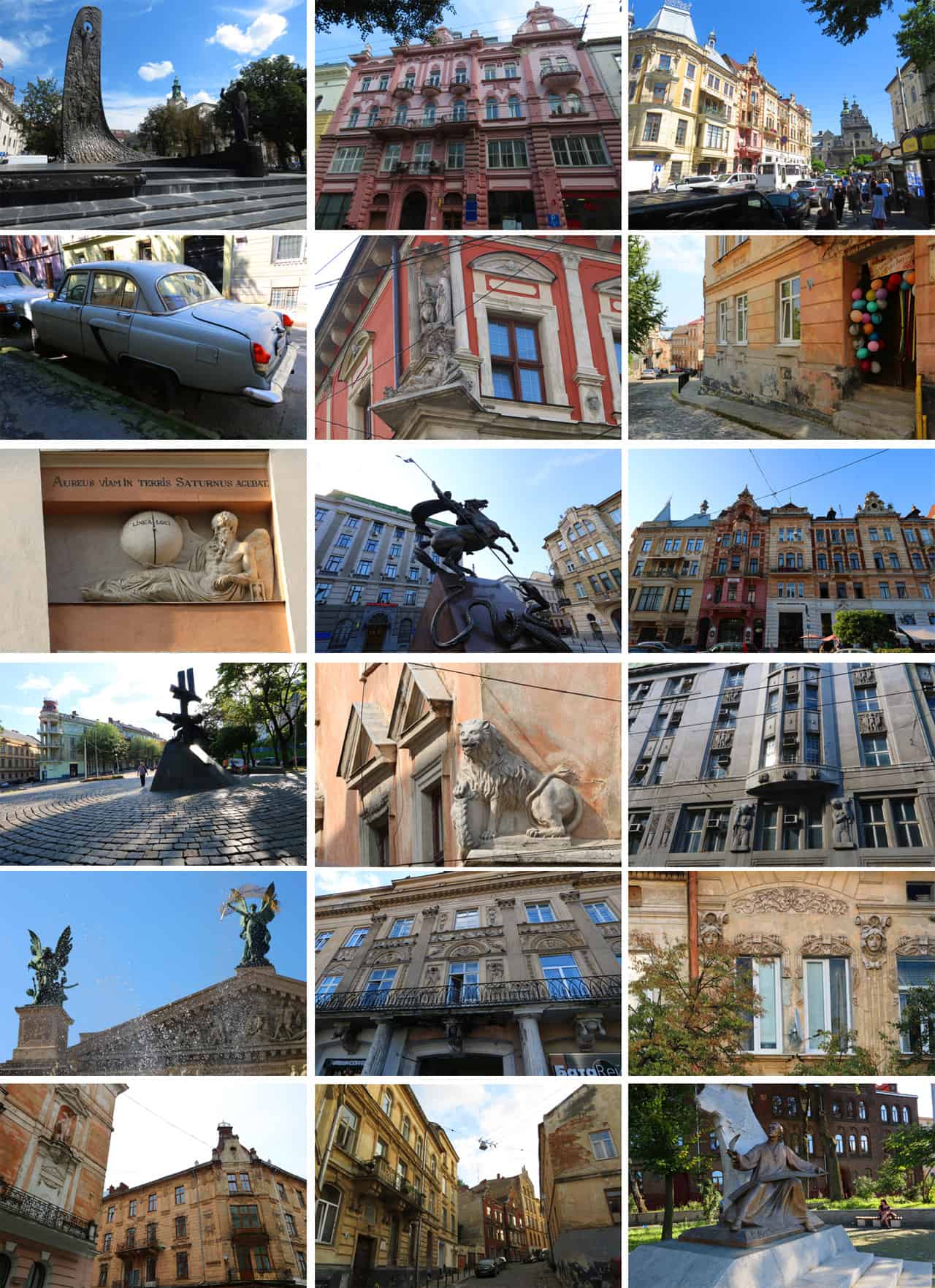 ---
---
Quirky and original. A café with a car on the roof, a bar where you need a password to enter, another café that has an underground mine that you can explore while wearing a miner's helmet (and have a coffee made by blowtorch). A restaurant that looks like it came straight out of medieval times and where they'll put you in a cage and drop you in the cellar. There are plenty of wine bars, places that make craft beer, lots of hookah bars (which we've never tried). On the streets there are Russian made Ladas, old cars we've never heard of, interesting statues and monuments. Lviv is not big – but there are lots of quirky places/things/ and monuments that make the place really interesting and unique.
Lviv is a hilly city with a lot of parks. It's a green city and you're never far from nature or from views over the city. The geography adds to the relaxed vibe of the city.
---
---
It's a cosmopolitan city. Close to our apartment we had a store selling Bio products (tofu and soy milk are things we buy a lot and which can be hard to find when travelling). There are numerous yoga studios, we've also spent the last month going to the best gym that we've encountered during our travels (Eurosport). Near our apartment we had an upmarket store selling wine from all over the world at Ukrainian prices: imagine, a quality French wine for less than $8 USD. There's a fruit/vegetable market where I pick up everything we need. You can find vegan restaurants, Sushi restaurants, Georgian restaurants, anything from simple to fancy. The only thing Lviv misses is a good Indian restaurant (which is usually a requirement for us loving a place). In short – Lviv fits our lifestyle perfectly and it just made for a great base for a month (please read our Slow Travel post if you can't figure out why the heck we would spend a month in a place like Lviv).
Coffee. I've heard places being touted for their "coffee culture". Sorry, anywhere else pales compared to Lviv. We've never seen as many coffee shops anywhere as there are in Lviv. And the coffee is great. In Lviv we became coffee addicts, often drinking it late afternoon. I'll be writing a post on the best cafés in Lviv in the next little while.
---
---
Size matters. Some people enjoy big cities. Lissette and I enjoy small to medium sized cities. You can walk anywhere in Lviv, nothing is really too far. You can walk from one side of the old town to the other in about 15 minutes. We really like that – being able to step out of the apartment and walk anywhere we want to go. It's a very manageable city.
The most beautiful women anywhere. I don't know what it is about Lviv and its women. There seem to be women all over the place and they seem to be all really attractive. I'm not sure if they're genetically really good-looking or if they really just try really hard (and they really do try very hard. Unfortunately there's also a lot of Instagram posing going on here). Have a look at the photo from the gym. Yes, they actually dress like that.
---
---
But the most important thing is that people are incredibly open and welcoming in Lviv. I mentioned that Lissette often got mean looks from old women in Krakow. During our first week in Lviv we were walking close to Lviv's St. Nicolas church when this old lady stopped to talk to us. She was probably in her 80's, wearing the headscarf that you see most older Ukrainian women wearing. She had beautiful blue twinkly eyes and ruby cheeks. She seemed fascinated by Lissette and started talking to her in Ukrainian, a smile on her face. Lissette tried to explain that she didn't speak Ukrainian. That didn't stop the lady who just kept on talking. She even took Lissette's arm and gave it a little affectionate squeeze. She was very sweet.
It was the same throughout our month in Lviv. Everyone was nice, helpful and welcoming. I mentioned that we joined a gym for a month. Lissette was at first nervous taking classes at the gym with all the supermodels. But again, they were all welcoming. At first she'd get curious looks and smiles but pretty soon she'd have people talking to her. A special 2nd mention to Eurosport – a great gym with really nice people.
Meanwhile I made friends with our Airbnb host Yuriy. A super nice guy, we ended up playing tennis together a few times. By the way, if you have a beard he'll give you a discount on your stay (I'm not making that up).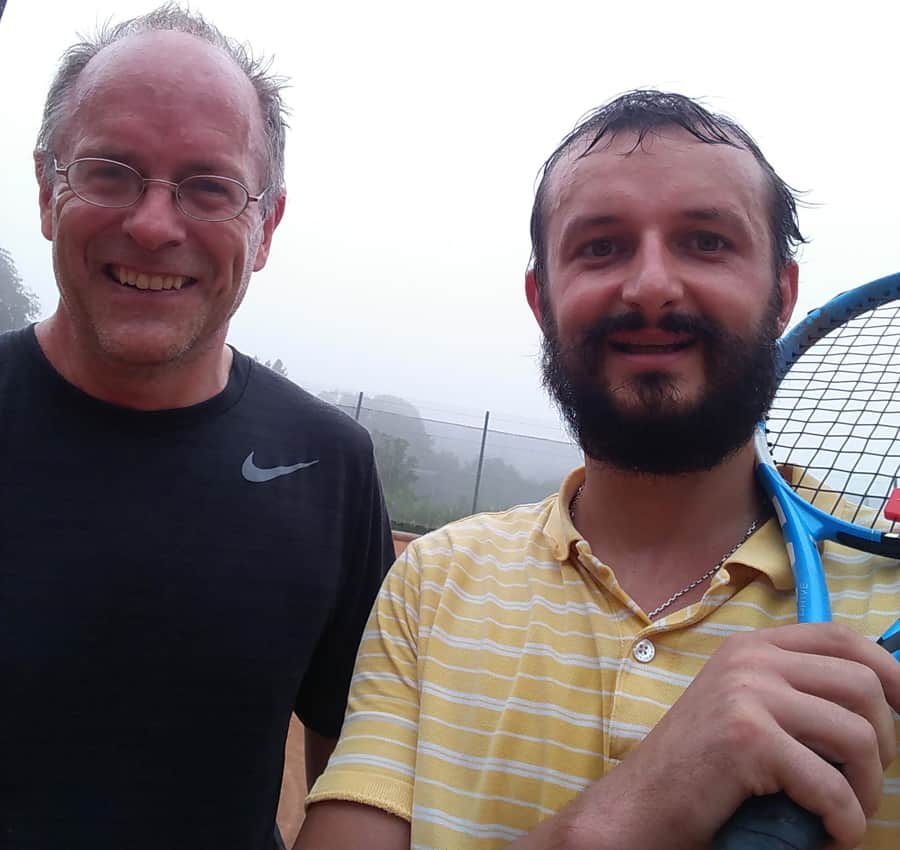 ---
---
By the time we left we had made a few friends. In the end – at least the way we travel – the people we meet along the way makes all the difference. In Lviv the people make the city very special.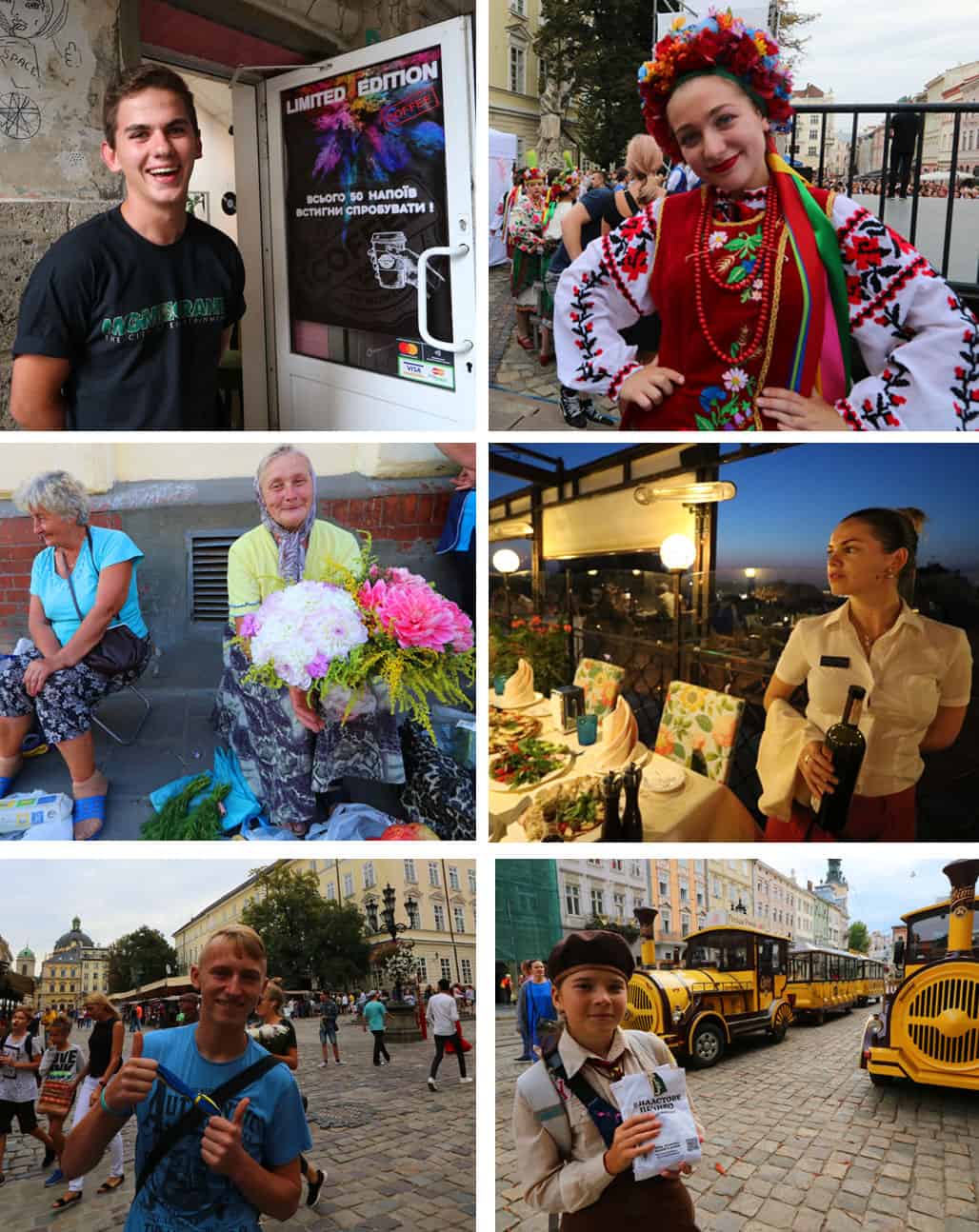 [Here's an interesting note about Lviv: it's referred to as "IT city" and it attracts a lot of investment in the Information Technology field. We were sitting at a cafe when we met an Irish woman from London. Her husband (a Canadian) was in Lviv on business, looking to partner with some businesses in Lviv. Who would have thought? Read more about that here].

.
---
---
We've been to some beautiful places since we started travelling full-time. Prague is still the most beautiful city we've seen. Cape Town has the most stunning geography (with Split a very close 2nd). Budapest has our vote as the most exciting city. But Lviv wins in the most charming city category. It charmed us and we love it.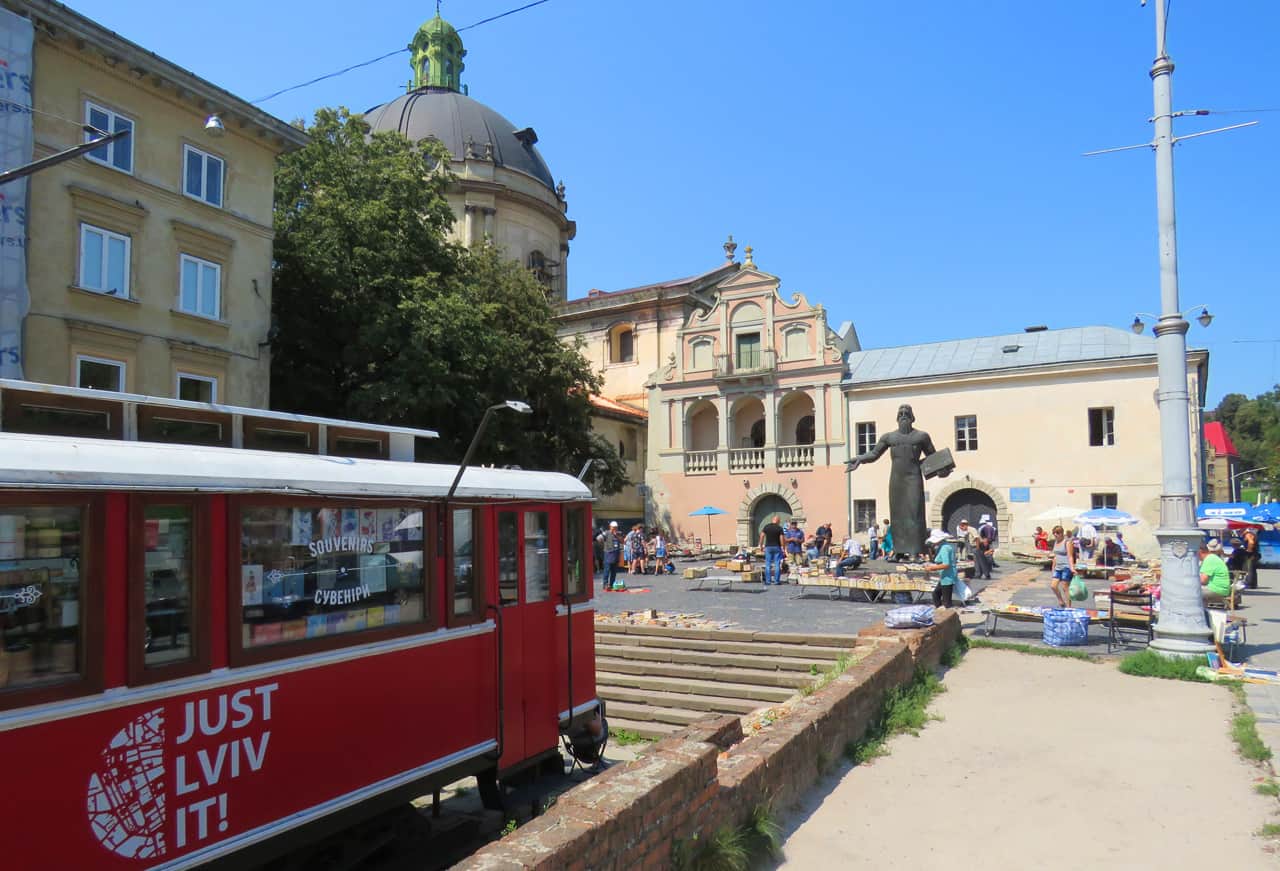 Is Lviv the most underrated city in Europe? We haven't been in every city in Europe so I can't really say. But it has our vote (feel free to suggest your picks).
Have you been to Lviv? What did you think of it?
---
---
Ps. If you find our blog helpful, please consider using our links to book your flights, hotels, tours, and car rentals. Have a look at our Travel Resources page.