Guide to Tadoussac
Tadoussac is our favorite town in the whole province of Quebec. It is situated on the north coast of the St. Lawrence, about 3 hours east of Quebec City. The Saguenay river flows into the St. Lawrence here, the combination of salt and fresh water making it the perfect feeding ground for the different whale species that make Tadoussac popular with whale enthusiasts. It is not just a beautiful spot, it is a very comfortable place for tourists with its bohemian cafes, nice terraces, and small B&B's. It is a very small town yet it has an international flavour (being very popular with Europeans). But the best thing is that it hasn't been ruined by tourism.
Continue on for our Guide to Tadoussac.
Below: to get to Tadoussac, you have to take a 10 minute ferry ride from Baie Ste. Catherine on the other side of the Saguenay river.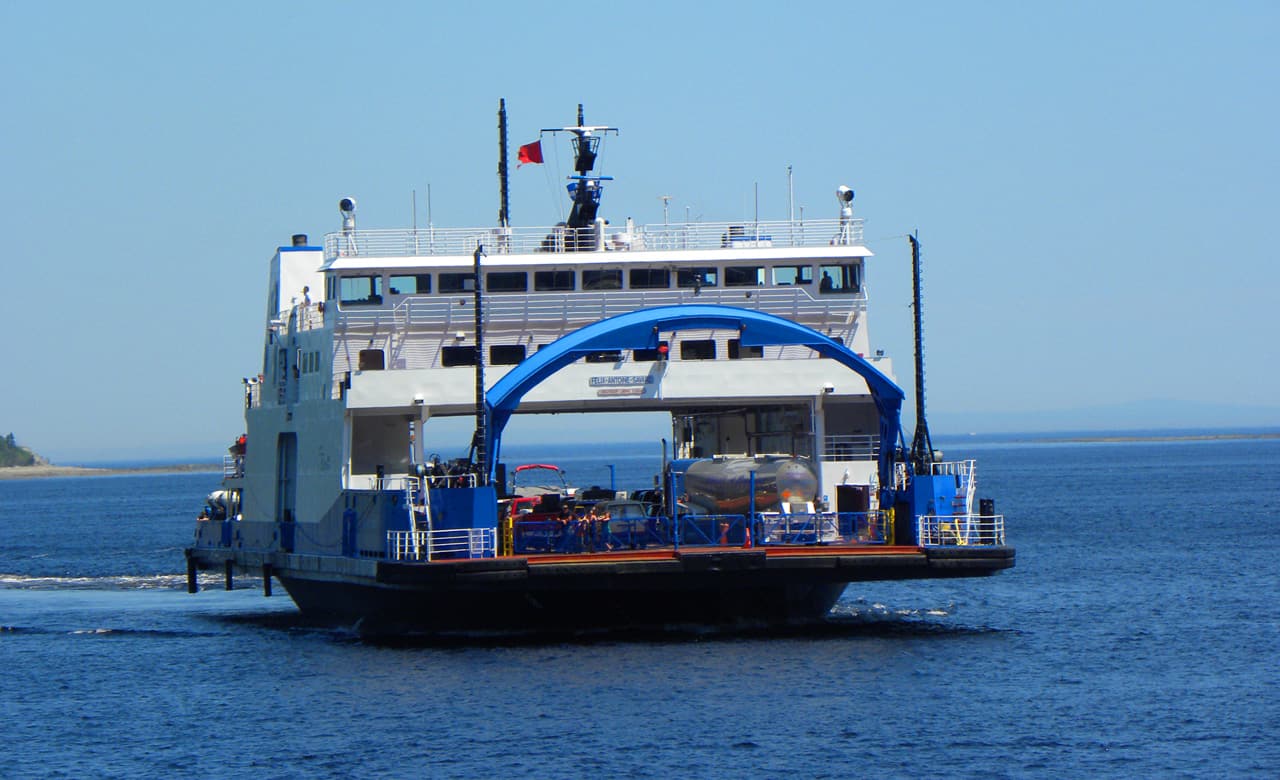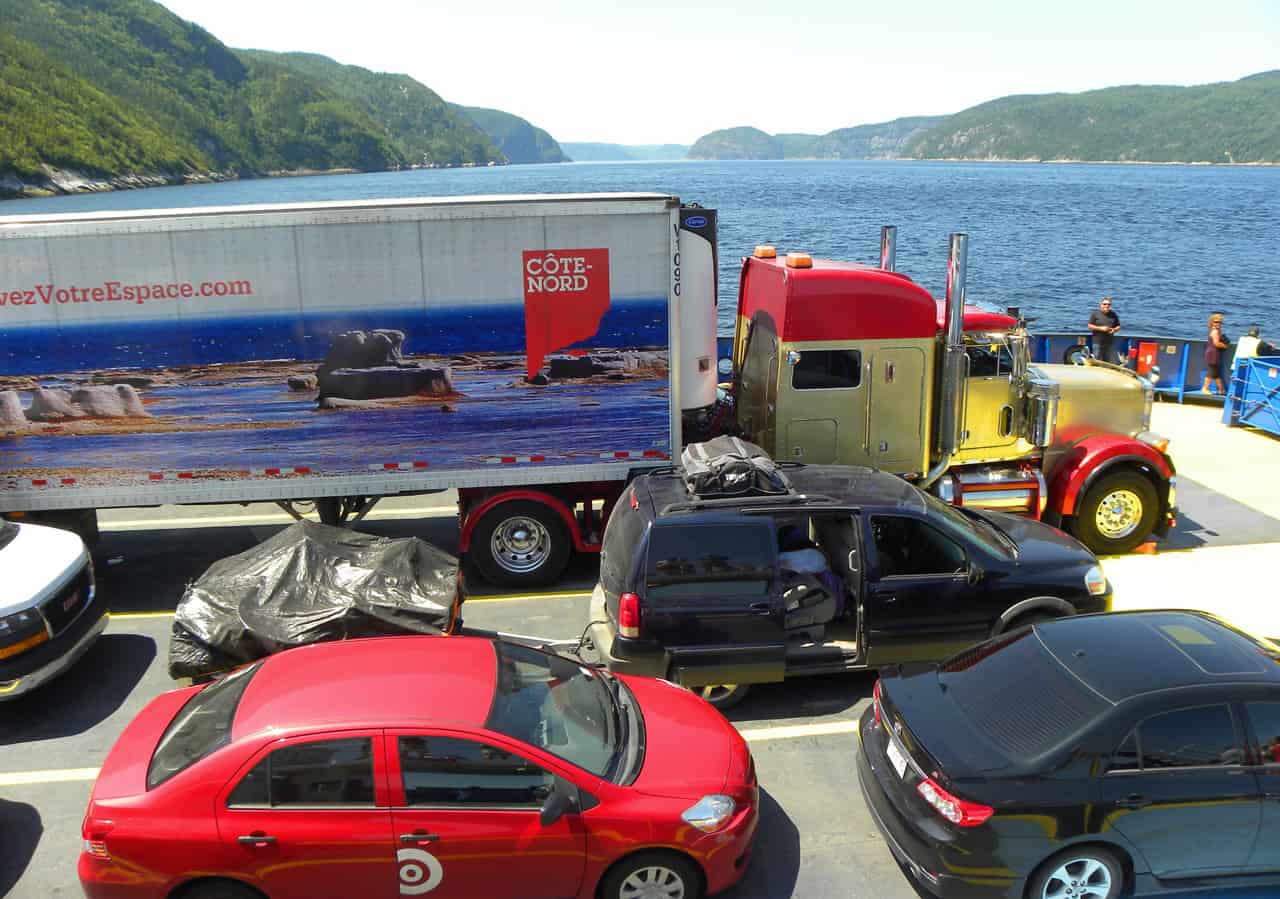 The most popular thing to do in Tadoussac is to take an excursion out into the St. Lawrence to see the whales. The whole tourism industry is built around this and you have different choices of companies and different sized boats, from large ones with a capacity of 500 people to small zodiacs containing 12 people. It all depends how adventurous you are. The typical tour, on the larger boats, is either 3 or 6 hours.
Whatever you do, you have to take at least one whale excursion. You're guaranteed to see whales, this is one of the prime feeding grounds in the world for them. The most likely to spot: the white Beluga whales (they are the only ones who stay here year long), Minke whales, Humpback whales (which are the most spectacular, sometimes jumping out of the water), porpoises and dolphins. You might even see Blue Whales, which are the largest whales on earth.
Here are a few images of the various whales.
Excursions can be booked almost last minute, there's no shortage of them. My biggest tip is to dress warmly: it might be 35C on shore but out in the middle of the St. Lawrence it can feel like 5C. I've been to Tadoussac 3 times and every time I've gone on an excursion I've seen people climb on with their shorts and flip flops, fighting past us for a spot on the top deck so that they can tan themselves. 10 minutes later those same people are shivering and blue and fighting to get into the indoor cabin. So don't worry if initially you don't get prime seating, you'll have it within minutes of setting off.
A few more geographical details: The St. Lawrence at this point is 25 km wide, you can see the north coast of the Gaspe in the horizon. At this point in the St. Lawrence, you are still 1000 km away from the Atlantic Ocean. It just shows you what a huge waterway the river is.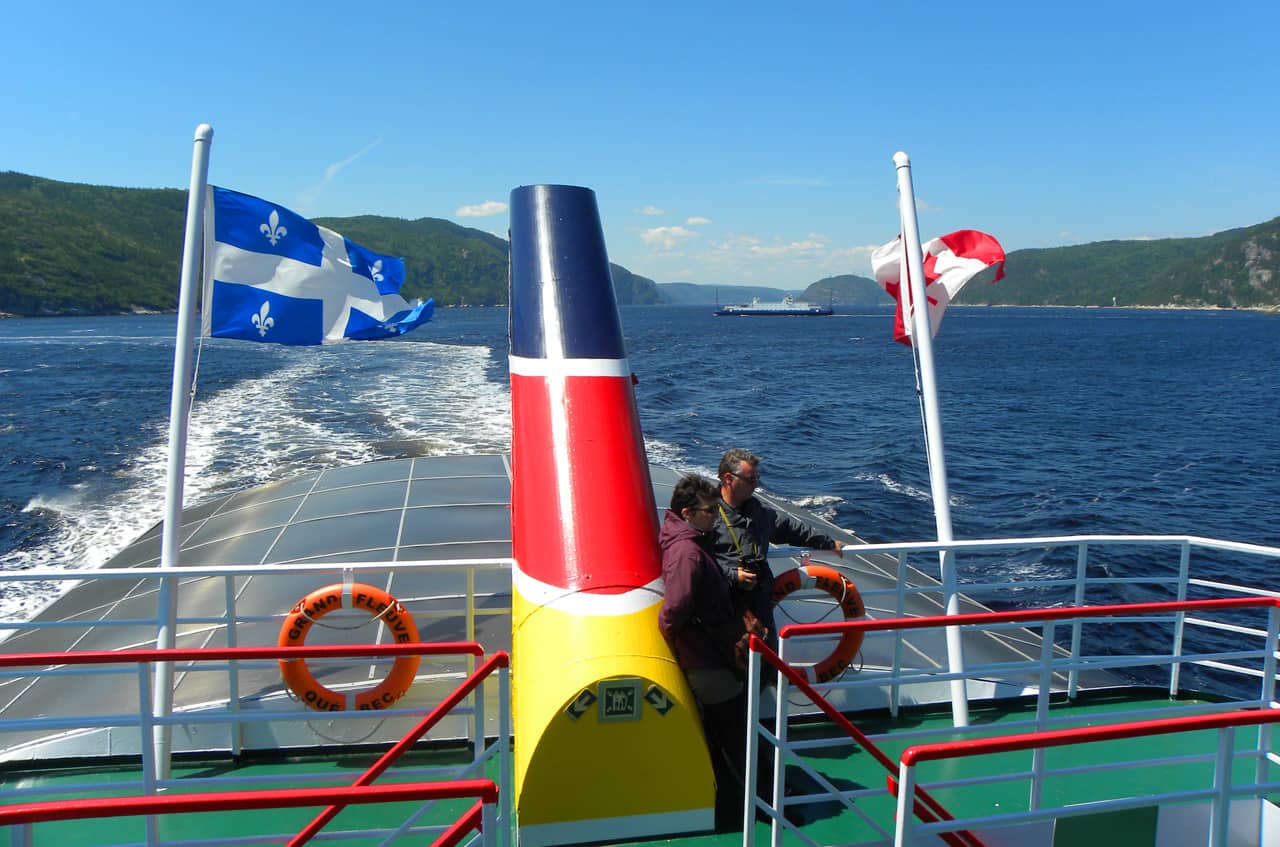 My favorite thing in Tadoussac is climbing the rocks around the "Point". It's a pretty spot at the junctions of the St. Lawrence and Saguenay rivers. Come here for sunset, it's a beautiful spot and you'll most likely see a few whales if you hang around a bit. Below are a few photos taken over 3 days. As you can see the light is always changing.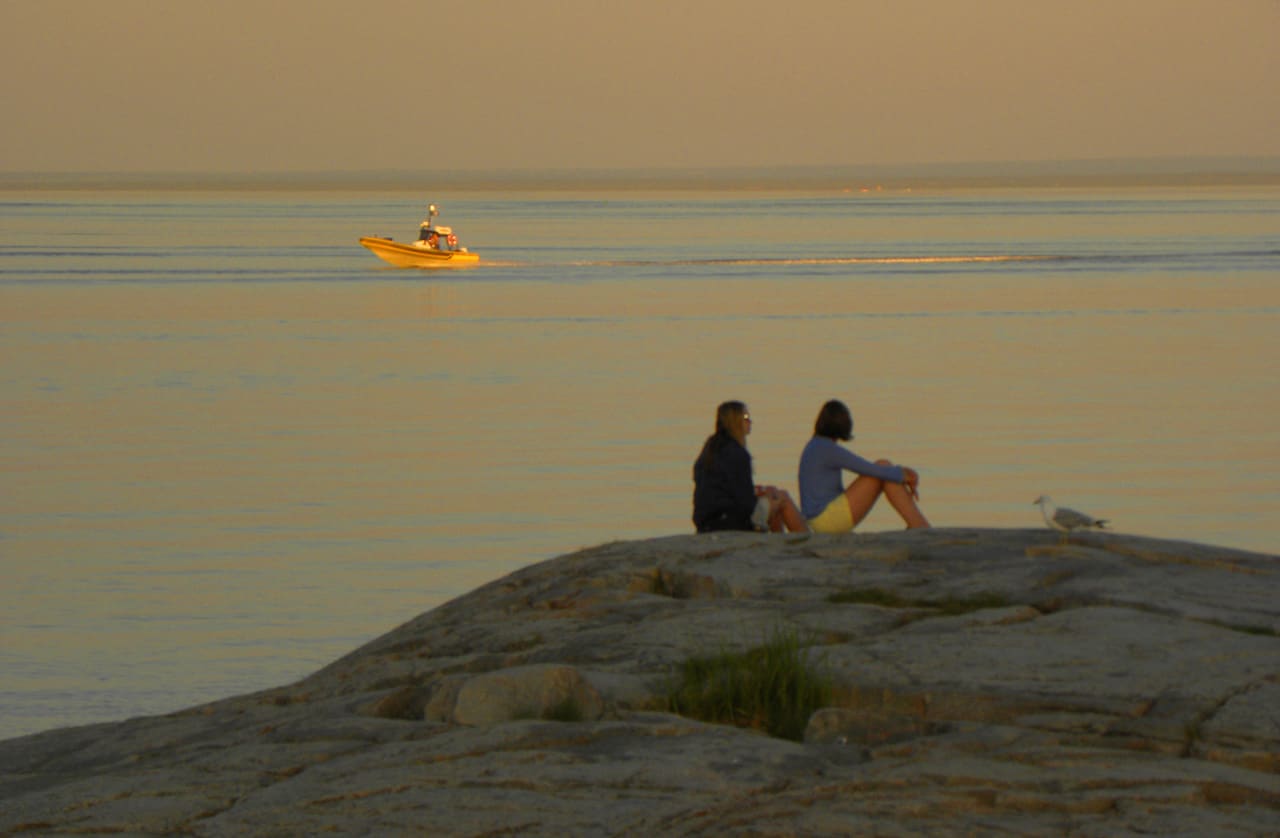 .
The boardwalk, next to the Hotel Tadoussac, is another pretty spot to walk and enjoy the views of the pier and the St. Lawrence.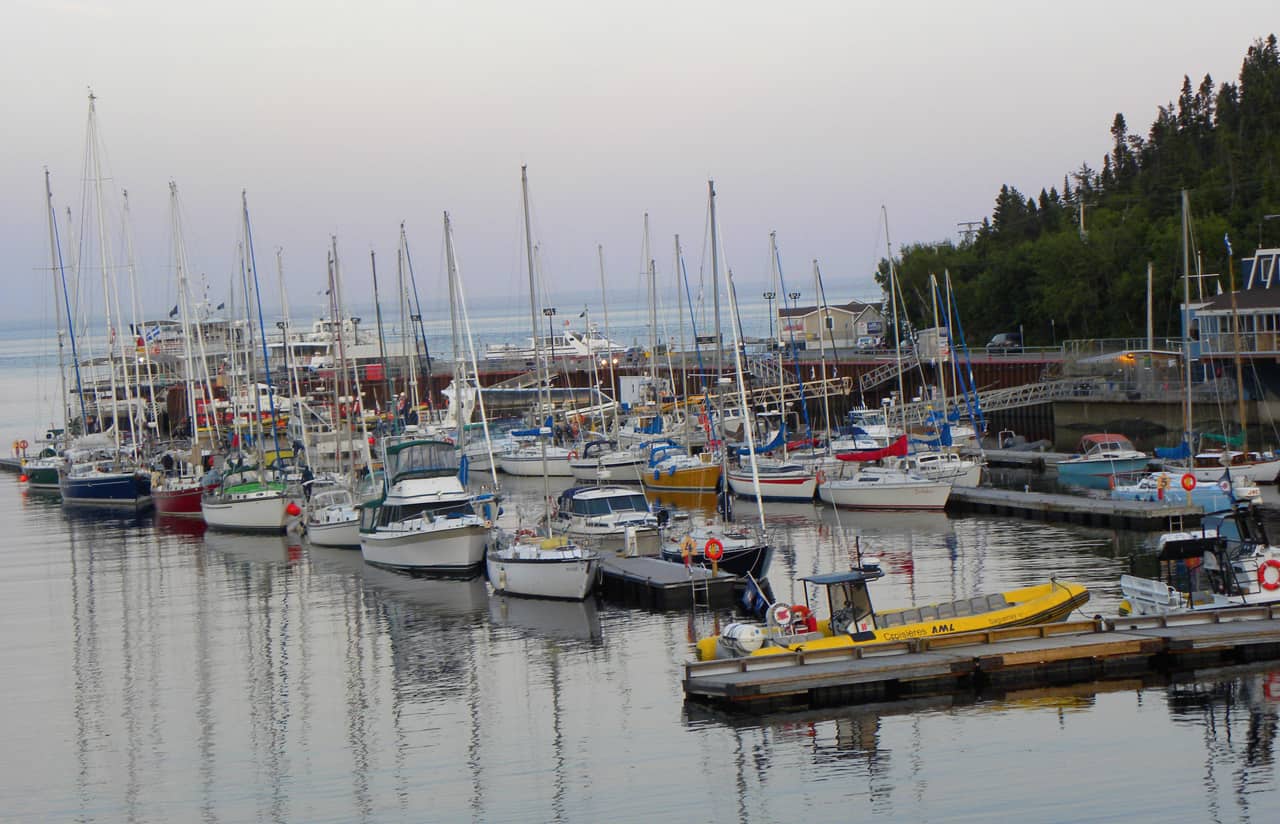 .




.
Where to Stay
The place to stay in Tadoussac is the historic Hotel Tadoussac. Old, historic, and perfectly located (pictured below). Hotel La Beluga and Motel de L'Anse a L'Eau are a few alternatives.
Eating
One of our greatest pleasures in Tadoussac is eating. For a small town, it has a number of high quality eating spots which I'll detail below. Every time we come back here we brace ourselves to see a fast food joint. To date there are none in Tadoussac. Here are our favorite eating spots in town;
Café Boheme. Great for lunch or dinner. Fresh pasta, gourmet burgers (including great tofu burger), fish, thin crust pizzas, nice salads. Fantastic desserts. Very high quality.
Restaurant at the Hotel Beluga. The Fish and Chips are great, the best thing on their menu (pictured below). Recommended for a non-fancy lunch and a few beers.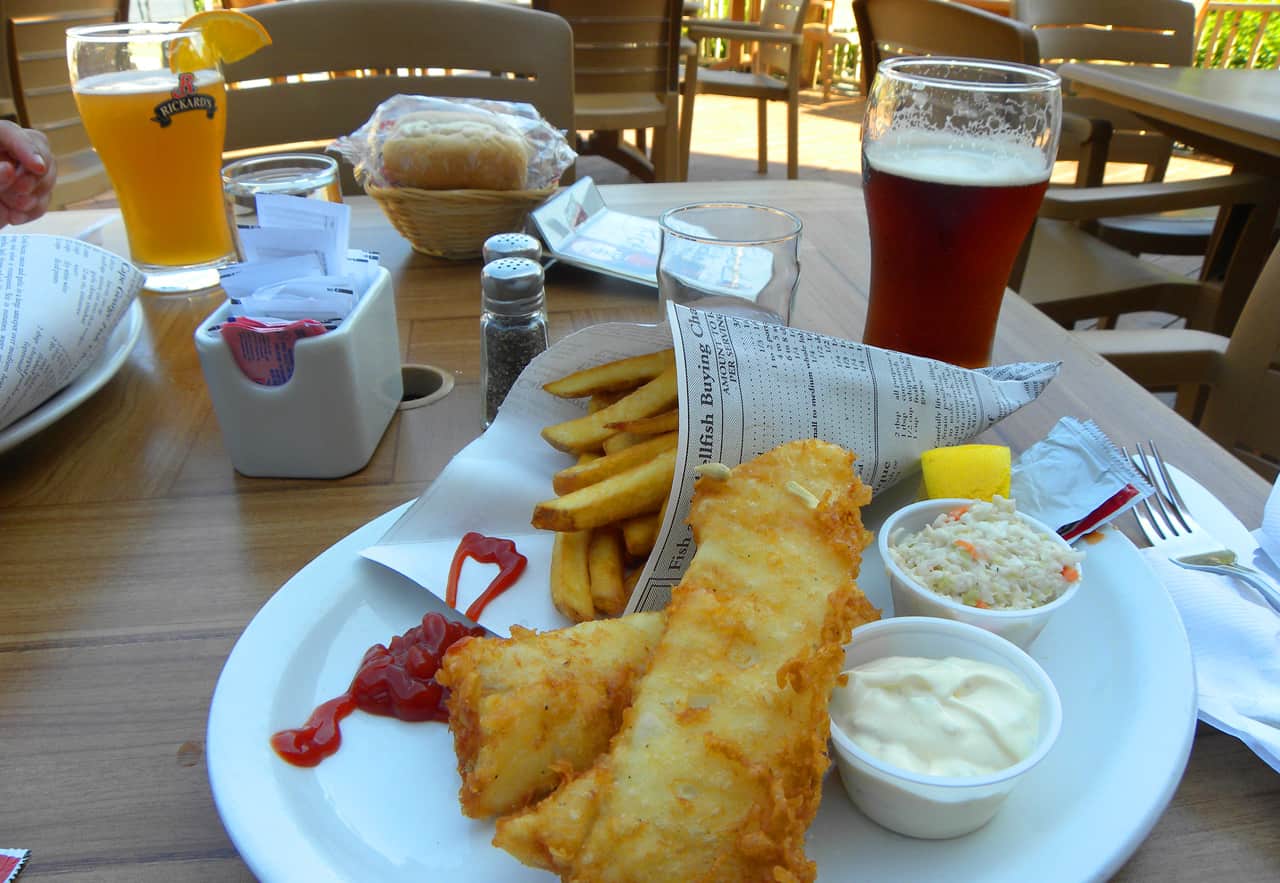 .
Chez Mathilde is recommended for a special supper. This is a classic French Bistro, with an accent on seafood. It was absolutely fantastic and surpassed anything we've had recently in Montreal. It's more expensive than anything else on this list but if you want a romantic supper this is the place.

For breakfast we would pick up croissants, pastries, or sandwiches at the boulangerie at the Restaurant La Bolee. It's a very popular spot.
Things to see around Tadoussac
Just 2km from Tadoussac, are the Tadoussac dunes. There is a trail worth hiking for some nice views of the St. Lawrence.
A 20 minute drive East from Tadoussac takes you to the Cap de Bon-Désir Interpretation and Observation Centre where you can learn about the whales, walk around the rocks, and enjoy seeing whales go by from land. Cap de Bon-Désir is just a little east of Les Bergeronnes. We sat here for about an hour and saw a lot of whales, most belugas.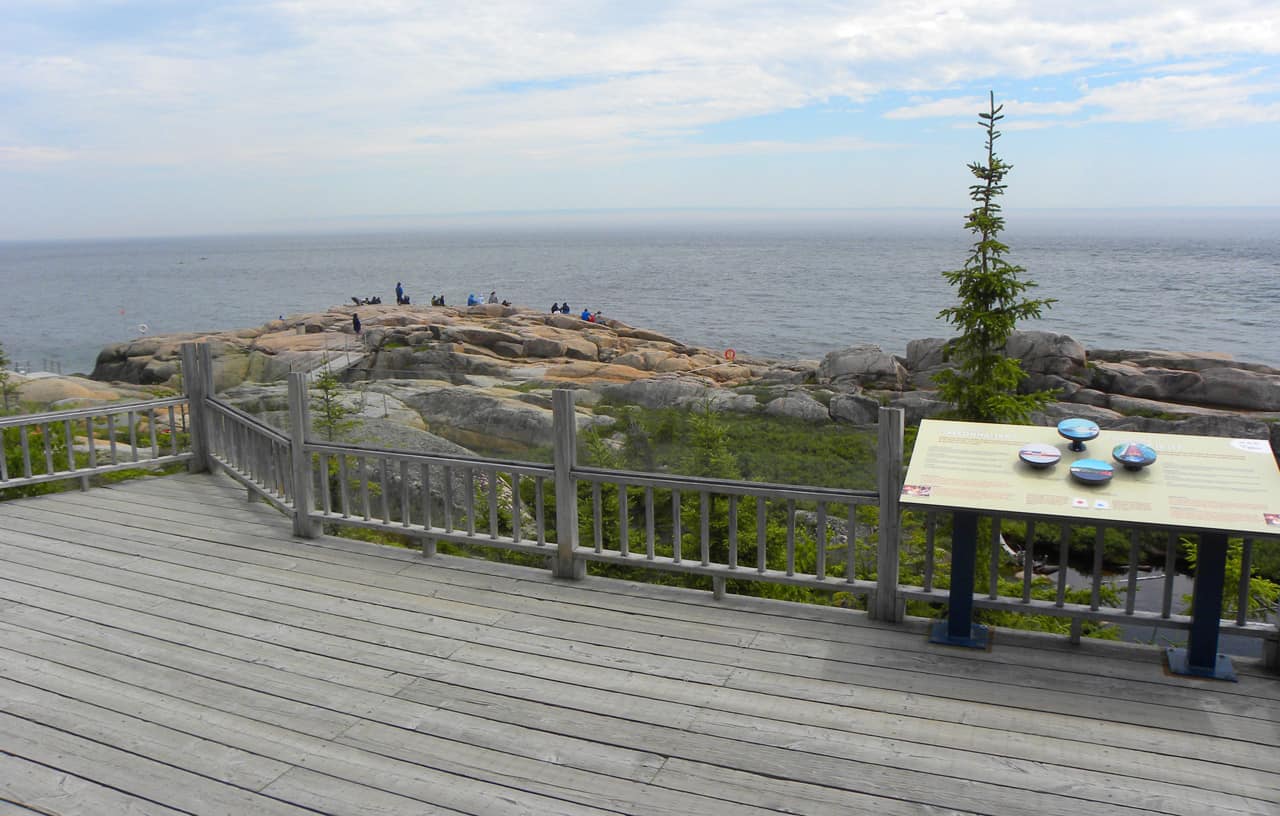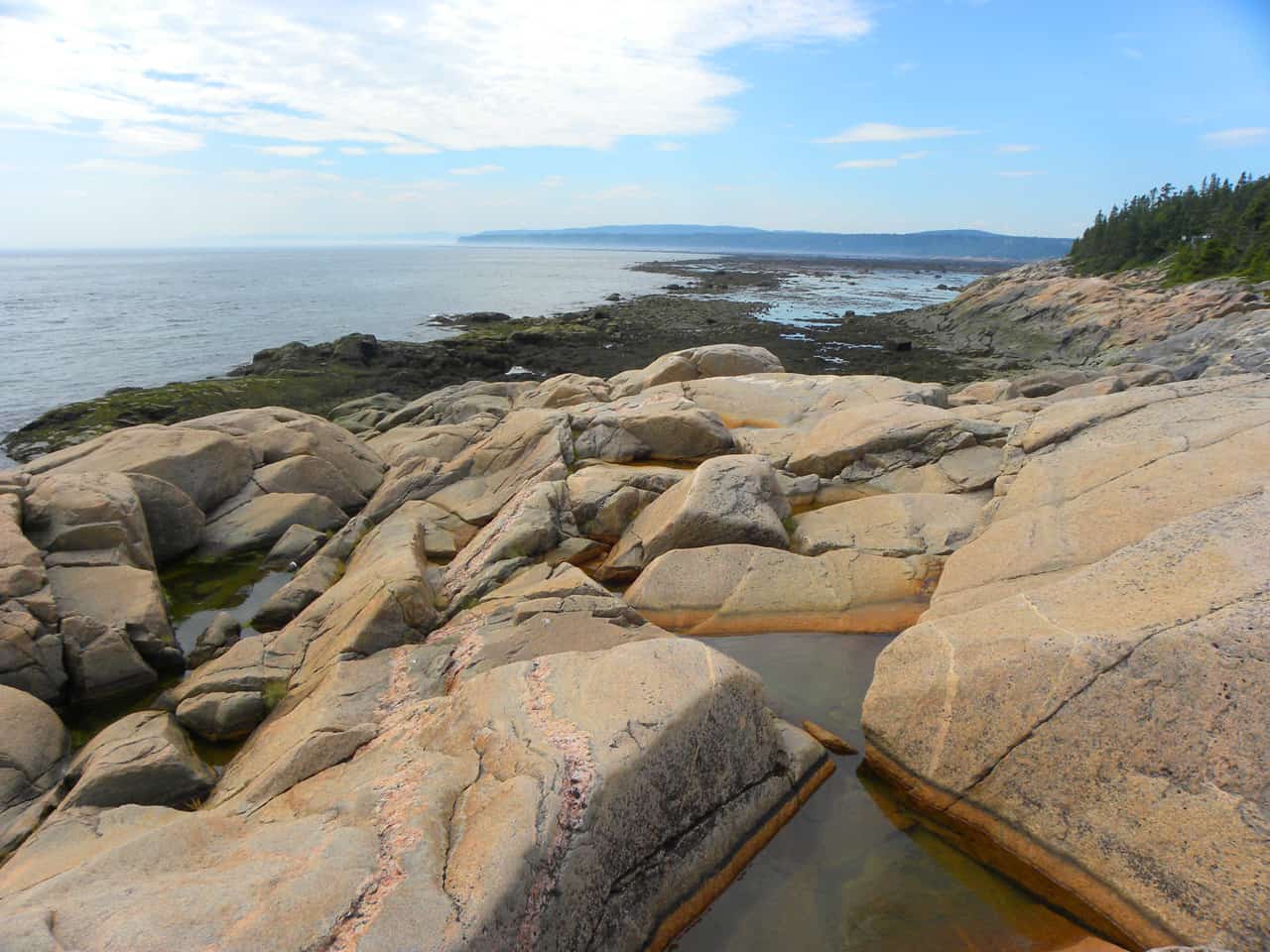 Tip: If you've paid to get into the Bon-Désir Interpretation and Observation Centre you can get free access to the Marine Environment Discovery Centre which is another 10 minutes down the road. We only found out about it later and were told that it is definitely worth going to.
Below: another photo from the rocks at the junction of the St. Lawrence and Saguenay rivers.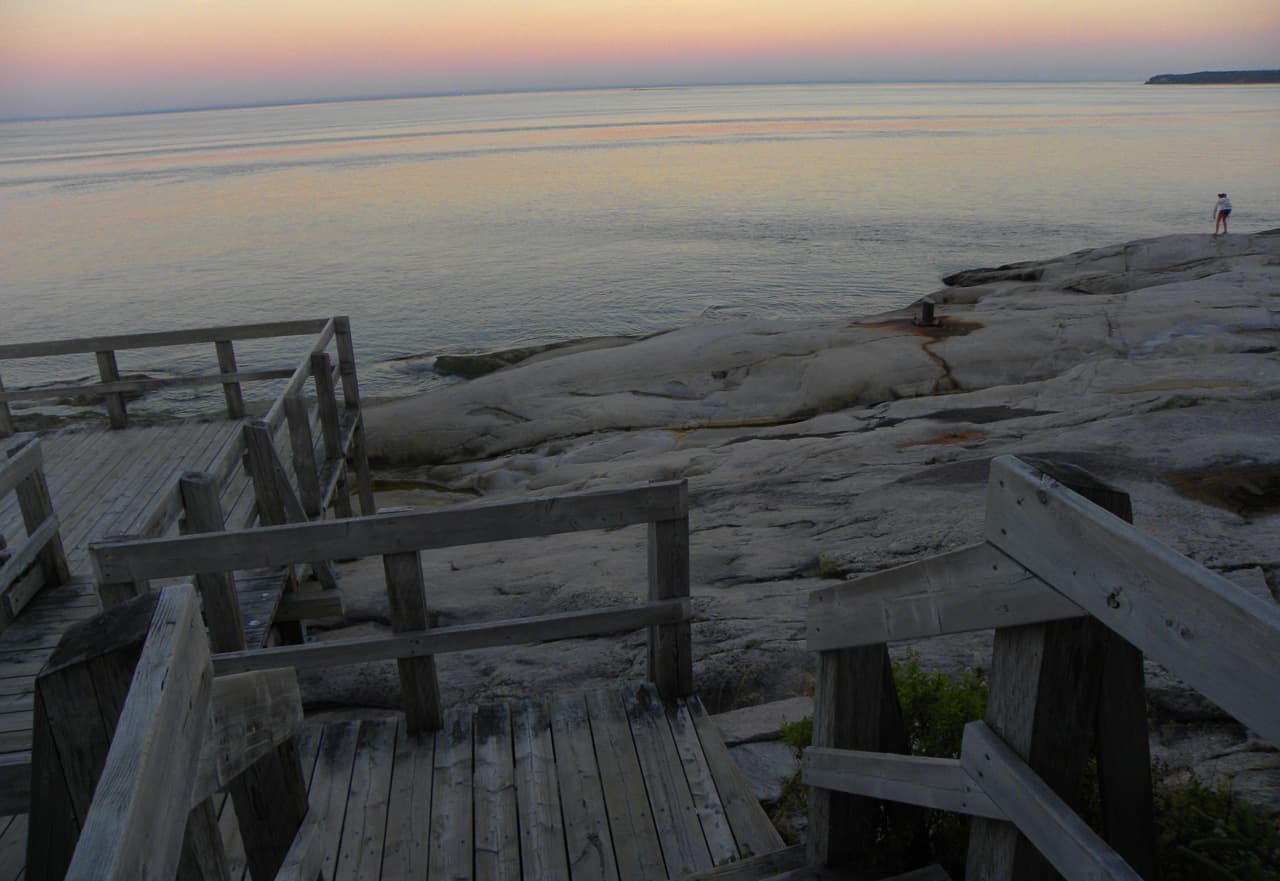 The above covers Tadoussac and some of the sites of interest along the St. Lawrence coast. But there's a lot more to the region – go inland up the Saguenay river and you'll find incredible views and hikes along the fjord. I covered these on a previous trip and you can read on here.
Practical Information:
Organized Tour. This 3 day tour of Quebec City and Tadoussac (from Montreal) is perfect for those who don't want to worry about the details. Montmorency falls is also included in the tour.
Car Rental. As I say above, there are many points of interest both along the coast and inland. Renting a car is a great way to see it all. We use Rentalcars.com whenever we want to rent a car.
Accommodation: The place to stay in Tadoussac is the historic Hotel Tadoussac. Old, historic, and perfectly located (pictured below). Hotel La Beluga and Motel de L'Anse a L'Eau are a few alternatives.
Flying to Tadoussac: The nearest airport to Tadoussac is Saguenay (YBG) Airport which is 97.2 km away.
Below: We use CheapOair to find the cheapest and most flexible flights
Tadoussac is a great little town and makes for a really relaxing 2-3 day vacation.