Highlights of the Hawaiian islands
When you envision the Hawaiian Islands and all you can imagine is a string of white-sand beaches, then you're only partially right. So much more than palm trees, beaches and the Pacific Ocean that surround the islands, Hawaii really is a multicultural melting pot. Its people, their foods, culture, as well as the islands' geological features and history plus activity adventures, combine to offer a treasured vacation experience. Here is an overview of Hawaii, along with highlights of the four main islands of Oahu, Kauai, Maui and Hawaii Island – the tip of the iceberg, if you will – to get your isle adventure started.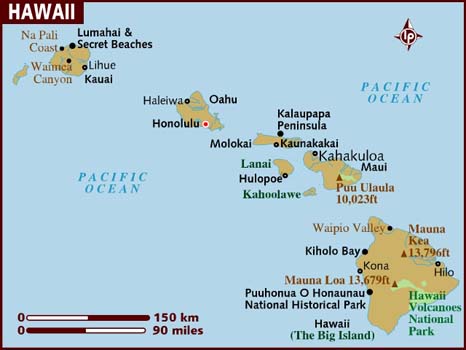 Oahu
Oahu is known as "The Gathering Place" of the Hawaiian Islands. As home to the state capital of Honolulu, and with the highest population of all the islands, the nickname fits. It's here that you'll find the larger visitor attractions scattered across the island. Wherever you're headed, it's best to avoid the peak traffic hours of 5-8 a.m. and 3:30-6 p.m. so plan accordingly.
Any first-time visitor should make Waikiki (a suburb of Honolulu) home base; it's especially the case if you're only able to stay a short period of time. Waikiki is the hub of all visitor shopping and dining experiences, plus a number of activities. Into the nightlife? Then this is the place to be with its nightclubs, pubs, bars, evening shows and ocean cruises. From here, Waikiki Beach, Diamond Head State Monument, Honolulu Zoo, Waikiki Aquarium, Hanauma Bay, Ala Moana Beach Park, Ala Moana Center and Ward Centers are only a walk or bus ride away. Better yet, food from every corner of the world is easily attainable in Waikiki's many restaurants, eateries, cafes and diners.
Recommended Hotels: Hyatt Centric Waikiki Beach, Waikiki Beachcomber by Outrigger, or how about this great apartment: Jenny's Pineapple Cottage (book early!).
Been there, done that? Then try this: rent a beach house on the sleepy North Shore, or rent a room, house or condo in the lovely town of Kailua on Oahu's windward coast. You'll get to immerse yourself with the local residents and really get into the easy flow of the island lifestyle. On the North Shore, you'll get your choice of beaches. Note that summer is best for swimming since winter brings monster waves in time for the world's premiere surfing event, the Vans Triple Crown of Surfing. Go snorkeling and try stand up paddle boarding (SUP), kayaking, jet skiing, hiking or horseback riding. For skydiving or glider rides, head to Dillingham Airfield on Farrington Highway. Further down the road is the start of the coastal 2.5-mile Kaena Point Trail that's also accessible from the other side of the island. The trails converge at Kaena Point Natural Area Reserve, home to native flora and protected seabirds. The small beach town of Haleiwa is the place to fill up on boutique and grocery shopping, as well as popular restaurants, cafes and a bakery. For an experience in Hawaiian culture, Waimea Valley opposite Waimea Bay, is worth a day's visit. Ask about their guided hikes and full moon hikes. By the way, the North Shore is also one of the best locations for sunset viewing too.
---
---
In recent years, Kailua has grown in popularity as witnessed by its residents who have seen visitors coming in for day tours by the busload. You, on the other hand, can opt to rent a place and really get to know the friendly folks on this side of the island. Two award-winning beaches, Kailua (it's pet friendly too!) and Lanikai, don't hurt either. They're prime sites for swimming, snorkeling, kayaking and some surfing. A nice selection of unique shops, grocery stores, plus award-winning restaurants, eateries, cafes and bakeries have created a nice vibe in this community. If Whole Foods strikes a chord in you, then you'll fit right in.
From Kailua, strike out toward the north and you'll get to Hawaii's number one paid attraction, the Polynesian Cultural Center, with a string of nice beaches to note along the way. Head to the south, and you'll hit coastal communities, Waimanalo Beach, the Ka Iwi Shoreline with its hike to the Makapuu Lighthouse, Sandy Beach and Hanauma Bay.
In between, military history buffs will want to visit the Pearl Harbor Historic Sites that include the Arizona Memorial, USS Bowfin Submarine Museum & Park, the Battleship Missouri Memorial and Pacific Aviation Museum at Pearl Harbor. Get into the nitty gritty of Chinatown with its markets that Travel Channel's Andrew Zimmern would be proud of, restaurants, mom-and-pop shops and trendy boutiques, historic buildings and lots more. Sign up for a food tour to really sample the true flavors of Chinatown. Adjacent is the Honolulu Arts District with its First Friday event; visit art galleries, restaurants and pubs that offer specials in conjunction with this monthly activity.
Put on your walking shoes or try a bus tour to see downtown Honolulu's historic sites. All are within close proximity to one another: Iolani Palace (the only royal palace in the U.S.), Aliiolani Hale with the statue of King Kamehameha in front, Kawaiahao Church and Mission Houses Museum. Armchair architecture buffs will enjoy the details of historic buildings in Chinatown and downtown Honolulu.
Tours? A tour of Pearl Harbour (and the USS Arizona memorial) is a must-do. How about this tour where you get to dive with sharks? Or this inexpensive hiking tour that takes you up Diamond Head Crater (for the most amazing views).
---
---
Kauai
Kauai, also known as the Garden Isle, is the oldest of the Hawaiian Islands. Once there, you'll understand how the island earned its nickname. Lush botanical gardens are popular and a leisurely walk is the perfect way to explore them, as well as the rest of the island. The island's most stunning natural treasures are Waimea Canyon and the Napali Coast. As the oldest of the islands, Kauai's geological features have had the time to "age" via the natural processes of wind and water. Both Waimea Canyon and the Napali Coast are perfect geological examples of the aging process—and they're quite grand at that!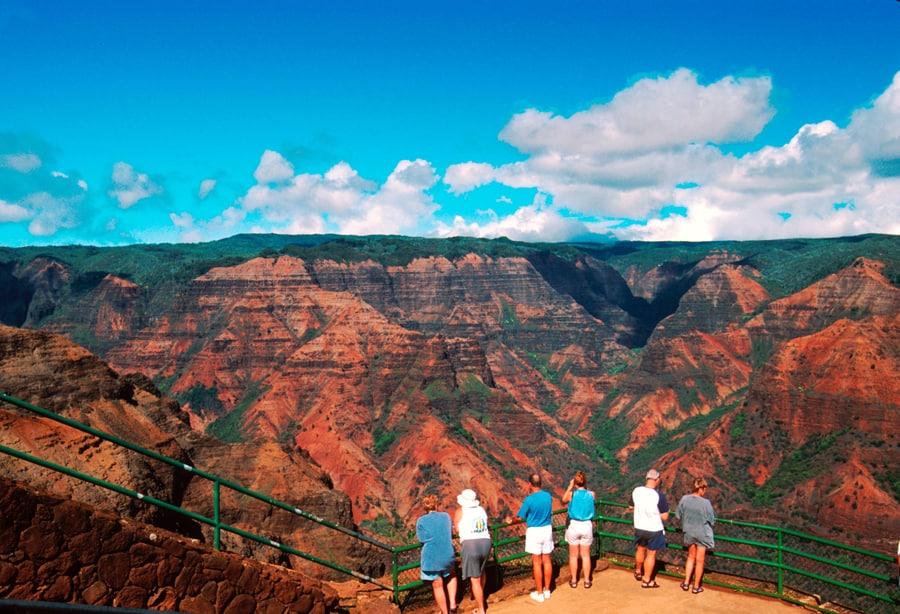 The great American writer Mark Twain, who visited the Hawaiian Islands in 1866, coined the phrase, "The Grand Canyon of the Pacific," to describe Waimea Canyon. Drive up Highway 550 and you'll feel a change in the air, as well as begin to glimpse what makes this natural wonder worth the visit. The main road takes visitors to the main Waimea Canyon Overlook, then continues into and ends at Kokee State Park. Hiking is the way to go for a close-up look at native rainforests, vegetation and forest birds, in addition to cliffside lookouts with views of Kalalau Valley from a 4,000-foot elevation and neighboring Niihau island when skies are clear. Mornings are best for air clarity, but it's wondrous to see the varied colors of the canyon come alive as they change throughout the day. Drop by Kokee Museum to plan your hike with information from knowledgeable staff. Open 9 a.m.-4:30 p.m.; admission by donation. Recommended: This tour of Waimea Canyon (as well as the Wailua River). You'll be amazed.
Once you see the razor-like cliffs of the Napali Coast on a boat tour, you will forever recall it with a sense of awe. What's the best word to describe it? Stunning, yes. Magnificent, for sure. Magical, most definitely. The valleys of this barely accessible coastline were once home to native Hawaiian people who grew taro and caught fish from the sea for food; stone wall terraces are still visible on the valley floor. The path they used to travel from valley to valley is still in use today as the strenuous, and at times, dangerous, 11-mile (one way) Kalalau Trail, the only way in and out by foot. Anyone can hike the first two miles to Hanakapiai beach and stream. The trail beyond this point is only open to those with day-use or camping permits. For something really special, how about a 1 hour tour flight over the Napali Coast? It's surprisingly inexpensive.
Another way to see the coastline is to take a boat tour, best done in the morning when the ocean is calmer and the likelihood of entering sea caves is much higher, especially if you're on a smaller zodiac-type raft (plus it's way more fun!). Boats do offer tours to the Napali Coast year round, pending weather conditions. Upon your first glimpse of the Napali, you'll understand the meaning of the word awestruck. Both Waimea Canyon and the Napali Coast are accessible by helicopter too, another experience to consider for amazing views.
Acommodation: This aparthotel The Point at Poipu By Diamond Resorts or these cottages Waimea Plantation Cottages, a Coast Resort. Note that you'll really need a car to get around in Kauia (we use rentalcars.com).
---
---
Maui
Nicknamed the Valley Isle, Maui is the most similar to Oahu. It's got the nightlife for night owls, activities for adventurers, a range of shops for souvenir seekers and fashionistas, and multicultural foods to suit every palate. Maui is home to one of two national parks in the state, Haleakala National Park. A popular location for catching the sunrise, Haleakala means "house of the sun" in Hawaiian, and its environment is anything but that of a tropical island in the middle of the Pacific Ocean. "Moonscape" might be the best way to describe it. Stop by the visitor center for information on trails, park ranger talks, horseback rides and more. Also learn about the park's two resident and endangered flora and fauna—the unique silversword plant and the official state bird, the nene, or Hawaiian goose. This 9 hour tour takes you to the summit of Haleakala for the sunrise.
One of the island's most popular activities wouldn't exist without Haleakala—downhill biking. Catch the sunrise, then hit the road on two wheels from sky to sea. After ascending the mountain in total darkness, you'll get to see Haleakala's lovely surroundings as you descend its flanks in the light of day. And they are lovely—panoramic views of the Pacific Ocean up top, then forests, pastureland, protea farms as you descend further. At the bottom, the charming town of Paia awaits. Fill up on good eats to get your energy up for souvenir shopping or more activities such as ziplining, hiking, snorkeling at Molokini, scuba diving, paragliding and whatever else tempts you.

Another Maui must do is driving the road to Hana. Best advice: fill up the gas, bring some snacks, beverages and insect repellent, and go early. Now paved, the 42-mile, mountain-hugging road once gave rise to its own t-shirt that spoke volumes: "I Survived the Road to Hana." It was sold by the family-owned landmark Hasegawa General Store in Hana that was built in 1910. Paved or not, Highway 36/360 does require the driver's complete attention with its 620 hairpin turns and 59 narrow bridge crossings. To be sure, there are a lot of distractions along the way that provide opportunities for picture taking—roadside waterfalls, lookouts, the family-friendly Waikamoi Ridge Trail, Kaumahina State Wayside Park, Keanae Arboretum, Keanae Peninsula and lookout, Puaa Kaa State Wayside Park, Waianapanapa Black Sand Beach and more. This is one of those drives in which the joy of the journey is the journey itself, not just the destination. Be sure to roll down your windows, breathe in the earthy scent of the jungle, set your iPod on some Hawaiian tunes and get set for a leisurely drive. This 10 tour takes you to all the incredible highlights.
---
---
Toward the end of the drive, you'll find the coastal Kipahulu section of Haleakala National Park. Stop by the visitor center for info on area hikes and take the short walk to the area popularly known as the Seven Sacred Pools, or to be politically correct, Oheo Gulch. On hot days, you'll find a lot of people swimming in the pools and venturing under the waterfalls. Just be aware that inland rains may cause rivers to flood, thus creating a huge rush of water falling into the pools; be cautious. Up for a hike? Across the road is the two-mile-long (one way) Pipiwai Trail that leads to the 400-foot Waimoku Falls. It's well worth the effort. If time permits, spend at least one night in the quiet community of Hana, the perfect place for a peaceful respite from the rest of the island.
During the November to April humpback whale season, all the major islands offer whale watch tours, but Maui is the top spot for whale watching. If you've never witnessed the breaching of a humpback whale or seen it spy hop in close proximity, then a whale watch tour is a must. Seeing a humpback whale is incredible—seeing a baby and its mother are twice as gratifying. Laws do govern how close boats can get to the whales, however, humpbacks are happily unaware of such guidelines and often surprise visitors as they swim by. Maui is also home to the Hawaiian Islands Humpback Whale National Marine Sanctuary in Kihei where you'll find lots of information on Hawaii's favorite annual visitors. Here's a recommended (and inexpensive) 2 hour whale watching tour.
If you're looking for affordable convenience, you can't go wrong with Kihei. This family-friendly town has a string of three beaches perfect for all ages. Everything you need is nearby—a nice selection of restaurants, shops, grocery stores, activity vendors and more that are all within walking distance or a short drive away. Those desiring upscale accommodations will want to stay in either nearby Wailea or Kapalua on the west coast, home to lavish beach resorts, elegant restaurants and indulgent spa treatments. No-fuss vacationers looking for a tranquil environment might want to opt for rentals in beautiful upcountry Maui (be sure to visit the lavender farm!).
The best of the Best in Wailea (very expensive): Hotel Wailea, Relais & Châteaux – Adults Only
Recommendations in Kihei (which is more affordable): Maui Vista One Bedroom Condos, Days Inn by Wyndham Maui Oceanfront
Part of Maui County, the islands of Lanai and Molokai, are easily accessible from Maui, and are definitely worth a day trip if not an overnight stay. Lanai offers high-end beach resort and mountain retreat accommodations, as well as great hikes and unique island features. People are most familiar with Molokai's history as the island on which victims of Hansen's Disease, or leprosy, were left to die. This is where Father Damien and Mother Marianne Cope dedicated their lives to ease the suffering of the leprosy patients. They have since both been canonized as Hawaii's two saints. Molokai is the closest to the Hawaii of yesteryear and its residents are known as some of the most friendly in the isles.

---
---
Hawaii Island
Do you know that the Big Island of Hawaii, as the island is more frequently referred to, is large enough to hold all the other major islands with room to spare? Upon exiting Kona International Airport, you'll notice messages along the roadside. Laid out upon the dark-colored rocks of past lava flows, are these messages "written" using white rocks to express feelings of love, longing or to just to say, "Aloha!"
Also known as the Orchid Isle, the Big Island offers the most diverse climate from the top of Mauna Kea to the Pacific Ocean. Sacred to the Hawaiian people, the name Mauna Kea translates to "White Mountain," which is appropriate considering the mountain often receives snow during winter months. The tallest mountain in the world (as measured from the 13,803-foot summit to its base on the ocean floor) is also home to the most scientific observatories that represent countries from around the world, some of which have made astounding astronomical discoveries. Visitors are welcome at the Onizuka Center for International Astronomy Visitor Information Station located at the 9,200-foot level. Take part in the free star gazing program, 6-10 p.m. nightly. If you've got a four-wheel drive vehicle, join the free escorted summit tour caravan every Saturday and Sunday; you'll get to visit at least one of the observatories too. Be aware that altitude sickness is a possibility, so take precautions and don't venture any higher than the Visitor Information Station if you're not feeling well.
Neighboring Mauna Loa is the island's other dominant peak at 13,680 feet high. Its name means "Long Mountain," and it makes up half of the entire island. Mauna Loa, the largest active volcano on Earth, last erupted in 1984, and its activity is constantly being monitored by the USGS Hawaiian Volcano Observatory headquartered at the Thomas A. Jaggar Museum in Hawaii Volcanoes National Park.
---
---
Located near the southernmost point of the U.S. (Ka Lae), Hawaii Volcanoes National Park is home to the world's most active volcano, Kilauea, that continues to add square footage to the island. Before setting out on the 11-mile Crater Rim Drive, make your first stop the visitor center to learn about this national park, a UNESCO World Heritage Site. Talk with park rangers about updates on Kilauea and sulfur-spewing Halemaumau Crater near the Thomas A. Jaggar Museum; inquire about day and wilderness hikes; and learn about the park's 23 species of endangered plants and native birds.
In order to see lava making its way into the ocean (if you're lucky enough to be on the island when it does happen), you'll have to venture outside the park to the Kalapana viewing area made available to the general public by Hawaii County. It's located at the end of Highway 130. There's no entry fee, but viewing time is currently limited to 3-9 p.m.; call for updated conditions, 808-961-8093.
If road trips are one of your favorite modes of travel, you'll enjoy the drive along the dry Kohala Coast on Highway 19 and into North Kohala. It's a beautiful foray into verdant pasturelands that paniolo, the Hawaiian cowboy, call home. It's within this area of the island that paniolo make their living and share it with others. Parker Ranch near Kamuela is the island's largest ranch, and while in town, drop by Parker Ranch Center if you'd like to pick up your own cowboy duds.
Every island is rich in Hawaiian culture and history, but it's on the Big Island that significant cultural sites are more widely open to the public, and rank as one of the island's most popular attractions. Visitors can learn more at three sacred sites located on the island's west coast: Puukohola Heiau National Historic Site, Kaloko-Honokohau National Historical Park and Puuhonua o Honaunau National Historical Park.
There are macadamia nuts, vanilla beans, cacao and orchids, all grown and manufactured on the Big Island. But the most widely known is Kona coffee. If you love your cup o' joe, a drive along the Kona Coffee Belt is a must. This coffee-growing belt extends north to south for about 30 miles with coffee being cultivated between 800 and 2,500 feet in altitude. Let your nose be your guide to the more than 600 Kona coffee farms situated along the belt. They offer guided tours and tastings, and packaged coffee for purchase. It's the real deal!
Hopefully time will permit for even more Big Island adventures such as ziplining, ATV rides, horseback rides, swimming with manta rays, snorkeling pristine marine sanctuaries, SNUBA, Mauna Kea summit tours and more.
Accommodation: Because of it's size, I recommend splitting your time between the east and west coast. You'll most likely want to stay in Kailua-Kona on the west side and Hilo (near the volcanoes) on the east side.
In Kailua-Kona: Big Island Retreat, Holiday Inn Express & Suites Kailua-Kona
In Hilo: Bay House Bed and Breakfast (book early!), The Inn at Kulaniapia Falls
---
---
.
General Tips
• All passengers in a vehicle must wear seatbelts. If you have children and intend to call a taxi service, be sure to inform the representative that you are traveling with children so they can provide car seats.
• Using handheld mobile electronic devices while driving is prohibited.
• The sun is intense in Hawaii even on cloudy days. Wear sunscreen at all times and sunglasses to protect your eyes. On days when you'll be out in the sun and active, bring lots of water to hydrate.
• Do not leave valuables in the car at any time.
• In higher altitudes such as at Haleakala National Park on Maui or Mauna Kea on Hawaii Island, dress in layers so you'll be just as comfortable at sea level as at the summit.
• VASH (Visitor Aloha Society of Hawaii) is an organization that offers aid to Hawaii visitors who experience crimes, medical emergencies, the death of a loved one or any such adversity. The organization works closely with law enforcement, health care personnel and members of the tourism industry. They do not give out cash or provide return airfare. Oahu: www.visitoralohasocietyofhawaii.org, 808-926-8274. Visitor Aloha Society of Kauai: 808-482-0111. VASH Maui: 808-244-3530. Visitor Aloha Society of Hawaii Island: www.vashbigisland.org or 808-756-0785 (in Kona), 808-756-1472 (in Hilo).
.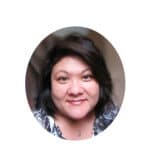 This Destination Guide is contributed by Sarah at Sarahonthe808. An editor at a Hawaii-based visitor publication, she's born and raised on the island of Oahu. Connect with her at:
website: www.sarahonthe808.com
facebook: www.facebook.com/sarahonthe808


Ps. If you find our blog helpful, please consider using our links to book your flights, hotels, tours, and car rentals. Have a look at our Travel Resources page.
---
---