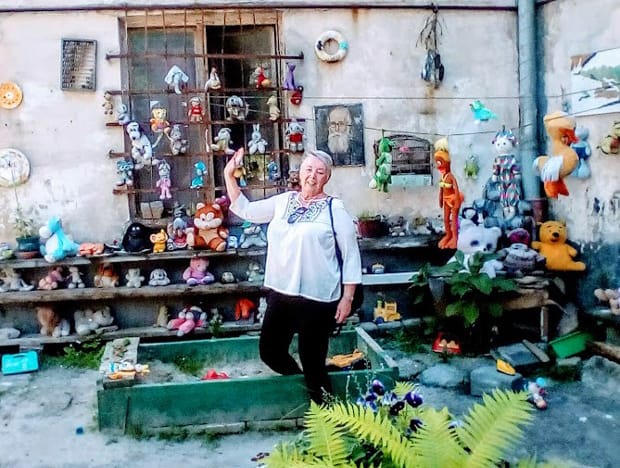 How this Nomad is working her way around the World.
"Work Your Way Around the World: The Globetrotter's Bible" has been the guide to Sherrill's life. Originally from the US, she's been travelling and working around the world for the last 20 years. Currently in Chiapa de Corzo (Mexico), she's the only English speaker in town. It's how she likes it.
Sherrill tells us about her life and her plans. A fascinating interview with some tips for anyone curious about how to live (and afford) a nomadic lifestyle.
—————————————-
Hi Sherrill! Can you please tell us about yourself? How did you end up in Mexico?
Initially I made a rash decision when I hit retirement age about 20 years ago. I was going to drive from Tacoma, Washington to Puerto Vallarta and spend the winter camping on the beach with my three cats. Yes, I had done some research, primarily that all the beaches in Mexico are free for camping. Duh! I didn't do quite enough research about which beaches to camp on and where to park a van plus an open trailer. We all learn through mistakes and mine turned out to be very educational.
But my timing was excellent.
I had been communicating with an American woman who had settled in Puerto Vallarta, who was the proverbial font of information about what, where and how's of a single woman with 3 cats driving to Mexico. I did things during my sojourn down the highway that I now would tell someone else not to do. I took backroads through little villages. I parked and slept on the streets in these towns feeling very safe (lucky is more like it). I got lost, more than once, and again, was lucky to have people direct me to the highway. I followed a public bus through the city of Mazatlan after stopping at a McDonalds and then not being able to find the entrance to the highway again.
Again, I was lucky. And people still say Mexico is a dangerous place.
The woman with whom I was online with was actively looking for someone to share a house with and I got the opportunity to live in a local neighbourhood, instead of living like a tourist. We spent 3 years as roomies until I became bored and returned to the US for a few years.
---
---
You're in a place that I bet 99% of people have never heard of: Chiapa de Corzo. You yourself mentioned to me that you're the only English speaker in town. Can you explain how you came to live in Chiapa de Corzo?
Chiapa de Corzo was a deliberate choice. I had been eyeing this school opportunity for 2 years on the WorkAway volunteer platform during the COVID lockdown and was antsy to be on the road again. The school and the community were luring me south because I am interested in visiting UNESCO World Heritage Sites. Chiapa de Corzo was a 2 for 1. It is both a World Heritage site and a Pueblo Magico location. The fact that I could teach English here and have an apartment provided, plus a Spanish teacher, was a bonus.
What do you do in Chiapa de Corzo Sherrill? Can you tell us about your life and what you do to keep busy and happy?
Happy! I begin my morning by sitting on my very narrow balcony with a cup of local coffee and watch the parents take the kids to school, watch the owner of the fruit and veggie shop fill his shelves with boxes with freshly picked, organic produce. The local women arrive and buy what they need for the day; 4 onions, 6 carrots, bunch of cilantro, a kilo of eggs; and, I wonder what they will be preparing for the days meals.
My Spanish teacher arrives at 8:00. We do not have typical lessons, no verb tenses, etc. She wants to improve her English and so we speak in sentences of English interspersed with Spanish. Currently I am laboriously reading a local magazine which uses journalistic Spanish, as opposed to my daily conversations. Todays reading, for example, was about indigenous culture; so the lesson included reading, vocabulary, history, media participation and general "what do you think about" conversation.
Now my pigeon arrives and coos at my window for the daily feeding of crackers, bread or oatmeal. If I do not arrive within his timeframe he comes to my open door and coos even more. One morning I found him in the middle of my Livingroom looking for breakfast.
Some days I will take the collective (van) into the nearby city of Tuxtla-Gutierrez for shopping.
There are more than 20 historic sites here and I have yet to discover some of them. I keep telling myself that "someday" I will visit the local cemetery, its on my list!
On weekdays there is always the lesson planning for my 3 levels of English students, which never seems to end. There is always something else that I want to add to the lessons.
Street music is often heard from my apartment. Two guys carry around a marimba and play for money in the neighbourhood. There is a cultural drumming ceremony that happens sporadically and mariachi musicians lead funeral processions to the cemetery… my street being the main thoroughfare.
And, some weekends, like this one, I am taking a mini vacation to an out of town hotel.
My Spanish teacher and I are also planning a weekend trip to Oaxaca.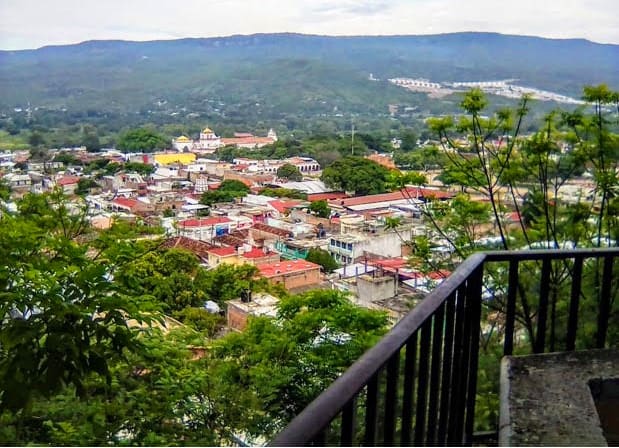 ---
---
How is Chiapas different than what most foreigners experience in other parts of Mexico Sherrill? Can you tell me a few of your experiences?
So, what is it like to be in a place where you are the only native English speaker? Interesting, historically challenging (the state of Chiapas was originally part of Guatemala), different in customs, regional food, and traditions. What a fabulous learning curve!
Were locals standoffish? Yes, many; or at least curious. Saying "Hola!" to everyone certainly made eye contact easier. Explaining that you are not a tourist, but that you are contributing to the community typically opens doors and builds trust. Surprisingly, a few of the older residents spoke a few words of English and three residents had lived in the United States in their early years and were eager to use what little language they still knew. There are still those whose eyes question who you are riding on the local "collectivo" but not one person has ever said anything negative to me.
What do my students think? They are young and want to know about the world. Having someone who has lived in other countries, experienced other cultures and traditions is, they tell me, stimulating. We have had lessons concerning climate change, fast fashion, moon cycles, volunteering abroad, bucket lists, emergency preparedness and Mexican regional foods, all interspersed with English grammar and vocabulary.
It has now been almost 2 years that I have resided here, and I feel comfortable, unlike many American communities where you need to have a 100-year ancestry to "belong".
---
---
You're a very experienced traveller. You've been to a lot of places and seem to pride yourself on doing it affordably. What set you on this path? Do you consider yourself a nomad by heart?
During the time before traveling I had found and been reading, re-reading, and buying updates of "Work Your Way Around the World". It was my bible, my map, my inspiration. And, yes I believe I am a traveler. At the age of 5 I discovered that airplanes do amazing things and take you to new places. I wanted to be a flight attendant for years and years. Even then, before I knew the term "frugal travel" I knew there was a way, I just needed to find it.
Has teaching English been your gateway to travel? What came first, the travelling or the teaching?
The gateway was not teaching, it was camping. Yep! I began this adventure by camping my way from Tacoma, Washington to Puerto Vallarta, Mexico in a van with 3 cats. The idea was to camp on the beach during the winter… but I ended up spending almost 3 years in Mexico instead, starting a B&B with another American woman who was initially my host.
When I became bored (summer) I left and had the opportunity to act as a volunteer camp host in Mt. St. Helens with the U.S. Forest Service (yes, governmental agencies at all levels have recreational volunteer opportunities. USA Jobs.gov). By now I had also discovered "Caretakers Gazette" and "Workkampers" publications for frugal travel, and adventure. One publication leads to another and soon I had a list of possibilities in the United States.
Next, I went to Quartzite, Arizona in January for their "job fair" for campers, Rv'ers, caravanners and other vagabonds. I worked, for pay, during the Christmas season for Amazon near Reno. Good money, terrible conditions.
At Amazon I met another single woman and we eventually bought a mobile hot dog cart and set up a business on the Oregon coast for a season.
---
---
You have a travel blog where you cover many of your travel adventures as well as give a lot of tips on travelling on the cheap (I very much enjoyed your post "Do the Math"). What motivated you to start a travel blog?
Initially the blog was for people I knew to know where I was and to encourage them to consider traveling.
When I began to receive questions I saw a broader view. It meant I needed to look at my travel not as just a video postcard but as an essay on how to choose something different in your life. The blog eventually became the basis for "Travel Europe for Less than You Think", a 4-part class for a local community center. This was a hands-on discovery class for potential travelers. Unfortunately COVID closed it down after only 2 ½ programs.
"Traveling" is different from "vacation" and I typically will make that distinction. In the blog it talks about local cultures, living with locals, or possibilities like death during travel or why it is sometimes beneficial to get bumped if you know the rules. Oddities that could either fortunately or unfortunately alter your plans. It was not created to tell you how to use your credit card accumulated miles.
---
---
You mentioned in the post above some of your recent trips and how you did them affordably. How do you plan a trip? Do you choose a destination and then plan a way of doing it affordably? Or do you, through work programs or housesitting, find opportunities and base where you go on that?
For example: I want to revisit Europe and participate in English Immersion Programs. I also want to experience a repositioning cruise from Europe to North America (between seasons, the cruise companies reposition their ships between warm weather destinations. You can get good deals in repositioning cruises. More on repositioning cruises here).
First, what are the seasons that cruise lines reposition from east to west? They do it in April/May, heading from the US/South America to Europe for the summer. Then they head back in the fall to the Caribbean and South America for the winter season.
Working on the above means looking for English Immersion Programs or work exchange programs (usually in Schengen countries) in places like Germany, France or Italy. It means I get to enjoy Europe in summer when the weather is warm.
Considering that Schengen only allows 90 days in and then requires 90 days out means I need to find a WorkAway/work exchange outside the Schengen once my summer work program is over. So I'll look at warm countries outside the Schengen zone during winter months. Options might include Morocco, Tunisia, Crete or Egypt.
Building my travel calendar around these restrictions is easy. Later this year (in August) I fly to Europe at the conclusion of my Mexico school commitment. There I will do an English Immersion Program or work exchange for August, September and October. I'll be out of Schengen in November, December, January and February (destination unknown). I'll apply for English Immersion or WorkAway options in March and or April in Spain/Portugal/Italy (back once again in the Schengen)
I'd like to sail to North America or Brazil on a repositioning cruise in the fall.
Enjoy and repeat!
---
---
I always ask people I interview about their experiences on safety and security in Mexico. What's been your experience?
Is crime an issue? From my perspective the answer is "no". Local police seem to be few and far between, but the state police are a presence on the highways and select locations where the military is spotted.
What does the future hold Sherrill? Will you stay in Chiapas? Or Mexico? Will you ever go back to the US?
Once I leave will I return to Mexico? It is an unknown. I have only experienced about 30 countries in the world, I think I have a few more on my bucket list. Choices are not always easy, leaving your comfort zone is always risky.
Thank you for doing this interview Sherrill!
Don't forget to have a look at Sherrill's blog. She's got some great tips on cheap travel and working overseas. I also enjoy her tales of everyday life in different locales.
Want to be interviewed? If so send us an email or leave a comment