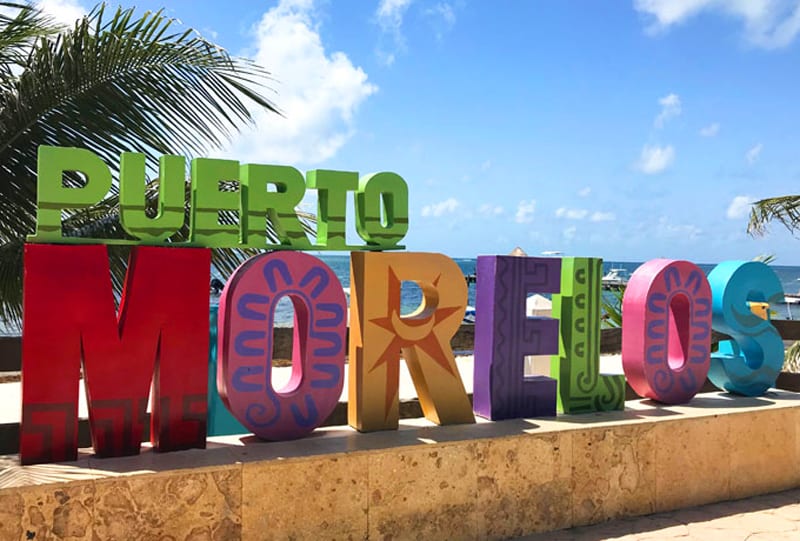 What's it like living in Puerto Morelos
Shelley is a Canadian lady living in Puerto Morelos, a town about halfway between Cancun and Playa del Carmen on Mexico's Yucatán Peninsula.
I was curious about what led her to Puerto Morelos and about her life there as a single woman. In this interview she covers many subjects including safety, healthcare, the adjustment to life in Mexico, the many things to do in Puerto Morelos.
An interesting post for anyone thinking of possibly relocating to Mexico (or, more specifically, the Yucatán).
---
Hi Shelley! Can you please tell us about yourself? How did you end up deciding that you wanted to leave Canada and live in Mexico?
I am a 62-year-old Canadian woman and I retired in 2021. It had always been my dream, it was what I was working for, to spend my winters somewhere in a warmer climate and my summers at my home in Canada. In 2021, I realized that dream. I didn't want to make a permanent move because I love my native country and I wanted to spend some time discovering it as well. Last summer I took an extended trip to Newfoundland and this summer I am planning a trip to British Columbia. My family and friends are in Canada and I still need to keep my connections there.
To be honest, I had always been afraid of Mexico, buying into the media hype about the dangers and I had looked at it as a third world country. Luckily, in 2018 I was invited to a family wedding at an all-inclusive resort in the Riviera Maya and I decided to go. I fell in love with Mexico, the people were so warm and caring and the country was absolutely beautiful – not third world at all.
I returned and spent a week on Cozumel Island at another all inclusive in 2019 and I actually ended up spending more time off the resort than on, discovering the island and what Mexico had to offer off the resort. I returned twice over the next couple of years, staying in Airbnbs in Playa del Carmen and I loved it, but I was looking for somewhere with a smaller town feel. I am a researcher at heart and I ran across the little town of Puerto Morelos, located between Playa del Carmen and Cancun. In 2020 I took an exploratory trip here and my heart was stolen. Great food, lovely people, an amazing beach and reef as well as cenotes to discover and a pretty good expat community, what more could you ask for for an ideal retirement location?
Well Covid hit and I was unable to travel in the 2020/21 season but come October, 2021, I was on my way to paradise for the winter.
---
---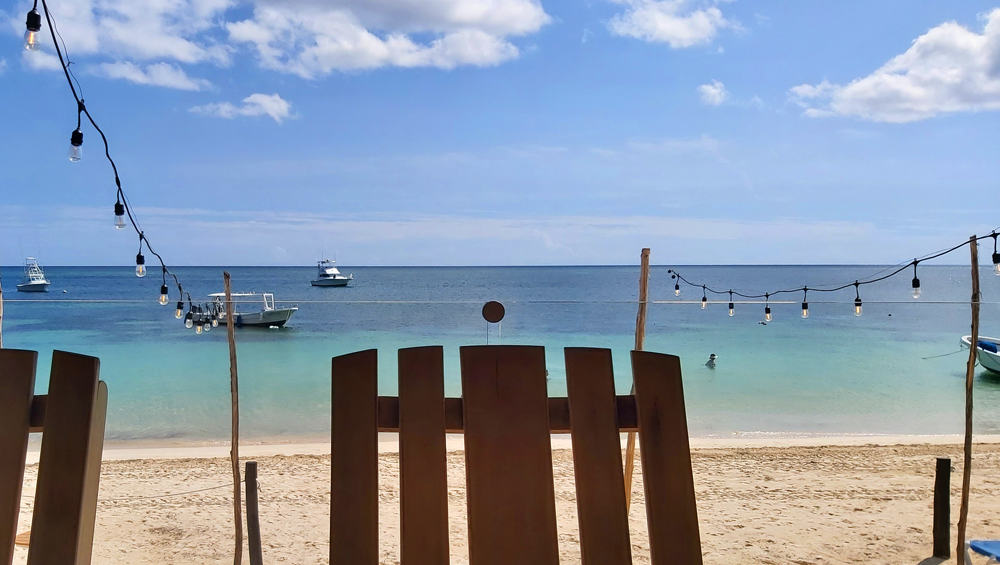 What made you decide that Puerto Morelos was THE place for you? (and were there other places that you also considered?)
Puerto Morelos just fit the bill for me – small town, great restaurants, close to an international airport, wonderful locals and plenty to do in the area. I had travelled to Jamaica and Costa Rica on exploratory vacations, but Mexico just seemed to "feel right".
Have you bought in Puerto Morelos or are you renting? Do you have any advice for anyone looking to buy or rent in Puerto Morelos and/or Mexico in general?
I am currently renting in Puerto Morelos for my second winter here. I didn't really want to commit to owning a home here firstly because I want to spend my summers in Canada and secondly, it's in my future plans to travel to discover more of this amazing and diverse country. For anyone looking to rent, I recommend Airbnb to start. You can rent a place for a couple of weeks if you are planning to stay long term and once you are here you can get boots on the ground to find the right place for you. This goes for anywhere in Mexico. There are many options for housing in Puerto Morelos – you can live "portside", which is east of the Federal Highway from Cancun, and you will be at the beach and that's where most of the shorter-term tourists gravitate to as well as some longer term residents. While the beach is absolutely gorgeous, there is a premium price to staying on that side. Travel to the west side of the highway and you are in "la Colonia". This is where the locals live and most longer-term expats and that is where I currently reside. It is more budget friendly on this side and you get more interaction with the local people.
If you are planning to buy, I highly recommend that you spend some time here before making the commitment to buy. Mexico is not for everyone and you really should spend time to be sure you can adjust to the cultural differences, the language differences and a completely different way of life than what you are used to. Local Facebook groups are great for getting recommendations on rentals, homes for sale, and just general information about the town you are considering living in.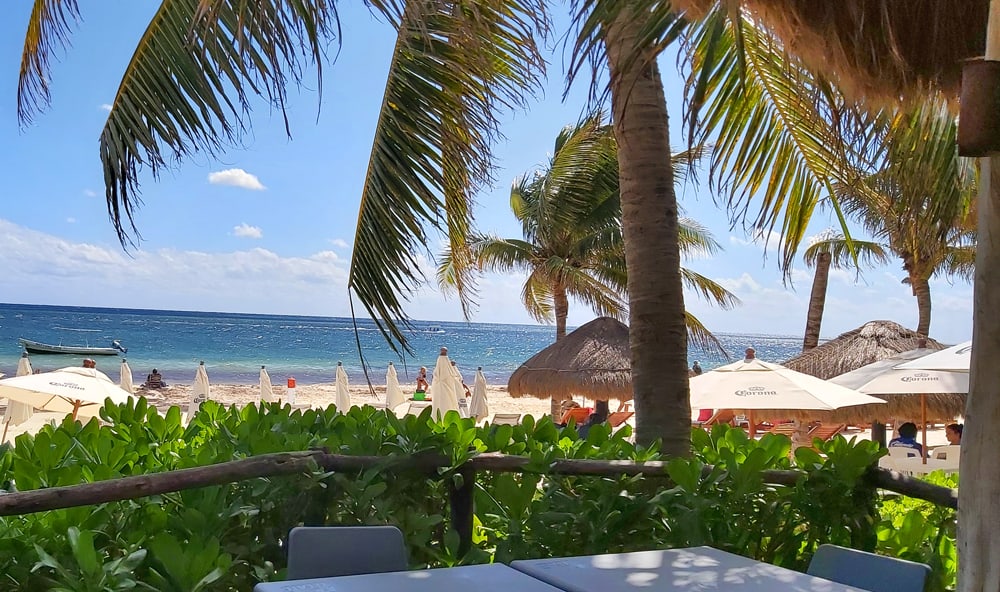 ---
---
How was adjustment to life in Mexico? How is it living there as a single woman?
There were definitely some challenges when I first arrived. The noises, the bugs, the language barrier, figuring out how things work all take some time to adjust to. The first week I was here, I put my garbage out on the alcove of my rental until the pick up was coming. When I heard the bell announcing the arrival of the trash truck, I ran out to grab the bag to take it to the street. Well, the bag was completely covered in fire ants and they got me good – up my arms, down my legs and I was doing the newbie ant dance in the front yard trying to get them off me – I'm sure my neighbours got a good chuckle out of that one. But I learned.
The first season I was here, I was with my partner. Just before I came down for my second season, that relationship ended and I found myself on my own. My friends and family were concerned about me travelling here on my own but there was no way I wasn't coming. I knew the town, I knew my way around and how things worked and I sure didn't want to stay in the bitter Canadian winter just because I was alone. So I packed up Penny (my dog) and I did it. We have been doing just fine. I take common sense precautions as I would in any place I am living or visiting. I take the local bus, I shop at the local grocery store, I eat at the many restaurants available here just like I would do at home. I have made some friends here both native and expat so I am never lonely. Living in Mexico as a single woman is amazing – I travel on my own, I have signed up for a Spanish class at a local language school, I basically do whatever I feel like on any given day and I have never felt unsafe here. I do not subject myself to unsafe situations but I do walk home from dinner after dark and there are so many people out and about at night that I feel safe.
You've got your dachshund (Penny) with you in Mexico. How did you manage that? Did you drive from Canada? Did she come with you on the plane? And how has she adjusted to life in Mexico?
Yes, I have my dachshund Penny with me. I brought her on the flight with me from Canada. Luckily she is small enough that I can bring her in the cabin with me. She tolerates the flight fine, but being in the crate is not her favourite place and she does complain a bit during the flight. Travelling with a pet in Mexico does present some challenges because she is not allowed to go on local transportation or regional buses. That means that when I am taking her with me anywhere I have to hire private drivers or taxis that will accept her and this adds a higher cost to travelling. Transportation on buses in Mexico is amazingly affordable and comfortable but when you have a pet, your transportation costs are higher. I wouldn't go without her though, she is a trooper and goes along with whatever Mama subjects her to. She loves getting to go for walks every day, something we wouldn't be able to do during the cold Canadian winters. I have found an excellent English-speaking vet that takes care of her while we are here. The pet culture in Mexico is very different than home. Dogs are allowed to run loose and there are street dogs around as well. I am always conscious for her safety and I just pick her up if we see a loose animal approaching. So far we haven't had any issues.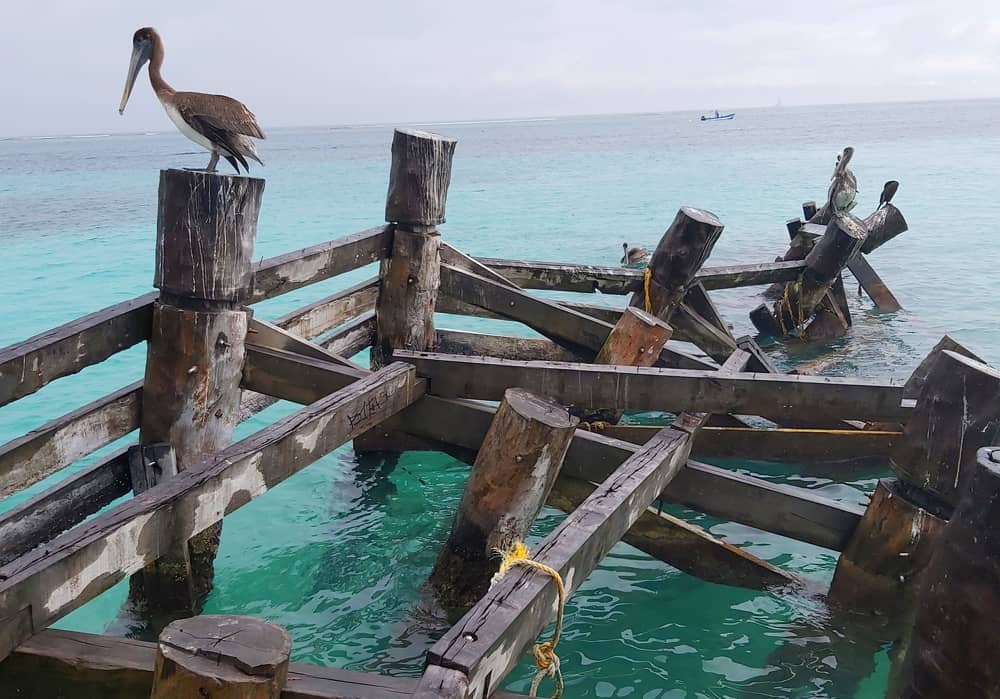 ---
---
You've got a Youtube channel that you seem to have a lot of fun with. What inspired you to start a Youtube channel Shelley? And could you please tell people what you cover on your channel?
Yes, I started a YouTube channel at 60 years of age lol. Initially it was meant to keep the folks back home up to date on our travels and it was a way for me to keep track of my memories. Then, to my surprise, I started to get some followers looking for information about Puerto Morelos and Mexico in general. I have a lot of fun with it and once I got over my initial shyness of being in front of the camera, I love it. I do local restaurant reviews, I document any excursions or activities I take part in and I give practical information and tips on daily life as a Canadian/Mexican snowbird/expat. My greatest reward is when a subscriber stops me on the street and tells me that my videos have helped them and they thank me for what I am doing. My future plans are to expand my travels in Mexico. Although I love Puerto Morelos and everything it has to offer, Mexico is a huge and diverse country and I feel like I need to discover more. I recently took a trip to Valladolid and that's when I realized how much history, culture, biodiversity and beauty that Mexico has to offer. I have my temporary residency here so I can come and go as often and for as long as I want. This gives me a lot of freedom because I don't have to be dependent on how many days the person at customs and immigration decides I should stay here.
Editor's note: check out her video Why México? 10 Reasons I Chose to Retire Here and Why You Should Visit
How else do you keep busy in Puerto Morelos? Are there a lot of activities and/or resources for expats there?
Oh my gosh, there is so much to do here!!! In my area alone I can snorkel at the second largest reef in the world, I can visit any number of cenotes, I can take day trips to swim with sea turtles, I can venture into the jungle, I can visit Mayan ruins, I can visit the amazing lagoon in Bacalar, I can visit small local villages and if I am missing the city, I can take a trip into Cancun or Playa del Carmen where there is world class shopping, I can visit Isla Mujeres or Cozumel on a day trip – the list is endless. I took my first trip ever in a helicopter here. There are zoos, craft breweries, tequila factories, amazing Mexican artesans, museums, you name it – something for everyone. The nice part is, that I can also do absolutely nothing if I feel like it and some days that's what I do. Hit the beach for a relaxing day at one of the many beach clubs here. I mentioned earlier that I am taking a Spanish language course and that has been extremely helpful. The Mexican people love that you are trying to learn their language and they help you when you are stumbling. The immersion factor is really helpful and my command of the language improves every day.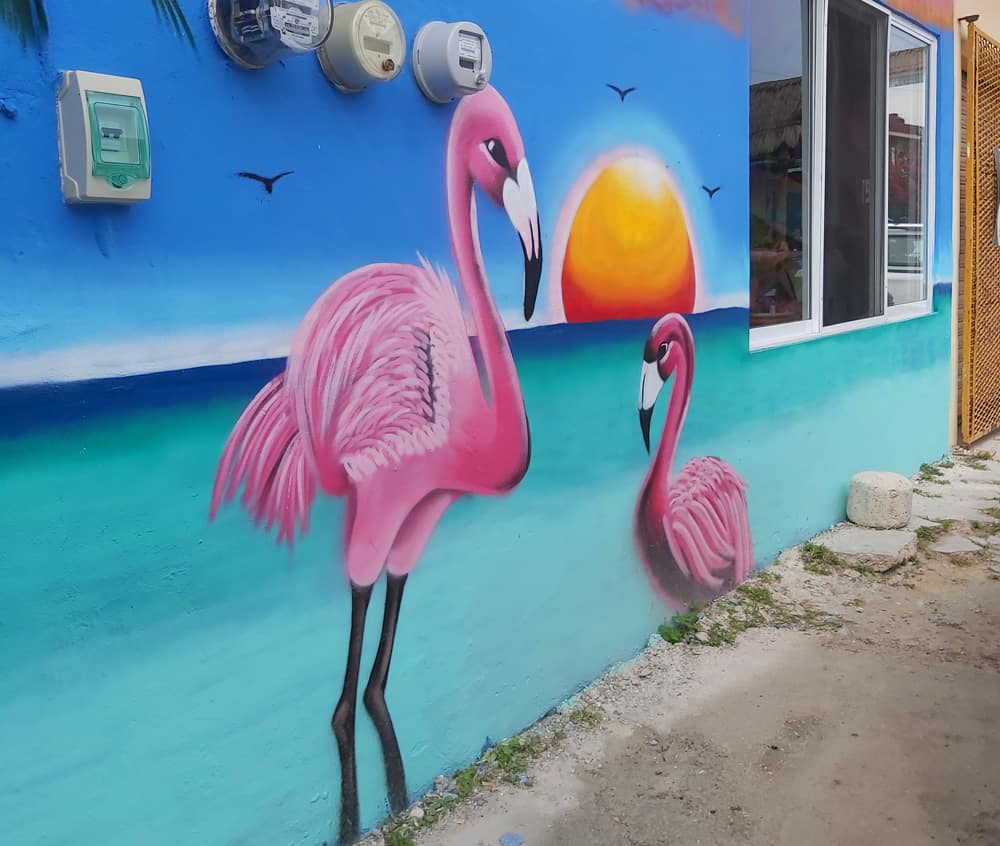 ---
---
Healthcare/Insurance in Mexico. Can you tell me what you're doing about healthcare in Mexico Shelley? Do you have advice for other Canadians?
Since I don't spend all of my time outside of Canada, my Canadian healthcare is still in place during my time at home. In Ontario we are allowed to be away for around 6 months. For my time in Mexico, I buy private insurance. It is not cheap* but I feel it is a necessity – anything can happen. For minor ailments, I go to a local clinic here. There is an English-speaking clinic right in my neighbourhood and the doctors are top notch. A consultation will cost me around $35.00 Canadian and I got some prescriptions for antibiotics, sinus medication and antihistamines for about $28.00 Canadian for all three. Being a resident of Mexico also gives me access to the local heathcare system but I have never used it so I can't comment on it. My advice to other Canadians would be to be sure you have some sort of healthcare insurance – at the minimum something to get you back home in the event of an emergency. At my age, I cannot afford not to have insurance and I allow for it in my yearly budget.
* I have insurance with Allianz and pay approx. $250 Canadian (about $185 USD) per month. That includes a pre-existing condition which I pay a surcharge for.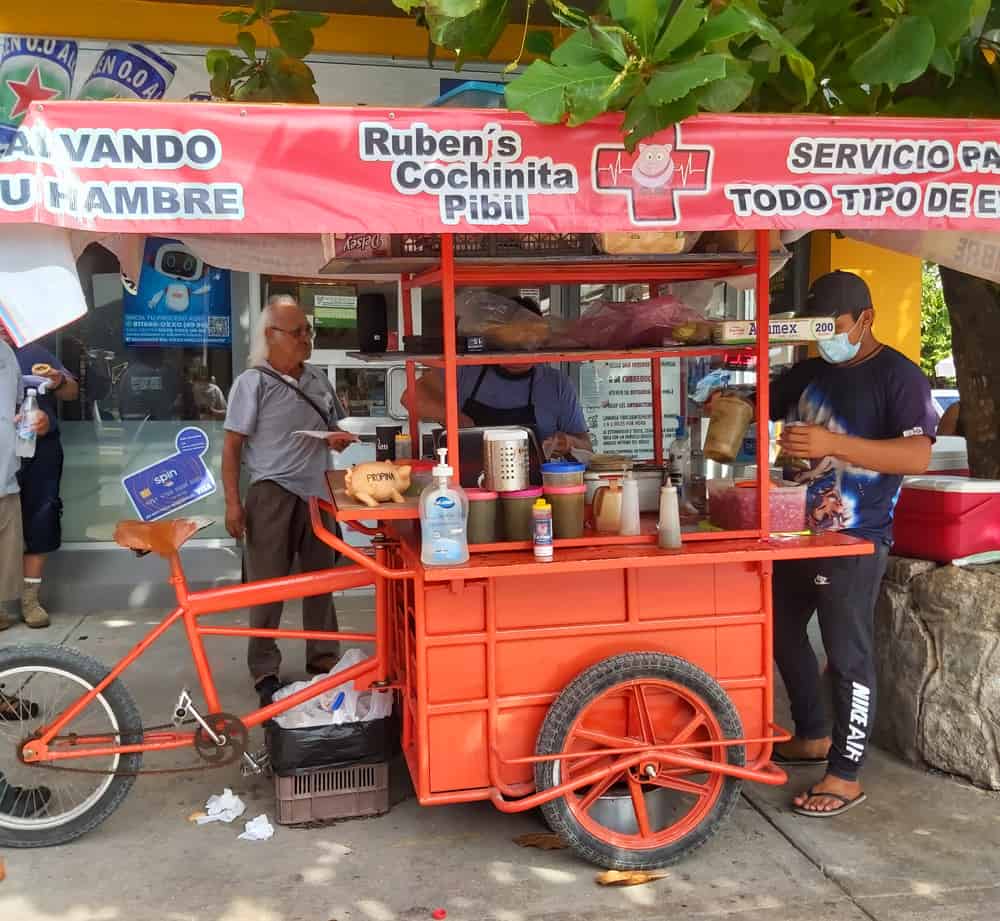 Apart from healthcare, what are the major factors to consider when moving to Mexico?
I think the biggest thing to consider is the cultural difference. Mexico is really a live and let live society so your neighbour might be playing loud music at 6:00 am, there are barking dogs – Mexico is loud lol. There is garbage in the streets, the pet culture is different, government services take a long time to complete and the language and currency are completely different than what you are used to. Mexican people are very polite and respectful and have deep family connections. There are many, many cultural celebrations and events. The way of life is very laid back. It honestly reminds me of the way things were in Canada when I was growing up. Kids still play in the street, they run to the store for their Mom, it's not a dog eat dog world and people are just so much more relaxed.
---
---
I'd love your perspective on safety and security in Mexico. It's the first thing that ever comes up when mentioning "Mexico". How about your own personal experiences with safety/security?
Mexico has a really bad reputation in the Northern Americas for safety and security. I don't know how many times people have shuddered to hear that I am in Mexico as a single female. Currently there is some cartel activity in Mazatlan (which is a 35 hour drive from where I live) and I have had at least two people contact me to be sure I am "all right" because they heard something is going on in Mexico. My response is that, yes there is crime here but it's everywhere and what is going on in Mexico is in a place far from me. I think from Toronto to Calgary away. That seems to put their mind at ease – people just don't realize how big Mexico is. Personally, I live in what I would consider a middle-class neighbourhood, lots of families and working class people. There are gates on my doors and windows. There are gates on doors and windows on most houses here, it's just the way it is. I go everywhere in my town by myself and I have never experienced anything even remotely scary to me. I am not saying that it doesn't happen here but it happens everywhere, not just Mexico. I just don't put myself in any situation that would put my safety at risk. Mexico is not marijuana friendly and the repercussions for partaking in those activities can be harsh. I have no hesitation about travelling around Mexico on my own, there are many single ladies here in Puerto Morelos and we are all doing just fine.
Do you ever miss any aspect of living in Canada Shelley? Do you think Mexico is your 'forever' home?
Like I mentioned above, I am a snowbird so I go home every summer. I miss my friends and family when I am here but with the technology of the internet, it is easy to keep in touch. We can have face to face phone calls and Cancun is an easy flight from Toronto so my friends and family can visit me here. I miss some of the products that I can't get here but anything I really need is available here and anything I just want from home, I bring with me. Mexico will definitely be my "forever" winter home for the foreseeable future. I am looking so forward to exploring more of this country over the next few years. Puerto Morelos will always hold a special place in my heart since it's where I started my love affair with Mexico and I have made some dear friends here. Many Canadians call Puerto Morelos home and have happily settled here for the long term. Me, I'm kind of an adventurer at heart so I am always seeking new experiences.
Thank you for seeking out my input on living as a solo female in Mexico. My final advice is just – come, come to Mexico and see for yourself if it is right for you. You will never know until you take the first step and visit.
Many thanks to Shelley for this informative interview!
And don't forget to check out her Youtube channel. She's got a lot of information on Puerto Morelos and Mexican life in general.
Want to be interviewed? If so send us an email or leave a comment