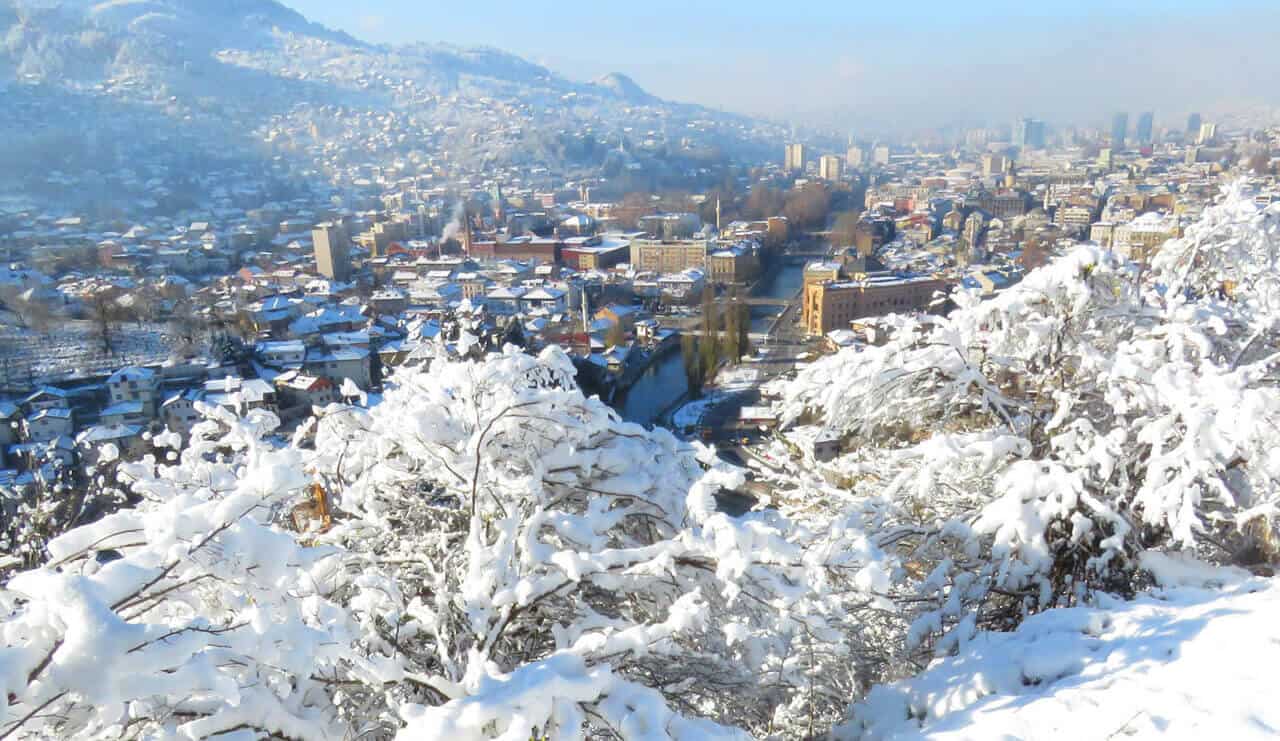 How to spend a week in Sarajevo.
I mentioned on a previous post that I came to Sarajevo on a last minute impulse. It was a place I was curious about and also a place that I doubted I'd see with Lissette (the only way here from Split is by bus – and Lissette isn't getting on any more Balkan buses). So when the opportunity came I took advantage and booked myself on Wizz Air (the Hungarian budget airline). I ended up spending a week in Sarajevo.
Note: Sarajevo is not the easiest place to get to, which is why the new (and cheap) Wizz Air route from Budapest is a great addition. Otherwise you can fly from places like Vienna, Istanbul, Belgrade and Zagreb. There are no international train connections anymore (it used to be that you could take the train to Zagreb and Belgrade). That leaves you with buses, of which there are many (if you can handle those Balkan buses…). More transport details at the bottom of this post.
---
Hotels and Hostels. Whether budget or fancy, you get good value on accommodations in Sarajevo. Recommendations: Hotel President Sarajevo (high end, perfect location in old town), Hotel Sana (beautiful 4 star hotel, also perfectly located), Hostel Pigeon Square (budget, right in the heart of the Ottoman old town), Hostel Franz Ferdinand (budget, right in the old town).
---
.
So what to do in Sarajevo in early winter? Here's what I did over the course of a week.
Day 1
The day started with an early morning flight from Budapest (for those who are confused: I was in Budapest visiting my mother for a week. I should have taken the train back to Split but then this opportunity to go to Sarajevo came up). I'll write more about my experience flying Wizz Air at some point. For now all you have to know is that flying time from Budapest to Sarajevo was 1 hour, 5 minutes, that I paid $85 Canadian (that's $66 US), and that it was pretty cool looking out of the plane window and seeing the landscape and climate change before my eyes.
I was picked up at the airport by Emir, my Airbnb host (his apartment is very much recommended). Very nice guy. He brought me to the apartment and, when I asked him, showed me how to make Bosnian coffee (which is fantastic). I then took a bit of a walk around the old town. It was an overcast, cold day with temps slightly below zero. What struck me more than anything on this first day was the snow – I haven't seen proper snow in about 3 years. Even on an overcast day the snow in the hills surrounding the city was beautiful. I went to Konzum and picked up some beer, wine, noodles and pasta sauce. I ate pasta 6 nights in a row while in Sarajevo which must be some kind of record…
Below: low clouds and snow highlighted my first day in Sarajevo.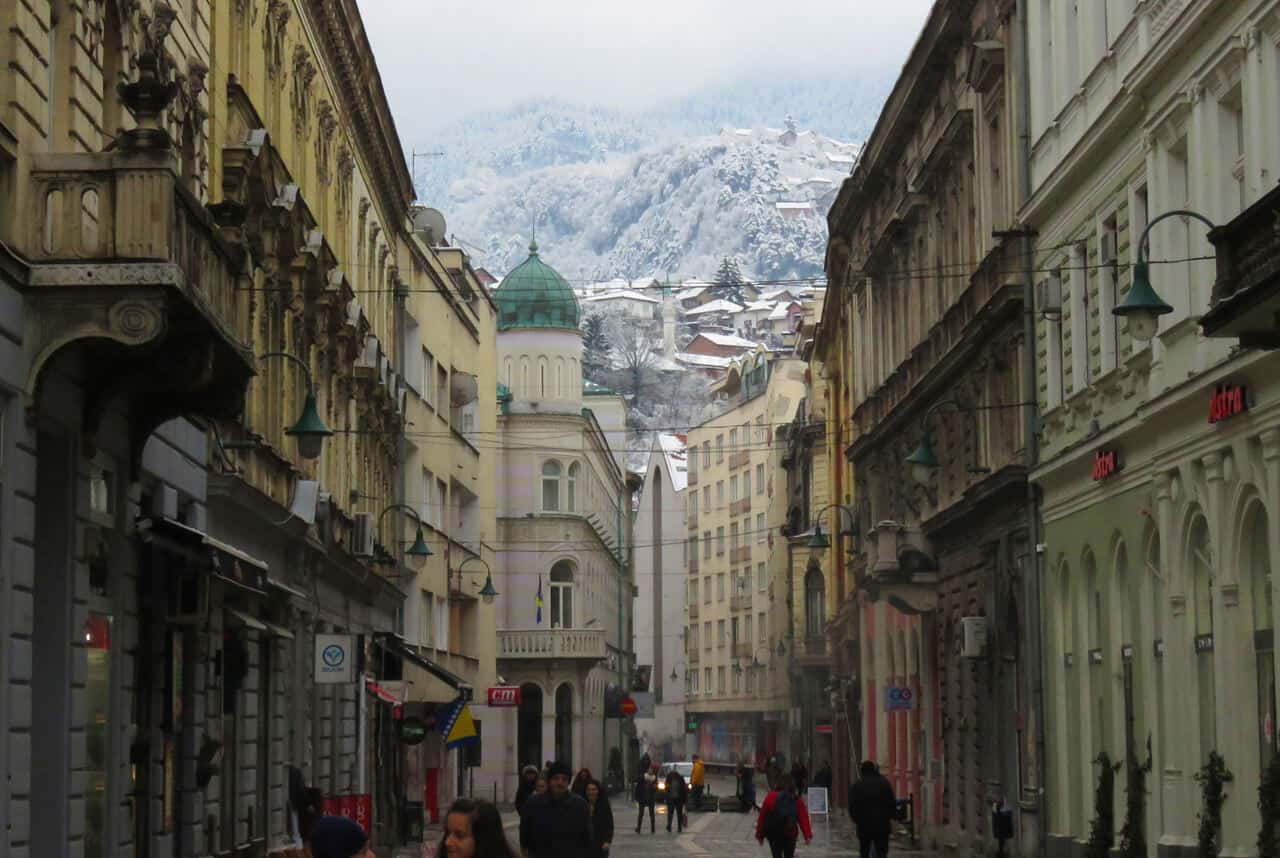 Day 2
Day 2 was the perfect winter day – cold and crisp with blue skies. It had snowed overnight and the snow sat fat and white over everything.
I started off early and walked up the hill to the Yellow Fortress. It's not yellow and it's really just a bastion and not a fortress. And there are absolutely no signs indicating that this is the Yellow Fortress (talking to people, I was told that I was indeed at the Yellow Fortress). It has some of the best views over Sarajevo.
If you continue walking just a bit past the fortress, keeping to your right so you skirt the hill, you'll find yourself walking on a little road with more fantastic views over the city: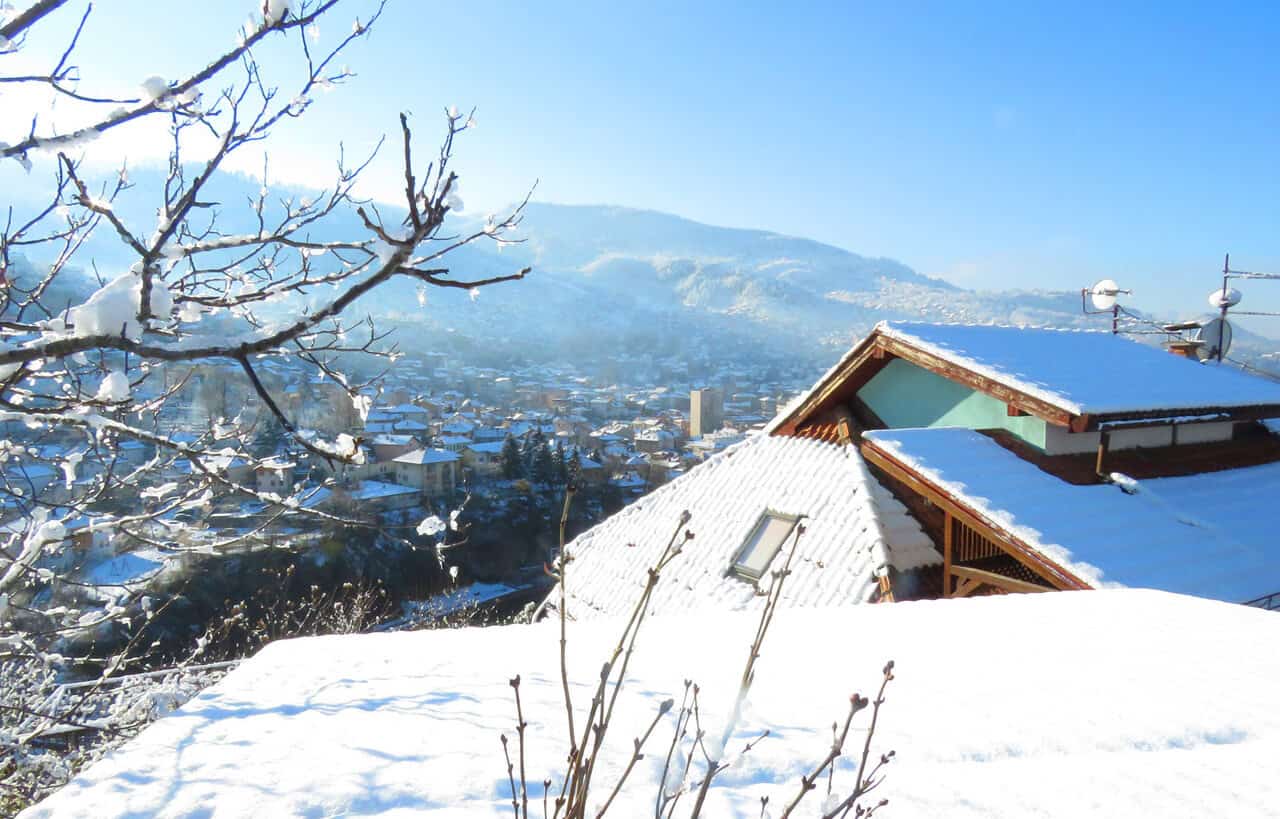 I had arranged a 10:30 walking tour. It lasted a little over 2.5 hours and covered the National Theater, the Serbian Orthodox Cathedral, the Ashkenazi Synagogue (the only active synagogue in Sarajevo today), the Emperor's Mosque (the first Mosque built in Sarajevo), the Latin Bridge (where Franz Ferdinand was murdered – leading to World War 1), the City Hall, the Sarajevo Brewery (where they have a museum as well as Sarajevo's most popular beer tavern), and the Franciscan church of Saint Anthony of Padua. We finished up in the heart of the Old Town. It was an excellent tour, not only for the sights and history but also for the experience of walking around with a local and being able to ask all kinds of questions on past and current history. Highly recommended.
Above: Serbian Orthodox Cathedral
Above: Latin Bridge where Franz Ferdinand was killed
Above: Pigeon Square in the heart of Old Town Sarajevo
Above: Ottoman-era Old Town
Above: Gazi Husrev-bey Mosque
Above: Sacred Heart (Catholic) Cathedral
Above: the Sarajevo Brewery
The rest of the afternoon I walked around, first in the Bistrik district where I had more great views (see first photo below), then along the river. Because of the great weather, I spent that entire 2nd day outside.

Day 3
The 3rd day was cold and mostly grey. I decided to take a walk to the Avaz Twist Tower, the highest tower in all of the Balkans. The tower is in the modern city center, west of the Old Town*
*Sarajevo is mostly long and skinny, the city centered on the Miljacka river and bordered on all sides by mountains. At its Easternmost edge is the Old Town. Going westwards are buildings dating from the Austro-Hungarian Empire, then the modern city center where office buildings, museums, and the bus and train stations are located (the Avaz tower is very close to the train station). Going further west the city stretches out – and thins out – becoming typical urban sprawl.
The modern City Center is not very attractive and feels disjointed, a strange assortment of different-era apartment blocks and shopping centers spread out along long blocks. You'll walk past the old Holiday Inn and the twin towers (all famous landmarks during the Bosnian War) and see old apartment buildings with war scars that were never fixed. You'll most likely spot the huge and modern-looking American Embassy. Not far from it is the Avaz Twist Tower.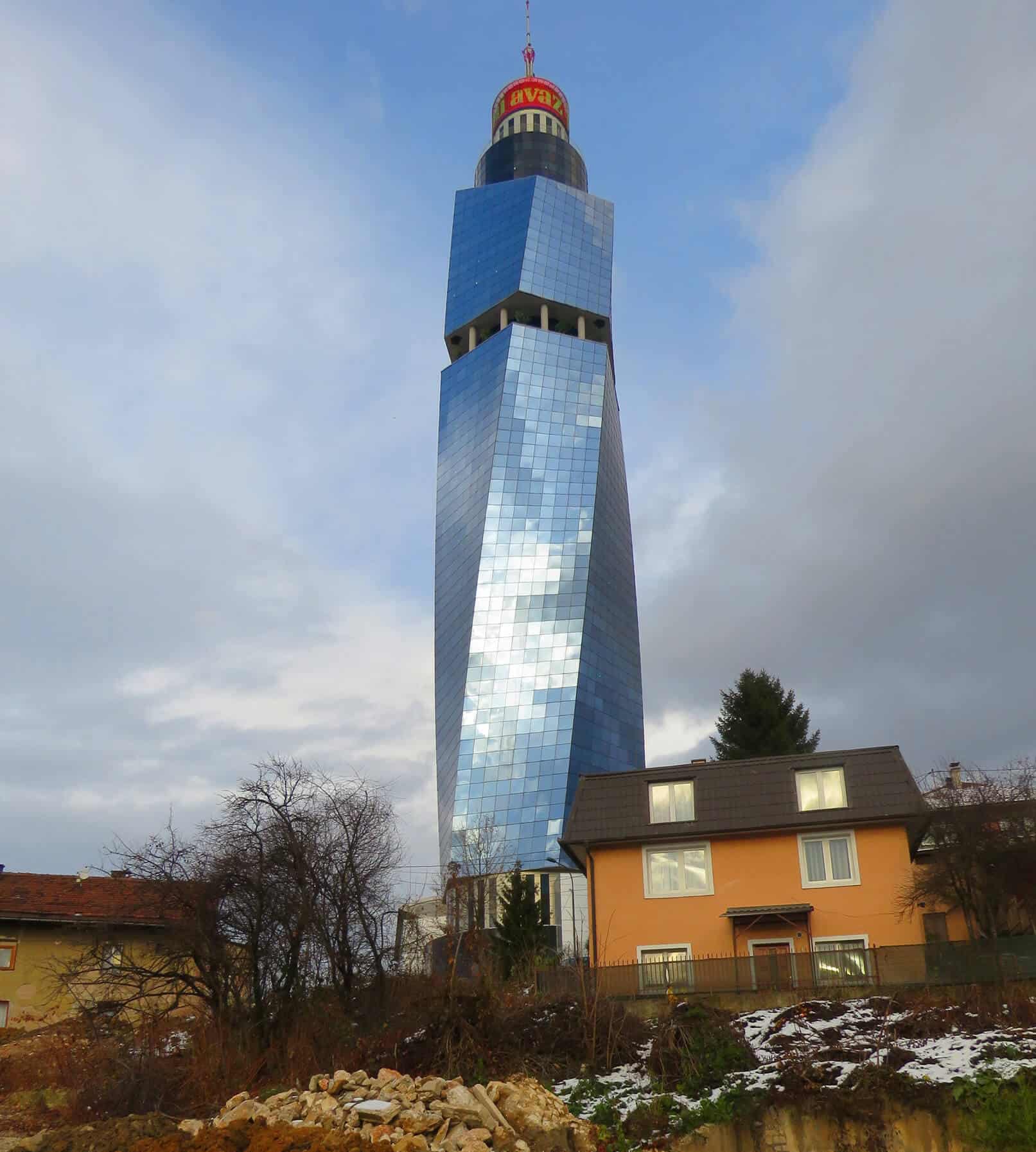 The Tower was completed in 2008. It is 39 stories, and 142 meters, high. Take the elevator to the top floor, walk up some steps, and put 1 KM in the automated turnstile. Once you go through it you can step outdoors and see all of Sarajevo at your feet.
That's basically all I did on this day. I walked the 30 minutes or so back to the apartment and had beer, wine, and pasta.
Day 4
I call this "the day of the Big Melt". Look at the river in the photo below. The snow had melted overnight and the river was a brown torrent, bringing soil and trees from the hills. The temperatures were almost springlike.
.I visited the cafe at the Hecco Deluxe Hotel for views of the city (below). You can't go out on the balcony in the winter but in the summer it must be an amazing spot to enjoy a coffee with 360 views from it's location in the city center.
The rest of the day was spent exploring the old town, picking up souvenirs, having Begova čorba (it's like a chicken soup except way better and served with a basket of bread) at Pod Lipom, and using my Go Pro to film trams in front of some of the city's sights (see below).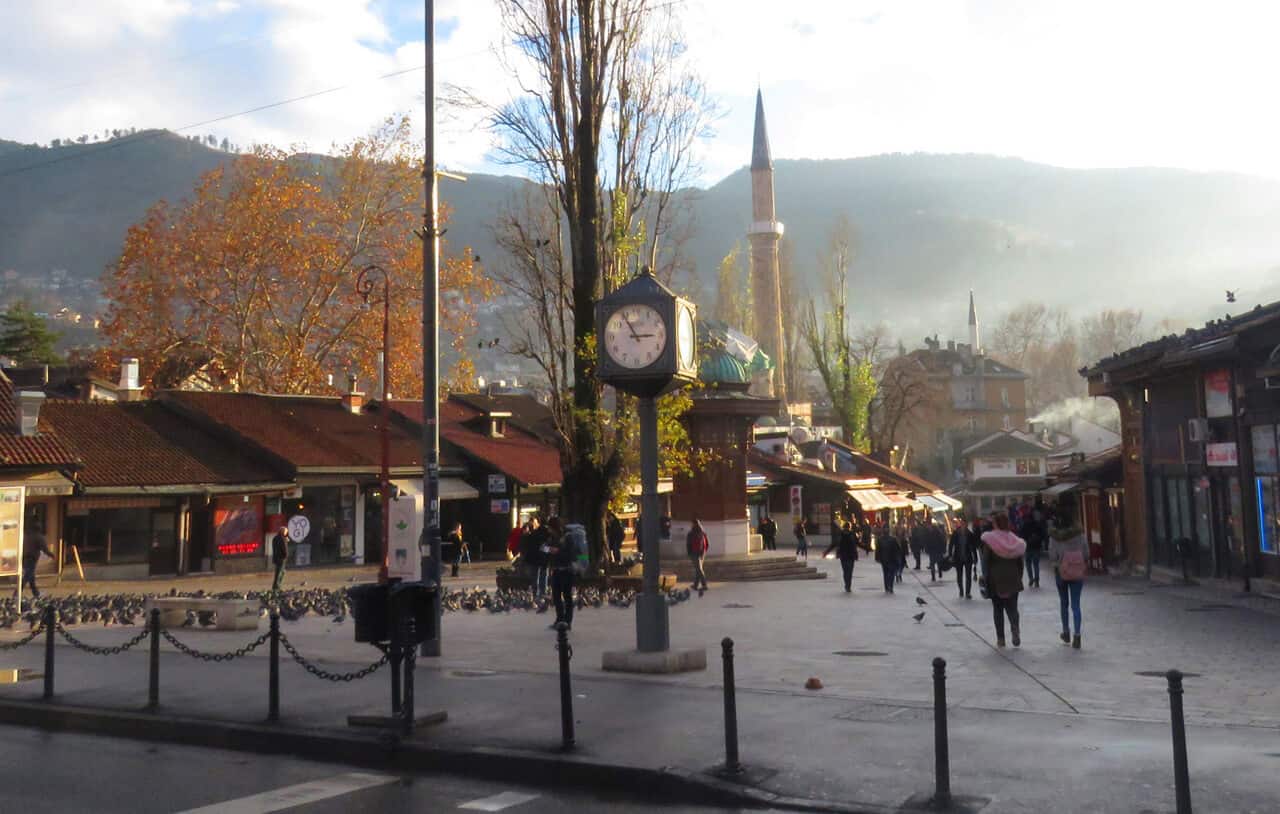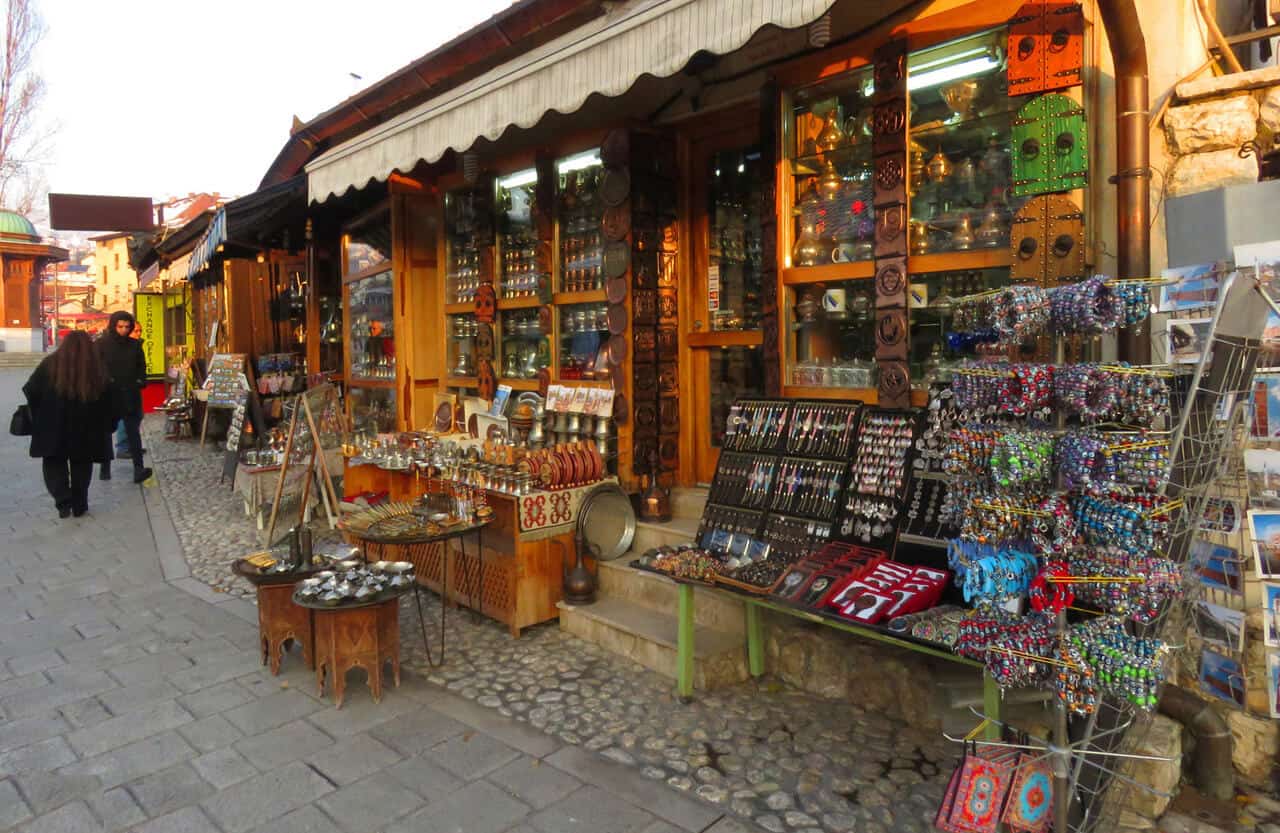 Below: Sarajevo's trams shot in front of some of the city's highlights.
Day 5
I had booked the Siege Tour with Sarajevo Funky Tours. It was an absolutely fascinating, chilling and depressing tour describing the Bosnian War, the 4 year siege of Sarajevo, and hope people coped (or died) during this time. It incited me to write my last post (A visit to Sarajevo. A microcosm of everything that's wrong with the Balkans. Please read it if you haven't). Day 5 was one of those cold, grey days where the chill just gets into your bones. Perfectly fitting for this tour.
Day 6
.
During the previous day's tour I had asked our guide which Museums in Sarajevo are "must see's". He echoed what Marima had told me: "the National Museum and the War Childhood Museum".
So on Day 6 I visited the National Museum in the modern center. I have to admit that I'm not a huge fan of museums (maybe I've just seen too many over the last few years). But I was quite impressed with this one, particularly the Roman artifacts on the 1st floor (in the year 168 BC Bosnia became the Roman province of Illyricum). I spent more time than I expected wandering around this floor before realizing that the museum closed in 15 minutes…and then ran to see more Roman monuments in the garden and to get a peek at the ethnology building where they had re-created the interior settings of Muslim homes. The museum is most famous for the Jewish Haggadah, a text that came from Barcelona with the Jews in 1492. Unfortunately this section of the museum was closed when I visited in early December.
If you visit this museum make sure to give it enough time. I regret that I didn't.
Below: the National Museum.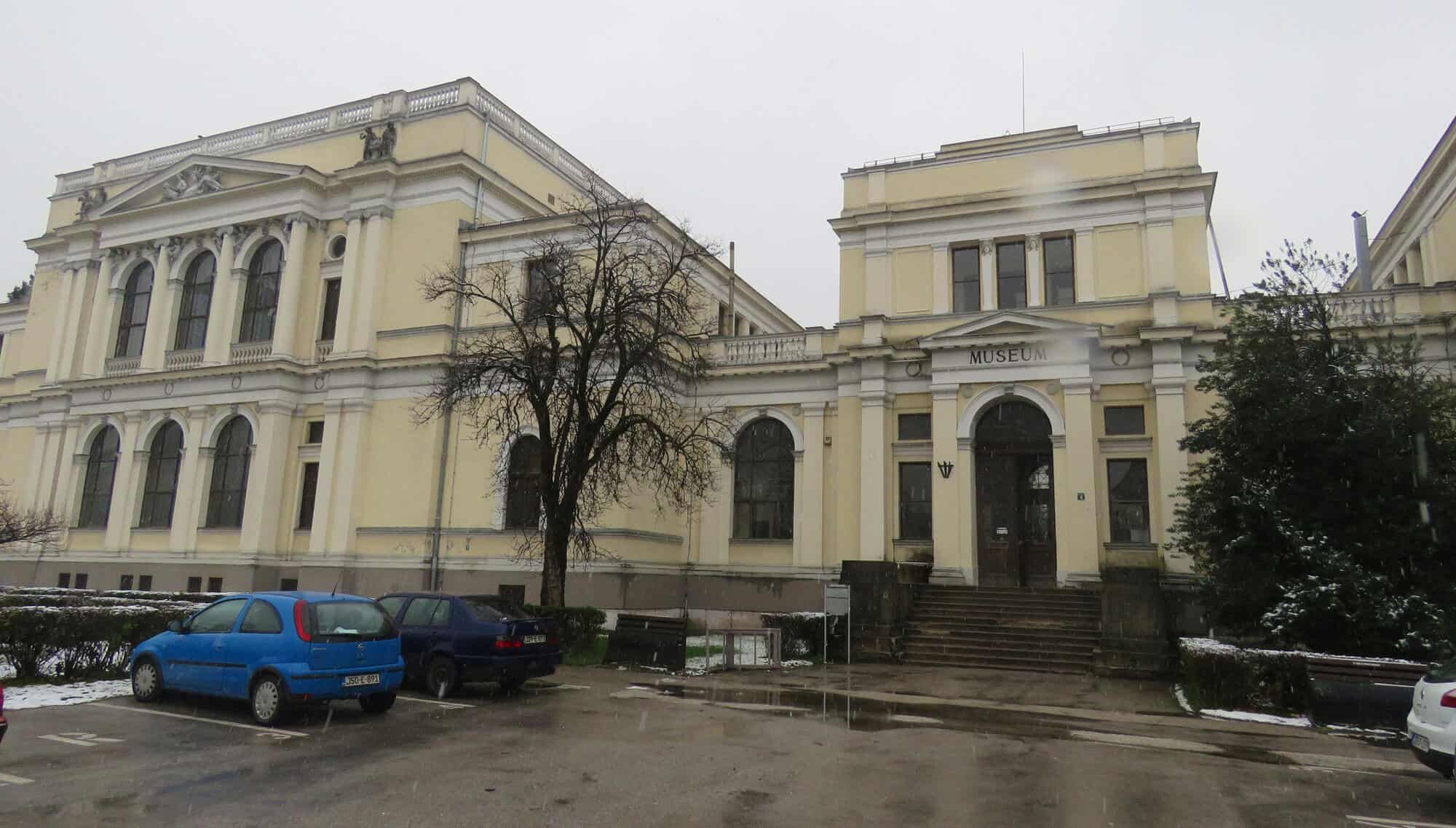 The National Museum lies along the main street, known during the Bosnian War as 'Sniper Alley'. Across the street is the old Holiday Inn and the twin business towers featured prominently during the war. Note: worth taking is this Roses of the War Walking Tour. It covers the many plaques and memorials commemorating where people were bombed or shot in the city. It also includes the previously mentioned War Childhood Museum (which I cover below).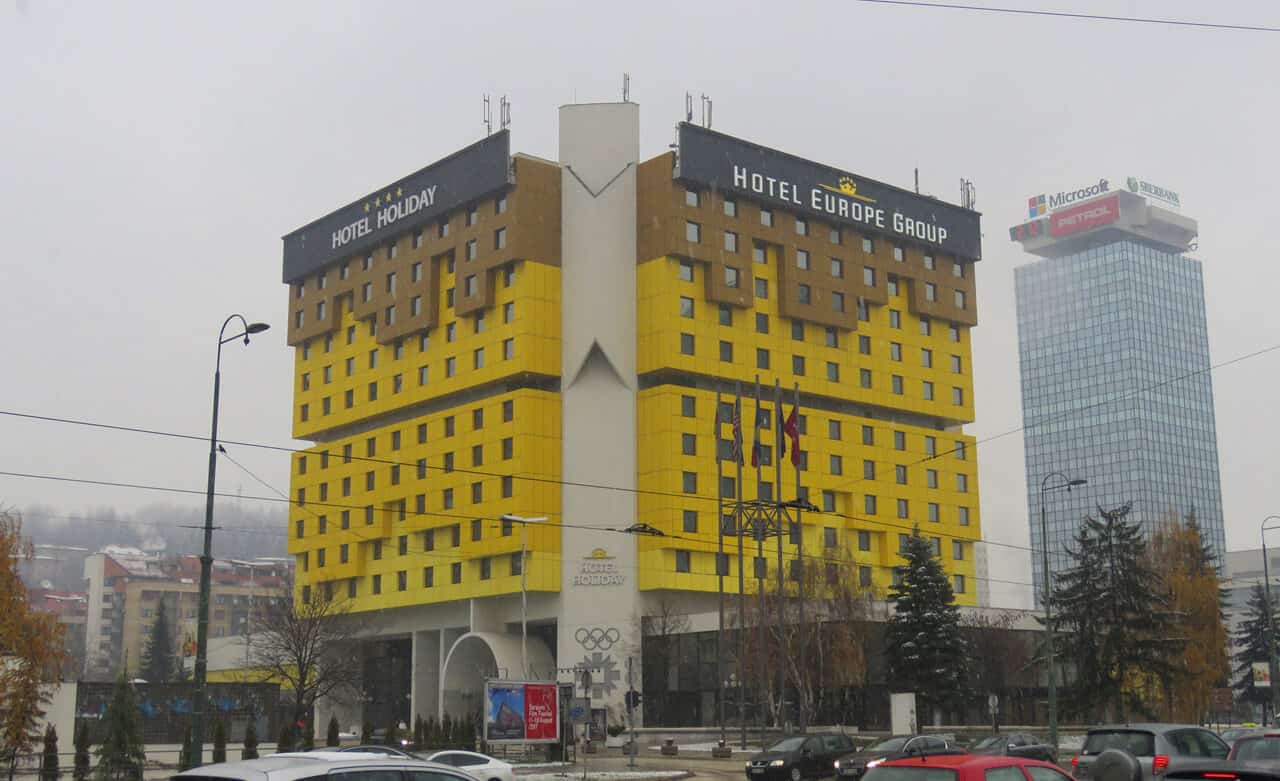 .
Walking back towards the Old Town, I came across several other war memorials:
.
1) the Children's monument (1600 children were killed during the Bosnian war)
2) the eternal flame, a memorial to victims of the 2nd World War.
3) Markale Market – targeted February 5, 1994 by Serb forces (some say the Bosnian army bombed their own people to provoke Western intervention). It killed 68 civilians. The market was targeted again August 28 1995, killing 43. This finally led to NATO intervention and, shortly after, the end of the Bosnian War. The red wall behind the market commemorates the victims of the market attacks.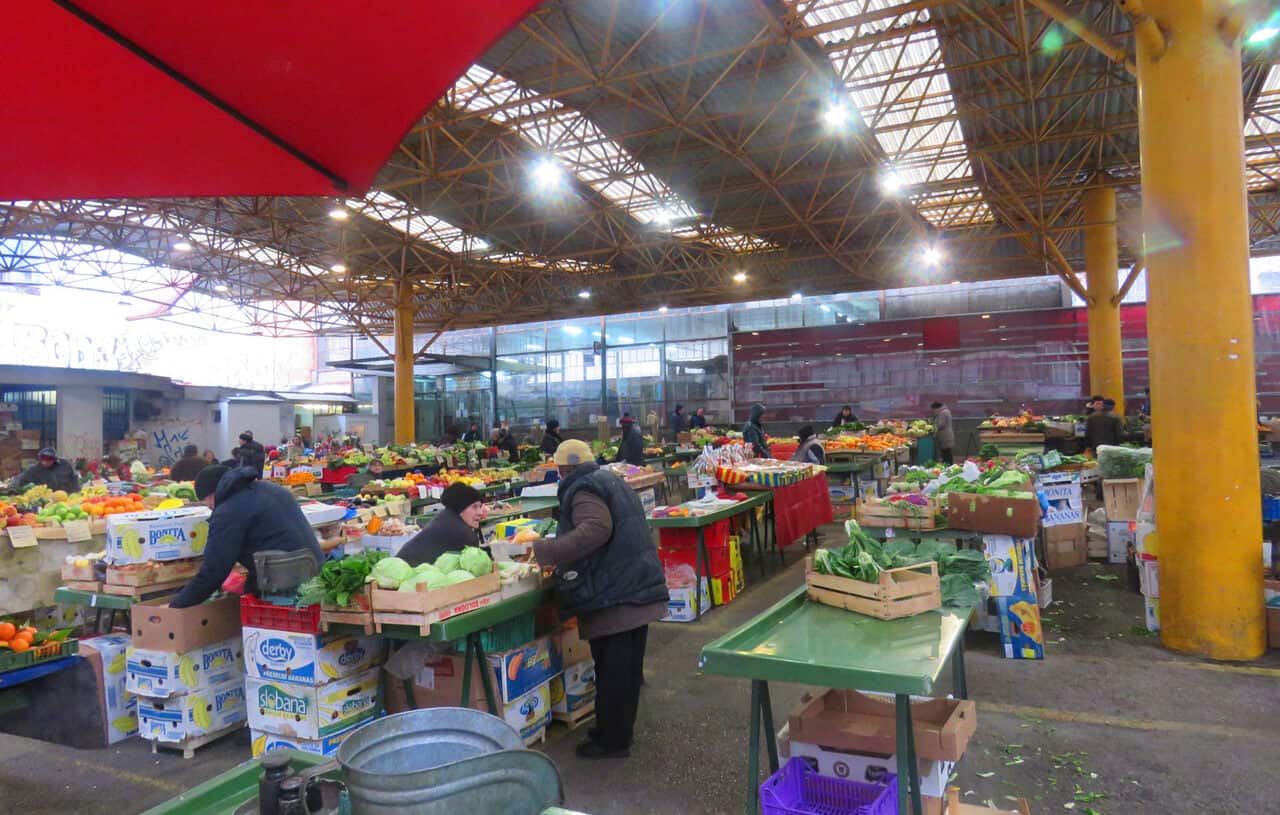 Day 7
The snow that had started the previous afternoon was falling heavily the next morning (and would continue throughout the day). It was supposed to be a relatively quiet day – I had planned a visit to the War Childhood Museum and, later in the day, drink beer with Emir (my Airbnb host) at the Sarajevo Brewery . Those plans didn't quite work out…but it did end up being my most memorable day in Sarajevo.
Below: lots and lots of snow…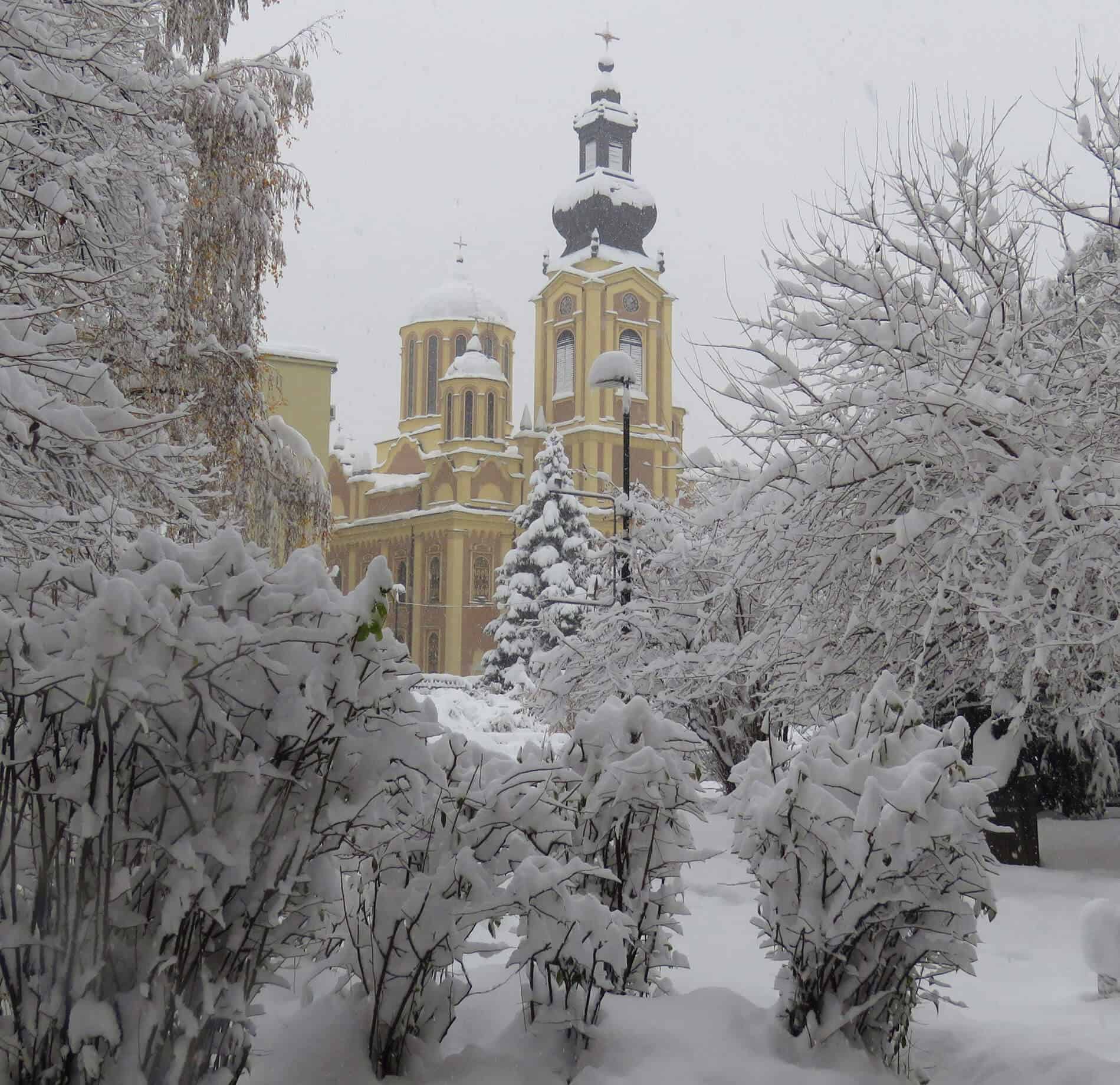 After a visit to the War Childhood Museum (which is worth a visit), I went for my usual Begova čorba at Pod Limpom. There I met Izmet. He had grown up in Sarajevo, fought in the war, and now spent 4 months of the year working in the United States as truck driver. We talked, he introduced me to a few local specialties. Then his friend arrived. They had been childhood friends, had fought together, and now he too worked in the USA.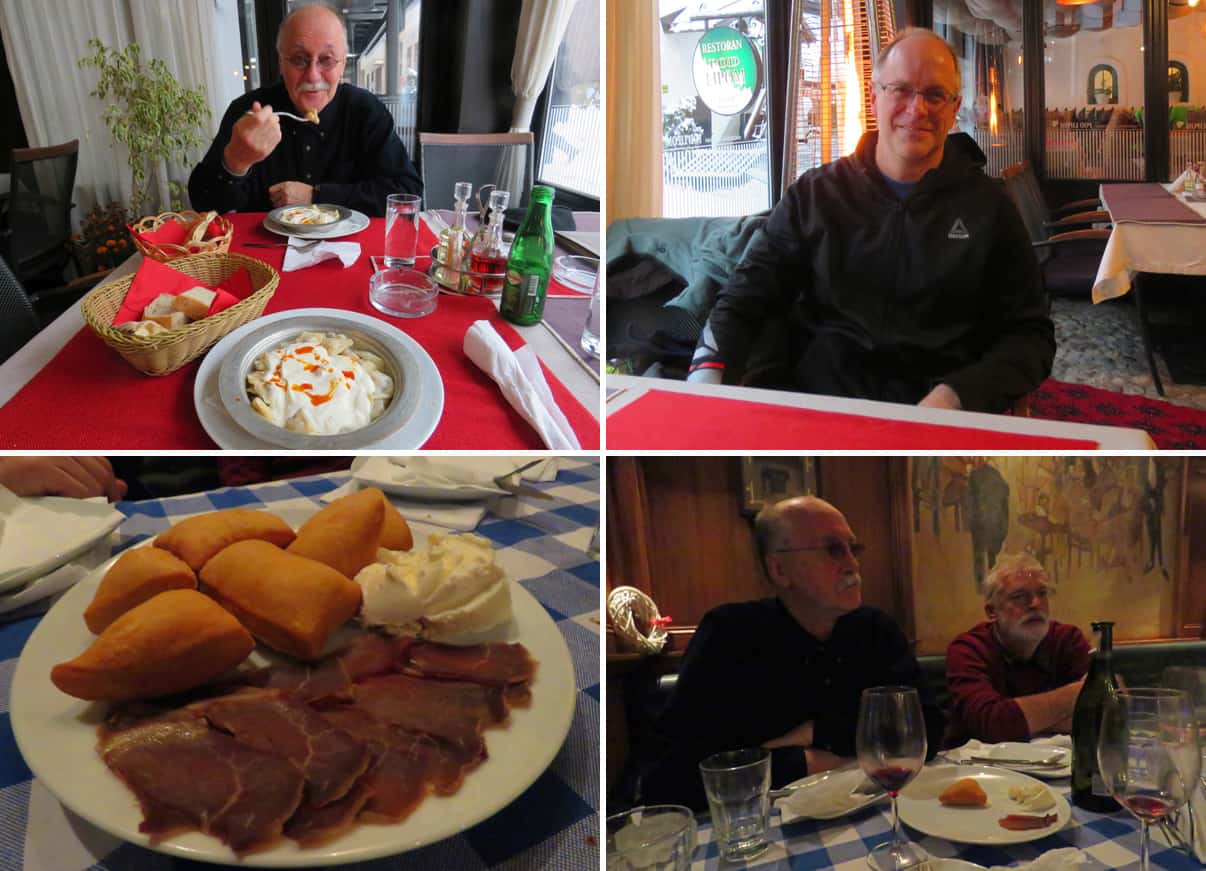 After about an hour, Ismet invited me to accompany them to another restaurant (Cheers Kitchen on Muvekita). We had a bottle of wine and a pizza, followed by another bottle of wine with some Bosnian specialties, followed by another bottle of wine. That was followed by yet another bottle of wine. I spent 8 hours with Ismet and his friend talking about Bosnia, the war, and the future. It was after 11 pm when we decided to leave. When I pulled out my wallet they waved it away "No, no, you are our guest". When I insisted Ismet told me to instead to "pay it forward" ie. to do the same for someone else in the future.
So someday I'll be treating a stranger I meet to local specialties over wine and conversation and will hopefully make them feel as welcome as I did being Ismet's guest in Sarajevo. It was the kind of experience that will leave you with a warm heart for any city. I'll always have this special memory of Sarajevo.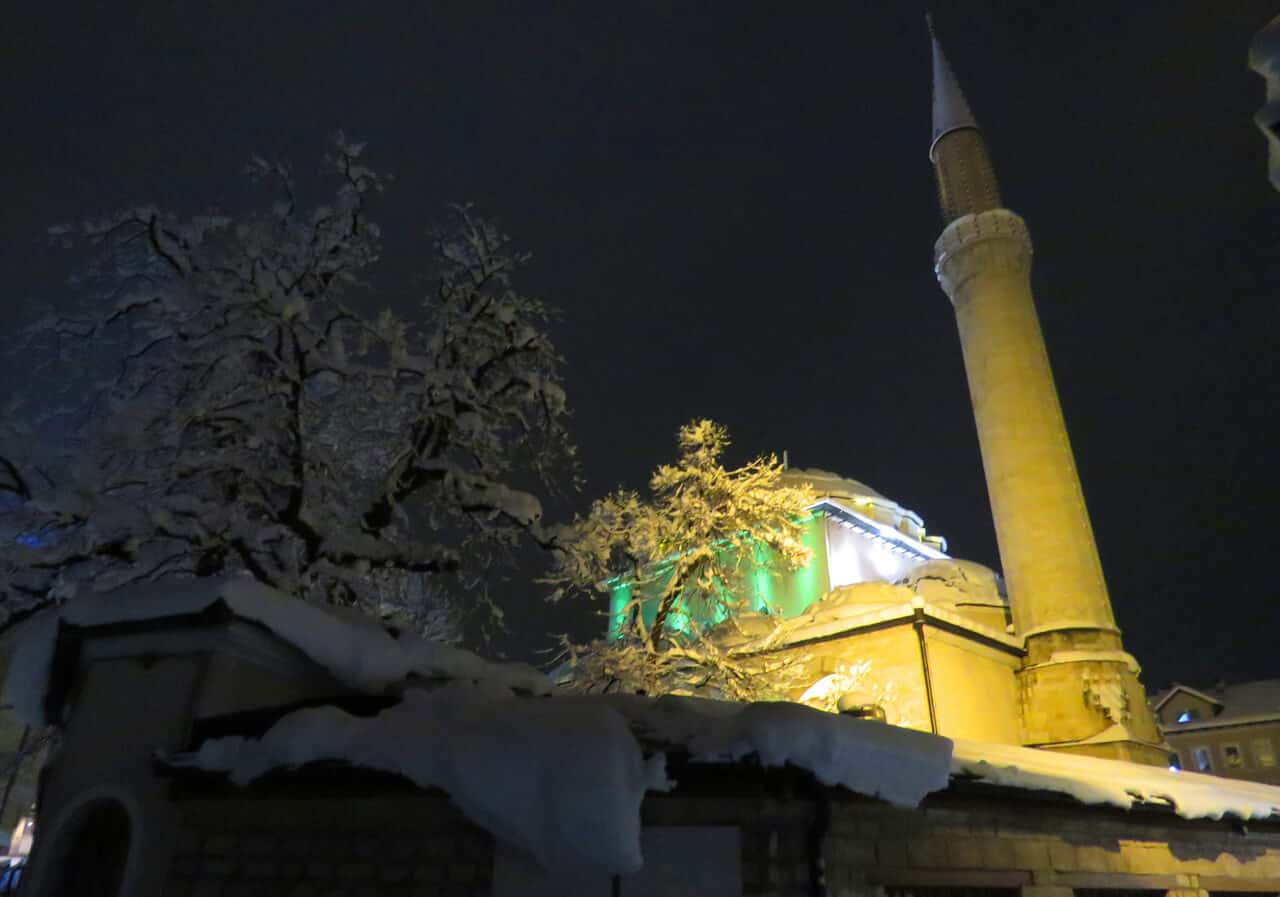 .
The next morning I woke up at 4:30 and took the 6 am bus from Sarajevo, following river valleys and mountains before reaching Split in the early afternoon.
Practical information
– I flew Wizz Air from Budapest, about an hour's flight. I paid 17,690 Forint which comes out to $85 Canadian or $66 USD
– Sarajevo has a train station but connections to both Belgrade and Zagreb have been cancelled in recent years. You can only take the train to Mostar (which is an incredibly scenic ride). More here: taking the train from Sarajevo to Mostar
– The best connections to/from Sarajevo are by bus. When I was there in early December 2017, there were 4 buses per day between Sarajevo and Split. The journey takes 7 1/2 hrs and costs about $30 CAD (about $24 USD). You can buy your tickets at the bus station (I was advised to show up 30 minutes before departure). PS. I haven't seen any website that includes the full schedule. Best going to the bus station in person or calling (see info for the bus terminal in Sarajevo here).
– I stayed in this very comfortable apartment. 10 minute's walk from the old town and Emir is a fantastic host ( I'm always surprised how inexpensive things are once you get out of Croatia. The apartment cost $20 CAD a night, that's $16 US – incredible value for everything in Sarajevo)
.
Have you been to Sarajevo? What did you think?
Ps. If you find our blog helpful, please consider using our links to book your flights, hotels, tours, and car rentals. Have a look at our Travel Resources page.