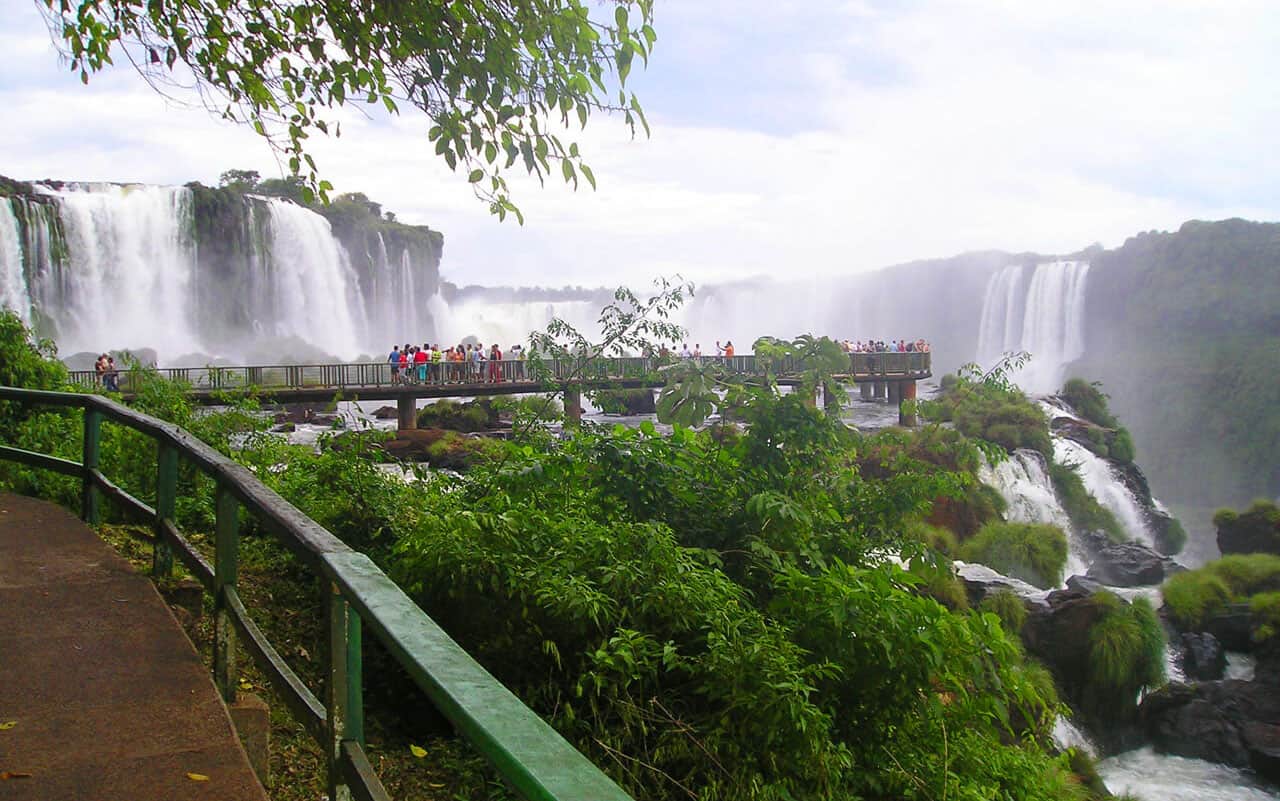 Iguazu Falls (Brazilian side) – How to Get there and where to Stay
We took the plane from Rio to Foz do Iguazu. Unlike the mountainous area surrounding Rio, the terrain in this area of Brazil is flat and featureless – until you suddenly see Iguazu falls and the cloud of mist rising into the sky.
The falls are a Unesco World Heritage site. The statistics: the falls are 2.5 miles wide and 260 feet high and has a total of 275 separate falls. The Argentinian side actually has more of the falls, but many say that the Brazilian side has the best views. I have to agree to a point: on the Brazilian side of Garganta del Diablo you are surrounded on almost 3 sides by waterfalls. It may be the single best view of the falls. Iguazu is incredibly impressive and the views are spectacular.
Below: A few photos from the Brazilian side of the falls. Note that the borders of 3 countries meet at the confluence of the Parana and Iguazu rivers: Brazil, Argentina and Paraguay. Only Brazil and Argentina share the falls however.

The next day, we visited the Argentinian side of Iguazu.
Tour
This 1 Day Private Tour covers both sides of the Falls. Recommended.
Flying in
We flew GOL from Rio, an approximately 2 hr flight. If flying to the Brazilian side, you'll by flying into Foz do Iguaçu/Cataratas International Airport (code IGU) which is 3 km (about 5 minutes) away from the San Martin Resort where we stayed.
Below: We use CheapOair to find the cheapest and most flexible flights
Accommodation
We stayed at The San Martin Resort and Spa which is about 3 km from the Iguacu airport (an inexpensive taxi ride) and 400 meters from the entrance of the Iguazu Falls National Park. It is a large resort with about 150 rooms and its location is an absolutely perfect base to explore the Brazilian side of the falls.
It is also right next to a bird park which we visited. We were walking around looking at the birds when we saw the guy below on the right. Doesn't look happy does he? About a second after taking this photo he launches off that railing and starts trying to pecker my leg.
I've never been peckered by a bird before. Perfect I thought – even the wildlife hates me in Brazil.
Have you been to Iguazu? What was your highlight of the falls?
Like This Article? Pin it!

Ps. If you find our blog helpful, please consider using our links to book your flights, hotels, tours, and car rentals. Have a look at our Travel Resources page.