December 18, 2016
Greetings from Belgrade, Serbia!
After 7 weeks in Japan we've just arrived in Belgrade, which is just about as different as any place could be from Tokyo. Belgrade is gritty, with graffiti, garbage, and stray cats everywhere. And unlike Tokyo, not a public bathroom in sight. But a few days here and we always remember the reasons why we love the Balkans. We'll be here a few weeks before heading up to Zagreb for Christmas…and then on to Split for the New Year.
I'll be writing more about Belgrade in the upcoming weeks. I've also got a few more posts on Japan. I get a sense that a lot of readers aren't very interested in Japan (I'd be interested to hear what people have to say on that). I'll have our own thoughts on our time there once we've digested it all.
On turning 50 in Japan…and the good thing about getting old.
Just today I found out another downside of getting old: I'm renewing our expat insurance and my broker congratulated me on my birthday while also telling me that my insurance premium has gone up. Thanks asshole.
I used to think that 50 was old. Honestly, I don't think it's so different than 35 except that you don't look so good anymore. Otherwise you sometimes have to pinch yourself to realize you're now on the downhill slope of your life – I think most of us mentally think we are much younger than we are. In my mind I'm still somewhere in my late 30's. But then Lissette takes a photo like this. Which also reminds me what's great about getting older…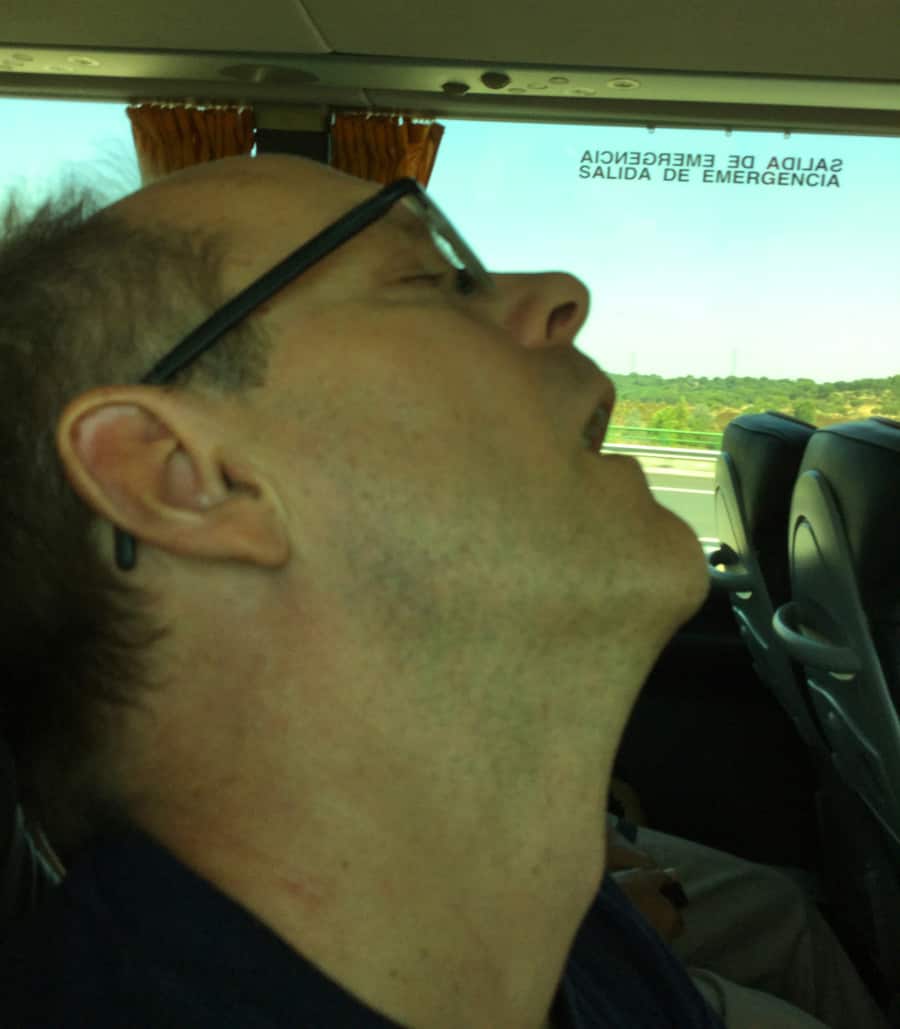 The thing about getting older is that you just don't care anymore. When I was young I was so self-conscious, so shy, that I wouldn't ever have fallen asleep like this (Lissette says I was snoring). When we are young we worry so much about how we look or what others think of us. I think the best thing about getting older is that you get over that.
.
Since I don't care anymore, here's another terrible photo. Lissette " I want to take a photo of you eating that dumpling. Stop moving. No, you weren't supposed to bite it yet. Stop moving. Just pretend you're about to bite it…" That's how you end up having a stupid photo like this.
---
---
Another couple of photos from Japan where we did a lot of cultural and pop-culture stuff from going to a Maid Cafe, seeing the crazy show at the Robot Restaurant, taking a Ninja training class, doing karaoke, and getting made up and dressed as a Maiko (similar to a Geisha). Some of our experiences were hit or miss but it was the cultural aspects of Japan that we enjoyed the most during our stay.
Below: At the maid cafe. A disappointment. The maid called me "master". I could get used to that. But that's only after she told me that I couldn't touch her anywhere which only made me feel like a dirty old fart. Anyway, 30 minutes of eating cake served by a girl dressed in a boring maid's outfit = $40 CAD. We wanted to understand the whole infatuation with maids in Japan but didn't. Was just incredibly boring. We had a few laughs but only because it was so ridiculous.
.
Below: These Maid characters were more exciting than the real thing…
.
Below: Some kind of soft drink ad. Japan is conservative but you'll see a lot of this kind of advertising. The Japanese like their young girls in short skirts.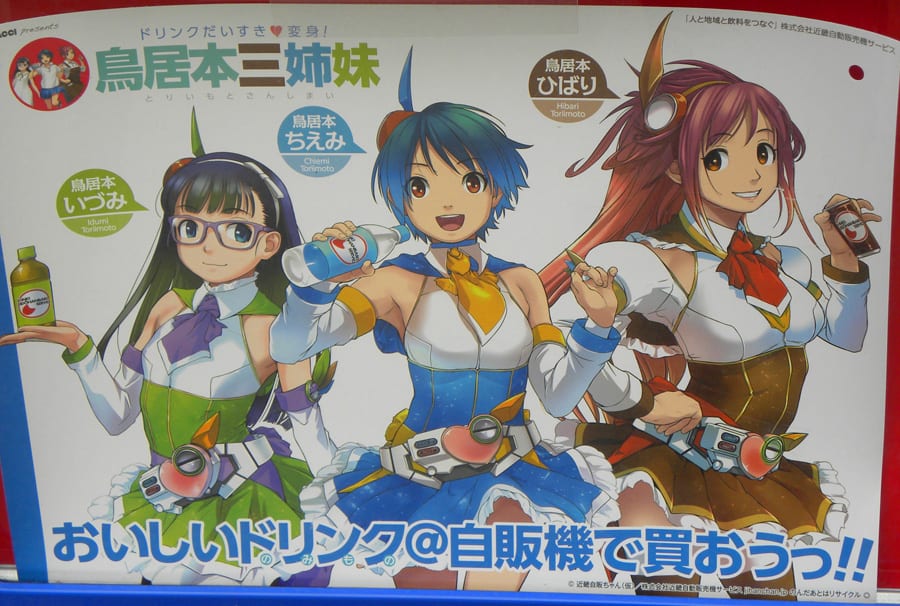 .
Lissette's favorite experience in Japan was getting made up as a Maiko. The whole process takes 2 hours, with several coats of makeup and 6 layers of different garments. But it was a learning experience and she had some good laughs with the girls taking care of her. A great cultural experience. We went here to get it done.
.
We also took a 1 hour Ninja training class where we learned to be assassins. We went here (the only place you can take ninja courses in Kyoto). Very interesting and lots of fun. I now know how to kill someone with chopsticks, something I might try the next time I eat sushi. I'll write more about that experience soon. We've got some video people might find amusing.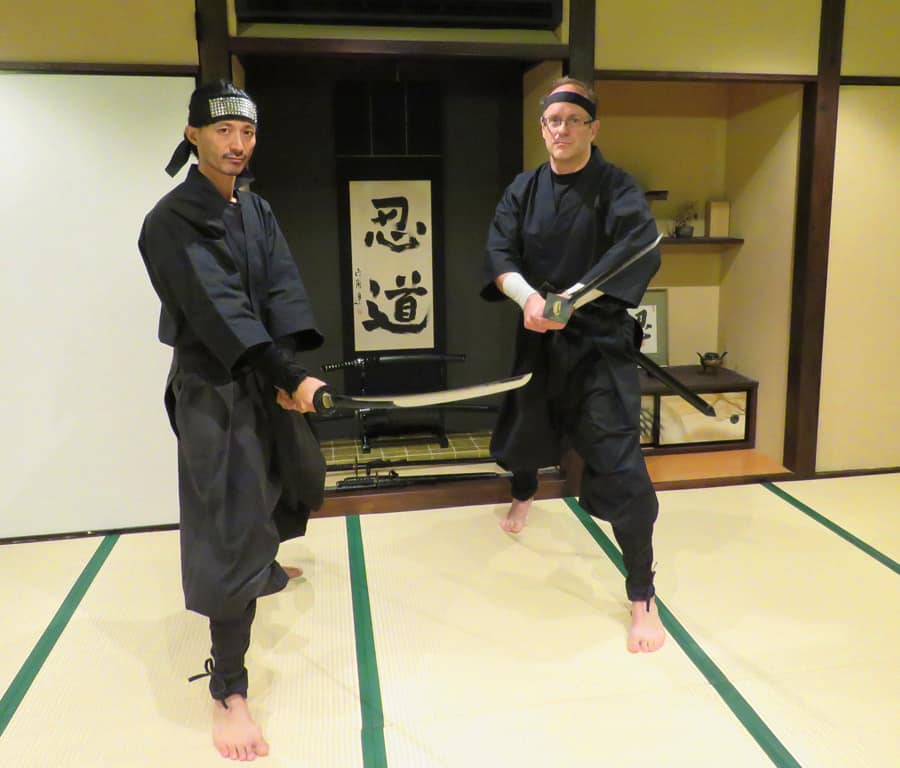 .
.
---
---
Nara and its Deer
One of the highlights of our trip to Japan was a visit to the town of Nara. There are some amazing temples, but what makes Nara really unique are the deer all over town. And they're not nervous – they'll come up to you for food and eat from your hand. People pet them. We've never seen anything like it. I'll be writing a post on Nara in the near future.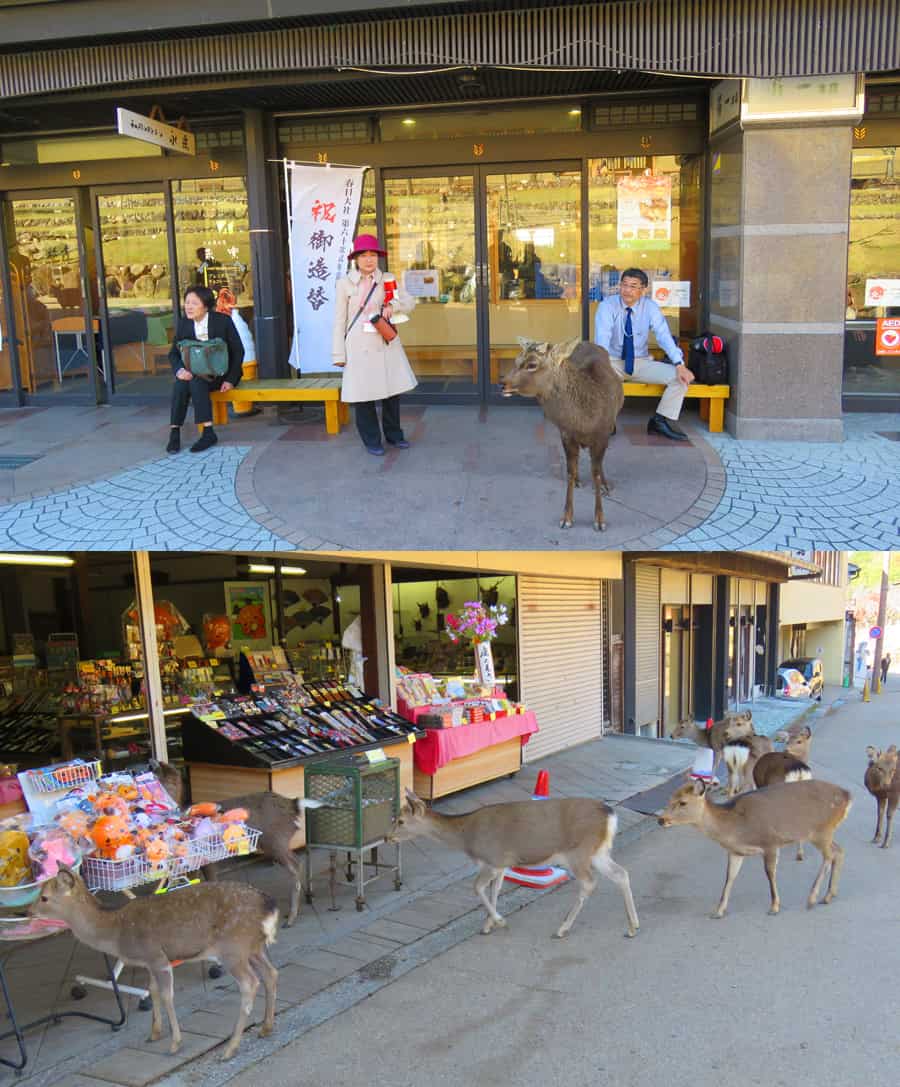 TRUMP (and Obama)
Below: Donald Trump and friends (store in Kyoto)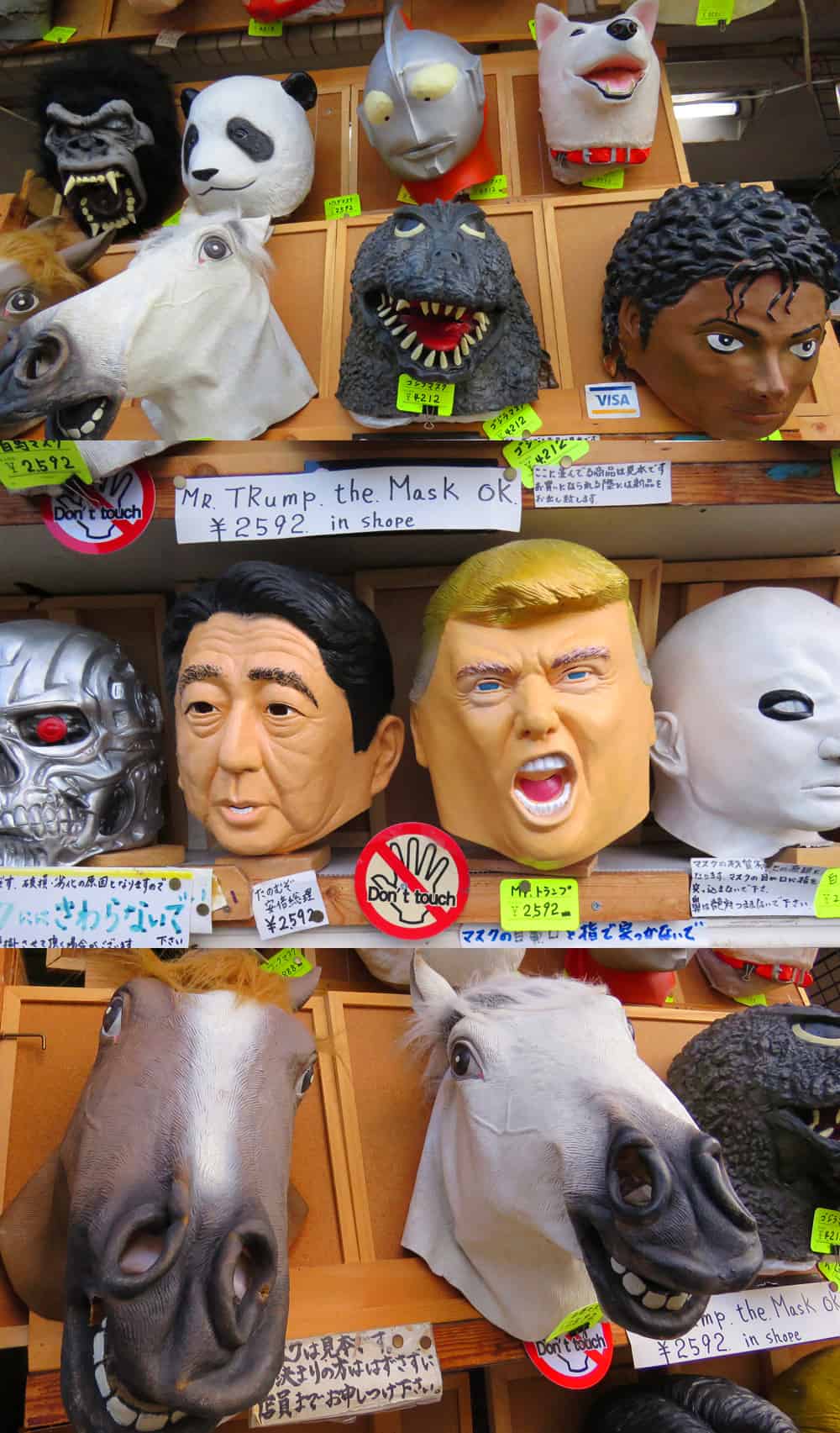 I was going to write a bit about US politics but I've changed my mind. I'm sick of it. I've written and warned about Trump. I said over 6 months ago that I'd bet on Trump winning the election. I'm sick of the whining, hand-wringing democrat supporters almost as much as the deluded Trump supporters who actually think that this guy has their interests in heart. I'm also sick of Obama and his lame-ass presidency and I got particularly upset this week watching the US Ambassador to the UN blame everything in Syria on Russia. You'd almost forget about Obama's famous "red line" and his funding of the rebels (which has only served to prolong the war and suffering of the people). Sick of the preaching and sermonizing of this administration. Who talks of Obama anymore? He's already forgotten and all the hope and hype from 2008 is but a lost dream….
I think everyone is sick of politics. So I'm going to stick with the positive – how entertaining will it be watching Trump as president? I'm hoping he surprises us all.
Above: lady asleep in Kyoto the day after the election…
.
.
---
---
Netflix
We've been travelling full-time now for 2 ½ years and there are two websites that, for us, have made this life possible: Airbnb (for obvious reasons) and Netflix. We had a large collection of videos when we lived back in Montreal which, obviously, we couldn't take with us. Even in the crappy little room we had in Thailand we would log in to Netflix and watch a movie or series. Wherever we are it gives us a bit of normalcy, a bit of routine like when we had our own home.
If you're a Netflix fan you've probably noticed they're doing a lot of their own original series these days. When they started doing that a few years ago we found they were pretty weak (Marco Polo, House of Cards, Lilyhammer) but this year we've found they've really stepped it up. A few of our favorites from recent months: The Crown, Versailles, Shooter, Marcella, Designated Survivor, Roman Empire: Reign of Blood, Narcos. A few other favorites: The Fall, Bloodlines, Borgia, The Tudors. Netflix is fantastic and only getting better in our opinion with all these series. I've only listed their original series above, there are other series like Homeland, The Killing, Gilmore Girls (one of Lissette's old favorites), Dexter, The Office, Big Bang, Luther, and Mad Men that we always rewatch (one show that we just can't get into is Breaking Bad).
.
We're always looking for new series so if you have any favorites feel free to comment with any suggestions. We especially like British Crime, Political dramas, and Historical pieces.
* our only frustration with Netflix is that the availability of different series/movies differs wherever you are. My mom has long told me about "The Americans". We could never get it in Europe but Netflix has it in Japan…we're now in Serbia and can no longer get it. Rats…
---
---
.
Entry into Serbia…and leaving Japan with a bad taste in the mouth
So, after 7 weeks in Japan we went to Tokyo's Narita airport last weekend. We ended up with a couple of interesting experiences.
– When checking in at the Turkish Airlines counter, we were asked for an onward ticket out of Belgrade. We didn't have one. I explained we would take the train out of Belgrade. This seemed to create problems with the staff. Finally, after about 10 minutes of delays, they printed out a couple of forms that they asked us to sign. They were waiver forms that basically said that Turkish Airlines was not responsible for any problems we might encounter upon arrival in Belgrade. We of course started worrying what might happen upon arrival…
– Going through security, Lissette was pulled aside and got a special security search (we call her experience "Tittygate" because they spent a lot of time passing that metal detector over her breasts). Ask anyone how they feel being pulled aside because of the color of their skin and they'll usually be pretty pissed off. Lissette got pissed off. It was a reminder of the experience she had 8 years ago when we entered Hong Kong. We enjoyed Japan and we especially thought the people were incredibly helpful. But I'd be lying if I didn't say that this experience didn't leave Lissette with a bad taste in her mouth. If you mention it to her she still gets upset…

Roughly 20 hours later we arrived in at Belgrade's Nikola Testla airport (named after the man who invented electricity). Well, it was the easiest immigration procedure we ever had. Just thought this story might be helpful to anyone entering Serbia on a one way ticket.
***
That's it for now. Thanks for reading. Have a great holiday season!
If you haven't subscribed yet and want to get our newsletters and posts sent to your email, just insert your email address below:
.
Older Newsletters
All our newsletters can be found right HERE.