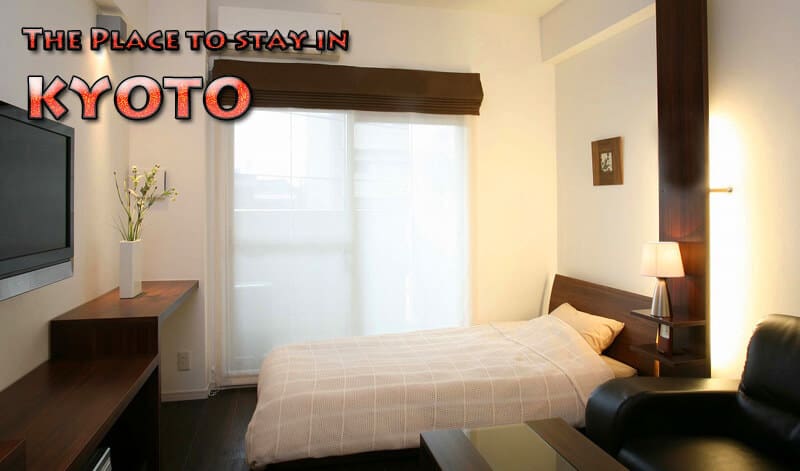 Need an apartment for a month in Kyoto?
Anyone familiar with us knows that we are big fans of Airbnb. In fact we spent 315 night in Airbnb apartments in 2016. The one major exception was Kyoto. When researching where to stay in Kyoto I found the Airbnb options in Kyoto depressing (funny enough, the 2 Airbnb apartments we stayed at in Tokyo were disappointing as well). So I started looking at different options – and that's how I came across CMM Ekimae. They cater to people booking apartments by the month.
Browsing the website, the CMM Ekimae rooms looked clean and modern and the location (with a 2 minute walk of the train station) appeared ideal. So we booked a month's stay.
Below left: the CMM Ekimae building and views towards the Kyoto Tower and Kyoto Station.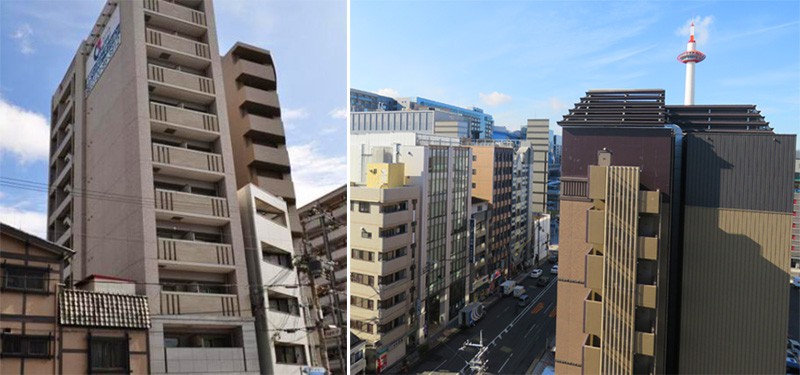 .Below: The entrance to the building.
.Below: walking into the kitchen from the hallway.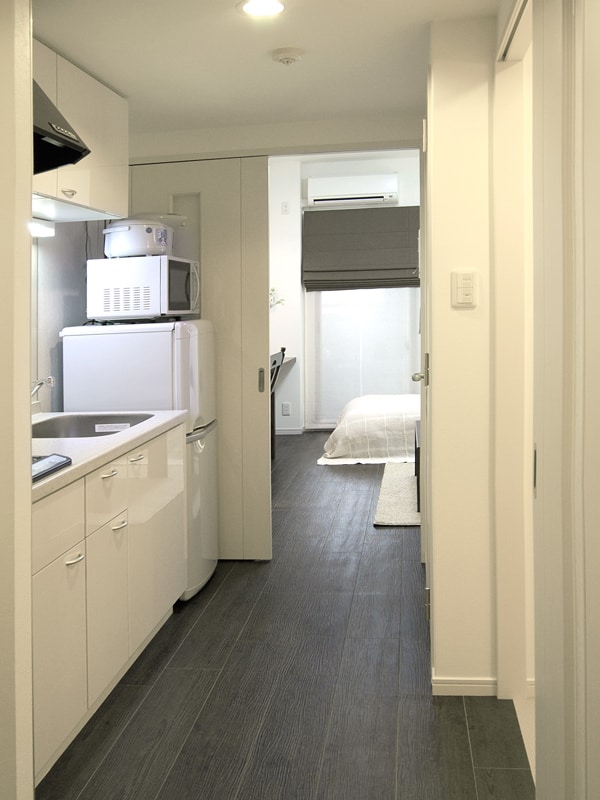 .
CMM Ekimae ended up being perfect for our stay. The kitchen was fully equipped and had everything one would need including stove top, fridge, microwave, rice cooker and kettle. It even had a washing machine (for clothes) which is pretty amazing for a small apartment (we would hang them to dry on our balcony). The room was very comfortable with a bed, sofa, coffee table, working desk and TV (with cable). There is wifi. We work as we travel so it had everything we needed. The "bathroom" was actually comprised of two rooms – a room with a toilet and another with a bath/shower – with a little vestibule containing a sink between them. The toilet of course had all the fancy Japanese features (perpetually warm seat, different spraying options). Also well thought-out was a sliding door that separated the kitchen from the kitchen and bathroom. Overall, the room was not large (Japanese rooms never are) but it was well organized and equipped.
It had everything we needed for a one month stay.
Below: Room and working space
.Below: Bathroom
.
The location also ended up being perfect. We were a 2 minute walk from the train station, the central hub for trains, the underground metro (subway), and buses. It made visiting the various temples easy. There is lots of shopping in the area (we did grocery shopping at Yodobashi, right next to the Kyoto Tower) and restaurants (we found a particularly good sushi place in the underground floor of the train station). We were also close to the Kamo River, a great place for jogging and cycling.
Below: CMM Ekimae has bikes you can use for free. Just ask them.
.
Overall, we had an excellent stay at CMM Ekimae and really recommend them for a stay in Kyoto.
Website

: CMM
Disclosure: We received a 25% discount on our 1-month stay in exchange for a review. As with every other review, we express our true feelings about a place including any negative aspects. In this case there are none.
Like This Article? Pin it!

.PS. Looking to book flights, hotels, tours, or rent a car? Have a look at our Travel Resources page.