Your Monthly Newsletter!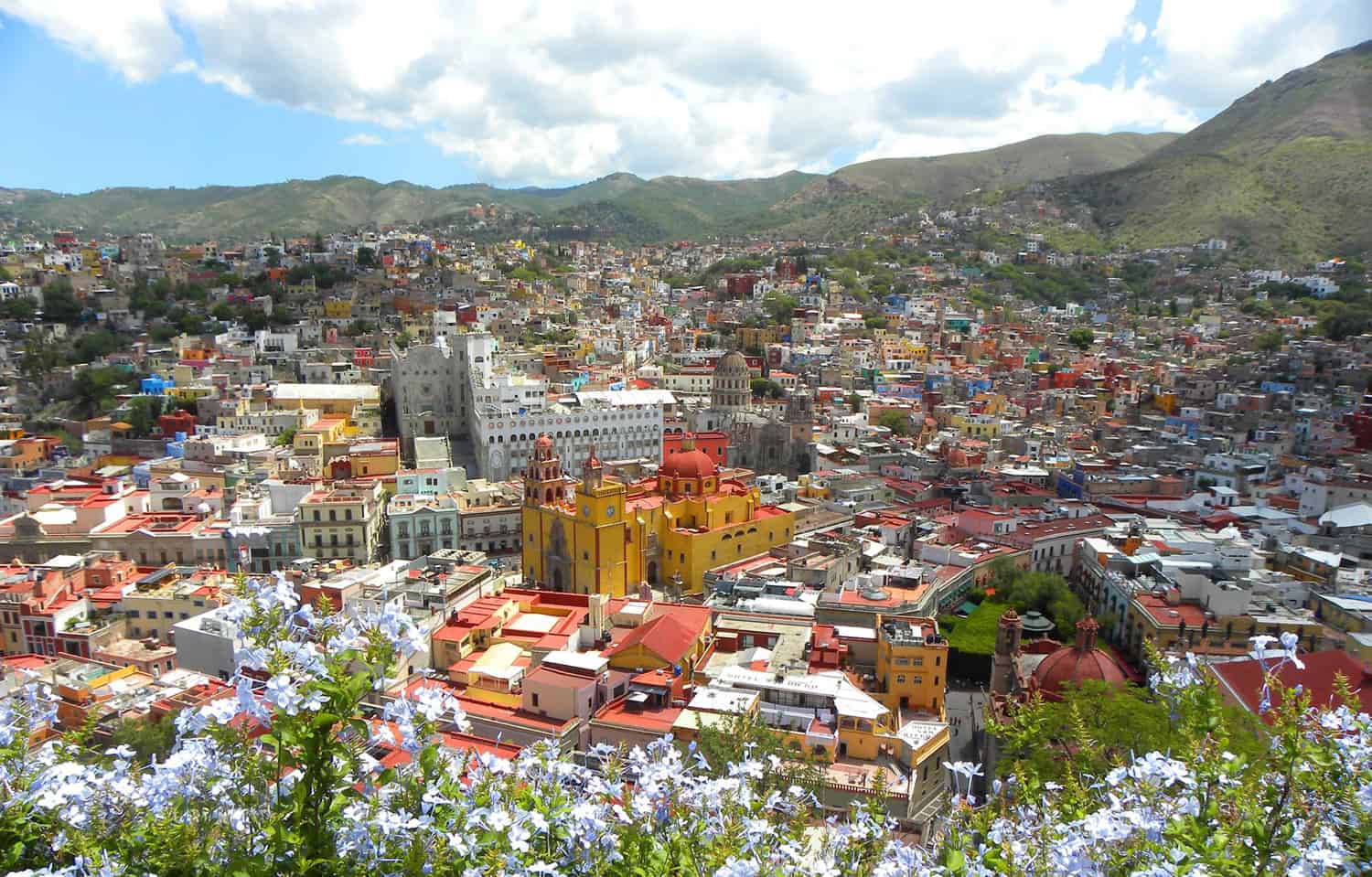 Above: Views over Guanajuato Mexico where I was just a few days ago.
.
June 30, 2016
I'm on an 11 hr flight from Mexico City to Munich as I write this, sipping on my 3rd glass of wine. So I apologize in advance for a few of the things I'm going to say in this Newsletter.
First off: Travel Plans
I'm on my way back to Split (Croatia) where Lissette stayed while I was visiting my mom in Mexico for 2 weeks. I'll be writing about a few destinations in Mexico over the next few weeks. Towards the middle of July we'll be leaving Croatia and heading to Macedonia where we'll be for 10 days. We'll be spending most of our time in the capital city of Skopje but will also go to beautiful Lake Ohrid. Then, at the end of July we'll be heading to Lisbon which will be our base for the month of August. We plan on making Spain and Portugal our bases for the next 3 months. That will bring us to November and a new destination: Japan. That's as far as we've planned so far but chances are we'll be spending the end of the year in Asia somewhere.
Above: Lissette (and Crazy Bastard) in Split, Croatia.
---
---
Brexit
3 Days ago the Brits decided to split from the EU. If I was a young Brit I would be totally pissed.
I think someone said it well – "the younger generation has lost the right to live and work in 27 other countries. We will never know the full extent of the lost opportunities, friendships, marriages and experiences we will be denied. Freedom of movement was taken away by our parents, uncles, and grandparents in a parting blow to a generation that was already drowning in the debts of our predecessors."
I can sympathize on different levels.
I've been involved in two referendums of my own in Quebec where a large portion of the population wanted (and still wants) separation from Canada. It was the usual bunch: Quebec artists, retirees, farmers, blue collar workers, the unemployed, and students in French-speaking universities (the other thing these good-for-nothings clamour for is free education. Get real). Most are unilingual, blinded by past injustices and, most importantly, having no dealings nationally. They don't care what happens outside their little rural backwater. I'd love to know what percentage of tax revenues this portion of the population represents to the province of Quebec. Twice the province was held hostage to their demands for separation, twice Quebec squeezed by to continue as part of Canada (only thanks to Montreal – which like London – is cosmopolitan and educated). In 1995 the "No" to separation vote was 50.58% to 49.42%. It was that close. Many companies, including the one I worked for, talked of leaving Quebec in the event of separation and I can only be thankful that it never happened because my prospects and life would have turned out totally differently. Most people with jobs can be thankful that separation never happened.
For now the demands for separation have quelled. But Quebeckers are a fickle bunch and it never takes much to reignite the flame. The language tensions and cultural divide are always there. It's one of the reasons why, when we left to travel full-time a couple of years ago, that we decided that we would never live in Montreal again. For all the richness that is Quebec, and Montreal, never again.
* by the way, "Brexit" is recognized as the 3rd major referendum vote in recent history after Quebec and Scotland. You can bet Scotland will be going through another referendum after THEY voted to stay in the EU – and will likely secede from the UK.
Another personal tie to Brexit and its ramifications: my parents were both born in Germany. But I never got a German passport (don't get me started on fine print that excluded me). About 10 years ago I went to the German embassy with a whole bunch of paperwork to see if there was any possibility at all. I was told "no" and remember how disappointed I was. I always wanted to travel and would have done almost anything for an EU passport, the freedom of movement and opportunity to work anywhere in Europe is a huge privilege. Yet somehow last week the majority of British people voted to throw that privilege away. Again, as a young Brit I would be incensed at all the opportunities that had just been taken away from me.
The British have chosen to leave the EU and the dominos will fall all over the continent. I've been saying it since last year when we were in Budapest when the whole immigrant crisis began. It's actually less than a year: it was early September when things came to a head and Merkel opened her big mouth – and doors – to Muslim immigrants. What a colossal, cataclysmic mistake that was. It will one day make it in the history books as the beginning of the end of Europe as we know it. What I never thought was that it was just the start of a movement worldwide – including in the US – of the hordes sticking their middle fingers out in the faces of Liberal politicians. There's a lot people will take: useless Euro leaders who between them can't come to a consensus on anything, economies that have been stagnant since 2008, and debt crises caused precisely because of the single currency (add to that the austerity measures then imposed on certain countries that has led to record unemployment and increased poverty among all classes). There's a lot people will take – but then, without the people's consent, to add angry, entitled hordes of Muslim youth? (to be replaced so far this year by women and babies – lots and lots of babies). That was the breaking point. The people had enough.
Europe's leaders deserved what happened in the UK and what will continue to happen across Europe. It is basically a big "Fuck You" to the whole lot of them. They have been what the US media usually label them to be – spineless, indecisive and finger-pointing. Europe can theoretically work, multiculturalism can work (and has worked in many places – including Canada). Liberalism can work. But they can only work within a framework administered by capable government. And it doesn't mean letting in everyone who wants to come in. Liberalism and multiculturalism has never meant letting everyone in. But what we're seeing now is the pendulum swinging far to the right and my opinion is that we'll see isolationist, protectionist, and xenophobic leaders come to power who will appeal to the angry, fed-up masses. Trump in November? I'm betting on it. And that's a pretty sad state of affairs. Damn, I wish we had Clinton. And I'm talking about Bill. Wasn't the world a better place in the 1990's?
As they say in the Game of Thrones, "Winter is Coming".
And as I was writing the above news out of Istanbul about a terrorist attack at the airport. 41 dead, 140 injured. It's exactly this stuff that's fueling the right wing, anti-immigrant movement…We're flying through that same airport in almost a month from now.
---
---
Things that always make me scratch my head when travelling on a plane
1) passengers who start clapping when the pilot successfully lands a plane. It's his job. I wish co-workers would have applauded me when I produced monthly Financial Statements ("Great work Frank" Clap, Clap, Clap).
2) People going to the bathroom in their socks. Plane bathrooms have to be the most disgusting place to be. So When I see people walking in there with socks I just shudder. Urgg.
3) The 95% of passengers who HAVE to stand up the second the plane parks at the gate. They fight to get their luggage, jostling each other in the process. Then they stand there for the better part of the 10 minutes that it takes for the crew to open the doors and prepare for debarking…It always amazes me looking at this mayhem.
Talking about Pet Peeves when it comes to Plane Travel, have a look at this: Plane Travel and the Real "Dick" Move (or click on the photo below). It's one of my earliest posts and a bit of a rant.
Anyone else have pet peeves when it comes to plane travel?
The incredible Nature in Croatia
Want to see some of the incredible Nature spots in Croatia? Have a look at this infographic (Or click on the photo below)
Funny Video
I'll try to finish off on a funny note. Look at the video of this kid caught on the Jumbotron at a Florida Marlin's baseball game.
Thanks for Reading!
.
Older Newsletters
All our newsletters can be found right HERE.