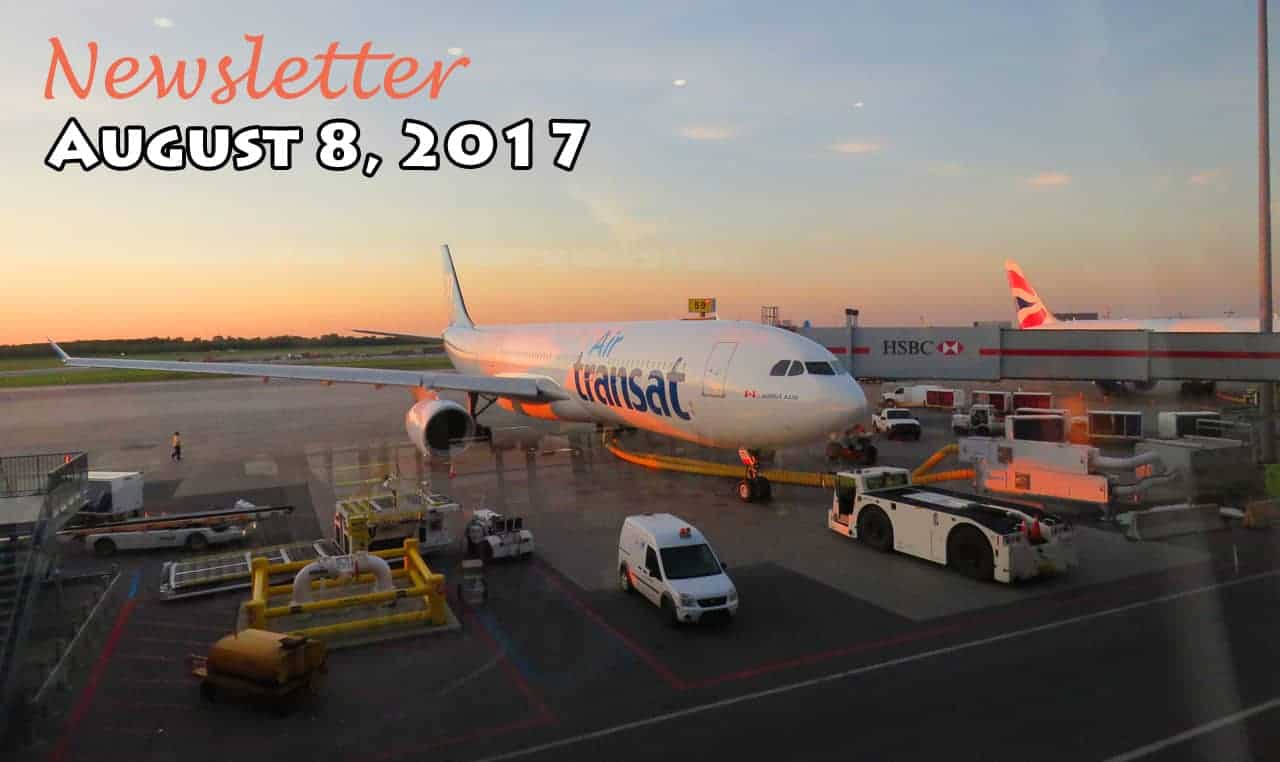 August 8, 2017
Hello from Prague!!
It's been a really busy time.
When I wrote my last newsletter (in June) I was in Montreal completing the sale of my condo and shipping all our belongings to Split (Croatia). Having completed that, I then spent 3 weeks in Mexico, travelling through Copper Canyon and then visiting my mom (who lives in San Miguel de Allende). Together we went south, spending a week in San Cristobal de las Casas in Chiapas and then an additional few days in Mexico City. While this was going on, Lissette (still in Croatia), received our furniture and other belongings and set up our apartment in Split.
When I came back to Split in early July we put an ad on Airbnb and were quickly able to rent out our apartment for the first 3 weeks of August.
That's why we are now in Prague for the entire month of August.
The plan: This month is about catching up on dentist and doctor stuff. We always like getting that done in Prague (inexpensive and good quality service. Plus we love this city). We're then planning to go to Poland, followed by the Ukraine, followed by a visit to Moravia in the Eastern Czech Republic. All this however will depend on renting out our apartment in September and October. The whole period is open right now so write us asap if you're interested in visiting Split.
I've got a lot of posts to catch up on in the next little while. We also have some exciting activities coming up here in Prague. Lissette and I both turned 50 over the last few months and thought we should do something a little crazy. Or maybe a lot crazy. I don't want say what they are before we do them but expect something on "Wild, Wacky Prague" (or something like that) in the next little while…
Views from a Plane Window
I love views from the sky and while travelling Croatia – Canada – Mexico (and back) I did some filming whenever I got a window seat. Highlights for me: the views over the desert in Northern Mexico and flying a small plane from Dubrovnik to Split.
Experiences in Charles de Gaulle
Maybe you can learn from my recent experience the next time you fly through Paris's Charles de Gaulle airport.
I had booked Air Transat from Montreal to Paris (which lands at Terminal 3) with a connecting flight Paris to Split (via Dubrovnik) at Terminal 2D. I had an hour and 15 minutes between flights according to the schedule. In most places that's lots of time. But I had flown Split – Paris – Montreal a few weeks before (with 2 ½ hours connection time) and I knew from that experience that an hour and 15 minutes might not be enough this time around.
Here's how it went and how I made a whole bunch of friends (and an enemy)
– Air Transat plane lands on time but taxis around for 10 minutes.
– Plane stops away from the terminal. I see buses pulling up. I think the word "motherfucker" spills out of my lips. This is an Airbus 330 with about 350 passengers on board. I've never, ever had to get on one of the airport buses when getting off such a large plane. Deboarding takes 10 minutes.
– 10 minutes later the bus pulls up to the terminal. First stop: immigration
– Immigration goes pretty quick. But I look at my phone and my Croatian Airlines connection is taking off in 45 minutes and I know that Terminal 2 is at least 20 minutes away.
– I bust out of immigration with my bags (I didn't have any checked baggage to pick up) and look for the exit. I'm rushing, seeing a friendly looking customs officer, smiling at him while asking "is this the way to Terminal 2?"
He looks at me, a twinkle in his eye "You have not asked the magic word" (in French. The whole conversation is in French).
I know full well what he's going to say so I just say it as it is "sorry, I have a plane taking off in 45 minutes and I'm in a rush. I just wanted to know if this is the way".
Him being an asshole "In this country it is polite to say Bonjour" with a challenging look.
Me "Sorry, I'm in a rush, I wasn't looking for a relationship"
I rush past, hearing him muttering something behind me. No doubt calling me an asshole. I don't care.
Terminal 3 is in the middle of nowhere, you have to walk about 15 minutes to the train that takes you to Terminal 2. I dump my stuff on a trolley and run with it saying a million "pardons" and "excusez mois". I make it to the train in about 8 minutes.
A 5 minute train ride takes me to Terminal 2 where I'm running again. Less than 30 minutes before take off. Of course the train drops me off at the very furthest end of the complex and 2D is at the furthest opposite end of the building. I'm running again.
By the time I'm in 2D I have 20 minutes before the plane takes off and I haven't even gone through security or immigration.
Security: huge line but the guard takes pity on me when I tell her that I'm not going to make my plane. Lets me cut to the front of the line. Still takes about 8 minutes though because I've got some guy in front of me who's beeping through the machine.
I'm out! Gate is at the far end of the terminal, I see the Croatian Airlines plane behind the window pane. Another huge crowd to run through and again a million "excusez mois" along the way…
Arrgg. Immigration. Right there by my gate, about 5 deep. In less than 10 minutes the plane is due to take off. The French lady in front of me sees me: I'm a frigin mess, my shirt wet, sweat dripping off my forehead, I'm panting…"you look like you're in a rush?" Everyone in the line looks back and seems to agree with her because they all let me through. I thank them all profusely.
Immigration agent stamps me. I run for the gate.
I'm the last one to arrive at the gate. A pretty boarding agent looks at me.
"I've run all the way from Terminal 3" I say, feeling the need to explain.
"Bonjour monsieur, vous êtes arrives". (translated: you have arrived). Sweet words and I finally take a deep breath.
I get on the plane and 2 minutes later they close the gate.
That was my experience at Charles de Gaulle.
If anyone out there is thinking of booking a connection through CDG please learn from my experience – leave yourself at least 2 hours and say bonjour to everyone you meet.
Odds and ends
A few interactions in Croatia over the last few weeks:
1) the young taxi driver who wanted to show us how open he is to the world "I wish everyone in world come to Croatia. Who I don't care, I like all. No problem if American, N*gger or Asian". (sorry, can't even bring myself to write the whole word)
I think his heart was in the right place….
2) I was buying an electronic shaver in Split, one of those ones that you use to trim nose hairs, ear hairs and any other hairs that need trimming. The guy at the store was big and hairy and I knew I was setting myself up for a comeback but I asked anyway "does this thing get jammed up and pull on the hairs? I hate when that happens."
Him, shrugging: "I don't know, I am not metrosexual" he says in matter-of-fact way.
Damn…
3) I read somewhere that Kid Rock will be seeking nomination for the Republican party in the US. Why not? The government in power has shown that you no longer need to be educated or have career experience in finance, the economy or knowledge of global issues to be elected. Nah, that's all worthless shit these days when all that matter's is 'resonating' with the dumbass populace.
So instead let's have fun with it – who is the most ridiculous person that Donald Trump could ever hire?
Here's my nomination. Not any worse than anyone DT has ever hired (2nd nomination possibility: Carrot Top).
4) We were sitting at a café in Prague yesterday and struck up a conversation with a young woman next to us. Super nice, she's from Ottawa and has been living in Prague the last 2 ½ years. At the end of the conversation we exchange emails and she says to us "you have a blog don't you? I didn't want to creep you out but I recognized the two of you from your figures on the header of your blog".
At first I though "hey, how cool to be recognized". But then I thought of it more – we weren't recognized because of the hundreds of photos of us on this blog. We were recognized because of the figures up there on the header. So we're basically cartoon characters now. Just like Peter Griffin 🙂 .
5) It's funny the things people sometimes say to brag about their country.
A Croatian friend once told us "you don't need to buy bottled water here. We have the best water in all of Europe from the tap".
In Macedonia our guide bragged "in Macedonia we are the best dancers in Europe. And we don't mind getting naked" (??)
But I'll never forget the last time we were in Prague. The Airbnb owner was showing off the stove in his apartment, turning it on and off: "Here in Czech Republic we have the best gas in Europe".
Even if you do have the best gas, why is that something worth bragging about? Who brags about gas?
That's it for now. Thanks for reading!
.
Older Newsletters
All our newsletters can be found right HERE.