Taiwan Travel Guide: Where to Go, What to See, and How to do it.
Taiwan is a small island rich with culture and tradition that is often overlooked as a destination on Asian travel itineraries. It may be small, but if you take the time to explore this wonderful island, you will soon begin to realize that this tiny island, shaped like a sweet potato, has an abundance to offer. You can experience the fast pace city life in Taipei, Taichung, and Kaohsiung, or escape the cities and witness the true beauty of nature by surrounding yourself with vast mountain ranges, beautiful pristine beaches, and lovely rice paddies. So if you want to party the night away, relax and watch the sun sink into the ocean, challenge yourself by hiking one of Taiwan's peaks, or witness the clouds hovering over the mountains, then Taiwan is the best destination for you. And what's better – you can drive the entire length of the island in about 5 – 6 hours, so traveling is very convenient – now you can't get much easier and better than that!
Taiwan has something for everyone; from budget accommodations to more luxurious hotels, from snail pace travel to more efficient, fast pace exploration, from cheap night market food to high class restaurants serving Taiwanese cuisine, you will find it all!
.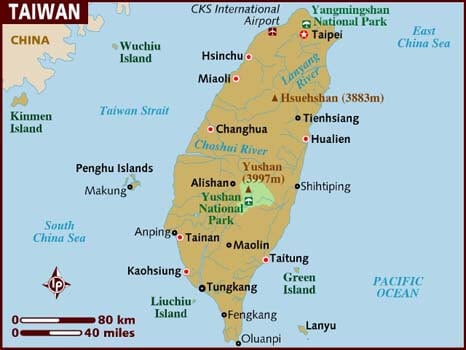 Top Places to see
Taipei & Surrounding Area
Taipei is the perfect example of old and new colliding. Taipei 101 dominates the skyline of the XinYi Distinct of Taipei, providing a bird's eye view of the city for those who take the fast elevator journey to the observation deck. And for those more adventurous, climbing Elephant Mountain will provide great views of the city and Taipei 101. Sun Yet Sen Memorial Hall, a stone's throw away from Taipei 101, gives glimpses of years ago with its traditional architecture and CKS Memorial Hall, a short bus ride from Taipei 101, provides a relaxing oasis from the hustle and bustle of the city. The changing of the guards at both of these places is quite the spectacle and should not be missed. And if food and shopping is your thing, then head to the Shilin Night Market for cheap eats and great prices. For those who opt for a more relaxing atmosphere, then head to Yamingshan (Yaming Mountain) to enjoy some hiking, Beitou to soak in the hot springs, and Danshui to enjoy seafood while watching the sun sink into the horizon. Last but not least, the National Palace Museum is a must for history buffs who would like to see exhibits encompassing 8000 years of Chinese history.
Hotel recommendations: citizenM Taipei North Gate (cool, modern hotel with great location and good prices), Finders Hotel(another excellent hotel. Great location, good value).
Recommended Tours: This private day tour of Taipei by car. It'll cover everything you need to see in Taipei.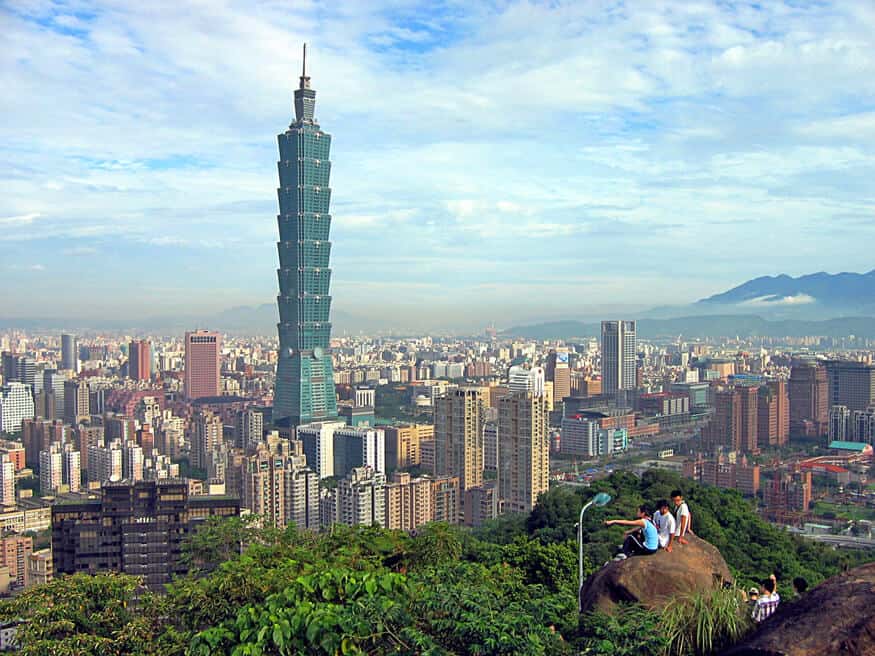 ---
---
Taichung
Taichung is a must for art and music enthusiasts. A trip to Rainbow Village on the outskirts of the city is a must – the cartoon-like characters painted by a retired veteran will have you smiling in no time. CMP Block and the Fine Arts Museum should also be checked out by art lovers. And if music is your passion, then the week long Taichung Jazz Festival held in October will have you dancing and swaying in no time.
Recommended Hotels: Smile 73 Hotel and Kiwi Express Hotel – Chenggong Rd (both comfortable, centrally located, and well priced hotels).
Organized Tour: recommended is this customized guided tour of Taichung.

Lukang
Lukang is one of the oldest towns in Taiwan and it is very popular destination on weekends and holidays for local tourists. Many Taiwanese travel to Lukang to 'bye, bye' (worship) at the oldest Matzu temple in Taiwan, enjoy local specialties (fried oysters), step back in time and walk the area known as the Old Street with traditional Taiwanese houses, and visit several museums and a glass gallery in the area.
Recommended Hotels: Chen He Spa Motel and Gh House

Tainan
Tainan, located in southern Taiwan, is also an old city and a must for temple lovers. Some of the oldest temples in Taiwan are located here. The coffin Bread (which kind of reminds me of a chicken pot pie) is famous here – be sure to eat and enjoy.
Hotel recommendations: Fuward Hotel Tainan and P&E Hotel.

Kaohsiung
This city is usually a branching off point for trips to Kenting (covered below) but it has a lot to offer as well. Lotus Lake is a popular spot with its lion and dragon pagodas. A short boat ride to Cijin is a great place to enjoy fresh seafood and to laze around in the afternoon sun. Love River is also very popular area because of the art surrounding it and boat rides along the river. Meinong, located on the outskirts of the city, is known for its Hakka culture, paper umbrellas, and bian tiao (a type of noodles).
Recommended Hotels: Kindness Hotel – Kaohsiung Main Station and Grand Hi Lai Hotel (for a fancy stay).
---
---
Taroko Gorge
A trip to Taiwan wouldn't be complete without a visit to Taroko Gorge (pictured above). What an amazing feeling to be immersed between the marble rock faces, to hear the rushing sound of water between the cliffs, to walk through the tunnels, and to gaze at the pure, natural beauty of Taroko Gorge! This must-see is located on the east coast of Taiwan, not far from Hualien. It is NOT one of Taiwan's best kept secrets, so be prepared to face crowds, tour buses, and traffic jams on holidays. You have been warned!
Recommended Tour: This full day tour from Taipei.
Qing Shui Cliff & Taiwan's East Coast
I was immediately drawn to the beauty of Qing Shui Cliff. The way the cliff plunges into the aqua blue water! The view of the cliff from the rocky beach! The peaceful and serene atmosphere of the place in general. It is another place to kick off your shoes and slow down for awhile. Most people just stop for a photo opp and keep on trucking. But if you stay for awhile, the place will be yours most of the time.


The east coast of Taiwan is absolutely breathtaking. The coastal road that snakes along the edge of the coastline offers stunning views of the water and if you are a surfer, then the east coast of Taiwan is a great place to ride the waves. And if you are real lucky, you may stumble upon an authentic aboriginal performance during the summer months. And speaking of summer, if you happen to find yourself between Hualien and Taitung during July and August, be sure to check out the Hot Air Balloon Festival and the tiger lilies on Sixty Stone Mountain.

Sun Moon Lake
Sun Moon Lake, located in Nantou county in central Taiwan, is also one of Taiwan's natural gems. It has become extremely popular in recent years with the building of a bike route around the lake and the construction of a rope-way allowing visitors to see the view of the lake from high in the sky. There are several hiking trails around the area to take advantage of and rowing a boat on the lake or taking a boat tour are also ways to enjoy the surrounding views. And some beautiful temples and a pagoda are also situated around the lake. There is also an annual Sun Moon Lake swim in September – why not enjoy every inch of the lake by swimming it?
Recommended Tour: This excellent 2 day tour that covers Sun Moon Lake, Puli and Lukang.
---
---

Kenting
Kenting, a place on the southern tip of Taiwan, is known by most foreigners for its annual weekend party around the beginning of April called 'Spring Scream.' However, it is also a popular destination for Taiwanese and visitors alike to have some fun in the sun and soak up the rays. There are a number white sand beaches in the area and several water sports, such as snorkeling and water-skiing, are possible here.
Recommended tour (for Kenting and more): This 5 day tour is the "Best of Taiwan Tour". It covers the highlights of Taiwan with stays in 5 star hotels along the way. Excellent value.
Penghu
Jibei (pictured below), one of the islands of Penghu, is my idea of paradise. There's not a car to be seen – small, narrow roads outlined the rim of the island with only a scooter or two exploring the area. Beautiful white sandy beaches, one with a sand bar as far as the eye can see! It is the perfect place to get lost in time, to watch the waves roll in, and to stroll on the early morning deserted beaches. This small island getaway seems to have a lot of beach goers during the day, but as the sun goes down, most have already left this small island and it becomes the perfect beach paradise.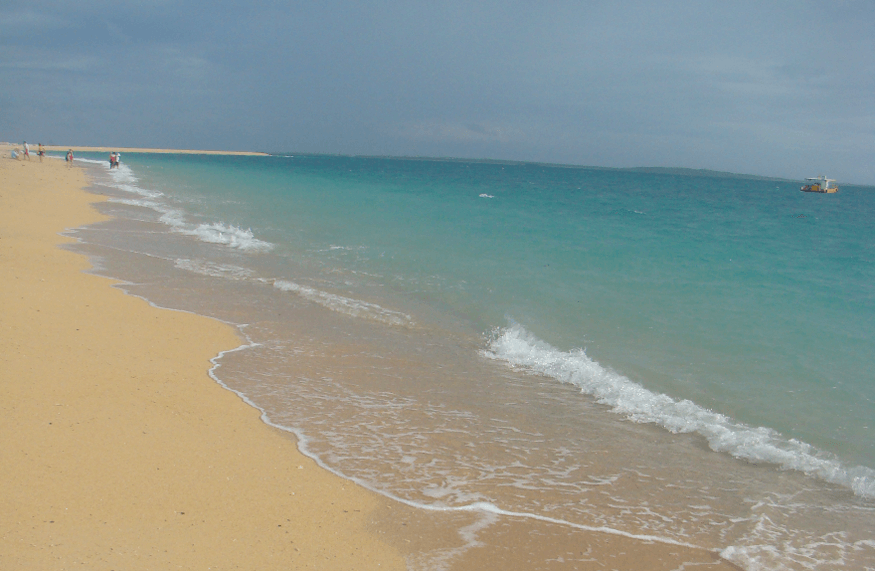 Hehuanshan
Located at an elevation of 3275 meters, it feels like you are on top of the world. It is the ideal location to see the clouds sitting on the mountain peaks and the perfect spot, actually one of the few spots in Taiwan, to play with snow when temps fall below freezing. The hiking trails here are quite strenuous, especially with the air so thin, but the views are spectacular and the accomplishment of completing such a huge challenge is really rewarding.

Alishan
Alishan is a beautiful mountain are known for its spectacular sunsets and even more breathtaking sun rises. If you are staying at one of the hotels in the area, expect a wakeup call for the front desk before dawn as most visitors take the short train ride to the sunrise viewing point. There are also some easy hiking trails in the area and some challenging ones as well. Most people make their way to this over 2500 meter mountain range in March to see the cherry blossoms in bloom.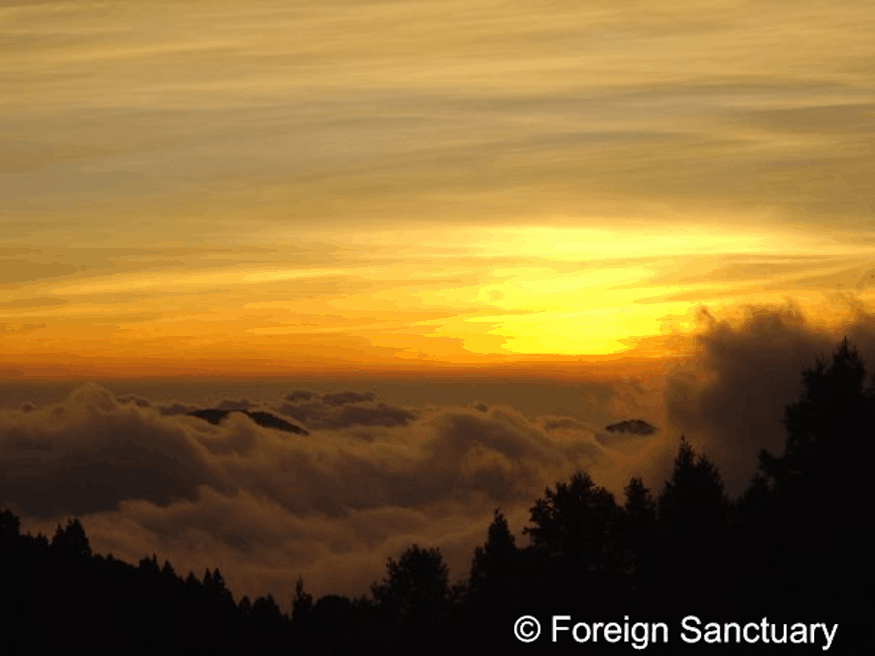 ---
---
Practical Info & Costs

Flying in: Taiwan Taoyuan International Airport (code: TPE) is the main airport serving Taipei and Northern Taiwan. Kaohsiung International Airport (code: KHH) serves Kaohsiung and Southern Taiwan. We book all plane, train, bus and private transport using 12Go Asia. They're the best booking site in Asia.

Domestic Transportation: Taiwan has a highly reliable, fast, and efficient public transportation network which will whizz you around the country and within the city limits in no time. Here are the options to get you from point A to point B:
~1~ MRT (Mass Rapid Transit a.k.a. The subway): Most travelers and commuters opt to take the MRT in the cities of Taipei and Kaohsiung. It is a fast, reliable, and extensive system, covering all areas within in the city as well as major destinations beyond the city limits. Single journey passes, daily passes, as well as other options are available for purchase at any MRT station. Word of advice, if you can get there by MRT, then I highly suggest you do because it is cheap, convenient, and the traffic in the cities, especially Taipei, can get very congested!!
**Note: The cities of Taipei and Kaohsiung both offer bike rentals outside of some MRT stations and popular areas. It's another option to explore the city other than walking!
~2~ City Buses: Most cities in Taiwan operate a highly effective and efficient bus system. Most routes have several buses operating at peak times and it is another cheap option to get around the city. In Taipei, some roads, like XinYi Rd which leads to Taipei 101, has a bus lane solely dedicated to buses so it is another way to get around the city in a timely manner. Word of advice: it is best to know which bus you need to take beforehand and where to get off. You don't want to waste your time riding around the city in the wrong direction or on the wrong bus.
~3~ HSR (High Speed Rail) – If you want to get from the north to the south of Taiwan fast, then the HSR will whizz you from Taipei to Kaohsiung in about 1 1/2 hours. It has stops in other major cities on the west coast. It is the more expensive option with ticket prices about NT$1600 (about US$53) from Taipei to Kaohsiung, but it is the fastest option as train speeds hit up to 300 km/h. For fares and up-to-date schedules, please refer to their website.
~4~ Train: Trains cover the entire island and it is the best and fastest option to get to the east coast of Taiwan: here.
~5~ Bus: Buses also run between cities and towns as well as major tourist areas. Be sure to check the time schedule beforehand!
Check the 12Go Asia link (that I have above). They do trains, buses, domestic flights…
Accommodation: In recent years, there has been a drastic increase in hotel prices in Taiwan. What once would cost $30 will now set you back US$100 a night! During Chinese New Year and other major holidays, expect to spend a lot more. And remember, you get what you pay for. For the most part, a bed in a dorm room will cost about US$20, a modest hotel room about US$60-$100, and for those of you seeking luxury, the sky is the limit. Remember to book well in advance if you plan to travel during summer, holidays, and other times regarded as peak seasons.
For those nature lovers, camping is also an option. Most areas have camping grounds and provide water, showers, and other basic amenities. The prices range from place to place but most seem to charge between US$25-$35 dollars per tent.

Food & Eating: Taiwanese is heaven for an adventurous foodie or for those looking to try something different. Dishes, snacks, and drinks can be purchased at anytime during the day. If you want to sample local cuisine, check out the night markets and roadside stands; both offer cheap snacks and dishes ranging from US$1 upwards. But if you are looking for a quick meal, embrace the idea of a 'ban dan,' meaning meal box. A meal box, ranging from US$3 to US$5, consists of a generous serving of rice, 2 to 3 small servings of vegetables and some type of meat or fish. However, some restaurants are buffet style and you select what you want to include in the meal box yourself. Furthermore, while in Taiwan, be sure to enjoy a round table, several course meal consisting of local produce, meat and fish dishes, and a pot of soup of some sort. Each area is famous for some dish, so be sure to ask what the popular choice is in that area. And while in Taiwan, start your day off right by visiting one of several breakfast stands selling a large assortment of sandwiches, hamburgers, and my personal favorite, egg pancake.
I must confess that I was a very picky eater before arriving in Taiwan, but that quickly went out the window when I realized that I was dining at McDonalds and other fast food places way too often. Here are a list of snacks and dishes that I recommend to sample and try. They are not too 'out there,' and I am sure there something for everyone!
~1~ San Bei Ji (Three Cup Chicken): This is my absolute favorite. The chicken is cooked in 1 cup of rice wine, soya sauce and oil (hence, three cups). Several herbs such as a basil are added.
~2~ Shaved Ice: Several combinations of fruit and ice can be purchased during summer!! Perfect for cooling down in the unbearable summer heat!
~3~ Fried Chicken: I know you can purchase this everywhere but there is something special about it in Taiwan. Maybe it is the spices or something, but if you are not feeling too adventurous, then fried chicken may be the perfect choice for you.
~4~ Pan-Fried Bun: Crispy on the bottom, this bread-like bun consists of a pork filling with some stands providing a vegetarian option.
~5~ Bubble Tea: Milk tea with pearls (jelly type balls) is a big hit here and no trip to Taiwan would be complete without sampling one.
~6~ Dou Hua: Served hot or cold, this snack consists of a bean made substance as the main ingredient with brown sugar, and peanuts (other options are available as well).
~7~ Hot Pot: A pot is placed in the middle of the table and vegetables and meat are added to the pot and cooked by everyone. This is very popular with the younger generation as a way to socialize with friends and is popular during the winter months.
~8~ Stinky Tou Fu: You will be able to smell it a mile away. Most Taiwanese claim it is the best thing they have ever eaten! My opinion slightly differs, so you be the judge!!
.
---
---
General Travel Tips:
~ Taiwan has several festivals happening during the year. Flower Festivals are quite common during the end and beginning of the year, several lantern festivals as hosted after Chinese New year (the largest one being the Taiwan Lantern Festival – the location changes from year to year), and the Dragon Boat races are held in late-May to early June. If you are in Taiwan during that time, be sure to check them out.
~Festivals and popular destinations are extremely crowded on weekends. If you want to avoid the crowds, go on a weekday or go as early as possible. It's the norm here and if you happen to face a large crowd, embrace it and have fun!
~ Taiwanese are very friendly and are always willing to lend a helping hand, especially to foreigners. If you are lost or need help, don't be afraid to ask for assistance. They will go out of their way to help you.
~ If possible, have your hotel address (or the name of your destination) written in Chinese. It will make life a lot easier if you want to ask for directions, if you get lost, or if you need help booking a bus or train.
~Be prepare for the stares, especially in more remote areas.
~And my last piece of advice which I always tell myself when venturing out in Taiwan or beyond: 'Any situation can turn into an awesome experience as long as you approach it with a positive attitude and smile.'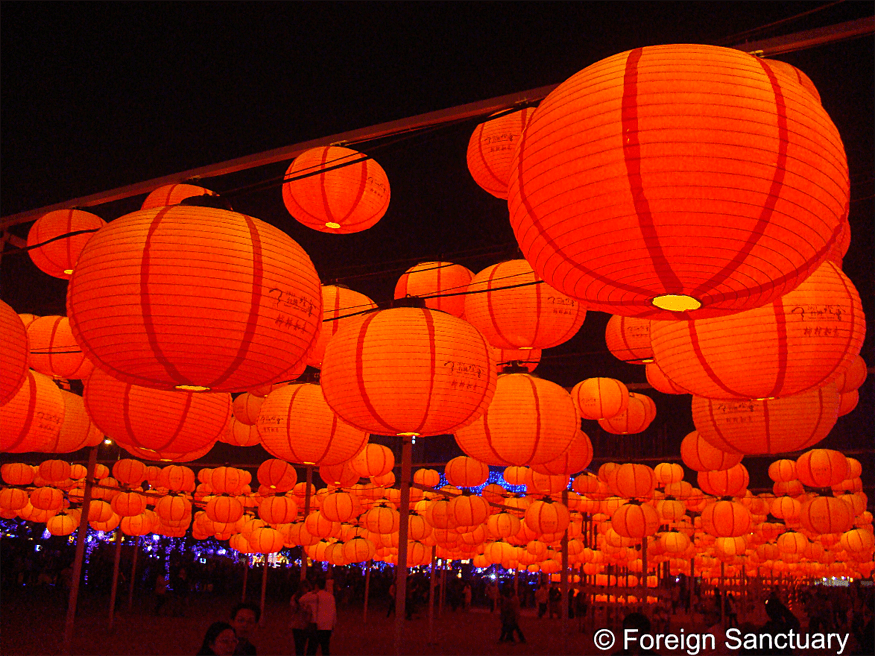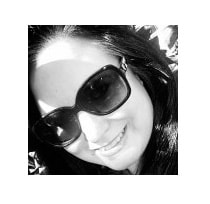 This Destination Guide is contributed by Constance at Foreign Sanctuary. She's a Canadian Expat living in Taiwan. Check out her blog, she's got tons of information on her adopted country.
Ps. If you find our blog helpful, please consider using our links to book your flights, hotels, tours, and car rentals. Have a look at our Travel Resources page.
---
---