The coronavirus in Spain: lockdown Diaries Day 44
Sunday April 26, 2020
We might finally have some good news. I'm mentioned previously that Spain has the strictest lockdown measures of any European country, the major difference with other countries being that we haven't been able to go out for walks/exercise since the lockdown started on March 14th. Well, yesterday I heard that starting May 2nd adults may be allowed outside for walks. Officially the lockdown ends on May 9th, so that would mean we have a week to ease into post-lockdown…
Below: Some people have been abusing the "pet walking" rule to go for walks
Anyway, we're pretty excited about the idea that we'll be able to go out again. If so I'm shaving the "lockdown beard" on May 1st (Lissette's hating it big time, especially now that it seems to be a magnet for food particles. Pretty soon I'll have rodents living in there).
Spain has had 223,759 people infected and 23,190 deaths as of today, but numbers have been going down in both respects. The peak number of deaths was April 2nd with 902 deaths. Yesterday Spain had 288 deaths.
These are all good signs and consistent with what's going on in most of Europe. Italy, France, Spain and Germany will all be coming out of lockdown in various stages between early and mid-May. This website breaks down all the countries by numbers. The UK, the European country that was slowest in responding to the virus, still has high numbers and there doesn't seem to be any definitive date as to when the lockdown will be lifted (more here).
How life will be coming out of lockdown is another matter entirely. I've joked previously that we might all run outside only to be blinded by the sun and run back inside. After this much time being stuck inside it'll be an adjustment, as much physically as mentally.
Outside Europe: Of course the country with the highest numbers in the world is the USA where Mr. Wacko is suggesting that inserting disinfectant and UV rays into the body might be a cure. That was the day after he kept contradicting his doctors (see this video – I had to include it because I've never seen Morning Joe absolutely lose it). Today Trump announced that he won't do conferences anymore, that "they're not worth the time and effort" and that the "lamestream media" doesn't report his facts accurately.
In our little corner of the world..
Lissette is coming up with some art projects to keep busy. Somehow I'm always the guinea pig.
I'm told I might have to perform in a video sometime soon. And I'm pretty much 99% sure that it won't be as exciting as that sounds…
So, do people all think we'll be normal again when this is all over? I joked about the sun and everyone running back to hibernation but the truth is that when we do go out for groceries it's a stressful affair between the mask (which is hot and makes our glasses fog up) and all the rules you now have to follow. We're honestly happy when we get back to the apartment. I know that even when lockdown ends we won't be rushing to a restaurant or even a café. At least for now I think this time in lockdown will change our habits.
Something another blogger mentioned to me which resonated: "What's odd is that I find the less I have to do, the less I CAN do. With all the opportunities — free on-line courses, televised movies and first-class theater productions, free audio books and book downloads… I don't wanna do anything. I sit down to write a blog entry, type a few lines, stare at them for a while, and go away".
I come away reading that and feel guilt. Guilt over having all this time in lockdown and not working out every day, guilt about not practicing my Spanish (this apartment is filled with Spanish books and movies), and guilt about not having been more creative with my cooking over the last 5 weeks (I've always said that if we move to Spain we'll take a cooking class. I could at least have looked up some dishes online…). Instead we've probably been drinking too much, watching too many movies, and eating too much pasta.
On the other hand I tell myself we're all a bit stressed worrying about real life. If we die tomorrow I'll feel better knowing I enjoyed my last days with a glass of rum in one hand and a big bucket of buttered popcorn in the other.
Game of Thrones
We finished Game of Thrones last night. I think overall it's very good. We had a lot of late nights watching episode after episode. But I have to say that the last episode really, really, really sucked. 8 seasons we watched, only to find out that the boy with the broken legs and the perpetually blank stare on his face becomes king? That was a real letdown.
Lissette has this thing that bothers me when watching a fantasy series: she overanalyses. During Harry Potter she'd complain "if they can do all this powerful magic, why do they have those silly wand battles? It makes no sense". In GOT it would be "why couldn't they have been more creative with the White Walkers? They're just zombies and I hate zombies. Why couldn't they be more like vampires maybe. I like vampires." I married a total dork.
Overall though a lot of fun and we already have that depression that comes with having finished a series…
Misadventures in Far Away Places
Last week I received a Facebook message from a young lady in Brno, Czech Republic: "Hi, are you that Frank who wrote Misadventures in Far Away Places? If so I just wanted to let you know that I loved your book". It was the nicest, most incredibly unexpected message.
The story is that 15 years ago I wrote a book, sold a few copies online, then totally forgot about it. Somehow she got her hands on it.
The message prompted Lissette to tell me "hey, why don't you put it back online?". So I have. If you're curious about it click here or on the image below.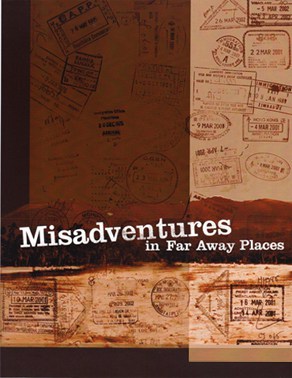 Travel industry news & blogging
In my last coronavirus diary I mentioned that Lonely Planet will be closing most of it's operations. It'll be weird to walk into an airport bookstore and not see shelves full of Lonely Planet guides. It's the end of an era.
Yesterday I heard that the New York Times was suspending the travel section in its Sunday edition (some have said because travel advertisers are no longer advertising). It will instead introduce a new lifestyle section. The Globe and Mail (who I've contributed to) told me that they are also suspending "destination travel" for the time being.
It got me thinking of this travel blog.
I've previously mentioned that I wouldn't write about travel destinations, that it seems "tone deaf" at the moment. Nobody likes to see some idiot blogger posing in his bathing suit somewhere exotic while they're stuck in lockdown.
But this is a travel blog after all and I can't just continue writing about what I eat or watch on tv. So I've decided that I will write about certain destinations. I've got a post coming up for example on Novi Sad (Serbia) as well as a few posts on places we've visited in Spain in search of a new base. BUT I'll do it differently – I won't be sending out those posts by email. I know a lot of people don't want to read about destinations right now and I don't want to clog up people's emails with unwanted posts. Instead, I'll be focusing on a lot of travel-related, current event stuff aimed at keeping people up to date with what's going on in travel and how it's impacting us a full-time travellers. I'll keep it light, as I have with these coronavirus diaries and my periodic newsletters. These posts I will be sending out, along with (in the same email), the destination specific posts that I mentioned above. That way they're there if you should you chose to read them…but they won't be the primary focus of this blog for the next little while.