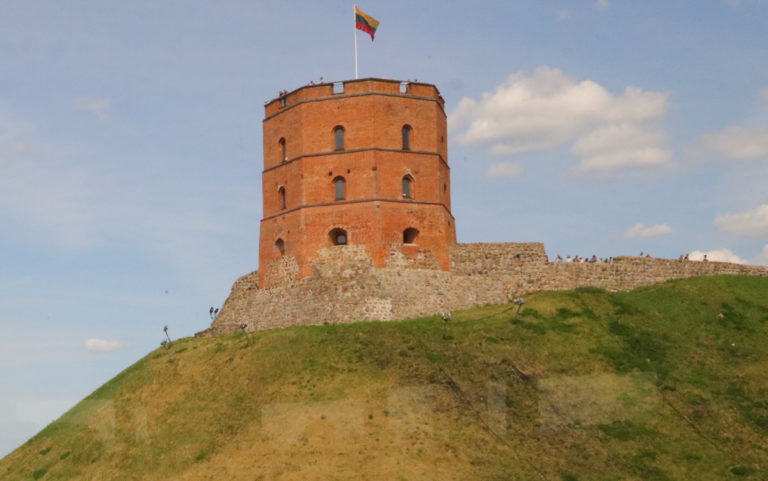 We really liked Vilnius, it was our favorite of the Baltic capitals. While there is no one attraction that will blow your socks off, I think Vilnius as a whole is an interesting and attractive place with a mix of historical sites, impressive viewpoints, a pretty old town and lots of churches. Added up, they make the city worth visiting.
Still, there are many things to see in Vilnius that range from things you "should" see to others that in my opinion) you can honestly skip. I cover those below.
Palace of the Grand Dukes of Lithuania
If you're interested in the history of Lithuania, you should visit the Palace of the Grand Dukes. I think the Palace covers the history brilliantly. The Palace also has a lot of beautiful rooms that have been reconstructed to replicate what they would have looked like in the 15th century when the palace was the home of the Grand Duchy of Lithuania.
Critics discount the Palace because it is a modern reconstruction (finished in 2018). That's true. But if you want to learn about the history of Vilnius and Lithuania there's no better place. I personally think the Palace of the Grand Dukes of Lithuania is a "must see" in Vilnius (I wrote a post on it if you click on that link).
---
---
National History Museum of Lithuania
Very close to the Palace of the Grand Dukes of Lithuania is the National History Museum which covers all aspects of Lithuanian history, culture and religion.
There's a bit of an overlap with the Palace of the Grand Dukes in the coverage of history…and the Palace covers it much better than the National History Museum. So if coming to the National History Museum to learn about history I think you'll be disappointed. Other than that, the museum covers some cultural components not covered by the Grand Dukes: you'll see exhibits of clothing worn through the times, religious artefacts, models representing how people lived and how they furnished their homes.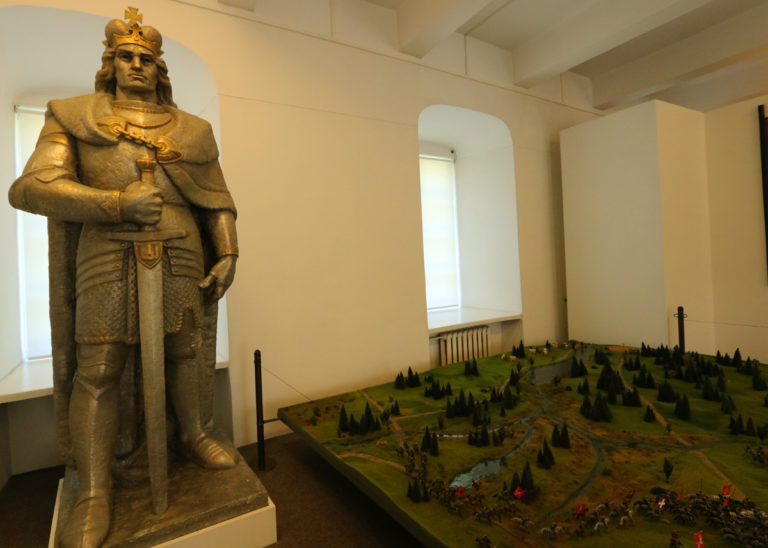 I think this is honestly a very average museum. And if you've spent 12 Euros at the Palace of the Grand Dukes is it worth spending another 5 Euros here? Unless the cultural aspects really interest you, I'd give this museum a "skip".
Vilnius Cathedral
Religious buildings have always stood here, it is believed that Pagan gods were worshipped in this spot in pre-Christian times. A first Cathedral was built by Lithuanian King Mindaugas (the first Grand Duke of Lithuania) in 1251. Over the centuries Cathedrals were renovated and/or burned down with new and bigger versions built.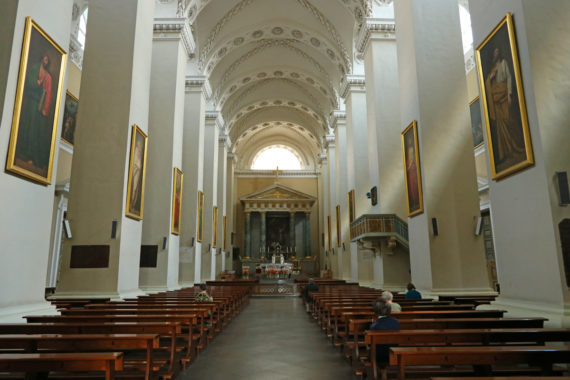 The current version of Vilnius Cathedral was completed in 1783. The Coronations of the Grand Dukes took place here. Famous Lithuanians and Poles are buried in its crypts and catacombs.
It is a very austere Cathedral that is worth seeing (and FREE) but which won't make anyone swoon in excitement.
---
---
Vilnius Cathedral Bell Tower
"Breath taking panoramic views". "Magnificent views". That's what you'll read in some places about the views from the Vilnius Cathedral Bell Tower.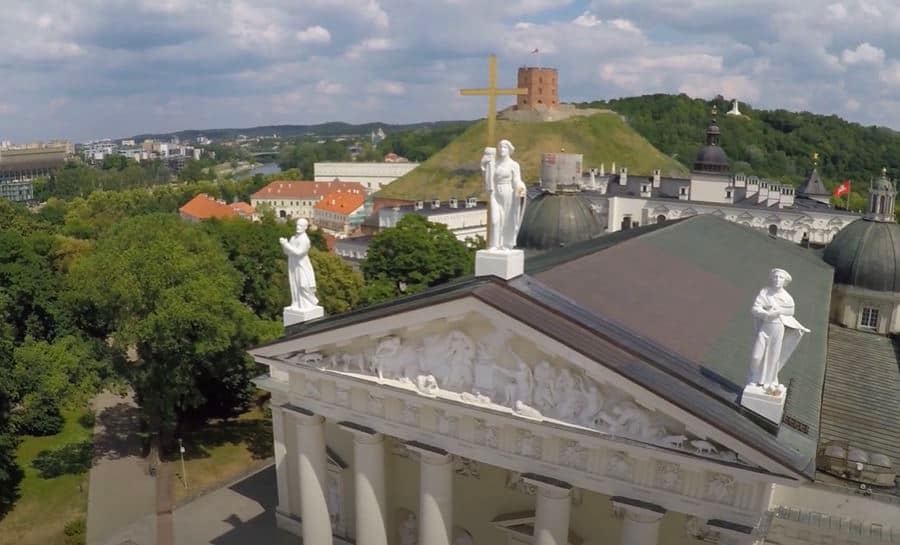 It's not worth the 6 Euros. Firstly, the views aren't that great. Secondly, you have a mesh to contend with that blocks your view (maybe you have a small camera lens that you can shove between the mesh as I did in the video above). Thirdly, you get better views in other places including at Gediminas Tower (Free) and from the observation room at the Palace of the Grand Dukes of Lithuania (where it's included in your ticket).
Skip it and save the 6 Euros.
Gediminas Tower
Climbing to the top of this hill is worth it for the views of the city right below you. The path is in very bad shape in the early going so you need good shoes.
You might be curious about this hill (I was). Unlike some places where you'll see man-made mounds (Krakow comes to mind), this very steep hill eroded naturally to the condition it's in. It made the perfect spot for a fortress and there is forensic evidence that the hill was used dating back to Neolithic times (ie over 5000 years ago). The first castle here, a wooden castle, was built in the 9th century. During the rule of Gediminas (1315 -1341) when Vilnius became the capital, a new, bigger castle was built here (the Upper Castle) which was an essential part of the city's defences.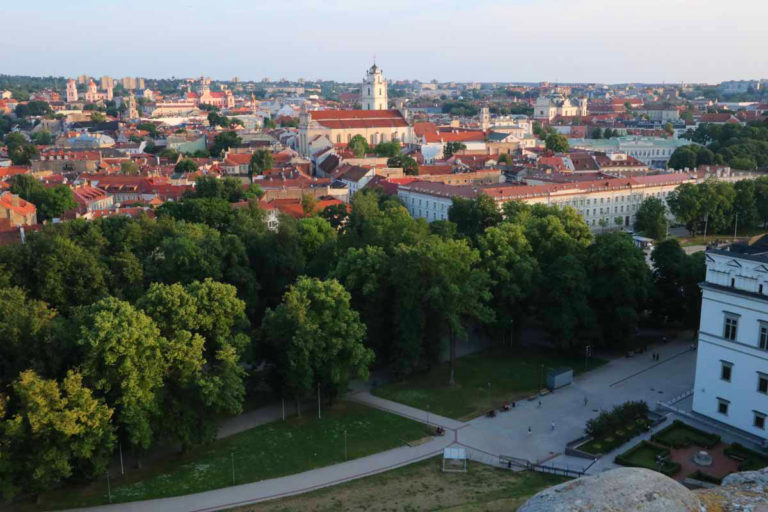 The castle that stood here went through a lot of battles and sieges (mostly against the Teutonic Order). It was rebuilt in 1419 after a fire and then had major damage during the World Wars. After that it was never rebuilt and what you see standing here (basically just a tower) is what's left.
Is it worth coming up here? It's a bit of a climb but if you like views (which I do) it's worth the walk up (access is FREE).
---
---
Church of St. Anne and Bernardine Complex
A Gothic complex built in the 15th century, it is one of the most famous attractions in Vilnius. It led to Vilnius being named a UNESCO World Heritage site.
St. Anne's church is the more famous part of the complex, a church built starting in 1495 (it has remained unchanged since then). A rather simple church inside, it is the exterior (in Flamboyant Gothic Style) that is striking.
The Church of St. Francis and St. Bernard (also known as Bernardine Church) is much larger and looks more dated. Of particular interest are the large, faded mural paintings dating from the 16th century.
The Complex is FREE and definitely worth a visit.
Three Crosses Monument
It was on this spot on a small hill across from the river that seven Franciscan friars were (according to legend) beheaded in the 17th century. To commemorate them, wooden crosses were erected. Eventually the wood rotted and in 1916 this concrete monument replaced them.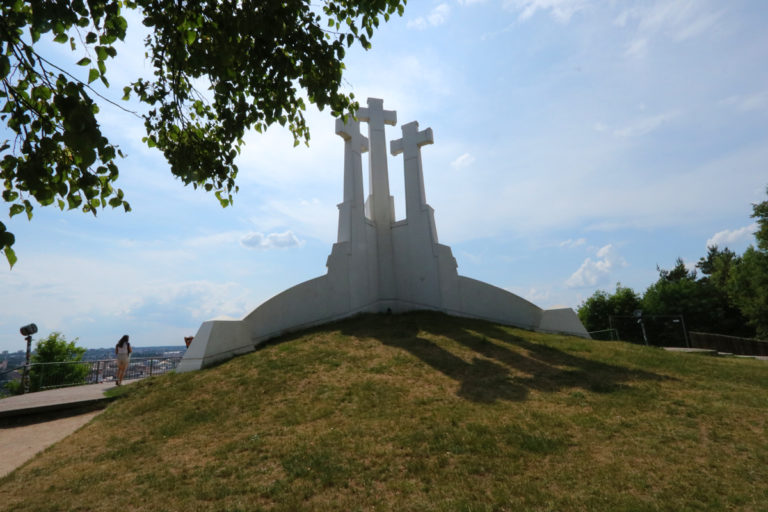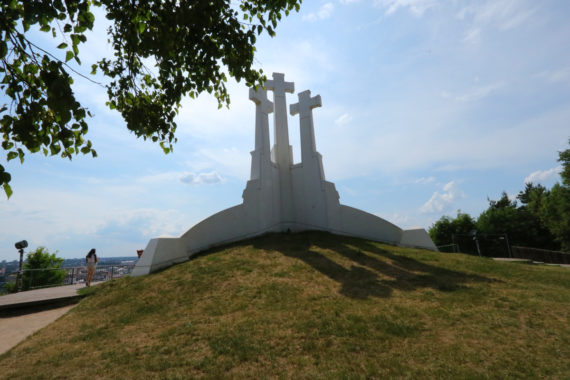 The reason to come here are the views of the old town. It's also quite a nice walk through the forest to get here. Note: there are 2 ways but the easiest is walking through the park behind Cathedral Square, crossing the Vilnia river on the small bridge you'll see (by the café/bike shop)…turning right on the path on the other side until you get to a series of stairs to your left. From there you have a lot of stairs to climb.
Go there for the views, plan for good lighting and hopefully have a good zoom on your camera (unfortunately we had neither).
---
---
Attractions of the Old Town
Vilnius has a large and attractive old town with many sights. It's best to wander around and explore. Some highlights:
Pilies street. It's the oldest street in the old town taking you from Cathedral square to Market square. Great views looking back towards Gediminas Tower
Gate of Dawn. The most famous of Vilnius's city gates, it was built in the early 1500's. What makes the gate a highlight to many is the chapel Our Lady of the Gate of Dawn within the gate itself. It has led to the gate being a major pilgrimage site in Lithuania. For most, the gate is the ending point of a walk through the pretty old town. FREE. Worth seeing.
Bastion. Officially "Bastion of the Defensive Wall", this is a circular fortification that today holds a military museum. We didn't go in but it is worth seeing the Bastion even from the outside – it is an impressive structure. If you do pay the 2 Euro entrance fee for the museum you'll see tunnels within the structure and can go in the top of the structure where you'll have nice views looking into town. FREE if viewing from outside, 2 Euros for the museum.
Churches. Plenty of Churches in Vilnius: Church of St. Casimir, Dominican Church of the Holy Spirit, St. Catherine's Church, St. Virgin Maria's Church (where inside the ancient exterior you'll find a restaurant). I might have missed a few.
Market Square (also called Town Hall Square). An attractive square that was the main commercial square up to the 19th You'll see the Town hall building here.
Presidential Palace. A palace has often stood here but as with many of Vilnius's monuments, previous versions burned down. The palace before you dates back to 1824 – 1832 and it has been the seat of the President of Lithuania since 1997. Every Sunday at 12:00 there is a ceremony here with soldiers in ceremonial uniforms. Don't miss the gardens around the back. A large, beautiful open space with gardens and a fountain. FREE. Worth seeing.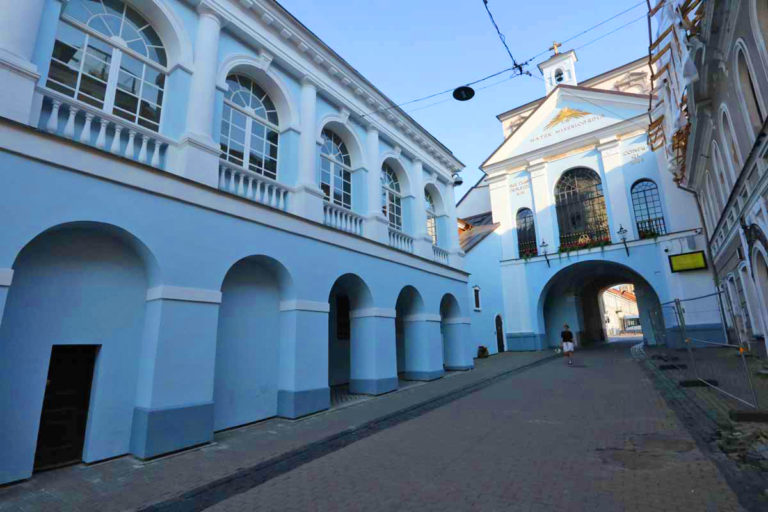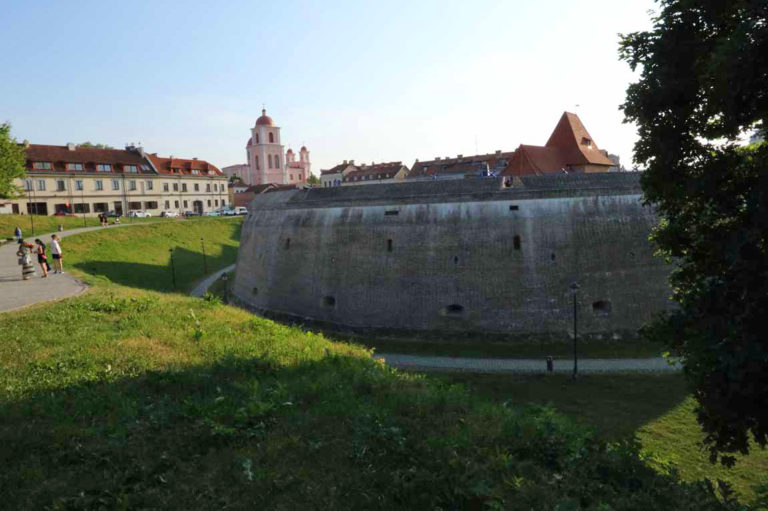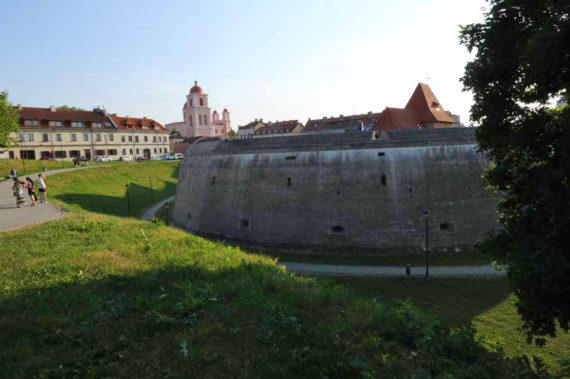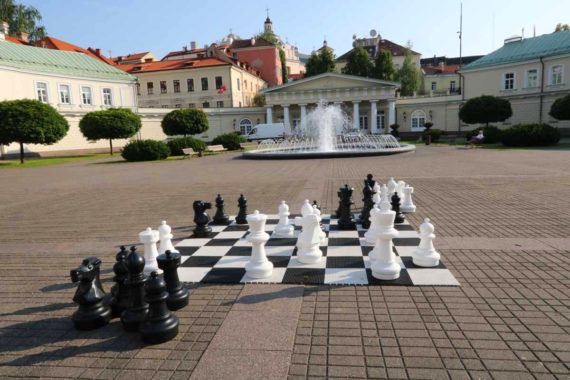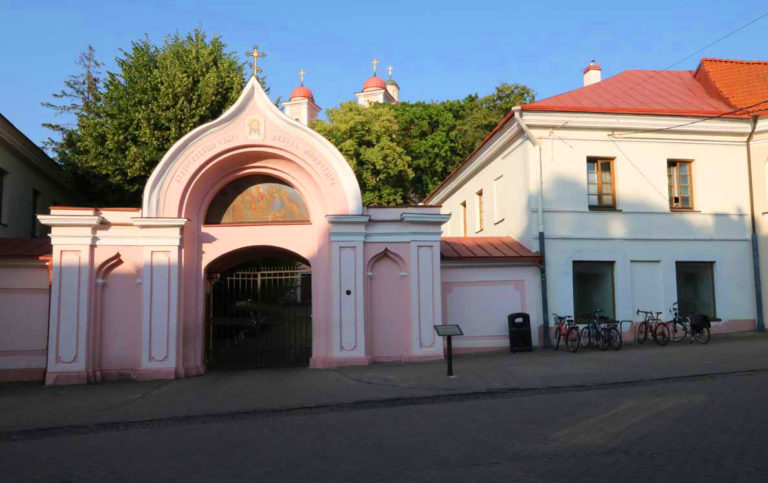 Vilnius's old town has lots to see in addition to the above. It's an area that's a pleasure to walk around.
---
---
Gediminas Avenue
This large, beautiful avenue is the main thoroughfare in Vilnius and is full of restaurants, cafés, large stores, parks, as well as some interesting monuments and buildings (some very beautiful). Part of it becomes a pedestrian street at night and on weekends. Lots to see but here are a few notable sites:
The Museum of Occupations and Freedom Fights. This museum is in the former KGB building where Lithuanians were terrorized by the Soviet administrators of the state. On the outside of the buildings you'll see placards listing the names of people killed inside the building.
Lukiškės Square. A pretty park with interactive water fountains. There's a church (Church of Apostles St. Philip and St. Jacob) on the other side of the park that's worth visiting.
The National Library a bit further on is interesting. I wouldn't go out of my way for it but since it's on the way to the next spot…
Lukiškės Prison 2.0. A notorious prison used by both Nazi and Soviet occupiers. You can take a tour of the prison. It is also a very happening venue for bars and concerts. Very interesting -but a creepy and sinister building.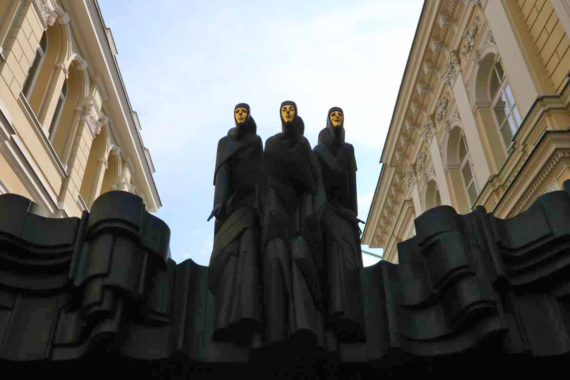 ---
---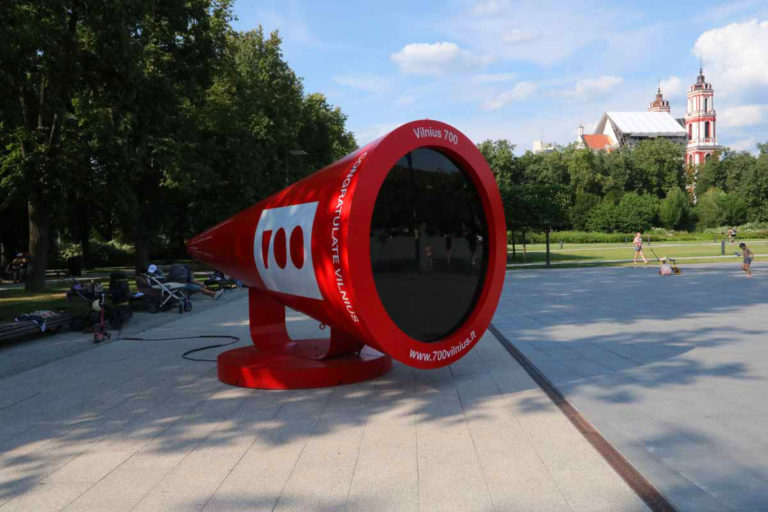 We stayed in a hotel on Gediminas Avenue and would walk along it every day on the way to Cathedral Square. A very interesting, beautiful street.
---
---
Užupis (a.k.a Republic of Užupis)
Across the river from the Old town is Užupis, a bohemian neighbourhood of art installations, street art, galleries and cafés.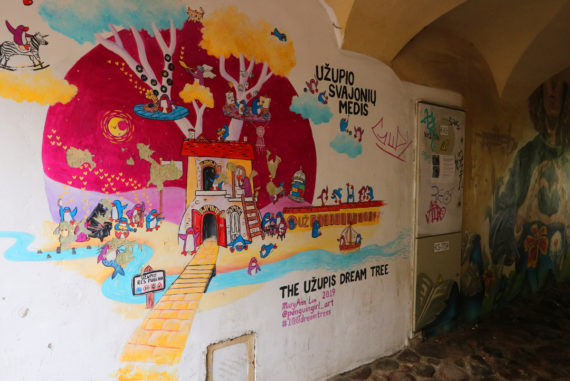 Is it worth visiting? Depends on what you like. I was thoroughly bored. Lissette liked it more. "Gritty, urban, quirky". I say skip it. She won't agree. Either way it shouldn't be at the top of your list.
Paupys Market
Looking for an interesting place to have lunch outside the old town? Paupio Turgos is not a traditional market – it is a food court featuring ethnic foods from around the world in a garden setting. Lots of options, we ended up having sushi with beer from a local brewery. Few tourists, mostly locals from nearby office buildings. Recommended for a different food experience.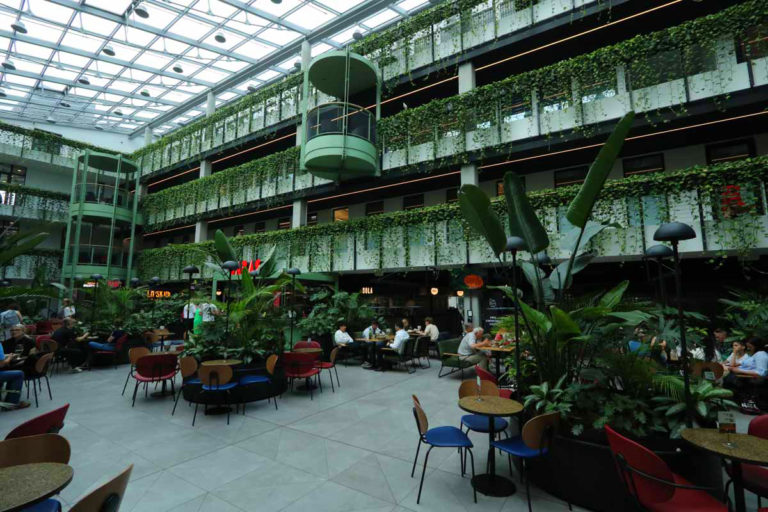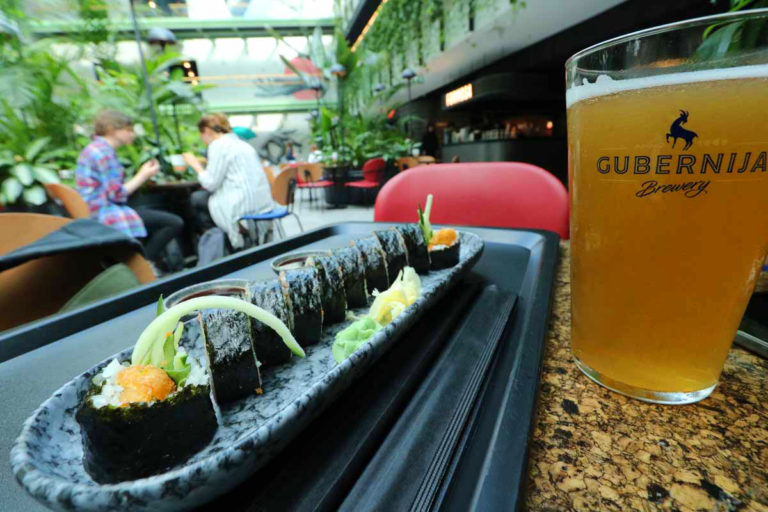 ---
---
Frequently Asked Questions
How long do I need in Vilnius?
2 Days should be a minimum – but it's enough to see the main highlights listed above. Ideally I would plan 3 days to visit at a more leisurely pace.
Which is better: Riga, Vilnius or Tallinn?
We enjoyed Vilnius much more than Riga. We also preferred it to Tallinn (Tallinn is very pretty…but it is also very touristy). Vilnius has a nice balance and plenty to see.
Do people speak English?
Yes, the level of English is very good. You won't have any problems at all.
Is Vilnius a cheap city?
We found Vilnius to be cheaper than both Riga and Tallinn. We're living in Spain – we found prices to be about what we pay here.
Where to stay in Vilnius?
We stayed at the Ratonda Centrum Hotel on Gediminas Avenue. Very good hotel with some good eating options in the area. About 15 minutes walk from Cathedral Square down pretty Gediminas Avenue. Right next door is the Hilton Garden Inn Vilnius City Center – another good option.
Where to eat in Vilnius?
For local Lithuanian food, we recommend Bernelių Užeiga, good and inexpensive. For breakfast, we had great breakfasts at Vero Cafe and Joy Cafe. Joy Cafe also has excellent pizza, the best we've had in a long time.