What's Helsinki like?
A couple of years ago we were in a strip bar in Pattaya (Thailand) when a young man sitting close by started talking to me. He was Finnish. He lived in Thailand so I was curious: why was this guy living in Thailand and what was it like? The conversation veered in the wrong direction: he started telling me how lonely he felt and at some point he looked as if he was about to cry. He momentarily put his head on my shoulder. It was one of the weirdest things ever: here we were in a strip joint, Thai girls talking to Lissette, this guy has his head on my shoulder, two Chinese couples are across from us taking in the whole scene and probably thinking "WTF?". And I was looking at this boy and thinking "here he is, has a good job in IT, good-looking, we're in a strip joint…what's wrong with him?"
We met an older Finnish man the next day at a restaurant. He was probably 60, his Thai girlfriend probably around 40. But he was intent on speaking to us. He told us his wife had died and that he now spends half the year in Thailand. His children didn't approve but he said his wife would have wanted him to enjoy the rest of his life. That's what he was going to do. His girlfriend looked at us apologetically at times, as if apologizing for interrupting us (and maybe embarrassed that he was talking so much), but that didn't stop him. He somehow felt he had to open up his heart to us.
And that was our introduction to the Finnish people.
So when we visited Tallinn (Estonia), we decided that we had to do a day trip to Helsinki.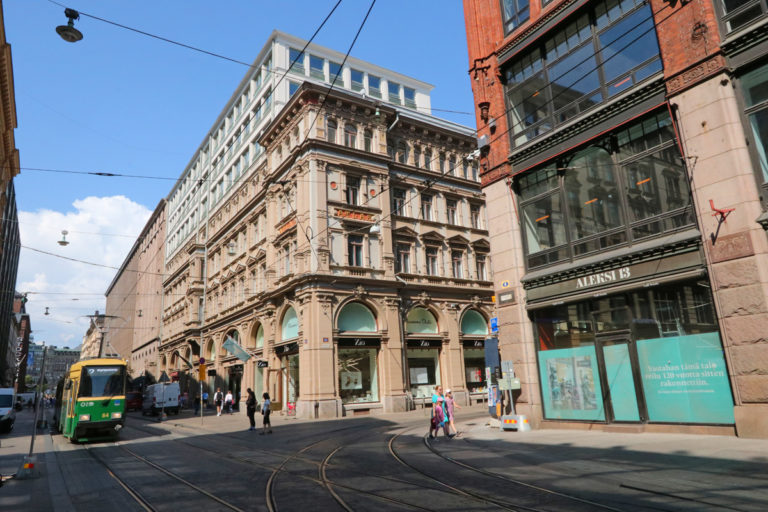 ---
---
So what's Helsinki like?
We spent about 7 hours in Helsinki and about halfway through walking around Lissette exclaimed "I wish we had stayed here a couple of days!"
There are no attractions in Helsinki that will make you swoon in excitement. And it is an expensive city. But it is modern, has lots of museums, some interesting architecture, has lots of green spaces and is easy to walk. It is a cultured, cosmopolitan and progressive city. English is widely spoken, gay pride flags were flying everywhere during our visit (June 28 – July 4 was Helsinki Pride week). Everything is clean, public transport is excellent.
The people? Everyone we met was friendly, helpful and spoke English. Researching our visit, most people describe Helsinkians as friendly although reserved. According to what I've read, they like to drink (like the Swedes) and that's when they open up. That jives with our experiences meeting Finns in Thailand.
All in all, we liked what we saw. I don't know if we'll ever be back in Helsinki (it's in a pretty isolated corner of Europe) but we wouldn't hesitate to layover here for a few days if the opportunity ever presented itself.
If you're taking the ferry to Helsinki
The Tallink ferry has 6 connections a day between Tallinn and Helsinki. The trip takes 2 hours. When arriving in Helsinki, you can take a tram directly to the city center from in front of the terminal. You'll find a ticketing machine which is easy to figure out (it will cost 3.10 Euros for a ticket covering zones A and B which is what you want). You can take tram 7 or 9 and it will take you directly to Senate Square which is the best place to start your sightseeing.
You can't miss Senate Square – it's a huge square with a massive white Cathedral. When getting off the tram, you might want to stop at the tourist office which is right across the street from the square (ie. on the side where you are disembarking).
---
---
What to see in Helsinki
Starting in huge Senate Square
(as I mention above, there's a tourist office there). The square has been the city's main square since the 17th century but what you see today was built by the Russians in 1812 after taking control of Finland.
Helsinki Cathedral
It's the most iconic monument in Helsinki.
Completed in 1852, it's a Lutheran Cathedral so it's very spartan inside.
A visit inside is free.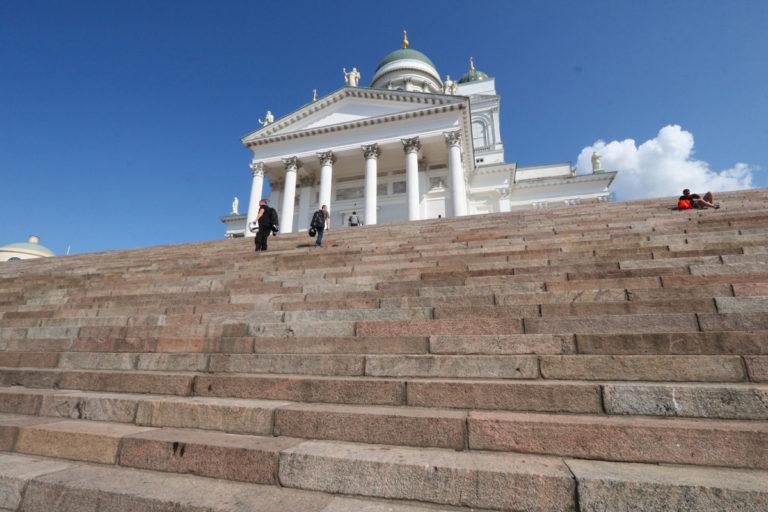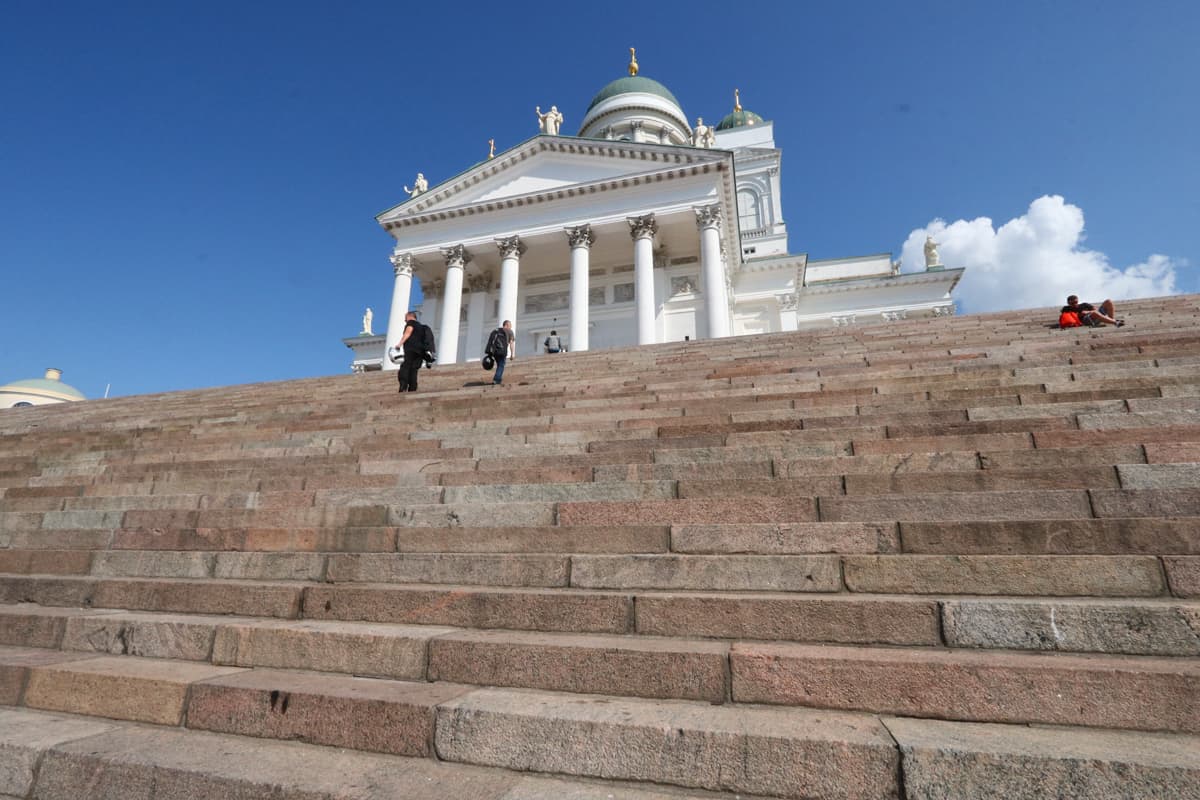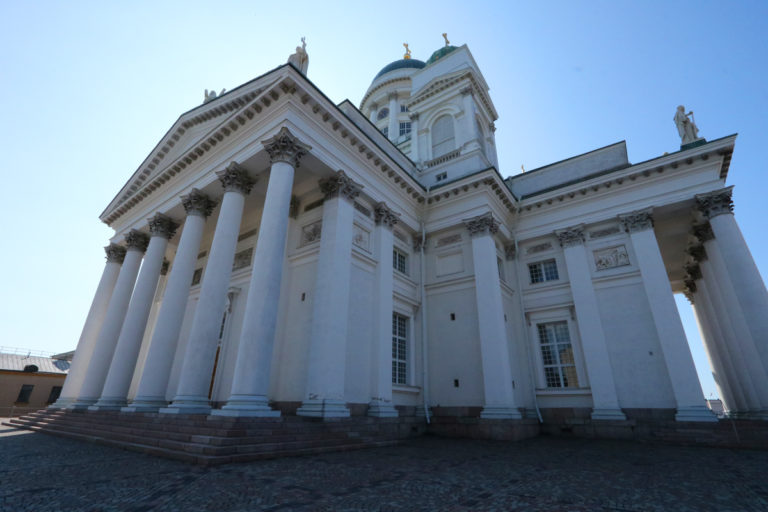 ---
---
The National Library of Finland
Right next to Helsinki Cathedral – this library has a beautiful entry hall with marble columns and murals on a domed ceiling. Beautiful. It's worth going further inside, you'll get an interesting view of the stairwell leading to the different floors and the glass ceiling above.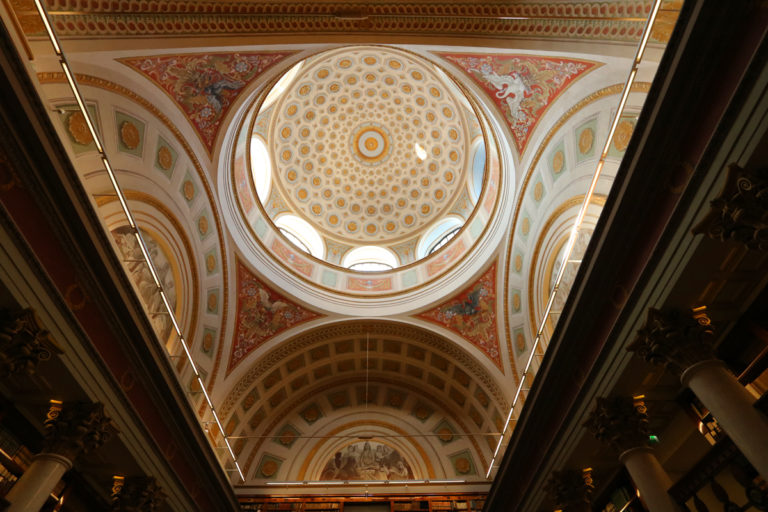 Karl Fazer Café
A few minutes walk from Senate Square and up a little street, Fazer café is an institution in Helsinki. We stopped here for a coffee and cakes (warning: it's not inexpensive. We paid 25 Euros for 2 coffees and 2 cakes).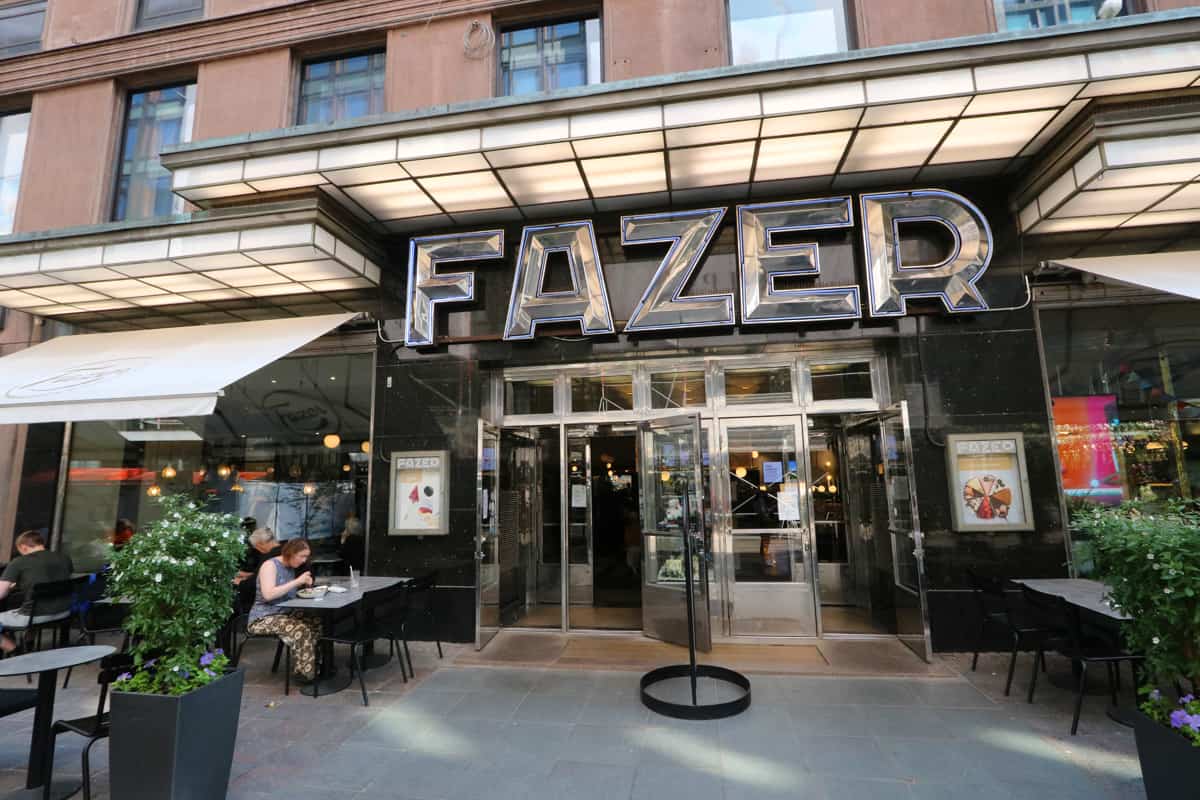 ---
---
Aleksanterinkatu Street
Aleksanterinkatu is the oldest street in Helsinki as well as the main commercial street. You'll find some interesting building here including the Pohjola Insurance Building
. It's a prime example of Finnish Art Nouveau.
Cut up the next street (Keskuskatu), you'll see the train station in the background.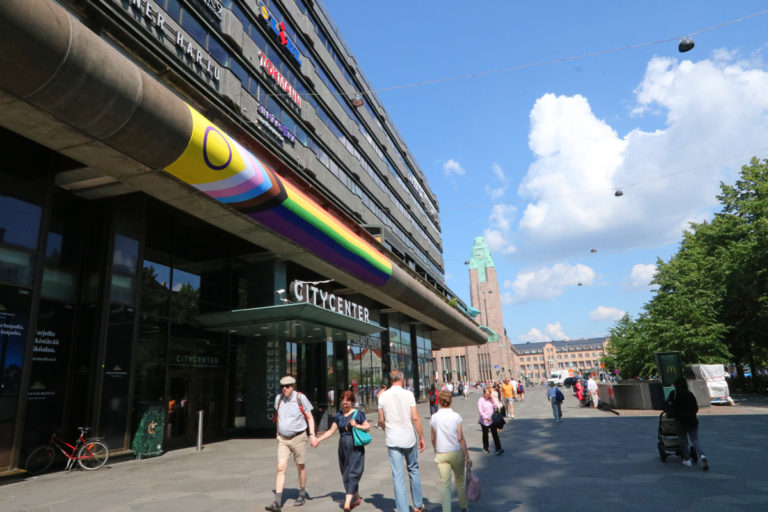 Art Museum Ateneum
Ateneum is an art museum and one of the three museums forming the Finnish National Gallery. It has the biggest collection of Classical art in Finland (ticket price: 20 Euros)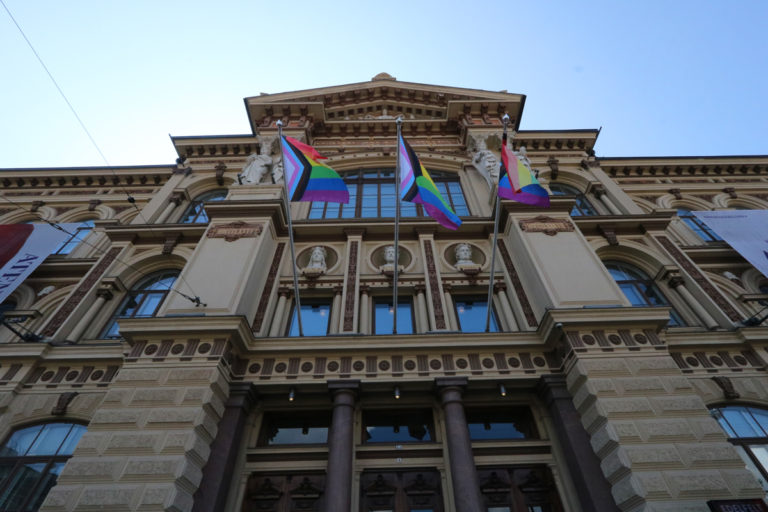 Helsinki Central railway station
It is regarded as one of the most beautiful train stations in the world. Completed in 1919, it is considered a masterpiece of Art Nouveau architecture in Helsinki.
---
---
Kamppi Chapel of Silence
An unusual sight just up the street from the train station. It's a wooden building with a copper exterior, it is intended as a place to calm down from the hustle and bustle from the city.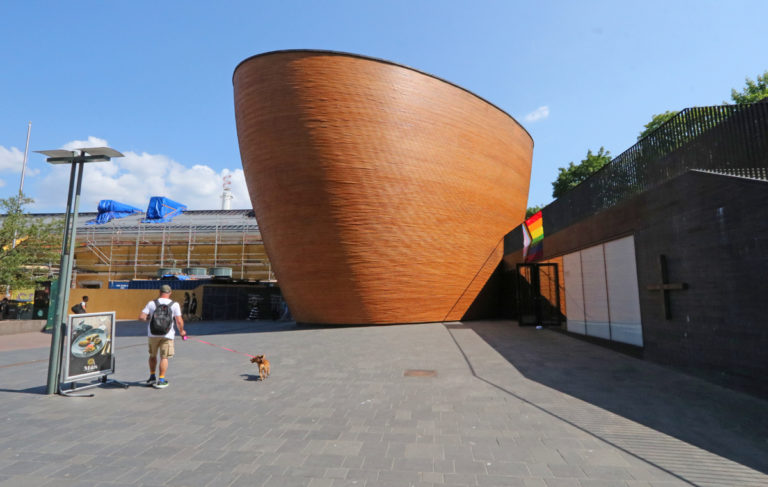 Amos Rex Art Museum
A weird art above ground art installation that connects to an underground art hub called the Amos Rex Art Museum.
From the Amos Rex Art Museum, exit on Mannerheimintie – it is Helsinki's longest and most important street named in honor of the Finnish military leader Carl Gustaf Mannerheim.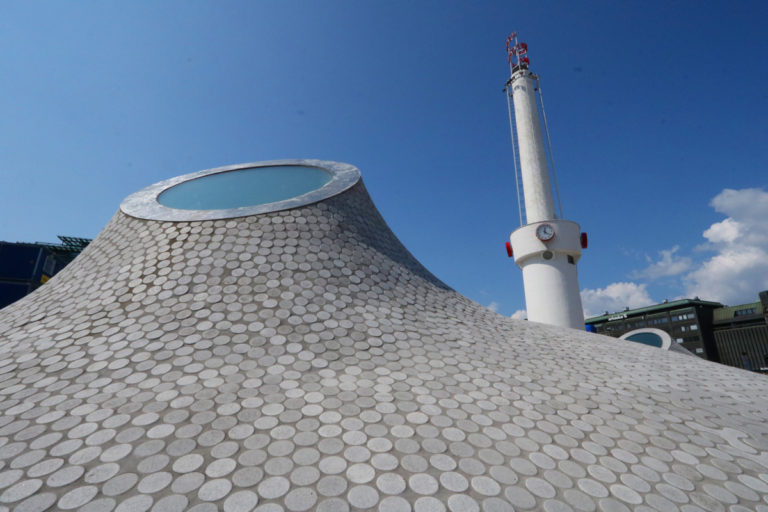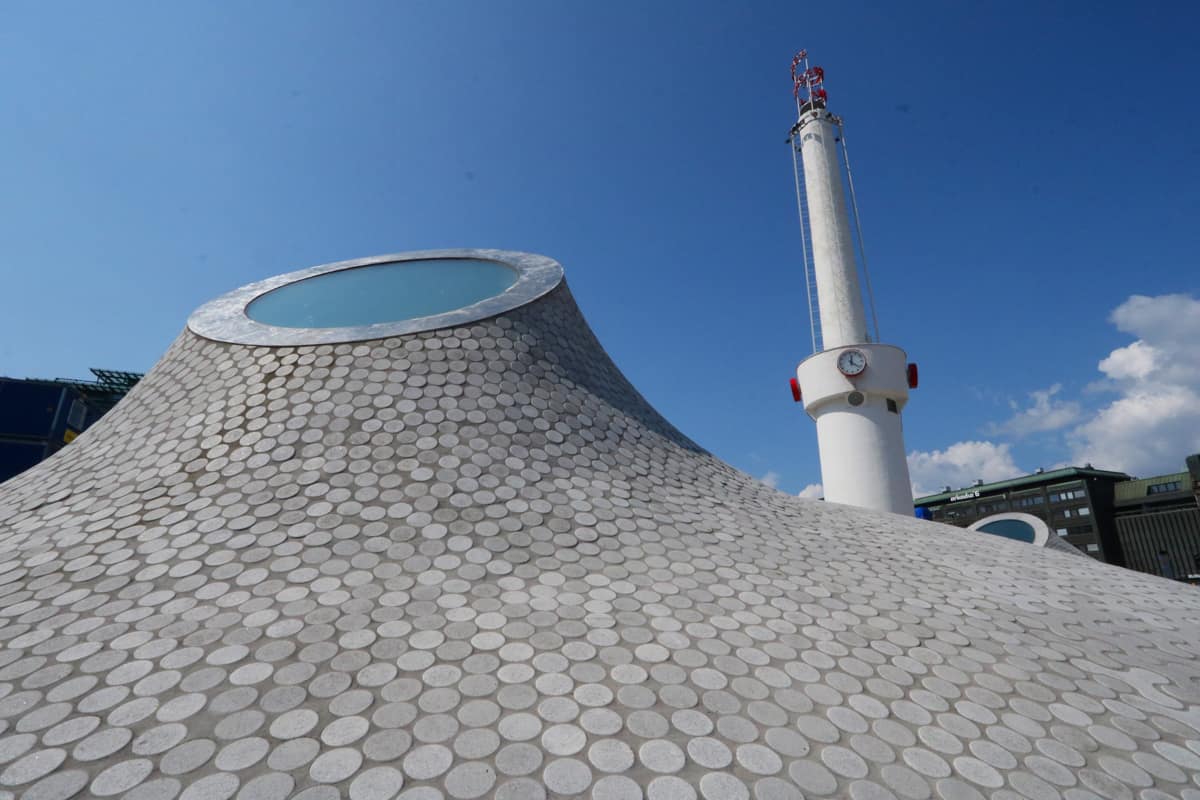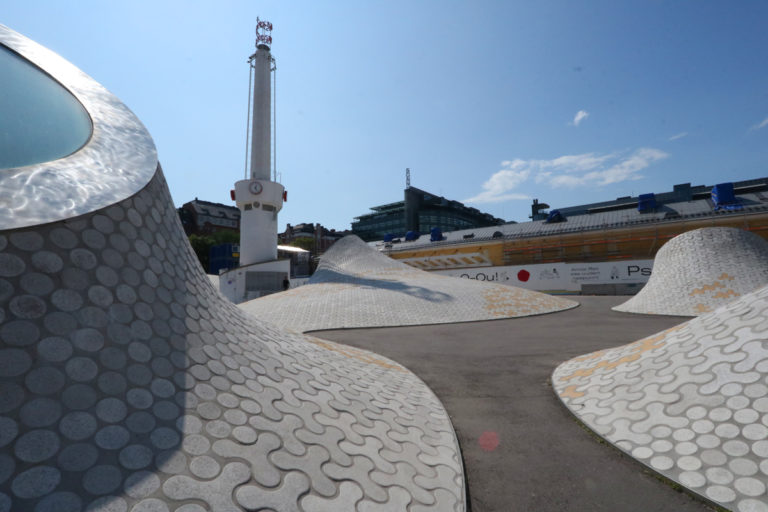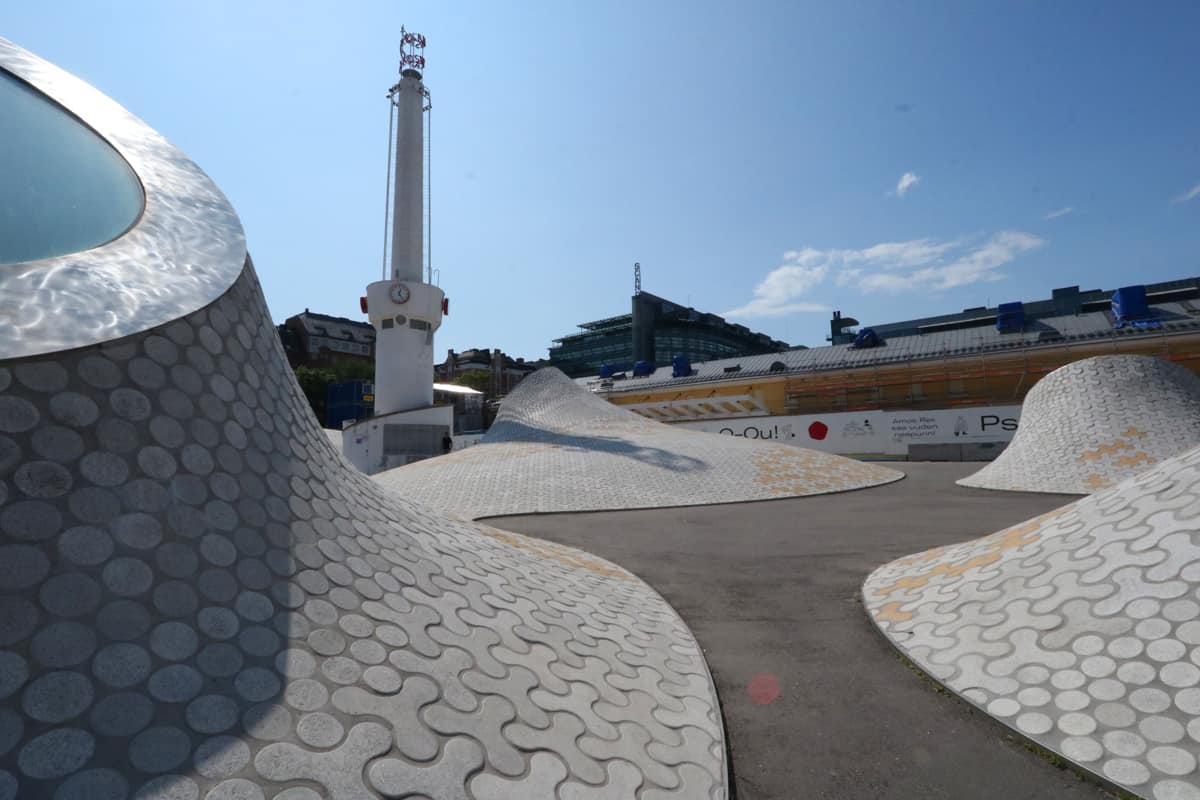 ---
---
Mannerheim Statue
Walking up the street you'll arrive at the Mannerheim Statue. Baron Carl Gustav Emil Mannerheim (1867–1951) was a political and military leader, explorer, and general in the Russian Imperial Army. He was President of Finland from 1944–46.
Next to the statue is the modernistic Museum of Contemporary Art Kiasma (ticket 20 Euros).
Finnish Parliament Building
Across the street from the Museum of Contemporary Art Kiasma is the huge Finnish Parliament building. Completed in 1931, it has 14 Corinthian columns and 46 steps leading up to the main entrance.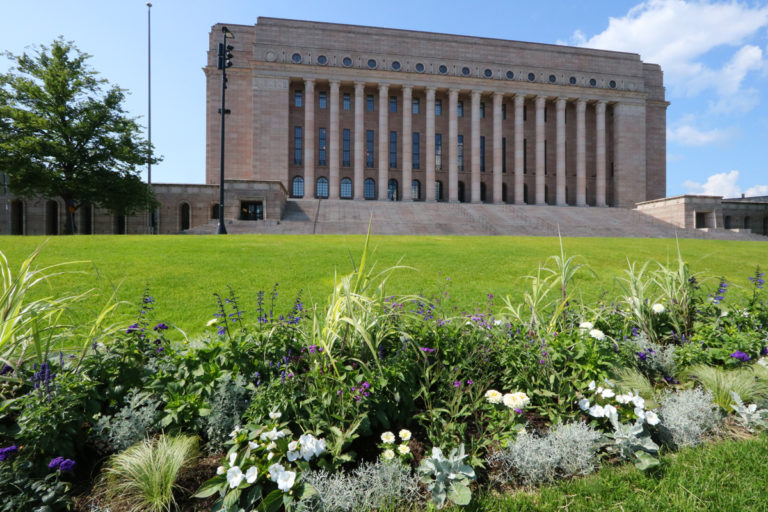 Helsinki Music Center
This is the main venue in Helsinki for classical music concerts. Made in glass sections, including the roof.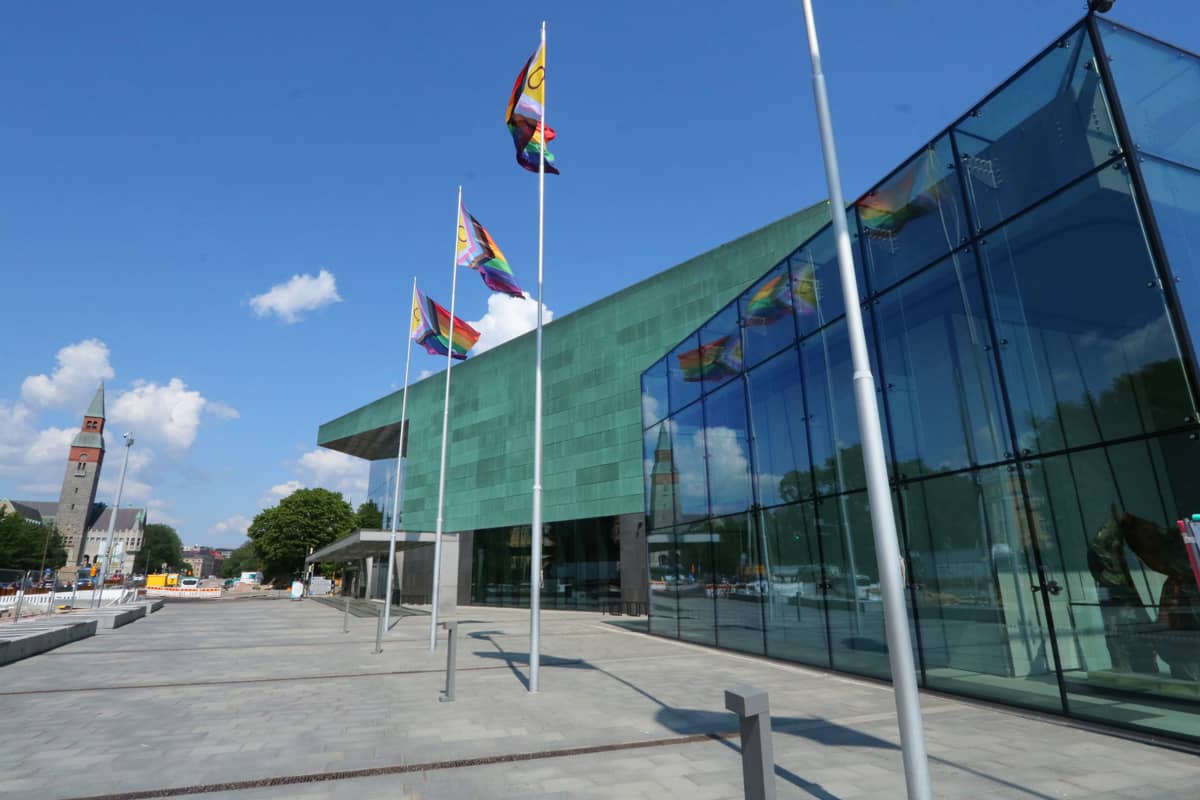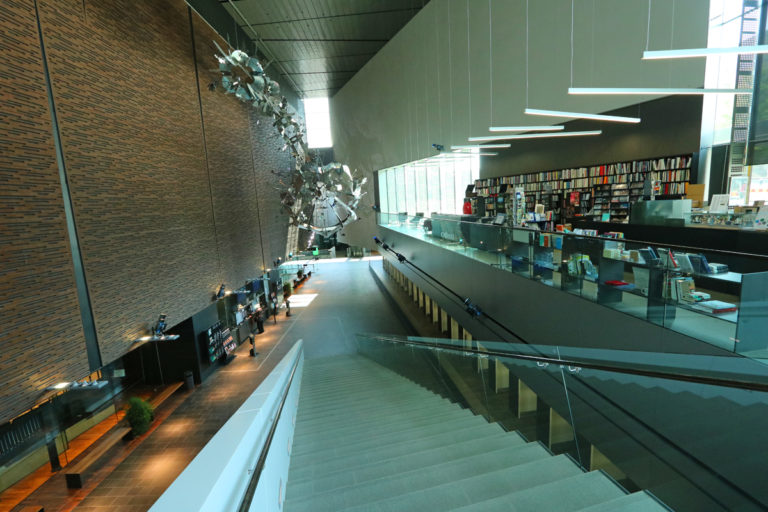 ---
---
Helsinki Central Library Oodi
Another modern building is this state-of-the-art library. The architecture in this part of Helsinki is very impressive.
National Museum of Finland
The building (built in 1916) looks like a Gothic Church. In front is a statue of a stone bear, a national symbol in Finland.
The museum covers Finnish history from prehistoric times to the present (ticket 16 Euros).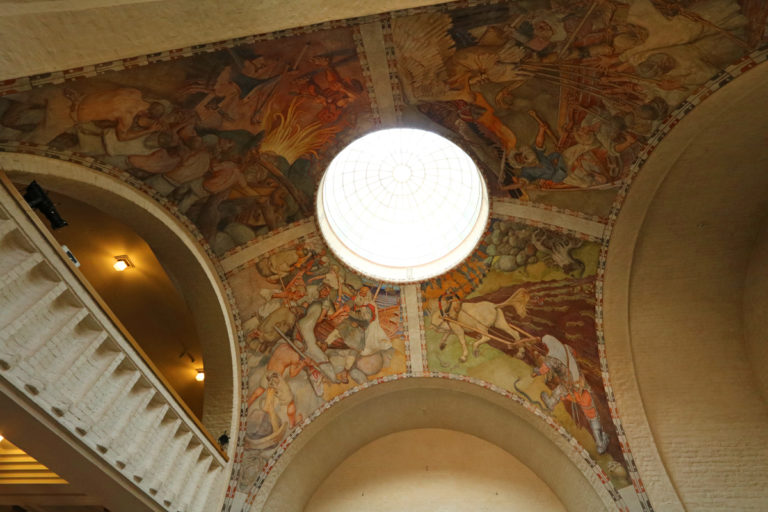 Temppeliaukion Church (Rock church)
An unusual church designed in the late 1960s, it is an underground church that was carved out of a huge block of granite (5 Euro entry fee).
---
---
After the Rock Church, we walked back south to the Kamppi neighbourhood and cut west on Bulevardi

, a pretty tree-lined boulevard featuring restaurants, cafes, and art galleries.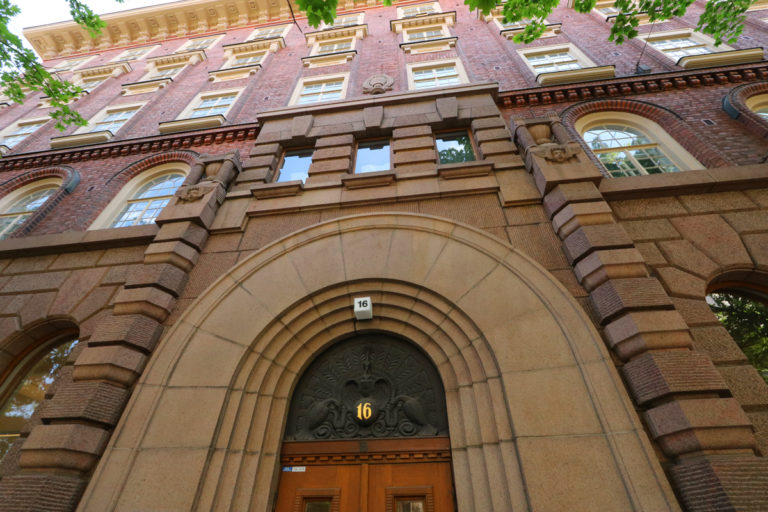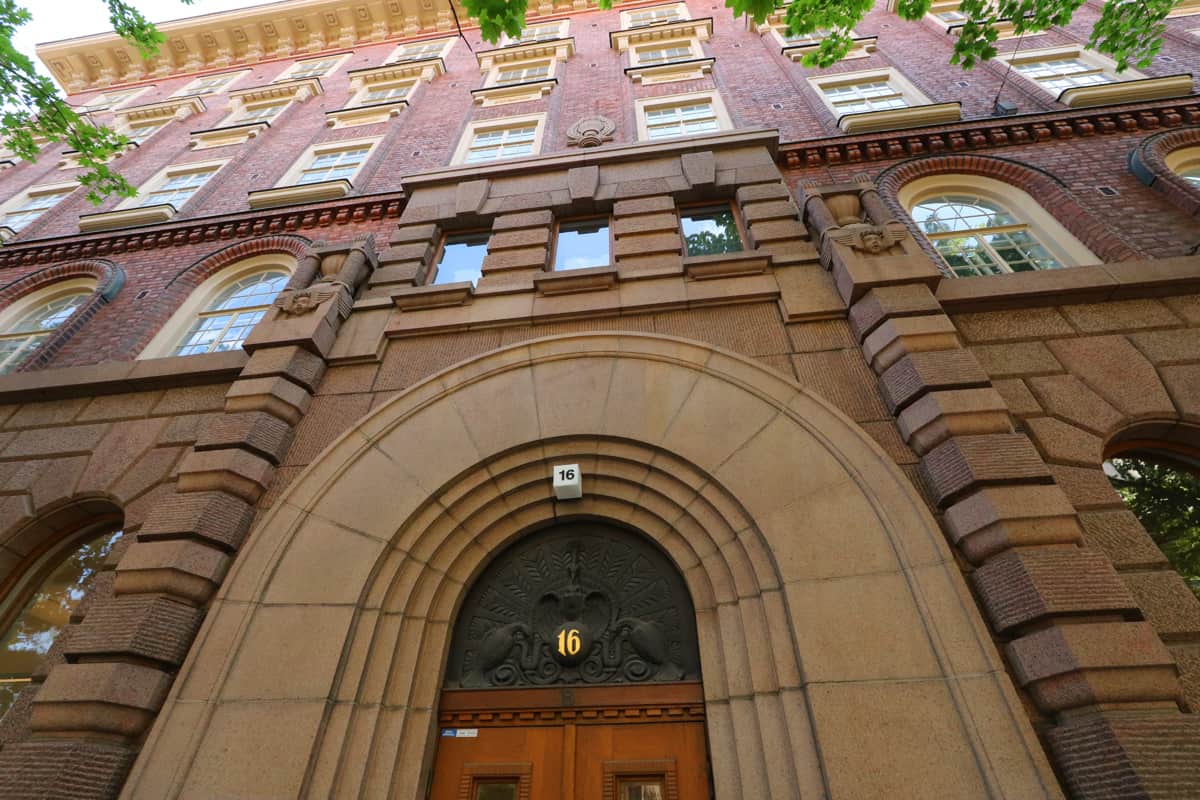 Esplanadi Park
Esplanadi Park is a very pretty, long park in the center of Helsinki. You're now close to where you started this walk (Senate Square is just a few blocks up). But if you continue through the park (which is a very popular place for locals on their lunch break) you'll get the Market Square and the South harbour.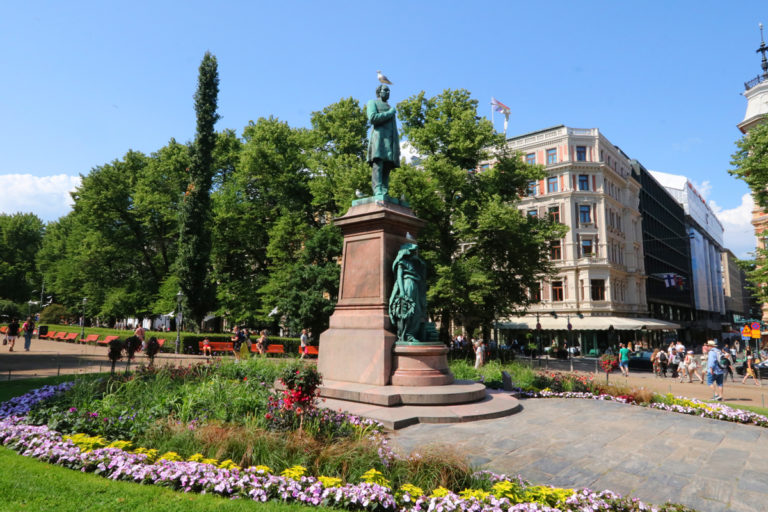 ---
---
Market Square
This large open-air market is a tourist favourite with lots of stalls selling vegetables and tourist souvenirs. The Market Square is also the location of the famous Baltic Herring Market which takes place in October. Across the street you'll see the City Hall Building
(built in 1833 in Neoclassical style).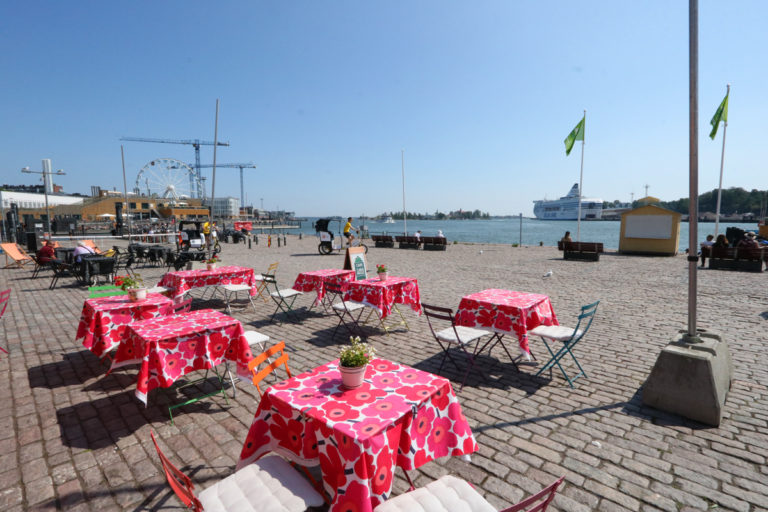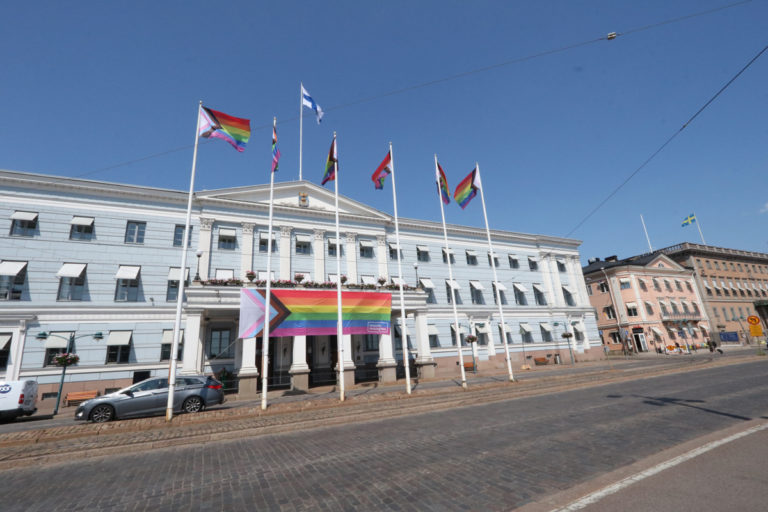 Uspenski Cathedral
The last highlight that we admired (from a distance) was Uspenski Cathedral, an Orthodox cathedral built on a hill at the edge of the Old town (very close to Market Square). It is the 2nd of the two Cathedrals in town, the other being the Lutheran Helsinki Cathedral.
We had run out of time, the 7 hours we had planned in Helsinki had gone by much quicker than planned. We walked back to Senate Square, bought tram tickets, and took the #7 back to Helsinki West Harbour Terminal 2 (that's where the Tallink ferry departs from). That took 15 minutes. Then we were back on the ferry for that 2-hour ferry ride back to Tallinn.
That was our day in Helsinki. As I say, a pleasant city we would happily go back to given the chance.
Hopefully the next time we meet some tipsy Finns looking to share their life stories.