What's it like travelling full-time during the pandemic?
Most full-time travellers have stopped travelling during the pandemic, most opting go "home" or to settle someplace on a long-term visa (as we have).
An exception to that are our blogger friends Ying & Brad from The Jolly Hobos. Originally from Australia , they started travelling full-time in September of 2019 (unfortunate timing!). They're the only people we know who've stuck to their full-time travel lifestyle during the pandemic.
The pandemic has created a whole new set of complications surrounding travel. We know from their blog that it has also made for some really interesting experiences. We ask them about all that in this post.
Thanks for doing this interview. First off, where were you both when the pandemic hit last year? What were your options and what made you decide to continue travelling?
We were in San Miguel de Allende, Mexico when the pandemic first started to hit the news last year. By the end of February 2020 when we finished our stay in San Miguel and were ready to move on to our next destination – Seville Spain. At that stage the pandemic in Spain didn't seem to be of great concern with only a small number of reported cases.
As optimists, we didn't consider changing our plan back then at all and were hoping the pandemic would go away in a couple of months (weren't we naive back then!?). At that stage we were also locked in with flight and Airbnb reservations and would lose full payments if we changed our course.
Over time as things worsened and borders tightened we did sometimes think of going back to Australia which seemed like such a safe haven compared to what was unfolding in Europe and the US. We never followed through with that for a number of reasons such as the difficulty of getting back to the country with minimal flights operating, then the mandatory quarantine (no choice of where you stay), and then add the fact that you couldn't easily get out either would mean that our travels were suspended for 18 months or more. When you combine those points with the fact that we didn't actually have a `home' to come back to and would need short term stays, we simply decided to just keep doing what we were doing.
Because of the pandemic, have you been stuck anywhere where you didn't want to be?
The original plan had us spend about a month in Seville and then head off to Croatia for a few months. But, as we arrived in Seville the Covid cases started racking up quickly and before we knew it we were in lock down. We decided to get out and go to Croatia early, but all the flights were getting cancelled no sooner than we had booked them. So we bit the bullet and managed to get a flight to London. We arrived the day before the first national lockdowns started there.
We ended up spending 3 months in an apartment in a sleepy town south west of London with a nice forest to walk in and a Lidl supermarket. For three months running our Google maps told us that the highlight of our travel was Lidl – such was the extent of our 3 months!
We had tried to get to Croatia a few times while in London, but flights got cancelled, and we were even denied boarding one time when we thought we could get away.
After Croatia we were in Portugal and then onto Albania. Albania had been on the future visit list, but it was open, not a Schengen area and has Mediterranean climate – so it ticked the boxes. After a week in Tirana and then a week road trip, we pretty much were stuck in the small seaside resort town of Sarande in winter for 2 months. It wasn't a bad place to be, but we certainly felt isolated and bored. In normal times, we could move on to other non-Schengen places such as Cyprus, but during the pandemic, those options were off the limit.
From our own experience, I know part of being a full-time traveller is working around Schengen rules and other countries entry and visa regulations. With Covid and all the increased complications of travel, how have you coped finding travel options? (ie finding places that will let you in). Please tell us about that and how you've managed despite it all to continue travelling.
It certainly has been hard since March 2020 when the whole world went into shutdown mode. We kept ourselves updated with travel restrictions/openings via a few official websites such as reopen-eu.
We had a number of criteria such as keeping travel distance as short as possible, complying with Schengen zone rules and avoiding cold places as the northern hemisphere headed into winter.
We would find a few candidate countries that allowed tourists in and then picked a final "winner" that was relatively safe in terms of Covid.
We also tried to enter and stay in one Covid safe country for a long term but that didn't work out despite our great effort. We applied for a 3 year resident visa in Taiwan – one of us got it very quickly and the other one couldn't due to the conflict of birthplace and Taiwan's politics.
One of the tricks that we have learned to help minimize flight cancellations is to be checking the destination airport's arrival web page. We found that if we saw that a flight we were considering booking was regularly landing at the destination airport then we had confidence we could book it. Of course that doesn't guarantee it won't be cancelled before you travel, but you can keep monitoring it closer to your departure date for a certain sense of comfort.
I know from your blog that you've had some serious travel misadventures getting on planes during the pandemic. Can you tell us about that?
Like most people that were travelling last year we had our fair share of cancelled flights to contend with, at least 6 of them off the top of the head. But the worst experience by far was actually being denied boarding at the gate when we were trying to get from London to Croatia. We managed to get tickets from Heathrow to Split via Frankfurt. We got to the airport and checked in ok explaining we were transiting Frankfurt to get to Croatia. Then we were at the gate and actually proceeding in the boarding queue when the Lufthansa crew said that we were not allowed to transit Frankfurt unless we were going to the place of our permanent residency. We argued about the fact that we don't have a permanent residency and that Croatia was to be our base for a few months. Needless to say, arguing with German rules is futile. Luckily we managed to get back to the same Airbnb (yes the one with the Lidl) and continued staying there.
We had a near miss as well, also trying to get to Croatia. It was the first direct flight that restarted from London to Split. At the check in we had to wait on the side for over an hour because the airport staff needed to confirm that Australians were allowed in!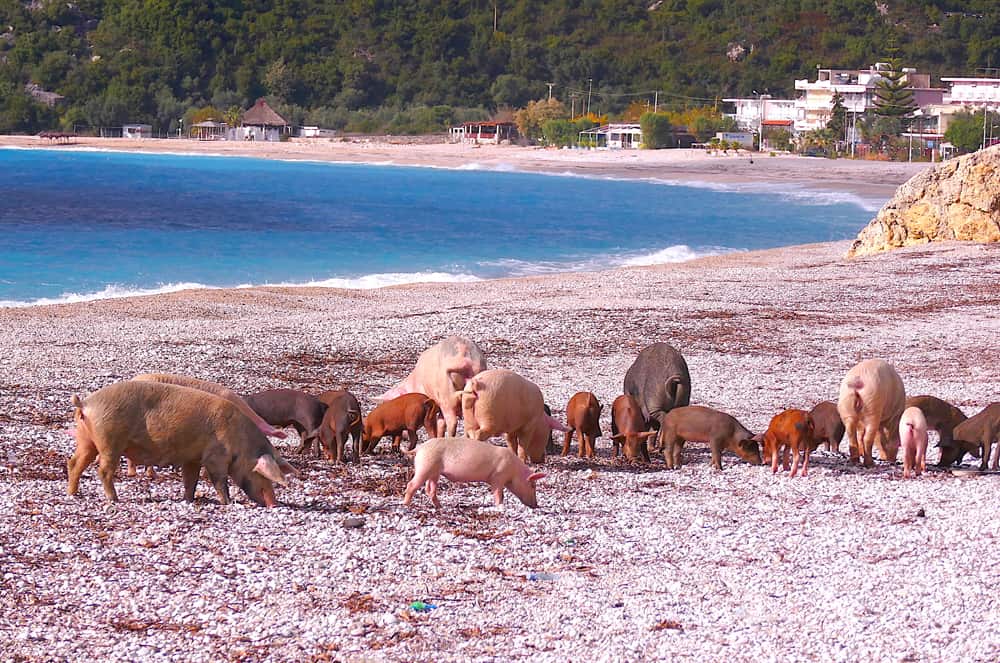 You've both gotten first hand views of different Covid protocols and behaviours in different countries you've visited during the pandemic. I remember reading a few examples of where you were shocked and surprised by what you were seeing. Can you tell us about that?
It's really interesting observing the behaviours of people in different countries, and even regions within countries.
The most shocking to us was the UK when we transited for our Portugal to Albania flights in late November when the UK was basically neck and neck with the US and Brazil in Covid cases per million population.
It all starts with the government's approach, for example we were allowed to transit with no issues (nice) but didn't even have anyone tell us what we could or couldn't do at the airport, no Covid test required, and not even a temperature check. We literally just walked out of Heathrow, went downstairs and jumped on the tube.
Then the people. On the hour long tube ride to get us to the Stansted Express in the middle of the worst part of the pandemic, at least 50% of passengers had no mask on, then half of those that did weren't wearing them properly. Even when we got to Stansted, we saw multiple airport staff walking around either without a mask or wearing it under their chins. No wonder it was spreading like wildfire!
Albania had no entry requirements or restrictions either, so we were very cautious there. It was pretty hit and miss depending on where you were, but in general masks were completely optional, including waiters at restaurants and the checkout staff at supermarkets. Social distancing was not a concept there at all. We tried to go shopping during the quiet siesta hours to avoid people climbing up our backs at checkout!
The most ludicrous was in Istanbul as we transited to the flight to Albania. There was no social distancing at the airport. It was very crowded and pushy people were everywhere. When we stood in the boarding queue, three women in their 20's kept getting closer to us with one of them coughing frequently. We kept moving sideways as we didn't want to get too close to the person in front of us, but those women kept on pushing. We also saw at two occasions two different guys pulled their mask down to sneeze and then put the mask back on! When it was time to board, we were herded onto busses to transfer out to the airplane. There were two buses for a full A300, so about 125 people per bus!
People in Portugal took mask-wearing more seriously. We never saw anyone in an indoor space not wearing a mask. We felt relatively comfortable and safe there.
The best so far has been here in Thailand. All airport staff were fully decked out in not only masks, but disposable plastic gowns and gloves. Our driver from the airport to the quarantine hotel had a very well made plastic shield between him and us and in the back, but he also wore a double face mask and plastic gown. All the staff at the hotel wear gowns, face shields, gloves, and shoe covers. This is all likely because they think we are contaminated 🙂 but we don't know what it's like out on the streets yet and how the average person is treating it.
How do you feel about it all? Do you feel you made the right decision to keep travelling (and not going back home)? Are you upset and disappointed by your travel experience over the last year? Has there been a silver lining?
We have had mixed feelings – sometimes we felt angry and frustrated that we couldn't just simply make a plan and go ahead with it without having to deal with the ever-changing restrictions and rules; sometimes we felt lucky to experience a place that is normally crowded but now is peaceful (such as Lisbon); sometimes we felt upset that we couldn't visit local cafes or bars hanging out with the locals and soaking up the atmosphere; most of the times we remind ourselves to feel grateful that we could still travel and keep ourselves safe.
Sure we wish we could have seen and done more during our first year of travel, but we also understand we did our best during these unusually uncertain times. We decided to take it as a challenge to improve our ability to be flexible and resourceful.
There certainly has been a silver lining. As so few people travel these days, we found fewer passengers on many flights, quicker airport check-in, quieter cities and towns everywhere we went. Often we were the only people on a hiking trail or at a beach in Albania. And we probably couldn't have enjoyed Lisbon that much during its normal busy times.
Since we arrived in Thailand, we have read from online forums that hotels and other tourist facilities here offer huge discounts and promotions to attract business. As tourists, we will certainly enjoy those deals and bargains.
All up we feel we made the right decision to continue our travels, and even if it happened all over again I think we would still make the same decision to keep going.
So what are your future plans? How long can you both keep this up?
We plan to continue travelling for as long as we feel we are enjoying it. As Covid vaccines start to be made available, we are hoping to get vaccinated at some point so that we can feel safe and our future travel destinations will be more welcoming.
We feel that we have only just got a tiny taste of full time travel and still have a very long list to cross off! We are excited about the future when things are back to normal.
At this stage we have absolutely no plans to settle anywhere permanently, so will continue life as the Jolly Hobos.
Thanks to Ying & Brad for doing this interview. Have a look at The Jolly Hobos website to read about their adventures!
Related: Where will YOU go when you can travel again?
Related: How to travel full-time? These full-time travelling couples tell all