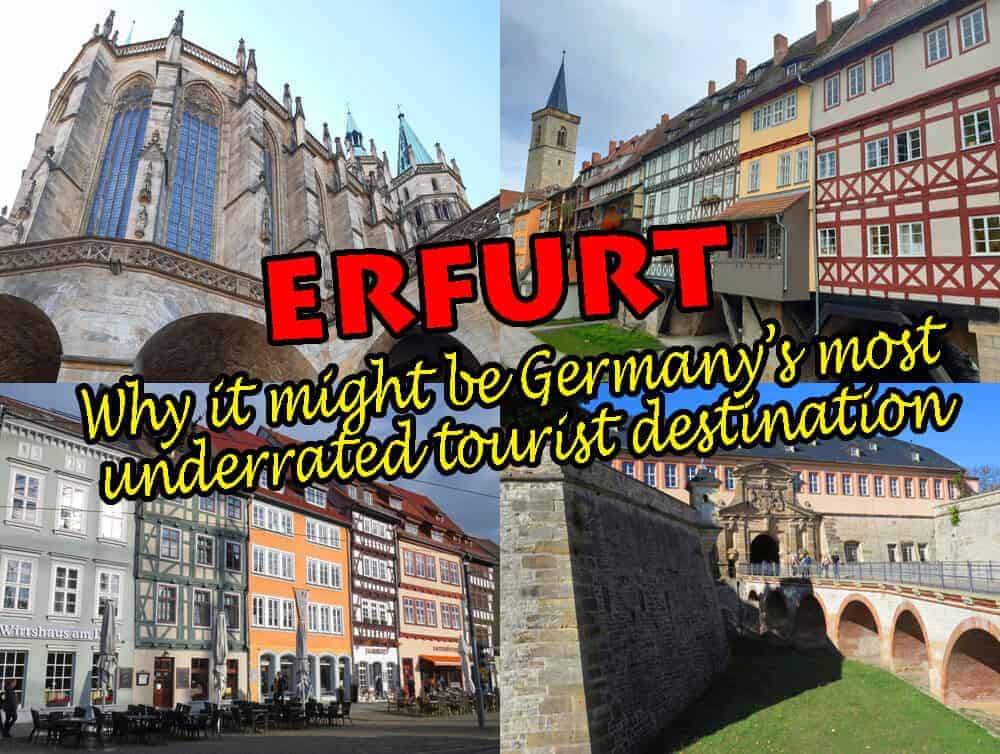 Why Erfurt might be Germany's most underrated tourist destination
I had never heard of Erfurt.
It was when planning our 2 week trip through the former East Germany that my mother mentioned Erfurt. I've mentioned previously that one of the reasons we were doing this trip is that my mom was thinking of maybe moving back to Germany (where she lived the first 19 years of her life). She had heard good things about Erfurt and thought we could go have a look.
Erfurt is the capital city of the Germany state of Thuringia. It was a wealthy town during the Middle Ages being in the center of East-West as well as North-South European trade routes. To this day it has one of the best preserved medieval centers in Germany primarily because it suffered very little damage in World War II. It's a very attractive city. We loved the canals running through the center – you'll see lots of little bridges including the famous Merchant's bridge (Krämerbrücke) which is covered by those half-timbered houses so typical of Germany. You'll see pretty squares, lots of greenery, a colossal Cathedral, and a large fortress on a hill overlooking the city.
Accommodation
Where to stay in Erfurt. Hotels: Markthof am Dom has a great location, modern comfortable rooms and has great value for the money. Hotel Domizil is located very close by, a boutique hotel that's just a little more upmarket. Apartment: Schottennester Schlafen an der Krämerbrücke is a really nice self-catering apartment right next to Merchant's Bridge.
---
---
Erfurt's Highlights
Krämerbrücke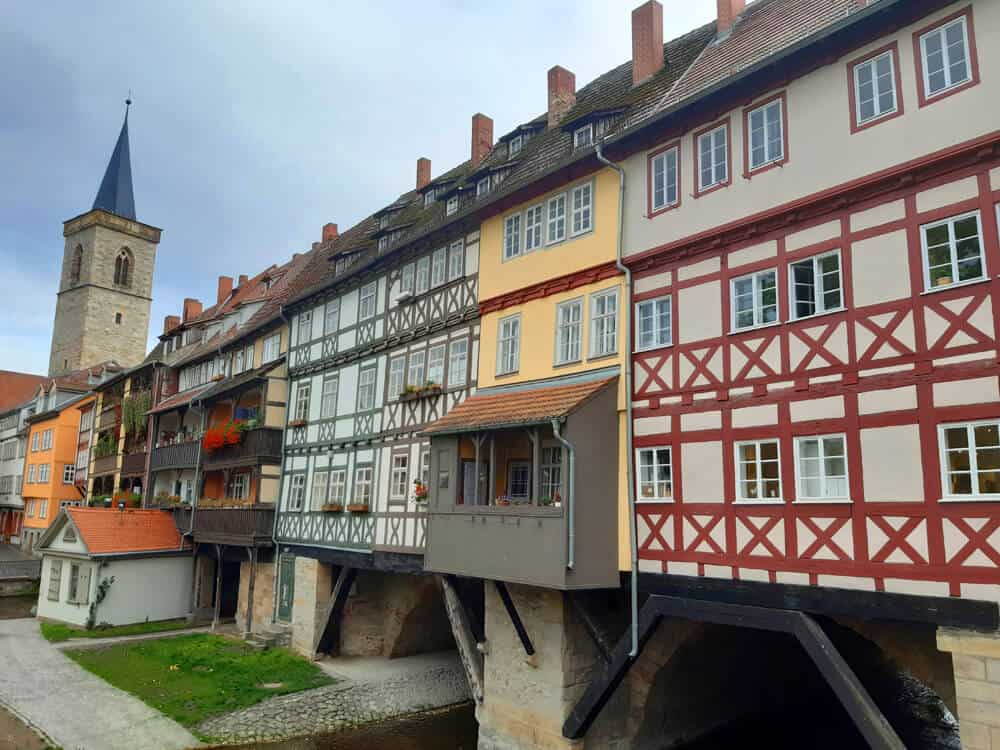 The Krämerbrücke (ie. Merchant's bridge). Built in 1325 over the Gera river, It's one of the few remaining bridges in the world that have inhabited buildings. It's been continuously inhabited for over 500 years, longer than any other bridge in Europe. Today the bridge has specialty shops, art galleries and cafés but it also has homes on the upper levels of the buildings.
Ägidienkirche
At the end of the Krämerbrücke is St Ägidien's Church (Ägidienkirche). Its bell tower can be climbed and has the best views in the city.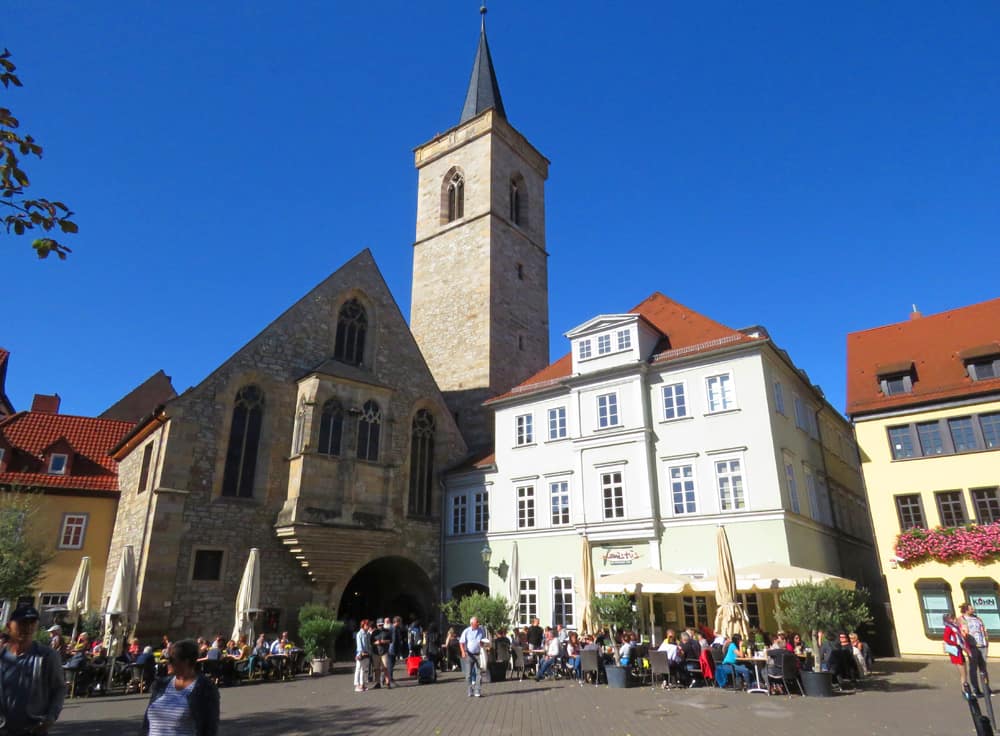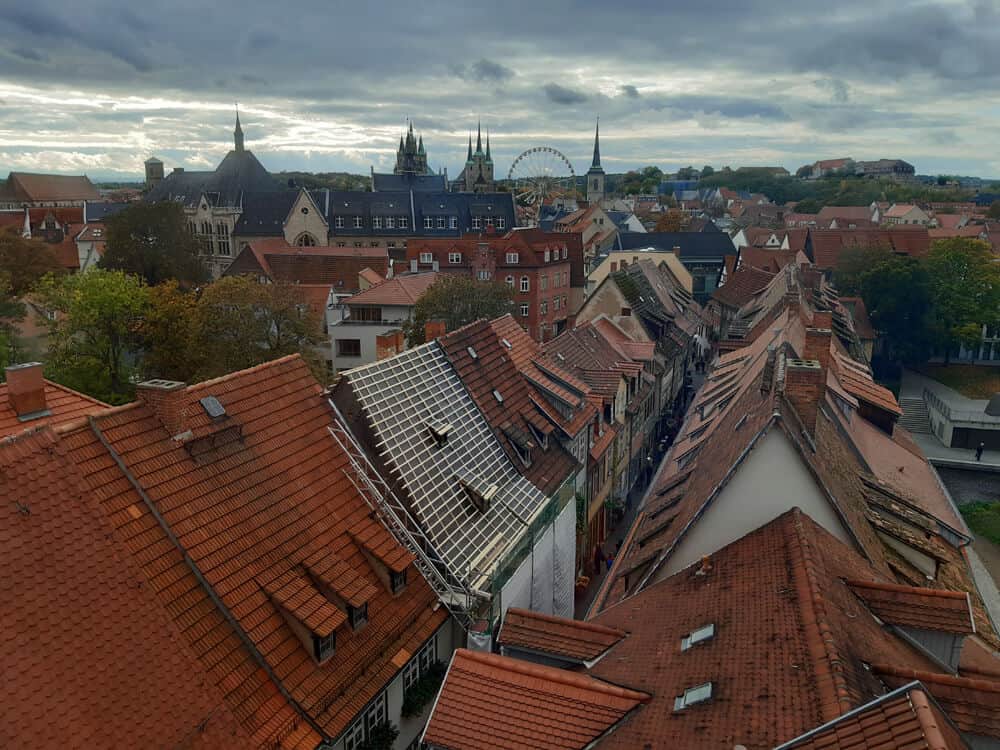 ---
---
---
Canals
Walking around this part of the city you'll see canals from different offshoots of the Gera river. It all contributes to making Erfurt a very green city.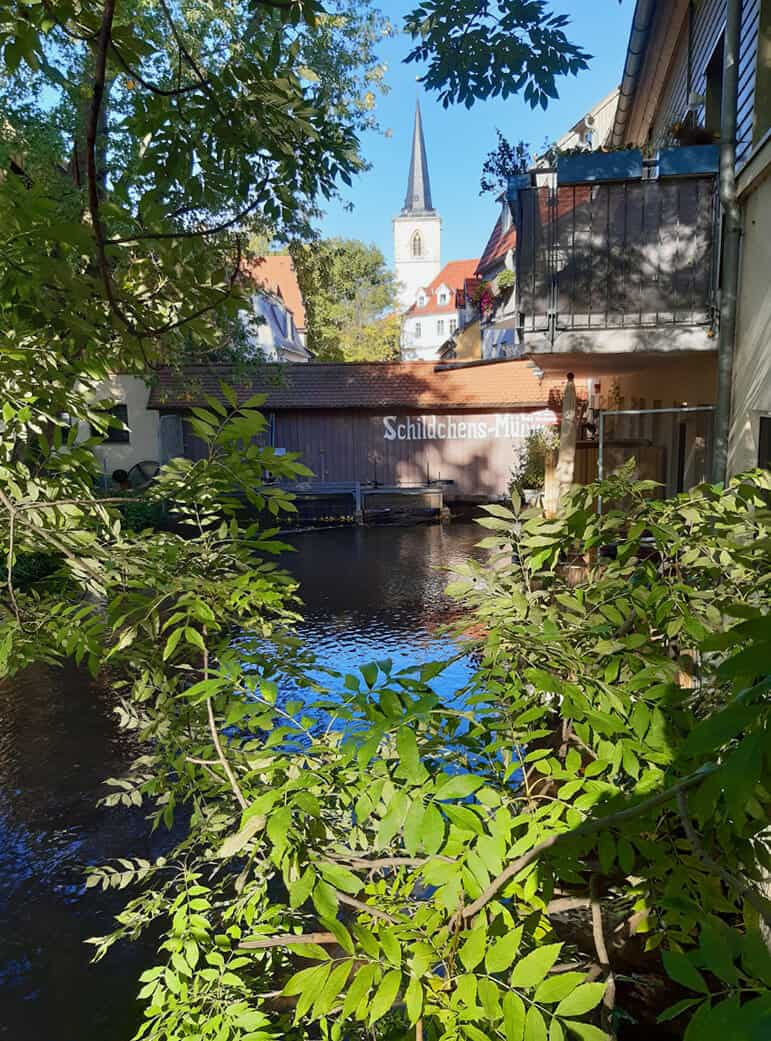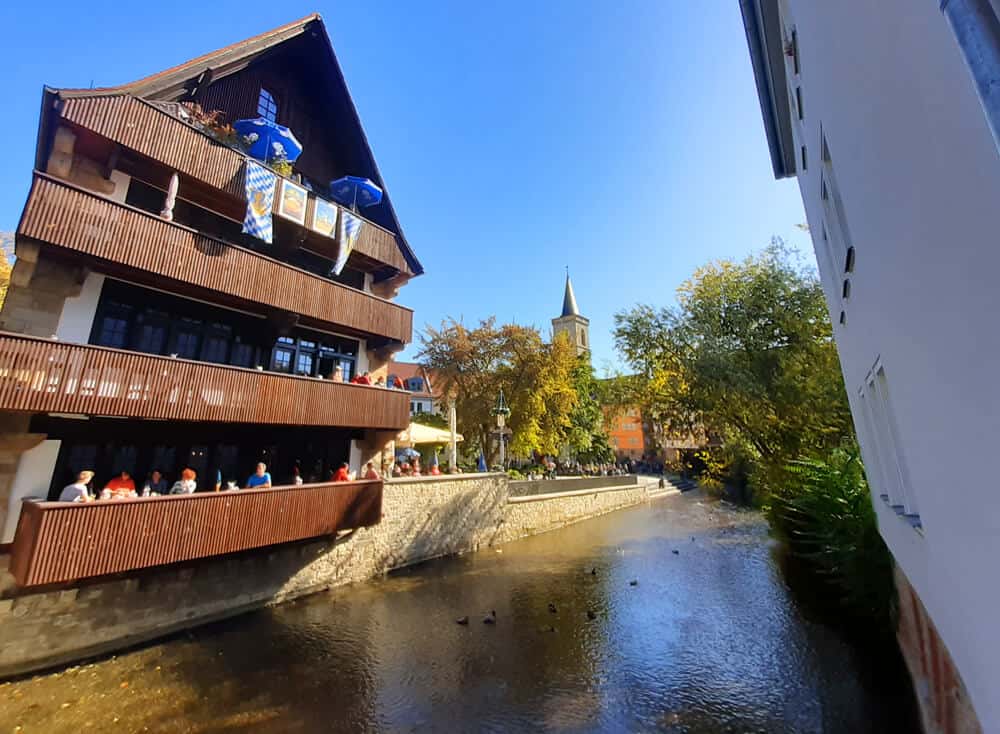 Fischmarkt square
Just a short walk away from the Krämerbrücke is Fischmarkt square which is the city's main square. You'll see the statue of Saint Martin, patron saint of Erfurt. Also on the square is the Rathous (town hall).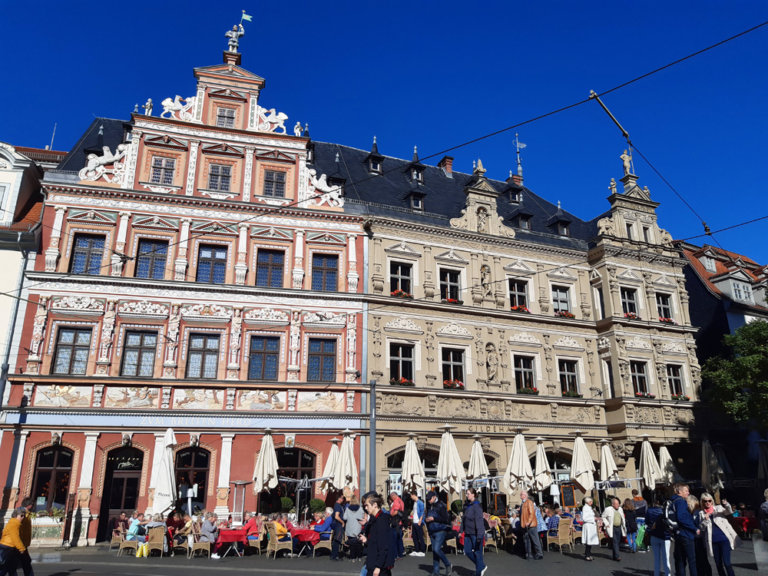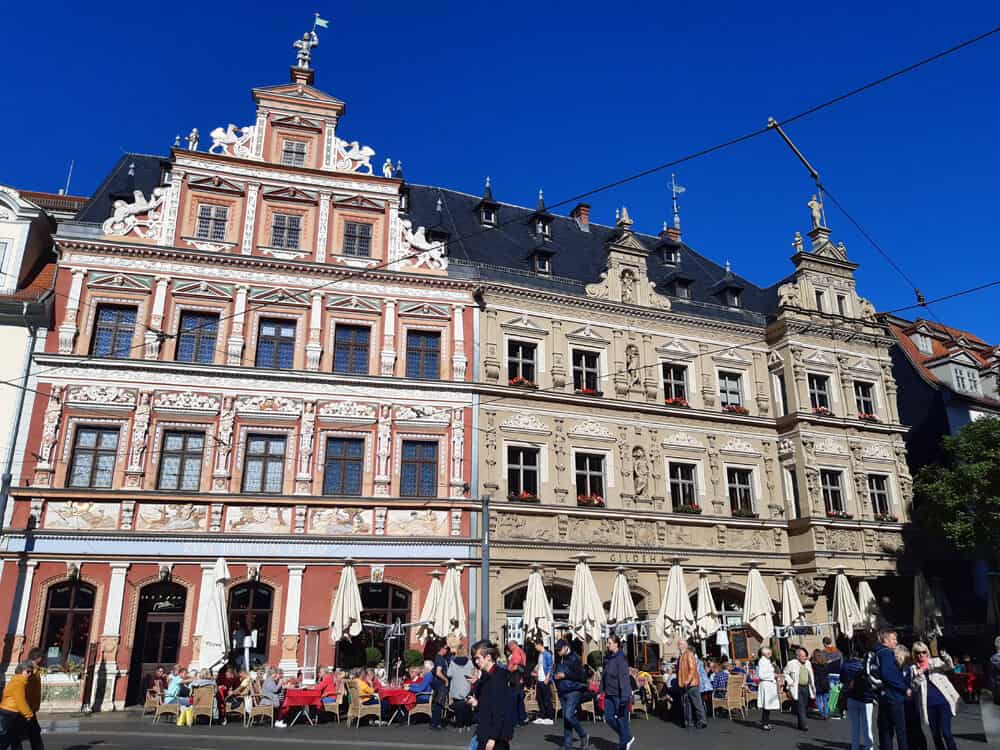 ---
---
Domplatz (Cathedral Square)
Walking from Fischmarkt square you get to Domplatz (Cathedral Square). It's a huge square overlooked by the colossal Erfurt Cathedral (dating from the 14th century). You have to walk up a large set of stairs to get to the Cathedral. The whole structure is supported by a massive fortress-like substructure known as the Kavaten (built in the late 13th century). Right next to the Cathedral is St. Severus church (12th century). The whole Cathedral/church structure is very impressive.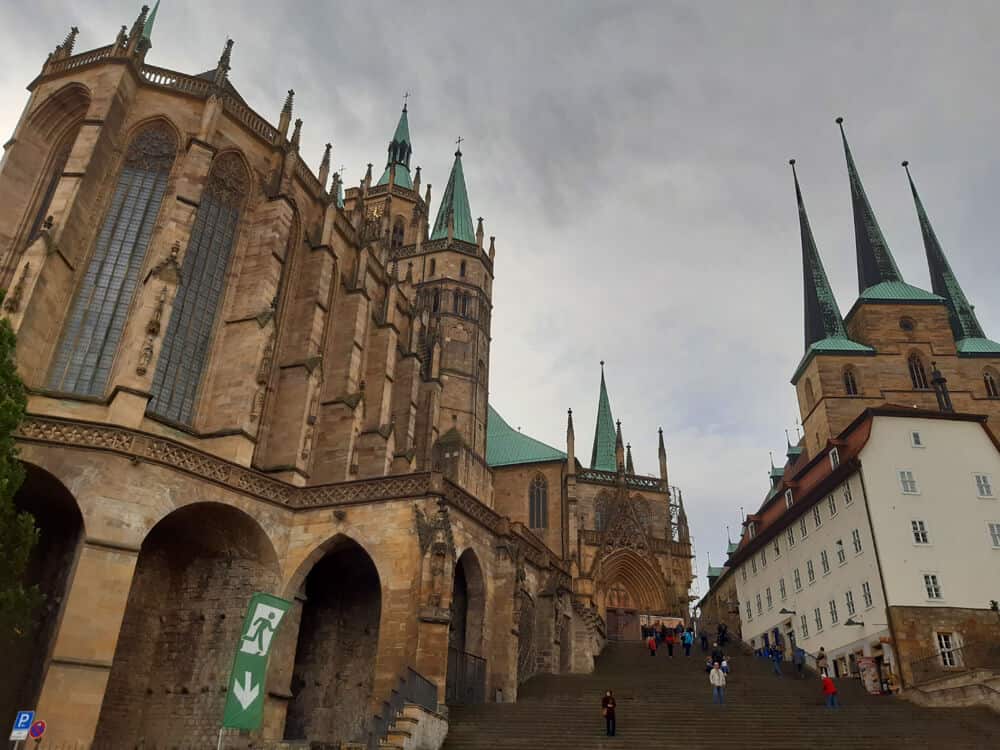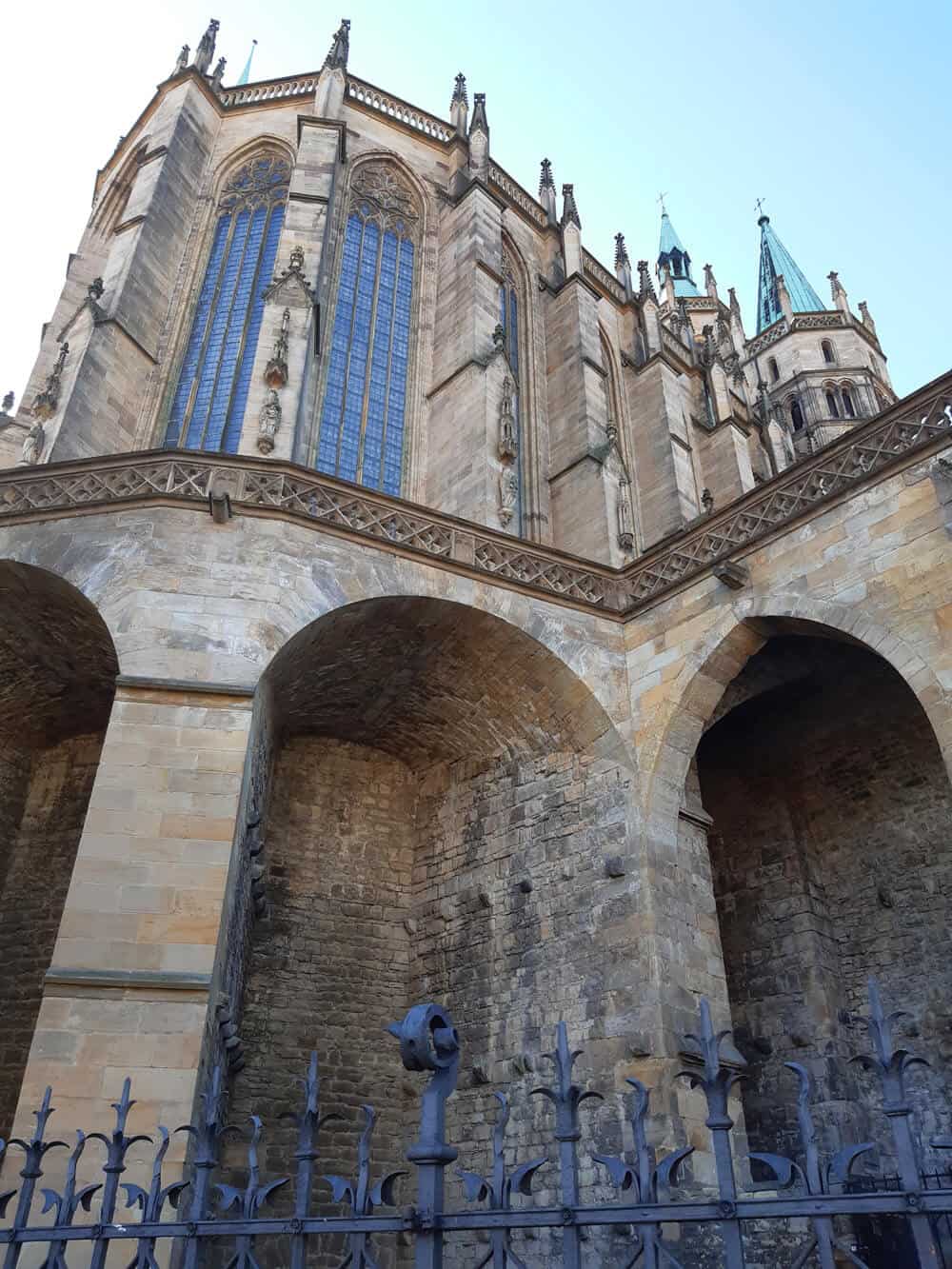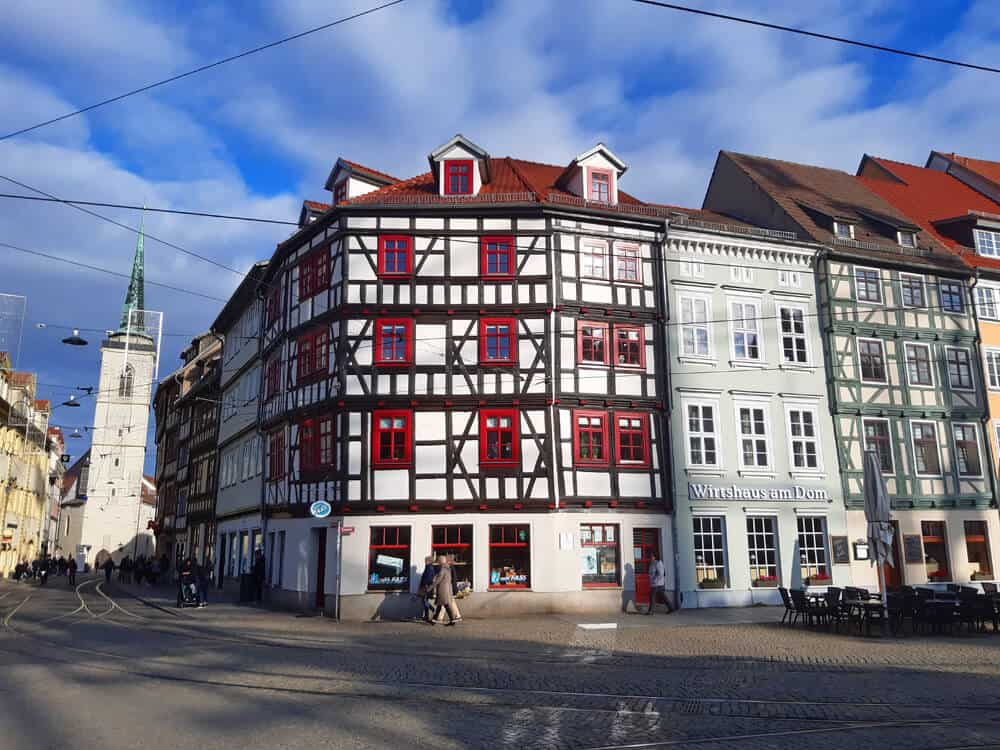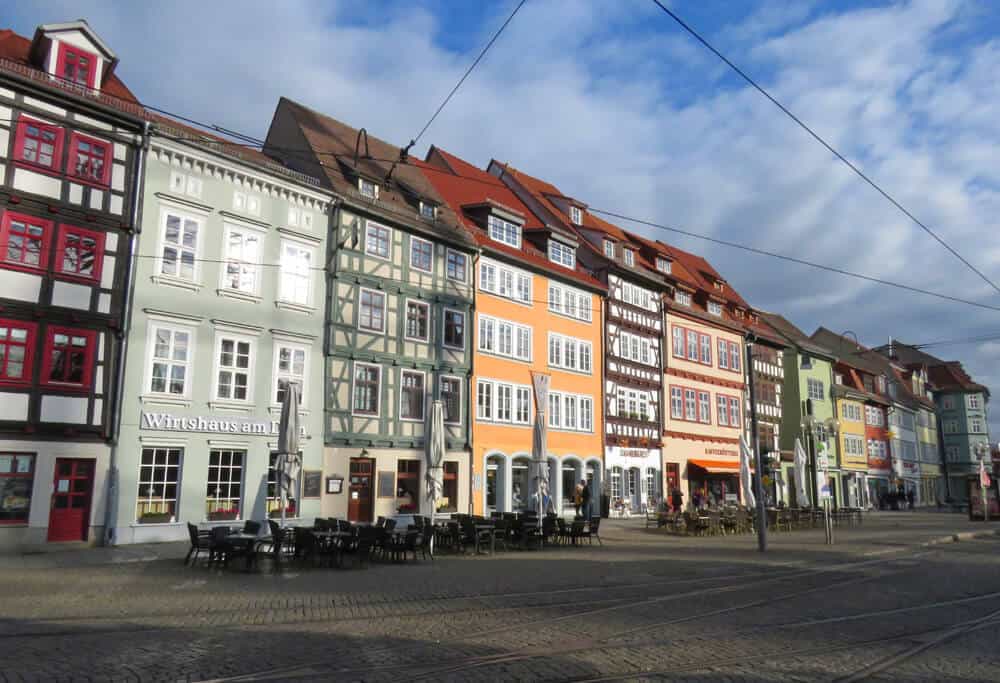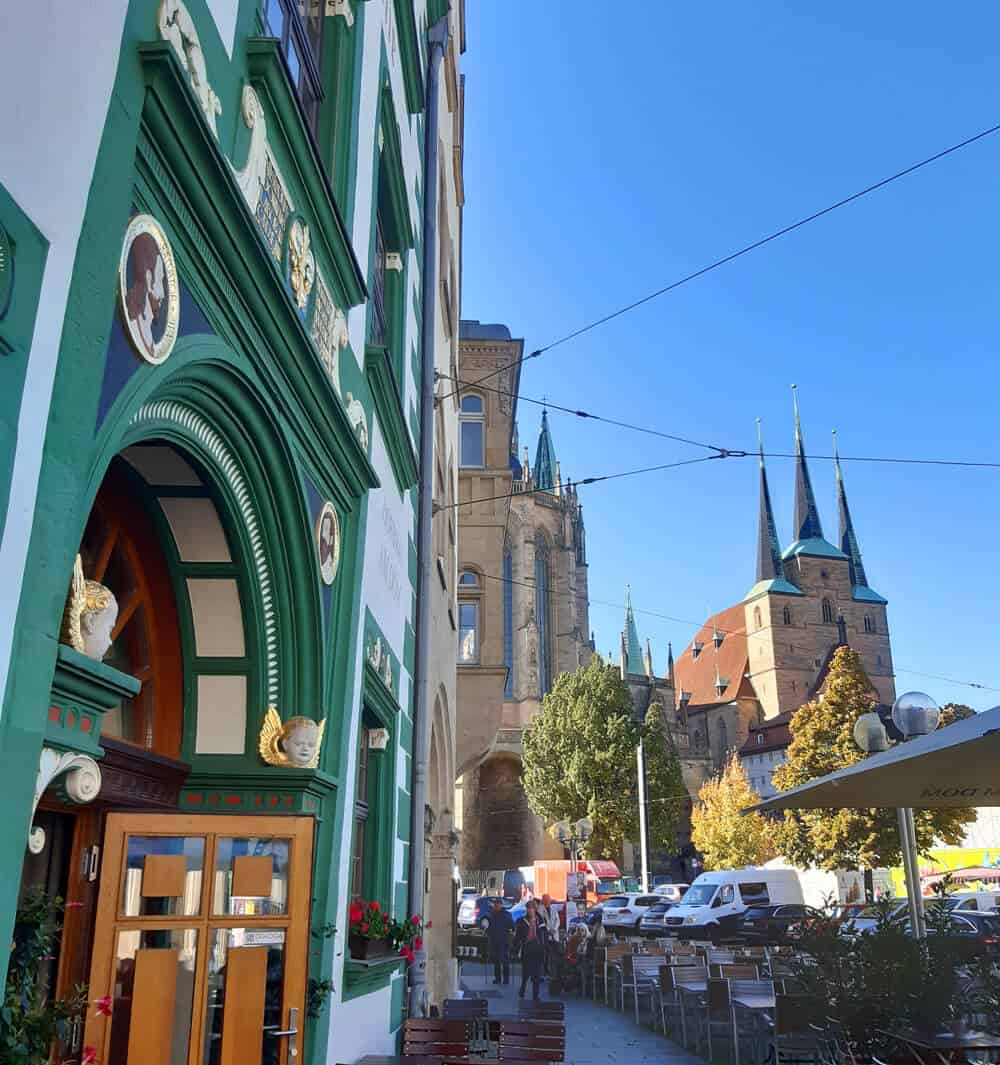 ---
---
Petersberg Citadel
Behind the Cathedral and St. Severus church rises a hill. Up top is Petersberg Citadel. While we were there the whole thing was under restoration. But ordinarily the Citadel is one of Erfurt's highlights. You can take a tour through a maze of underground tunnels and see St. Peter's Church. There are also some scenic viewpoints around the walls. But as I say, while we were there the whole place was a construction site.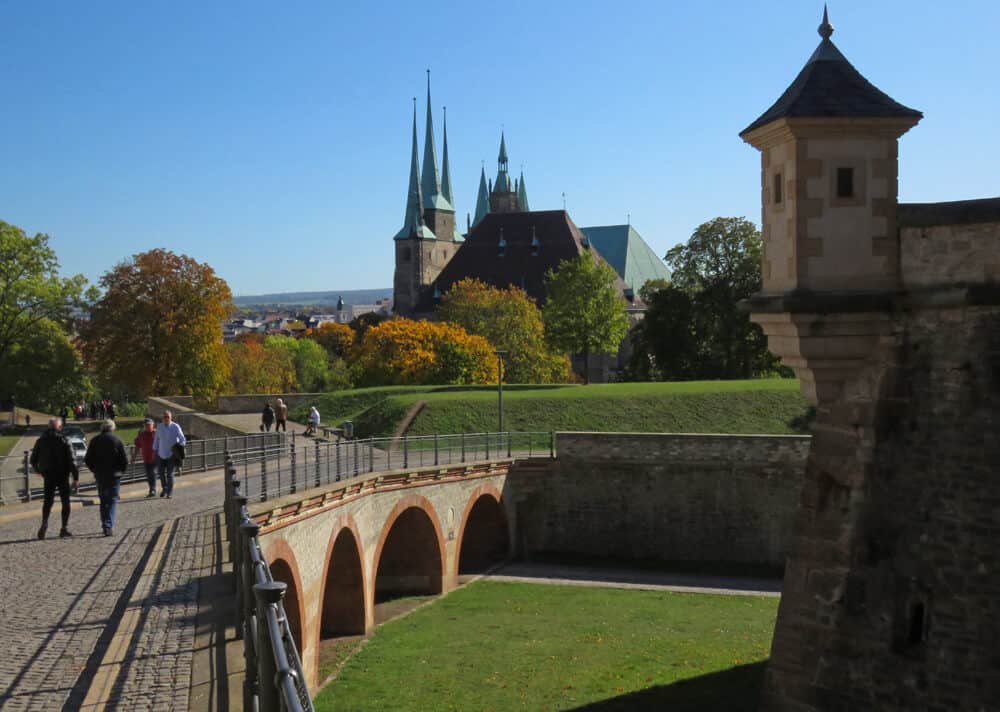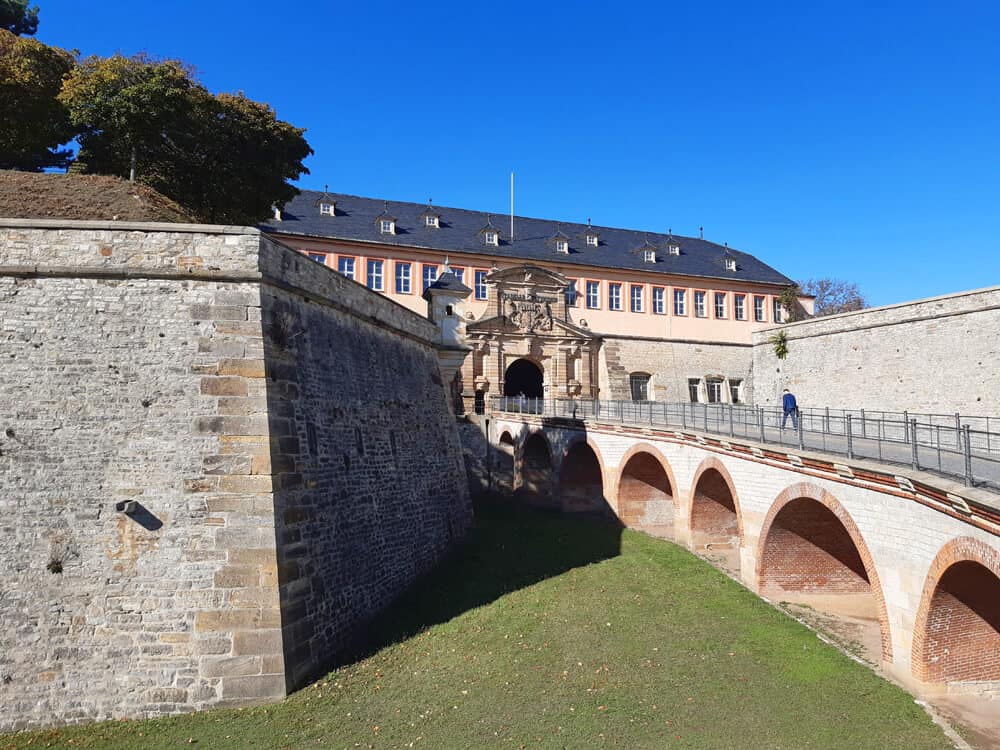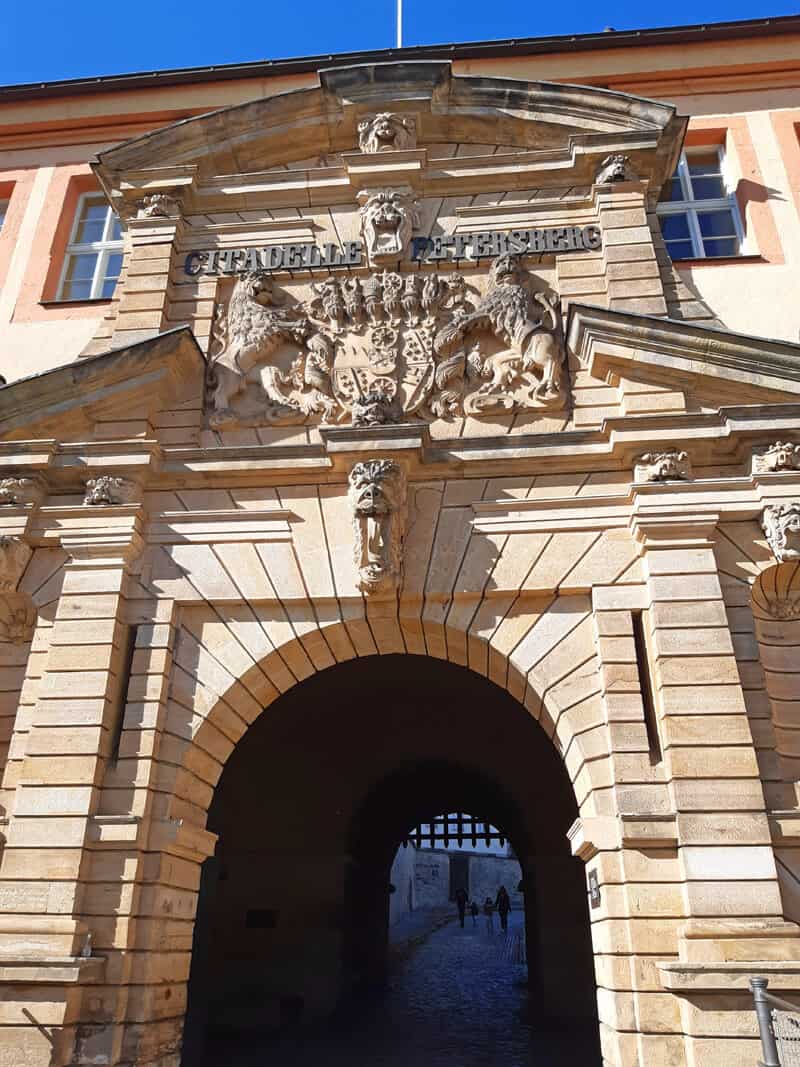 Some

other highlights
The Augustinian Monastery (Augustinerkloster) was founded in 1277 and is where Martin Luther became a monk in 1505.
Erfurt's Old Synagogue (Alte Synagogue) is known as the best preserved medieval synagogue in Europe. Most of the building was built between 1250 – 1320 but its oldest parts date from the 11th century. The Jewish community thrived in Erfurt until the pogrom of 1349. More on Erfurt's Jewish history.
The Angermuseum is a an art museum highlighting a large collection of paintings from German Expressionists.
Erfurt also has a large zoo which include African elephants, lions, giraffes, white rhinos, and some rare breeds of monkeys.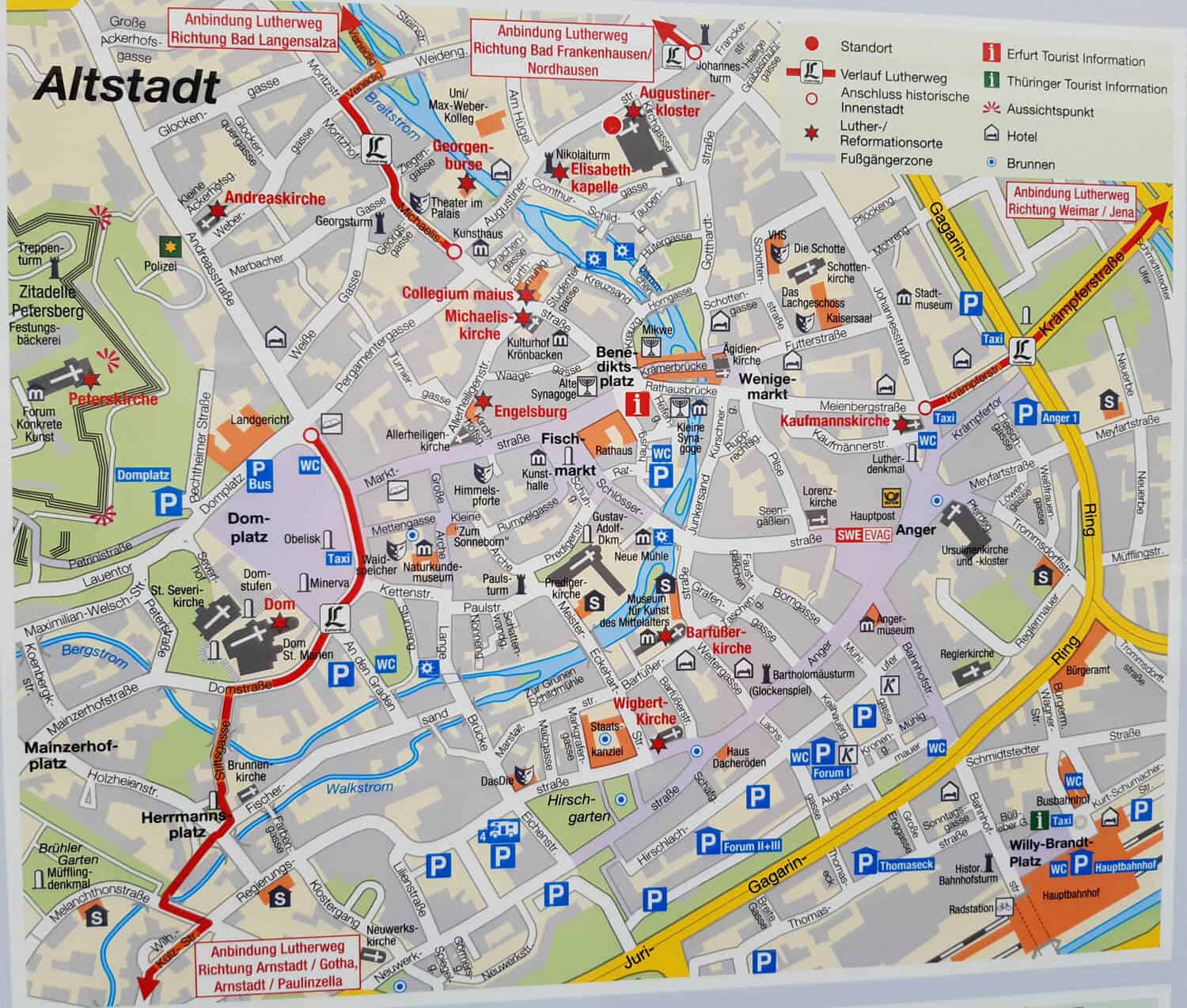 ---
---
The tourism office in Erfurt offers some interesting tours. The first is a 45 minute bus ride through the center. A great way to see the downtown core. Its historic tram is another option: it covers many of the main downtown highlights and also takes you to sites outside the center (like the university and the sports stadium). Note however that the tours are only done in German (mom speaks German, it's one of the reasons we did the tours). For English speakers, they offer the "iguide", an English-option audio guide of the center. To take any of these tours just go to the Tourist Information Center near the Krämerbrücke.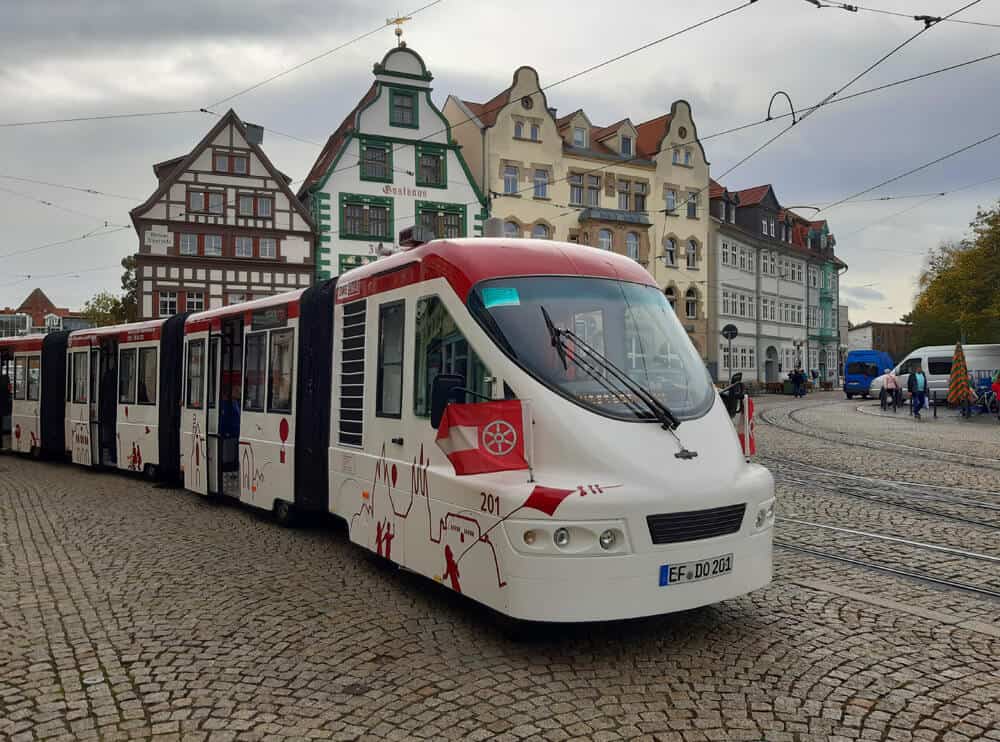 On Erfurt being tops on the "liveability" scale
Besides being a pretty, green city, we really liked how "liveable" Erfurt is. You can get cross the city center in about 15 minutes on foot. It has the conveniences and attractions of a large city but the charm of a smaller town. When my mom considered places that could be a possible home, Erfurt topped her list. Coburg and Weimar were towns (not cities) and while both are charming, they're a bit small. Dresden is a great city to visit as a tourist but not a place to "live". Leipzig is too busy. But Erfurt was just right.
Erfurt is also easy to reach from anywhere. If coming from Leipzig it'll take you 40 minutes on the Intercity Express (ICE) train. The same train will take you to Nuremberg in just over an hour.
Places to visit around Erfurt
I mentioned the town of Weimar. It's a UNESCO World Heritage Site known primarily for its cultural heritage (it's known as Germany's cultural capital). It was the home for some of Germany's best writers, composers, and was the birthplace of the Bauhaus movement. It's a 15 minute train ride from Erfurt and makes for an easy daytrip.
Eisenach. Besides being a pretty place with a well preserved Old Town, Eisenach is known for Wartburg Castle which sits on a hilltop outside of town (a 30 minute hike up the hill). It was the first German castle to be designated as a UNESCO World Heritage Site. Eisenach is about 90 minutes by train from Erfurt.
Leipzig is a 40 minute train ride from Erfurt by ICE train and is the largest international airport in the proximity to Erfurt.
Have you been to Erfurt?
---
---
Ps. If you find our blog helpful, please consider using our links to book your flights, hotels, tours, and car rentals. Have a look at our Travel Resources page.