Why you should Visit Regensburg
Regensgurg is one of the oldest towns in Germany and was once the capital of Bavaria.
The city amazed me. First of all, the Cathedral is stupendous. The French inspired gothic architecture, with it's spires and creepy gargoyles and other weird monster characters is spooky, especially in gloomy weather. The Cathedral towers over everything, casting a shadow over the old town.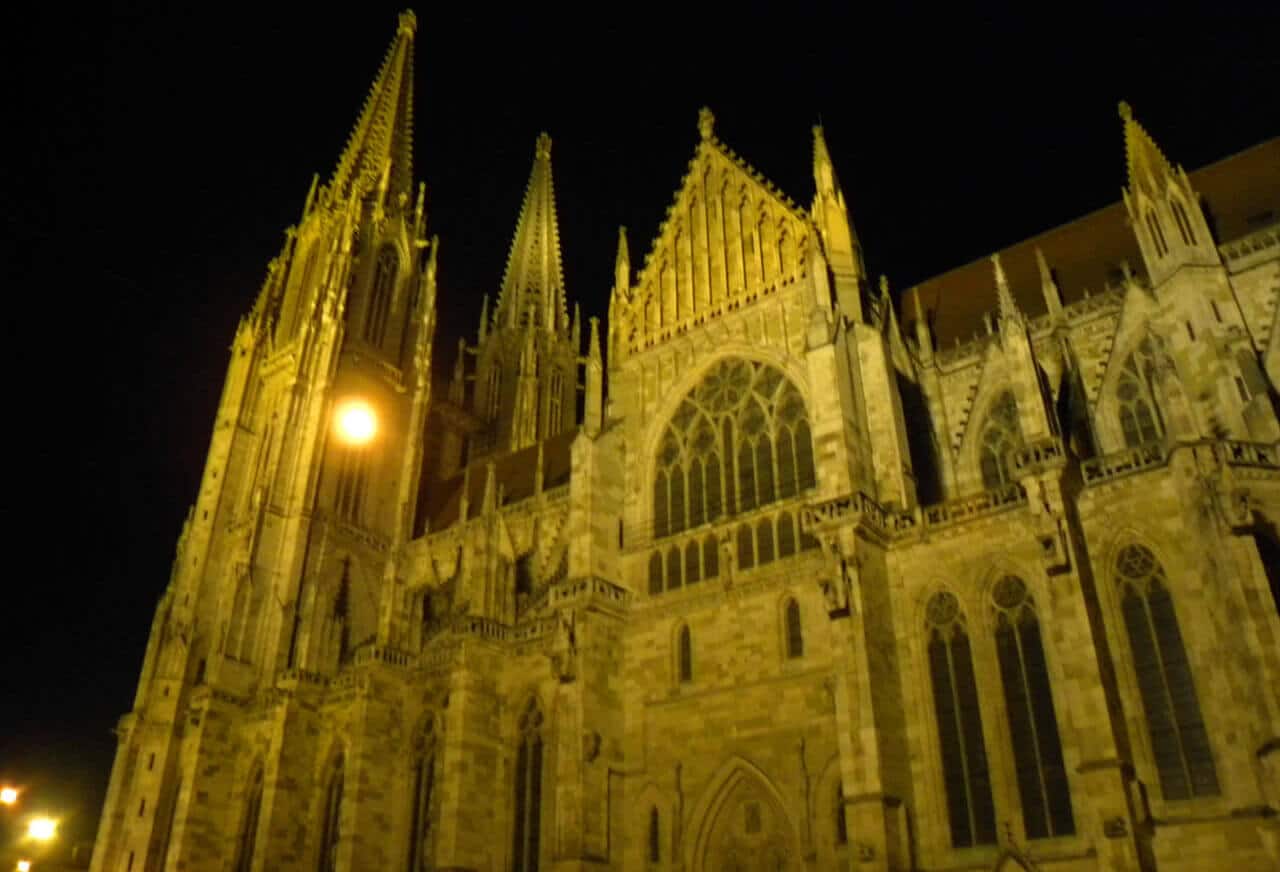 Regensburg; brief history and interesting facts;
-Romans built first fort here around 90 AD. In 179 AD they built the Roman fort Castra Regina (defensive base against Germanic tribes) during reign of Emperor Marcus Aurelius in what is today's old city. Some of the ruins are still standing.
-Between 1135-1146 the Steinerne Brücke (stone bridge), was built. This stone bridge opened major international trade routes between Northern Europe and Venice and started Regensburg's golden age. Regensburg became the cultural center of Southern Germany. The Knights of the 2nd and 3rd crusades crossed the bridge on the way to the Holy Land.
-Construction of the Dom (Cathedral) started 1275 and was completed in 1634 (except the spires which were finished in 1869). Best example of Gothic architecture in southern Germany.
-Many of Regensburg's churches were built between 12th-14th century (ie. Much older than Munich).
-Regensburg had very little damage from bombing in WWII
-Regensburg had large Jewish population. Oskar Schindler (April 28, 1908 – October 9, 1974) was credited was saving over 1200 Jewish lives during the war by hiding them in his factories. It's the basis for the film Shindler's List.
---
---

Regensburg is also famous for it's incredible stone bridge. It's impressive for: 1) it's history (the Crusaders crossed this bridge on their way to the holy land) and 2) the views over the old town and all it's colourful buildings. If you like taking photos then this view, either from the bridge or from the island in the middle of the Danube, is the best in Regensburg.
---
---
The town also has many more attractions. There are tons of cobble-stoned streets, each with unique old buildings, parks, squares, cafes, and beerhalls. The old city is surrounded by a park which circles to the river and crosses over to the island. There, you find bicycle paths and a beergarden that is the best place to be on a summer day (the Alte Linde). More great views from this spot.

Regensburg was the ideal spot to meet my mother for a few days. We walked a ton and drank lots of beer at the beer halls. Our favorite was the Augustiner. Great German ambiance, food, and beer.
There's not much English (on the surface) in Regensburg. All writing is in German, including on menus. But ask anyone "Sprechen sie English?" and they start talking to you in near perfect English. So language isn't an issue.
Below: A few more images from around Regensburg.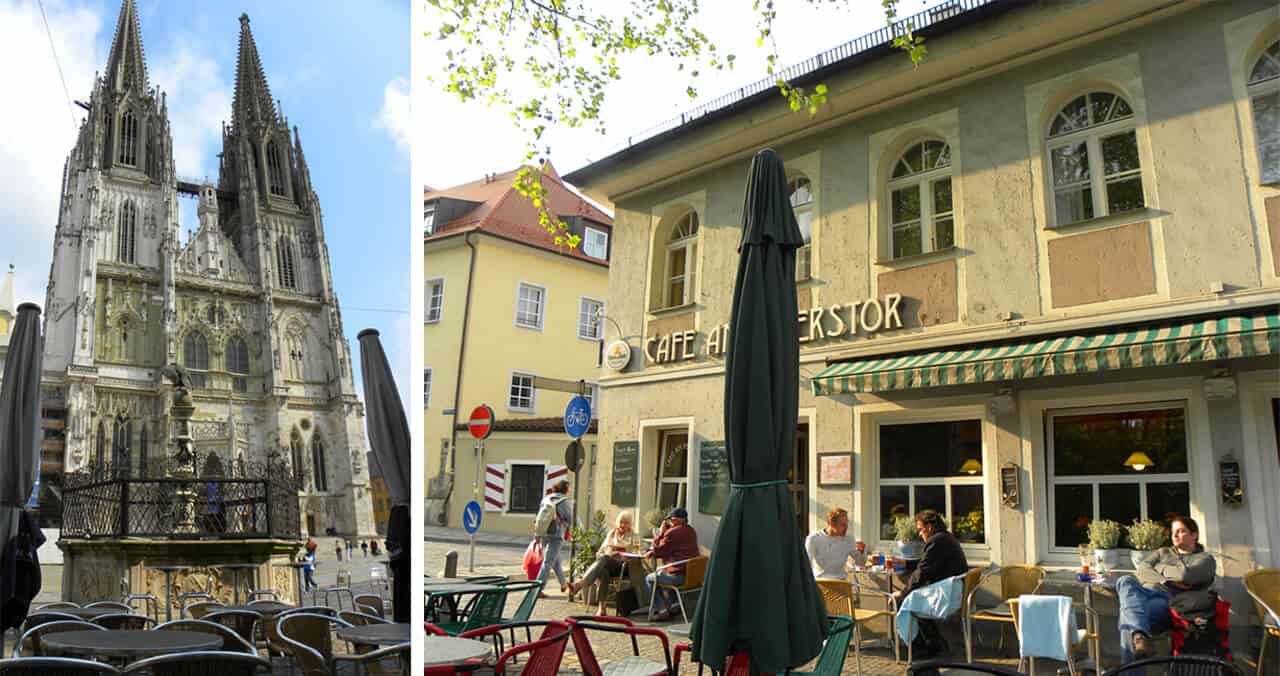 ---
---

Surprises. I've seen a lot of Germany and I never thought Regensburg would be a highlight. It was.
Accommodation: We stayed at apartments Ferienwohnungen Schmid. Excellent. A few other recommendations: Hotel Luis Stadl (spacious, right outside old town, great value), Hotel Orphée – Kleines Haus (gorgeous historical building in the center of the old town).
Practical information

Getting to Regensburg from Munich airport:
I flew Lefthansa Montreal-Munich, arriving at 5:30 am.
From the airport, take the 635 bus to the Bahnhof (train station) in Freising (takes about 15 min. Bus passes every 20 min).
In Freising you can take the train directly to Regensburg – takes one hour.
If you do it this way you'll save yourself at least 1 1/2 hr than if you would go to Munich and take the train from there.
Booking Flights. The nearest airport is Munich airport (code: MUC).
Have you been to Regensburg?
---
---

Ps. If you find our blog helpful, please consider using our links to book your flights, hotels, tours, and car rentals. Have a look at our Travel Resources page.