5 great places to visit in Germany (that few people know about)
Germany is one of our favorite countries. I'm lucky – my mother is German and over the years I've travelled Germany with her and discovered a few German towns and cities that most people wouldn't think to visit. Lissette and I also have a few favorite towns from our own travels, in fact I actually proposed to Lissette in Germany back in 2009 (in the most romantic German town we've come across. I tell you where that is below).
This post covers 5 great – and little known – towns and cities to visit in Germany.
I'm counting down to our favorite.
---
# 5. Erfurt
Erfurt is the capital of the German state of Thuringia and the largest city on this list with a population slightly above 200,000. It is a very pretty, very scenic city with a well preserved medieval center (Erfurt suffered very little damage in World War II) where you'll find a colossal Cathedral (Erfurt Cathedral) and large fortress (Petersberg Citadel) in addition to lots of those half-timbered buildings so typical of Germany. We loved the canals running through the center – you'll see lots of little bridges including the famous Merchant's bridge (Krämerbrücke) which is the few remaining bridges in the world that have inhabited buildings (it has been continuously inhabited for over 500 years, longer than any other bridge in Europe). There are many highlights, including the Augustinian Monastery (where Martin Luther became a monk in 1505) and the Old Synagogue, the best preserved medieval synagogue in Europe.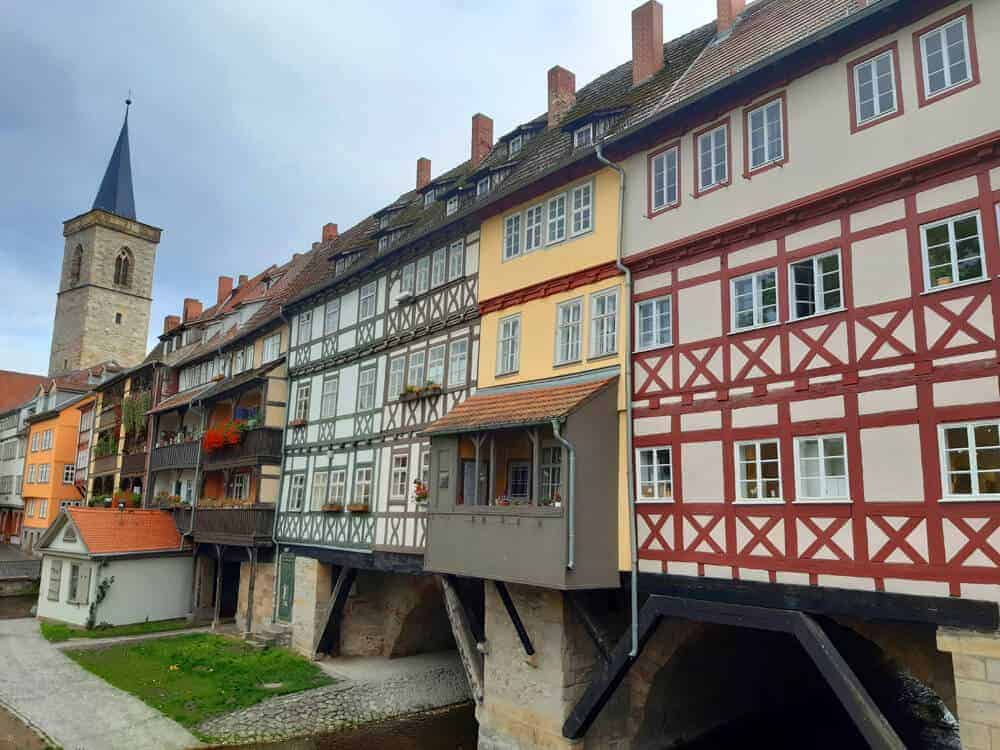 ---
---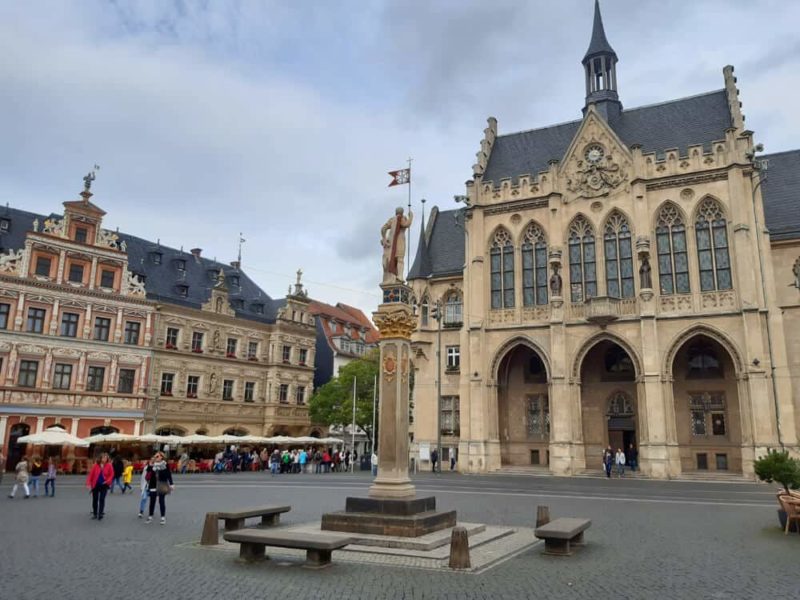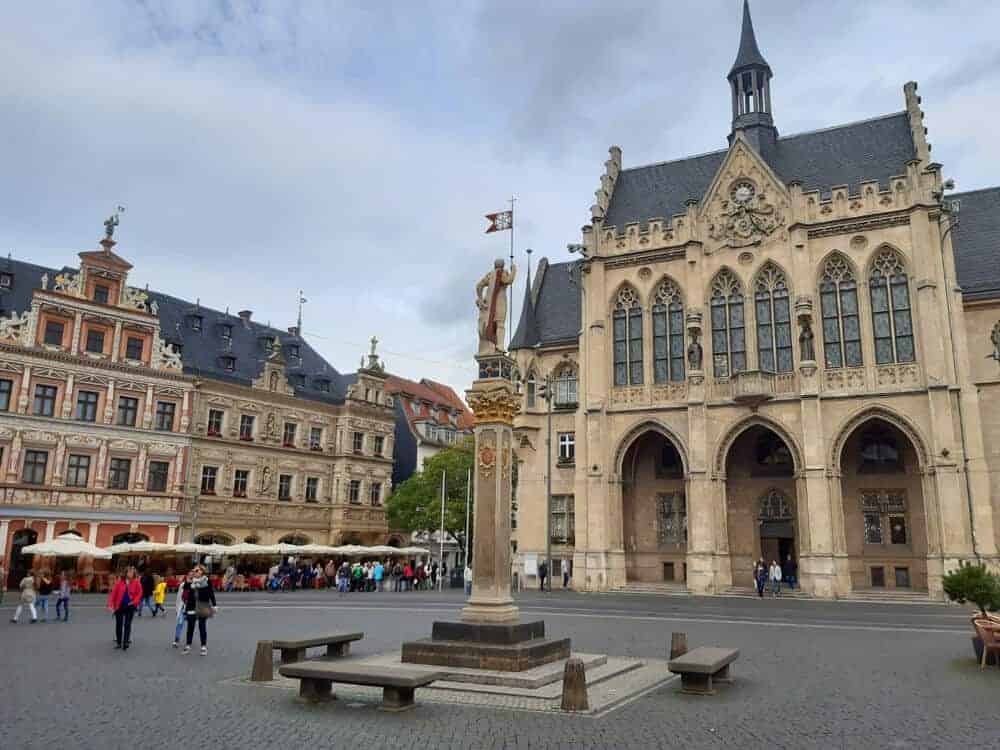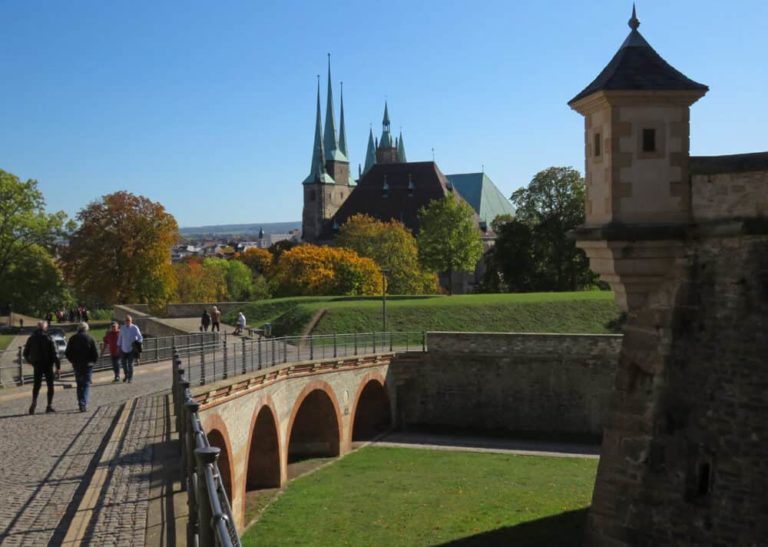 I actually think Erfurt might be the most underrated tourist destination in Germany.
A lot more about Erfurt and its highlights.
.
---
---
---
#4. Coburg
Coburg is a very small town located in the Upper Franconia region of Bavaria. Despite its size (a population of 42,000) it has a lot of history and attractions. Its castle, Veste Coburg (located on a hill outside town), is one of the largest castles in Germany. Ehrenburg Castle (its actually a palace and not a castle) is in the heart of the town and is where Prince Albert grew up (Prince Albert was the husband of Queen Victoria, the British Queen between 1837 – 1901. He was born in Coburg). Coburg also has one of the prettiest and largest main squares (called "Market Square") in Germany.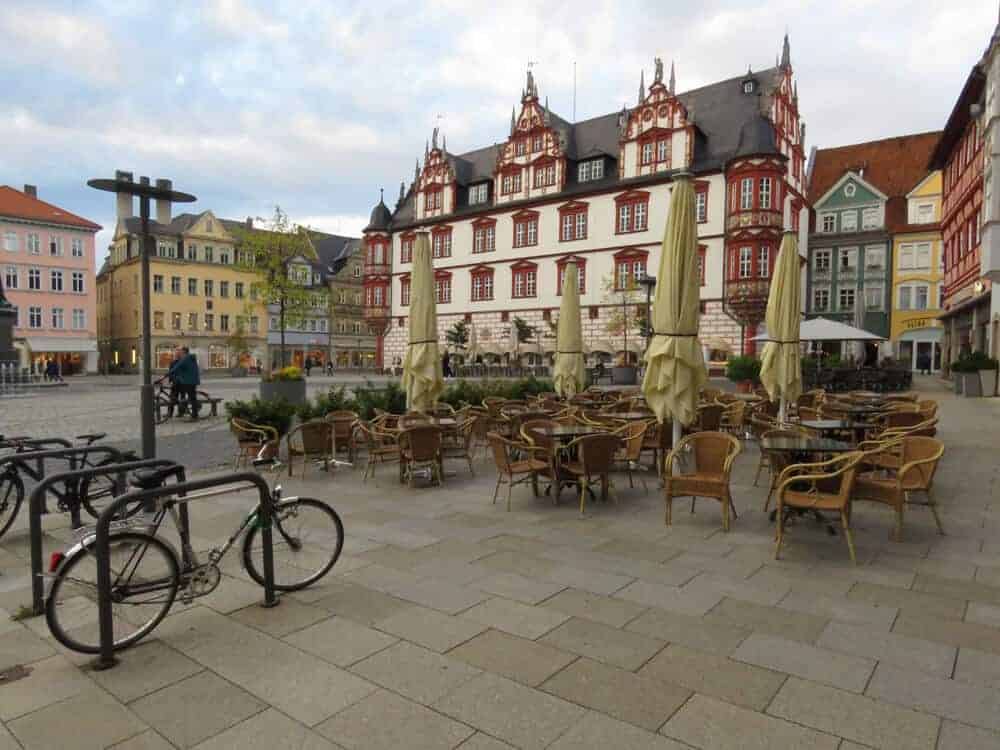 ---
---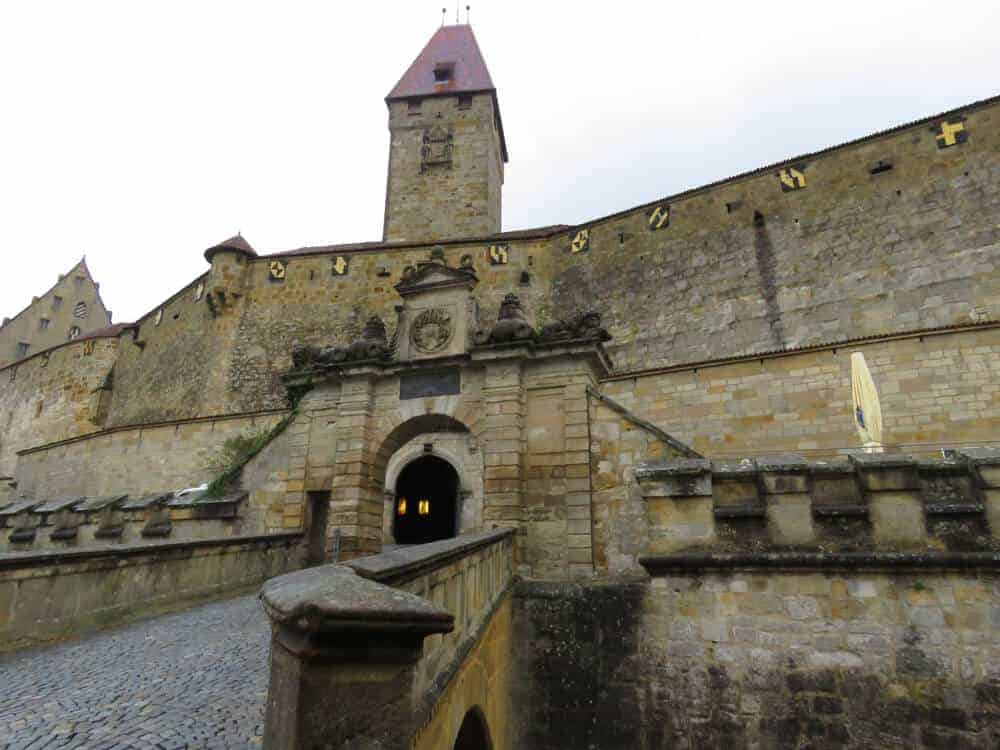 Coburg is interesting for a few other things: it was the first town in Germany to elect a Nazi mayor (in 1929), it holds the largest Brazilian Carnival outside of Rio (every July over 3,000 performers come to this town), and it has its own special delicacy, the Coburger Bratwurst.
I love small German towns and Coburg is one of my favorites.
More on Visiting Coburg.
---
---
---
#3. Regensburg
A UNESCO World Heritage site, Regensburg (pop 152,000) is one of the oldest towns in Germany and was once the capital city of Bavaria. Its history dates back to the Romans (you'll still see some Roman ruins) and its famous stone bridge (Steinerne Brücke, which crosses the Danube) was used by the Knights of the 2nd and 3rd crusades on the way to the Holy Land. The Dom, Regensburg Cathedral, is huge and imposing, the best example of Gothic architecture in southern Germany.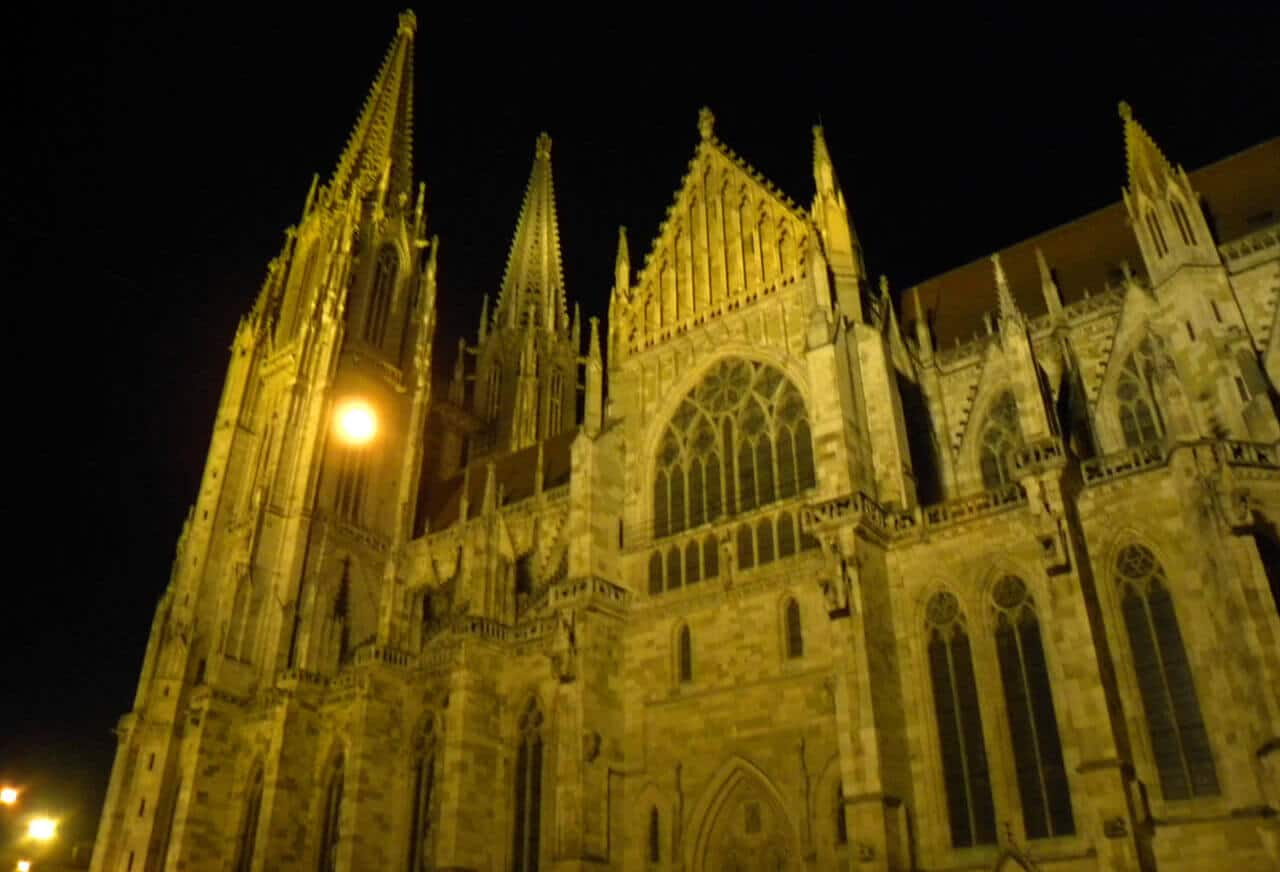 ---
---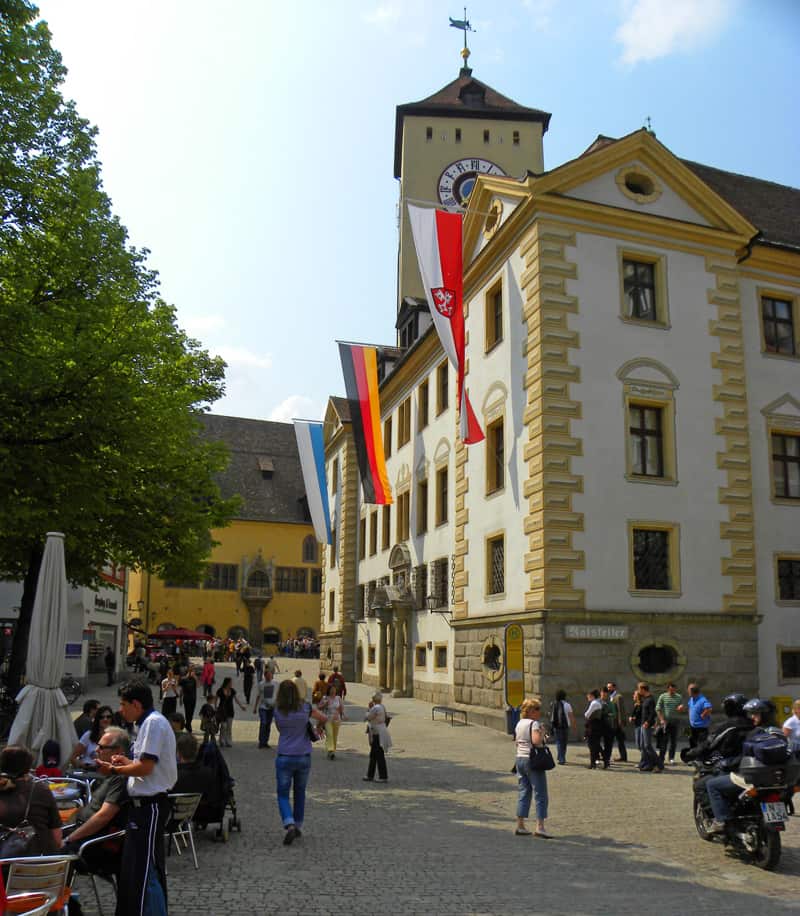 On top of all the above, Regensburg is a scenic place with lots of nature centered on the river. The beer garden (Alte Linde) is on an island in the middle of the Danube, a great place to drink beer while enjoying the great views of the city on the other side of the bridge.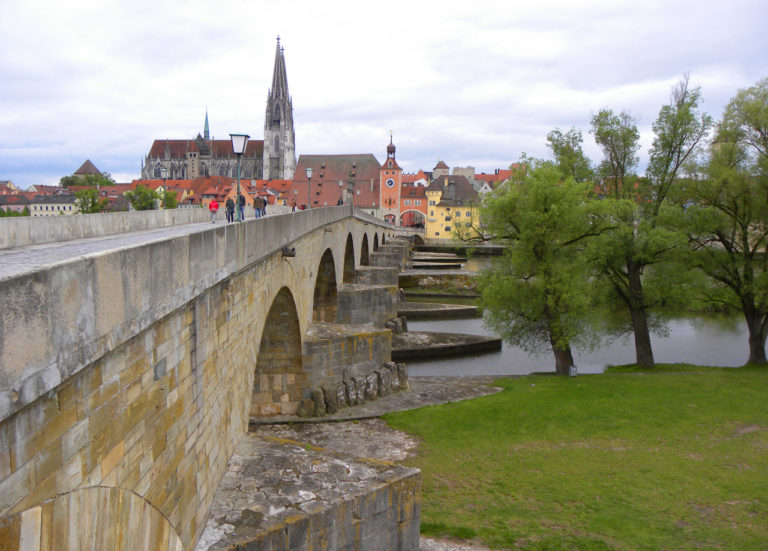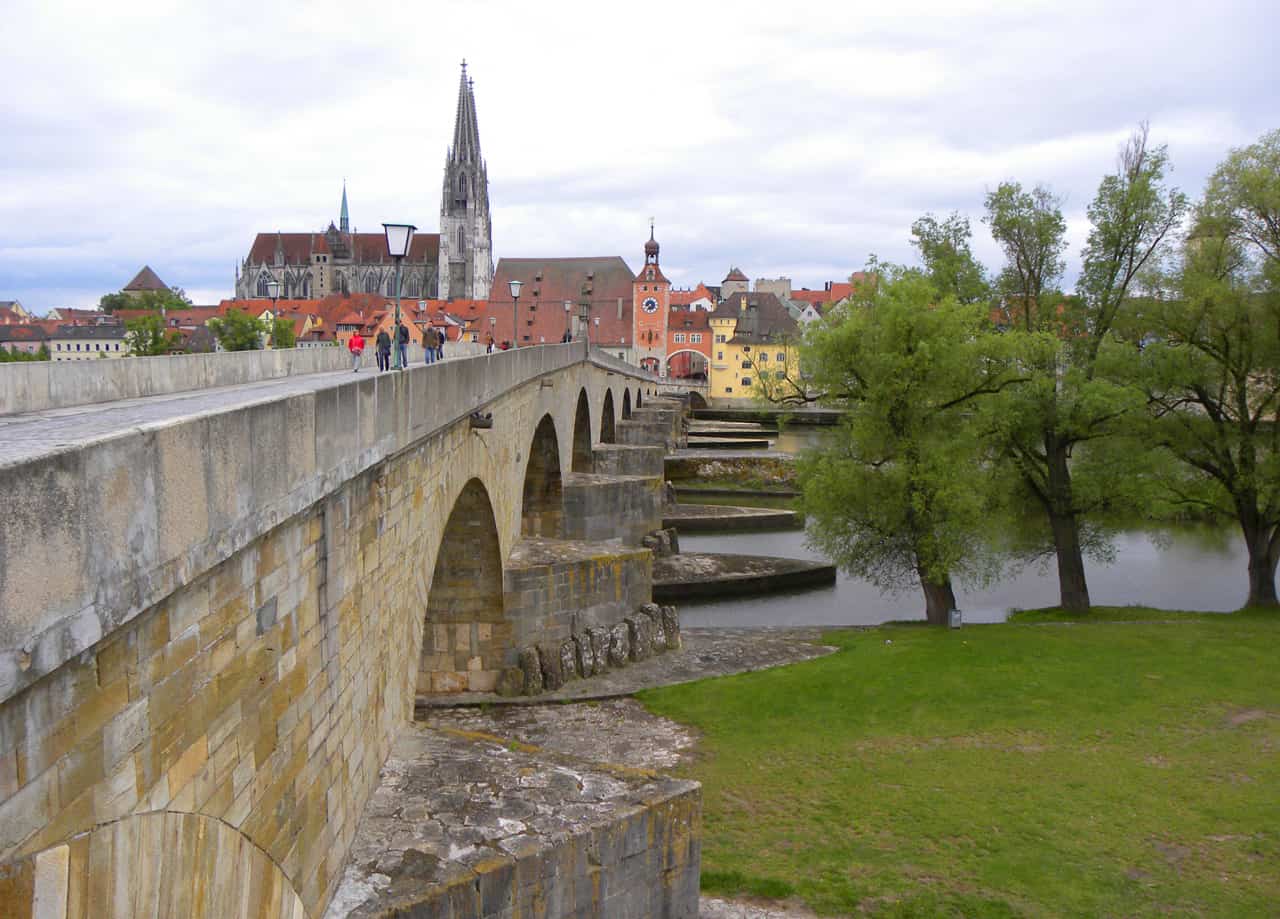 A great city that I enjoyed discovering with my mom. I plan to be back with Lissette.
More: Why you should Visit the beautiful Bavarian city of Regensburg.
---
---
---
#2. Bamberg
Another UNESCO World Heritage Site, Bamberg (pop 77,000) is probably the most recognized name on this list. It is a gorgeous town with what's likely the most photographed Rathous (town hall) in Germany. And for its size there's lots to see: Bamberg Cathedral, St. Michael's Monastery, the Neue Residenz (with it's beautiful Rose Garden). But just walking around town is enough to see what a charming and cozy town Bamberg is.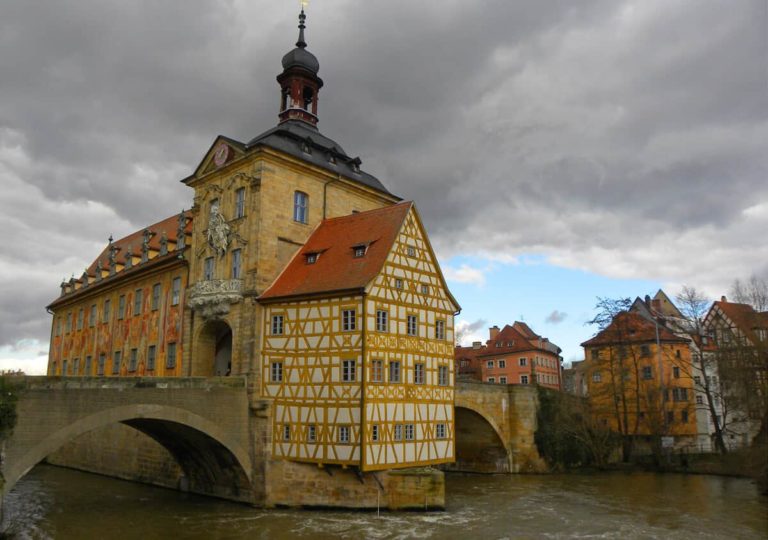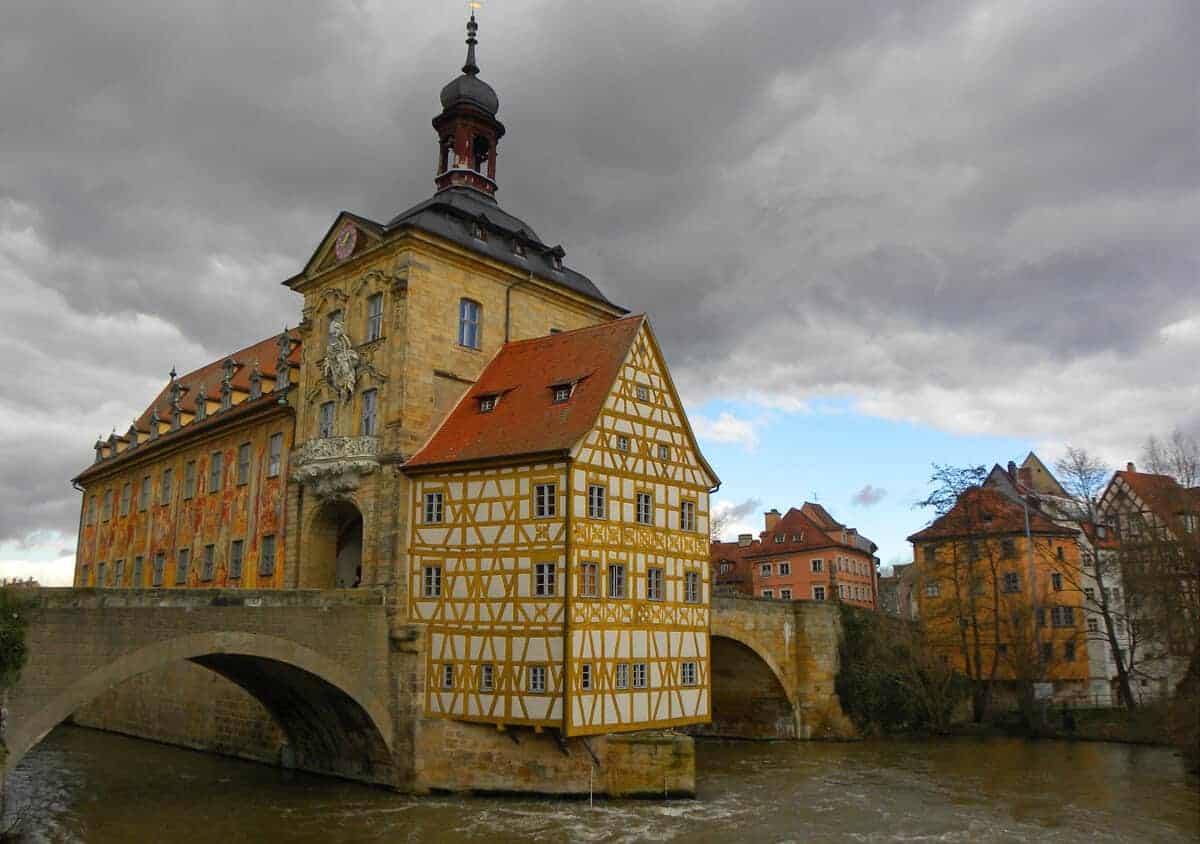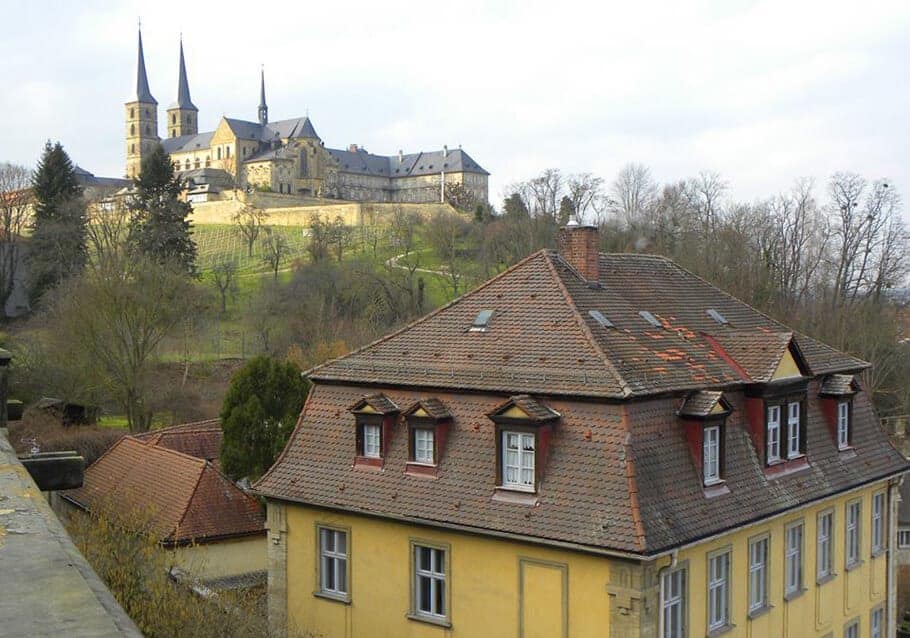 ---
---
On top of it all, Bamberg is famous for its beer. The town has 11 breweries! We've never had better beer anywhere (Including the Czech Republic) then we've had in Bamberg.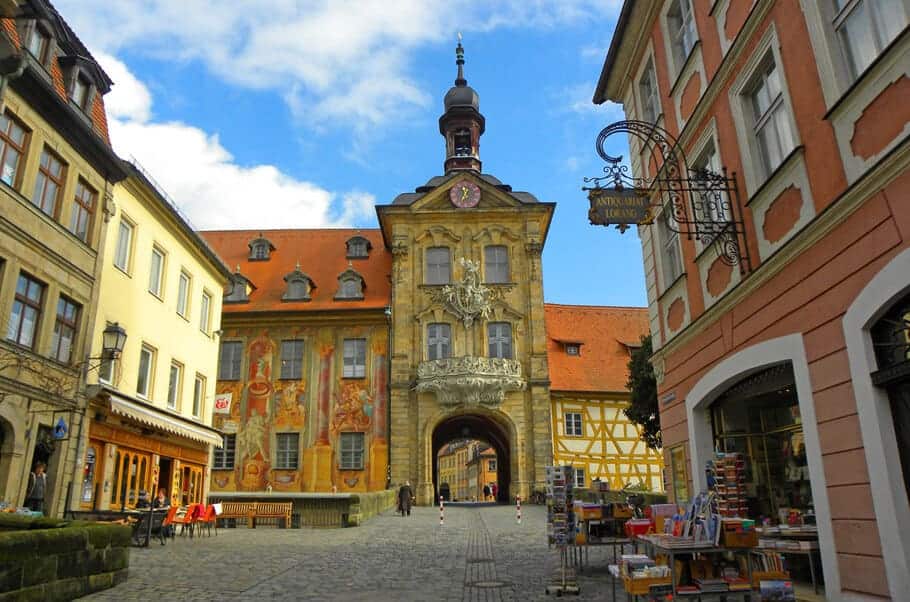 Bamberg also makes for a good base to explore nearby Würzburg and Nuremberg. The town of Coburg which I detail further up is also very close by, about 25 minutes away by train.
More: Lots more on Bamberg and on why it should be your base in Franconia.
---
---
---
#1. Bacharach
Even Germans have never heard of Bacharach. It's a very small town (pop 2,000) on the Rhine river in the German state of Rhineland-Palatinate. If you're looking for a town to fulfil your German fairytale fantasies it might be Bacharach with its half-timbered buildings, an imposing castle on a hill, and its small cobblestone streets (which can seem almost spooky at night).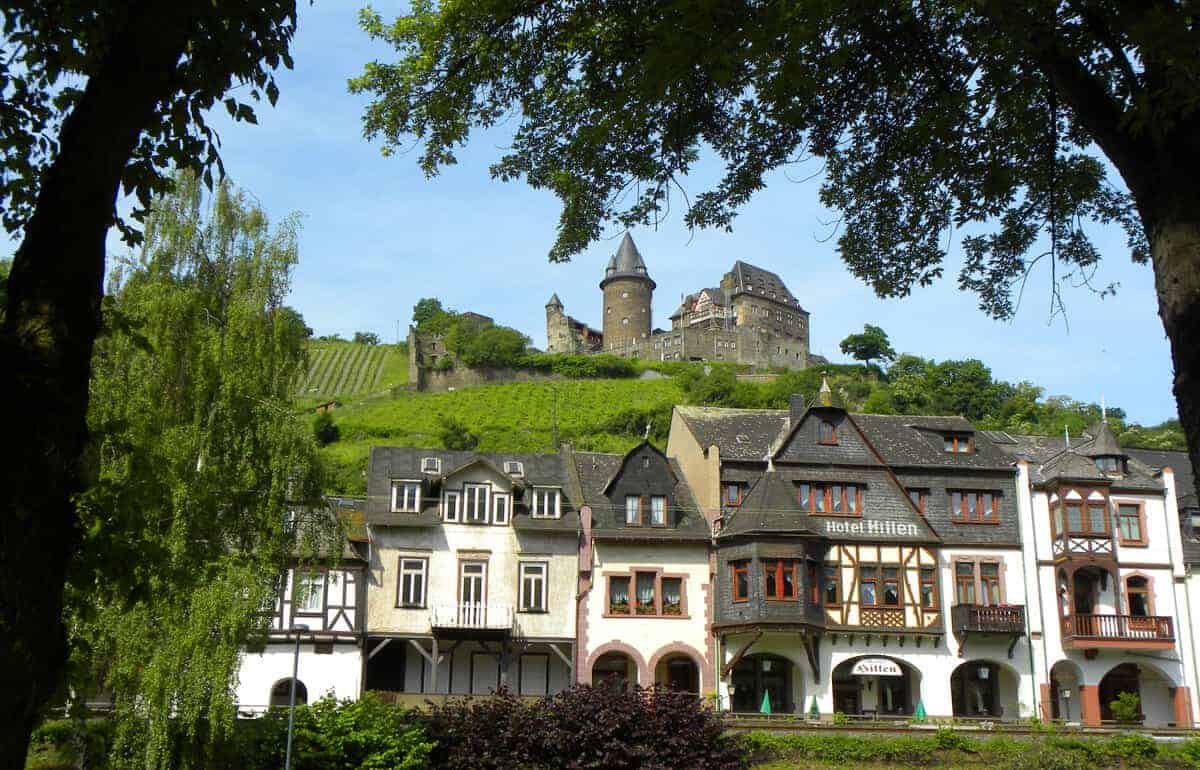 ---
---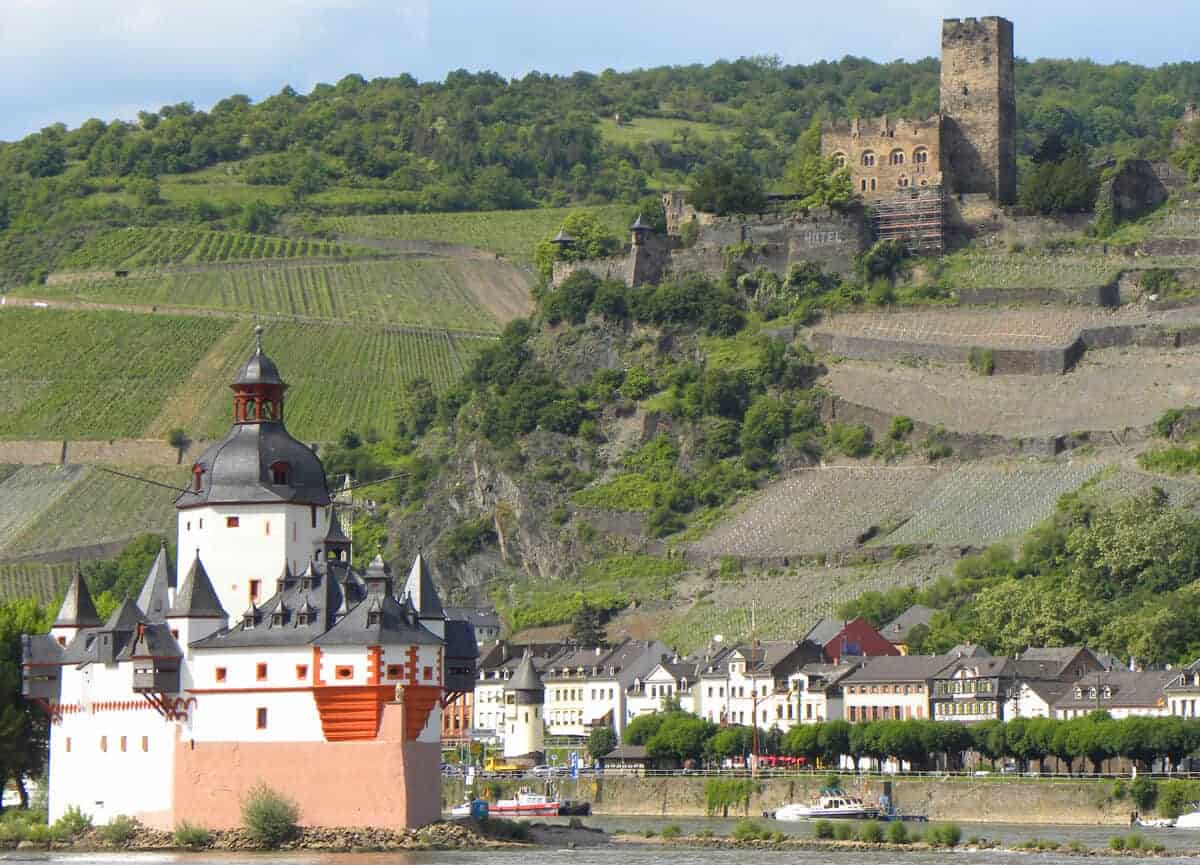 Bacharach is a great base to explore the Rhine – this stretch of the river is dotted with castles and small towns that historically made its money from vessels passing down the river. The area is also know for its white wines (primarily Riesling) which are harvested from the vineyards that line the hills along the river. One of the things we enjoyed during our few days in Bacharach was wine tasting in the different wineries around town.
I mentioned off the top that I proposed to Lissette in Bacharach back in 2009. It's that kind of place. We might be a bit biased but I can guarantee that if you want to visit a beautiful small German town that you can't do much better than Bacharach.
Do you have your own favorite little-know German town or city?
---
---
PS. Looking to book flights, hotels, tours, or rent a car? Have a look at our Travel Resources page.