Sick of the hordes of tourists that trample through the streets of Prague? Want a relaxed walk with great views? The walk I'll cover in this post is the absolute highlight of our first month in Prague.
The starting point is the Beer Garden in Letná Park (across from the Old Town). The walk will take you along the hills that skirt the river, giving you great views of the Old Town and, as you go further along, the river, the Little Town, and the Castle District. It'll bring you to Castle Square and up to the Strahov Monastery where you'll have more great views. Try to do it in the late afternoon/early evening for the best light. I've tried to re-create the entirety of this walk on this map.
Below: Beer Garden in Letná Park
Below: Views looking out from the Letná Park beer garden.

Below: As you walk in the direction of the Charles Bridge and Castle, you'll get different perspectives on the Old Town.
Below: the famous postcard photos of Prague's bridges are taken along this walk.

Below: Note the onion-shaped rooftop on the right (it's a restaurant named Hanavsky Pavilon). Continue towards it, the spot actually marks the best views of the river. In the background is Prague Castle and St. Vitus Cathedral.

Below: Views from Hanavsky Pavilon. See all the crowds on the Charles Bridge?
Below: The Hanavsky Pavilon marks the far end of Letná Park. Continue along the path – you'll stray away from the river a bit, over a bridge looking down on tram lines.
Below: Once across the little bridge, you'll be in Chotkovy Sady Park. More great views from here, both on the Old Town and the Castle.
Below: Continue along the path on the river side. River views will soon give way to views over the Castle. The path will eventually end at the northern gate of Prague Castle. You can enter and explore the Castle District (and the highlight, St. Vitus Cathedral).
Below: To continue the 'Scenic Walk", exit the main Castle Gate. Continue through Castle Square.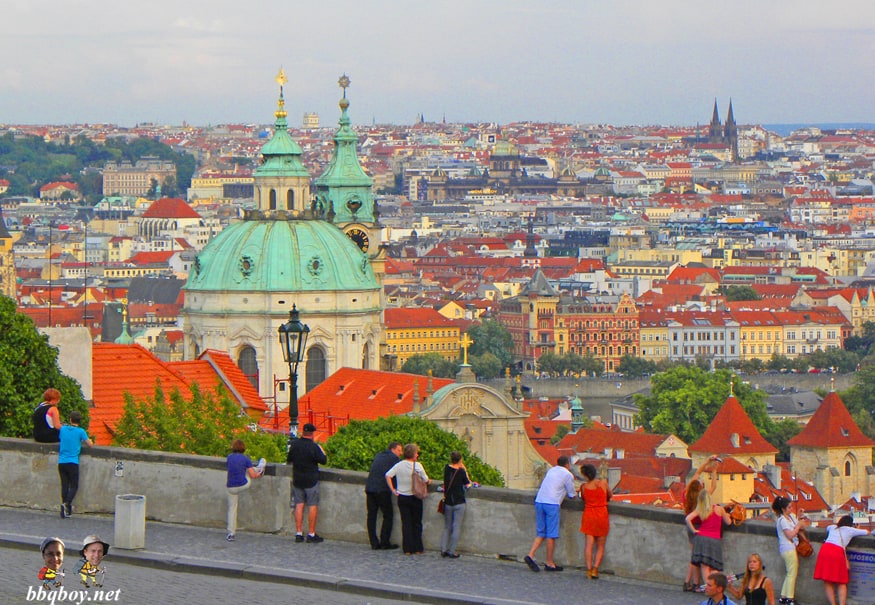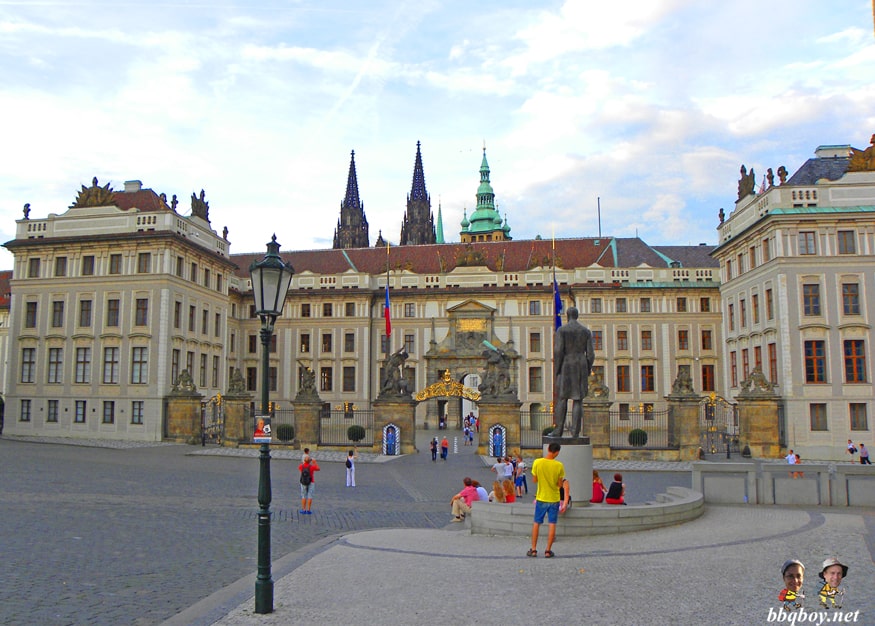 Below: You have to walk uphill from Castle Square to get to Strahov Monastery. You'll see Loreta Square along the way as well as some pubs and restaurants. Once at the Strahov Monastery, you'll have these great views of Prague, St. Vitus Cathedral, and the Petrin Lookout.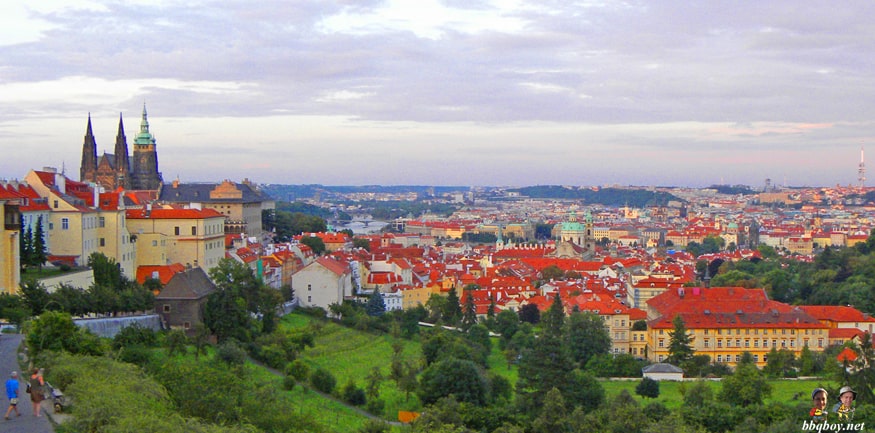 Below: The Klášterní pivovar Strahov (Strahov Monastery Brewery) is a very popular (ie. touristy) restaurant/brewery. Very nice though and they make their own beer which we needed after the sweaty walk.
Above: Views of Prague at night from the Strahov Monastery.
.
We fully recommend this walk; you'll see few tourists and have great views over the city while walking through some pretty parks. As I said, the highlight of our first month in Prague.
——————————————————————————————————————————————————————————————-
If you haven't subscribed yet and want to get our posts and newsletters sent to your email, just insert your email address below: