Kotor has been on my list of places to see ever since spotting a photo similar to the above on another blog. So when we left Split last week for a little trip down south, Kotor was the place I wanted to see. Not Dubrovnik, but Kotor. I didn't tell Spanky that because she hates it when I choose a destination because of a hike or a "photo opportunity" (as she calls it). I told her we were going to Dubrovnik with a little side trip to a place called Kotor. Like most people she had never heard of it.
We've been to a lot of nice places over the last year, but no place has blown us away to the extent Kotor did. I came for the geography. Doing the hike up to Kotor's fortress surpassed expectations. I think it might be one of the most spectacularly beautiful places I've ever seen. I had read that the Old Town was pretty but small. It ended up being one of the most charming and untouched old towns I've seen anywhere in Europe. We extended our stay from 3 days to 5 days and have vowed to come back one day for more.
I'm not going to bore you in this post with things that you have to see in Kotor. The only thing (besides that hike up to the fortress) that you have to do is wander around town, sit at one of its squares, and enjoy your surroundings. Watch the kids ride their bikes through the streets, look up at the steep cliffs and fort walls that loom over the town. Unlike a place like Dubrovnik, Kotor is a real town and with a little imagination you might think yourself 500 years back in time. Especially in the evening when the tourists vacate the town for the comfort of their cruise ships (most of the tourists that make it to Kotor do so on cruise ships).
Except for a few captions, I'll let the photos do the talking in this post. There's a lot of them.
Above: Views of town when you enter through the main gate.
Above: Inside the main gate, a clear look at the small bell tower. The square here is called Square of Arms and is the main square in town.
Above: Look straight up, you'll see the town walls zigzagging up the mountain to the Fortress of St. John.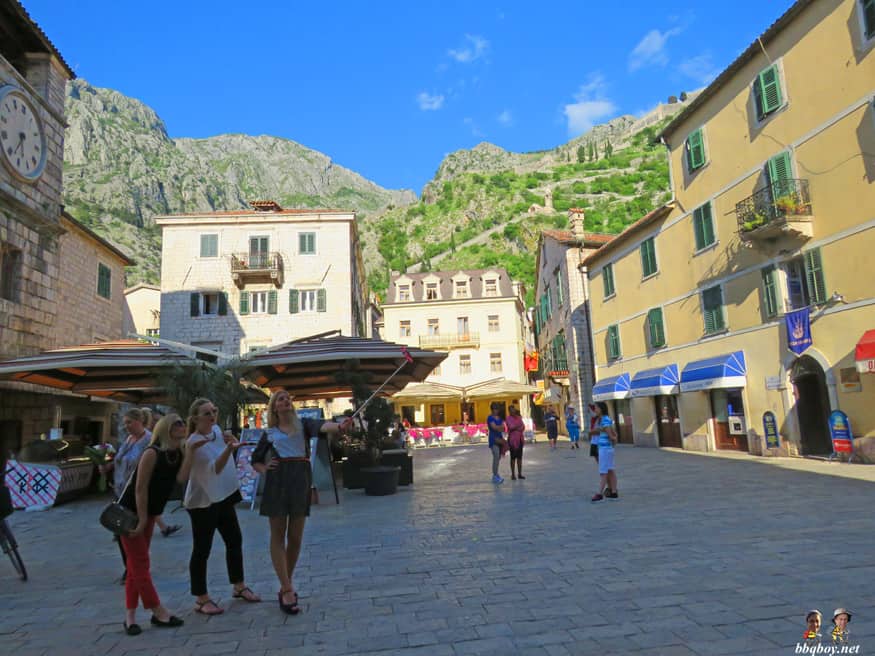 Above: The town can be busy with tourists at different times of the day as cruise ships dock. But they clear out pretty fast and you'll often find the town quite empty.
.
The Hike up to the Fortress of St. John (also known as Castle of San Giovanni)
Bring good shoes and expect a slightly strenuous 45 minute hike up to the fortress.
Above: It won't be long until you have views like this over town. Note that the town is built in a triangular pattern with a maze of streets to confuse would-be attackers.
Above (and below): about 20 minutes up you'll come across the small Catholic church of Our Lady of Health (also known as Church of Our Lady of Remedy). It dates back to 1518.
Below: Continuing on, with views of the church and the Bay of Kotor.
Below: the fortress walls extend down the mountain on both sides, making the entire city surrounded by walls. The wall's thickness varies from 6 to 50 feet and the tallest parts of the wall are 65 feet high.
Below: At the top. The fortress lies in ruins. A rare selfie to prove I was there :).
While you're up there, look down on the opposite side – there's a huge drop off (maybe 400 feet?), a sheer impenetrable cliff that makes attack from the backside of town impossible. Most of the Wall structure was built while Kotor was under Venetian rule in the 17th and 18th century and because of it the town survived numerous attacks, including a 2 month siege by the Ottomans in 1657.
Kotor's Old Town
Kotor is full of squares connected by small streets, none straight.
Above: One of many squares.
Above: in front of the Maritime Museum.
Most of the town's museums are Orthodox, but St. Tryphon, a Catholic church, is the most significant in town. In AD 809, Venetian merchants were sailing up the coast from Turkey with the relics of St. Tryphon (a 3rd century martyr) when a storm hit. They took refuge in the Bay of Kotor. Whenever they tried to leave the weather worsened. They decided to that his remains were destined to stay here and built a church (the version you'll see is the latest version, 4 earthquakes have destroyed previous churches built here).
Below: St. Tryphon, inside and out.
.
St. Luke's Square is another pretty square and has a couple of interesting Orthodox churches built in the time of Serbian rule.
Below: St. Luke's Square, view from St. Nicolas' Church. On the left side is small St. Luke's church, built in the 12th century.
Below: St. Nicolas' Church. If you've never stepped in an Orthodox church it is really worth a visit.
.
Below: Having a beer on St Luke's Square and watching (mostly) locals going about their lives.
Below: yet another view of the square. There's a school on the square and kids riding around on bikes. We loved Kotor because it just feels like a real town.
.
People love old doors and fountains and there are lots in Kotor: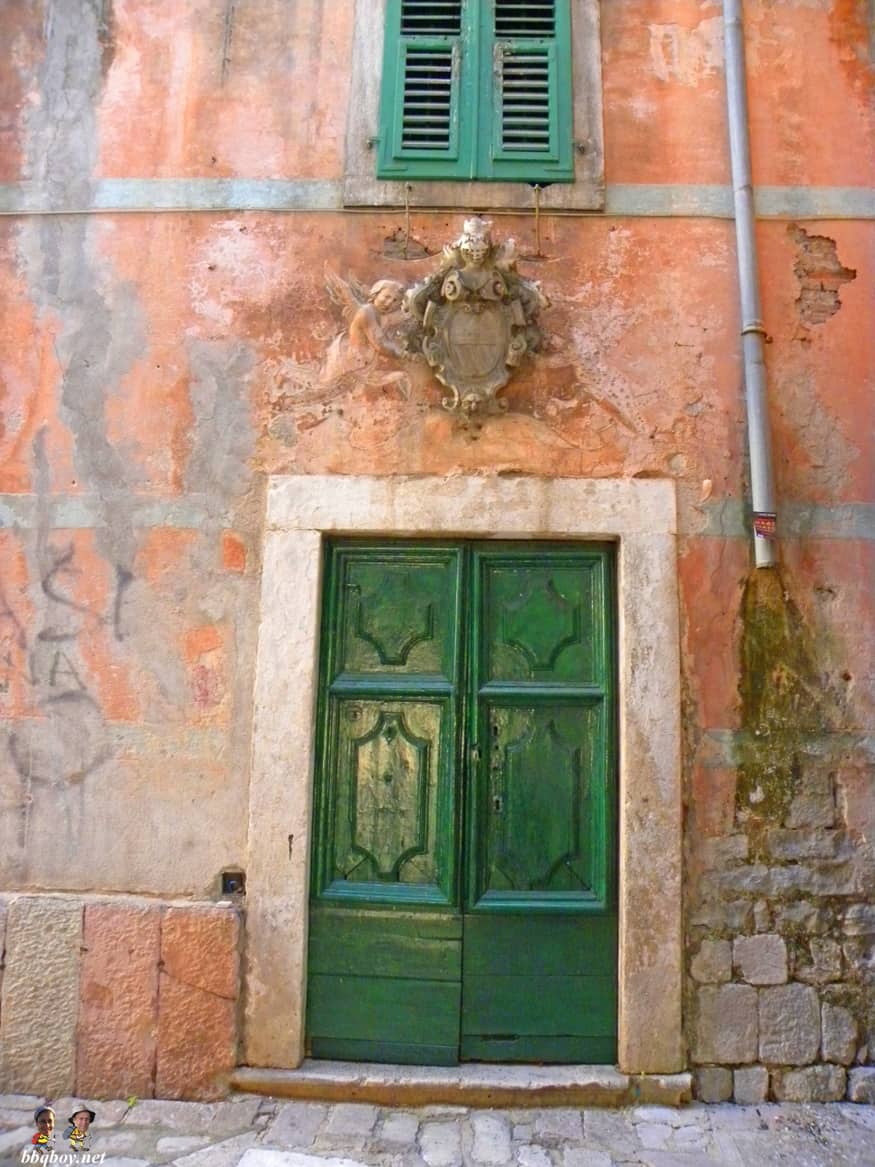 .
Below: another church. This is the Church of Blazena Ozana.
Below: More incredible architecture. On every street somethings catches your eye.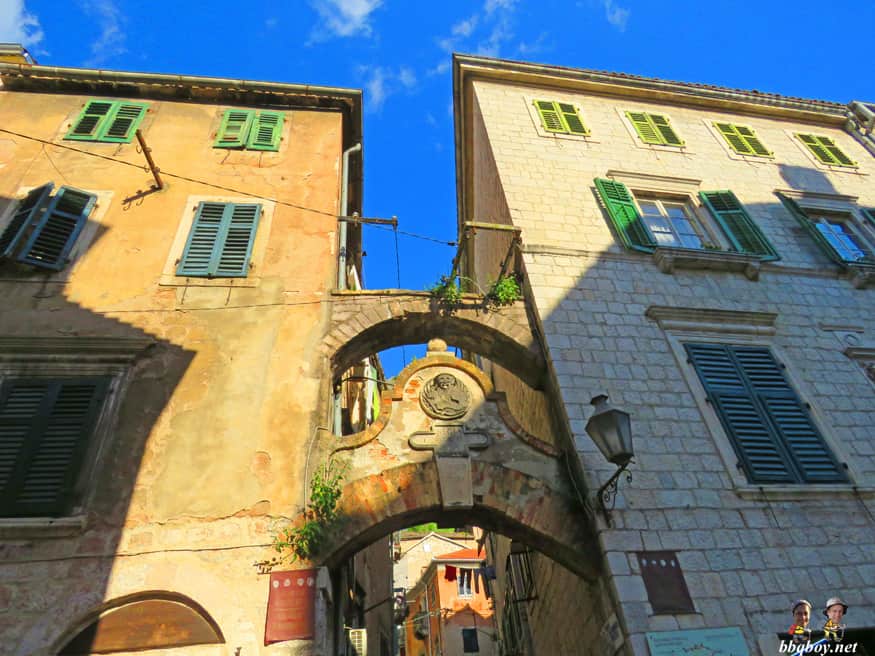 .
Below: More views of the fort walls winding their way up to the Fortress of St. John:
Below: The south gate of the old town and the harbor.
.
One of the oddities about Kotor is that most of the tourists you'll see are from cruise ships. You'll often see 1 or 2 in the harbor. It means sudden influxes of tourists during various parts of the day, then sudden emptiness at other times. A waiter told us that lunch times can be crazy. But then you can walk around in the evening and have the town all to yourself, as evidenced below.
Above: the castle walls and fortress are lit up at night.
Above: Square in front of St. Tryphon Church.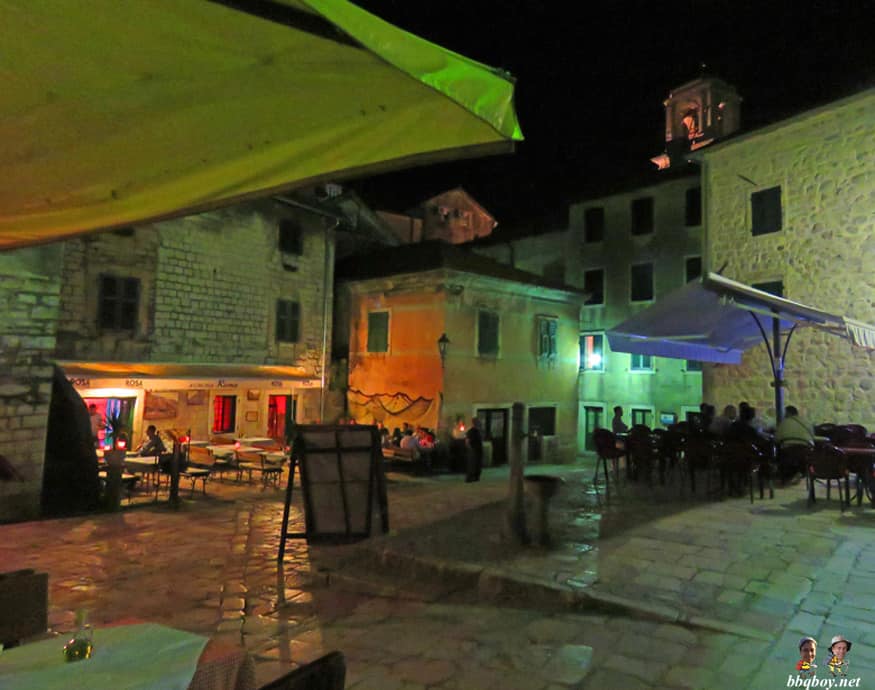 Above: Another square. Lots of bars and restaurants and we had excellent food and good value everywhere we went.
————
.
I previously wrote about Dubrovnik. It is a beautiful city but there is one thing that was nagging at me. I realized what it was when doing this post: Dubrovnik is a glamour girl, a super model. She's been glammed up, has had a few nip and tucks, and has been reconstructed in parts. She's too perfect. Kotor feels like the real thing. Look at the grass growing between bricks and tiles, see the warped and faded doors and windows, the rusted iron, and the weathered walls. She's authentic. We more than loved Kotor, we were blown away by its charm.
I had also mentioned on that Dubrovnik post that we've come to have an appreciation for places where we could see ourselves living for an extended period of time. Kotor, like Split, is one of those places.
A few last photos:
Above: the cruise ship tourists are back, walking around like sheep and following their pack leaders. No wonder they look so bored. I just can't understand why there aren't more people travelling around independently like us, it's so much more fun (and cheaper).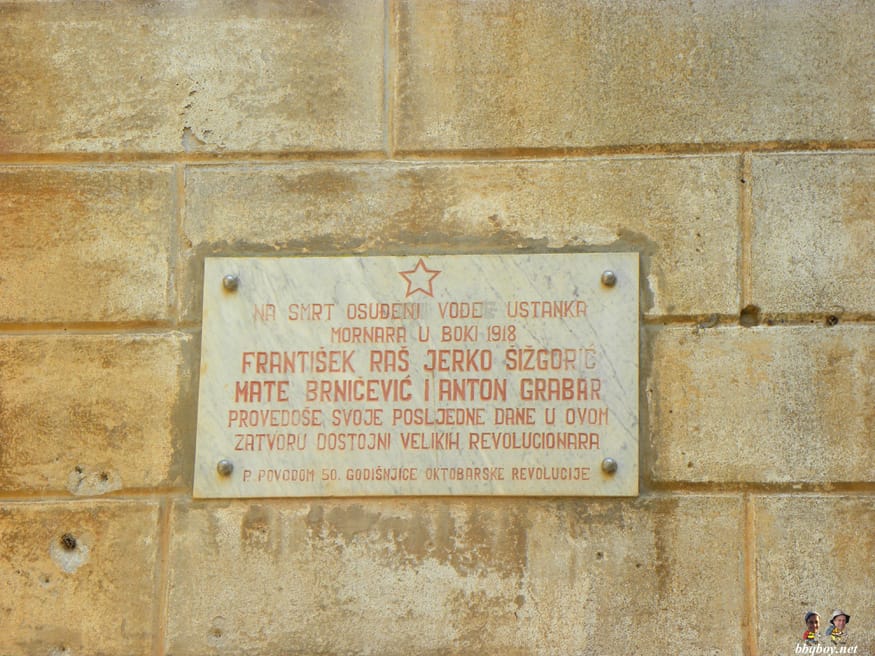 .
Below: Stepping out of the Old Town and towards the bus station you'll see some ruined buildings. Montenegro doesn't feel as rich as Croatia. But we always felt safe and everyone we met was very friendly.
————
Practical information.
– We stayed at N&N Franovic Apartments and it was absolute perfection. The apartment is large and modern, with a balcony. It felt like home and we extended our stay from 3 days to 5. Right behind the bus station, about 5 minutes walk to the Old Town. Tripo and his wife Rada were incredibly friendly and I can't recommend them enough. You can book them through Airbnb or contact them directly by email: nnfranovic@gmail.com.
– There is a very nice supermarket a few minutes from the apartment, right next to the south gate of the Old Town.
– Getting to Kotor: 2.5 to 3 hours by bus from Dubrovnik. It's actually about 2 hours driving time but passport control can be slow. There are only 2 to 3 buses a day Dubrovnik – Kotor (schedule here) and about the same back (Kotor – Dubrovnik schedule here). That's not a lot of people travelling independently to Kotor. But buses to get filled up quick so I would suggest you buy tickets in advance as we did. As mentioned, the bus station is a 5 minute walk from the south gate of the Old town.
– If you're spending a few days in Kotor, take a few hours to visit Perast. It's another beautiful town on the Bay of Kotor.
Have you been to Kotor? Did you love it as much as we did?
——————————————————————————————————————————————————————————————-
If you haven't subscribed yet and want to get our posts and newsletters sent to your email, just insert your email address below: