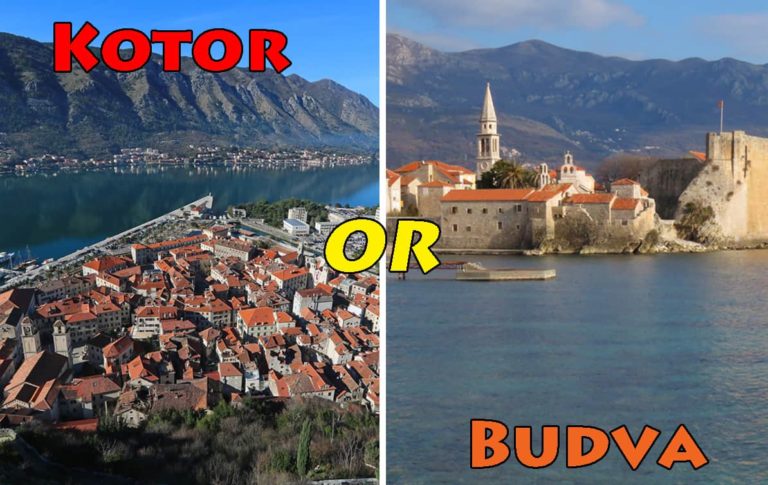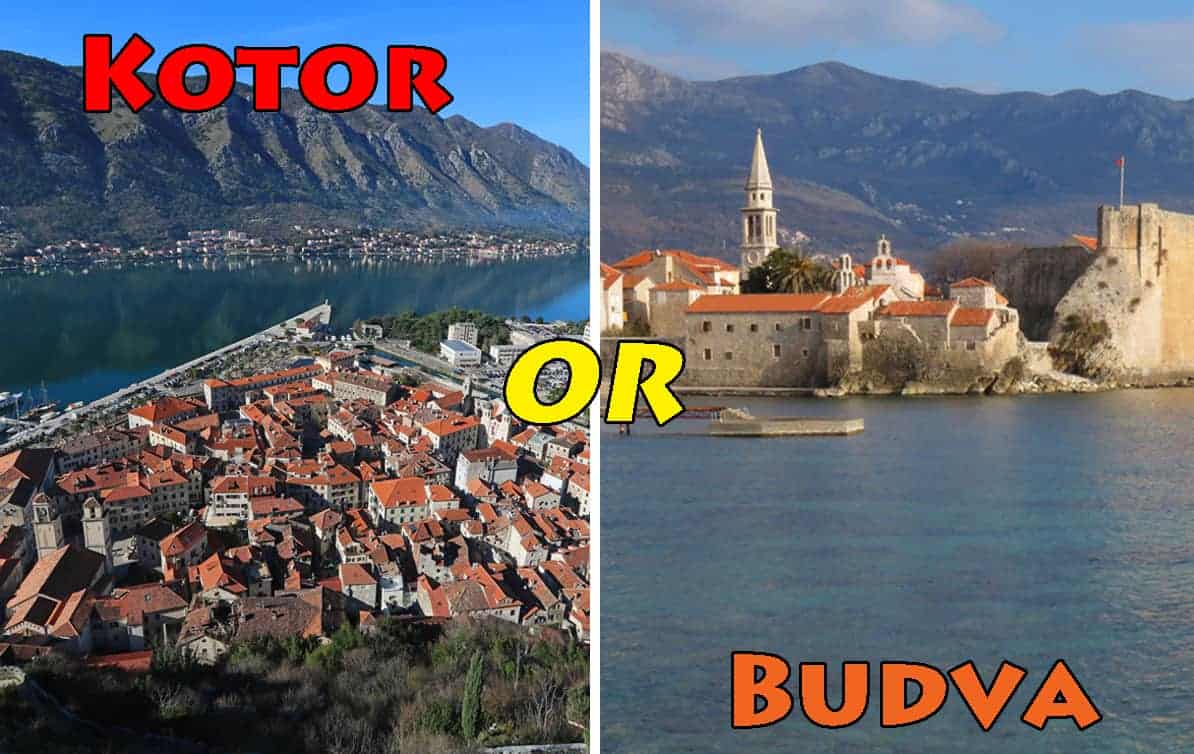 Where to stay in Montenegro: Kotor or Budva?
We had previously visited Kotor 5 years ago. We had spent a few days and loved it.
This time around we had 10 days to spend in Montenegro and I wasn't too sure how to break it up. A blogger friend suggested Budva, his favorite spot in Montenegro.
We ended up staying 5 days in Kotor and 5 days in Budva.
So which is the best? And where should you stay? I cover that in this post.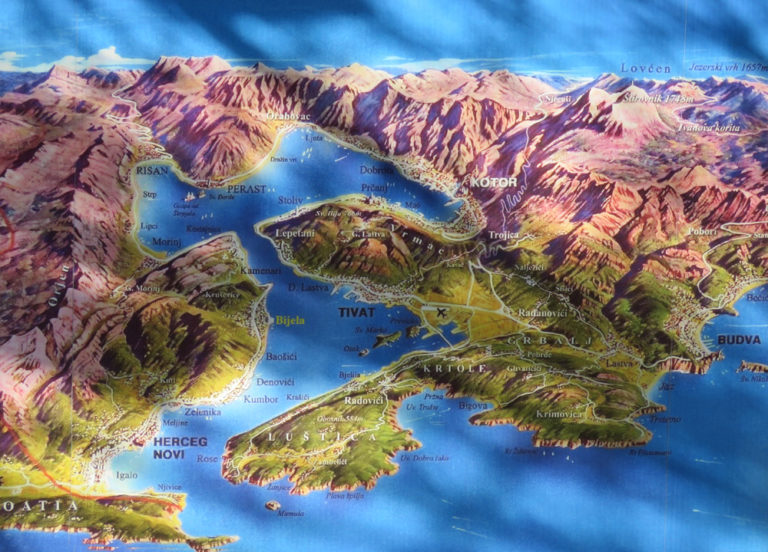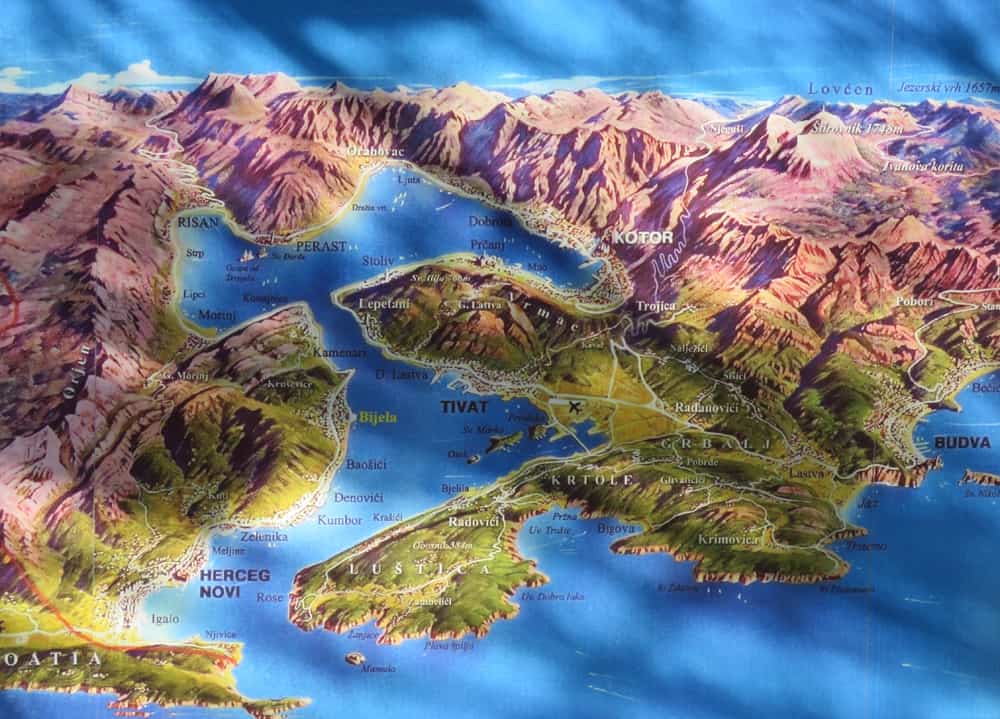 ---
---
Kotor
Kotor is located in one of the world's most incredible geographic locations. Even though this was our 2nd time, it still took our breath away on this visit.



The town of Kotor itself is very impressive: triangular-shaped, a maze of streets (done on purpose to confuse would-be attackers) and surrounded by thick stone walls that climb the mountain to the Fortress of St. John at the apex of the triangle. It's a "real" old town, inhabited by people who live their daily lives within the walls. While not as impressive as Dubrovnik or Split in its highlights (and much smaller than both of these Croatian cities) it surpasses both in charm, authenticity, and for its incredible location. We couldn't stop being amazed by the walls climbing the sides of the mountain. Kotor is spectacular.
Related: More on Kotor (Montenegro) and St. John Fortress

A few images of the town of Kotor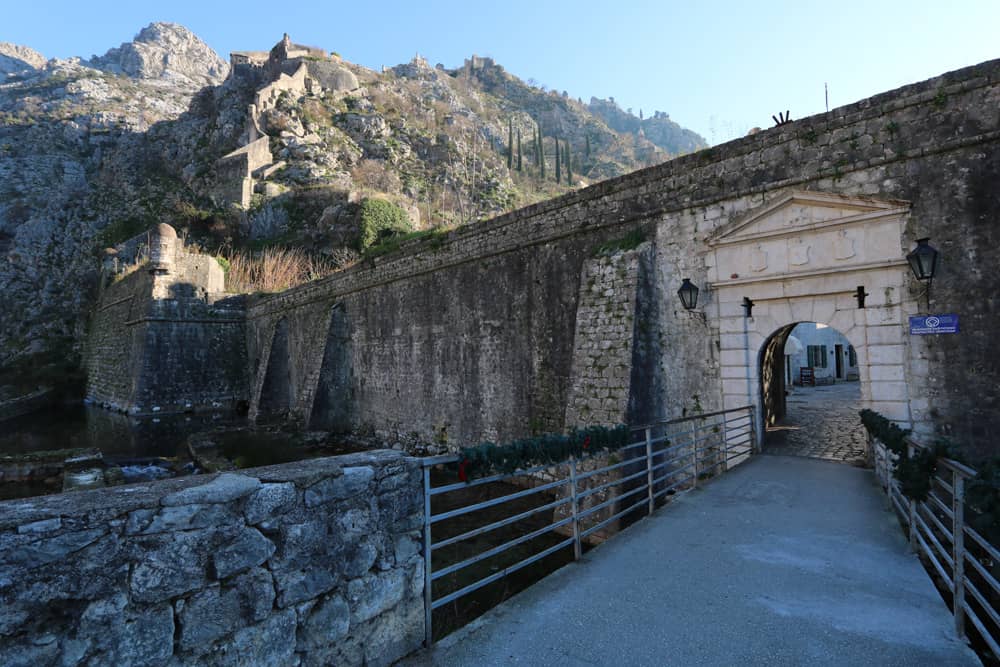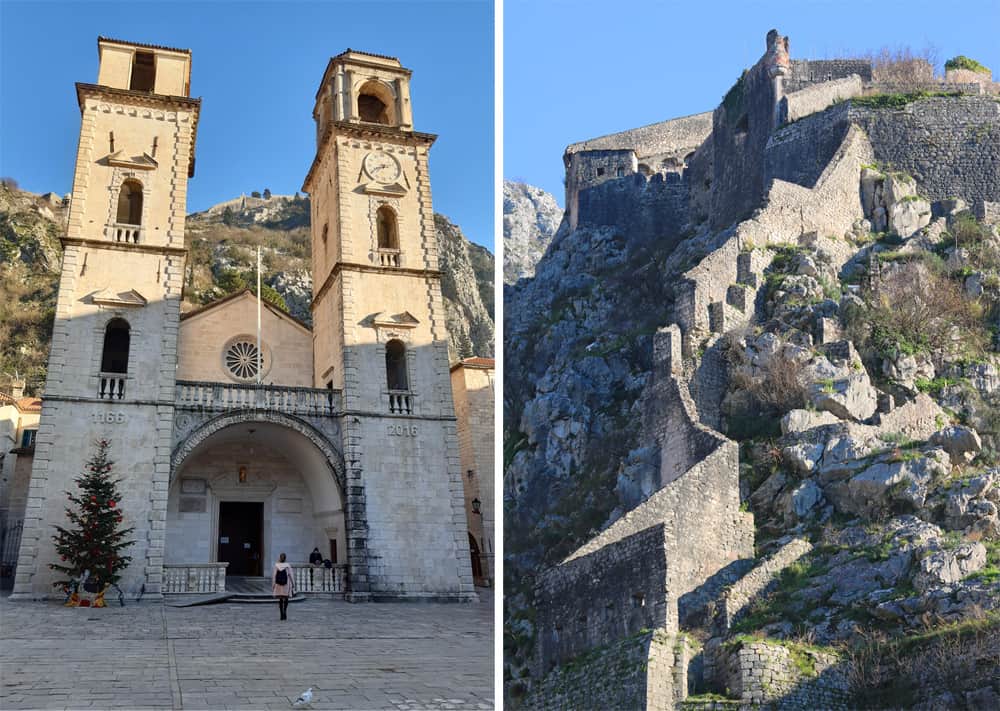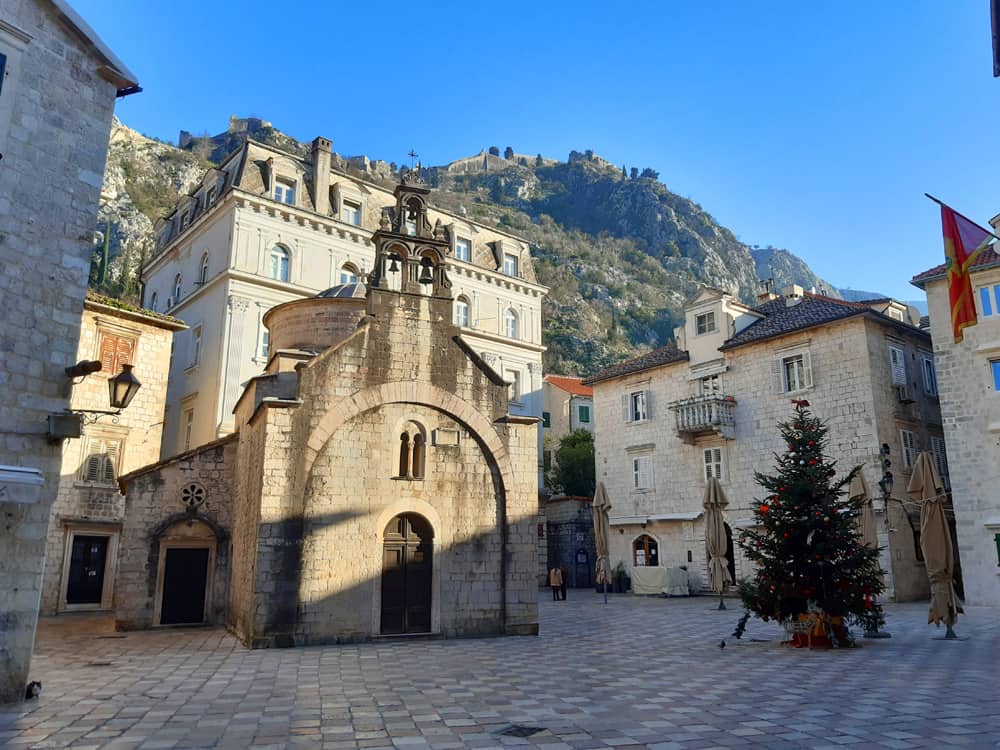 ---
---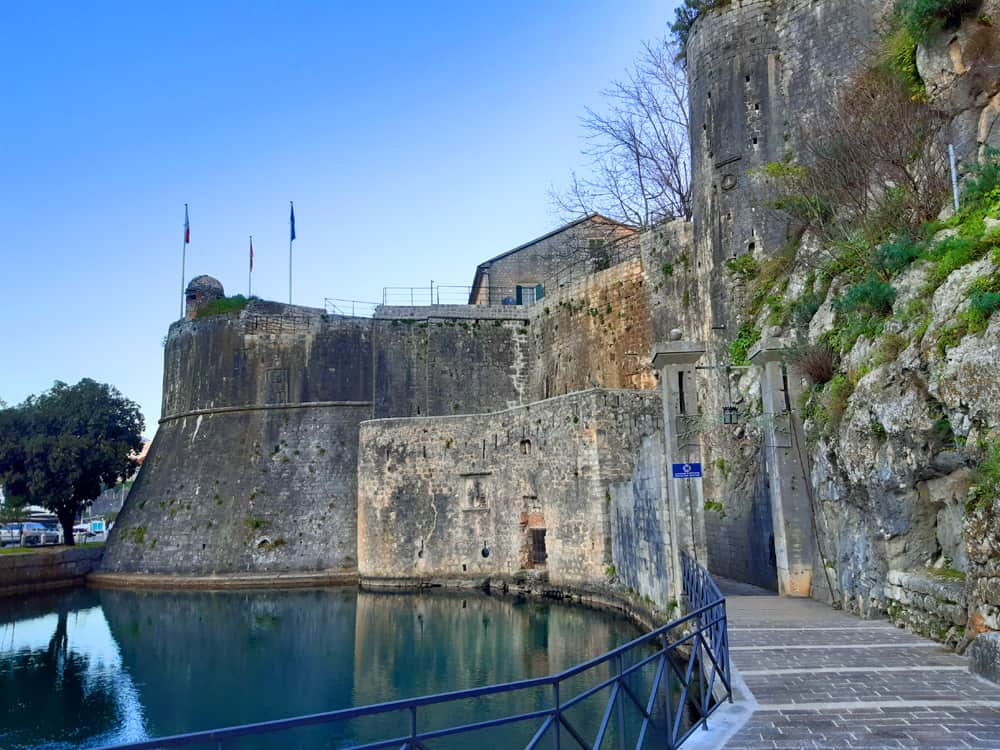 The #1 thing to do in Kotor is to hike up the steps to the fortress. You normally have to pay 8 Euros to do it but we were there in January and nobody was administering the gate leading to the path. So we got in for free (another advantage to going off season).
This time I did it with Lissette who is not a hiker. It took us an hour to get up. But it's beautiful up top and you can see the whole of the Bay of Kotor.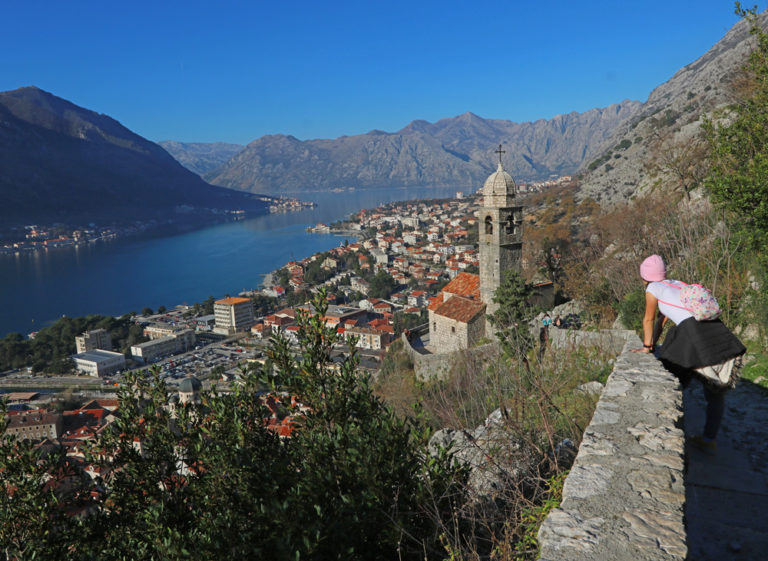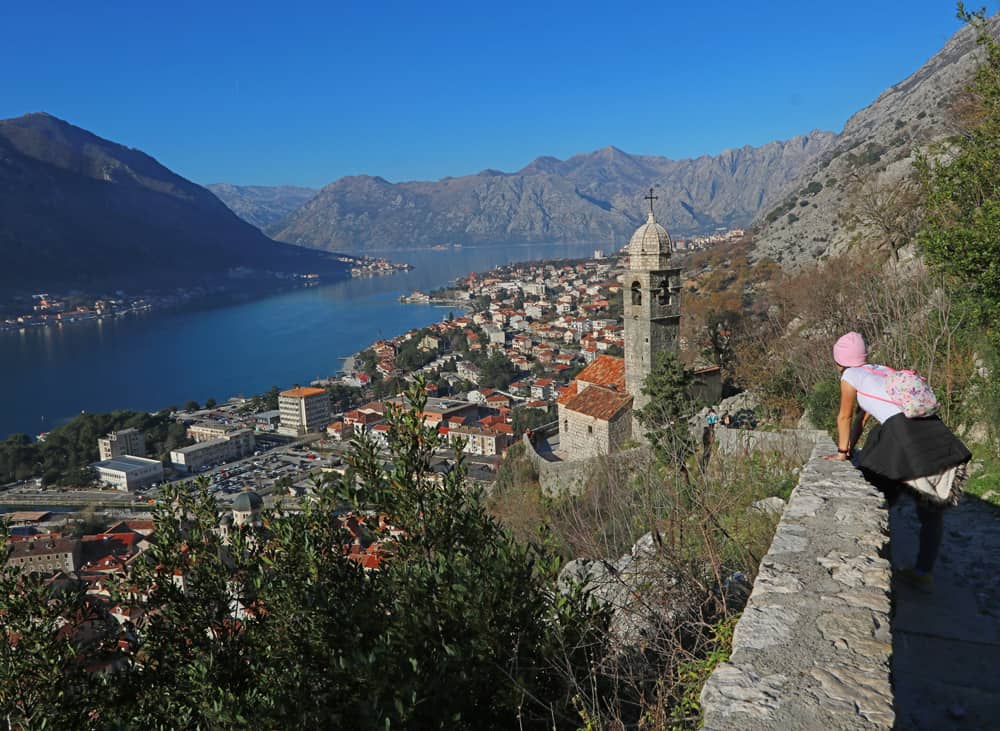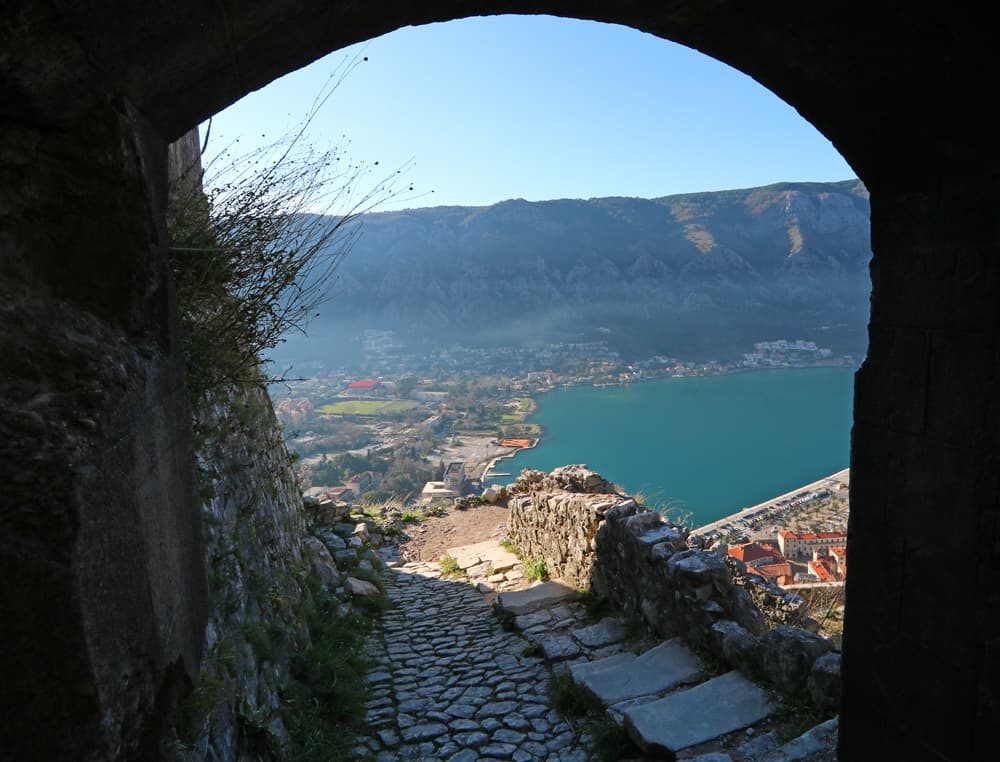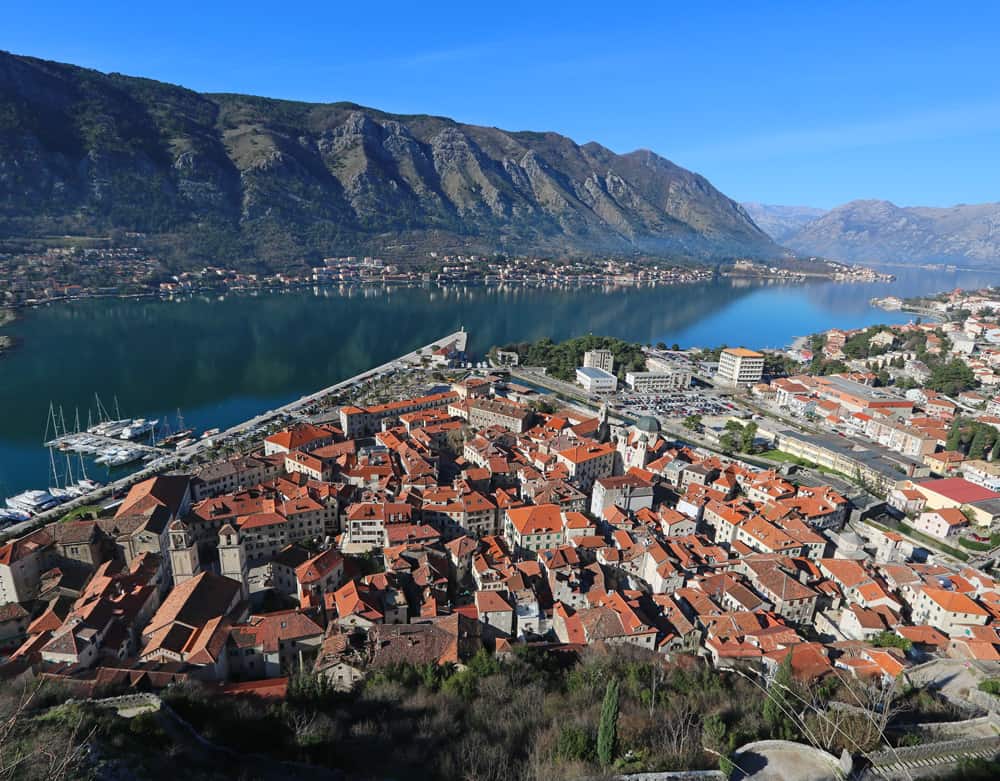 ---
---
The next day we decided to walk down the coast. Walking out of town, you'll see tiny Kotor beach (a simple, small pebbly beach). All along the shoreline, you'll see small cafés, restaurants, and rental apartments (all one-storey homes) run by locals. It's all very beautiful and serene.
A few photos.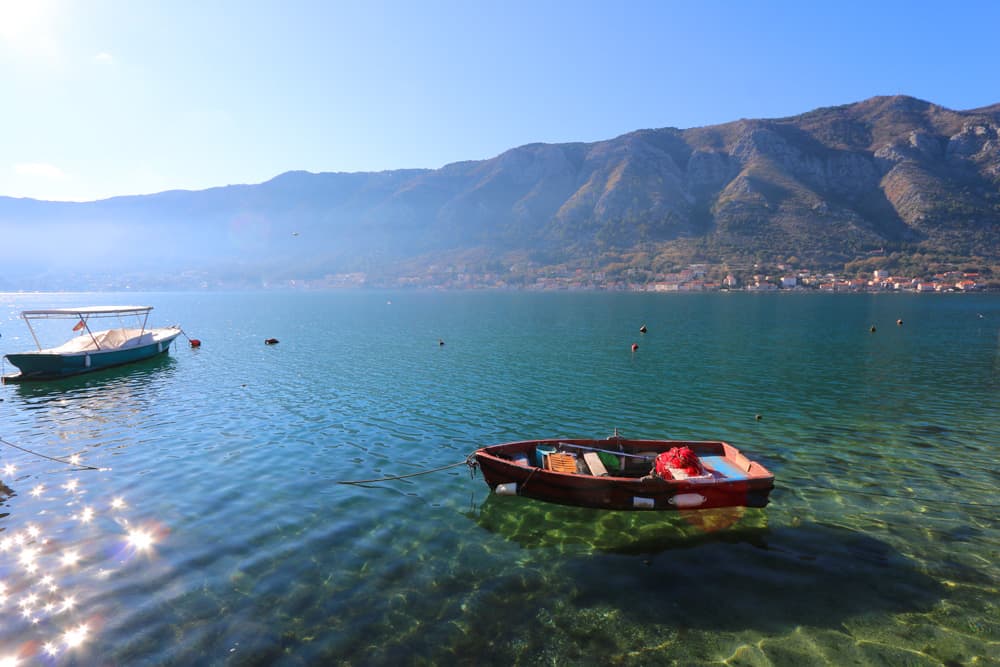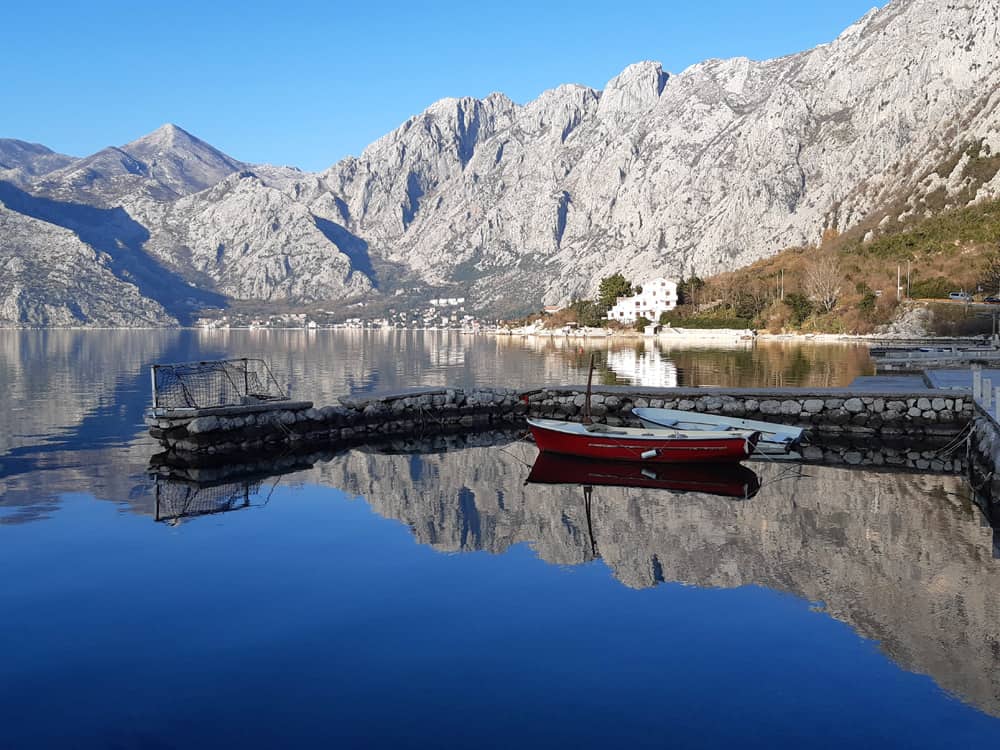 ---
---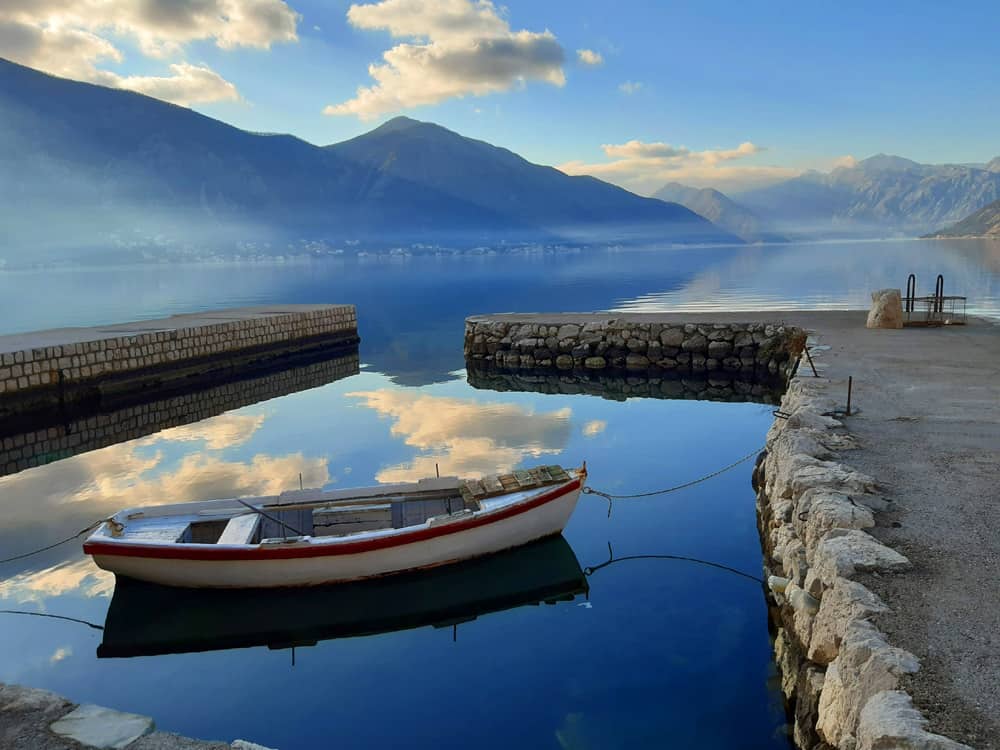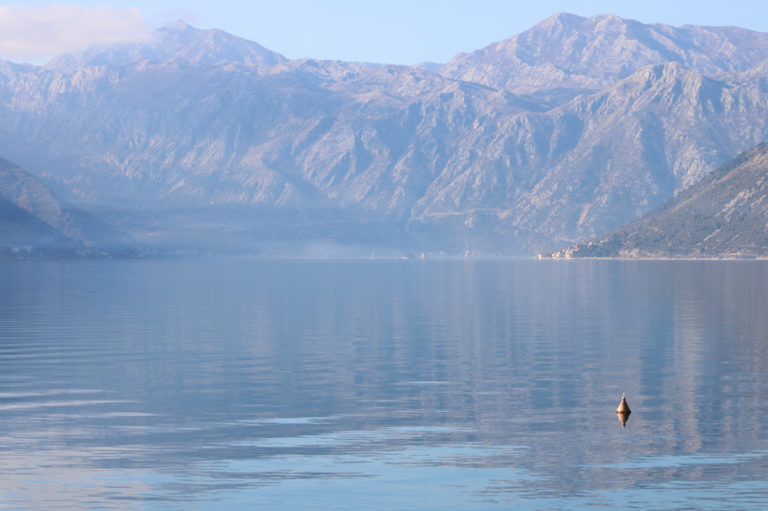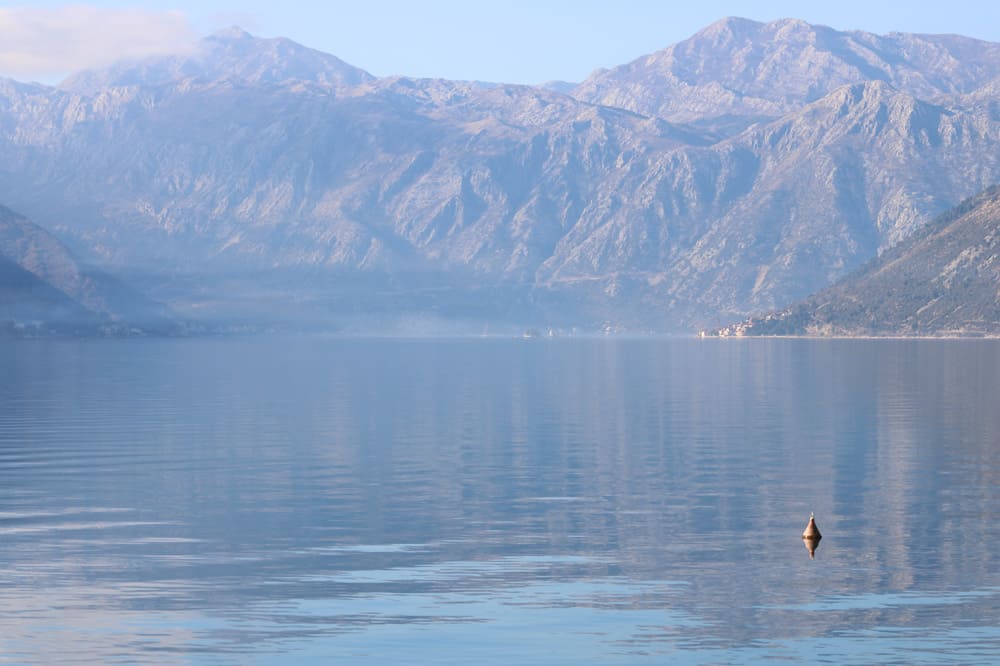 One of the "must-do" things to do is to visit the town of Perast which is about 12 km around the bay from Kotor. We didn't do it this time but I wrote about it here on our previous visit: The stunning beauty of Kotor Bay in Perast.
Summing it all up, we came back to Kotor and were just as impressed as we were 5 years ago. Kotor is one of the most beautiful places we've been.
See my original post on Kotor for a lot more detail: Why Kotor impressed us more than Dubrovnik.
---
Practical Information on Kotor
Where to stay in Kotor
The exceptional Hotel Vardar or equally excellent Hotel Monte Cristo (both in the heart of the old town). If looking for an apartment (you'll save money) then Apartman 367 and Old Town Boskovic Apartment are both very good.
Getting to Kotor
We took the bus from Dubrovnik which in theory takes 2 hours. The bus was almost 2 hours late and took 2.5 hours to get to Kotor. So don't plan anything because you never know what you'll get with Balkan buses. If flying in, then you want to fly to Tivat airport (airport code: TIV). From there you can take a 10 minute taxi ride to Kotor.

---
---
Budva
Budva is located on the coast of Montenegro. Geographically it is set amidst a backdrop of coastal mountains and is located on a large beach-filled bay.
The town is one of the oldest on the Adriatic dating back 2500 years. But the old town standing here today was built by the Venetians who ruled from 1420 to 1797 (just like Kotor). Unlike Kotor, Budva's old town is much more traditionally shaped (almost squarish, with a fortress facing the sea).
Budva is part of the Budva Riviera: a very popular beach destination. It's the most popular destination in Montenegro, known for its beaches, nightlife and restaurants.
---
---
You might detect a lack of enthusiasm in my description.
I never expected Budva to be as built up as it is. The whole bay is lined with an array of high-rise hotels: some super fancy, some on the decrepit side. Large yachts were moored in the marina next to the old town. Families with young children sat in cafes and on the beaches (even in January. It was a balmy 16C every single day we were in Budva).
I think it took us an hour in Budva to say "I wish we had stayed in Kotor".
---
---
For some people Budva might be their dream vacation: the weather is nice, there are sandy beaches (most beaches in the Balkans are rocky. They actually have beaches with sand in Budva). There are tons of cafes, tons of restaurants, lots of high-end stores where you can shop. There's an Aquapark and a few large casinos.
If you like all those things you'll love Budva.
We obviously don't.
We explored the old town and visited the Citadel. I'm not going to tell you that it's exciting or that it's worth the 5 Euro entrance fee. But the views from the top are the highlight of the old town.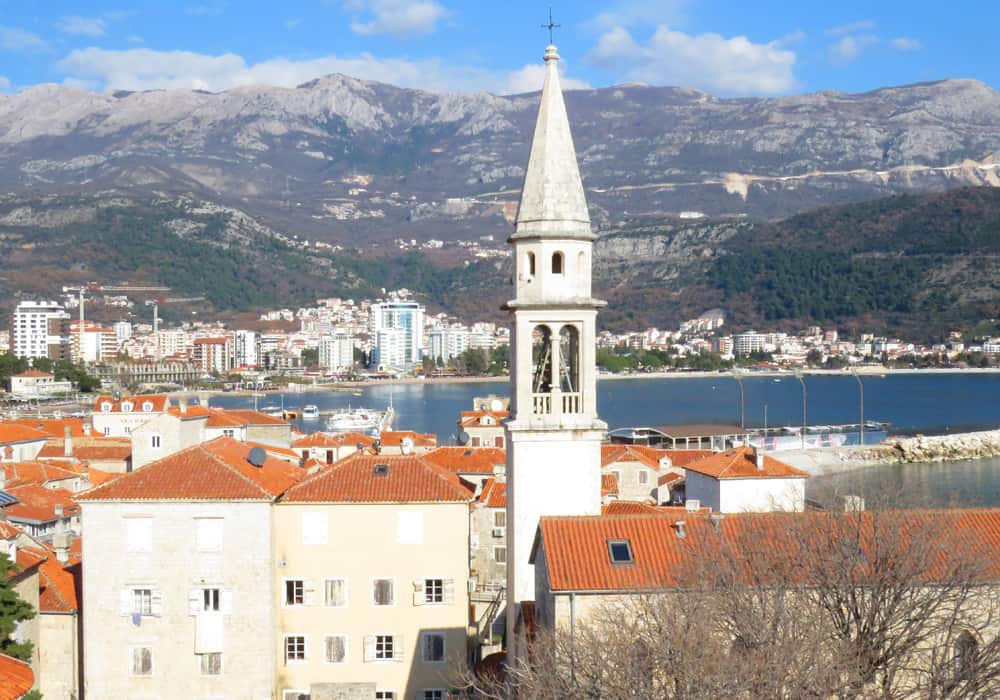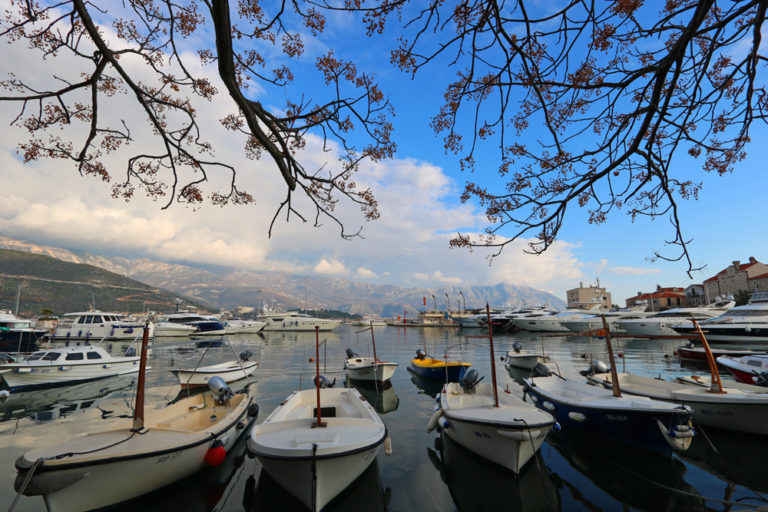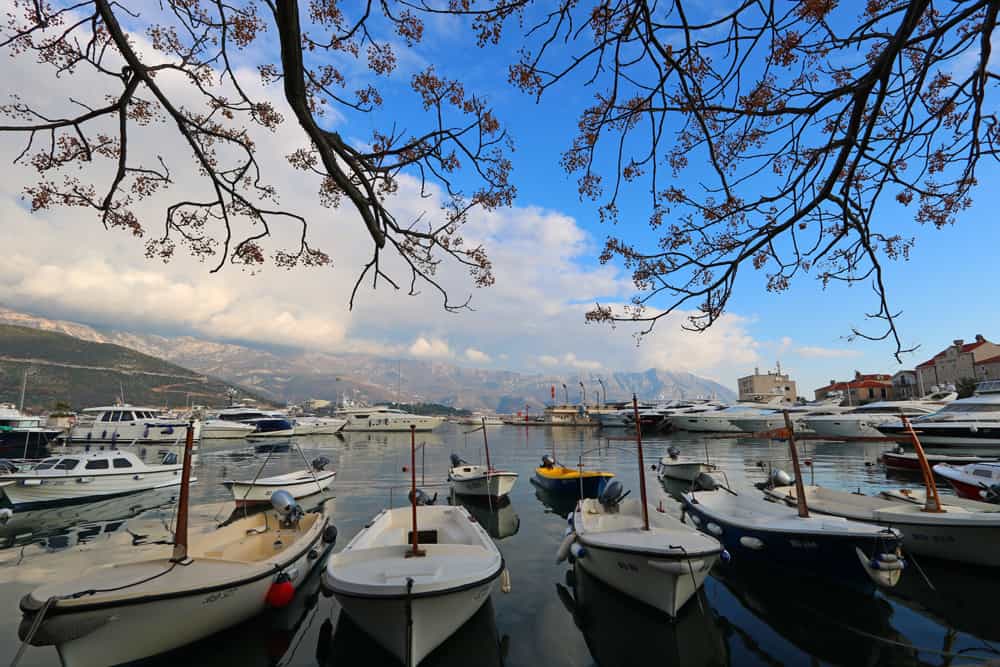 ---
---
We walked 15 minutes along the coast to Mogren beach. There's a nice statue along the way of a ballet dancer on a rock. We walked 2 hours along the coast in the other direction hoping to make it to Sveti Stefan. Along the way our walk was interrupted by all-inclusive resorts and construction sites before the path petered out just before Przno. We walked back.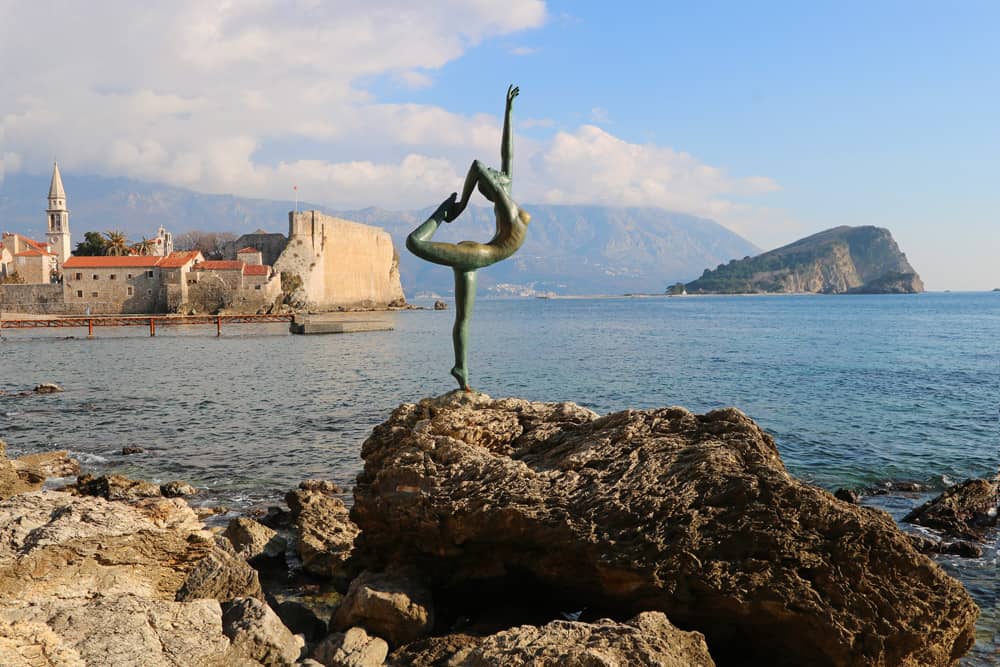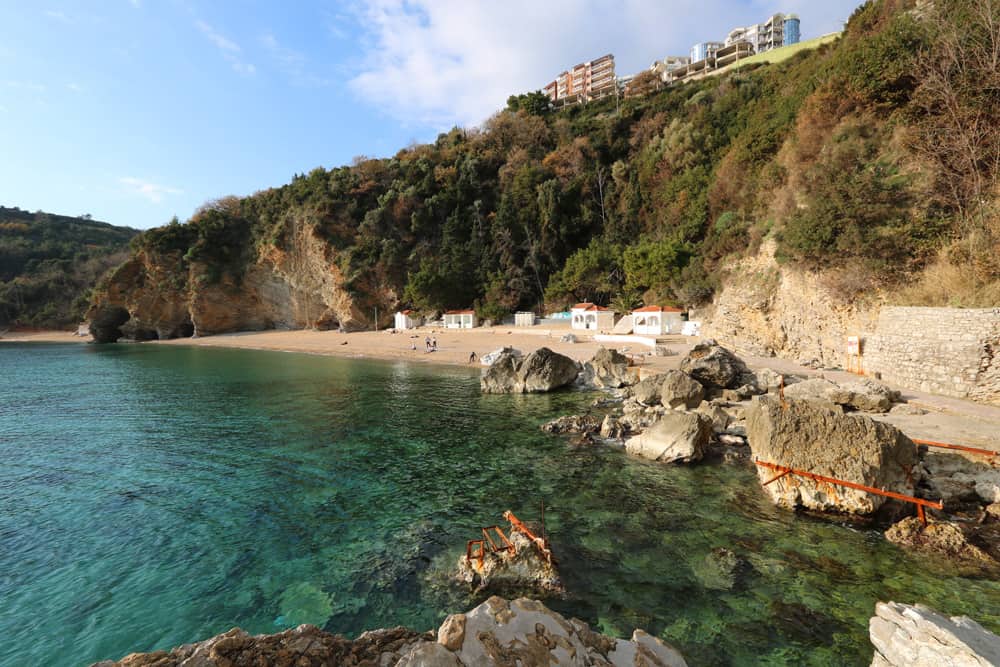 The rest of the time we spent re-walking the old town and sitting at cafes looking at the scenery.
---
---
Practical Information on Budva
Where to stay in Budva
Hotel Majestic is a beautiful 4 star hotel right next to the Old Town. Fontana Hotel & Gastronomy is another very nice 4 star hotel in prime location. If you prefer an apartment right in the old town Sea Paradise Apartment is recommended.
Getting to Budva
Budva is 45 minutes from Kotor by bus, 30 minutes by taxi (cost about 20 Euros). If flying in, the nearest airport is Tivat (just like for Kotor) which is about 25 minutes away.
---
---
So…Kotor or Budva?
The answer depends on your interests and how you travel. If you like fancy resorts, fine dining and relaxing…or you have kids and want to go to the beach or the waterpark, then you might like Budva.
If you like history and a beautiful setting, then the answer is undoubtedly Kotor. Kotor's old town is much more interesting than Budva's and the geography more spectacular. Kotor and the Bay of Kotor are a UNESCO World Heritage site, recognized both for its history and for its geography (Kotor is one of three UNESCO sites in Montenegro and the only UNESCO site along the coast).
For us the answer is 100% Kotor. There's no comparison. As I've said above, Kotor is one of the most beautiful spots I've seen anywhere in the world. We could easily come back a 3rd time, renting one of those homes along the bay and spending lots of time walking and hiking…
Have you been to Kotor and/or Budva? What do you think?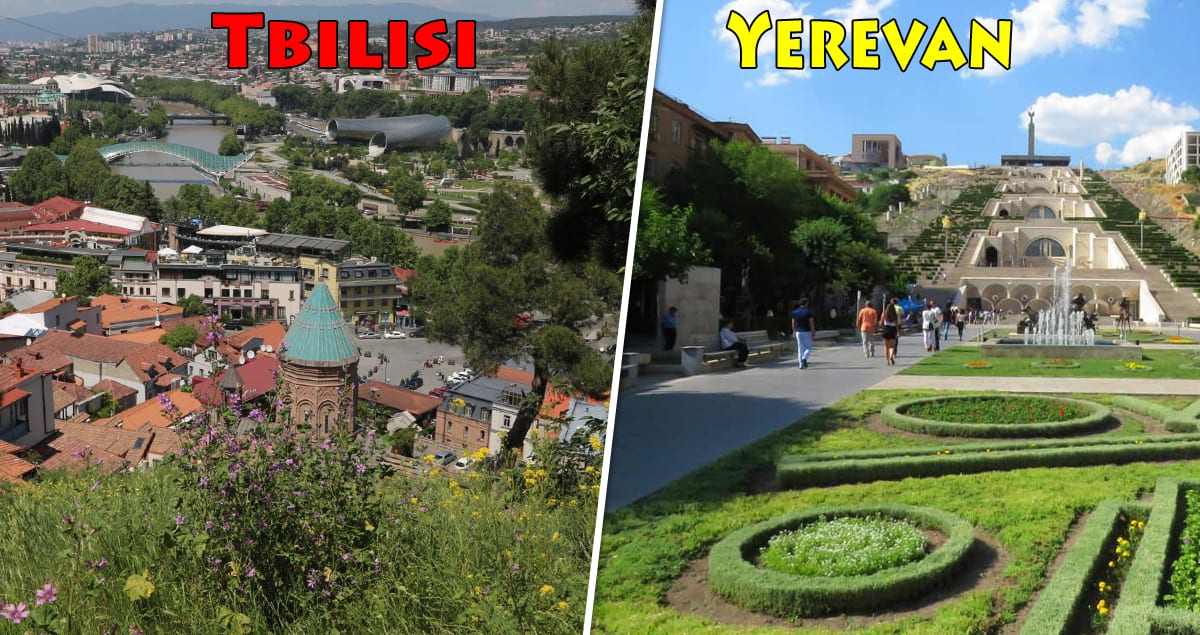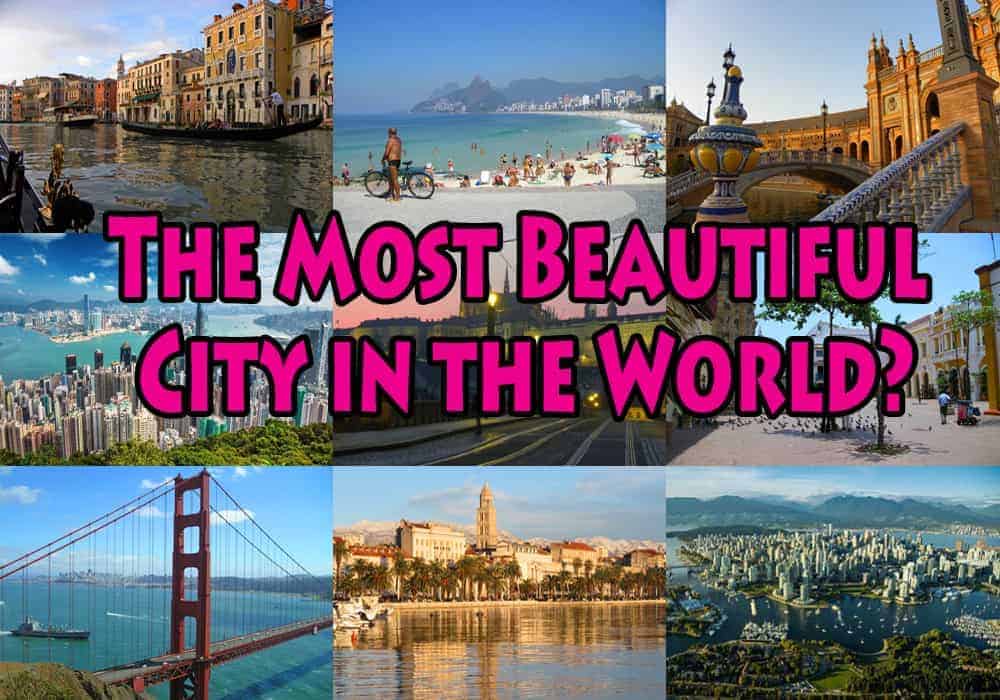 PS. Looking to book flights, hotels, tours, or rent a car? Have a look at our Travel Resources page.