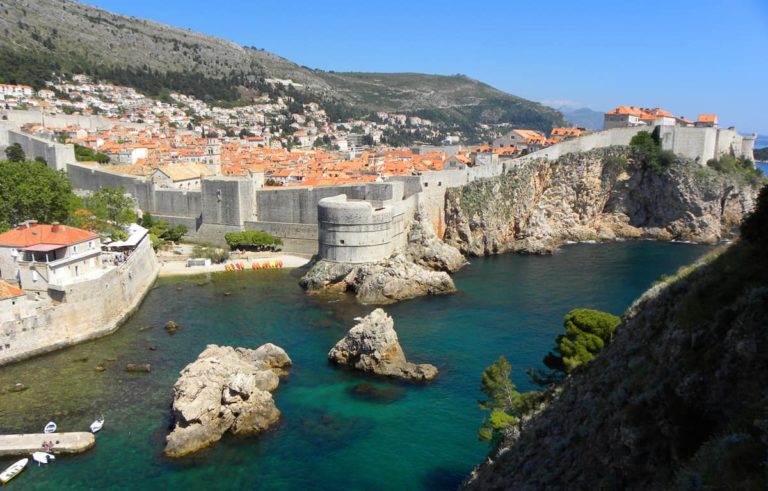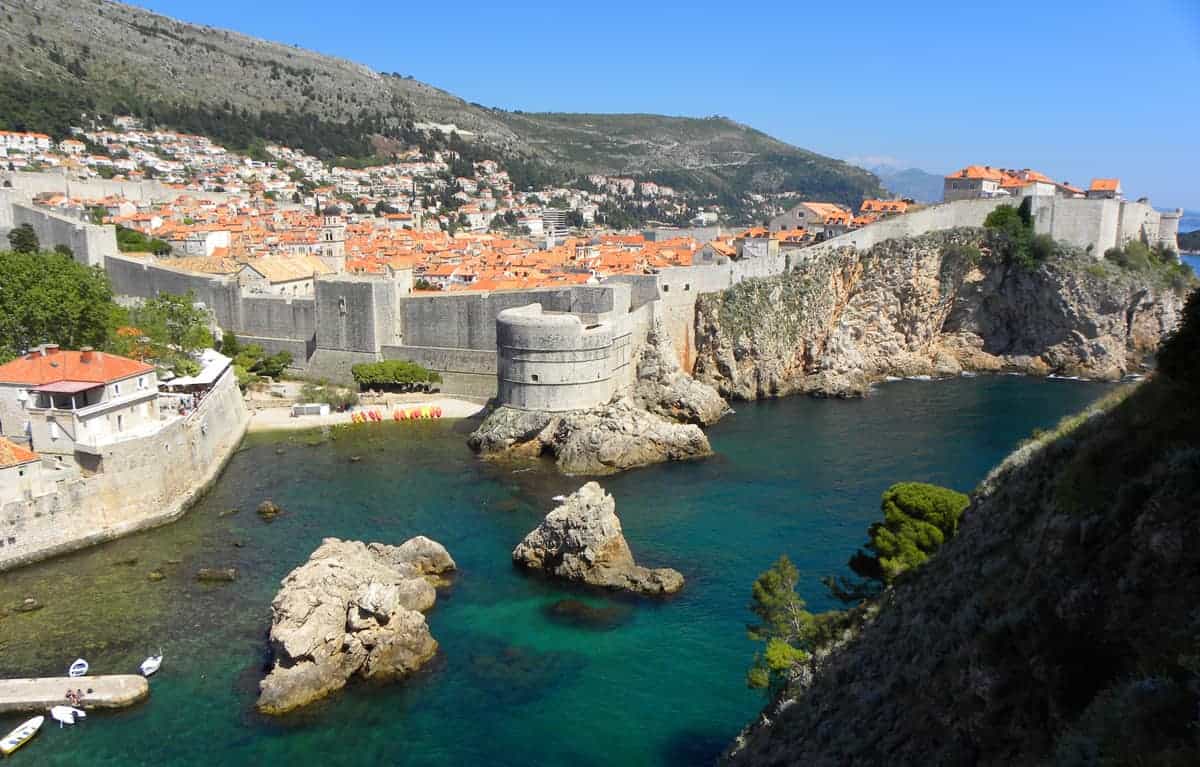 Highlights and Lowlights of Dubrovnik
Dubrovnik, otherwise known as 'the Pearl of the Adriatic' is at the top of every traveller's Croatia wish list. It is spectacular, incredibly photogenic, and has one activity which ranks up there as one of our all-time favorite travel experiences. You can't skip Dubrovnik if coming to Croatia. But is it our favorite Croatian destination? No. I'll explain why.
In this post I'll cover what we like about Dubrovnik as well as cover a few aspects we liked less (I cover that at the bottom). I'll tell you what to see and do, how much time to allocate to your visit, and how to best spend your money. Because a visit here can make you poor very quickly. I've also got a lot of photos below. You tend to go photo-crazy in Dubrovnik.
.
The Ultimate Dubrovnik Activity – A Walk around the City Walls
One activity ranks above anything else you can do in Dubrovnik: a walk around the city walls. It is not cheap (35 Euros now in 2023!*) but you'll be blown away by the views of the city. It is spectacular and you can easily spend 2-3 hours doing the circuitous route around the top of the city. Note that the ticket also includes a visit to St. Lawrence fortress.
* the first time we went to Dubrovnik in 2015 it cost 100 Kunas (about 13 Euros). We came back in 2020 and it cost 200 Kunas (26 Euros)…now it's 35 Euros..
A few photos: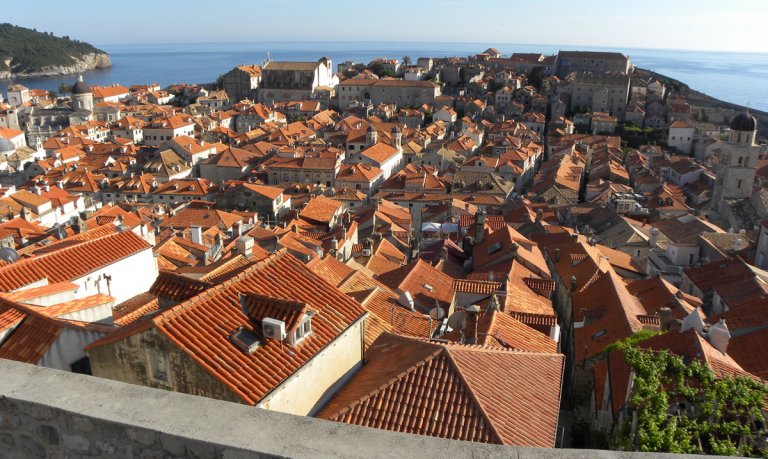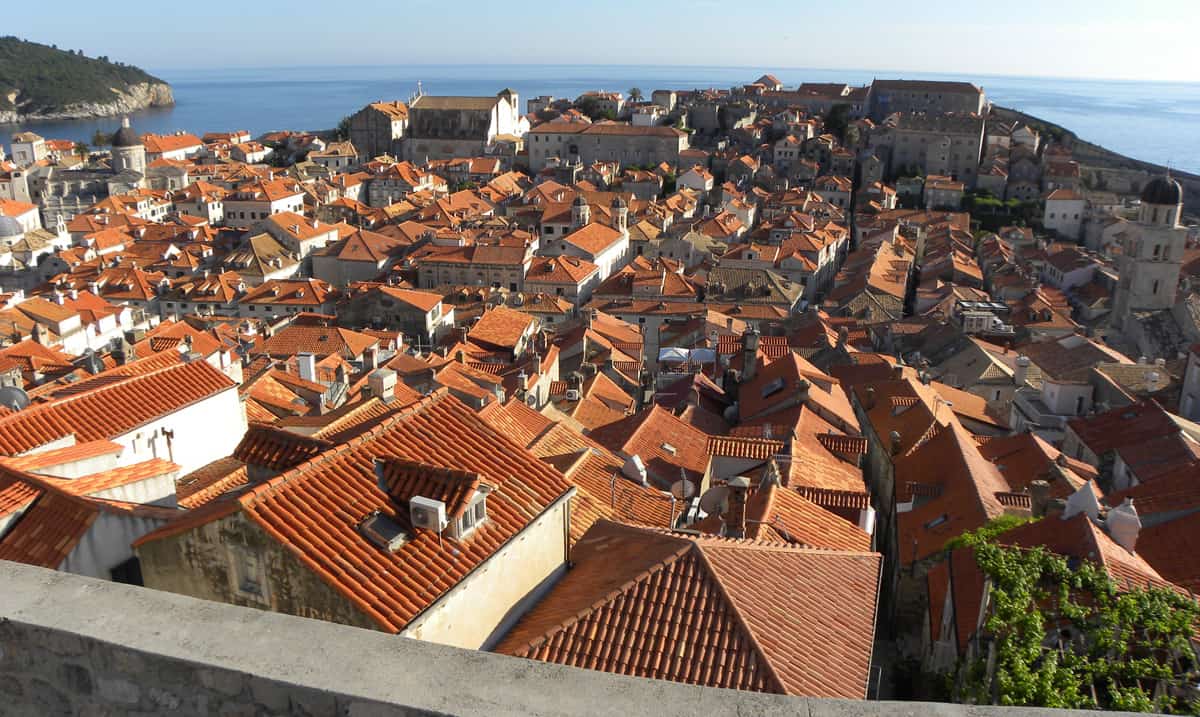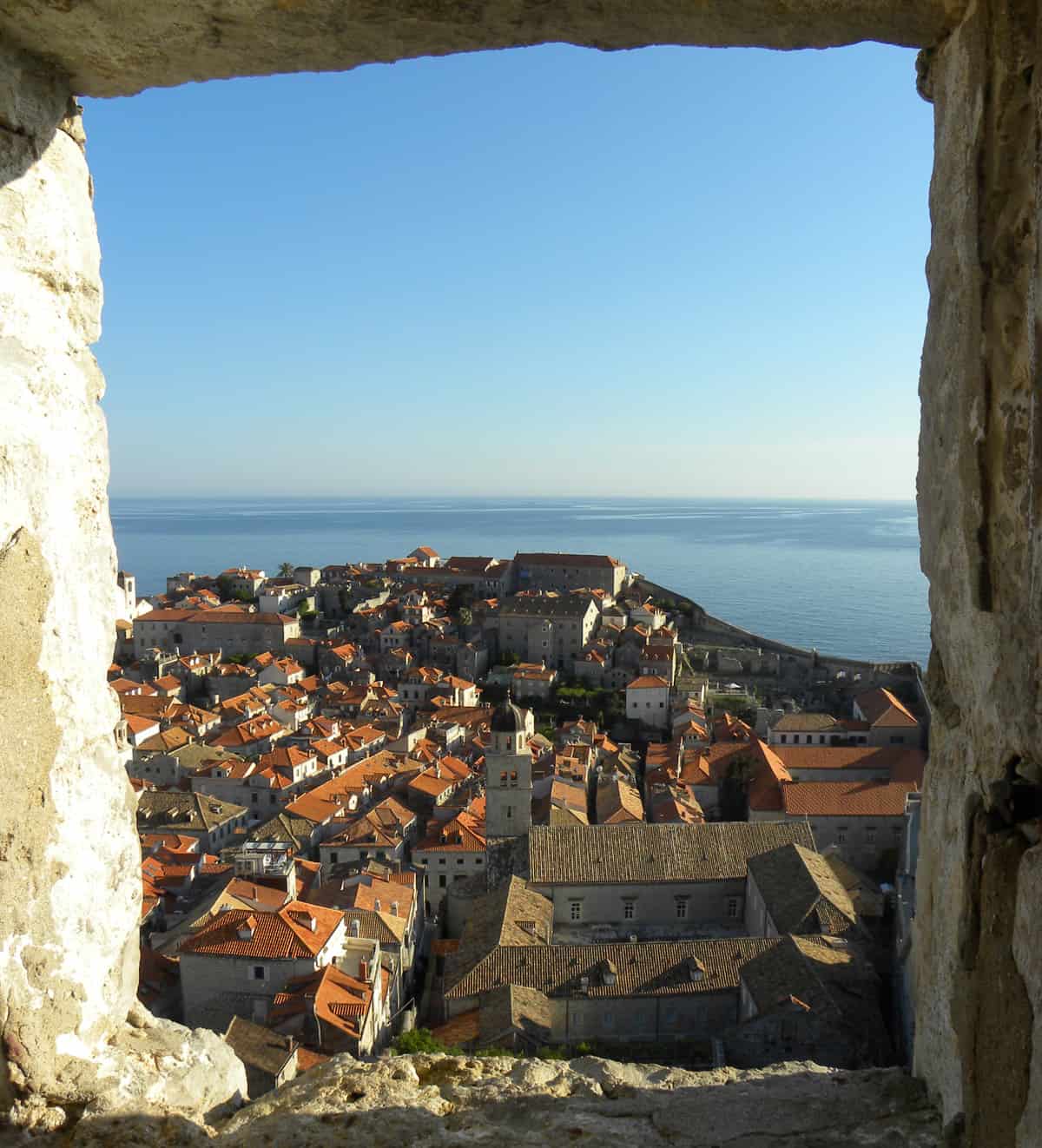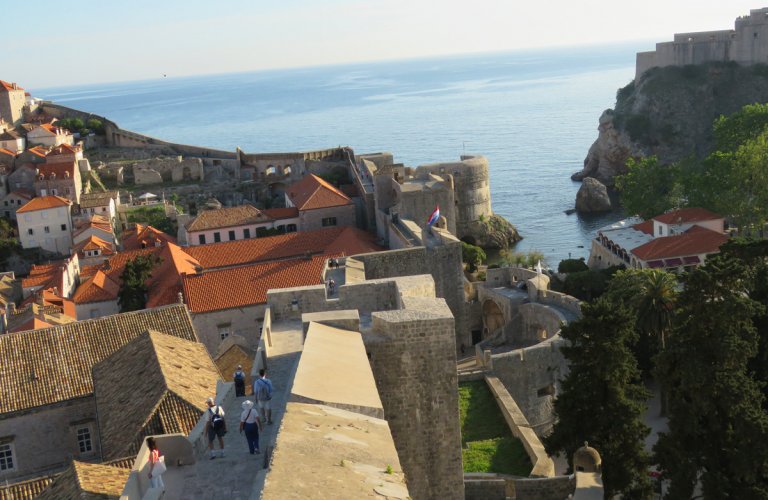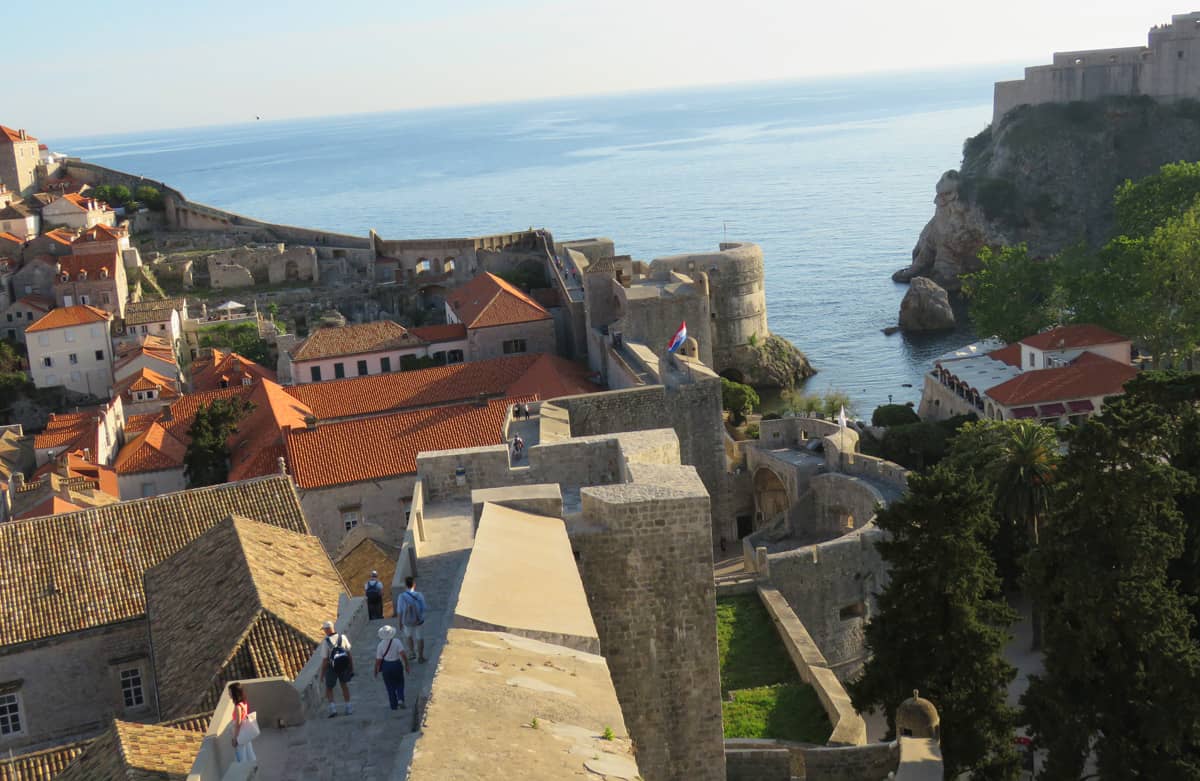 ---
---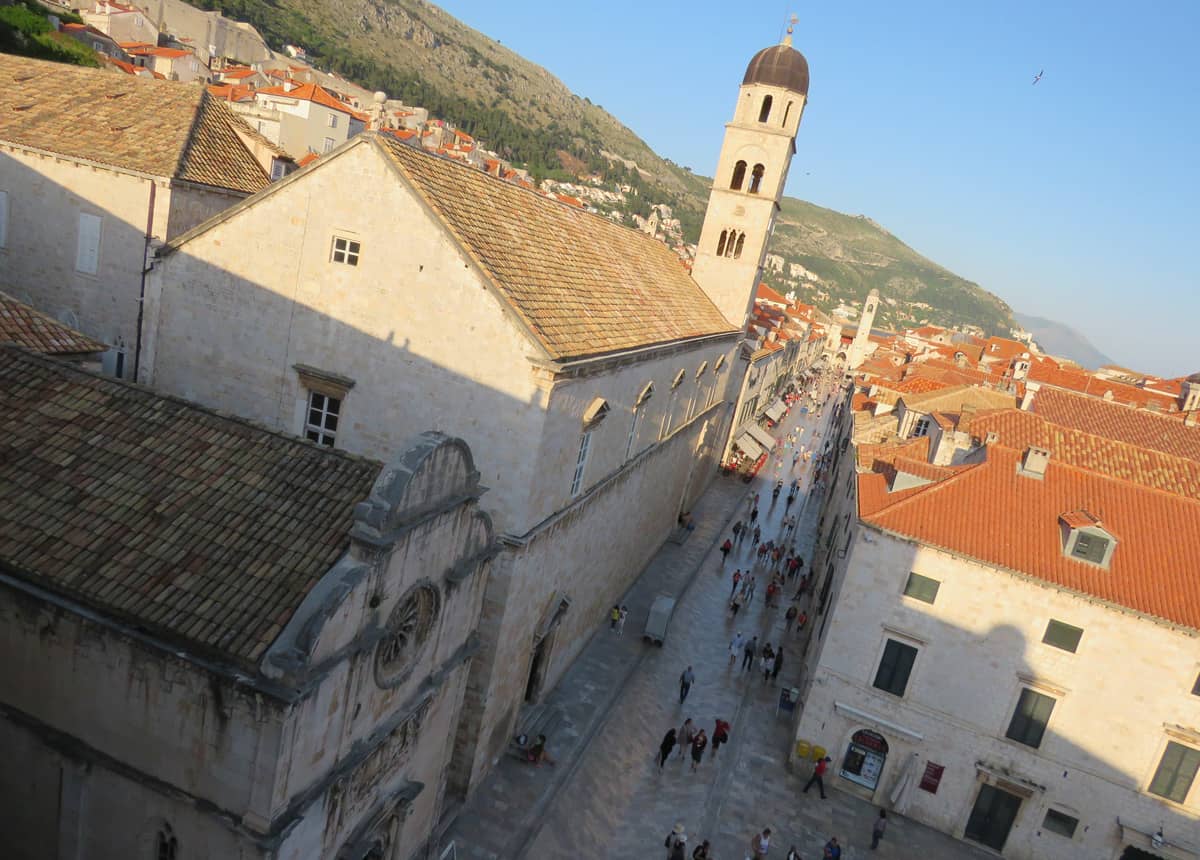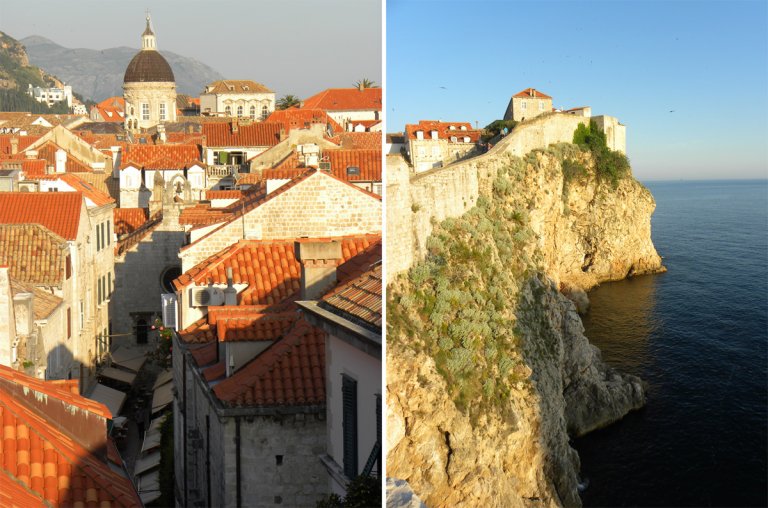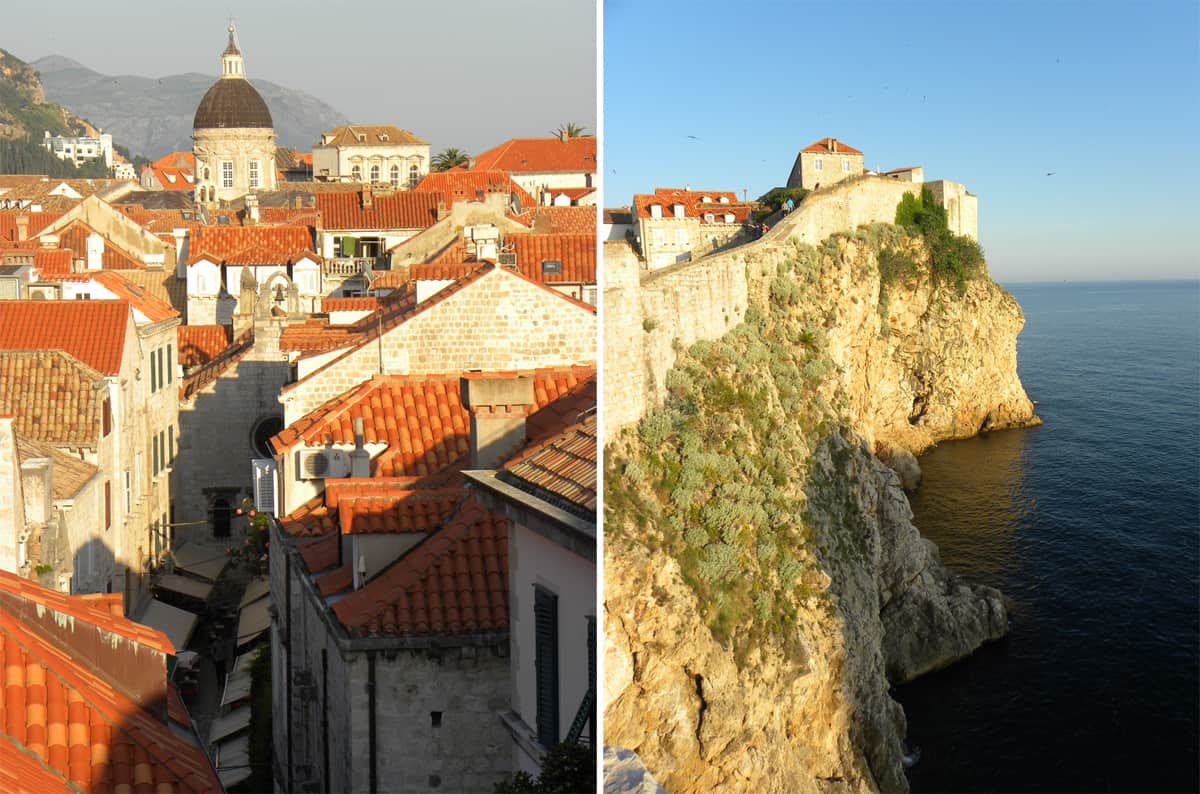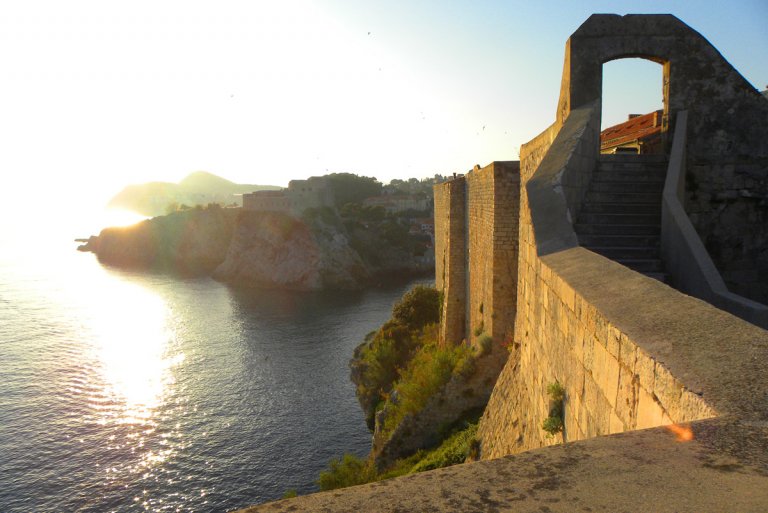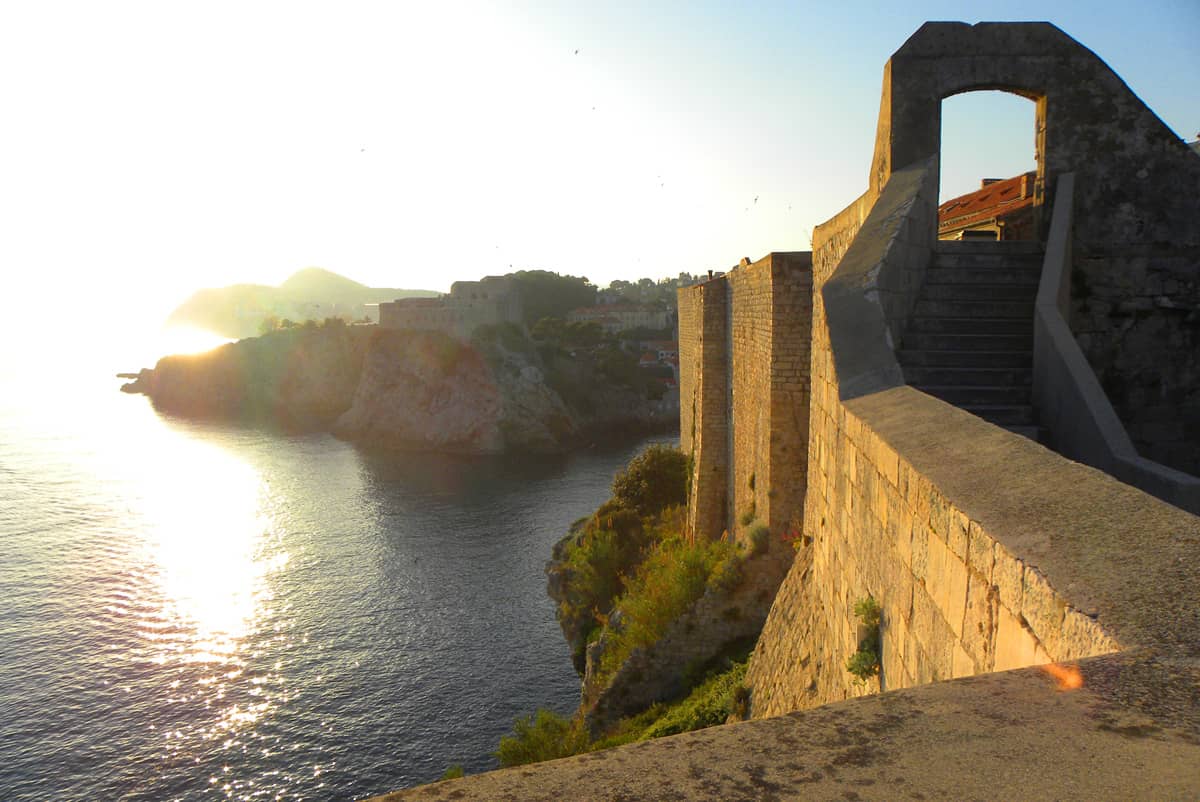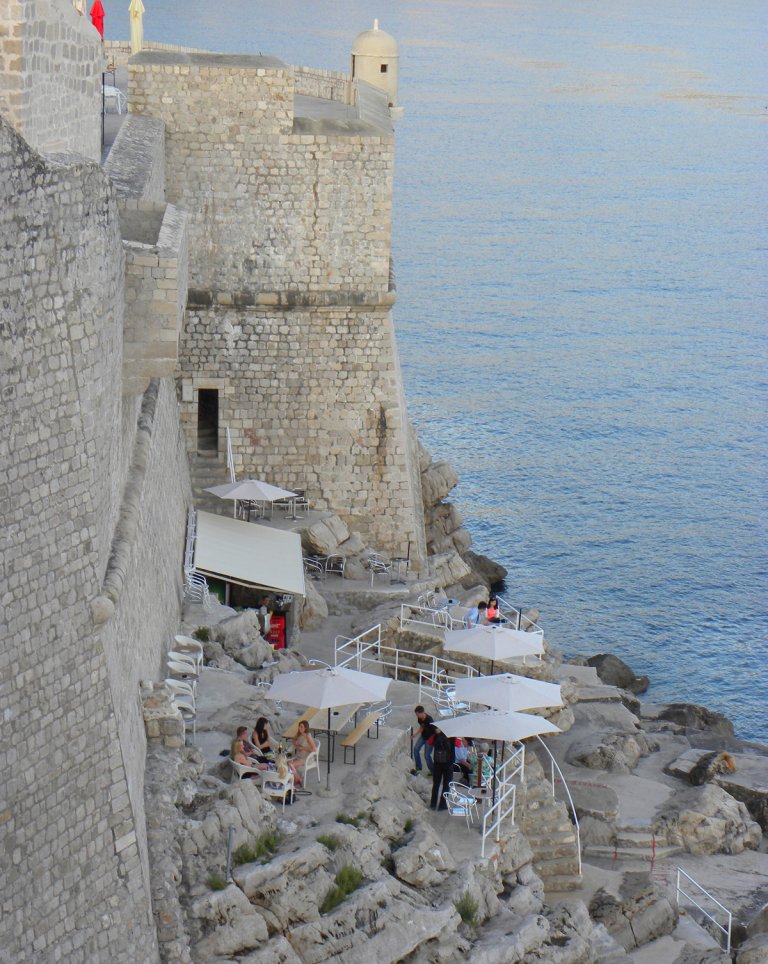 I would plan all activities around the 'Wall Walk'. It is one of the most impressive and fun excursions we've had anywhere and although not cheap worth every penny.
---
---
.
A Walking Tour of Dubrovnik
Start outside the Pile Gate and walk to the St. Lawrence Fortress. You'll get great views of the Old City from there. Note: the St. Lawrence Fortress is included in the ticket that you pay for the Walls.
Below: A few photos from the St. Lawrence Fortress.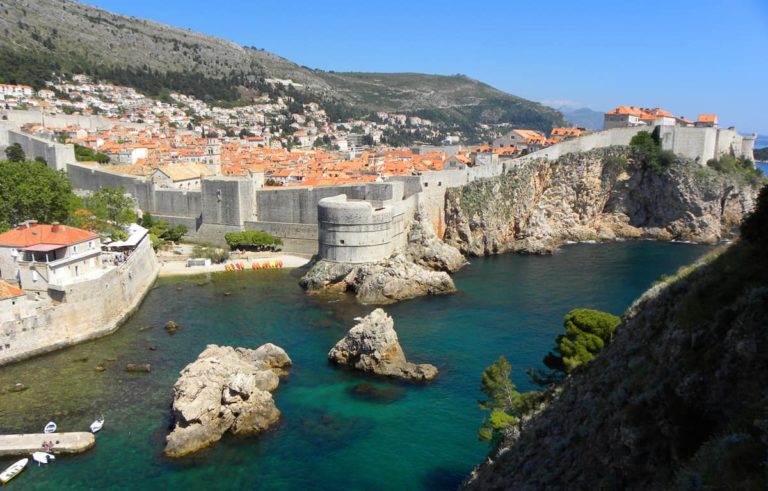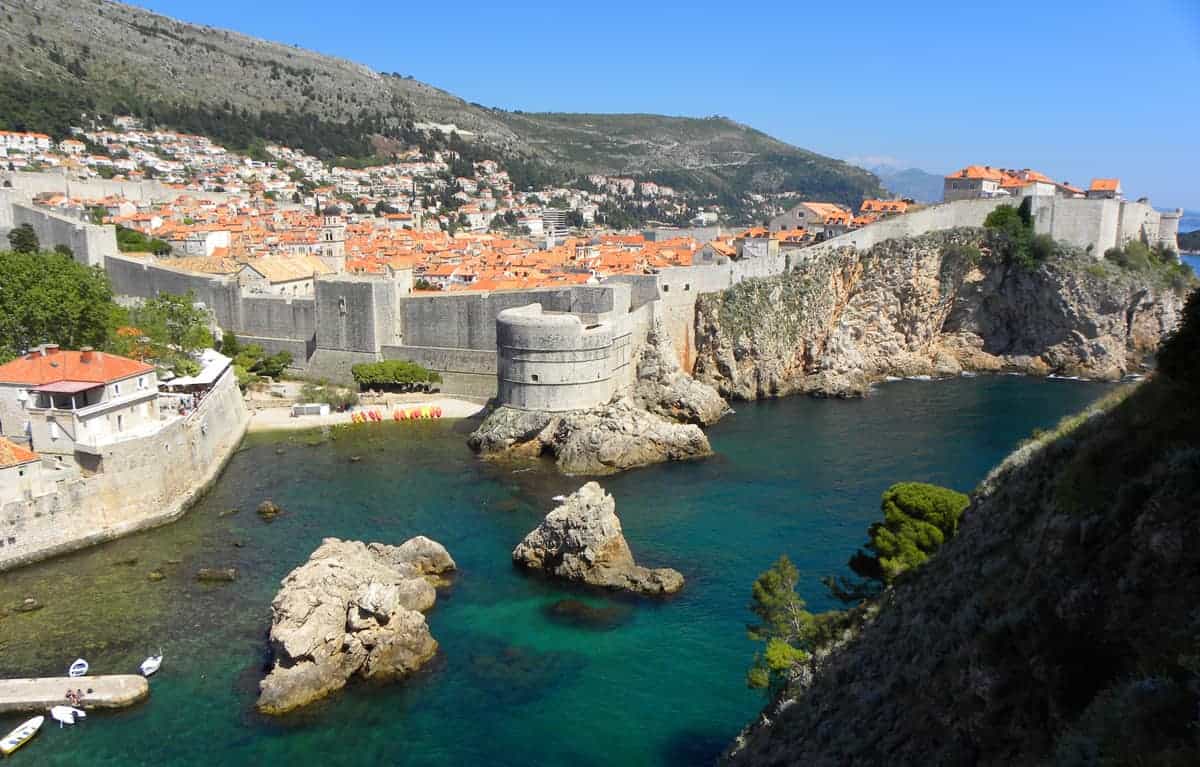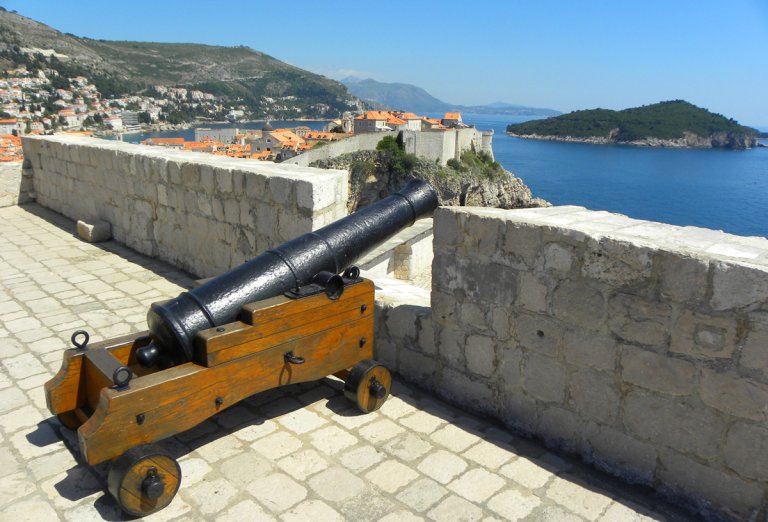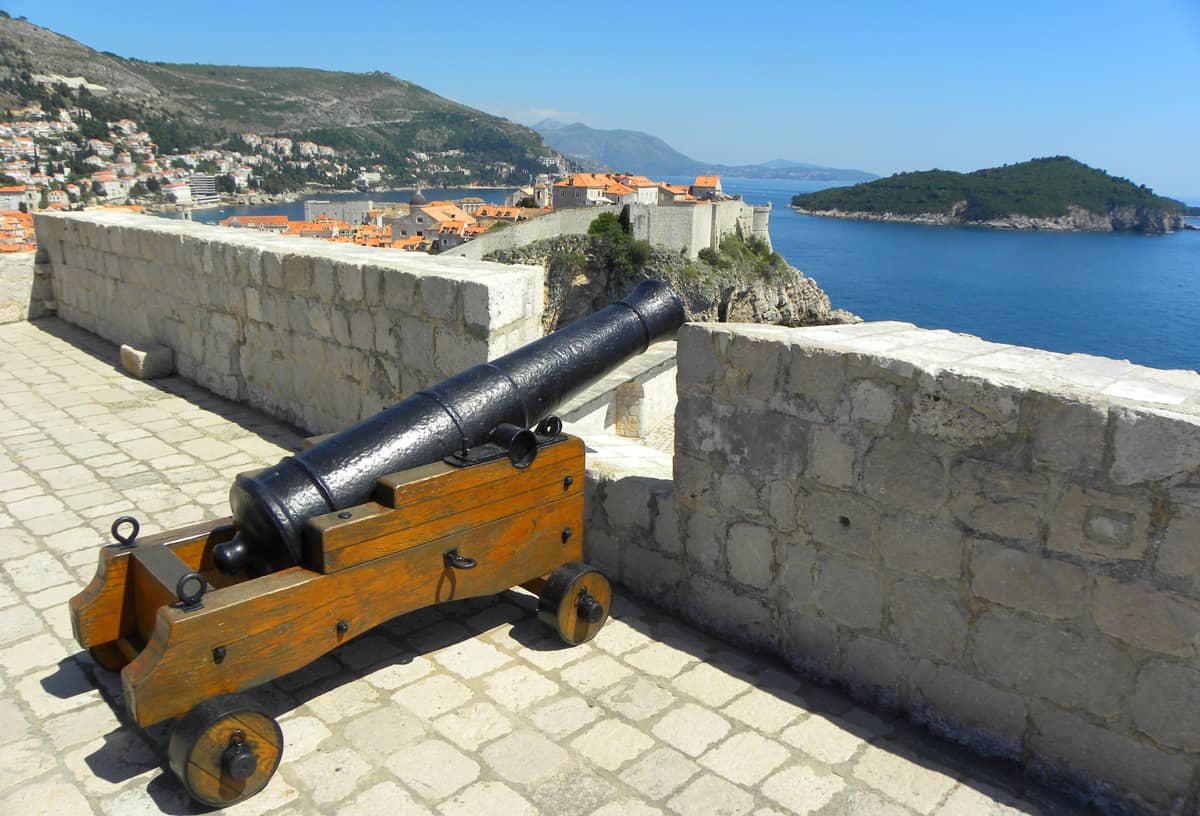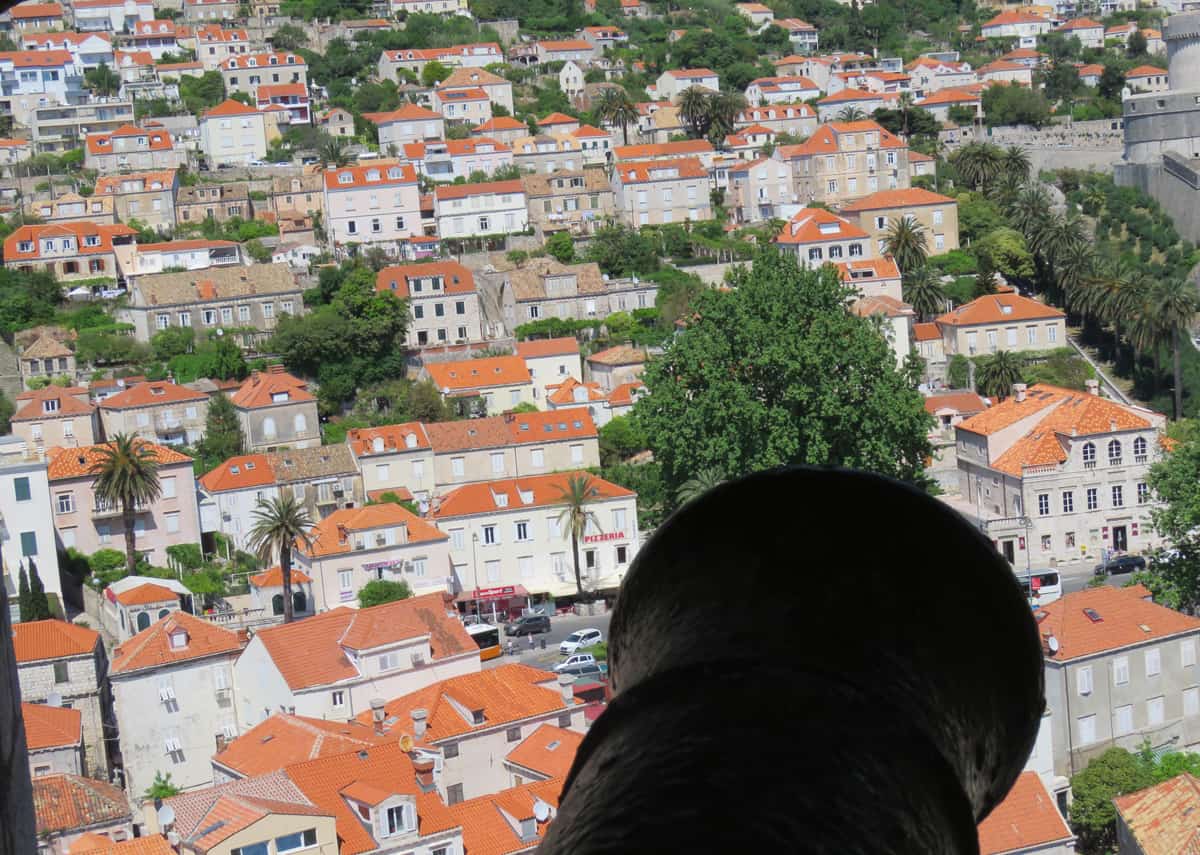 .
---
---
After you've seen the St. Lawrence Fortress, walk back through the Pile Gate and see, in order: Big Onofrio's fountain, St. Saviour Church, and the Franciscan Monastery.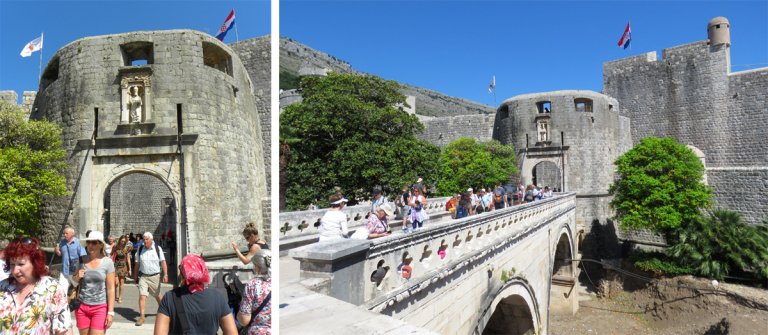 .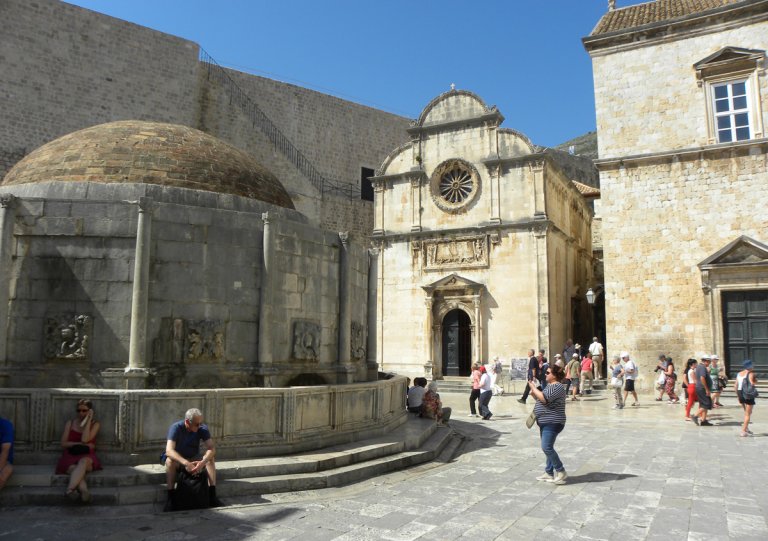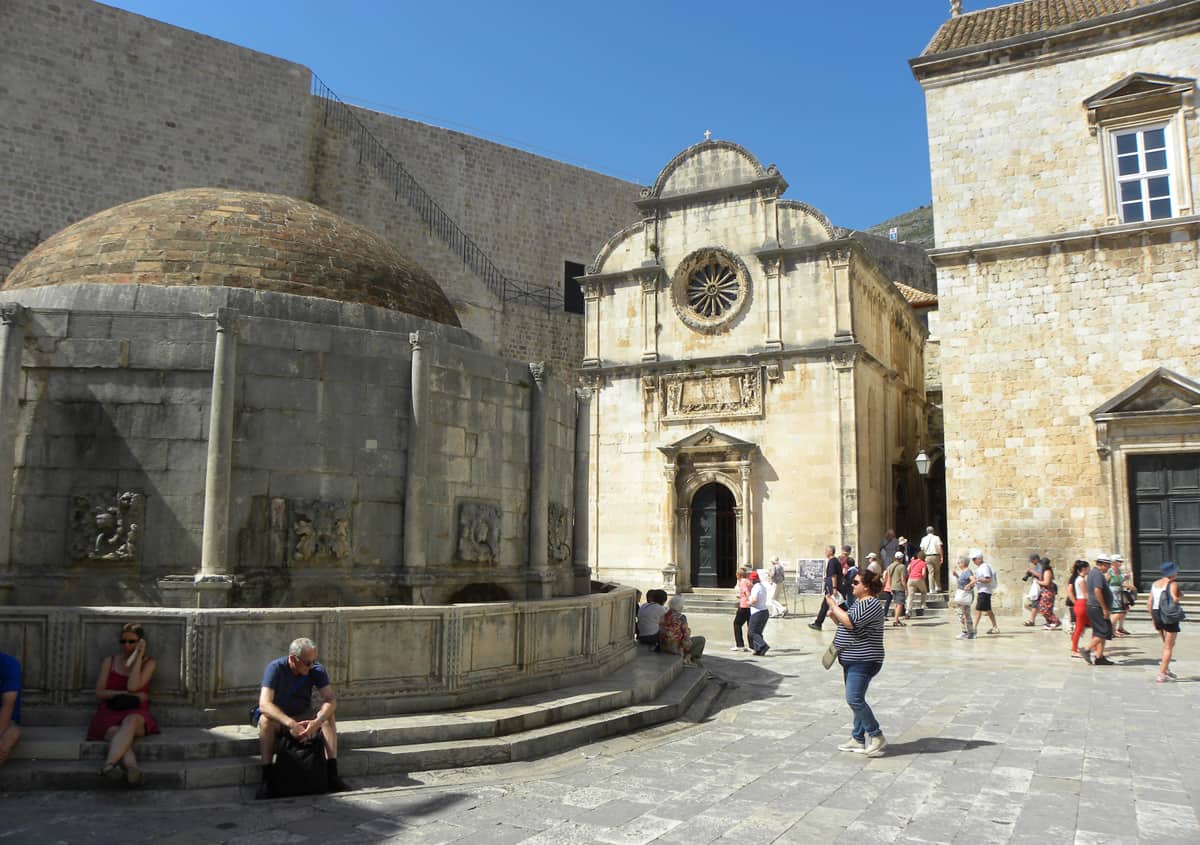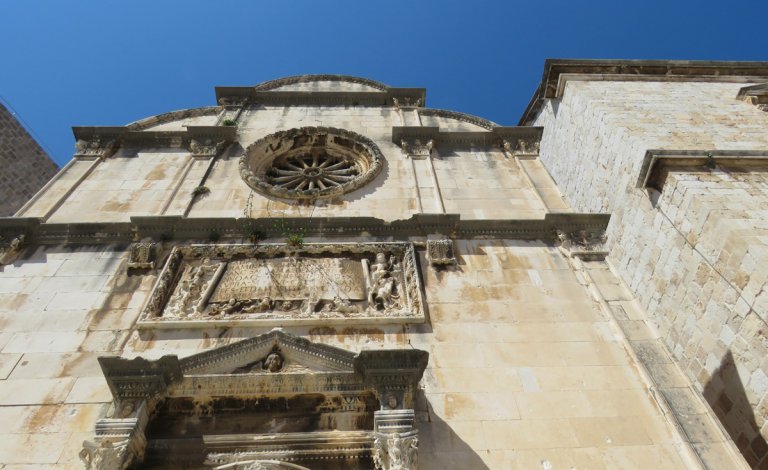 .
Next to St. Saviour Church is a Franciscan Monastery which also has a Pharmacy museum (it has the 3rd oldest functioning pharmacy in the world). You have to pay to get into the gates of the monastery – but if you just stick your head in like we did you can see one of the most beautiful cloisters (i.e. open gallery) in Dubrovnik.
.
The Stradun (below left) is the main street in Old Dubrovnik and runs 300 meters from the inner Pile Gate (Western Gate) and inner Ploce Gate (Eastern Gate). If you walk to the end of it you'll see more of the city's highlights including the Bell Tower (below right), the Sponza Palace, St. Blasius Church and the Rector's Palace.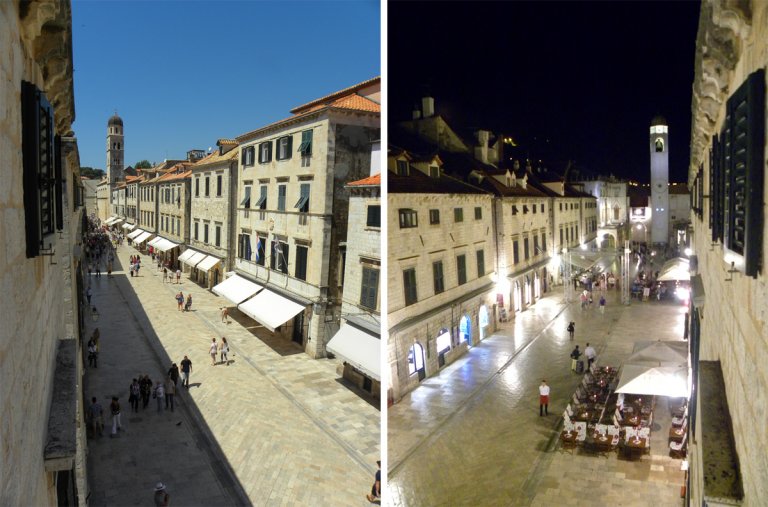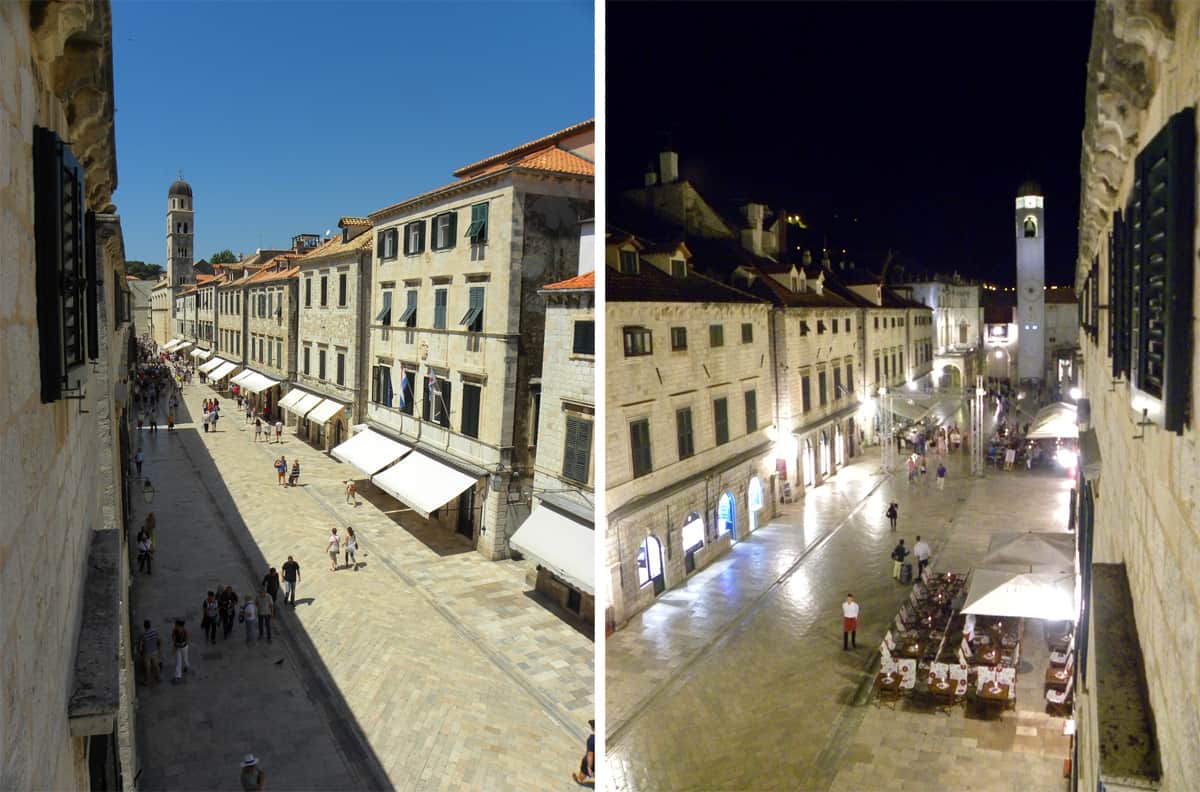 ---
---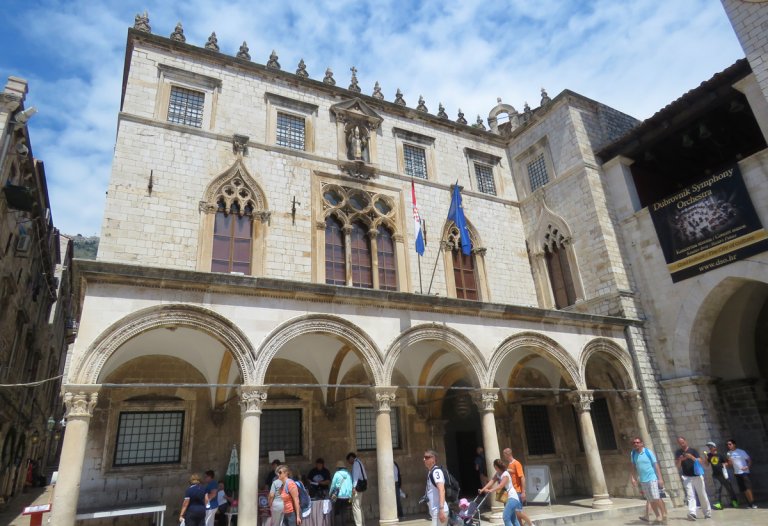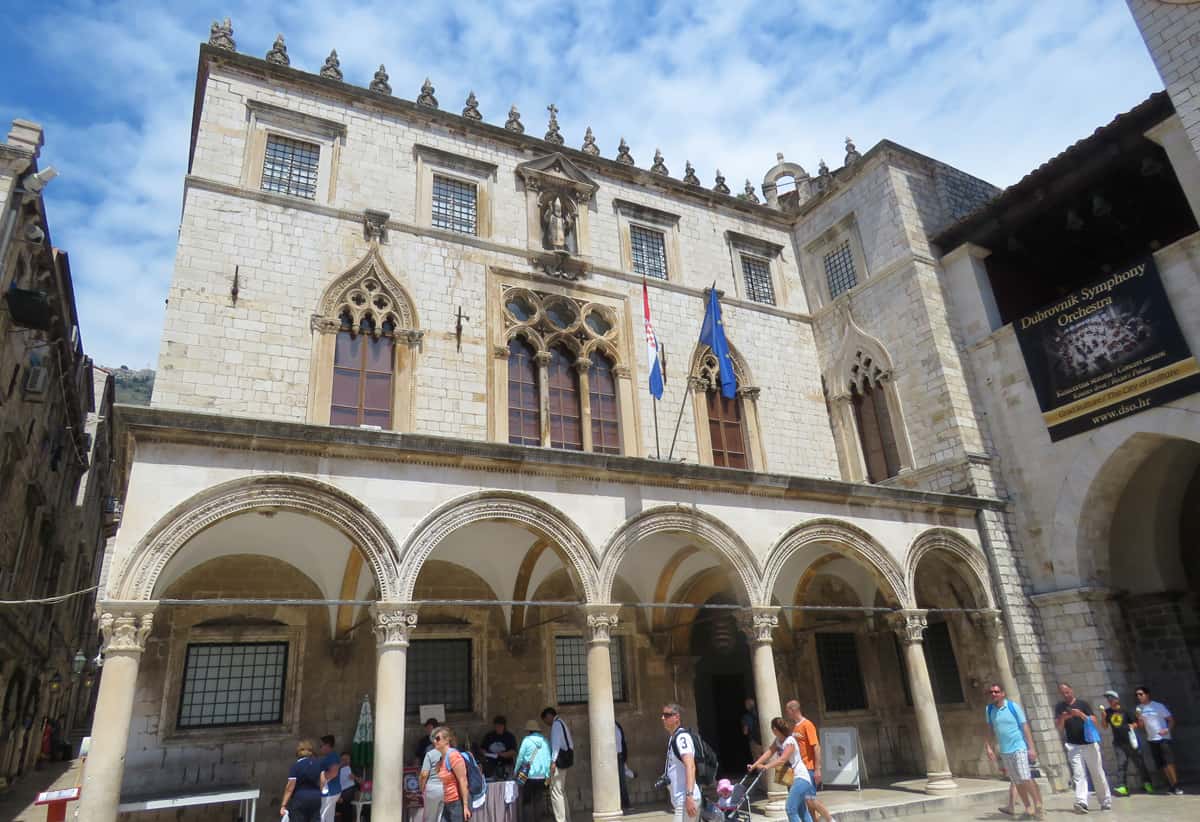 .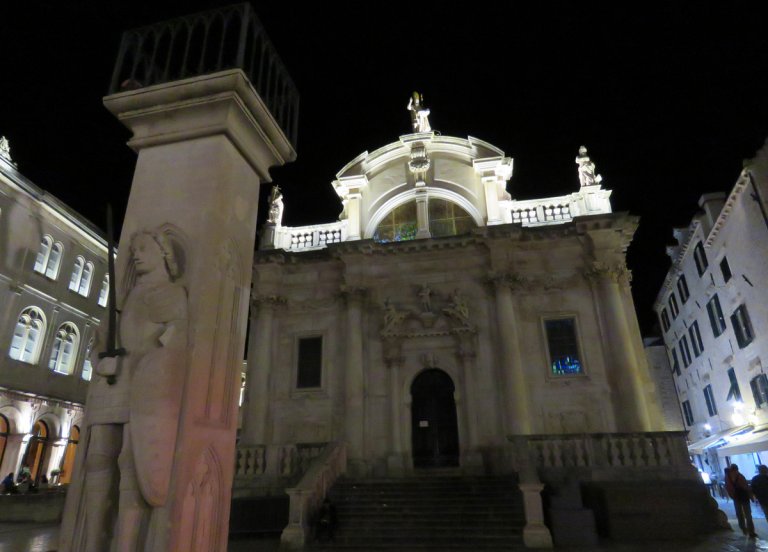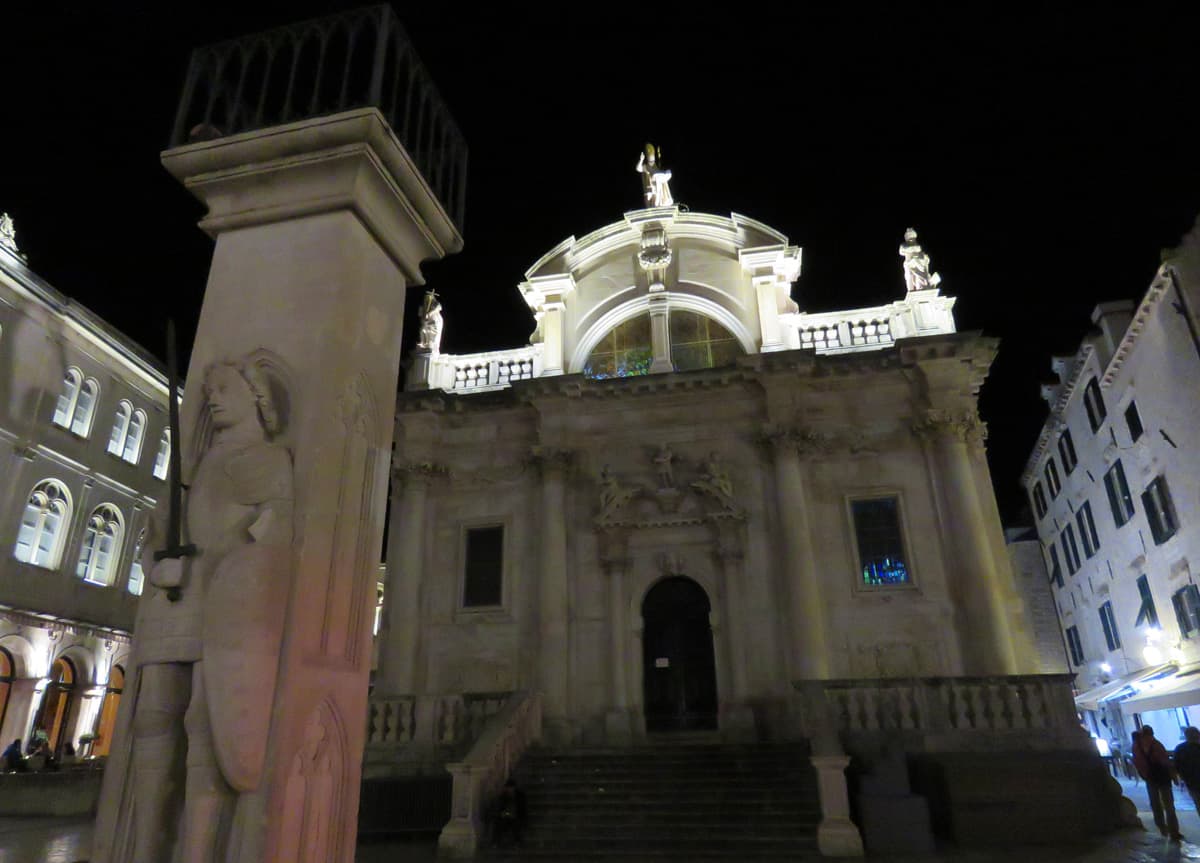 .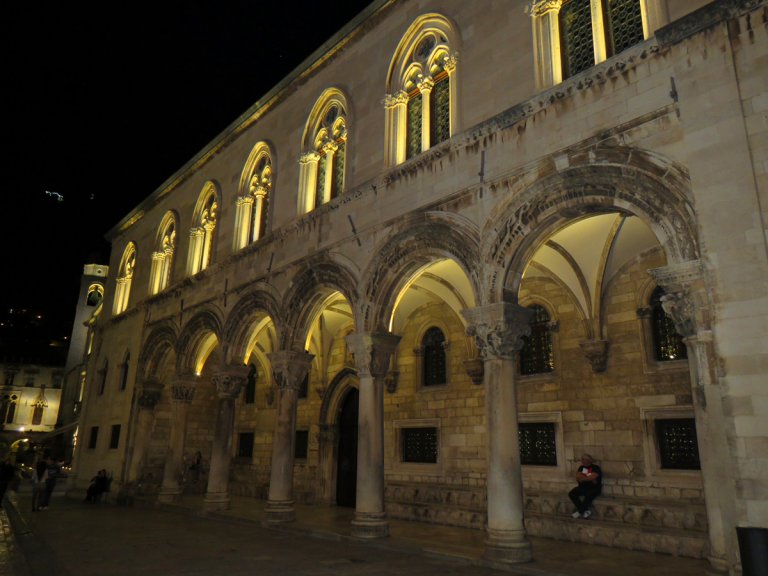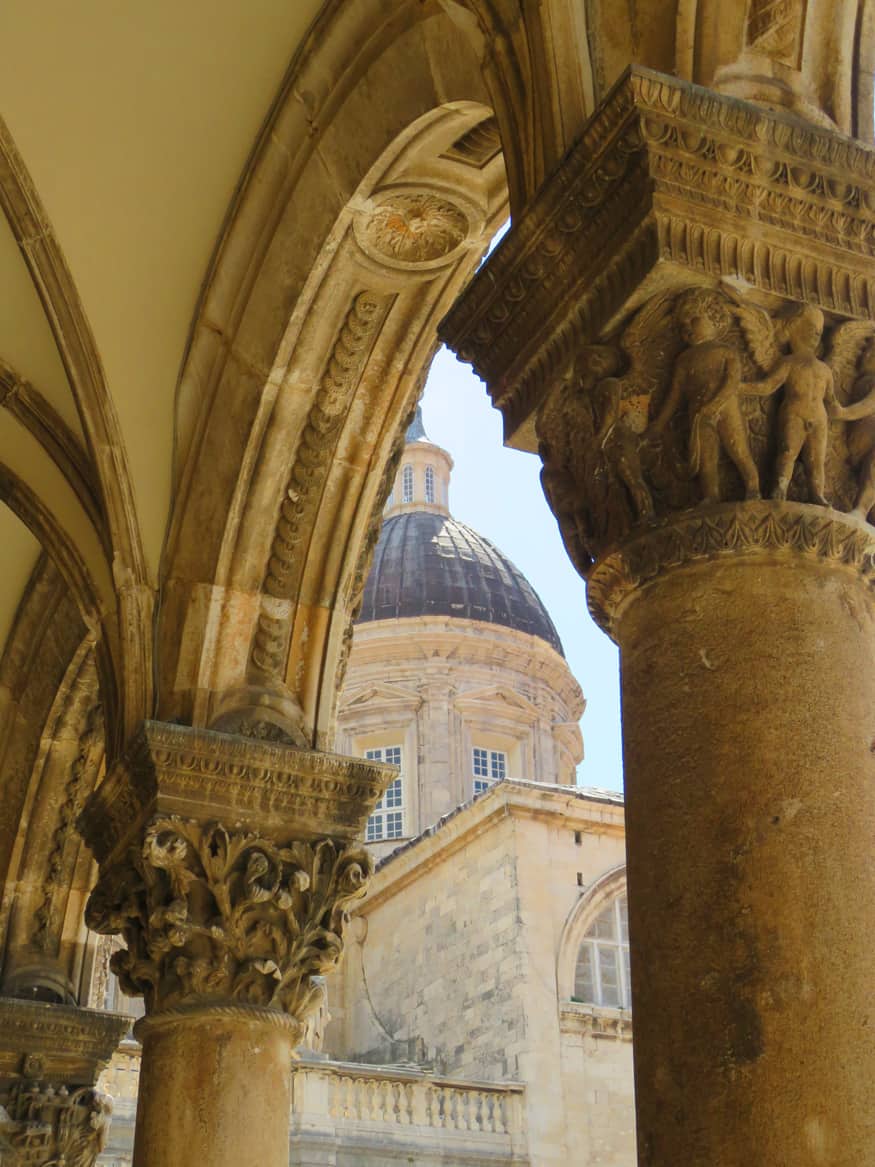 .
---
---
The Dubrovnik Cathedral is another of the city's highlights. Legend is that it was financed by Richard the Lionhearted after he was shipwrecked on nearby Lokrum Island following his return from the Crusades in 1192. It holds the bones of Dubronik's patron saint Saint Blasius. It has been destroyed many times by earthquakes, including the famous 1667 quake. Lots of detailed history here.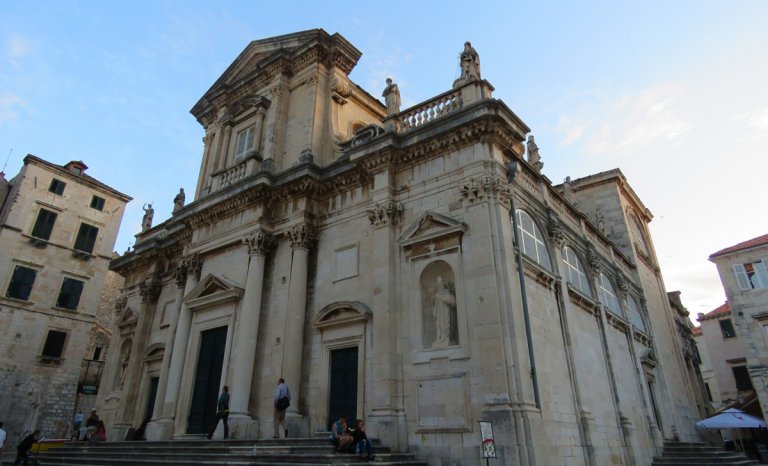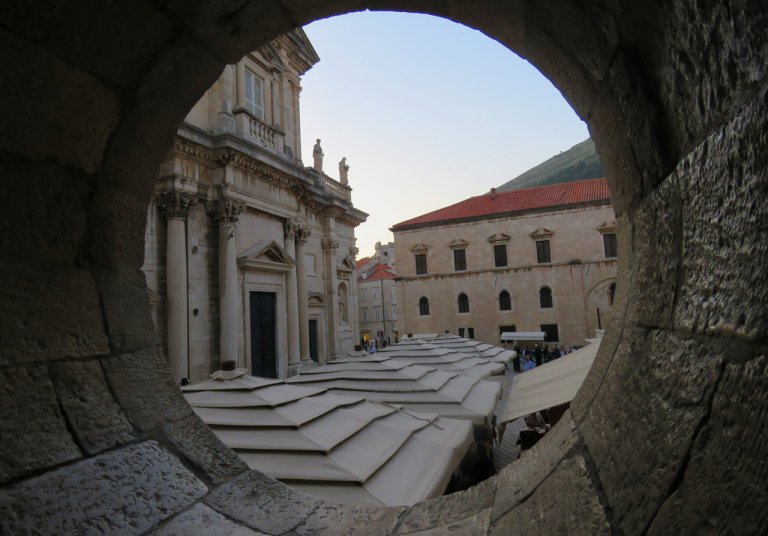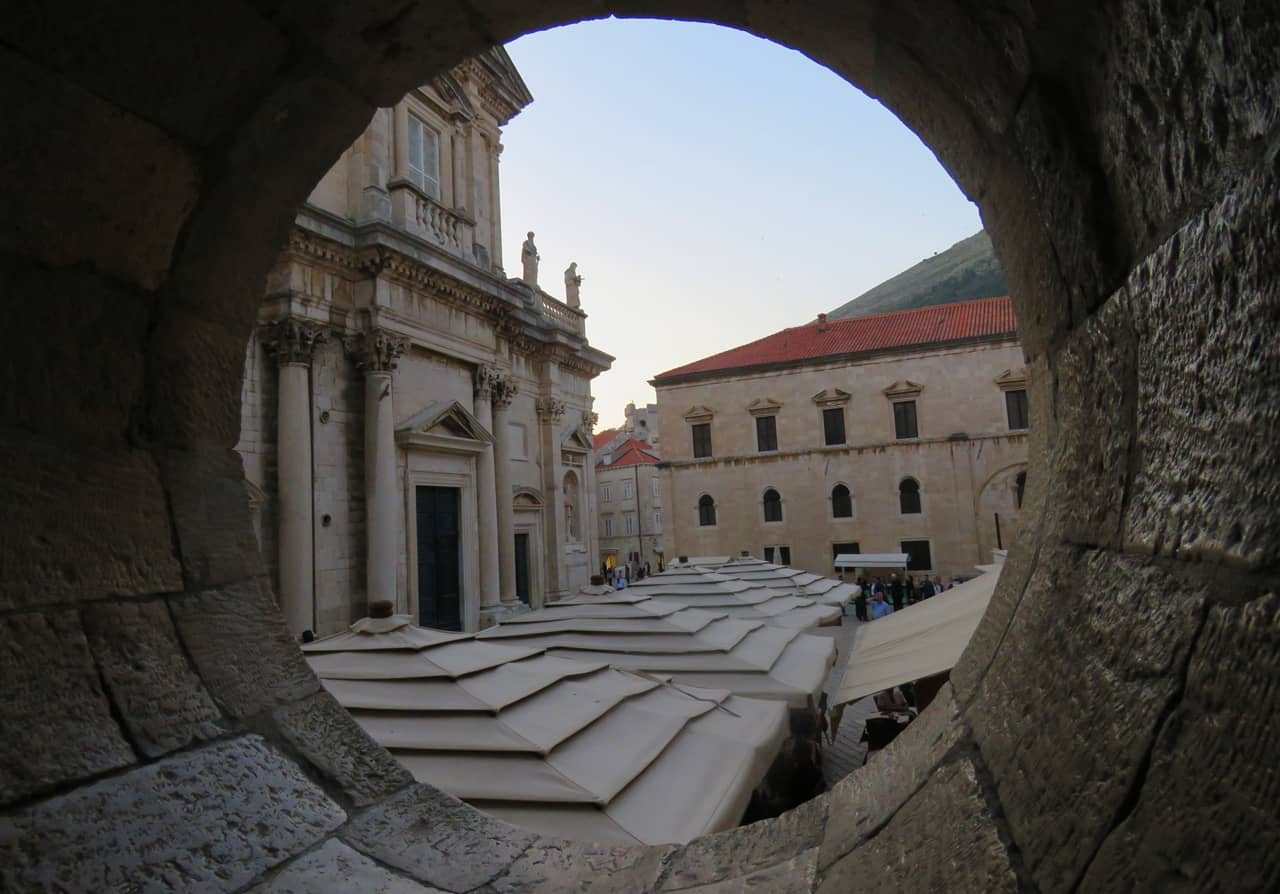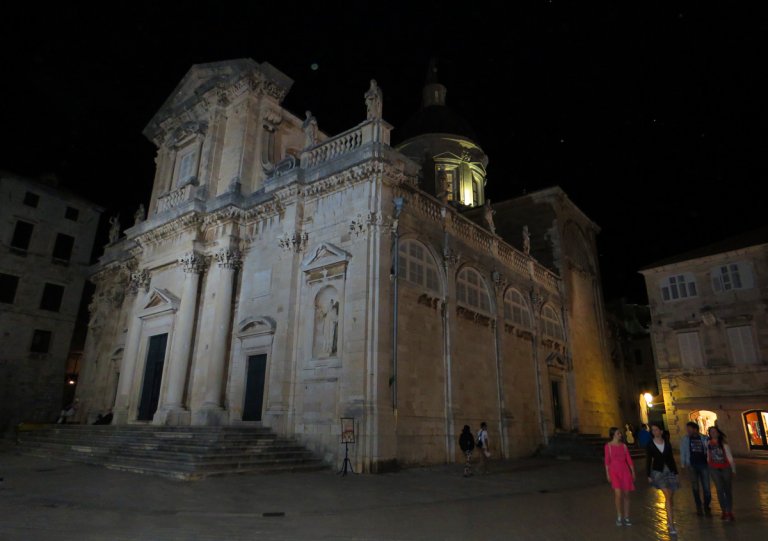 .
---
---
Close to Dubrovnik Cathedral a large Baroque staircase leads to the impressive St. Ignatius Church. We were actually more impressed with the interior of this church than with the interior of the Cathedral.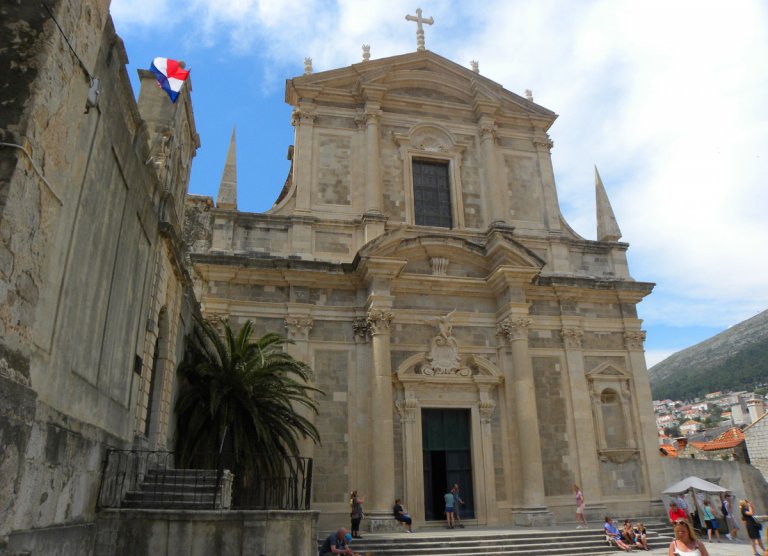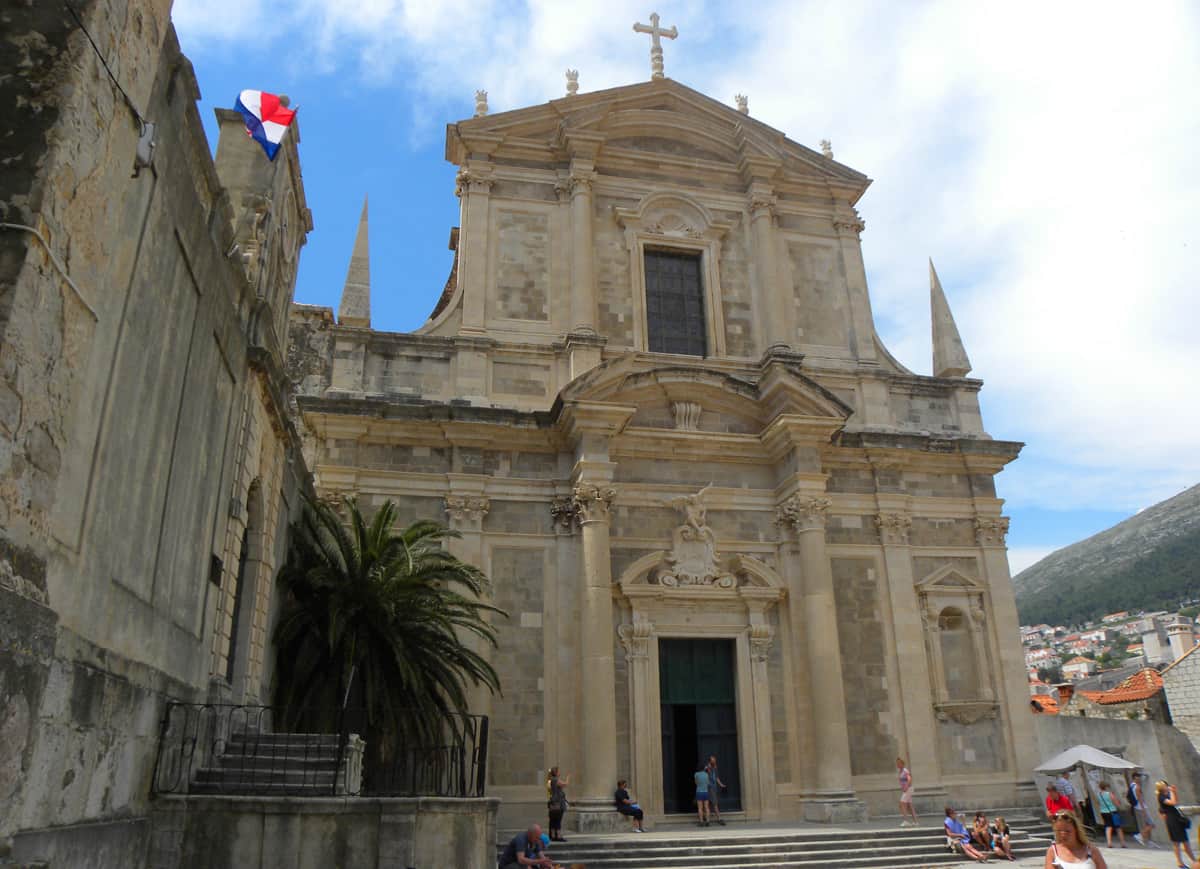 .
The buildings and churches I've mentioned above are the historical and archaeological highlights of Dubrovnik. But half of the pleasure of Dubrovnik is wandering around the Old Town. You'll see lots of little streets and many more churches and historical buildings.
Below: sights you'll see walking around town.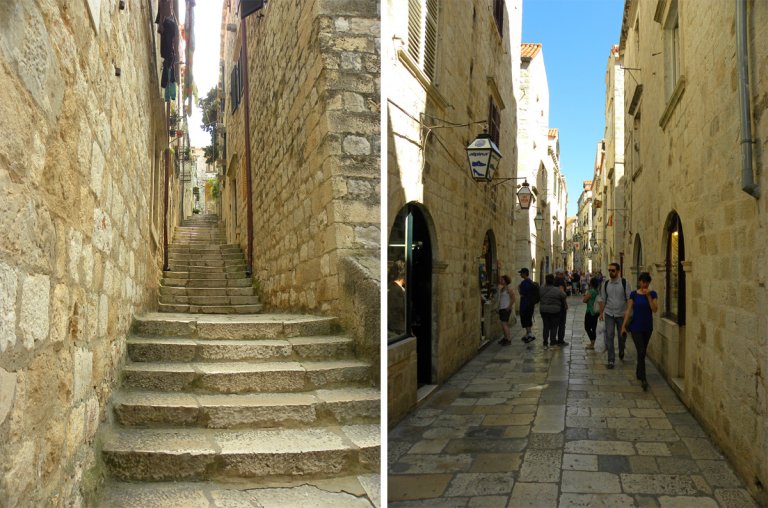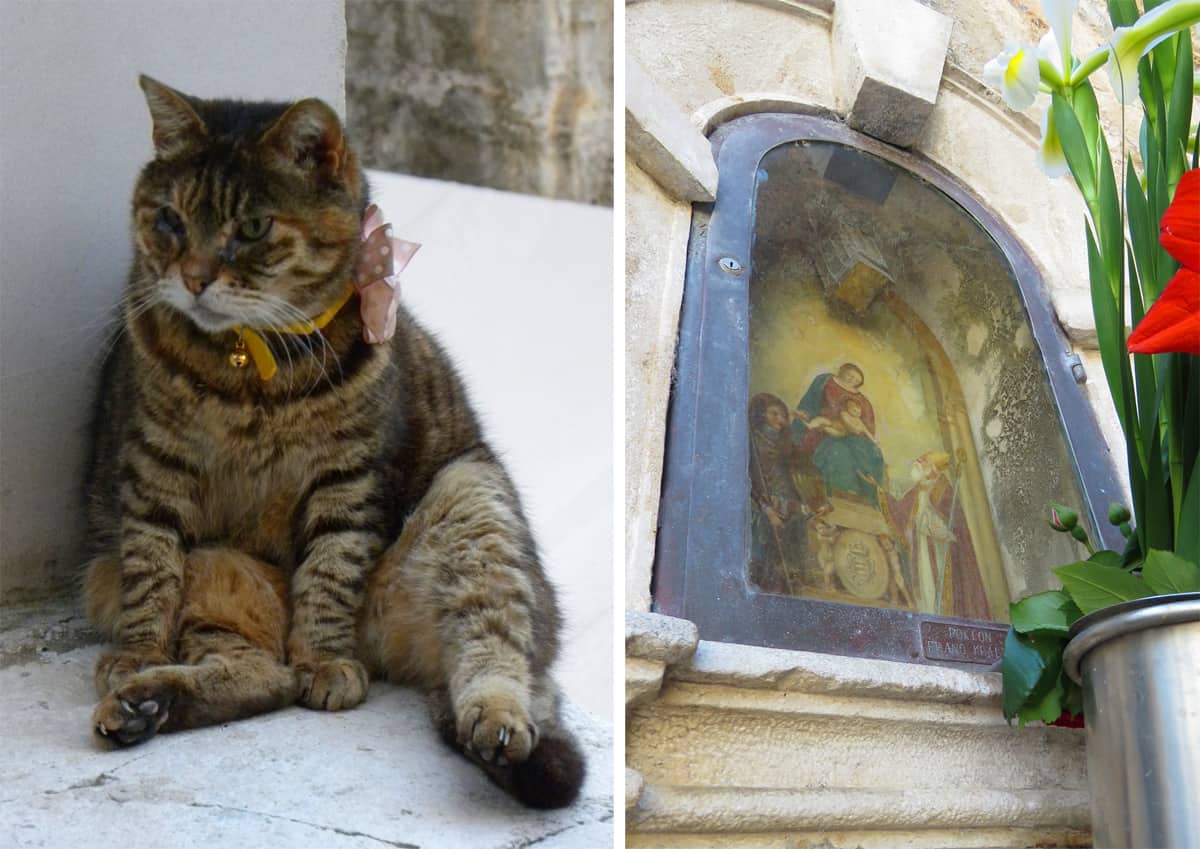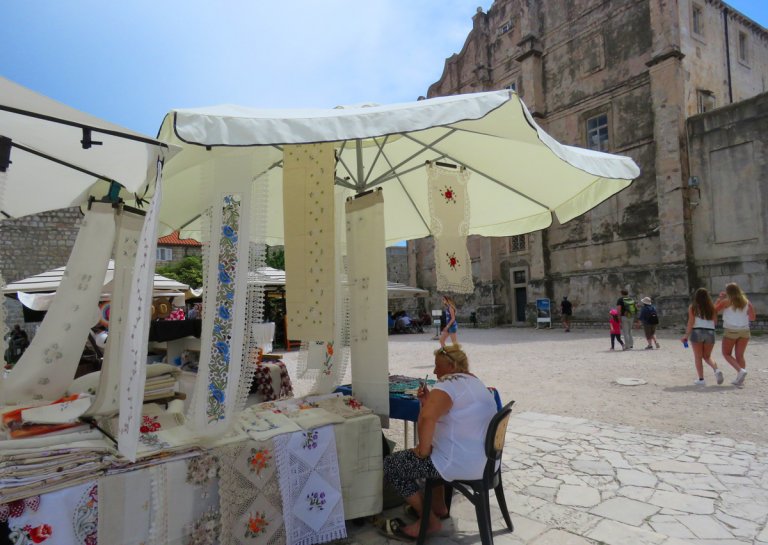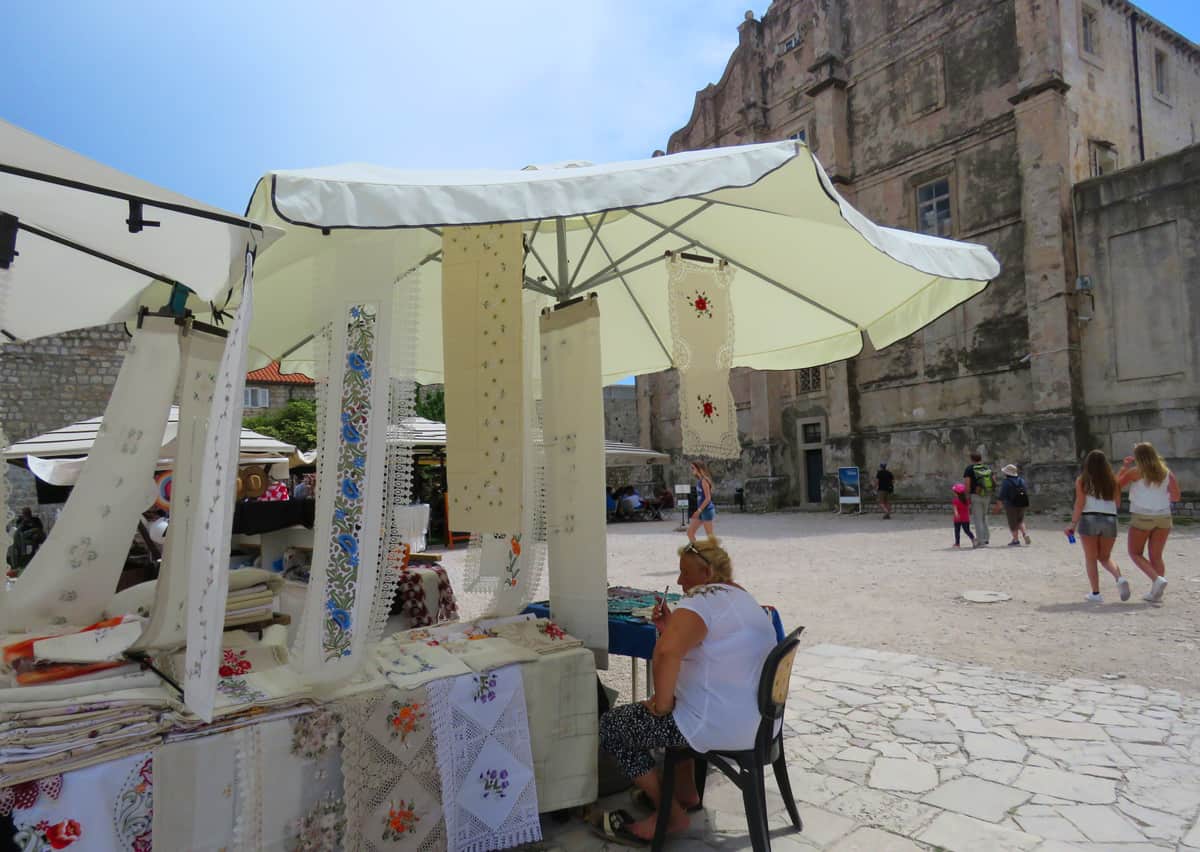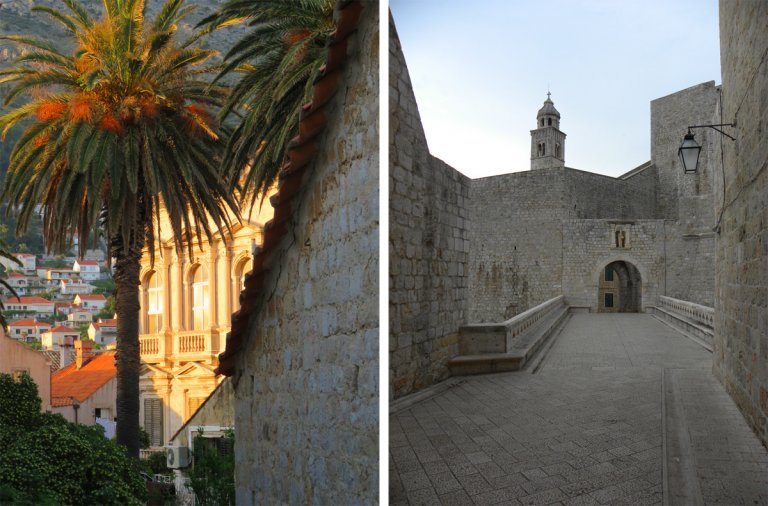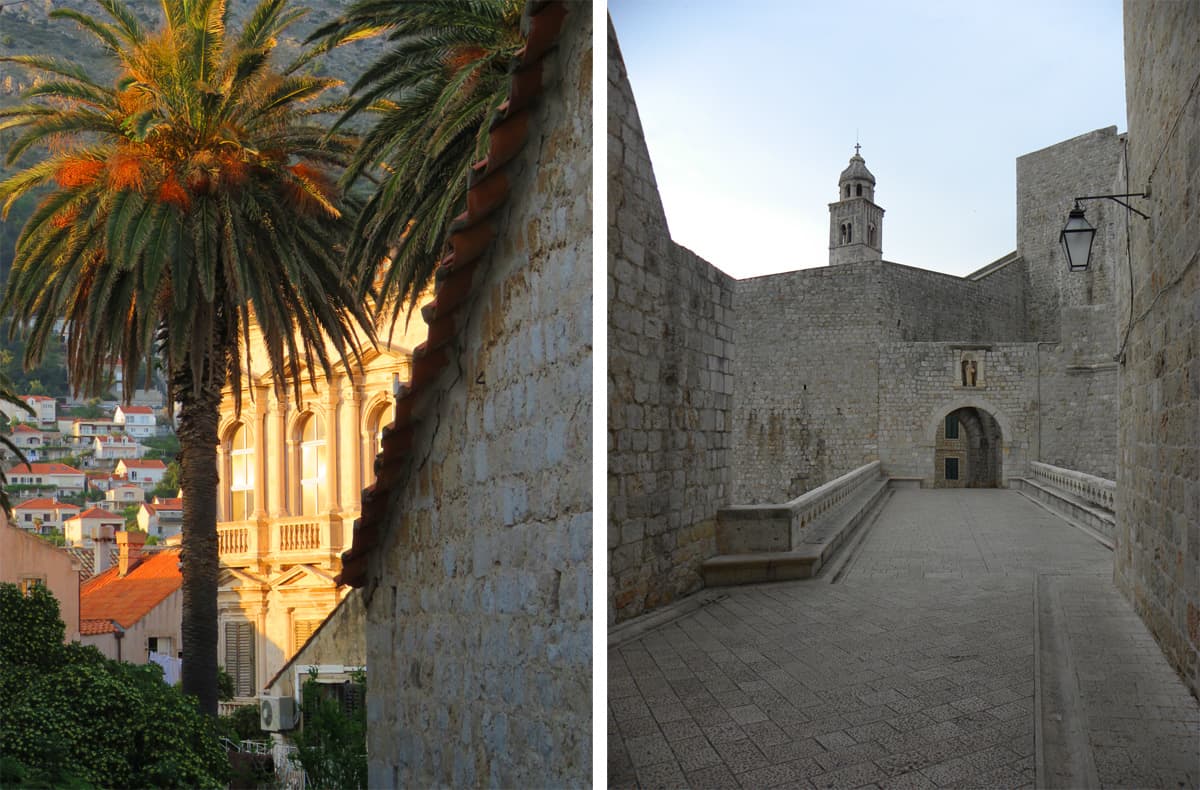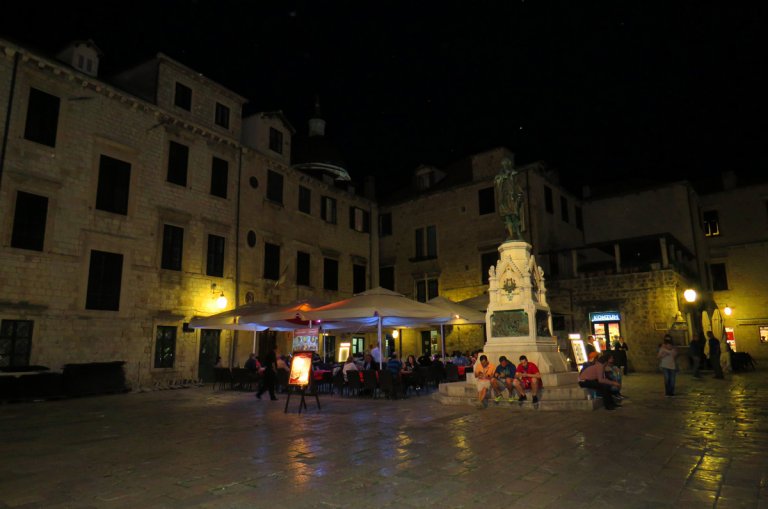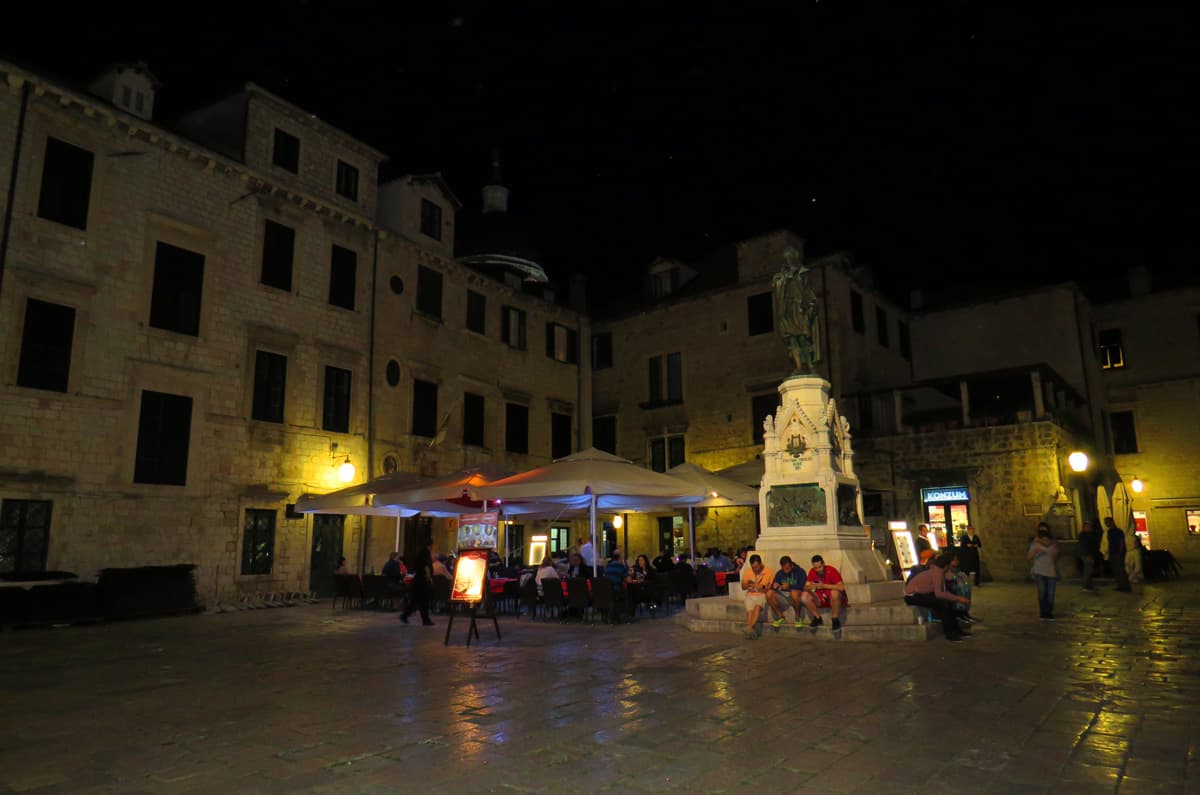 ---
---
.
.


Sdr Hill. to go or not to go
Going up Srd Hill in a cable car is one of the most popular tourist activities in Dubrovnik. Is it worth it? A round trip ticket up in the cable car costs 20 Euros for a return ticket. The views are great, especially if you come at sunset.
We did this in 2015 when it cost 108 Kuna (14 Euros). At 20 Euros we don't think taking the cable car is worth it – there's not much up there and you'll be ready to come down after 30 minutes.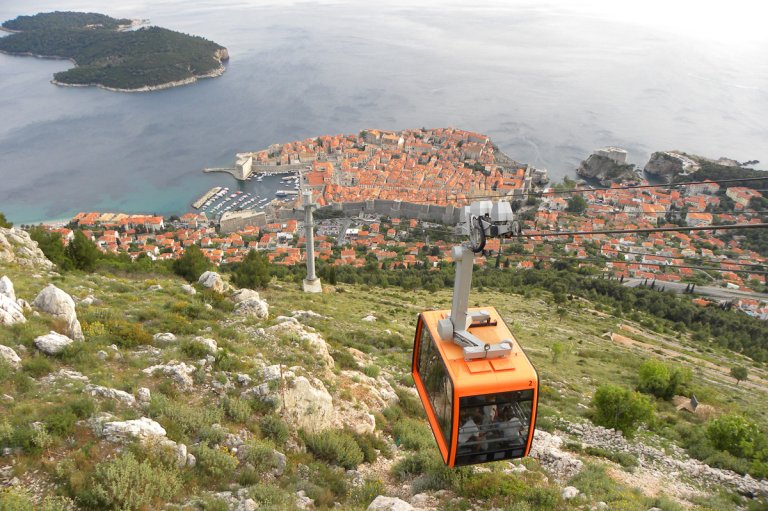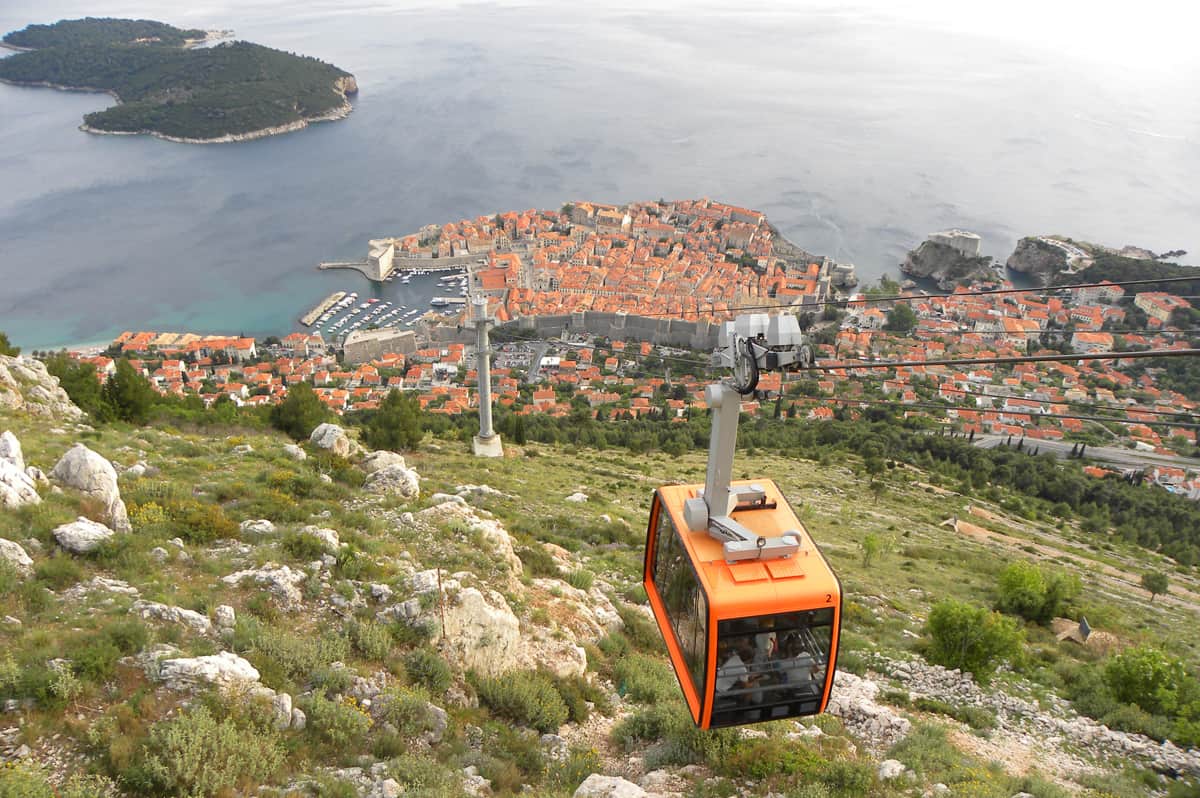 The above are the highlights of Dubrovnik and can easily be managed in 2 full days (It can even be crammed into one day if you get up early and go full force).
.
---
---
.
What we don't like about Dubrovnik
Dubruvnik is a tourist town and all the things we don't like about the town are a by product of this.
– It's expensive. I don't think I've ever paid $9 CAD for a beer anywhere else in Europe.
– It lacks the lived-in charm of a place like Split. Old Dubrovnik officially has 2000 residents but most rent out their apartments to tourists.
– The tourist hordes can be overwhelming, even in May (when we were there). We've been told that it is crazy June through August.
– Locals are not as friendly as other Croatian towns and cities. This can be blamed on tourist-fatigue.
– If you are renting an apartment and living in the center, you may struggle finding a grocery store, bakery, or any other kind of store supplied with other everyday items (you'll find lots of crappy souvenir stores and gelato stands though).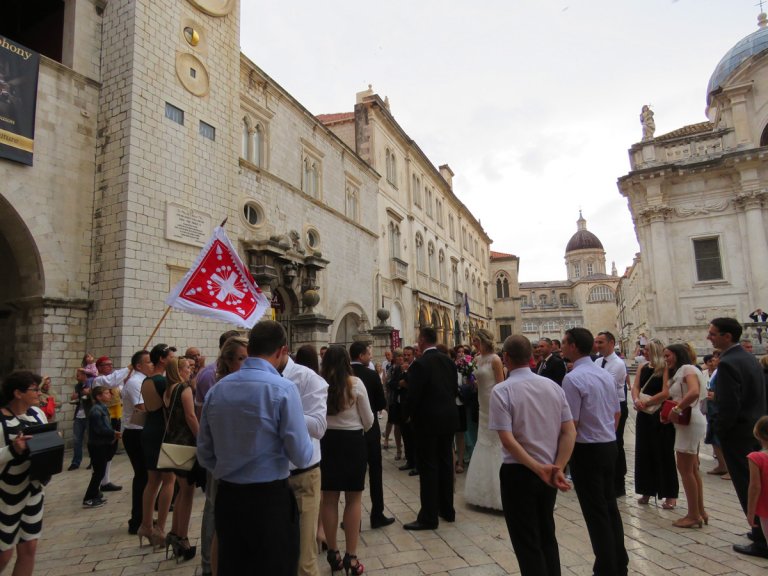 .
Despite the above, make sure that you see Dubrovnik if visiting Croatia. It is an essential experience when in the region.
Practical information
– Getting There. Dubrovnik is a 4 hour bus ride from Split. The bus station in Dubrovnik is impractical, being situated a 10 minute ride out of the Old Town. Taxi will overcharge, expect to be quoted about 12 Euro into town. Or you can take a bus right outside the station on the main street – buses 1a, 1b, and 3 go to the Pile Gate and cost 1.73 Euro. Air: Dubrovnik has a rather large airport (code DBV) due to it's popularity.
– Accommodation. We rented an Airbnb apartment in Dubrovnik. While not cheap ($160/night after fees) it was perfectly located and a beautiful apartment. But I wouldn't recommend it for that money. A few recommendations: The Pucic Palace (one of the few hotels in the center, beautiful old world hotel), Hotel Excelsior (gorgeous modern hotel, a quick walk outside the old town looking over the sea), Apartment Cativla (right in the old town, gets great reviews, better value). Tip: stay in (or very close to) the old town and avoid Dubrovnik June to August. Make sure you check where these hotels are on the map because being far from the Old Town defeats the whole purpose of visiting Dubrovnik.
– Food. we saved money by cooking (restaurants in Dubrovnik are very expensive). There's a Konzum grocery store tucked away near the Cathedral.
– Savings. The city pushes its Dubrovnik Card as a saving to some museums, galleries, and public transportation. My opinion: The 1 and 3 day cards are not worth it because the major highlights (the ones you would see in such a short period) are not included in the card. If you are staying a week I would definitely recommend it, chances are you will be using all that it offers during that period.
– Organized Tours. Many people base themselves in Dubrovnik and take day trips. Where should you go? At the top of my recommendations is a day tour to Kotor, Montenegro (have a look at this post). This tour will take you to both Kotor and Perast. A 2nd recommended tour is to Mostar and the Kravica Waterfalls (both situated in Bosnia & Herzegovina). This tour will take you there.
– Thinking of renting a car? Read this first.
PS. Looking to book flights, hotels, tours, or rent a car? Have a look at our Travel Resources page.