When we started travelling full time 16 months ago one of my goals was to do more things outside of my comfort zone. Paragliding was one of those things.
Cape Town is the perfect place for paragliding. I booked with these guys a couple of days in advance and waited. Lissette kept asking me "Are you nervous? You don't look nervous. Why aren't you nervous?" I can't explain it but I didn't feel at all nervous in the days leading up to the flight.
In fact, the only time during the flight itself that I ever got nervous was when Sammi handed me the controls and let me fly. You can probably see me tighten up on the video. Overall however, it was a glorious experience with incredible views that I wish I could do again.
Tip for seeing the video: on the bottom right you'll see the wheel-like Settings button. Click on it. You'll see 'Quality'. Click on that and chose 1080 p for optimal quality. Thanks Andrea!
The song: 'Safe and Sound' by Capital Cities. Canadians will recognize it as the song used by CBC in its broadcast of the 2010 Winter Olympics in Vancouver. Entire song here.
.
I really liked Sammi. He was enthusiastic from the moment I met him. Great energy and I laugh looking at the video because you see a smile on his face the whole time. He's from Iceland and if he's any indication of the people of Iceland we'll have to go there one of these days.
A few photos.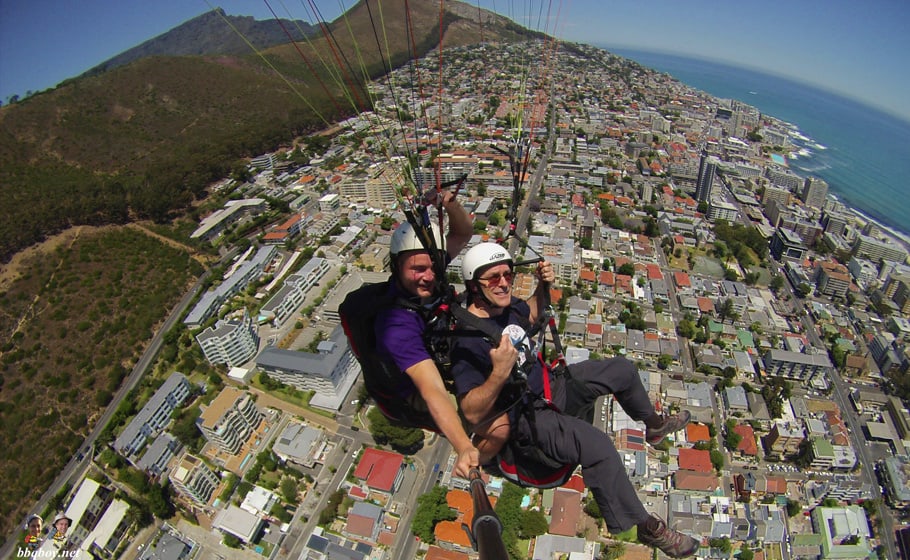 Some information
– The company we used, Cape Town Tandem Paragliding, flies everyday from either Lion's Head or Signal Hill depending on the winds. On this day we flew from Signal Hill down to Seapoint.
– Cost: 1150R for a flight (that's 82 USD), which can take anywhere between 7 and 20 minutes depending on the winds. I think my flight was probably in the 7-8 minute range. If you want photos and video as I did, you pay another 250 R (18 USD) and they'll shoot it on a GoPro and give you the SD card afterwards. It wasn't cheap considering the length of the flight but it was one of those once-in-a-lifetime experiences that you have to do.
– Meeting point: Either the Lion's Head parking area or Signal Hill parking area. Both are on Signal Hill Drive.
Fantastic experience!
.
So the question is: Will Spanky do it? She's considering it.
.
Would you do it? What's the most extreme thing you'll ever done?
.
——————————————————————————————————————————————————————————————-
If you haven't subscribed yet and want to get our posts and newsletters sent to your email, just insert your email address below: