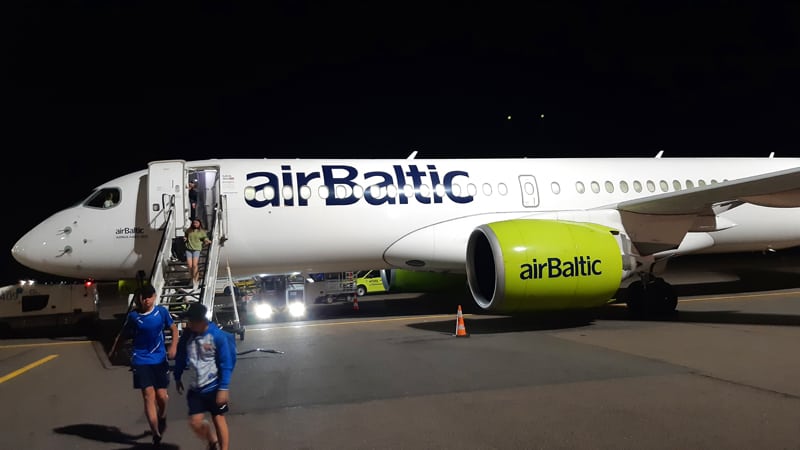 Air Baltic Review
We just flew from Malaga to Vilnius on Air Baltic. This was the 2nd time we've flown Air Baltic, the 1st time was a few years ago when we flew Lviv (Ukraine) – Riga (Latvia) – Prague (Czech Republic).
I'll recount our experiences flying Air Baltic below. But the most important take away from our flights with Air Baltic? Check the fine print and follow their instructions. It'll save you money.
Who are Air Baltic?
For those who don't know, Air Baltic is the flag carrier of Latvia. Its main hub is in Riga with further smaller hubs in Tallinn (Estonia) and Vilnius (Lithuania) airports. In recent years Air Baltic has had tremendous growth and now flies to over 70 destinations.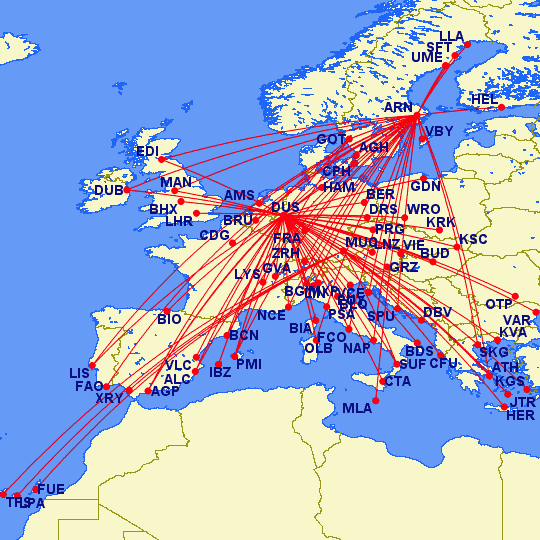 On this 10-day trip through the Baltics, we flew them Malaga – Vilnius and will be flying them Tallinn – Malaga on the return flight. Have a look at Air Baltic's live destination page for more.
---
---
The airline to use when flying to the Baltics
Air Baltic should be the first airline to consider when flying to the Baltics. Why? The primary reason is direct flights from many cities to the Baltic countries. When I searched, various options came up but they all required connecting flights. Air Baltic was the only airline that had direct flights between Spain and the Baltic countries. The 2nd reason is price: Air Baltic might not always have the lowest prices but is always among the lowest (often we're talking 20- or 30-Euros difference). They're considered a budget airline.
Our cost: Malaga to Vilnius 197 Euros per person
Tallinn to Malaga 244 Euros per person
Note: we booked these tickets May 2023.
But being a budget airline means watching out for the details.
Booking your Air Baltic Flight
Firstly, when you book you'll see 3 different options of tickets: Green, Green plus, and Classic. I've attached a breakdown of what that means below.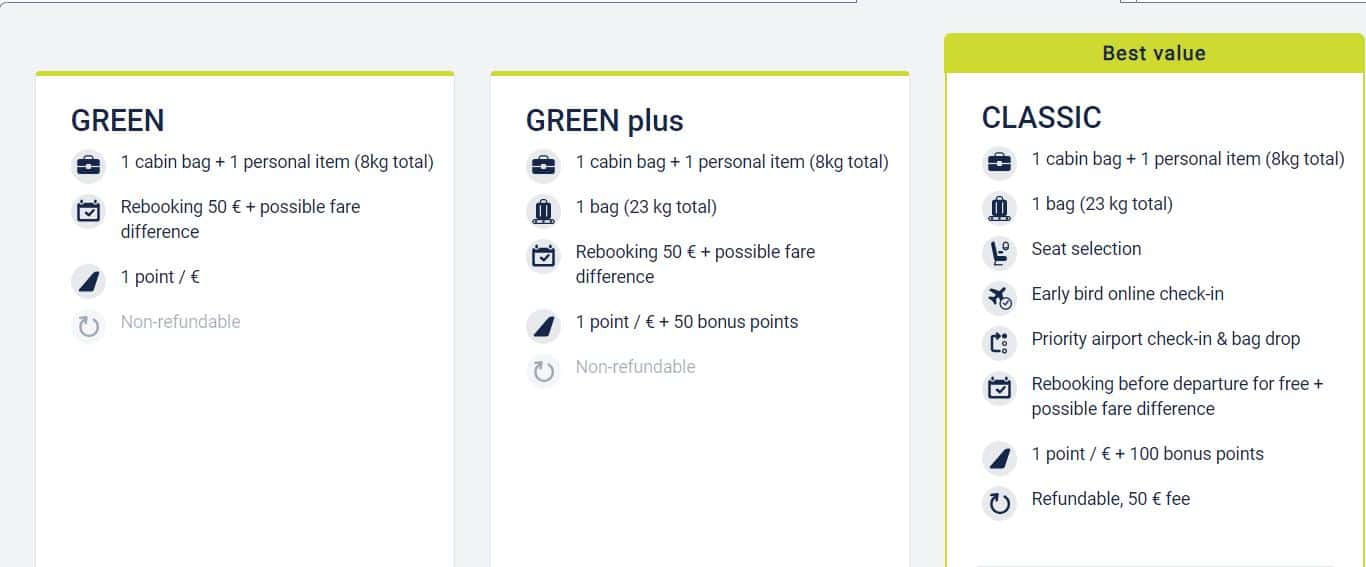 When booking your flight you'll have to pay for extras: choosing your seat (5.99 Euros), choosing a heavier cabin baggage (12 kg instead of 8 kg…for 14.99 Euros*) and having a meal onboard (11.99 Euros). They offer a whole other bunch of services which are additional fees.
*Note: they warn you that if you bag exceeds 8 kg at the gate that you'll have to pay a 75 Euro penalty. So you've been warned.
Although you have to do a lot of reading to figure out the right options for you, booking everything on the Air Baltic website was easy and it didn't take long to get my receipt by email (I paid by Paypal which is a good option they have on the website).
---
---
"Checking in" with Air Baltic
I was surprised, 5 days before the flight, to receive an email asking me to check in online – because checking in at the counter now costs 35 Euros per person (that wasn't the case in 2019 when we first flew them).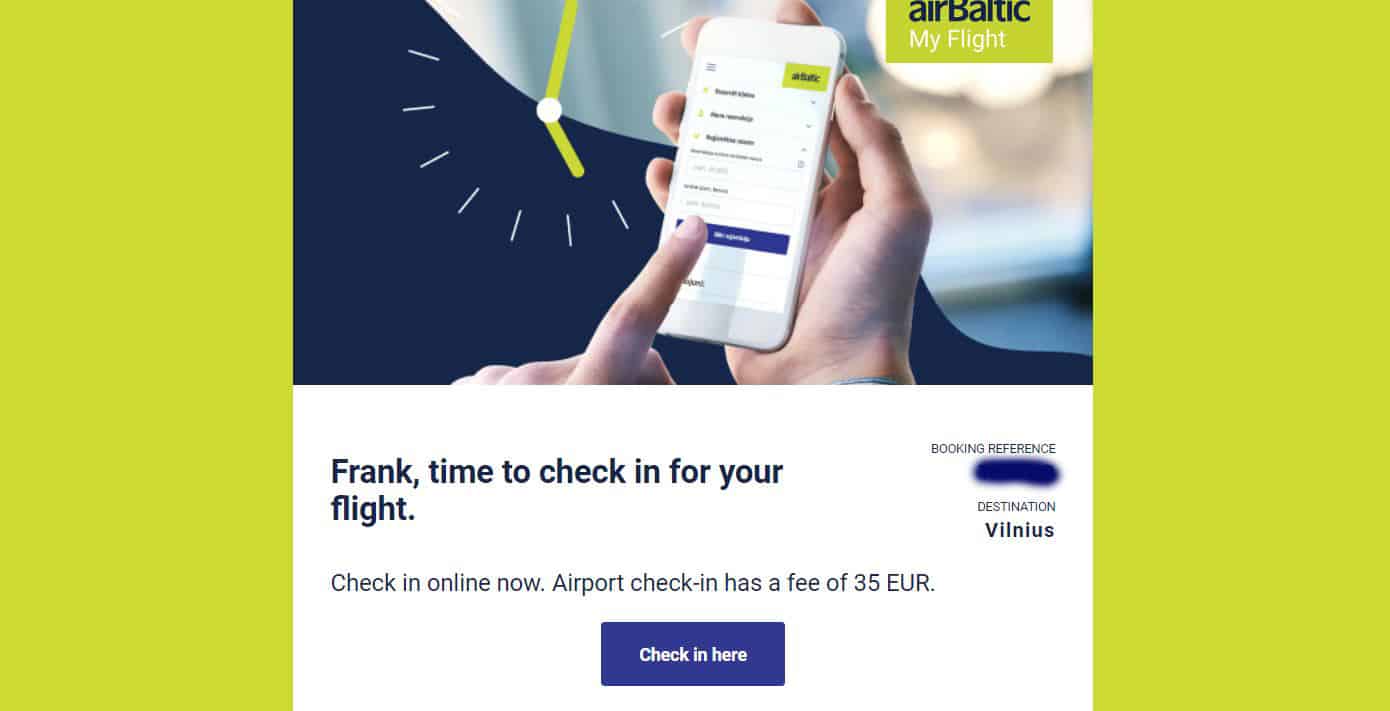 But again, the technology was good – I pressed on the blue button above and went straight to check in without having to enter ticket numbers or booking reference numbers.
Once I did that I was immediately able to download a PDF version of the boarding passes. On top of that Air Baltic sent me an email confirmation with the same boarding passes.
We were set.
How our flight went
Early on the day of the flight I received an email telling me that the flight would be delayed: we would leave at 7:10 pm instead of the previously scheduled 6:35.
We made our way to Malaga, did some shopping, and arrived at the airport a little later than previously planned due to the delay.
Having checked in online, we passed through security at the airport using the digital boarding passes that we had downloaded onto our phone. No issues at all. Checking in online saved us a lot of time.
But the extra time seemed extra long when the plane was delayed longer than the revised time stated that morning. 7:10 came and went…it was 7:45 when they finally opened the gate and started allowing passengers down the walkway to the plane.
Note: our luggage was never weighed while boarding.
---
---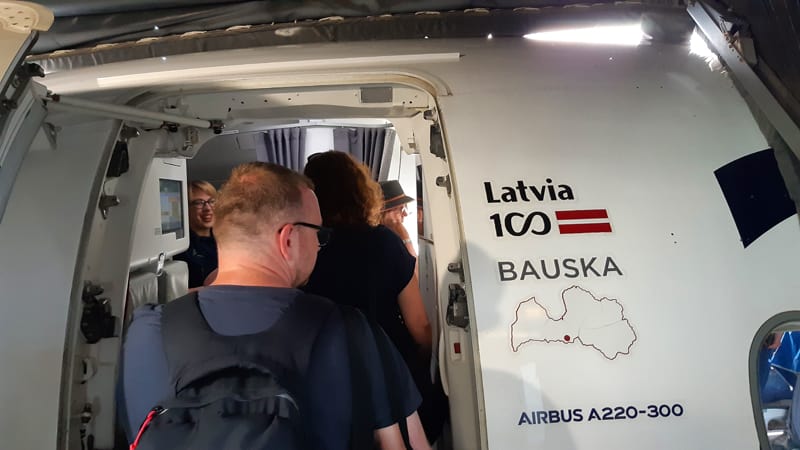 Air Baltic's planes are state of the art. The entire fleet is made up of Airbus A220-300, the most efficient and greenest aircraft according to their website. The interior of the plane is sleek and attractive and the configuration was 2 seats on one side of the aisle, 3 on the other side. This was perfect for us as we didn't have to share the row with anyone else.
There are no services unless you pay for them (which we knew previously). We saw some people pay for drinks and others order from the online menu but most passengers didn't. There was no flight entertainment. The only display was the map overhead showing the route of plane (which I'm a big fan of).
Overall it was bare bones. But the plane was comfortable, the light was pleasing and the air felt fresh.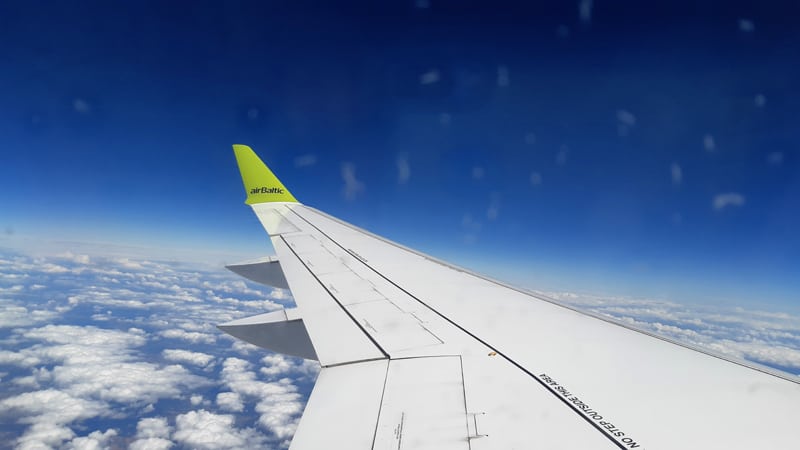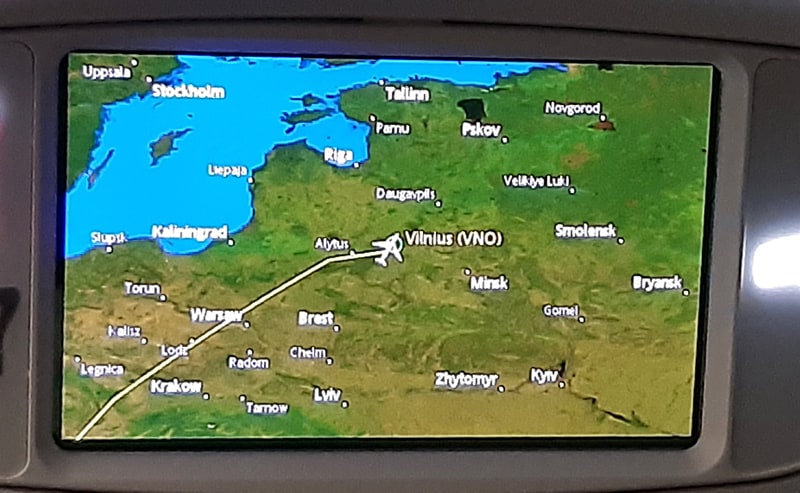 All was good…except for the toilet.
With 145 seats on the plane, I'm surprised that our plane had toilets in the front (2 I believe) and only 1 toilet in the back. When I went to use the toilet in the back it was a mess with urine all over the seat.
It could have all been from the guy who stepped out when I went to the bathroom. He looked like the type who would pee all over the toilet seat.
Unless I missed it, I never saw any crew go into the bathroom for cleaning during the flight.
That didn't impress me.
Otherwise it was a very pleasant, comfortable flight.
We arrived at 12:55, an hour and 10 minutes later than the original schedule*.
*Delays can happen with any airline. On our previous experiences using Air Baltic (Lviv to Riga, Riga to Prague) the flights were on time.
---
---
Summarizing Air Baltic
Overall I'm impressed with Air Baltic and recommend them. They're the best option flying to the Baltics, they cover many destinations, their prices are very good compared to their competitors, they have modern planes that are very comfortable. I should also mention that the crew was very friendly.
For us, the above are the most important factors when choosing an airline.
The only thing I would be careful of, as I say above, is being careful in choosing the right options and in following instructions: choosing the proper option of ticket (otherwise you'll be zinged when arriving at the airport), make sure your luggage is not above the weight requirements (I paid the extra 14.99 Euros for slightly heavier cabin luggage), and make sure to check in online (or, again, you'll get zinged for extra bucks at the airport).
Overall Air Baltic is not only a good airline but also a much better than average budget airline. We would definitely fly them again.
Have you flown Air Baltic? What do you think?