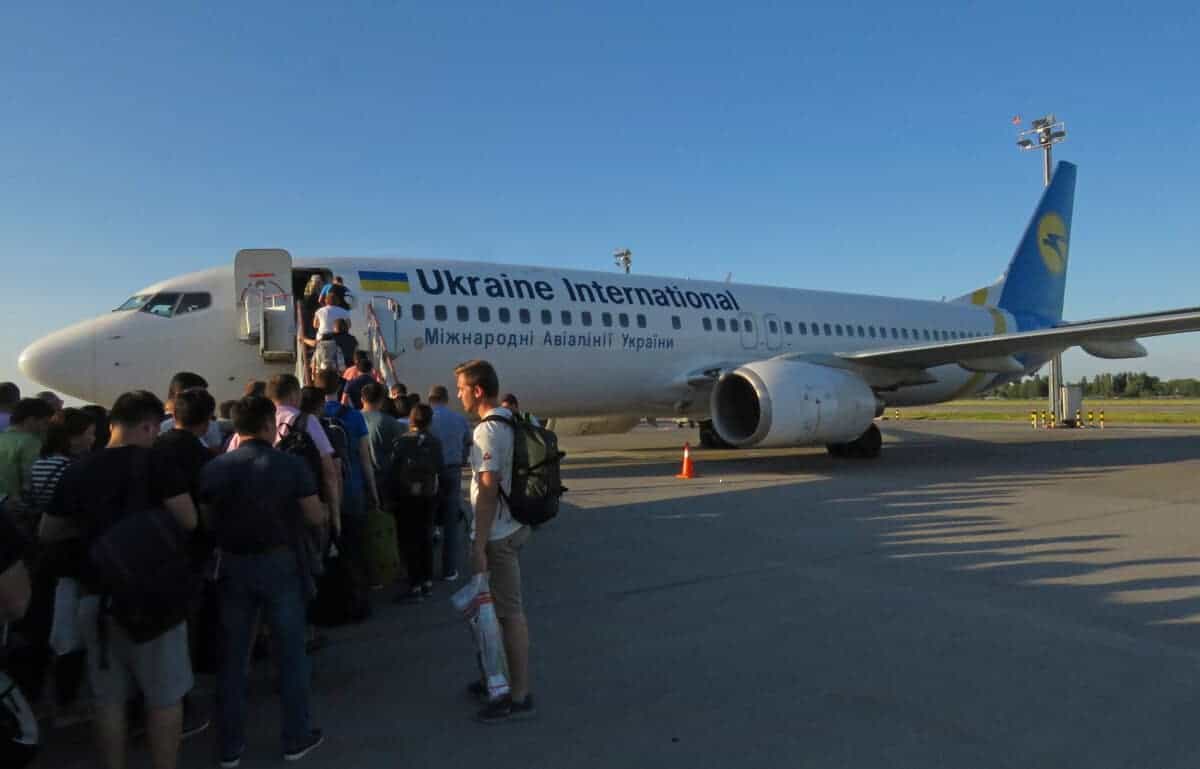 A Review of Ukrainian Airlines
"Don't fly Ukrainian Airlines" our Czech journalist friend warned us, "it's not a safe airline, everyone on board was drunk and it was like a party in the air. It's not a safe airline".
That advice was the reason we didn't fly Ukrainian Airlines when leaving Kyiv for Prague last year.
But after meeting a few Ukrainians who told us that UA "…is fine. There are no problems with safety, just little things like over-charging for baggage…" we decided to book them when flying to Ukraine from Yerevan, Armenia. There aren't many options from Yerevan and Ukrainian Airlines was by far the cheapest option (with the best connections).
---
---
Booking
First, the booking was very easy on the Ukrainian Airlines website. I booked "Economy" which allowed both of us to check in 1 bag (up to 23 kg) plus cabin baggage of up to 10 kg*. I paid with my Visa card (no problem) and within a few minutes I received a booking confirmation of our flights on my email along with our boarding passes.
Our flights looked like this:
Yerevan (15:30 departure) -> Kyiv (17:30 arrival). Note there's an hour difference: It's a 3 hour flight.
Kyiv (19:55 departure) -> Lviv (21:00 arrival)
Total we paid the equivalent of $193 Canadian ($145 USD) each for our flights.
* I mention baggage which is something I pay close attention to these days. We recently had a flight on Air Baltic where the rules were both confusing and restrictive. Make sure to study to baggage rules in detail otherwise you might have a nasty surprise when checking in.
Checking in
Checking in was mostly fast and efficient at the boarding gate in Yerevan. The only issue was my cabin baggage backpack (a backpack that's slightly larger than a school-sized backpack). The supervisor looked at it and told me it was too big for the cabin. I told her it wasn't. She made me test it in the checker that they have at all check in gates. It fit easily. The supervisor should have her eyes checked. As our Ukrainian friend had warned us "they'll try to get you on little things like luggage". But that seems to be the case with almost every airline these days.
Other than that we had no issues. Our larger bags were checked and we were given our boarding passes.

Flights
Flight #1 (Yerevan – Kyiv)
The first flight, from Yerevan to Kyiv, was an Embraer 190, a new modern plane. Seating was comfortable (not any tighter than any other airline we've taken recently). We did not receive any food on the plane (you have to pay for it) but we were given a glass of water at one point.
It was a comfortable flight, no issues of any kind.
Upon arrival in Kyiv, the plane parked away from the terminal and we had to take a short bus ride. But it was efficient as was the immigration procedure and the security going through to our domestic flight. We've been through Kyiv's Boryspil International Airport before: it's the standard, modern airport that you'll find anywhere in the world.
Flight #2 (Kyiv – Lviv)
We were put on a bus and taken to the plane which was again away from the terminal. This 2nd plane was a Boeing 737-800 (not a Max!).

Again, it was an uneventful, comfortable flight with no issues. We arrived on time in Lviv. Lviv has a nice airport (Danylo Halytskyi International Airport) located 6 km from the center of the city.
Summary
Our Ukrainian Airlines experience can be categorized as "Good". I can't rate more than that because we didn't have food, drinks, or really any interaction with the staff. But the flights were on time, the flying experience was comfortable and the aircraft were clean. What more can you really ask for these days? Ukrainian Airlines is not a premium airline and you get what you pay for. But having flown Turkish Airlines (for example) I think Ukrainian Airlines is just as good.
As far as being "unsafe and full of drunks" ? I don't know how our Czech friend got that impression. As you see in the attached, Ukrainian Airlines has a good safety record.
Have you flown Ukrainian Airlines? What was your experience?
---
---
Ps. If you find our blog helpful, please consider using our links to book your flights, hotels, tours, and car rentals. Have a look at our Travel Resources page.