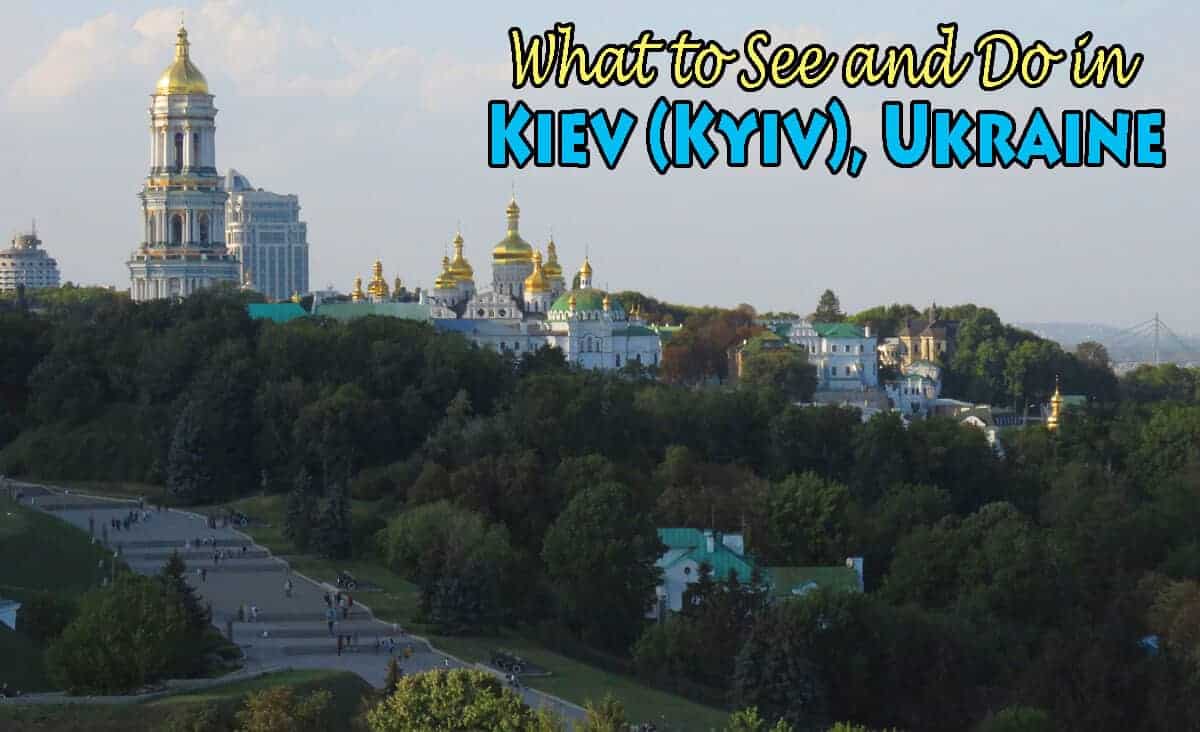 What to See and Do in Kiev (Kyiv) Ukraine
I've previously written a general "impressions"post on Kyiv. Although we didn't fall in love with Kyiv the way we fell in love with Lviv, the highlights in Kyiv amazed us. I think at one point I described a couple of the things we were seeing as "incredibly stupendous". I don't usually say stuff like that. This Guide covers what to see and do in Kiev (Kyiv) Ukraine.
Note: Ukrainians appreciate that their capital be named "Kyiv", not Kiev. I've used both in the title because I want readers to know what I'm writing about. But I've switched to 'Kyiv"in the text of this post.
Read that previous post if you want our general impressions of Kyiv. But continue here if you're curious about what specifically you should see and do in Kiev (Kyiv) Ukraine.
1. Saint Sophia's Cathedral
Saint Sophia is the oldest church in Kyiv (built in the 11th century), the first UNESCO site in Ukraine, and the city's best known landmark.
It was built by Prince Yaroslav the Wise and is filled with original 11th century mosaics. It is one of the most famous monuments of the Kievan Rus period – a federation of East Slavic and Finnic people that stretched from the Baltics to the Black Sea (of which Kyiv was the capital).
The grounds and the exterior are beautiful and you can pay extra to climb the tower which gives you great views over the Cathedral and of St. Michael's Golden-Domed Monastery (which is a 5 minute walk down the street). But the highlight is the gorgeous interior of the Cathedral (unfortunately no photos allowed).
2. St. Michael's Golden-Domed Monastery
This monastery is absolutely breath-taking.
It was originally built in the 11th century and survived the Mongols (who removed the gold-plated domes). For a couple of hundred years subsequent to that it fell into disrepair until in 1496 it was restored and enlarged. During that time it became one of the most popular monasteries in Ukraine.
Shockingly, the Soviet Communist authorities demolished the monastery in June of 1934 (they had wanted to do the same to Saint Sophia but last minute protestations changed their minds).
Unknown to the Soviet authorities, some Ukrainian architects worked on a plan of reconstruction for the monastery. But those plans only came to fruition after the fall of the Soviet Union in 1991. The new monastery was opened in 1999 and many of the works inside today are from the original cathedral (they had been moved to Moscow and it took long negotiations to get them back).
Today it is a fully-functioning monastery. Like Saint Sophia it has a bell tower worth climbing.

---
---
3. Saint Vladimir Hill
Right behind Saint Michael's Golden-domed Monastery is this pretty park. It has great views of the Dnipro River and the east bank of Kyiv (separated by a huge expanse of islands in the river). The major landmark in the park is the statue of Saint Vladimir, dedicated to the great prince of Kyiv, Saint Vladimir (Volodymyr) the Great.
4. St Andrew's Church
This baroque church was built in 1754 on the wishes of a Russian empress who intended to have her summer home in Kyiv. It was designed by an Italian architect and constructed on a hill overlooking the neighborhood of Podil. It has great views of the river.
Right next to the church is a small street – Andriyivskyy Descent (Andrew's descent) – where there are many stalls and stores selling tourist stuff. There are also a lot of restaurants, most of them the over-priced tourist variety. Still, it's a nice walk and going down the hill will bring you to the Podil neighborhood (see #17 on this list).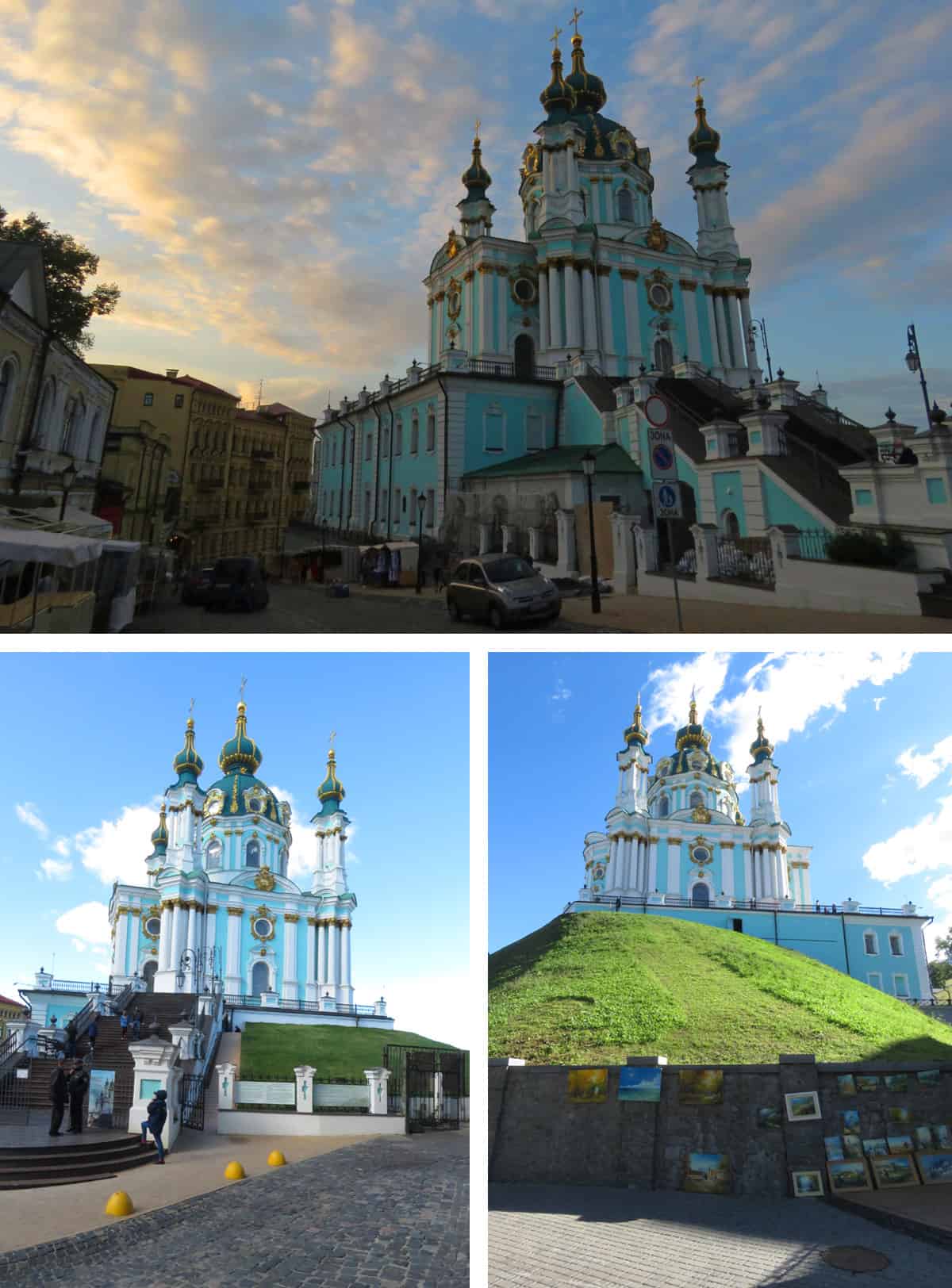 5. Maidan Nezalezhnosti
Maidan Nezalezhnosti (ie. Independence Square) is the main square in Kyiv. The square has always been at the center of parades or protests including the recent Euromaiden protests in November of 2013 where violent protests occurred after the Ukrainian president at the time (Viktor Yanukovych) decided to suspend the signing of an agreement with the European Union, instead choosing for closer ties with Russia. It led to almost 4 months of protests which got progressively more violent. Over 100 people died and Euromaiden ended with Yanukovych fleeing to Russia and Ukraine adopting closer relations with the EU.
The square is full of monuments, attractive buildings and fountains. It is a lively spot especially on weekends when Khreshatyk street (which leads to the square) is closed off to car traffic.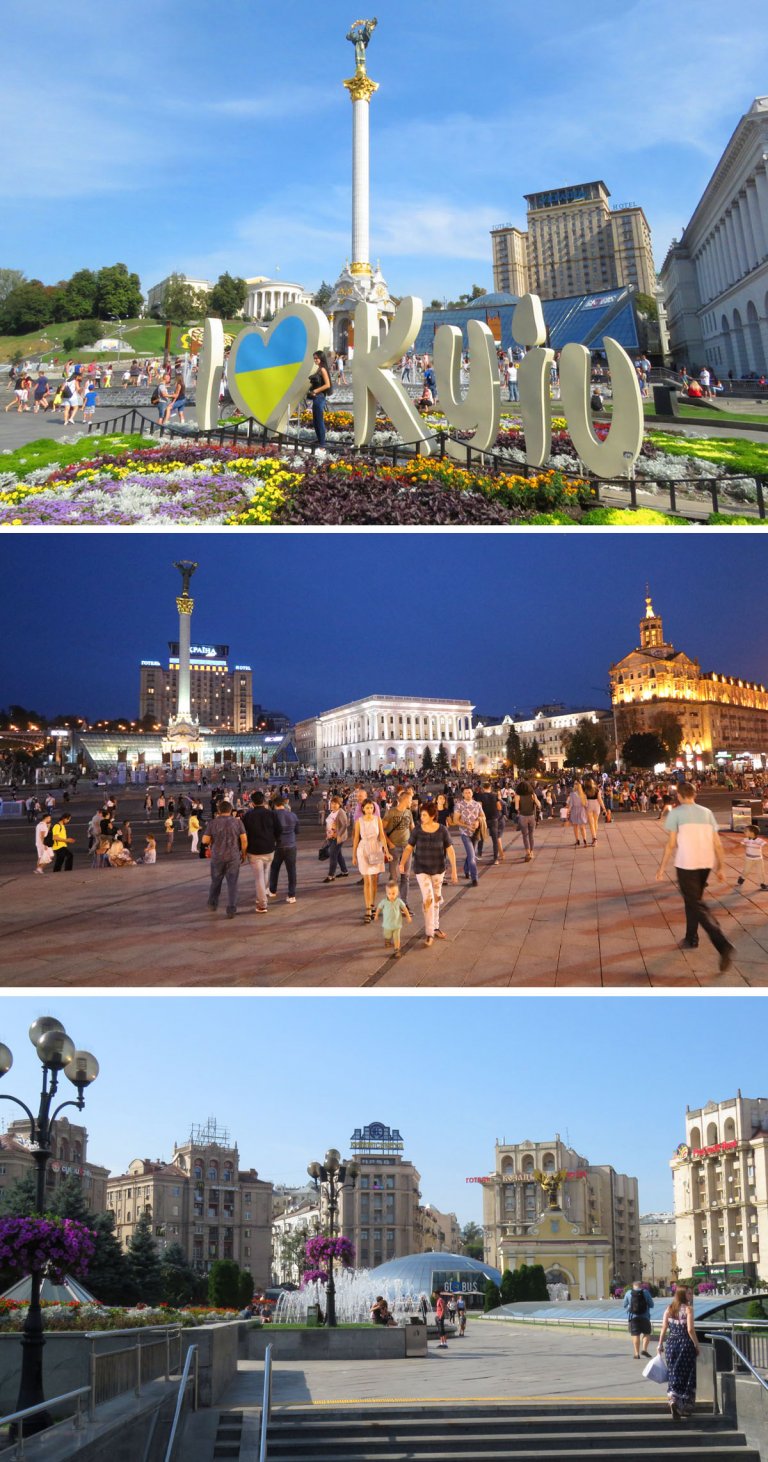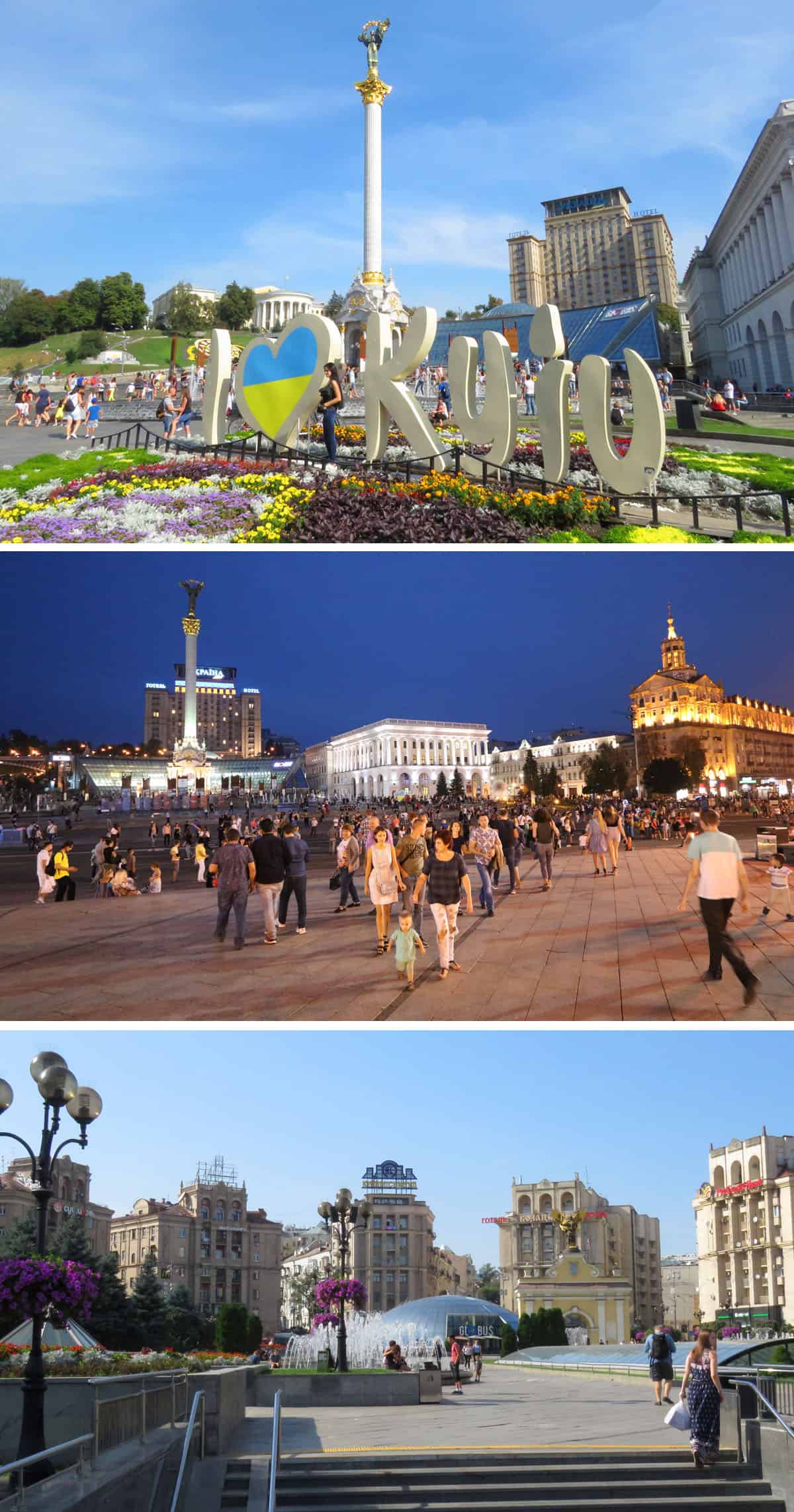 ---
---
6. Khreshatyk street
Khreshatyk street is Kiev's main street, a large attractive avenue with historic buildings, government offices and department stores. It gets particularly busy on weekends when it becomes pedestrian-only.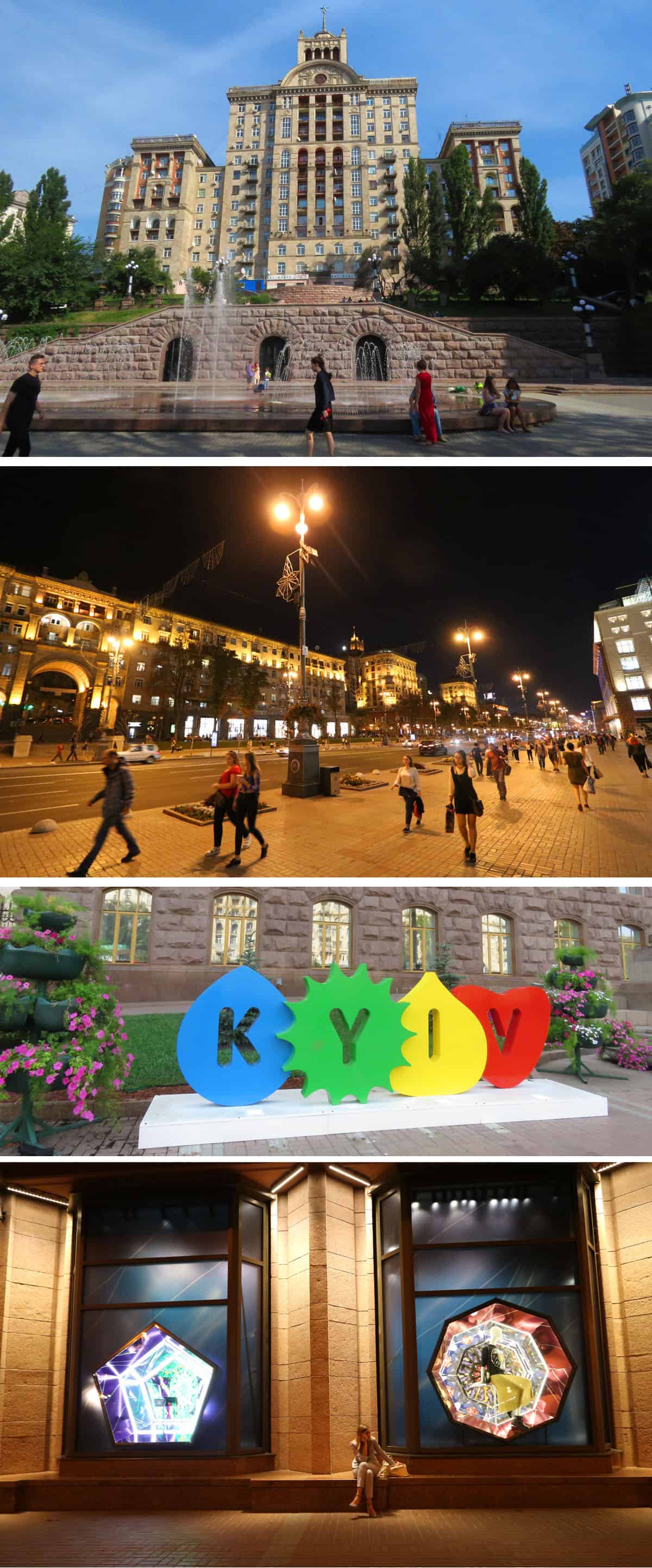 7. Golden Gate
The Golden Gate of Kyiv was where the original gates to the city stood during the Kievan Rus period in the 11th century. At that time Kyiv was surrounded by high ramparts and ditches for security. The Golden Gate was the main entrance to the city.
The gate standing today is a reconstruction built in 1982 to celebrate the 1500th anniversary of Kyiv.
It is a bit of an odd structure with wood where ramparts would previously have been. Walking up, there are nice views of the buildings around the square and at the top is a little church.
8. St Volodymyr's Cathedral
This incredible cathedral was completed in 1882 and was built to celebrate the 900th anniversary of the Christianization of Kievan Rus (which occurred when Vladimir the Great was baptised in 988).
The interior of St. Volodymyr's Cathedral took our breath away, it is one of the most beautiful churches we've seen anywhere.
---
---
9. Kiev Pechersk Lavra
Kiev Pechersk Lavra is also known as the Kyiv Monastery of the Caves because the whole site was originally a cave monastery which included an underground church and a huge system of tunnels. With time the complex grew to include a cathedral, bell tower, fortifications, as well as many smaller churches with its grounds.
Today Kiev Pechersk Lavra is a UNESCO site and an active monastery that is considered a center of Eastern Orthodox Christianity. It is considered THE highlight of a visit to Kyiv. It really is spectacular and you can easily spend half a day wandering around the grounds. I recommend this 3 hour tour – Kiev Pechersk Lavra is the one highlight where I recommend you take a tour.
10. The Motherland Monument
This huge statue (62 meters or 203 feet tall) was built during Soviet times as a war memorial. It was completed in 1981 in a ceremony attended by Soviet president Leonid Brezhnev.
You'll see the huge state emblem of the Soviet Union on the shield of the statue. It is controversial these days with the decommunization laws adopted by Ukraine in 2015 (in which Soviet Communism symbols, street names and monuments were outlawed). The emblem still exists however.
Underneath the statue is the National Museum of the History of Ukraine in the Second World (next on my list) which is an incredible museum. Throughout the park around the statue are Soviet-era statues and monuments, some of the grandest we've seen anywhere. You'll also see military hardware like tanks, helicopters and planes. It is a very impressive site.
People reading up on the statue might get the impression that you can get to the top of the monument. That is the impression I got. Unfortunately, the tour I took took me as high as the base of the statue (you can see it in the photo just below). I didn't think it was worth it.
Overall however, the monument and the entire site is incredible.
11. National Museum of the History of Ukraine in the Second World War
As mentioned above, this very large museum is situated under the Motherland Monument.
It is the largest, most detailed, and best war museum we've seen anywhere. The artifacts: from German military uniforms, motorcycles, even the remains of a downed plane to Soviet/Ukrainian artillery, missiles and trucks makes you feel like you are right there. The photos – especially the last hall which is lined by thousands upon thousands of photos of Ukrainians who lost their lives in the war – are sobering.
I've read on Trip Advisor people complaining about the lack of English signage. Note: at the beginning of every hall there are plasticized documents (usually a full page) describing the theme of the hall (there are 14 large halls). Really, it's all you need. The things on display are self-explanatory. Fantastic museum. We walked out feeling we had lived through the Second World War.
---
---
12. Vydubychi Monastery
This monastery dates back to 1070 and was a center of religious life in Kyiv until the Mongols invaded in 1240. At that point it lost its importance – until the 17th century when it was used as a cemetery for some of Kyiv's elite.
On the grounds you'll find several churches including the 11th century Collegiate Church of Saint Michael. You'll see golden domes, beautiful gardens…and few (if any) tourists.
13. Mariyinsky Palace
This palace – completed in 1752 by the same Italian architect who built St. Andrew's church – is the official residence of the President of Ukraine.
It's honestly not the most exciting palace and as a visitor you can't get past the gates surrounding it. The 1st photo below is as close as you'll get. But the palace is located in a beautiful park situated on a hill overlooking the Dnipro River. One of Kyiv's prettiest walks starts behind the palace where you can walk through a forested park with river views on one side and city views on the other. I mentioned on our "impressions" post how green Kyiv is – this area is a perfect example of that and a walk along this route will bring you down to the People's Friendship Arch (#15) near the city center.
14. House with Chimaeras
This crazy-looking building was constructed by a Polish architect in 1901-1902. The architect was a hunter and the decorations on the building feature exotic animals and hunting scenes.
Visiting this house gets even weirder. The house is on a street full of government buildings which includes the President's office. Getting to the House with Chimaeras means bringing your passport and going through a security checkpoint.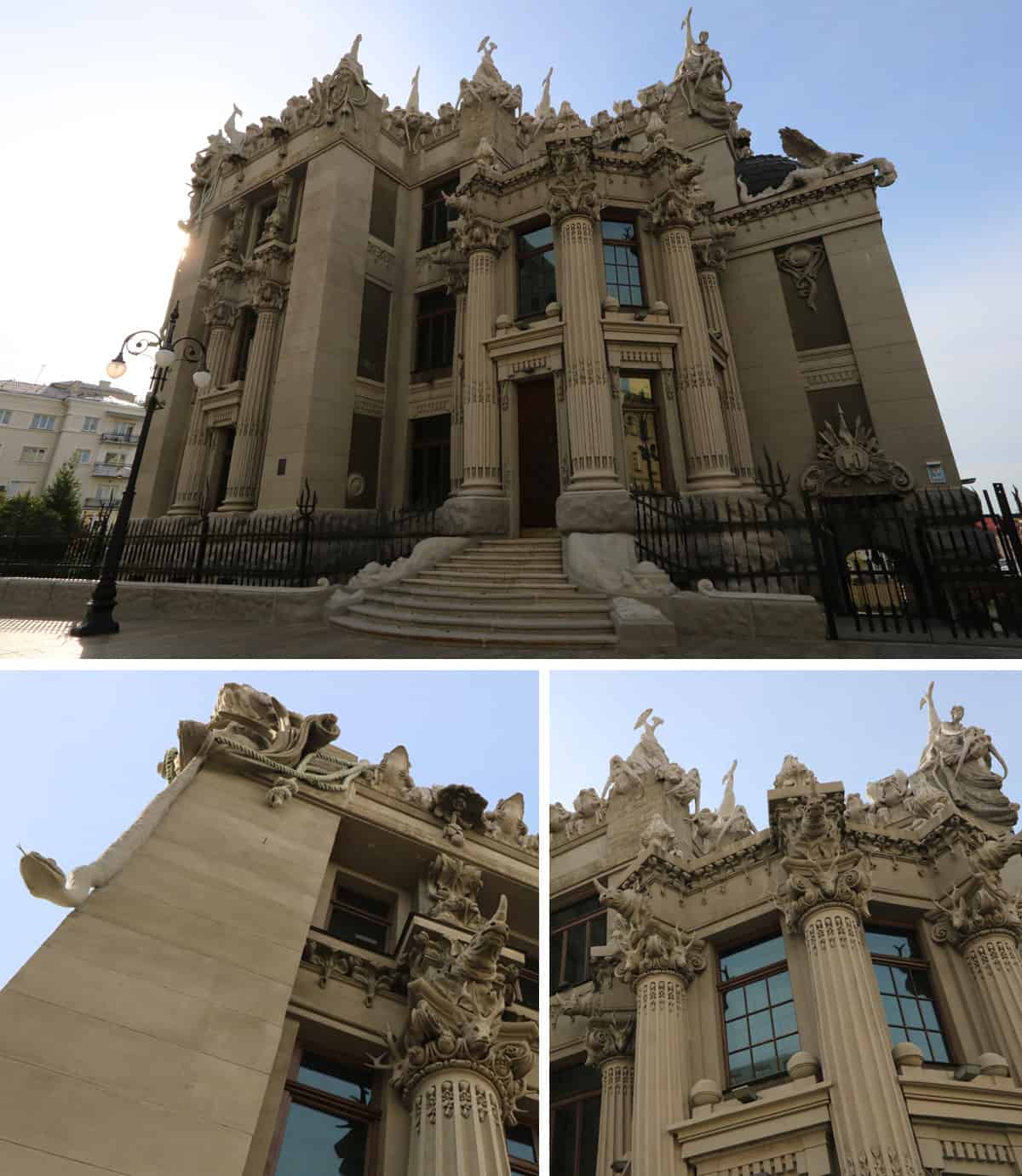 ---
---
15. People's Friendship Arch
The People's Friendship Arch was dedicated to the unification of the Soviet Union and the Ukraine. It was built in 1982 by the Soviet authorities to celebrate 2 events – the 6oth anniversary of the USSR and the 1500th anniversary of Kyiv.
There's been talk of dismantling the arch and the monuments underneath it under the new decommunization laws. But it still stands in 2018 and while we were there they were celebrating a new friendship – that between Ukraine and Armenia.
Besides a pretty cool arch set among a park setting, the location also has fantastic views over the river and is a favorite local hangout with an amusement park and lots of food and drink stalls.
16. Kiev Funicular
This short (2.5 minute) funicular ride takes you from Saint Vladimir Hill (just behind St. Michael's Golden-Domed Monastery) to the Podil neighborhood in the lower town (I cover Podil next, at #17).
The funicular was built in 1905 as a way to connect the upper and lower towns which previously were best connected by the steep walk up Andriyivskyy Descent (the street next to Saint Andrew's church).
Today about 10,000 people take the funicular ride every day and it is one of Kyiv's most popular tourist attractions.
17. Podil
Located in the lower town, Podil is one of the oldest neighborhoods in Kyiv. It was actually the city center after the upper town was destroyed by the Mongols in 1240.
Points of interest include Kontraktova Square (one of the Kyiv's oldest squares), Pirogoshcha Church, and Florovsky-Voznesensky Monastery. It's also worth walking to the funicular station – across the street is a small church, the sea port, and a promenade where you can walk along the river.
I'm not going to tell you that Podil is a 'must see' if here for a limited time – but given more time it is really worth seeing. It's authentic, a bit gritty in places, and is full of cool restaurants and cafes. After a few weeks in Kyiv we had thought the city had no trams. We were proven wrong in Podil. There are indeed old trams that circulate along the lower town (best place to see them is at Kontraktova Square).
18. Taras Shevchenko National University
Back in the upper town, not far from St. Volodymyr's Cathedral, we enjoyed seeing the "red building"of Taras Shevchenko National University. It sits across from a beautiful park which is alive with student activity. Like everywhere else, we were struck by how attractive a city Kyiv is.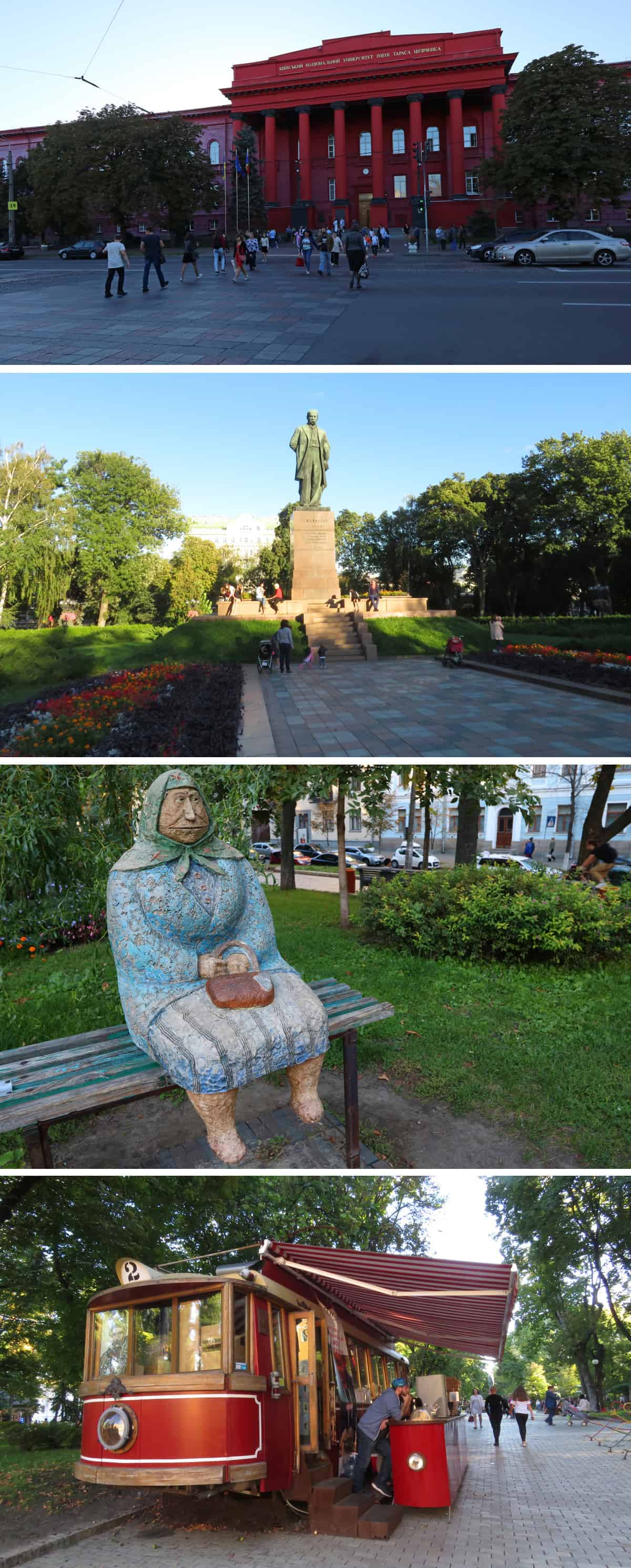 There are other highlights that we missed – Saint Nicolas Roman Catholic Cathedral, the Pyrohiv Museum of Folk Architecture (highly rated, we were sorry to miss it), and the Ukraine state aviation museum (being a plane nerd I would have liked to see it).
Anyone have suggestions of things to see and do for our next time in Kyiv? Always like feedback from locals.
---
---
Practical Information
Getting Around: the Metro is excellent, very inexpensive, and super easy to get around. On the map at the top of this post you can see which metro stops are closest to the highlights. Some of the metros are actually highlights onto themselves (one is considered among the most beautiful metro stops in the world) and we took one afternoon to ride the metro and stop at a whole bunch of stations to take some photos. See my post here on the 10 Most Beautiful Metro Stations in Kyiv. Uber is everywhere in Kyiv and is usually how we got around.
Accommodation: We were in Kyiv a month and stayed in this Airbnb apartment in the Lypky area, which is up a steep hill from the center. Nice for a long-term stay if you don't mind the inconvenience of going up and down that hill for most of your needs. If you haven't signed up for Airbnb you can sign up here and get a $35 US discount on your first stay. Hotels. For a shorter stay I recommend being somewhere centrally located. A few recommendations: Crystal Hotel near Maidan Nezalezhnosti (excellent hotel near the main square), KievInn (between main square and Saint Michael's Golden-Domed Monastery. Excellent location and price), Central Area Apartments on Khreshatyk street (centrally located, good price, apartment ).
Organized Tours. We did all our sightseeing independently. But we were also in Kyiv a month. If you're limited for time I'd recommend this Central Kiev 3 hour walking tour which will take you to the main highlights. Note, it doesn't include Kiev Pechersk Lavra (#9 up above) which you have to see, either independently or with a tour (as I mention, this one is recommended). Looking for something unusual? How about this tour of the Kyiv underground tunnels? (it's on my list for next time). Or shooting automatic rifles at a shooting range? (we did it in Prague and it was a highlight). Finally, many people come to Kyiv because they want to visit Chernobyl. This full-day tour takes you there.
Food shopping. We didn't eat at restaurants much in Kyiv, preferring instead to cook at our apartment. Silpo is a large, modern grocery store chain and you'll find everything you need. There are several stores in central Kyiv. Good wine is very upmarket and sells imported products from around the world. You can find anything here including lots of great wine. If you had a preconceived idea of Kyiv it'll be shattered when you come to this store. Bessarabsky Market in downtown Kyiv is good for fruits and vegetables and is worth seeing – but we found prices artificially high (much more than at the local markets in Lviv). Better to buy your everyday produce at the many small stores you'll find around the city (or at Silpo which I mentioned above).
Flights (and hotels). Kyiv has a modern airport with many flights coming/leaving for most of Europe. We flew out with Czech Airlines to Prague.
Related: A Review of Ukrainian Airlines
Have you been to Kyiv?

Ps. If you find our blog helpful, please consider using our links to book your flights, hotels, tours, and car rentals. Have a look at our Travel Resources page.