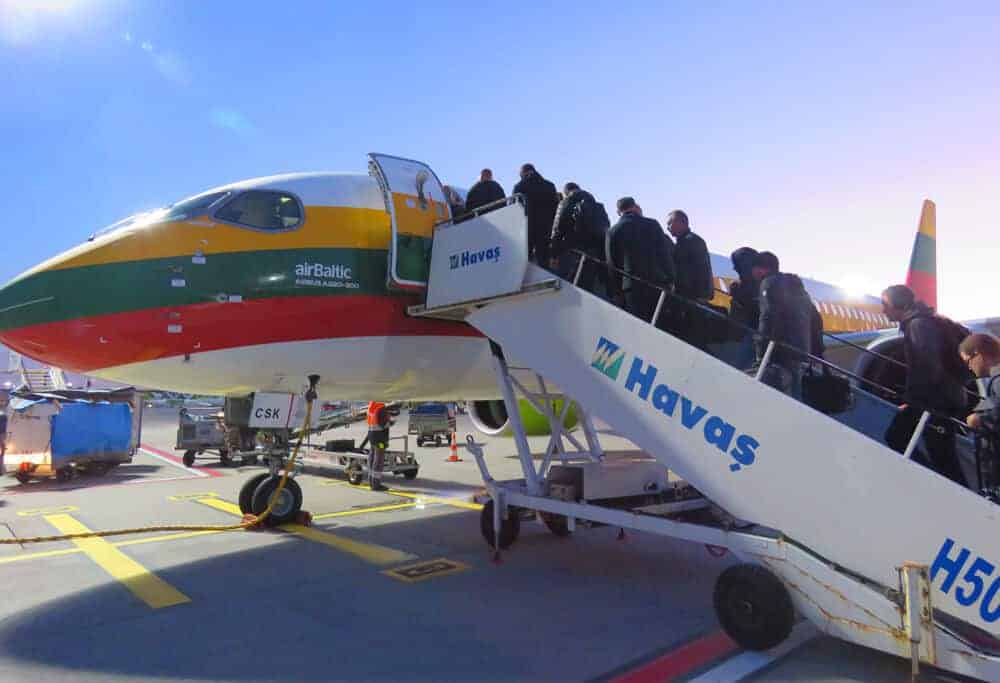 Air Baltic Review
When searching for flight options from Lviv to Prague Air Baltic came up as the most efficient and cheapest route. Word of warning though: there's a lot of fine print and chances are you'll have to upgrade a variety of options from the "Basic" fare that shows up on search results. It's why I decided to write this review of Air Baltic.
Air Baltic is the flag carrier of Latvia with its main hub in Riga (Latvia) with further smaller hubs in Tallinn (Estonia) and Vilnius (Lithuania) airports.
When you book you'll see 3 different options of tickets: Basic Economy, Premium Economy, and Business class. I've attached a breakdown of what that means below.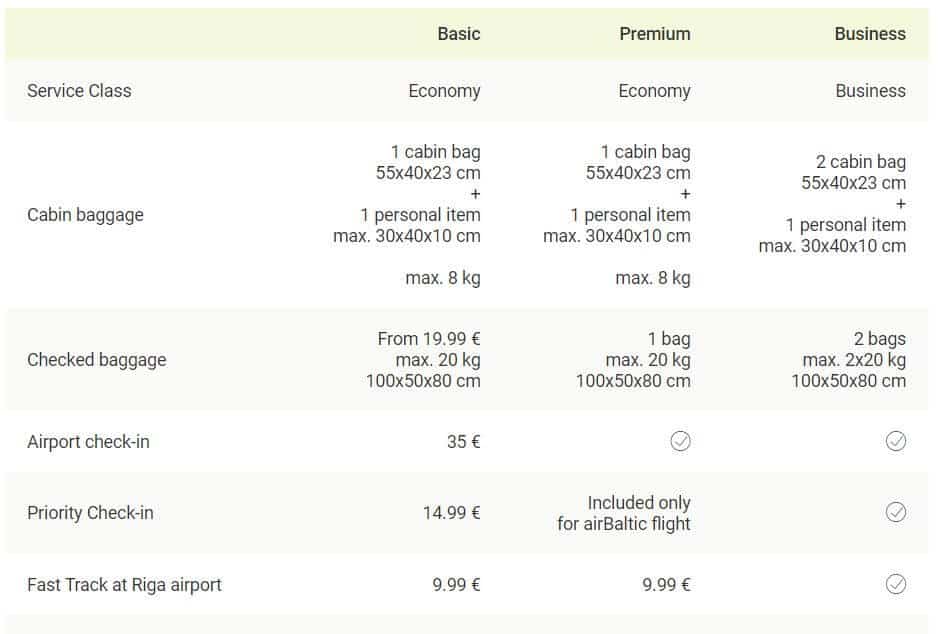 Note that Basic really is Basic, with no checked in luggage and only 8 kg of cabin luggage allowed.
---
---
We were flying from Lviv to Prague. Flight options between the two are poor. Twice a week an airline called SkyUp flies direct, but otherwise the most quoted routes are through Warsaw or Istanbul. On this day, the most efficient routing was with Air Baltic with a stopover of an hour in Riga. Air Baltic also had the best fare, even after upgrading from Basic to Premium and paying and extra 12 Euro each for heavier cabin luggage (which allows you 12 kg of cabin luggage instead of 8 km).
In total we paid 262 Euros between the two of us.
Note: although you have to do a lot of reading to figure out the right options for you, booking everything on the Air Baltic website was easy and it didn't take long to get my receipt by email.
Note 2: notice the crazy flight times. We've never had a flight at 4 am before. But we would arrive at 8 am local time in Prague which means you have the whole day in front of you.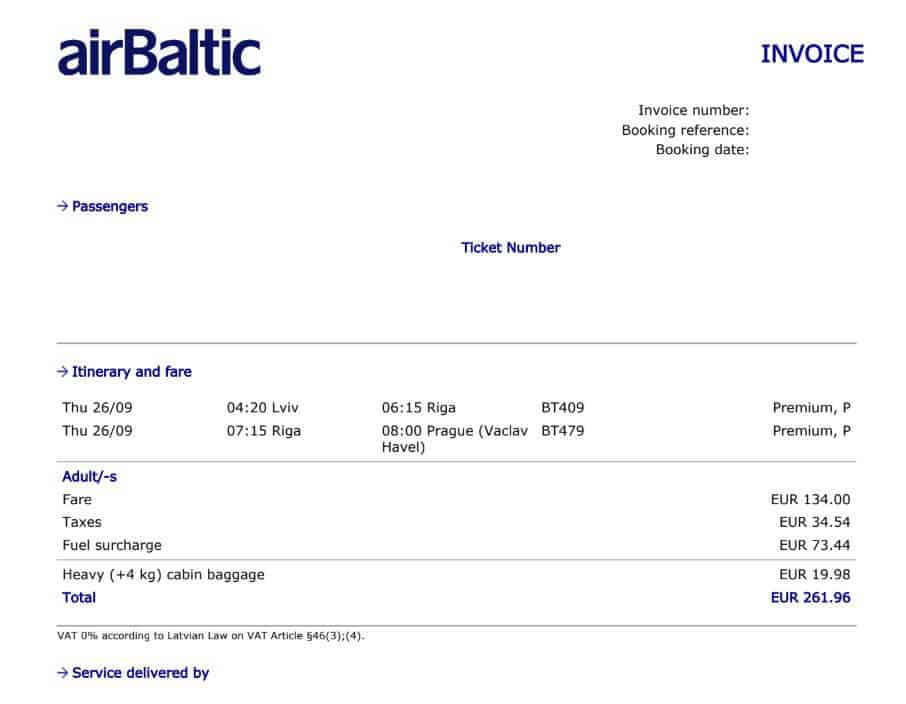 ---
---
Checking in, Lviv
Lviv has a nice modern airport which was pretty much empty when we arrived at 2 am. Check in was smooth and Air Baltic personnel was friendly. I always get nervous checking in with budget airlines because they're often trying to get you on something, whether it being a bag slightly over the allowed weight or an unprinted boarding pass (which we didn't require with Air Baltic). We were processed quickly with no issues.
---
---
Flight #1: Lviv – Riga
Boarding was on time and required a short walk from the terminal to the tarmac – we would notice on both our flights that boarding/unboarding was never at the terminal. We would have to walk or take a bus to/from the plane.
Our plane was a Bombardier Dash 8Q400. It was clean and modern. Take off was smooth as was the flight to Riga. There is no free food or drinks, anything you want has to be bought (which is pretty standard these days).
The flight went smoothly and we landed just after 6 am. We were taken by bus from the plane to the terminal.
Transit and security
I have to say they're very stringent at Riga airport.
We followed the sign "Transit to Schengen" when we entered the terminal. We were the only passengers going through and there were two tellers open. It was the first times we faced so many questions: Where are you coming from? When are you going back to Canada? Not going back to Canada, then where are you going? When will you be leaving the Schengen zone?
It was the first time I've been as thoroughly cross-examined.
When going through security I was asked to open my bags. Lissette beeped going through the metal detector even though she was wearing her usual travelling outfit (which never beeps). They swabbed her for explosives. Later, when we picked up our bags in Prague, she found an Air Baltic ticket inside her bag that stated that her bag had been examined.
Very strict. Maybe because we were passing through at a quiet time?
Despite all this it was quick and efficient and although we only had an hour between flights we had plenty of time to go through immigration, security, and to get to our gates. That's mostly owing to the fact that Riga airport is really not that big.
---
---
Flight #2: Riga – Prague
Again, everything was on schedule. We were taken to the plane by bus (I'm not sure why. There seemed to be many available gates at the airport).
The plane was colourfully painted, a special livery commemorating the city of Vilnius.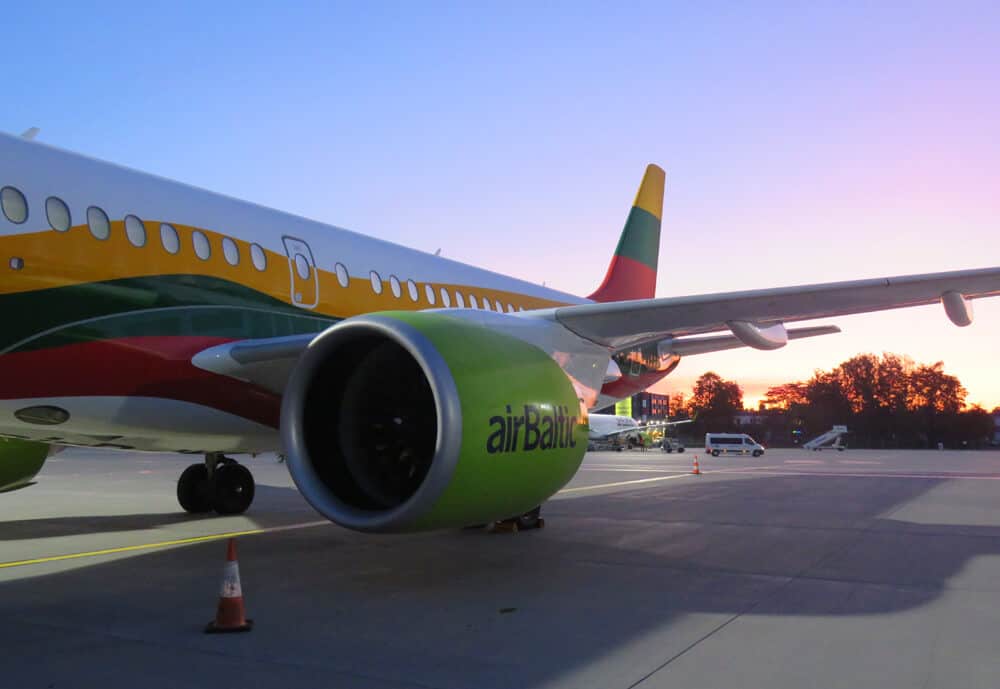 Inside the plane was very modern, clean, and I was impressed by the leg space.
Again, the flight went very smoothly (I slept most of the way).
---
---
Overall Impression
I really don't like that airlines these days force you to read the fine print on what is and isn't included in the service. I upgraded to premium and also upgraded on cabin luggage only because I did go through the fine print. Otherwise we would both have been charged 35 Euros to check in our bags at the airport and would no doubt have faced similar fees for overweight cabin luggage.
Make sure you read the fine print that I included up top.
That's my only negative.
Other than that all was excellent: all ran on time, service was efficient and friendly enough, the planes were very modern and clean. That impressed me the most. Although a budget airline it seemed a step above most budget airlines for me.
Would we fly Air Baltic again? Yes. Going through the inflight magazine we noticed that they have some interesting destinations. We're also interested in visiting Riga and the Baltics so Air Baltic is the most obvious solution.
Have you flown Air Baltic?
PS. Looking to book flights, hotels, tours, or rent a car? Have a look at our Travel Resources page.