An Incredible Yoga retreat in Santa Teresa Costa Rica
Anyone who's followed my blog knows that we haven't been great fans of Costa Rica. Santa Teresa ended up being the one place in Costa Rica that we loved. And that's because of an incredible yoga retreat.
First of all, Santa Teresa itself isn't much of anything. It's a dirty little town built up along a horrible dirt road. Because of the dryness of this area, a wave of dust bellows up whenever a car goes by, covering the plants and stores on both sides of the road with a layer of dust. Motorcyclists (a lot of people on motorcycles or ATVs here) wear bandanas to cover their faces. It amazed us that they couldn't tar a road cutting right through town, yet, a couple of kilometers away in the middle of nowhere, the road is tarred all the way through to the airport (about 45 min away). Typical Costa Rica. Walking in Santa Teresa, you have to contend with both the dust plus the lack of sidewalks. There are no lights on the main road and nothing to stop you from falling into the deep gutters on both sides of the road. Access to the beach is along little dirt paths from the main road. I can't understand how poor countries like Cuba or the Dominican Republic have better infrastructure than Costa Rica. You can't walk anywhere here. Santa Teresa is in fact just another dirty Costa Rican beach town.
---
---
Still we loved Santa Teresa. For one, the nature is beautiful. We flew in from La Fortuna (via San Jose) and saw the rolling hills and rocky shoreline and thought that this area had the most spectacular geography that we had seen to date in Costa Rica. Sunsets were spectacular and different in some way every night. The weather was hot and dry, unlike the wet and humid that we had encountered in La Fortuna. But the main reason we loved Santa Teresa was because of the hotel/yoga center we stayed at.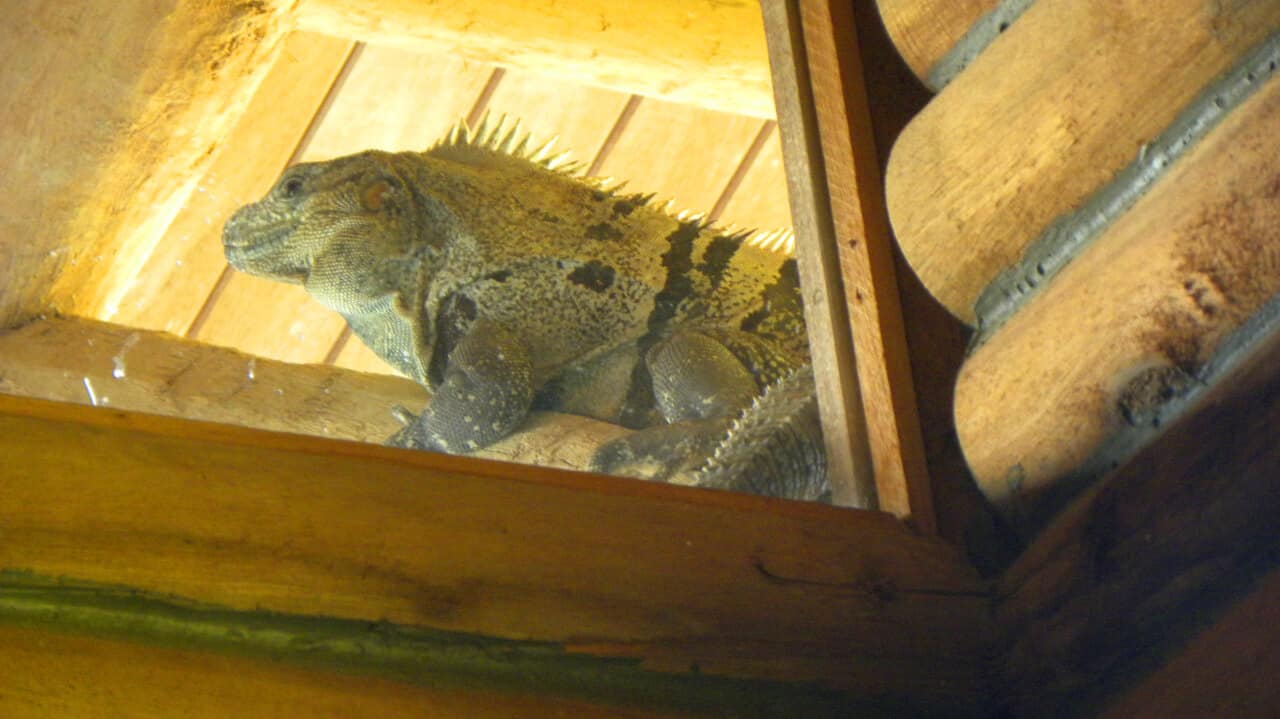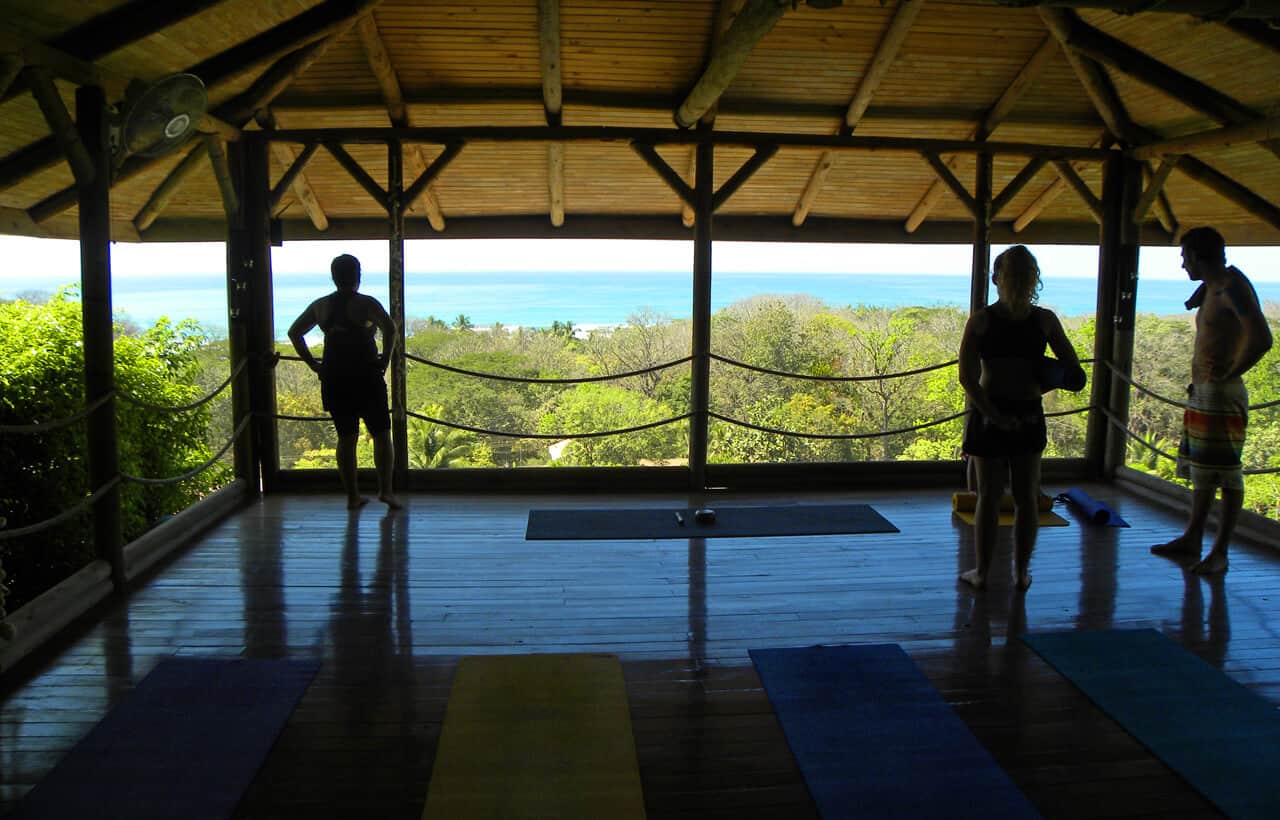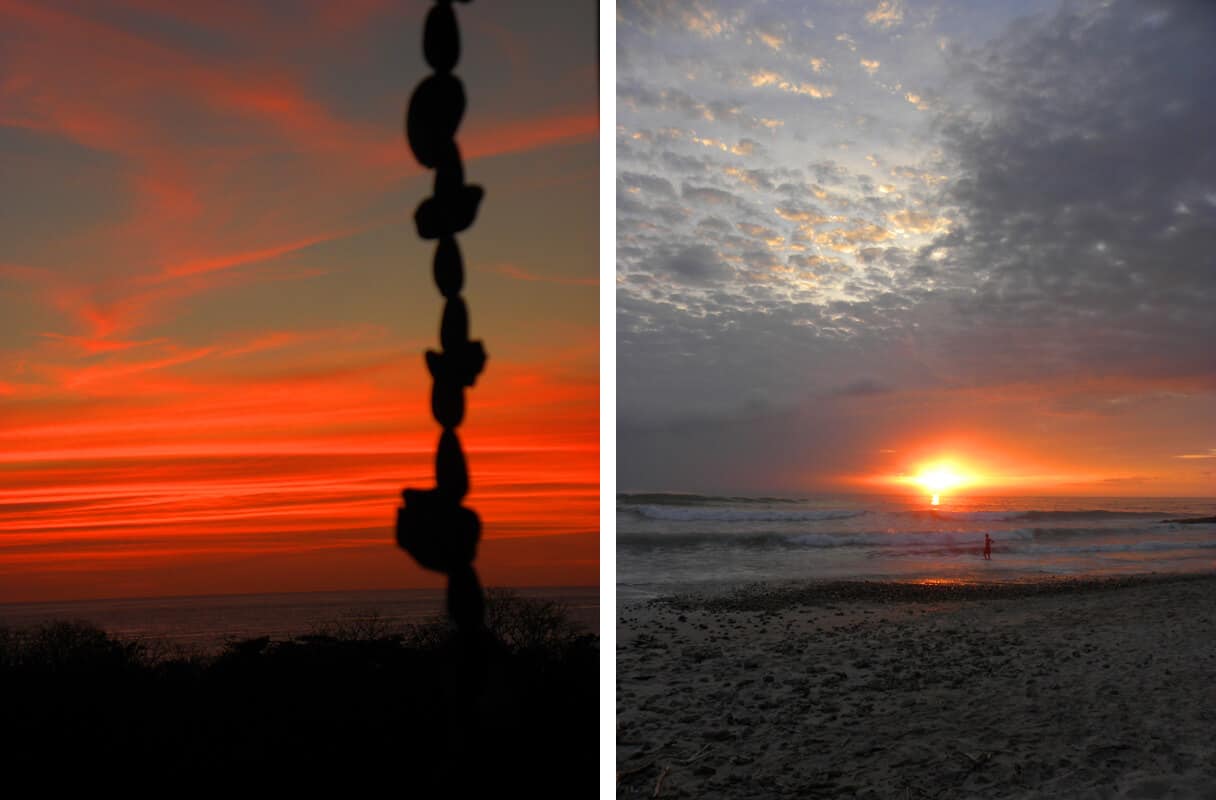 ---
---
We stayed at the Horizon Ocean View Hotel and Yoga Center located on a small hill looking down over Santa Teresa and the beach.
It was absolutely fantastic and this is the first place I've ever given a perfect score. Fantastic rooms, incredible food, lots of very nice people, an international crowd. The atmosphere of the place seems to bring out the best in everyone. I was afraid of the yoga (I had never taken a class) but it was great. The 9 am classes (which last 1 1/2 hours) gave structure to our day. After that we were free to do all types of activities including tours which the hotel arranged at very affordable prices. After being royally screwed with prices everywhere else in Costa Rica, it was nice to see prices that made sense. At the end of the day we would sit on our private balcony enjoying the sunset. It really was paradise and we loved the place*. It's an incredible yoga retreat.
* Note: I get suspicious when I see other bloggers saying they love a hotel – note that I didn't get compensation of any kind for the above comments. Our reviews are 100% from the heart and reflect our experiences.
---
---
---
---
---
---
We'll probably never be back in Costa Rica. Overall, we found the country overpriced, the tourism industry dominated by foreigners, the people not very friendly, and the logistics complicated. BUT, forgetting everything else, staying in this hotel (it's actually more like a retreat) was one of the best travel experiences we've had anywhere.
---
---
.
Ps. If you find our blog helpful, please consider using our links to book your flights, hotels, tours, and car rentals. Have a look at our Travel Resources page.