Being Back 'home' in Montreal after a year of Travel
We came back to Montreal after a year of travel with a lot of conflicting feelings.
There was stress. For the last year Lissette has been working from a distance and the agreement with her employer was that it would last for just a year. Coming back, she knew there was no way that she could go back to working 9-5 behind a desk. And we were going to keep on travelling no matter what. Would they allow her to continue doing her work from overseas?
There was also relief, especially after the 2 week trip through Croatia, Slovenia, and northern Italy that culminated our year of slow travel (we realized during that rushed trip that travelling that way was no longer our style. From now on it's nothing but slow travel). Coming home would be a bit of a break from the constant planning required when travelling. In Montreal we have our favorite restaurants, our specialized grocery stores, and we know how to get around. It would be a bit of a mini-vacation from travelling. I think we both secretly looked forward to that.
We were also happy with the prospect of seeing friends and family that we hadn't seen in a year. Lissette and I don't have huge numbers of either (we can count friends and family on one hand) but the ones we do have are important to us.
Bittersweetness. In the past we would come back from long vacations to our beautiful Montreal condo. 'Home', literally home, was what we've missed most about Montreal. Our condo is now rented out to two wonderful tenants. We were coming back to Montreal to stay in another Airbnb apartment. The bittersweetness of being home would be especially evident when we visited our storage space and saw all the memories of 10 years of living together jammed in that small unit.
This last point really brought home that 'home' is no longer 'home'. Montreal was another stop, just like Prague, Nong Khai, and Split. Despite the personal connections, we no longer felt the emotional connection of coming back to a city where we had both lived for 25+ years. Would our feelings change over the 6 weeks we would be back? I'll come back to that further below.
---
---
.


Random observations/reflections on being back in Montreal after a year:
– You realize when travelling the ethnic diversity you have in Canada, something you don't see in many places around the world. Montreal may not be as ethnically diverse as Toronto or Vancouver, but walk around downtown or the lower Plateau and you'll see a lot of racial diversity. We ordered Indian food on our first night back (and 7 more times during our stay). We went to Jardin de Panos for Greek, to Arepera for Venezuelan Arepas, and to Amir for Lebanese Shish Taouk. We went to Quartier General, one of our favorite French Bistros. We realized when travelling that ethnic cuisine was one of the things we missed the most and were happy to be back in Montreal for the food.
– We had set out to explore Montreal as we would any city that we visit. We ended up so busy that we didn't really accomplish that…we did however visit Notre Dame Basilica which is the #1 ranked tourist spot in Montreal on Trip Advisor. I haven't seen Notre Dame in 25 years, mostly because I had a bug up my ass about the $5/person entrance fee (it used to be free, then later it applied only to tourists. Now it applies to everyone). After seeing some of the most beautiful cathedrals/churches all over the world for free, why would I pay $5 to see a church in Montreal? In hindsight I realize that I was being pig-headed – because Notre Dame Basilica is simply gorgeous. You also get a free guided tour with your $5. So you get your money's worth.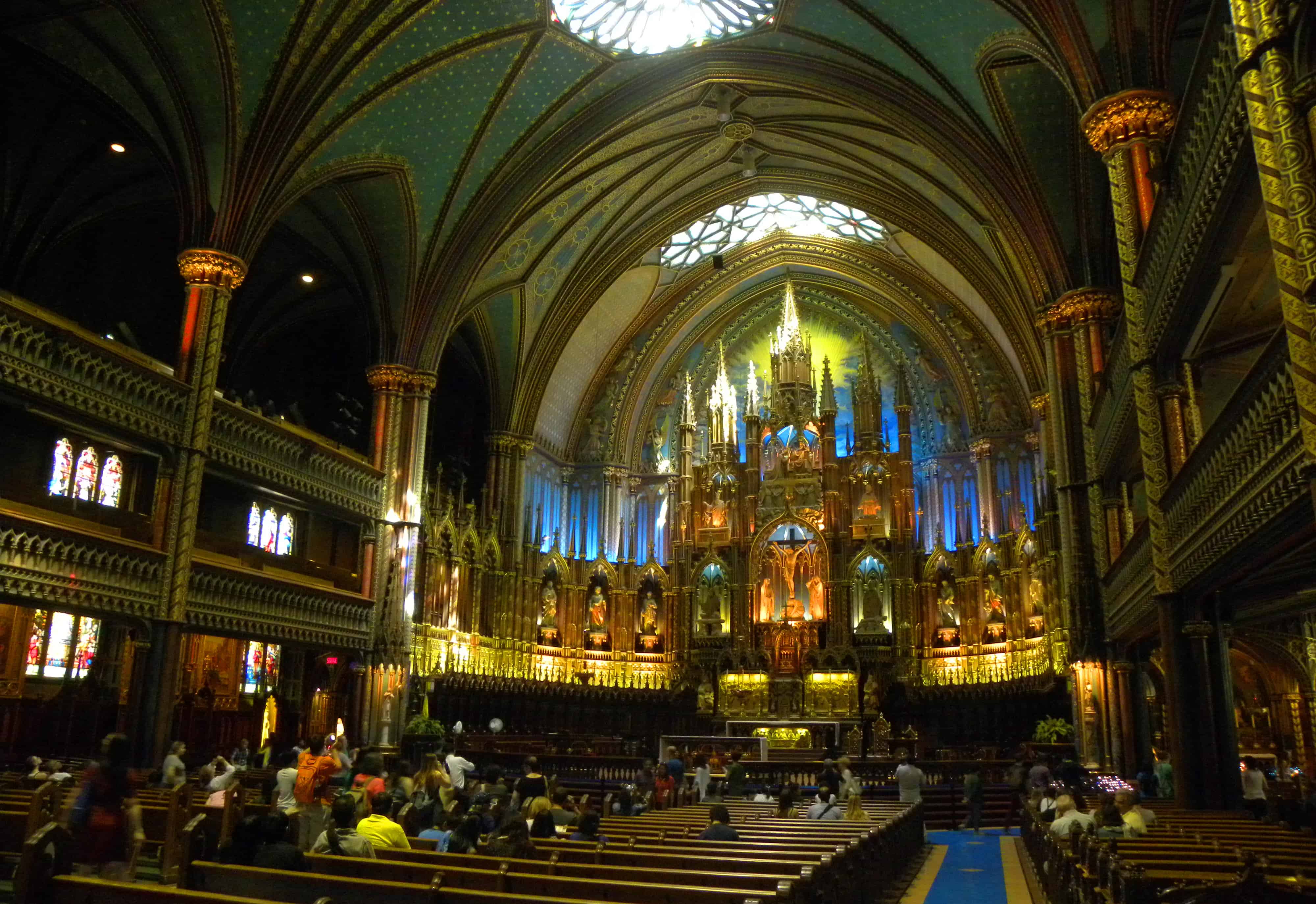 ---
---
.
– The ugly sides of Montreal are still on display, more than ever: 1) the never ending construction in the summer resulting in traffic gridlock all over the city. Montreal is always a construction nightmare and the only conclusion I have after 25+ years is that officials are either incompetent or really don't care too much about the public. 2) Montreal has some of the most aggressive drivers you'll find anywhere. Maybe because of the above traffic gridlock. But it doesn't take much to bring drivers to blows on the streets of Montreal.
.
– Perspective. It's funny being away and coming back to see the same people a year later. I was at the optician's where I saw the same ladies that greet me every time I go. They looked like they had aged years. Same thing for my barber who looked gaunt and sickly. Maybe you don't notice these things if you're there regularly but when you're away for a while and come back you see how time has weathered people. It also reminds us of our decision to travel – we're both nearing 50 and who knows when other things will intervene to maybe prevent us from doing things we want to do?
– Climate. Many people will write me, asking me how warm it gets in Montreal. They have the impression Montreal is cool even in summer. They're always surprised when I tell them how hot and humid the city gets – Montreal can be stifling and, no kidding, feel as miserable as Bangkok during the hot season. During our 6 weeks in Montreal I flew to Mexico to visit my mom for a week. San Miguel de Allende was actually a pleasant break from Montreal's sometimes unbearable summer weather.
---
---
– We stayed in an Airbnb apartment on avenue Laval. Recommended. For those of you who go to Montreal, avenue Laval is one of the prettiest streets in Montreal containing some of the most photogenic 'typical-Plateau' style buildings in the city (the ones you usually see on postcards of Montreal). See my guide on the Plateau.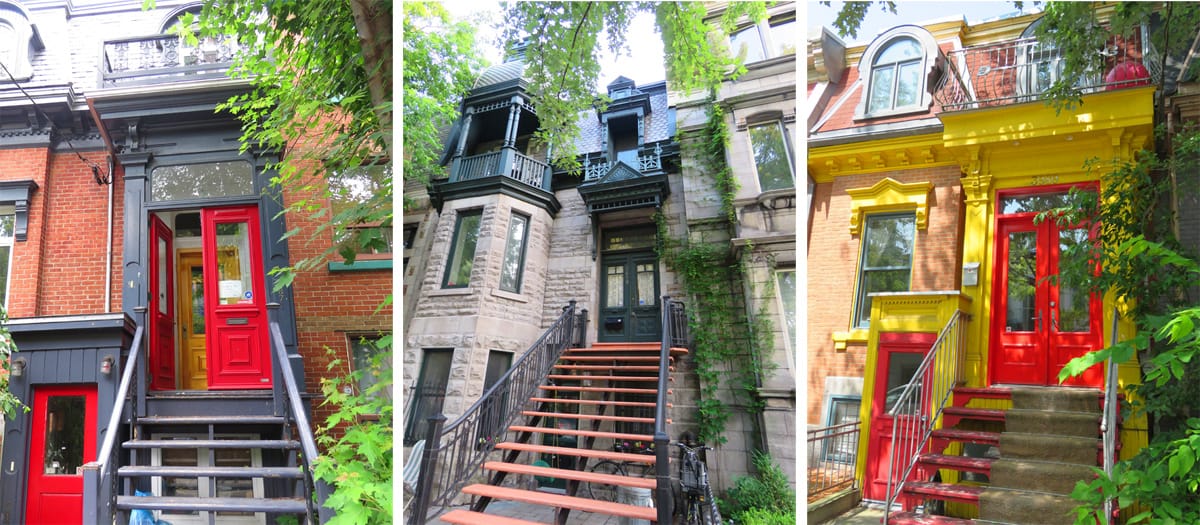 – Montreal is a very young city. I came here at 19 to go to University. It was a great place to be a young guy. Later, when single again in my 30's, it was again a fun place. Montreal is full of restaurants, bars, and exciting nightlife. Over the years that aspect of Montreal has lost its shine. But coming back we were reminded again of what a young and exciting city it is.
– Cost. Coming back to Canada after a year abroad is a price shock. Montreal is amazingly expensive. The thing is, unless you've travelled, you don't realize how damn expensive things are in this country. You go to the store to get groceries and $60 later you look at the bag you just bought and try to figure out where it all went. I've written before about how expensive Montreal is compared to places we've travelled over the last year. What I never mentioned is that travelling the way we do, with Lissette still working and me renting out the condo, we managed to save $40,000 over the last year of travel. That is $40,000 that we would not have saved living in Montreal. I've mentioned that to some people I know in Montreal and they'll say stuff like "well, I had to pay $26 for a beer in Oslo". Fine, maybe that's true. I know places in Bangkok where I could pay the same amount. But those kind of prices are far from the general rule. My point is that if you plan properly you can save a lot of money (with a better quality of life) in many places overseas.
.
– Personally, people told both Lissette and I that we looked good, that a year of travel looked to have 'rejuvenated' us. We were both a little surprised because although we enjoyed the last year, there were stresses involved and we didn't always feel very relaxed. We're still learning how to best organize our new lifestyles and have some plans going forward. So while our life of travel is a lot more fun and satisfying, it is also a work in progress. But it's great when people say that we look more relaxed and happier

.
---
---
***
We've had a good 6 weeks in Montreal. We did all the administrative stuff on our list. Lissette's employer told her that she could work from overseas as long as she wants. We saw friends and family and had some great diners. Did we feel the emotional attachment that we used to have for Montreal? No. I think both of us made our mental goodbyes to the city when leaving last year. But it's nice to see that our love for the city has been passed on to our tenants. Originally from Toronto, they've fallen for Montreal. They remind us of ourselves 25 years ago. It's also reminded us of the expats we've met in different places, whether it be Bangkok, Nong Khai or Prague, who've told us of their new found love for an adopted city. Maybe that'll happen to us one day. But in the meantime, we've realized that Montreal is no longer home to us. 6 weeks in Montreal was long enough.
.
Have you ever felt that 'home' was no longer home to you?
PS. Looking to book flights, hotels, tours, or rent a car? Have a look at our Travel Resources page.