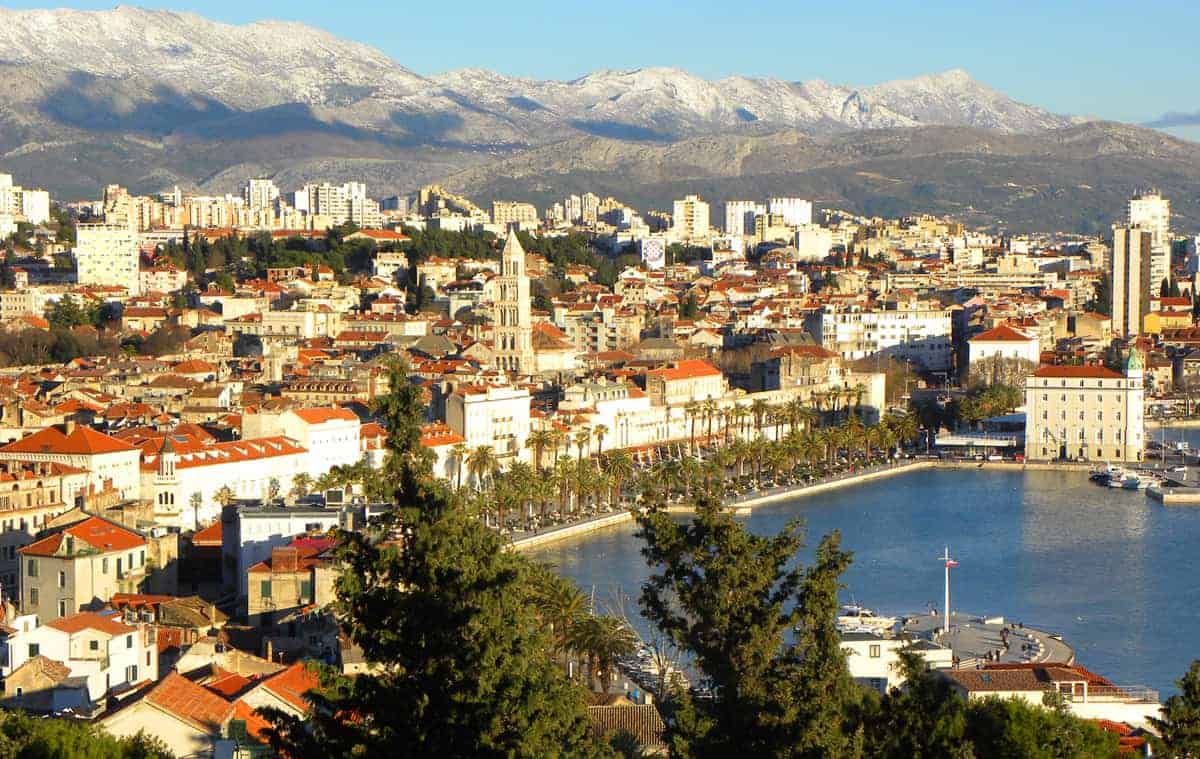 Going from travelling full-time to having a base.
It was 7 months ago that we left Split. We've been thinking about that a lot lately.
For those new to the blog: we left Canada in 2014 to travel. One of the places we spent time in was Split (Croatia). We visited a few times and fell in love with it, so much so that we decided to stay there for a year in 2017. That ended in March 2018.
Lissette and I have different feelings about our experience and what we took away from our year in Croatia. If you've travelled full-time and then decided to settle down somewhere you might be relate to some of the different emotions we've gone through.
Lissette (Spanky)
In 2015, just before our first trip to Split, Croatia, I met an ex-pat in Thailand who told me that one day, I might arrive in a place where I would feel that I just belong. I wouldn't want to leave. "It will just feel right. You will feel it the moment you get there." It's really wasn't anything I wanted to hear or believe in. We had just barely started our full-time travels and I was still getting used to the idea that we did NOT have a home. We were living out of our suitcases. We were going to see the world and not stop travelling until we were ready to. If ever.
While Frank took care of the luggage and explained to our Croatian cab driver where we wanted to go (and secretly bracing himself for a confrontation. Taxi drivers are always a source of stress) I slipped into the back of the cab and almost instantly thought, I like what I'm feeling. I hadn't seen the Riva, Diocletian's Palace or even caught a glimpse of the Adriatic (I rather not look outside my plane window no matter how hard Frank pokes me to). But I liked our cab driver's face and I knew I'd like Croatia.
2 years and 3 visits later everything came together. We chose to make Split our base. After 3 years of full time travel, we both needed a timeout. Having a base filled with most of our own furnishings was just ideal. It was also a step towards relocating to Europe.
---
---
For almost a year, I was living my dream. Having a base after years of travel meant no more living out of our suitcases. Our apartment would be filled with our furniture and personal belongings and I would sleep in my own bed with my own linens. I would open the closet and I could pick whatever I felt like wearing with whatever shoes and purse. I would get to know people from the local market, shops and gym. I would walk down our little street and I would wave to the people whom I would see every day. I would make friends and feel connected to a community.
Having this particular base meant I would have a home but this time not one that I was born into. Not one where I relocated for work, but one I had chosen. How fortunate was I to finally be able to do that? Having a base meant that we would still travel but now we had a place to return to to just reboot, relax and plan our next trip. Not having to do the Schengen shuffle was a dance we were looking forward to not having to do. We would travel and return home to Split whenever we wanted.
Unfortunately, all the hard work/money that went into making Split our base went up in flames when we were not able to keep the apartment. Everything spiralled out after that and we had to just accept the fact that it was not meant to be and we had to get out of the country. Packing up, I wondered if our decision to find a base was a mistake. What is worth it? What's the point? Maybe attachment to places, people and our stuff only holds you back.
The first 4 months after we left Split were very difficult for me. We visited some beautiful places, made some wonderful memories and even met some great people. We discovered Lviv, a new city that I hope to revisit in the new year. My love for travel is still intact. I realized that having a base to come back to will only help me travel longer. It will give me the break I need to absorb everything I experience and keep the lust of travel in my heart.
It's been 7 months since we left Split. We are back in Prague. Today, I'm sitting in a café near our flat. We were welcomed by the very sweet owner. She's entertaining a few expat patrons as if they were long lost relatives. It's the kind of place that is owned by foreigners and that's become a bit of a hangout for ex-pats looking to connect to other strangers in a foreign city.
Frank and I sit down with our lap tops and sip our coffee. Our cake arrives and after the first bite I'm taken aback by the taste. Is this something I had before? Not here. Where? I find it hard to concentrate. I start to focus on the conversations in the café. The owner's husband just walked in and is being greeted warmly by everyone. I find it almost impossible to write. Within a few minutes, he talks about Croatia in a way that only a Croatian would. The cake is familiar since it's one I've tasted countless times during our time in Split. I suddenly feel as if am transported back…home.
As we head out the door, I turn to the owner and ask if he is Croatian. He proudly says he is. He and his wife left the Slavonia region for better opportunities. I don't look Croatian but he asks me if I'm from there. I'm confused for half a second then I think he must see how much I love Croatia. I tell him that it feels like my home.
That's what a base is for me. Home.
.
---
---
---
Me (BBQboy)
I'll admit I get sentimental seeing photos of Split. It's one of the most beautiful places I've been.
When Lissette and I talked of having a base in Split in late 2016 I was all for it. In theory I liked the idea of having a base to come back to between trips. And although I saw a few factors that made me question the long-term possibility of Split as a long-term base (language and bureaucratic red tape among them) we both needed a break after 3 years of full-time travel. I also knew I would never get bored of the incredible nature of the Dalmatian coast.
When we applied for our 1 year Temporary Stay, we also entertained the possibility of working towards Permanent Residence. Permanent Residency in Europe is one of our long term goals.
Getting that one year Temporary Stay in Croatia wasn't too hard. It meant quite a lot of paperwork and expense, the major ones being a lawyer (you need one to lead you through the process) and signing up for Croatian Health Care (which, when a 3rd party national, means paying a full year of premiums on top of regular monthly HZZO payments). We got through it. But it was a lot of paperwork and we spent a good 6 weeks doing a lot of running back and forth between the lawyer's office, police station, notary and government offices.
At about the same time we found out that our tenants in Montreal – who had rented the condo for the last 3 years – had decided to buy their own place. I had a decision to make. Find someone to rent it out to or sell the condo. By this point we had travelled for 3 years and knew that we didn't want to live in Montreal again. We decided to sell the condo.
Selling the condo meant also settling another outstanding issue – our storage unit in Montreal. We had been paying $300/month for the last 3 years. We had some really nice furniture in there, many original pieces. We had justified storing it because of the value. We didn't know back in 2014 how long we would travel and/or if we would come back to Montreal. So putting it is storage was a temporary solution that we knew would have to be addressed at some point.
We decided to empty our storage unit and have the contents shipped to Split (where our apartment had a large storage unit).
So 2017 was the year where we ended up liquidating all our assets in Montreal.
But again, it meant more paperwork. I sold my condo within about a month. I then arranged to have our goods shipped to Croatia (I wrote about that here). I personally went back to Montreal to attend to the move of our storage and to sign the paperwork for the sale of the condo. I also combined all this with my yearly visit to Mexico to see my mom.
By the time I came back it was July. All our furniture had arrived and Lissette had set up our apartment beautifully.
But the work wasn't finished.
When deciding to use Split as a base, one of the reasons was that we could rent out the condo on Airbnb. Our friend Vedran lived nearby and would be the host.
We spent a month perfecting the apartment, buying extra towels, bedsheets, etc. It was non-stop running around. But by the end of the month it was all done and we had several bookings that filled up most of August (here's what our apartment looked like).
We went to Prague for the month of August to attend to our usual medical checkups, dental etc.
When we came back in September we came back knowing that WE COULD FINALLY RELAX AND ENJOY OUR NEW HOME.
And we did. For the next few months we settled in, took weekend trips to the islands, and just generally lived as most people do when they live anywhere.
---
---
Did we enjoy it?
To varying degrees. We both realized that we didn't love the apartment. It was however perfect for the purpose that we intended, namely as a base whenever we came back to Split and as a place we could easily rent out when required.
Having an apartment again after 3 years also reminded me of the obligations of having a home. Having to get a plumber to fix a broken seal in the bathtub that flooded the floor, having the terrible tap in the kitchen fixed, getting a specialist to clean our AC units. The apartment had been mostly empty for the last few years and everything was breaking apart.
I didn't have much patience for it all. For me our year in Croatia brought back many of the reasons I had wanted to leave Montreal for travel. I had wanted something different. My son had grown up. He now had his own life. And I didn't want the other responsibilities of life: of being a homeowner, of paying monthly utility bills, of taking care of all the stuff that we all have to take care of in our daily lives. I had done that all my life.
And now here I was after 3 years of travelling with a "home", monthly bills to pay, and bureaucracy to deal with. I no longer felt free. I felt like I had a noose around my neck.
I also realized that while I loved visiting Croatia, I didn't love it as a base. In my heart I knew that Croatia would not be the place where we would get permanent residency.
Within the next few months fate decided things for us. Among other things, the owner of the apartment died. The inheritor decided to sell. We had 45 days to get our stuff out of the apartment and leave the country. That sealed our departure from Croatia earlier this year (I wrote about all that here).
We were upset at how things turned out. But, honestly, with time I think things worked out for the best. I have good memories of Split, but when I think back I feel the relief of leaving a relationship I wasn't happy in. Split meant obligations, paperwork, and restrictions on our free movement. Split made me feel constrained and limited*. I itched to travel again
* Croatia restricts applicants working towards permanent residency a total of 2 months outside the country in a given year. To be limited to 2 months outside Croatia for the next 5 years was a "no" for me.
---
---
I realize now that I wasn't ready to settle and have a base. And that Split wasn't that place.
I love travelling. I love visiting new places. But I've realized that as much as I love that, I love not having obligations. I love being able to say "let's go and spend next month in Germany" without having to worry about our apartment or bills or about who's going to water the plants. After a lifetime of being an employee, a father, and a homeowner, I love the freedom of being a "nomad". I love it. And although I had wanted to give Split a chance as a base (and maybe something more) I realize that after 3 years I wasn't ready for that step.
I know one day we will have to settle somewhere and invest the time and energy to make it home and to work towards permanent residency. That's going to be sooner rather than later – we're both in our early 50's and it's not something we can hold off on indefinitely. But, as I say, Split wasn't the time or the place for me.
Note: we wrote this separately, not knowing what the other would write. As Lissette said, reading my contribution "Hmmm, I wrote a love story and you're talking about a noose around your neck!" 🙂 .
A question, and maybe this is a topic for another post: How do you live after the travel? If you've travelled all your life, what happens when you can't anymore?
Obviously I don't know that answer to that right now.
---
---

PS. Looking to book flights, hotels, tours, or rent a car? Have a look at our Travel Resources page.