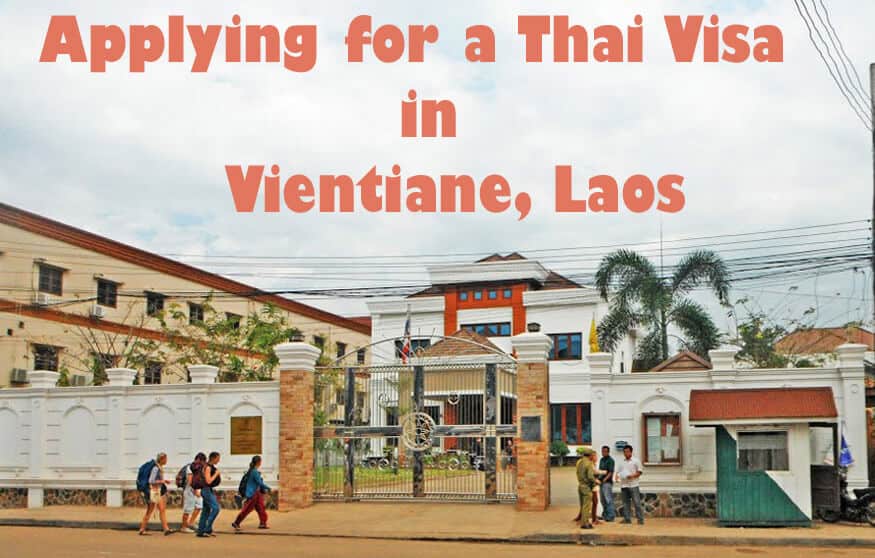 What you can expect applying for a Thai Visa in Vientiane
This post details the process in getting a Thai Visa at the Thai consulate in Vientiane. The below should help you know what to expect, the crowds you may encounter, and the process.

Firstly, the Thai consulate in Vientiane is not at the same place as the Thai Embassy. If you click Thai Consulate in Vientiane, Google will come up with a map showing the embassy (on Avenue Kaysone Phomvihane). The Consulate, where you have to go for the Visa, is located No.15 Ban Ponesinuan, Bourichane Road. The best thing to do to get there is to take a taxi or tuk tuk, it's an about 15 minute drive from Central Vientiane. Our hotel listed the cost as $7 US to get there one-way. We paid $15 US for the tuk tuk driver to take us there, wait the approximate 3 hours it took on the first day, and then drive us back. But you don't have to pre-arrange the return; you'll see lots of tuk tuk drivers around the consulate waiting to pick up any visitors who come out.
---
---

You'll need two days to get your Thai Visa. The 1st day to apply, the 2nd day to pick it up.
UPDATE: As of February 1, 2019, you can no longer just show up at the Thai embassy/consulate in Vientiane and queue to get a visa. You must book an appointment in advance! Go to the consular website to create an account and book your visa appointment.
---
---
The 1st Day
Applications take place between 8:30 – 11:30am. When you arrive you may be shocked by the number of foreigners there. We were told that the busiest days are Monday and Tuesday where there can be as many as 600 to 700 people getting their visas processed. On our day there were less than that but it was still an incredible number of people.
Try to get to the consulate before 8:30. Get there as early as you can. Prior to coming into the grounds of the consulate, you'll see men outside offering application forms for the visa. Ignore them, they charge 100 Baht for the form. You can get a form inside the consulate for free.
Once inside the consulate grounds you have to join the long queue. It will eventually lead to a table where two men will be working. They'll give you an application form (if you don't have one) as well as a number slip (looks like a slip you get at the bank. Don't lose it! You'll need this number when picking up your Visa/Passport the next day). They'll also check that you have proper documentation; a passport with at least 6 months remaining before expiry, two (2) photos, and a photocopy of your passport. You should also make copies of your current/expiring Thai Visa (if applicable) as well as your Lao Visa. They're not mentioned anywhere as required documents but on the day we went we were told they were required.
If you don't have the photos and/or photocopies, you will be directed to the 2nd floor of the consulate. There a man will take your photos and print them out for you. They also have a photocopier and the same man will make the photocopies. Make sure you have money in bahts. As I say in the paragraph above, better to organize those copies beforehand so you don't have to use these services here.
So you have the application form filled out, your two photos attached, and all the photocopies I mention? Coming back downstairs you get in one of the lines for Visa Application. I've read some blogs where they say that applications are handled by your number. There was no such organization on the day we were there. Just get in line. There were 3 lines and it didn't take too long, maybe 20 minutes. The man behind the glass will make sure your application form looks good, will staple your photocopies, and will keep all these documents along with your passport.
You can now leave (it used to be that you would have to pay on the 1st day. It really slowed down the process. No more)
---
---
Accommodation in Vientiane: We stayed at the Avilla Phasouk Hotel which was excellent and very centrally located. Also recommended is the Vayakorn Inn (which is near the Avilla Phasouk).
Transport to Vientiane. You can pre-book your transport to Vientiane. Have a look at options below.
---
---
The 2nd Day
Pickup for Visas happen the following day between 1:30 and 3:30pm.
Again, try to show up early. They actually open the gates up around 1 pm.
You'll be processed by that number slip that you were given the previous day. The numbers are shown on a big screen and applicants come up (like they would at a bank).
When you get called up, they'll give you back your passport. Included within it will be your new Visa. You will also pay them at this point – 1000 Baht for a 60 day Visa.
It took us about 90 minutes by the time we walked out with our passports. Within each passport was our new Thai Visa.
---
With recent changes it's all pretty smooth. Please scroll below for the latest comments where people describe their experiences.
Note: If you only need to extend your time in Thailand for 30 days or less, a better option than the 60 day Visa is to extend a current visa in Thailand by showing up at a local immigration office (I wrote about that here). Extending costs 1900 Baht and you get 30 days. Note: you can only extend your Visa once. If you've already extended a visa, you'll have to do the out-of-country Visa run described in this post.
Feedback is always greatly appreciated as it helps us keep this post up to date.
---
---

.Ps. If you find our blog helpful, please consider using our links to book your flights, hotels, tours, and car rentals. Have a look at our Travel Resources page.