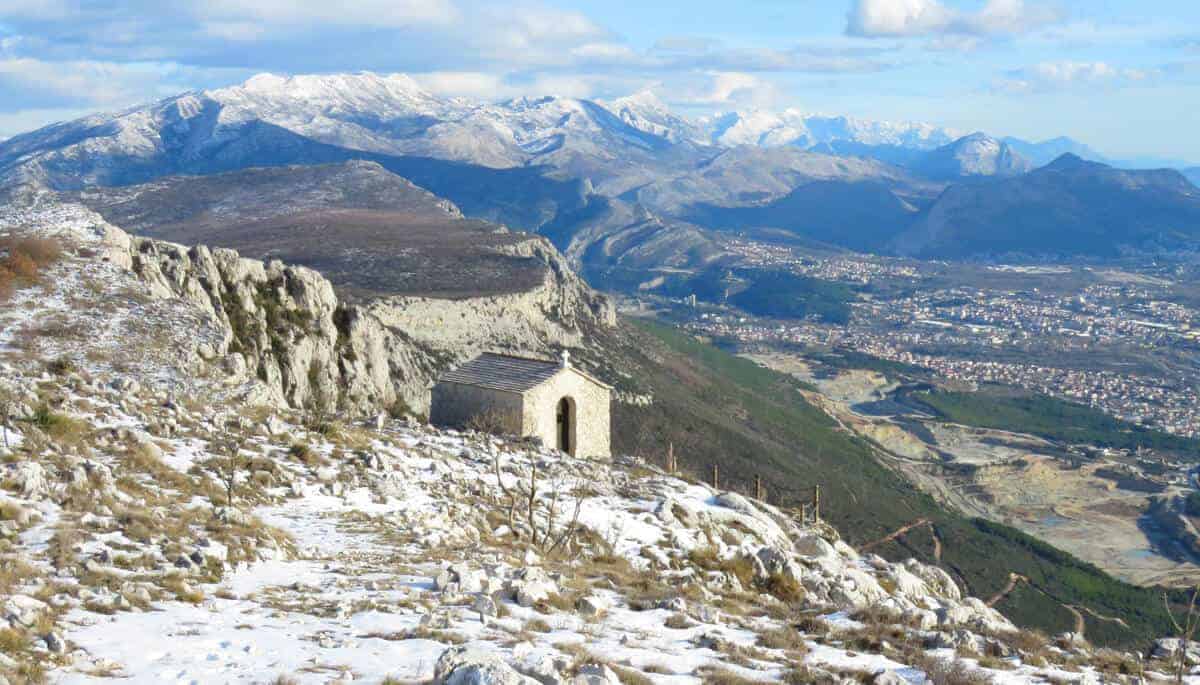 Hiking Kozjak Mountain in Split
Kozjak mountain is the first thing you'll see if flying into Split. It is the long mountain that looms over the coast, a wall of rock that dominates the view on the drive from the airport (near Trogir) to Split.
I've previously written about hiking Mosor mountain. It offers some of the best hiking around Split. Kozjak is very different and while it doesn't have the same altitudes and is not as adventurous a hike, it does have some advantages over Mosor:
1) It is much more accessible from Split. Your Kozjak hike can be started from a few different access points (more on that below).
2) The views are incredible from every point in the hike. You are basically walking along a ridge the whole way, the Adriatic on one side, the Dalmatian interior on the other.
3) Difficulty wise, hiking Kozjak is easy. There's not much of a variation in altitude along the ridge. I think it's more of a "walk" than a "hike".
4) If planned right, you can finish the hike in Klis and visit Klis Fortress (well known to "Game of Thrones" fans).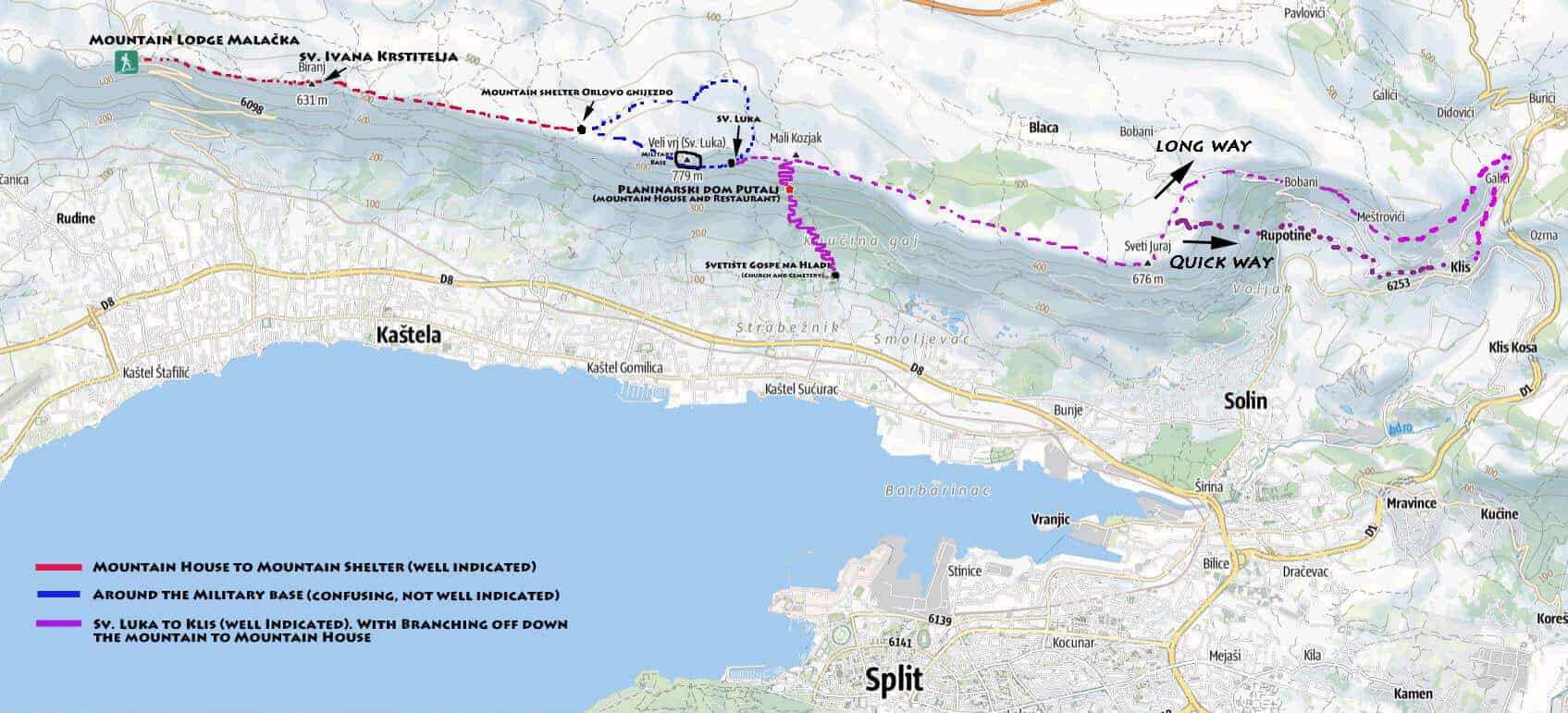 See my map above. Click to enlarge.
I've broken this hike up into 3 sections. The blue zone in the middle is an obstacle. It is a military base that breaks up what would otherwise be a continuous hike. I'll go over the ways around it.
Mountain Lodge Malacka to Mountain shelter Orlovo Gnijezdo
We started off at the Mountain Lodge Malacka (466 m). Using this as a starting point, you are already on the ridge.
Getting up here: there's a modern asphalt road that winds itself up the mountain. Goran's wife Branka drove us from Split, a 30 minute drive. Visitors can take Uber. If you want to save money go to the airport by bus (#37 will get you there from Split) and take Uber or a taxi from there. You'll see a small lodge, a church, and a large parking lot. You've arrived.
We did this hike on a sunny January day. It was a warm day in Split – but arriving at the Mountain House a cold wind was blowing in from the interior and there was snow on the ground. If doing the hike at this time of year make sure to wear layers.
From the parking lot we had a small ascent. 10 minutes later we were walking along the ridge, clear views in every direction. Facing the Adriatic, the airport was just below to our right. Further away we could see Trogir in the distance. Ahead we could see Split and the mountains going down the coast towards Makarska.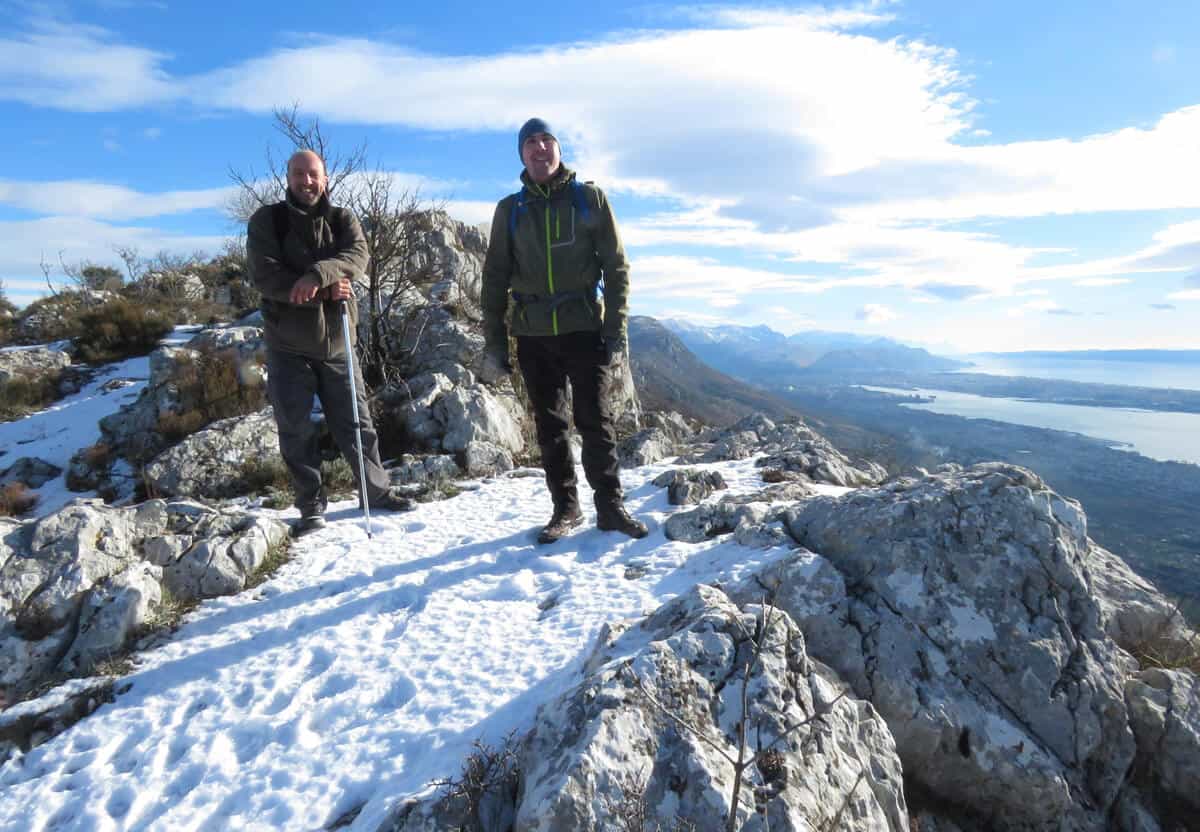 It took us about an hour of mostly flat walking to arrive at a small church. At 631 m, this is Sv. Ivana Krstitelja.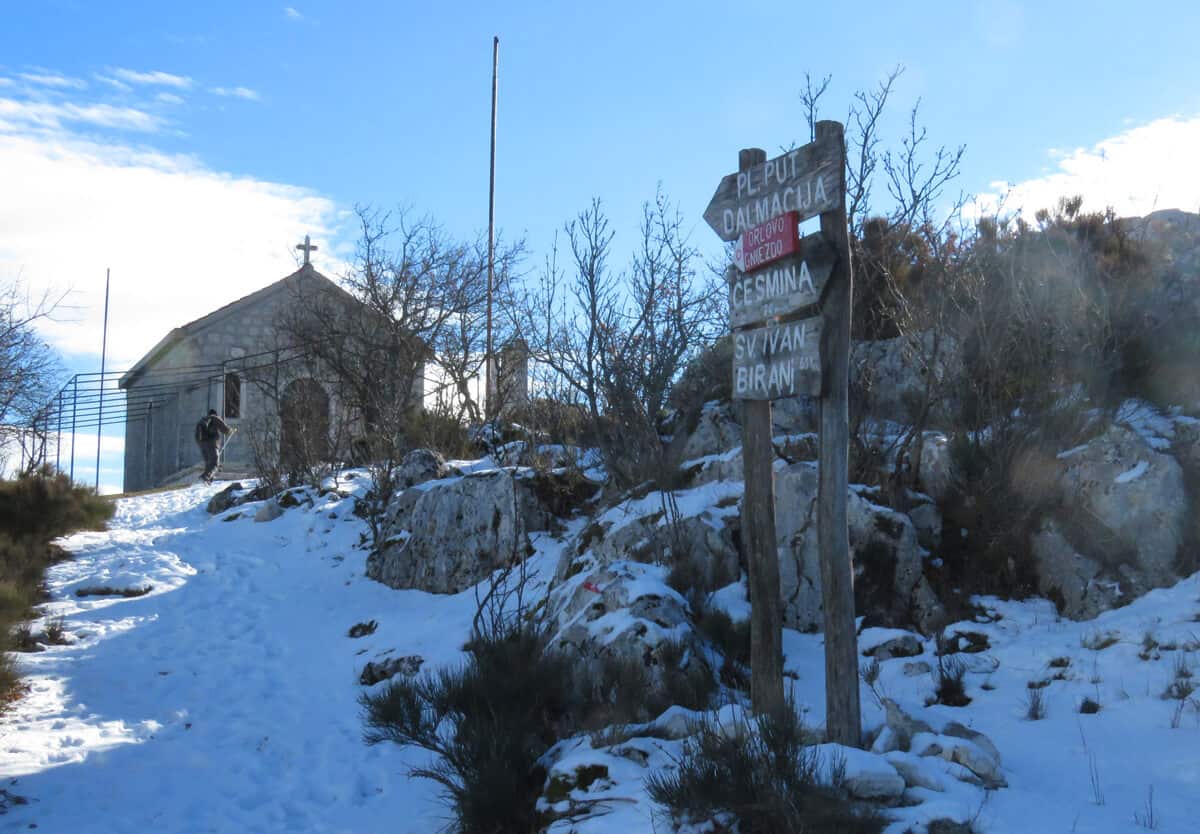 We continued on. It was slow going with the snow, but otherwise it was easy hiking and the winds had died down. Perfect hiking weather with the sun out.
2 hours later we arrived at Mountain shelter Orlovo Gnijezdo (598 m). The shelter is right along the ridge, you are looking right down into the abyss from here, and is protected from the interior winds by part of the cliff. It is the perfect place to stop for lunch. That's what we did. By then it was 12:30, we had hiked 3 hours from our starting point.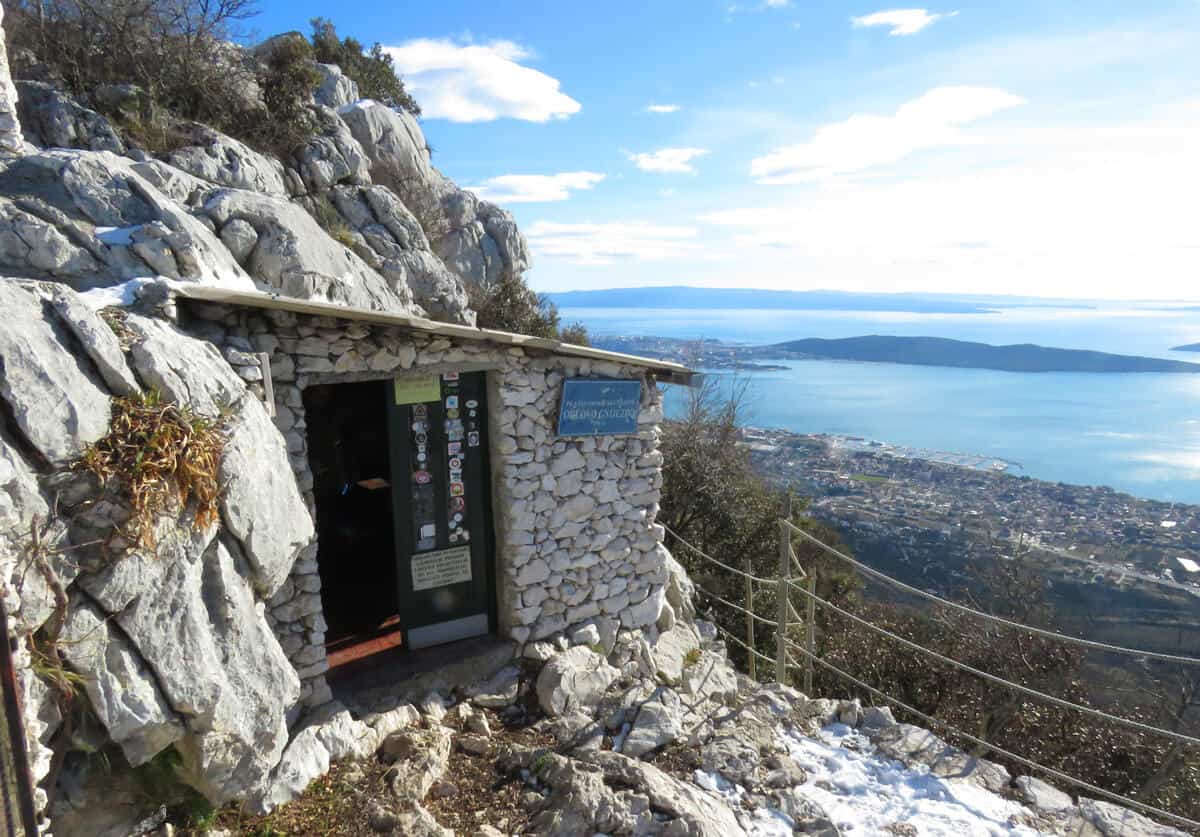 At this point you can a two options, because you are coming up to the blue zone I have on my map.
1. You can follow trails down the mountain. If you keep to your left you will eventually end up at the Planinarski dom Putalj where there is a restaurant with nice views on Split.
2. You can continue on the trail, going up Veli Vrj (the highest peak on Kozjak at 779 m) which is also the home of a military base.
We decided to continue on.
And then we reached this.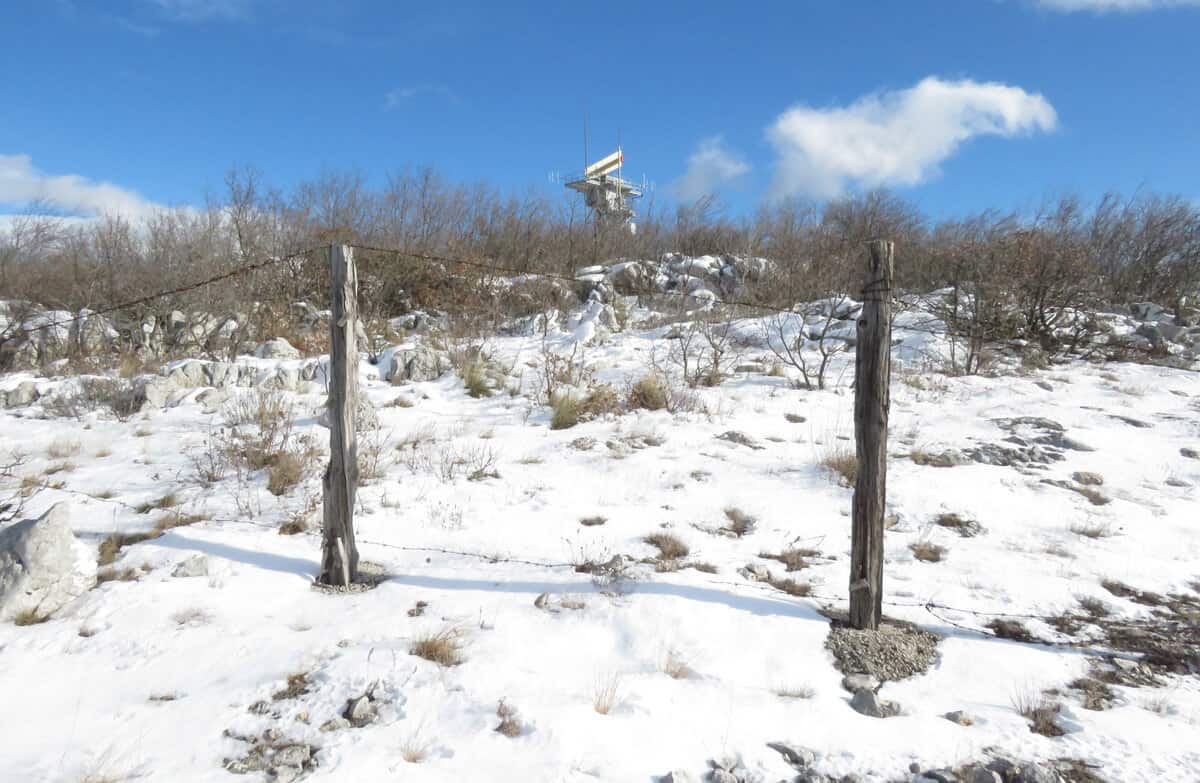 There are 3 options to getting around the military base on Veli Vrj
1) The "official" hiking route stipulates that you go back and follow the trails down the mountain. You'll go to the mountain house at Planinarski dom Putalj, then go back up the mountain on a different trail. That's a big detour and means you have to go all the way down the mountain and then back up. That makes no sense.
2) We were told by some hikers we met that if you go in the other direction (ie towards the interior) that there is a road that goes around the military base. That's true (as we would later find out). But at that moment, walking around in the bush in trees and snow we didn't find any clear trail to head in that direction (note: this is the best way however and what I would recommend).
3) We decided to try and go around the military base by skirting the fence along the cliff. We followed the fence for half an hour. The fence ended and we had no choice but to walk through the military base. Nobody stopped us. In fact the whole base looked deserted. We continued, going up past the huge radar…and then down through the fence on the other side of the base. I don't recommend cutting through the base to anyone but having read a few Croatian articles on the same subject it seems that hikers have ended up doing exactly what we did.
Below: while on the grounds of the military base, we ran into these. They are Barbary Sheep, native to North Africa but introduced here. They're large and have scary horns but are timid…they walked away when they saw us coming.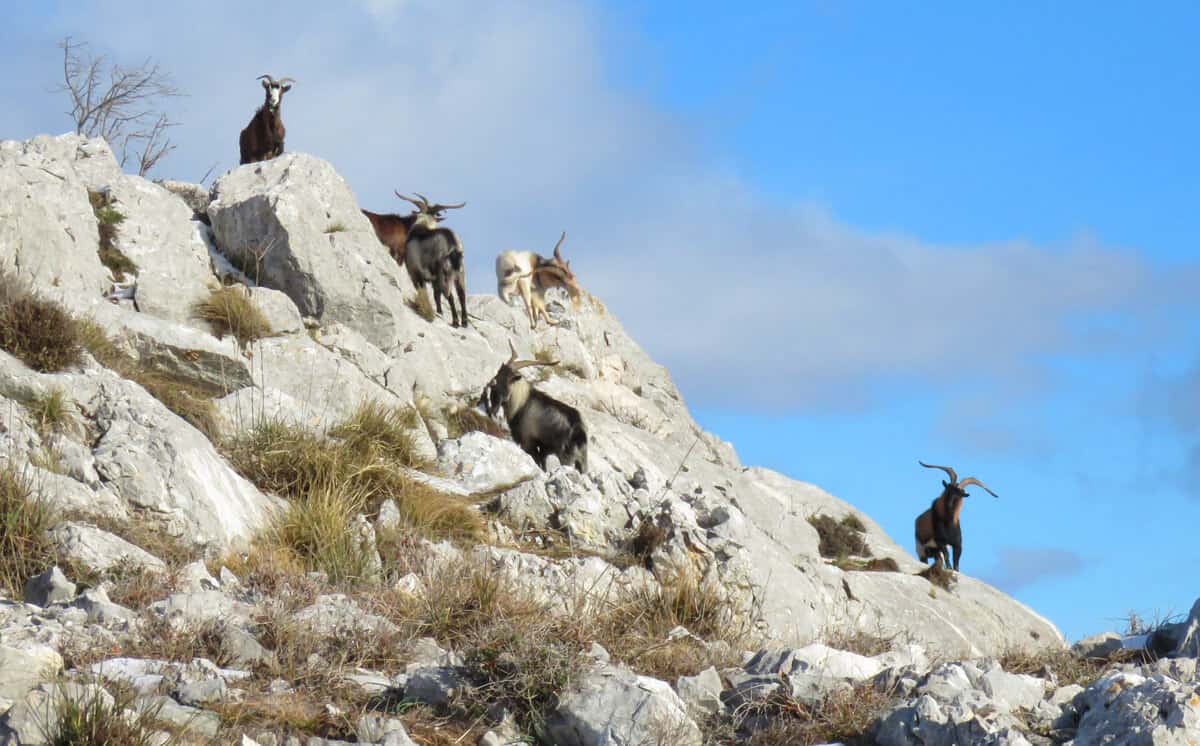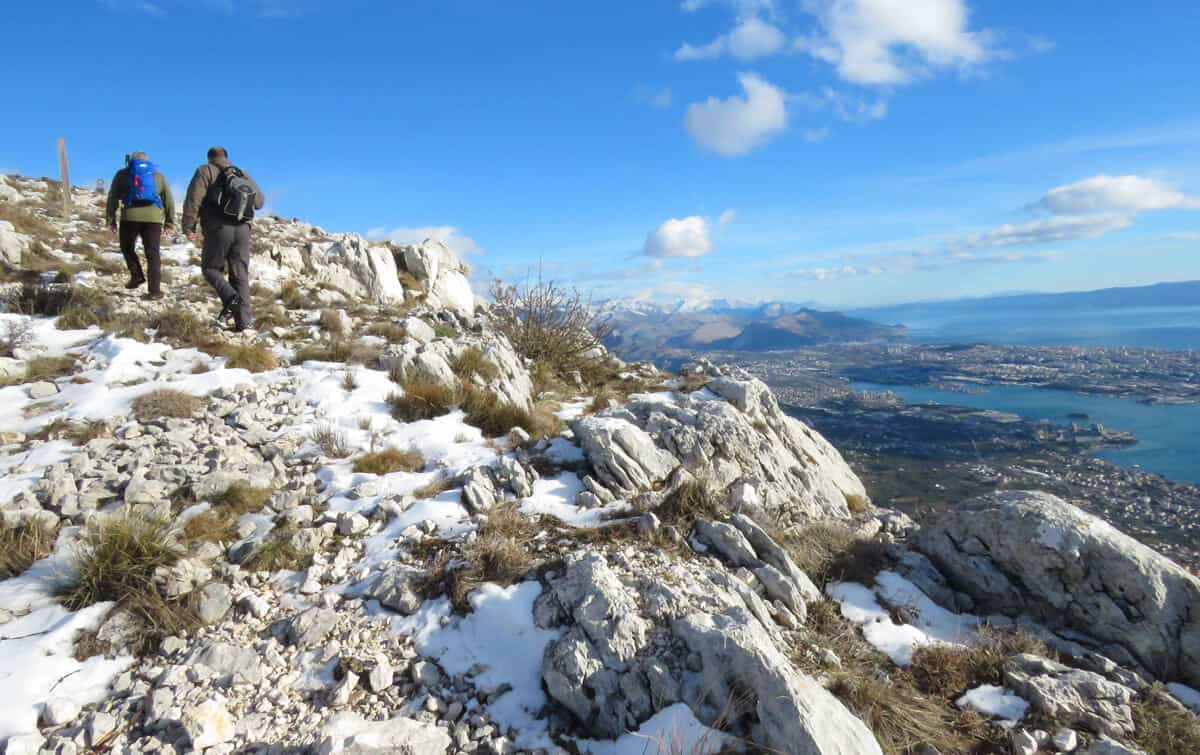 Coming down from Veli Vrj, the views are incredible. Right below the military base is the small church Sv. Luka. Further is Mosor Mountain and the mountain ranges leading to Mt. Biokovo further up the coast.
Sv. Luka to Klis
This is the most scenic part of the route. Unfortunately we were not able to complete it…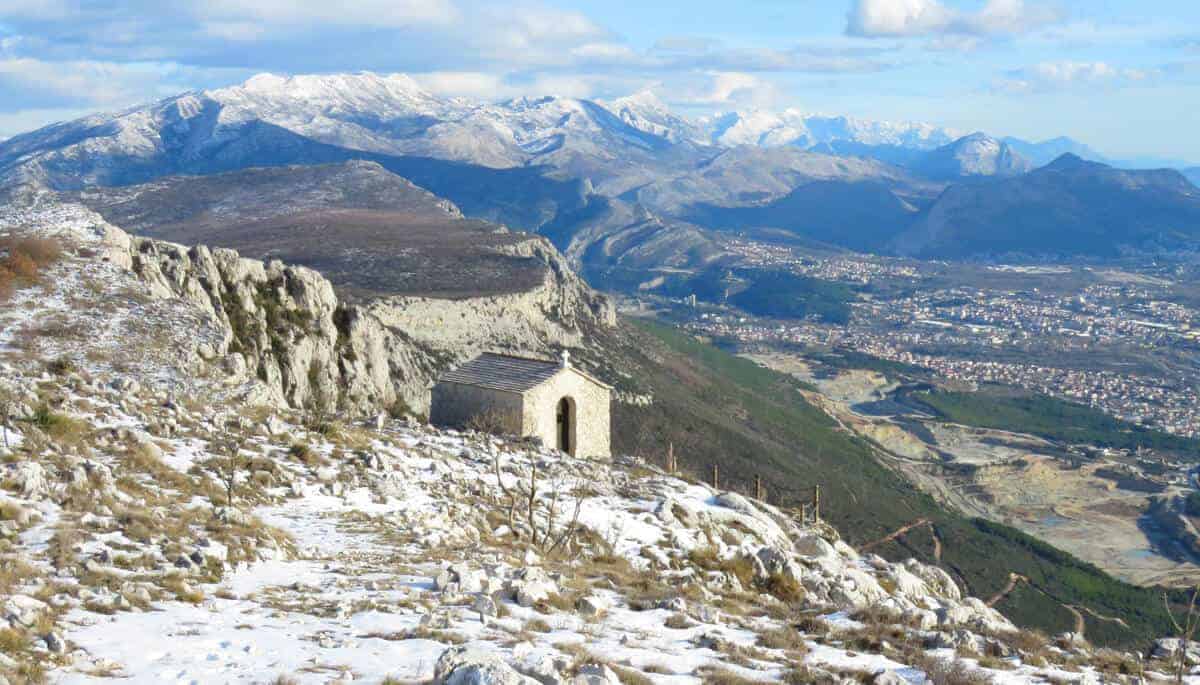 Below: looking back at Veli Vrj and the military base
We continued on after the small church of Sv. Luka, following the trail along the ridge.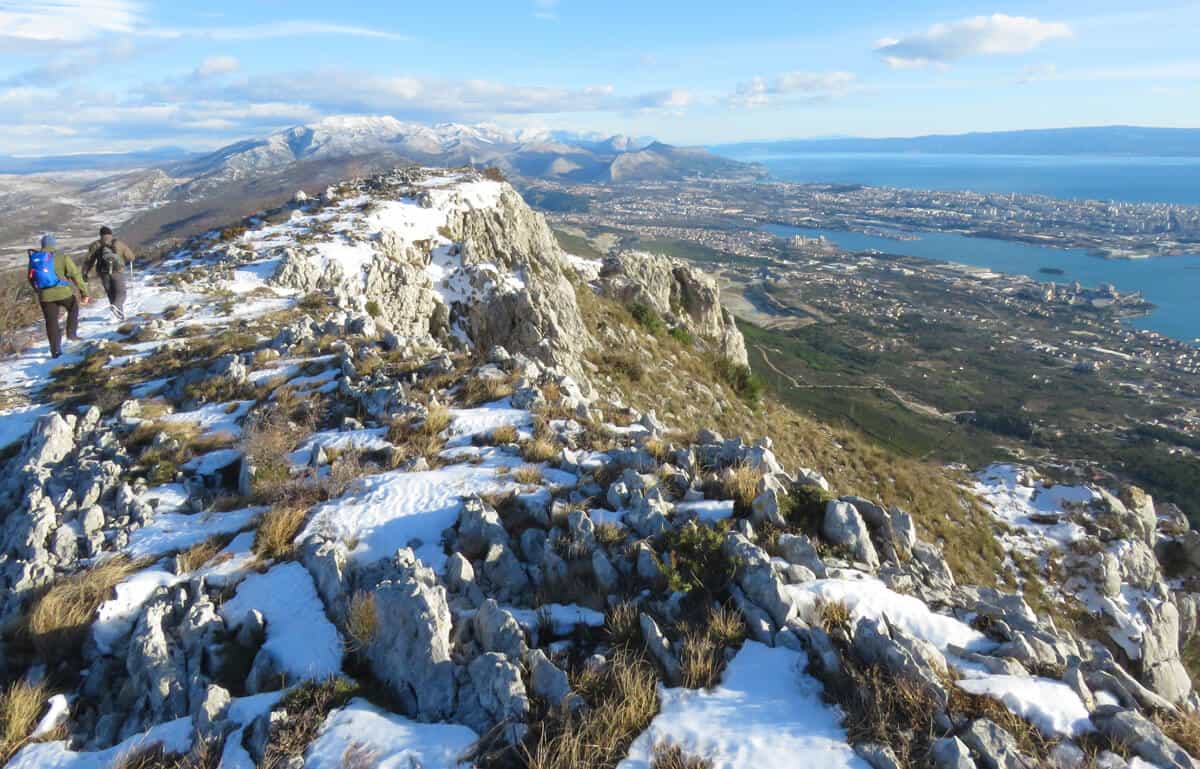 Running out of time….
We knew it would be tough making it all the way to Klis. We had passed the small church of Sv Luka at around 2 pm. Signs indicated that it was 2.5 hours more to the peak of Sveti Juraj. We didn't know (at the time) how far it would be from that point to get to Klis (the answer is 1.5- 2 hrs if taking the fast route through Gornja Rupotina). With the sun setting around 4:30 in January we realized we just didn't have enough time to complete the hike.
We decided to head back and take the trail down the mountain to the Planinarski dom Putalj, the mountain house/restaurant.
It took about 40 minutes to backtrack, then about 45 minutes down the mountain.
It was about 3:30 pm when we arrived at the mountain house. The restaurant there is popular, both among hikers and locals coming up here for the views and food (mostly of the meat and beans variety).
We still had a 30 minute hike after the mountain house, following the trail that leads to the church and cemetery at Svetiste Gospe na Hladi. There we had Goran's father waiting for us with the car. It was a 10 minute drive into the city.
Our mistakes, lessons learned
We knew we were ambitious trying to do this hike. The trail is 20 km and with the short winter days everything would have had to go perfectly to complete the whole hike.
Mistakes we made:
1. We started at 9:30. It was too late.
2. We took too many breaks: admiring views, taking photos, having multiple snack breaks.
3. We didn't hike with urgency until towards the end when realizing we were pressed for time.
4. The Military base screwed us up and we lost a lot of time trying to find our way around it.
Logically, we should – with our shortcut through the military base – have been able to do the hike in 9 hours. Having started at 9:30 it means we would have completed the hike around 6:30 pm. So there's no way we could have completed this hike during daylight hours at this time of year.
Above: image credit to Outdooractive. They have an excellent interactive map if you click on that link. Note however that the official route involves going down the mountain and then back up to get around the Military base (I've indicated our shortcut on the altitude graph above). Click to enlarge.
Options
Kozjak can be done in one day but you should start early and do it when the days are longer.
Otherwise, Kozjak can be done as 2 different hikes.
1. Mountain Lodge Malacka to Mountain shelter Orlovo Gnijezdo, then down the mountain to Planinarski dom Putalj. Have lunch and some drinks, then descend to Svetiste Gospe na Hladi. This is the hike we did that I've described above, with a bit of time getting lost. Done right, it's about 5 1/2 hr hike.
2. Svetiste Gospe na Hladi to Planinarski dom Putalj, then up the mountain. Then follow the trail to Sveti Juraj, down the hill to Gornja Rupotina (where you'll see houses and roads) and then on to Klis by walking along the road. That takes about 5 1/2 hours*. I would recommend this option, the views towards Split and the mountain ranges further south are incredible.
* December 2019 – we came back and did this 2nd part of the hike, a lot more organized this time. I'll be writing about that soon.
You can do the entire length of the hike (about 20.5 km) in about 9 hours, from Mountain Lodge Malacka to Klis fortress. But if you do, do it in the spring or autumn when you have longer daylight hours.
Final thoughts on hiking Kozjak
Most visitors don't know about Kozjak, they focus on Mosor instead. But Kozjak is a much easier hike with great views throughout. And with easier access points closer to Split you're not far away. Remember to bring lots of water and try to avoid the high summer months when the sun is deadly. I called this a "failed hike" – it was actually a fantastic hike and I enjoyed it as much as Mosor, if not more. It was only failed in the sense that we didn't complete it.
TOP HIKING TOURS IN CROATIA

Many thanks to Goran and Vedran for another fantastic hike!
Ps. If you find our blog helpful, please consider using our links to book your flights, hotels, tours, and car rentals. Have a look at our Travel Resources page.