Mo and her Mexican hairless dogs ( Mérida)
Originally from Switzerland, Mo is a lover of dogs. She's taken care of dogs everywhere she's lived and after moving to Mexico (2 ½ years ago) she started sheltering Mexican hairless dogs.
It's not all she does though as you'll find out in this interview.
A really inspiring story.
Hi Mo! I'm very curious about your dogs as well as your other projects. But before I ask you about that, can you please tell us about yourself?
I was born in Switzerland with a very international and interracial background. Traveling is in my blood and I worked for over two decades as tour manager, first for well-known rock bands and then later for world famous symphony orchestras. Being able to speak 7 languages got me the first tour and then, once I had the foot in the door, more offers came in.
I lived in Brazil for 4 years in the late 90's, then moved to Spain (Barcelona) for 20 years. I came to Mexico in October of 2020.
How did you end up in Mexico?
After helping a dear friend with Alzheimer's in Olympia WA for over 2 years, I would have loved to move back to Brazil but the political situation was too hostile to even consider it. So Mexico it was. I travelled a lot in Mexico but I need hot weather year around, so Yucatan was the perfect option. I wanted to live near a big city, live amongst Mexicans, as far away as possible from tourism but still not too far from the sea. So Merida was the only option, and actually a great option.
---
---
You love the unusual breeds of dogs. In Mexico you care for Xoloitzcuintle (Mexican hairless dogs). You also manage shelters in Spain where you take care of Galgos (Spanish Greyhounds) and Crestado Chinos (Chinese Crested dogs). Can you tell me where this love comes from and what it is that you do exactly?
My mother rescued racing greyhounds before I was even born. I grew up around greyhounds. I then heard in 1999 that the Spanish Galgos (they are not greyhounds, they are sighthounds) are extremely mistreated and often hanged after the hunting season was over. So I founded with my husband PRO-GALGO INTERNATIONAL and in the following 20 years we rescued and rehomed about 1700 Spanish hounds. Over 800 dogs were fostered directly by us. Mostly extremely shy or sick dogs. We had packs of up to 35 Galgos and Podencos, we never crated any dogs except for transport reasons. We don't allow crating in our adoption contracts.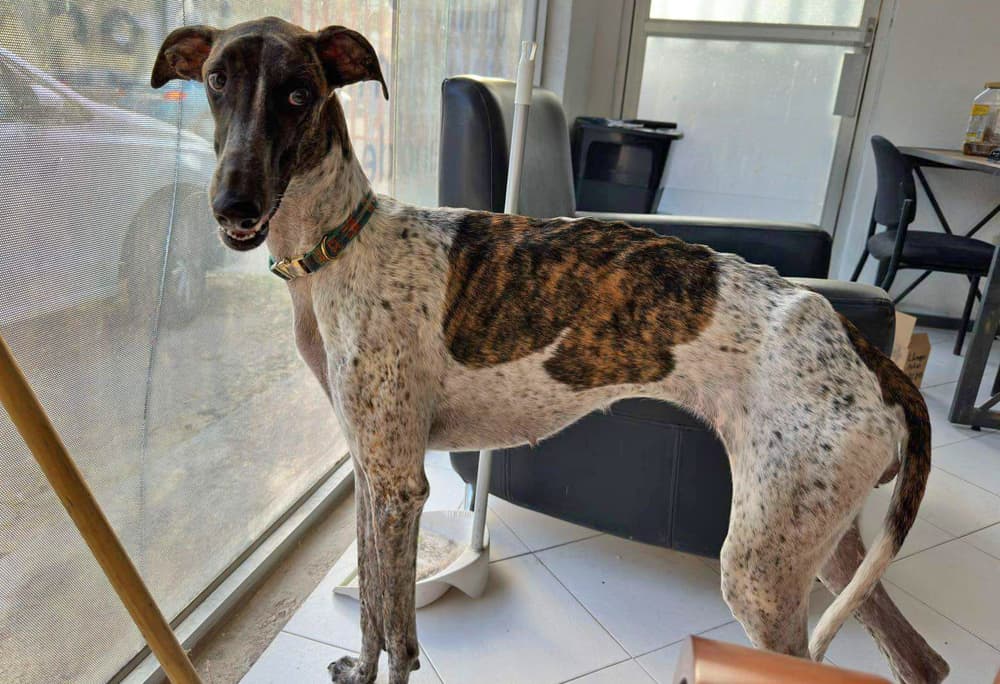 2011 we heard about a breeder who had died and had left 39 Chinese Cresteds behind that were going to be killed in a pound near Valencia, Spain. In a joint effort with several of my rescue partners and friends we managed to save them and rehome them all. I realized that the Cresteds had become a fashion breed and dozens of backyard breeders were producing Cresteds galore. Obviously many also ended up abandoned or in pounds. That's when I founded CRESTADOS CHINOS SIN HOGAR and we rehomed over 300 of hairless dogs from different breeds and their mixes. I still run the administration and the screening of the adoptees for both charities but thank dog 🙂 the Crestie boom is over and we have very few new cases.
I had rescued Xolos in Spain but very few, then a few weeks after moving in Mexico I rescued Tekax (the name of my dog) and realized that he is not the only Xolo abandoned. So whenever there is one in need I take it in … I decided to start HELP XOLOITZCUINTLE.
I should also mention that I'm a trained vet technician. I had started helping a best friend in a veterinary hospital and just felt that I needed training to understand the medical side of rescuing dogs.
I know you are constantly looking for people to adopt Xoloitzcuintle. Can you tell people about these dogs and why they make great pets?
Xolos are a very primitive breed, driven by basic instincts such as resource guarding, strong prey drive in many cases. They're reserved with strangers. I try to smoothen these a bit so they become more social and easier to re-home. Xolos are very intelligent and can learn nearly everything but you might need more patience.
You can read more about Xolos here.
Would you like to donate and help the dogs?
Email and Paypal address: helpxoloitzcuintle@gmail.com
---
---
In addition, you help solo women who move to Merida. I love the story you were telling me about helping them from getting "scammed". Can you tell the readers about that?
When I arrived here I met several ladies, mostly Americans and Canadians, who felt lonely and isolated and many thought they won't be able to make it here because when house hunting, only overpriced homes in the north were showed to them. All those women had one thing in common, they believed that only the north had infrastructure like high-speed internet, big supermarkets and general security etc. I realized there was a need for information about all areas in Merida and there was no support for women moving without a partner to Merida. So I founded INDEPENDENT WOMEN MOVING TO MERIDA. Soon we were hundreds of women from all over the world but we reduced the members to the ones already living here or arriving the same years, so we can be more supportive with each other. I showed my new friends and group members neighbourhoods all over town. When they saw that there are markets, big supermarkets, plazas, pharmacies, etc all over town and not just in Centro or north, they started to consider other areas. Many found a rental or even bought for a fraction of the price and with much bigger lots than they would have paid in the north. They are happy with their new lives, are mingling with the locals and learned quite a bit of Spanish. I'm extremely proud of them because it's not easy to move without a partner to a new country.
It's mostly expats trying to take advantage of newcomers The scammers use the newbie expat's fear of the unknown country and its people by offering "I've lived here for quite a while, I can help you". They show them around and build up trust. Then, when the newbie trusts their new 'friend', they can easily be manipulated to rent or buy where the 'friend' gets commissions. More on that here.
Often those homes are gringo-priced and it can happen that an expat is paying nearly double as much as their Mexican neighbours in the same gated community. I always tell our members to compare to prices in Merida and not to their hometown because what seems to be a great price in Chicago, London or Zürich might still be extremely overpriced in Merida. Facebook marketplace, Vivanuncios and inmuebles24 are great websites to get more insight.
And the most important thing: realtors in Merida are not licensed nor controlled in anyway. Anyone can be and is a realtor here. They are only sales people and are not doing any legal stuff. For that you need a lawyer and all contracts need to be notarized.
---
---
Since you bring up safety. It's the first thing that always comes up when you mention Mexico. I'd love to hear what you think about safety in Merida south as well as Mexico in general.
There statistics show clearly that most violent crimes are domestic violence and that's unfortunately everywhere in Merida and not a risk for outsiders. There are robberies all over town and I know that for sure because I went with victims of robberies and break ins to translate for them at the police. One case was a lady who lived in a privada in the north and was gone for 10 days. When she came back, she found her home completely empty. They even took her clothes and cosmetics. The thieves came with 2 big vans, told the guy at the gate that they are the movers for house XXX and were let in… another very sad case was a friend who was raped in one of those fancy skyscrapers. I contacted 911 for her as she had threatened to jump off the roof and, believe it or not, the police were not allowed into the gated community because the 911 call came not from inside and the manager did not want his tenants to be bothered…
I personally consider most areas safe in Merida but in the normal Mexican neighbourhoods people know their neighbours and watch out for each other. In some of the hoods in the north people live hidden behind tall walls and drive out through their automatic gates. You might never meet your next-door neighbour and in some areas there are no small businesses, not even an Oxxo within walking distance. That makes it hard for many to socialize. People think they're buying security living in a gated privada but sometimes I wonder if this isolation is actually putting them in a position where they are more vulnerable.
---
---
What was your personal adjustment to life in Mexico?
None, I lived in many different places. Wait, one thing I miss: there is not much nightlife here😉. I miss that. In Spain we went for dinner at 10pm and would sometimes go partying after. Here the restaurants close at 10pm and there's very little going on in terms of partying.
What advice do you give single women thinking of making the move?
Learn Spanish, at least try, and get a Mexican phone number as you stick out as foreigners if you send Whatsapps from an international number. Everything here goes through WhatsApp, from doctors' appointments, to booking a driver, to restaurant reservations, to food orders…
Is there any aspect of living in Switzerland/Europe that you miss Mo?
I have not lived in Switzerland for over 25 years, I don't miss anything from there. I miss good restaurants. Merida's restaurants are often disappointing and boring and I don't understand why the quality is so poor.
Do you think Mexico is your "forever" home?
No, I own a beach property in Arembepe near Salvador Bahía, Brazil. My goal is to leave Mexico as soon as the political situation there calms down. But that will probably take years… until then I'm enjoying Merida and my dogs.
Thank you for doing this interview Mo!
Want to be interviewed? Write us an email or leave a comment!