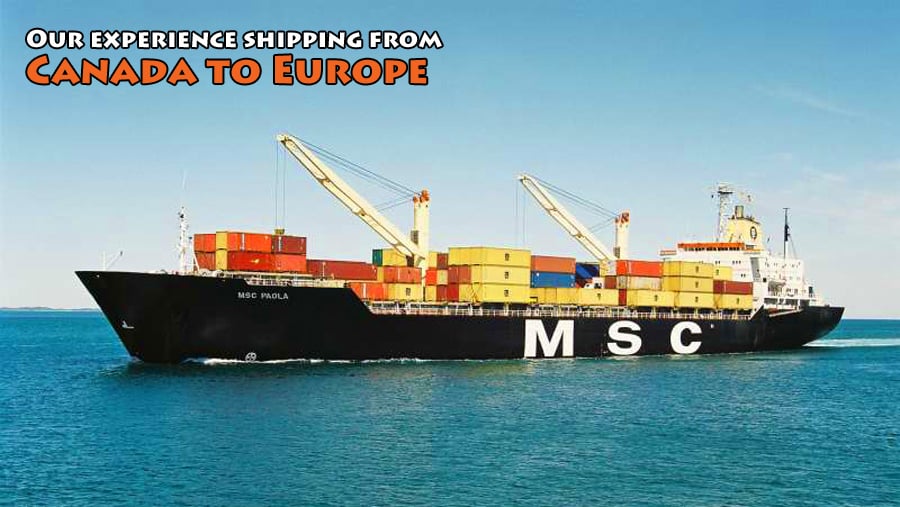 Our experience shipping belongings from Canada to Europe
When we decided to make Split (Croatia) our temporary home earlier this summer one of our priorities was liquidating our assets in Montreal. That meant selling the condo (which we had rented out the last few years) and emptying out our storage unit (a 12*15 ft unit, for which we were paying $275/mo).

Related: Getting a Croatian 1 year "Temporary Stay"
After weighing the pros and cons of: a) giving away all our stuff or b) shipping it all to Croatia we decided that we would seriously look at shipping it. I had heard nightmares about people doing this so I was a bit apprehensive. This post covers what we went through.
It's very detailed but I hope it helps people who might be in the same situation we were.
Where to start? I used to work for a Shipping Company in Montreal called Fednav. They specialize in bulk cargos, not container shipping, but I figured one of my old contacts there would know who to call. They did. I was referred to a Montreal company called Europack.
.
---
---
Europack
I contacted Europack for a quote. They call themselves the "International Moving and Shipping Leader in Canada". It didn't take long for them to respond. They recommended a 20ft container and quoted me $7,365 CAD (about $5,800 USD) for door-to-door delivery, from our storage unit in downtown Montreal to our apartment in Split. The price was within our budget. But I wanted to make sure that there would be no issues. Would I have to worry about import duties and taxes at the arrival port? Who would take care of that? Very importantly, I wanted to know how long it would take to get our goods to Split (we wanted it the quickest possible). What shipping line would be used? What port would the container be discharged in? I wanted details on logistics.
Paul (my broker at Europack) didn't impress. When I would write him for details he would call me on my cellphone. I told him I wanted everything in writing. He then sent me an email telling me that nothing can be done before reserving my shipment. I was told to book through Europack's website and to leave a deposit of $800. He told me not to worry about details. That was the worst thing to say.
During this time I had also looked up reviews of Europack online and read a few stories of: 1) delays in shipment, 2) additional costs at discharge. People complained about Europack doing "…a really poor job of explaining how the process works, and of answering my questions".
That's exactly what I was feeling.
I decided to look at other options.
---
---
.
AGS
Reading different reviews it became obvious that there were more risks of problems at the arrival port than at the departure port. I didn't want the container to be held up once it got to Split and didn't want to get stuck paying duties or taxes*.
* another red flag with Europack. At the bottom of their quote "Excluded: 1. Duties and taxes (if applicable) at destination".
I decided to look for Croatian movers who would be specialized bringing goods into Croatia. That is how I came across AGS.
AGS has offices all over the world including one in Zagreb. I wrote to Martin, the manager of AGS Zagreb about our situation.
I got more information from Martin in one email then I had gotten from Paul over two weeks. Some interesting facts about shipping into Croatia:
– Rijeka, Ploce and Split are the main ports in Croatia
– Companies servicing those ports:
Port Split is serviced directly only by CMA-CGM
Port Ploce is serviced only by CMA-CGM and by MSC
Port Rijeka is serviced by the two above as well as all the other major shipping lines: MAERSK, HAPAG LLOYD, COSCO etc.
– Price and time will be based on the company and any inland trucking. Ploce and Rijeka might be cheaper than shipping directly into Split but would require trucking to Split.
---
---
Knowing the above details, I looked up the two major shipping companies serving Croatia: CMA-CMG and MSC.
With the internet you can actually compare shipping schedules on your own using their sites. For my dates (late May) I could see that CMA-CMG had ships leaving Montreal every week. The average shipping time was around 40 days because the vessels stopped in some Northern European ports before coming into the Mediterranean. MSC also had ships leaving Montreal every week but their average shipping time was 25 days (with only a stop for transshipment in Italy).
With the help of the website, and in speaking to Martin, we decided to use MSC.
The quote from AGS: 4,580 Euros (that's $6,675 CAD or $5,240 US) door-to-door from our storage unit in Montreal to Ploce, where it would be trucked to our apartment in Split. No additional costs. More importantly, before asking me for money, Martin went over with me what documents would be required to avoid Croatian import duties and taxes. I felt I was in good hands.
It was late March and I still had a few things that had to be settled (selling my condo!) before committing to shipping our goods. But I knew once all settled that I would choose AGS over Europack.
---
---
---
Pre-shipping documents and payment
I managed to sell my condo a month later and quickly organized my dates in Montreal. I then confirmed with Martin saying that I was ready to go ahead. It was April 30th and I was looking to ship the container in the last week of May. So the timing was pretty tight.
From there things moved fast:
– On May 3rd I was contacted by AGS's documents person (Goran) about everything required to obtain an exemption from Croatian customs duties and taxes. The list:
1) scan copy of Croatian Residence Card for foreign citizen valid for a period of minimum one year
2) scan copy of local lease contract for more than 1 year
3) Croatian Tax number OIB
4) scan copy of your passport
5) original Statement of your arrival day in Croatia
6) scan copy of EORI (EU Customs number) application (AGS provides the form)
7) scan copy of request for exemption ( AGS provides the form)
8) original signed detailed valued inventory list, in Croatian (AGS provided form. We filled it out in English and AGS translated it for us)
Most of the above are the same documents that we needed when getting our 1 year residency in Croatia.
---
---
– on May 3rd I also received an invoice for the agreed upon 4,580 Euros, 50% of which had to be paid by May 12th, the balance to be paid 10 days prior to arrival in Ploce.
– On the same day Martin confirmed the agent to be used in Montreal (Brytor) and reserved the container for the move. We arranged a moving date of May 26th. Brytor would pick up the container, bring it outside our storage unit (at Depotium), and would take the furniture out of our unit and load it into the container. They would then truck it to the ship waiting in the port of Montreal.
– We determined at this point that the vessel would be the MSC Paola.
– On May 11 we went to AGS's broker (Zagrebšped) in the industrial part of Split. With the broker we walked to the Split custom house (just next door). It took 15 minutes for them to look over all our documents. We would receive our officially approved exemption form from Croatian customs duties and taxes the next day. Very easy!
That's it. All the paperwork was completed within a week. All that was left was the actual shipment of the goods.
---
---
The move and shipping the container
I went to Montreal on May 20th. On May 26th I met the moving guys from Brytor at our storage unit. 3 big guys, they were experienced movers. It took them a bit less than 2 hours to get our stuff out of storage and put it in the container. They put a seal on the lock of the container, which would stay in place until the container reached the customs office in Split. Excellent work.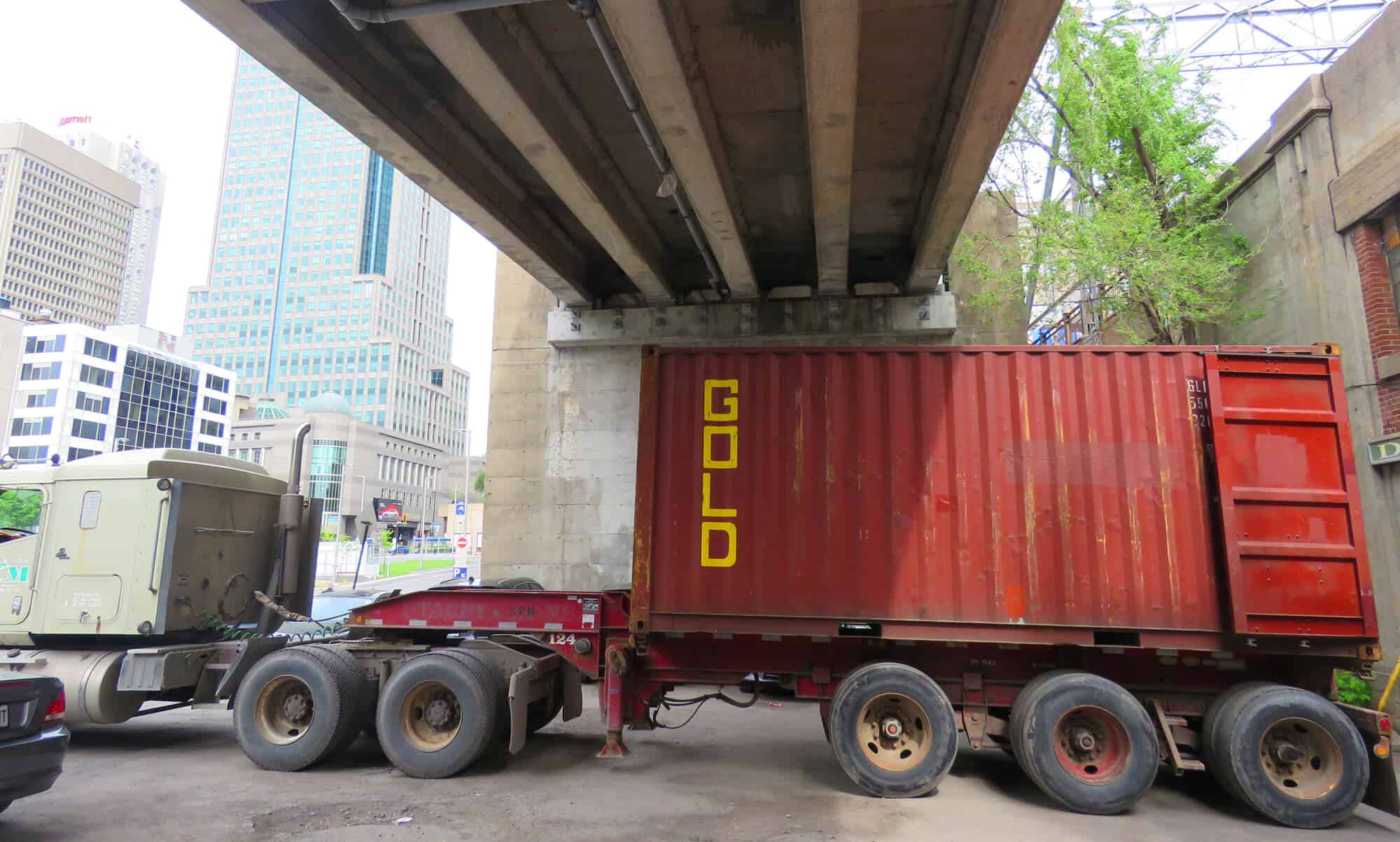 Head office from Brytor took care of all export documents and sent me a tracking code so that I could track the progress of the container on the MSC website.
Again, that was it. I was very impressed.
A few days later on May 31, I saw (using the tracking code) that the MSC Paola had sailed from Montreal. In an email, Brytor confirmed that the container was enroute.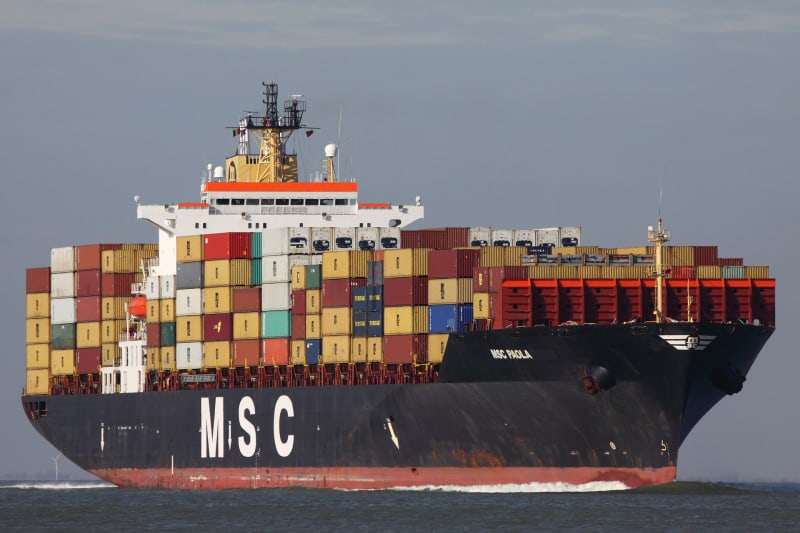 ---
---
Transhipment
The MSC Paola reached Gioia Tauro Italy on June 11 (11 days after leaving Montreal). There it discharged the container. It was loaded on another (smaller) ship (the Tongan II) on June 18.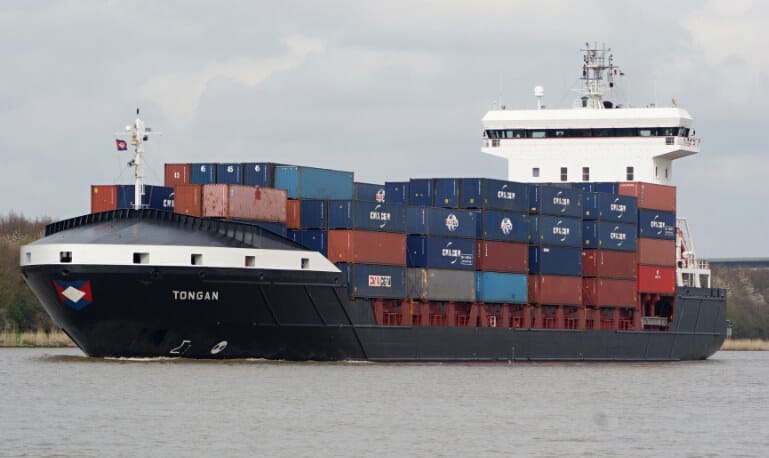 .
---
---
Arrival in Split and delivery to our apartment
On June 23 the Tongan II arrived in Ploce and was discharged. It was a Friday and could not be delivered to us that day.
One of the particularities of Croatia is that unlike most countries, customs clearance does not happen at the port. The container has to be cleared at the customs house where the customs paperwork was filed. So in our case, the container could not be cleared at the port in Ploce, it would have to be cleared in Split.
On Tuesday June 27 the container was trucked from Ploce to Split. They stopped at the customs house in Split where the container was opened, inspected, the contents compared to the inventory we had filed. Approved, it was then brought to our apartment.
AGS had been perfect so far in every aspect of the shipping process. Delivery ended up being the weakest part of the process and the only thing we can complain about.
I was still in Mexico when the furniture was delivered. So it was Lissette that opened the door when the movers arrived.
There were 2 movers: young men, very friendly, both spoke English. Lissette gives them an A for attitude and effort.
But they were understaffed, didn't have the right equipment, and were honestly not strong enough for some of the bigger pieces of furniture (Lissette nicknamed them "1 ½ men"). It was all a bit amateurish compared to the rest of the operation.
Luckily our friend Vedran lives close by and came to help out when Lissette called him.
In the end, all ended well (again, thanks to Vedran).
Here is a photo of the apartment a few days later. See this post on our apartment in Split.
---
---
Summary
AGS did a fantastic job throughout, I was very impressed (and mostly relieved). I appreciated that they took the time to explain the process, that they held my hand through the documentary process, and most of all that they came through on all their promises. There were no delays or issues. The process was smoother than I ever expected. Delivery could have been better but this was relatively minor in the whole scheme of things *.
* note: I am not receiving compensation of any kind for this review. I didn't even tell AGS I was a blogger.
Things learned: If there is one thing I learned through this process it is that expertise at arrival port is more important than expertise at departure port. You don't want to be paying thousands in import duties and taxes. This, above all, was the best reason to have chosen a company based on the receiving end.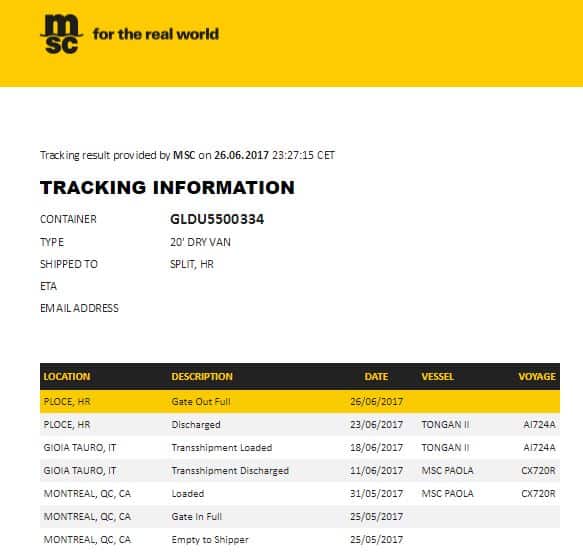 ---
---

Ps. If you find our blog helpful, please consider using our links to book your flights, hotels, tours, and car rentals. Have a look at our Travel Resources page.