Your Monthly Newsletter!
Above: Crazy Bastard and the friends he's picked up since leaving Split last June. Posing in Prague.
April 5, 2016.
The last week have seen us crossing 3 borders: from the Czech Republic to Germany, through Austria and down into Italy. In the aftermath of the attack in Brussels you can see stepped up security in all public places. We saw it in shopping centers and at the train station in Prague. Crossing the border into Germany police stepped on the train, 3 officers with bullet-proof vests and guns on their hips. They went down the aisle looking at ID. It's the first time I've seen that within the Schengen zone. They were friendly but you could see feel a no-nonsense kind of attitude behind the façade. Times are changing in Europe. Back to that a little later in the Newsletter.
.
Above: We've also been collecting booze from the different places we've been over the last few months.
.
Germany and Prague and on getting dental work done
On our last newsletter I detailed our adventures and tribulations getting from Cape Town to Budapest via Bucharest (Romania). We spent 3 weeks in Budapest and then took 2 week vacation in Germany in late February (In case you missed it, I recently posted on Bamberg and Wurzburg. We love travelling in Germany). March was spent in Prague, catching up on some dental work and enjoying a city we love (we're still split between Prague and Budapest and could honestly live in either). I had off-handedly mentioned that we would have dental work done in Prague on our newsletter and was surprised by the number of emails I received from readers asking about the costs of getting work done in Prague. Well, after long overdue checkups and cleanings, as well as having a couple of old cavities repaired, I can tell you it was worth it. Overall costs came to slightly less than half of what we would have paid in Canada. Service was also excellent, we were very impressed. Anyway the link again: Dental Office H33 (I don't get any credit or compensation for recommending them). As I've said to a few people, you can probably take a 2 week vacation – while fitting in some dental work in Prague – and it'll end up costing you the same as if you would have stayed home and gotten the work done there (minus the vacation).
Below: Easter in Prague
---
---
Upcoming plans
After our 3 months in South Africa coming back to Europe was a homecoming of sorts and we've revisited a few places we've used as bases in the past. Sometimes you just need to slow down and take a little break. I think we've got that out of our system and have some exciting plans for the next few months. April will be spent where we are right now, in the small city of Padova in Italy – 20 minutes from Venice, 40 from Verona, and 1 ½ hrs from Bologna. We're also going to visit Rome, Lissette has always wanted to visit the Vatican. The only thing that makes me nervous about Italy are the tourist hordes. We've encountered it in the past but the number of tourists everywhere seems to increase every year it seems…or maybe we're just getting less tolerant of mass tourism.
May will be spent in Rovinj, in Istrian Croatia, an area we haven't yet explored. Some people say that this area is the most beautiful in Croatia. In June and July we'll be in Split, our base for several months last year and one of our favorite places anywhere. I'll be leaving Lissette there for a couple weeks while I visit my mom in Mexico.
In between all the above I hope to do a lot of hiking as well as some adventure activities. We even bought a GoPro in Prague and hope to be able to shoot some video in the process.
We've got some even cooler plans from August on but I don't want to divulge too much as plans sometimes have a way of changing…
.
Above: "Use the force Luke".
---
---
On migrants, Europe and the rise of right wing politics
I've had people writing me privately asking for my thoughts on the matter, telling me that they're thinking of not coming to Europe because of the migrants. For those and others worried about that: the only place we've seen migrants are in Germany and here in Italy where we just arrived. Are they a danger? I don't think so generally. But I do have one story – when we arrived here last Friday it was around 9 pm in Verona. Lissette went to the bathroom. It was one of those bathrooms that had a security gate, you pay 80 Euro cents and you go through. Just as she went through I saw a flash of movement – a guy in his late teens/early 20's had run to follow her into that bathroom and was halfway through the gate. It was closing and he was stuck halfway through. Lissette yelled at him, telling him that this was a woman's bathroom and to get out. He did but reluctantly. He and his friend, two Middle-Eastern types, swaggered past me into the main lobby of the station where they met up with a bunch of other young Middle-Eastern types. Was he just looking to use the bathroom? Maybe. Was he looking to do more than that? Maybe. But no woman likes to see a man trying to get into a woman's bathroom, especially when there's nobody around. Unlike in Germany, we haven't seen any police here at all. In the short time we've been in Italy we've seen them hanging around the train stations walking swaggering like thugs looking for an opportunity. In Nuremberg (Germany) we saw migrant men at the main train stations hanging around or drinking coffee in packs. I didn't sense a threat. As I say, here in Italy their demeanor has seemed much more menacing.
As a European I would be very upset. For those of you thinking that I'm anti-migrant/anti-Muslim for saying that, I actually support the idea of European countries (all countries in fact) taking in Syrian refugees. But it wouldn't be these aggressive young men, it would be families or women and children. It would have been done in an orderly fashion. European leaders invited the floodgates to open, they exacerbated the migrant crisis. I wrote about here in September. A lot has happened since then and I was right on everything. I'm not a brain surgeon and I'm certainly not Nostradamus – it just points out the ineptness of the EU in dealing with issues that were entirely foreseeable.
On the terrorism issue: Paris and now Brussels happened and people don't seem to be realizing that Islamic radicals are bringing a religious war to our doorstep and that they hate us and want us to die. It's not much more complicated than that. Meanwhile, Obama and Hillary Clinton can't even say the words "radical Islamic terrorism". Political correctness and not facing a problem are EXACTLY why people are turning to right wing politicians all over Europe and the US. And that, in the end, might be the worst thing that can happen. A couple of really good articles I've read lately:
Written by a Muslim, a journalist in London. I could not agree more, I think this is a great article: Enough with the Teddy Bears and Tears: it's time to take our civilization back.
We're talking about what's happened in Europe. But I was especially sickened by the suicide bomb targeting Pakistani Christians in Lahore over Easter which killed mostly women and children. This article also addresses how politicians are dealing (or not!) with it: Western Chauvinism and Lahore.
More on Islamic Extremists and why they don't just hate the West. Great article. Islamic Extremists don't just hate the West.
.
You're probably thinking I shouldn't be writing politics and should stick to travel. We don't live in a bubble, what goes on around us affects everything we do including travel. I wouldn't be writing about politics if I didn't feel this intense frustration with what's happening and how both politicians and the media are handling it.
Below: Want to fight radical Islam? Drink beer and eat pork sausages…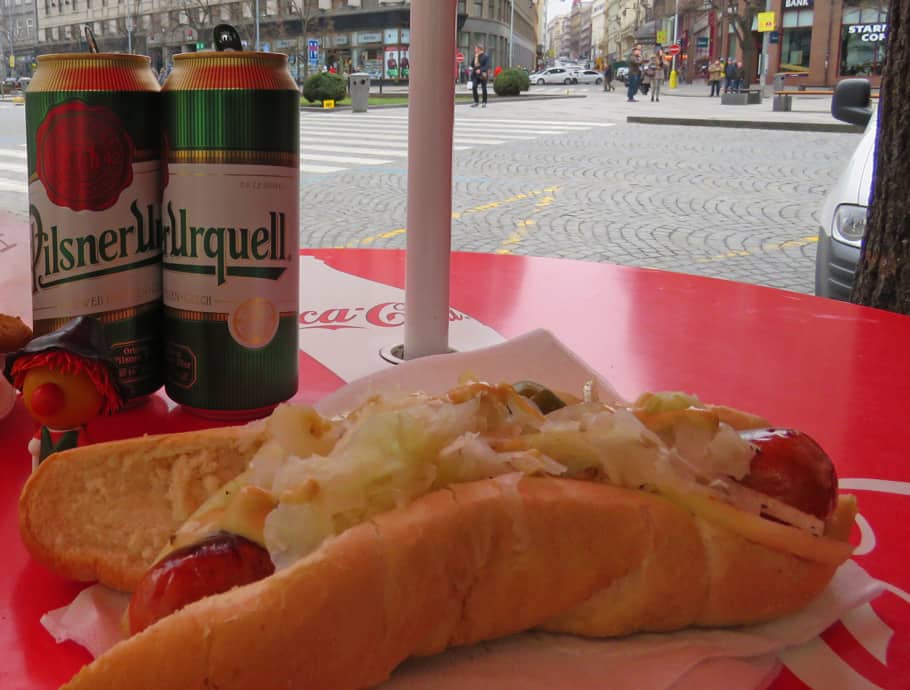 .
---
---
Upcoming Posts
My next few posts in include a photo essay on Prague (we took some great photos on our most recent visit) as well as a post on how we've saved a lot of money on our current Airbnb stay in Italy. There's a few tricks to using Airbnb that can save you a lot of money and I'll explore that. On that note – use our link below to sign up with Airbnb, you'll save USD 35 (or $46 CAD) off your first stay. You'll notice that the amount has gone up from the previous USD 25.
Thanks for Reading!
.
Older Newsletters
All our newsletters can be found right HERE.