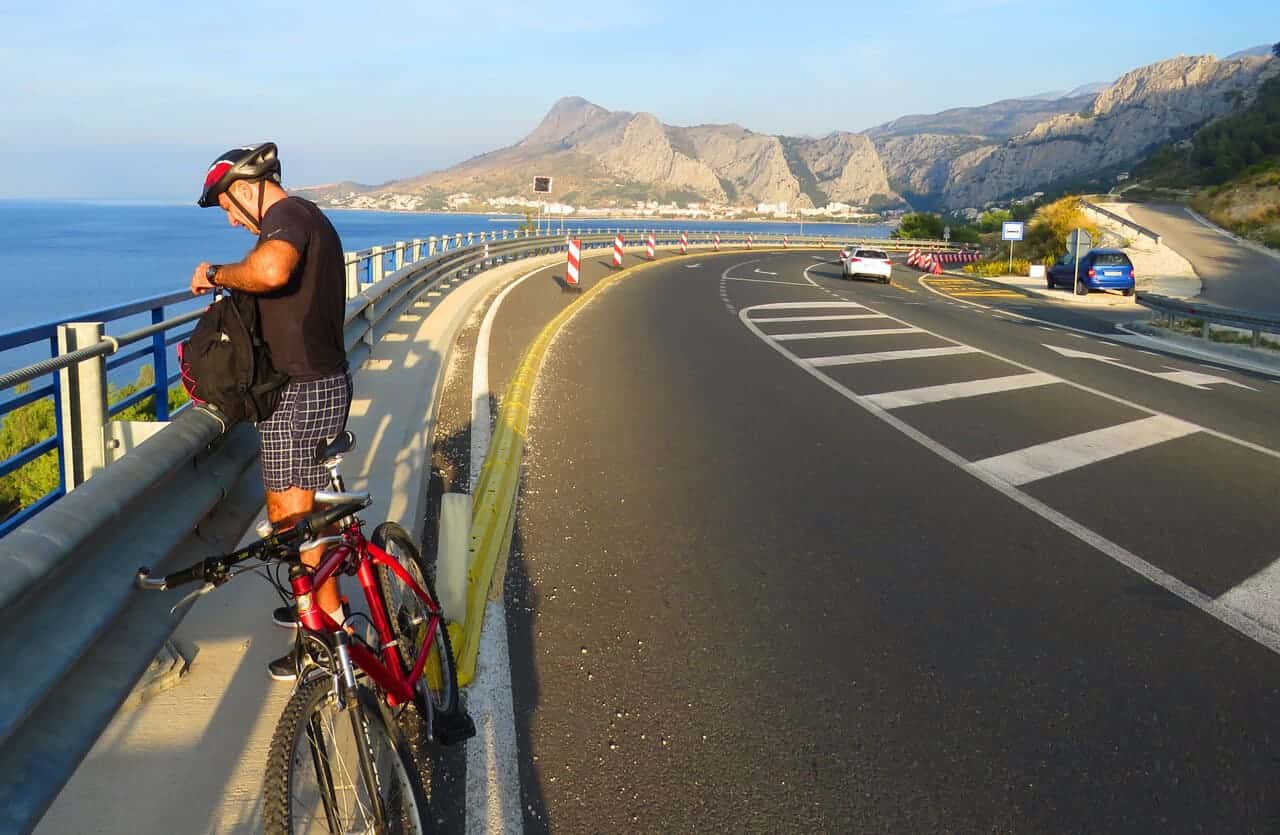 Split to Makarska by bike
This post won't interest many readers. But if you've ever thought about riding your bike along the beautiful coastline between Split and Makarska then you might find it valuable (I could find absolutely nothing on this ride on the internet).
Last summer we shipped all our belongings from Canada to Croatia, including my 35 year old bike. Since then I'd been looking forward to doing a long distance bike ride. When I mentioned going to Makarska to my friend Vedran he jumped on board with the idea.
Makarska is 65 km down the coast from Split. We really didn't know how long the ride would take to Makarska but figured on 4 hours*
*We don't pretend to be professional cyclists. I have an old racing bike which I've modified for city riding over the years, while Vedran has a mountain bike. Neither of us is Lance Armstrong.
---
---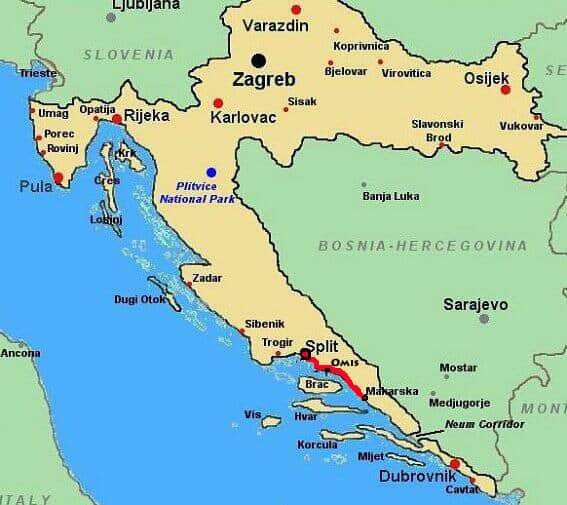 We started off at 6:30 in the morning, following Split's coastline past Znjan beach and onto Sentaliste Pape Ivana Pavla II. This road continues along the shoreline before turning inland and up a steep hill. It becomes Put Builova and, passing the Hotel Zagreb, continues steeply uphill. Put Builova eventually flattens out and intersects the highway. Note however: about 100 meters before the junction with the highway is Put Orišca. If you turn right here and follow this small street you'll save yourself a lot of stress and grief over the next 1.5 km (at the bottom of this post I've included a map).
We didn't know about this alternative way at the time however and got on the highway with our bikes. Even at 7 am in the morning there was traffic. Four lanes of fast moving traffic that included trucks and buses. It is a particularly dangerous stretch of highway because you'll get cars aggressively crossing lanes to access some of the large convenience stores on the side of the road. And of course there's no shoulder on the side of the road. Not ideal for bikes.
---
---
But once you get to the municipality of Stobreč, the road becomes a two lane road (one going each way) and the traffic becomes less aggressive. You're now on the coastal road. Following it will lead you down the coast of Croatia.
Once you've passed the municipality of Podstrana the road gets quiet and the views better. You'll go through some small towns but the riding is easy here and for most of the route you'll be riding right next to the shoreline.
It was around 8:30 am (two hours since leaving Split) that we arrived in Omis. Omis is 26km from Split. I've previously written about Omis and how it's one of my favorite towns. We stopped here and had a coffee in the main square.
---
---

The geography gets more dramatic after Omis, with the mountains coming right up to the coast. It also means that the ride gets more rugged. There are more uphills (and downhills), you'll go through a couple of tunnels, you'll also find yourself cycling on cliffs high above the sea below.
.
The highlight of the entire ride in my opinion is the coastal indentation right after the town of Pisak – from there you have views looking down the coast with the Biokovo massif looming above, some of its highest peaks hidden by mist.
The remaining 20 km to Makarska is almost equally as scenic, the route marked with great views of mountains and coast. There are plenty of ups and downs, but the last 5 kilometers is mostly downhill which is a relief (we both understand now why professional bikers wear shorts that are well padded).
---
---
.
It took us 4 ½ hours to get from Split to Makarska (without stops we could have done it in slightly under 4 hours).
Croatia is honestly not a big country and everyone seems to have family everywhere. We had barely parked our bikes in Makarska when Vedran started hollering at a man crossing the street. That's how I got to meet Neno.
.
We were sitting there having a beer when Neno asks "Why don't you stay in Makarska for the night? I have an empty apartment".
Vedran and I looked at each other. It would save us from riding back the same day and we could explore Makarska.
So we said "Yes" and spent the afternoon sightseeing in Makarska.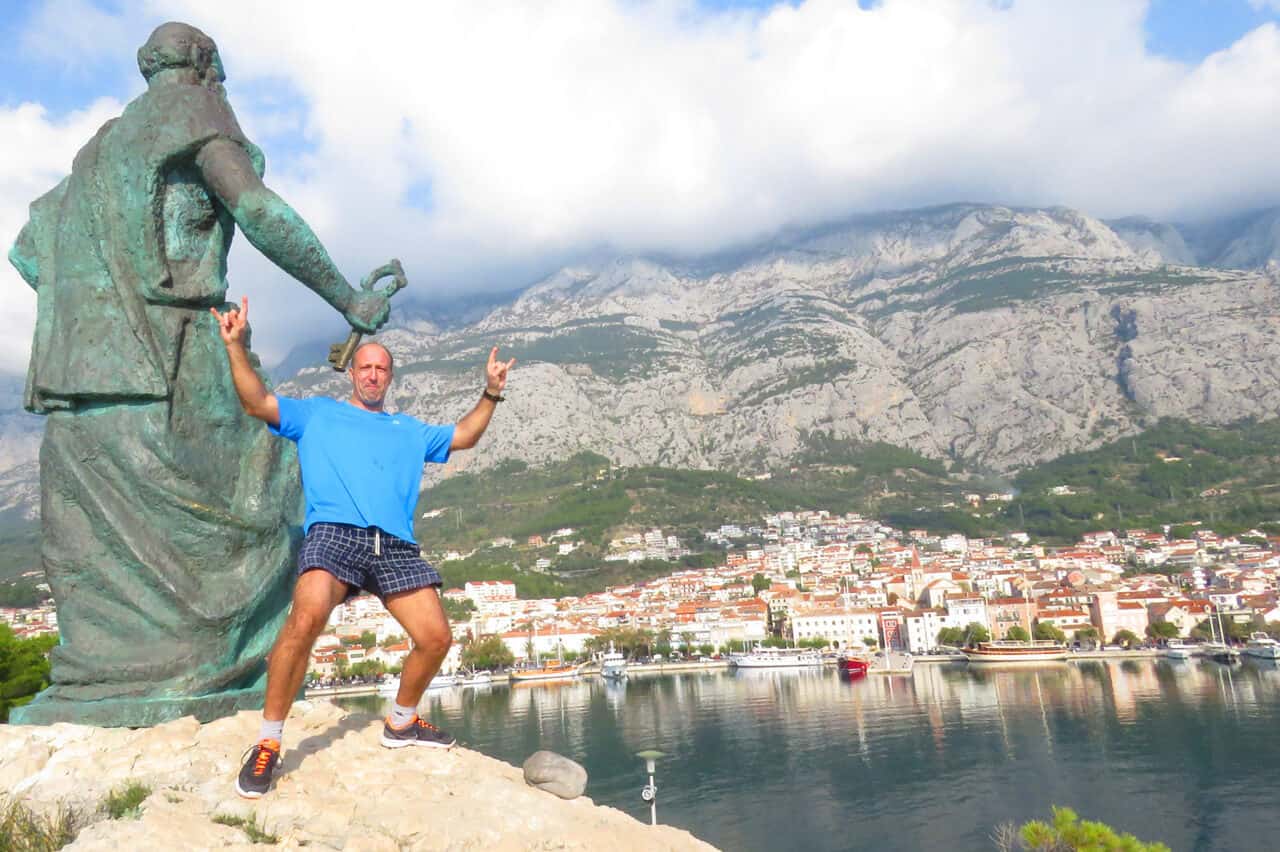 ---
---
It was a fantastic afternoon.
And Neno's apartment was great – a large 2 bedroom apartment right in the center with a big balcony.
We woke up at 5:30 the next morning. At 6:30 we were on our bikes heading back to Split.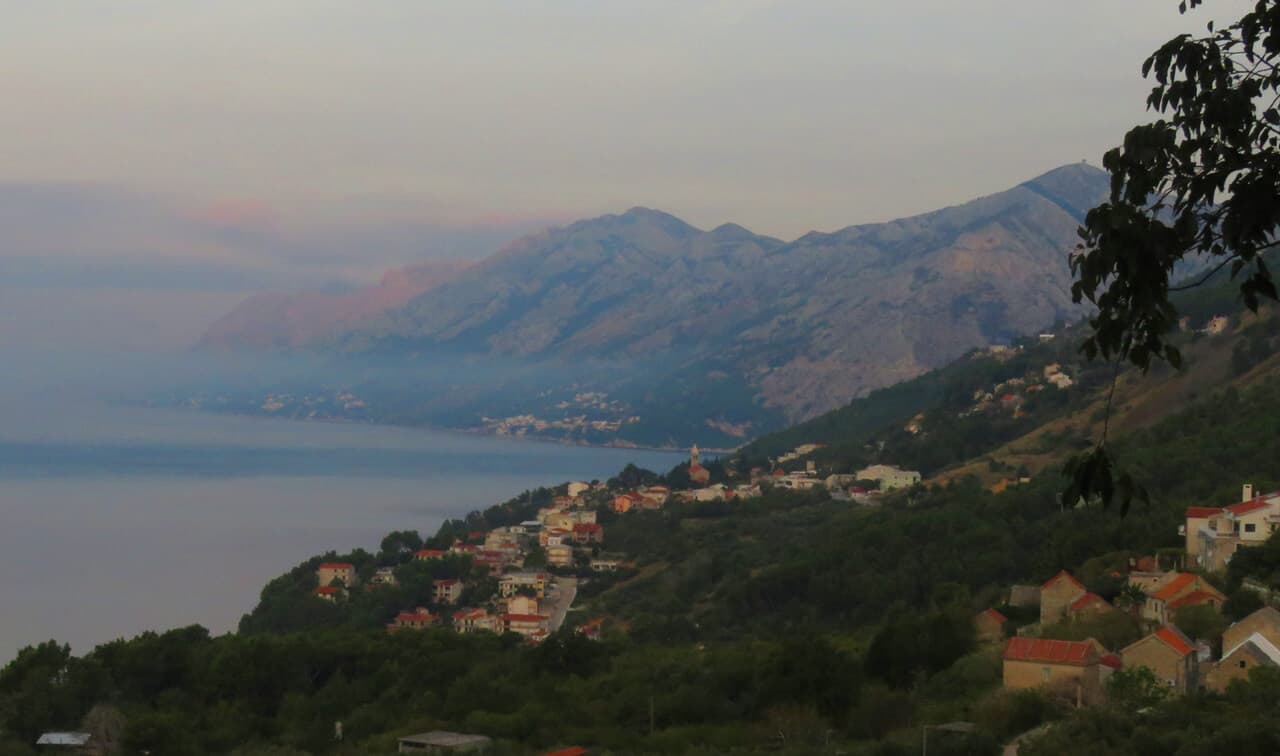 ---
---
By 11:30 we were back in Split.
How much did I love this experience?
I loved it so much that I'm considering a 1 to 2 month solo biking trip through Croatia and some neighboring countries next spring. I'll write more on that at some point.
Vedran said it best: "Riding in nature with views and being able to see every step and stop where you want. It's fantastic".
.
Some practical info
– we did this ride in mid-October and the traffic for most of the route was minimal (once you've passed Podstrana). In the summer however, this coastal route gets very busy and there are a lot of tourists unfamiliar with the road. So maybe not a good idea at that time.
– There's no shoulder on the road, most of the time we were riding the white line on the edge. Most motorists were respectful and gave us a wide berth but we had a few along the way that came a bit too close for comfort.
– The most dangerous part was the highway from Split to the municipality of Stobreč. I strongly advise you avoid this section. Instead take the route I indicate on the map below. It takes you along a very small back road through the outskirts of Split, passing little farms and gardens on the way. It's hilly (especially coming from Stobreč) but it's scenic and safe.
---
---
If you find our blog helpful, please consider using our links to book your flights, hotels, tours, and car rentals. Have a look at our Travel Resources page.